When Disney says they are family friendly, they absolutely mean it! Disney baby centers are located in all four of the theme parks and they come stocked with a variety of amenities for you and your small ones. Almost anything you can think of is there. They do have some amenities for purchase, such as diapers, lotion, and sunscreen.
The Disney baby center itself is completely complimentary and especially perfect for feeding and changing your infants or small children! This is a great addition that also making your Disney vacation with baby and toddlers that much more enjoyable! If this is your first time at Disney with your new baby, here is everything you need to know about strollers incase you have any questions!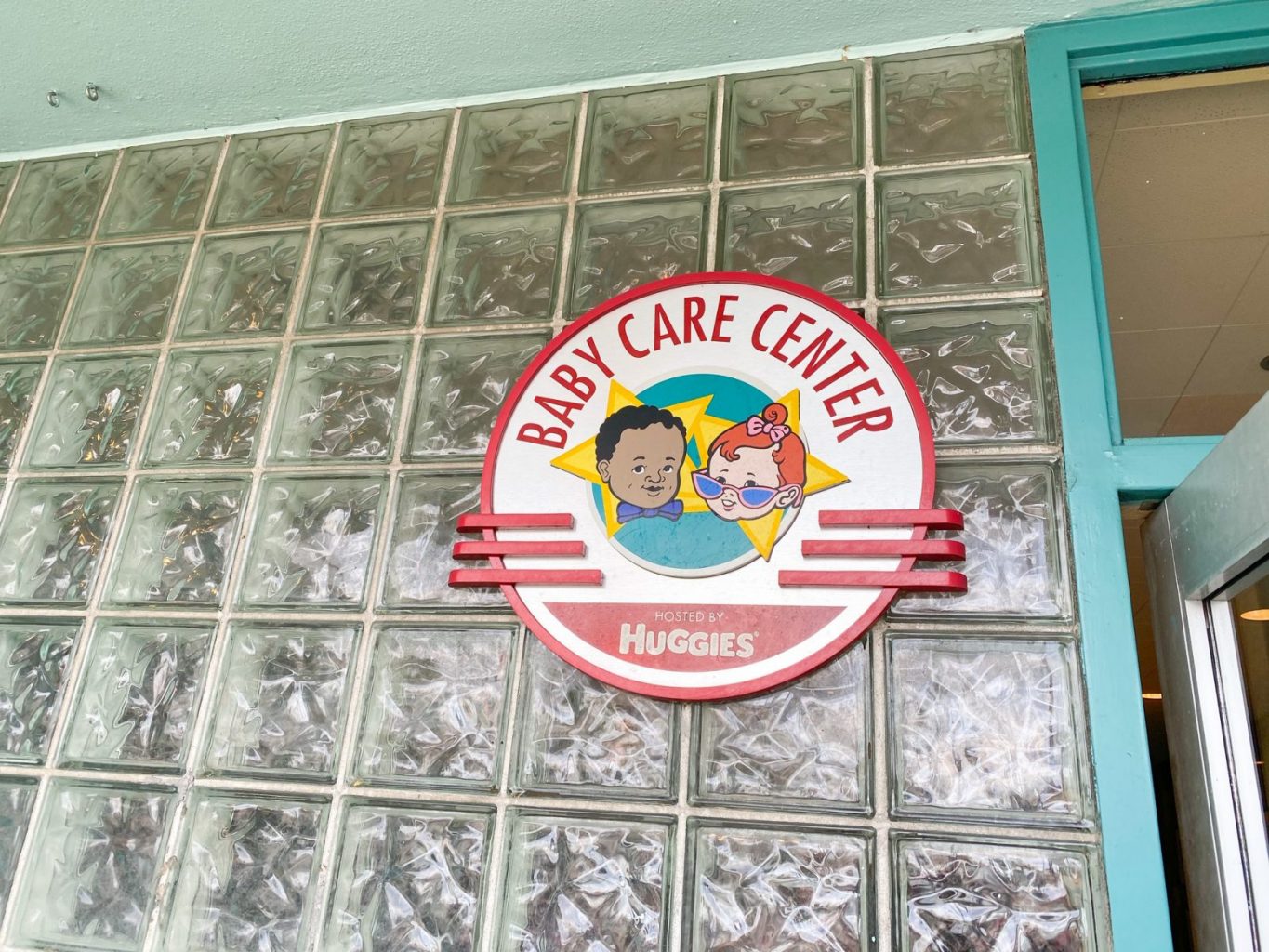 What Are The Disney Baby Centers?
The Disney Baby Centers are facilities in the parks that have different amenities to help you take care of your infants and toddlers. It has almost anything you can think of. One of the best parts is that it is indoors and with air conditioning, so you and your family can cool down during those hot summer months.
There are baby changing tables, nursing rooms, and little resting areas. It almost seems as if they have thought of everything especially while planning out their Disney baby centers. If you have both an infant and a toddler, you can nurse your infant while your toddler can sit down and watch some Disney movies as they wait! They have microwaves, sinks, etc. You can warm up some food or just simply sit and relax.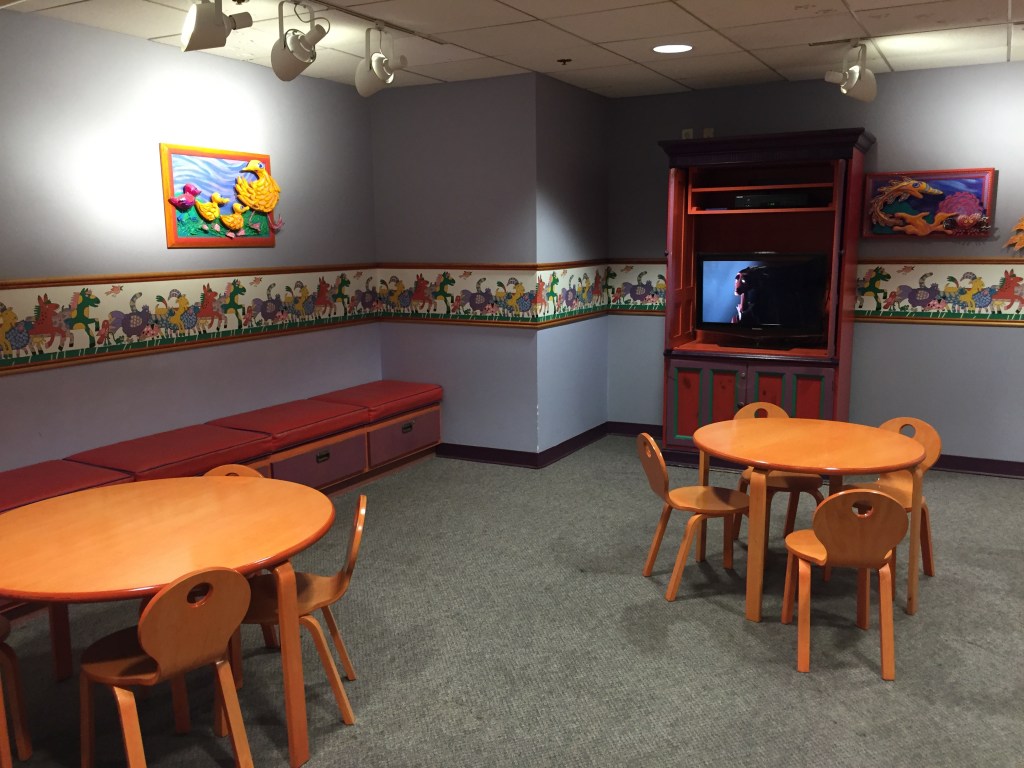 Using The My Disney Experience App To Find Baby Centers
The best way to find the Disney baby center in each park is by using the My Disney Experience App. Also, remember you can also always feel free to ask a Cast Member and they will happily direct you. However, using the App is extremely easy and provides you with directions from exactly where you're standing!
When you open the App, go to the search section, where the small magnifying glass is! Then just type in "Baby care center" and select your park. If you're already inside the park, it'll give you directions from your current location (just make sure the location services are turned on).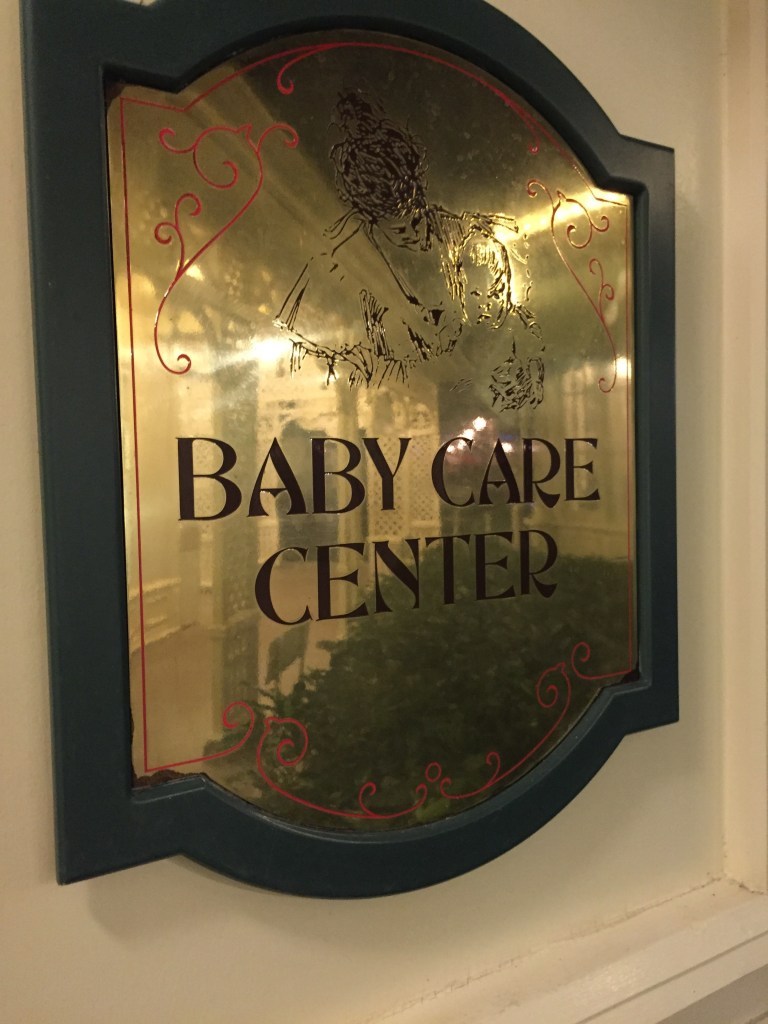 What Is included In The Baby Care Centers At Disney
Disney always goes above and beyond in order to create a great experience for their guest. The Disney baby centers are no different. Whether you just need to change your baby, cool down, or warm up some food. After a long day at the park, it's nice to have a little bit more of a spacious area, especially with that much needed air conditioning! Almost anything you will need for your family's need can be found here!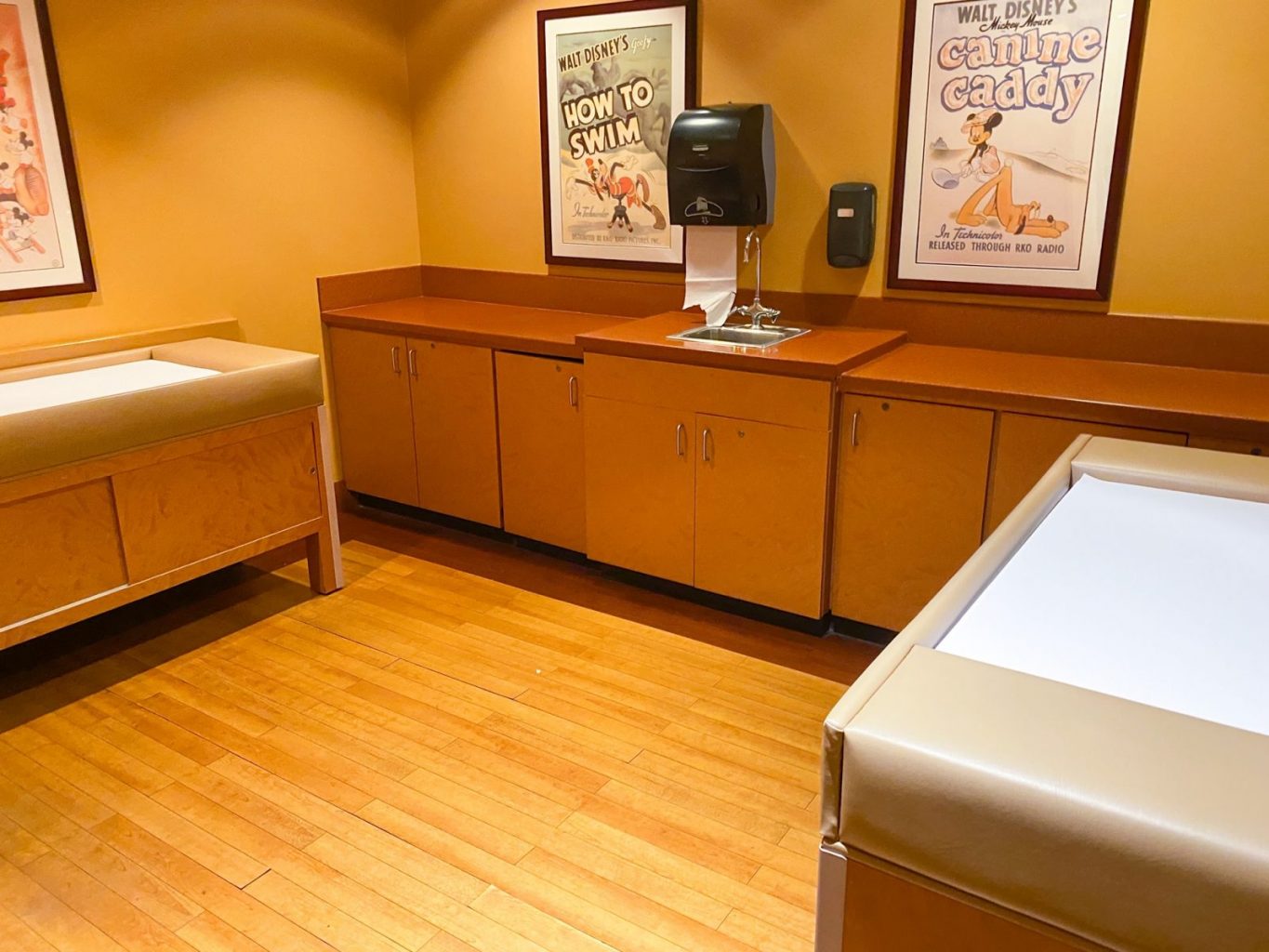 Changing Area
Each baby care centers at Disney include changing areas. There are several changing stations in the room and each one comes equipped with a disposable paper liner, that is changed after each guest, providing every parent and child a clean space. Which is a much better and calmer alternative to those sometimes cramped changing areas found in the public bathrooms.
In the changing area, there are sinks to use at your pleasure and a water dispenser you may use for drinkable water. Here Disney also sells a variety of baby related items you may need. Just in case you run out, they do have diapers and wipes for sale. They also sell medications for babies such as, Benadryl, Advil, Pepto for babies. As well as baby powders, baby lotions, sunblock for purchase.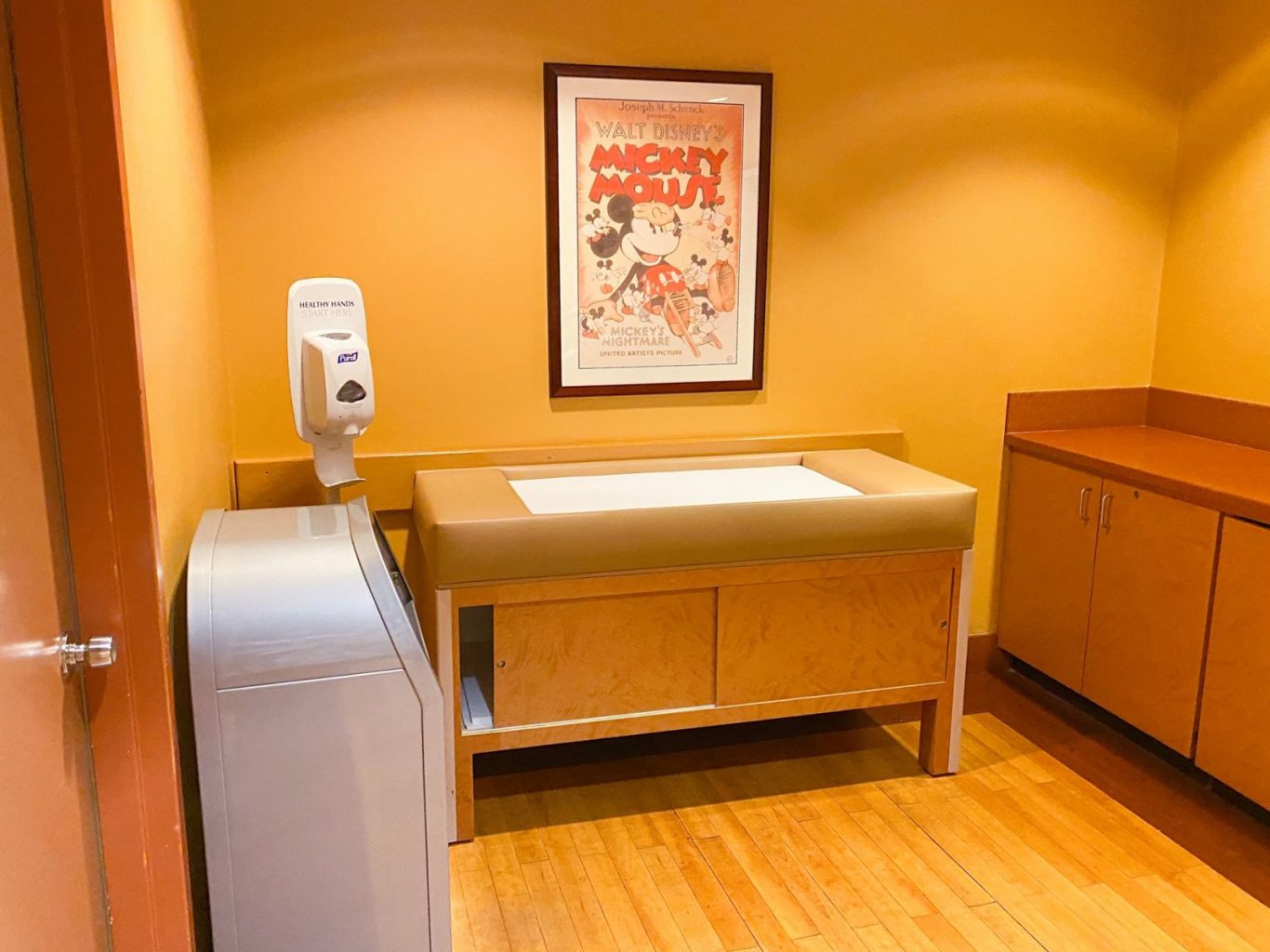 Nursing Station And Feeding Area
Remember you are allowed to nurse wherever you want in the park! It is not a requirement to do so in these centers.
The nursing areas provide a space where mothers can have more privacy and comfort to nurse or pump. Especially for those craving that much needed air conditioning! In the Animal Kingdom and Hollywood Studios, they have completely separate and private rooms for nursing and pumping. However, the ones in Epcot and Magic Kingdom is just a separate section, so a little less privacy but still super comfortable.
The best part is, each one has a rocking chair! The 4 centers have their lights on dim or are dimmable and have outlets in case you need to plug in an electric pump. Although they do not have a place for you to store your milk, next door is the First Aid and they can provide you with ice so you can keep it cool while you enjoy the parks.
The feeding area has almost anything you can imagine! Here you can find a microwave and it's the only place in the park where you can heat up the food you brought from home. There are tables with high chairs, plastic silverware and filtered water. If you forgot anything or need anything extra they do have extra baby related items for purchase, including, pacifiers, bottles, baby food, juices and pedialyte.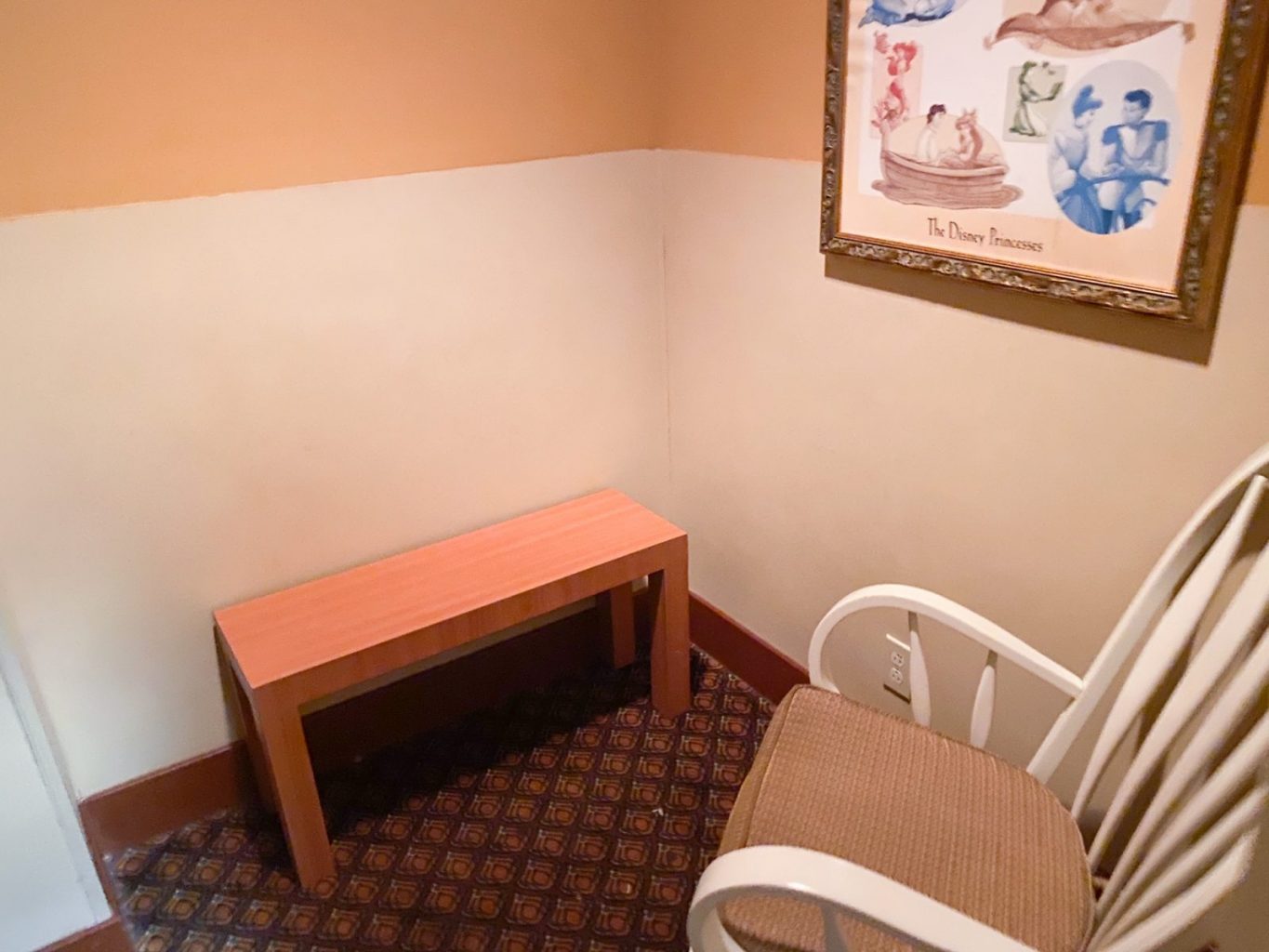 Children's Play Area
Another great feature of the Disney baby care centers are the play areas! This place is great because if you are traveling with both a baby and a child that is a little bit older, your older one can still have entertainment while you are preoccupied taking care of the infant. The area has a TV where they are of course showing Disney movies and shows! There are also chairs and tables where they can sit and watch some movies. I'm telling you! Disney thinks about everything.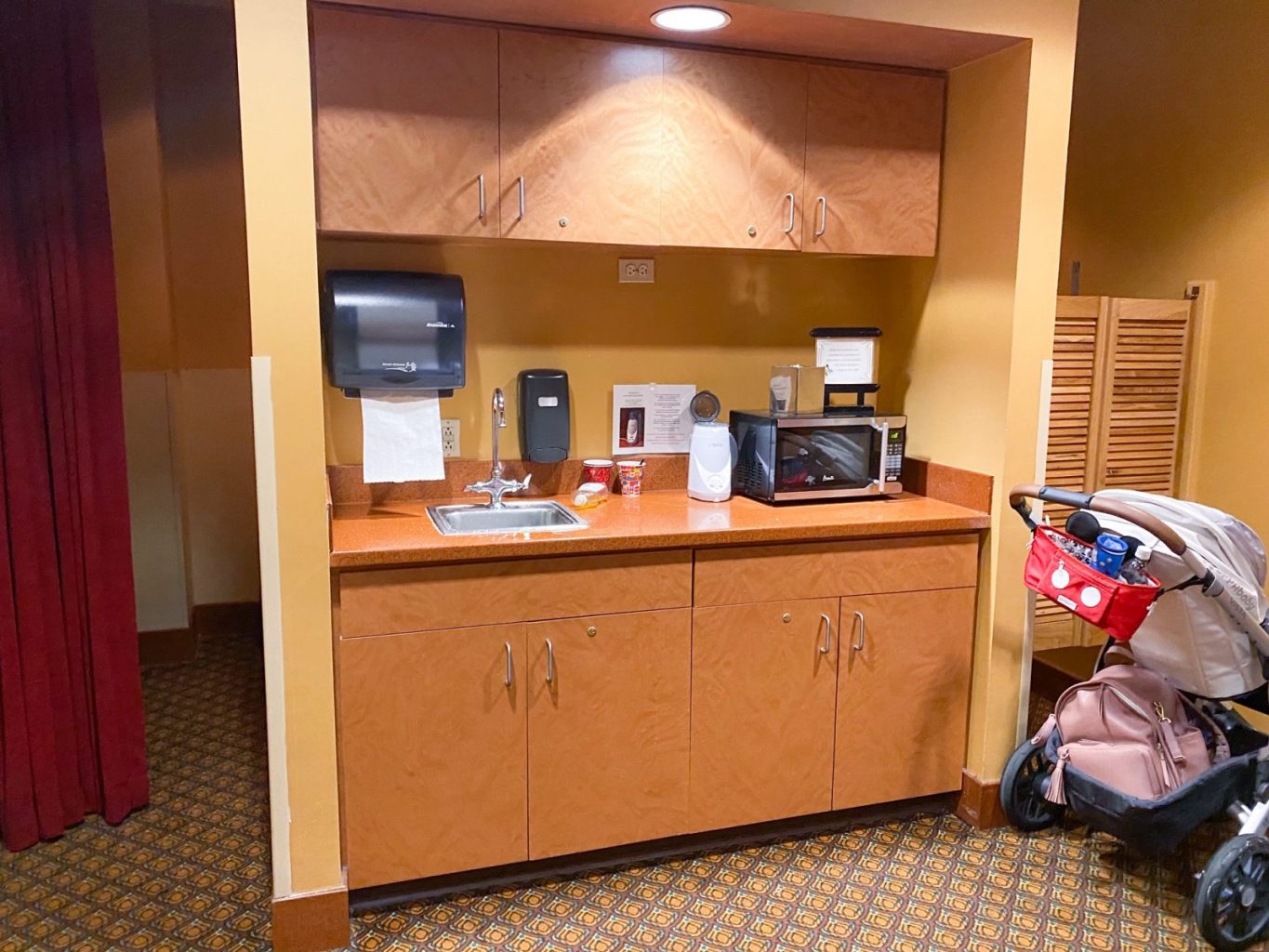 Baby Care Center At Magic Kingdom
This Disney baby center is really easy to find! Right when you finish walking down Main Street towards the castle, it will be located on your left hand side. Right between Casey's Corner (one of THE best corn dog nuggets!) and the Crystal Palace.
Who doesn't stop by Magic Kingdom on their Disney vacation?! There is so much to see and do, you can't pack in everything all in one day, but you sure can try! It's the ultimate park for kids, between all the amazing rides and character meetings, it's everything that dreams are made of.
Baby Care Center At Epcot
Epcot's baby center will be located as soon as you enter the World showcase, there will be another building, it is just before Mexico. There will be a little bridge to cross over. This park is known to be loved by adults, but don't be fooled, it's still well-loved by kids! If you're looking for a perfect itinerary with no lines, look no further!
Baby Care Center At Hollywood Studios
Here the Disney baby center is located just as you enter, to your left! It's going to be inside of Guest Services. Disney's Hollywood Studio's is the smallest of the 4 theme parks but there is still so much to see and do at the park and ways around waiting in so many lines! Between the amazing Toy story Land and the epic Star Wars: Galaxy edge, there is a ton to see!
Baby Care Center At Animal Kingdom
When looking for the baby care center from the entrance, it's conveniently on the left hand side of Tree of Life! It's still on Discovery Island and a little before you cross the bridge to Africa.
Disney's Animal Kingdom has such a special charm! Mostly due to all the animal related attractions and shows that you and your family will just adore. There's always so much to do, we have a great Animal Kingdom itinerary for those trying to do as much as possible with waiting in minimal lines.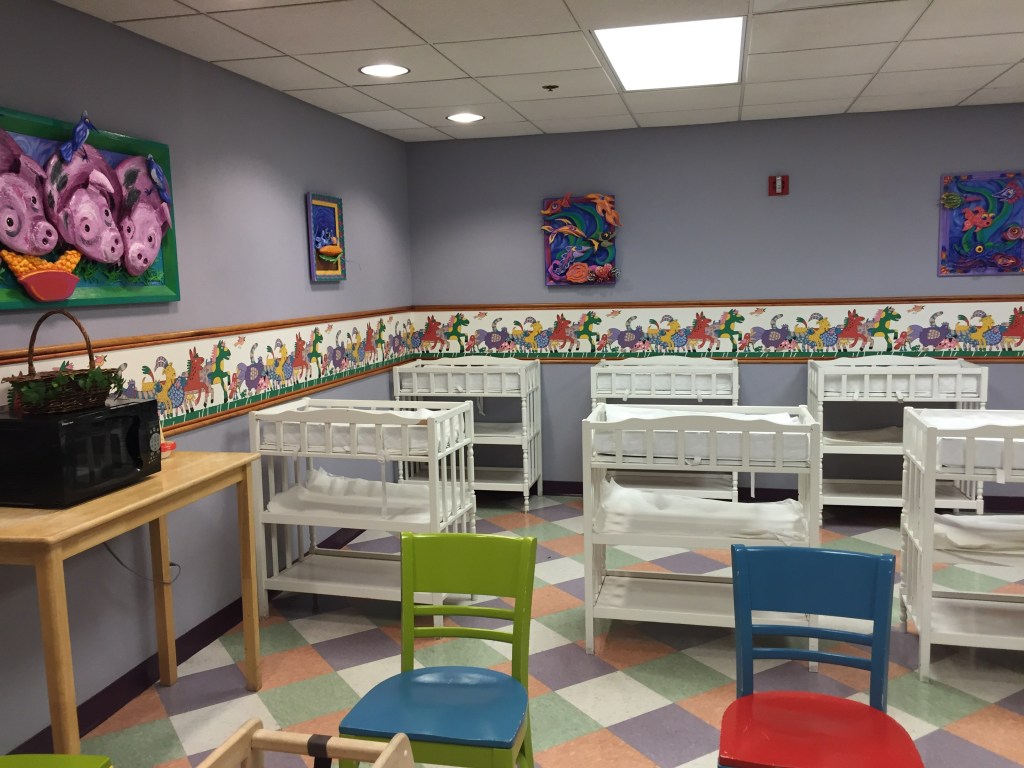 Lost Children
The parks can be quite large and sometimes it gets so incredibly packed! Especially after a parade or firework show, it's almost impossible to move. So sometimes, it does happen but children get lost! Fortunately, even in the most unfortunate situations, Disney has a plan. If your child does get lost, a Cast Member will escort your child to the Disney baby care center where they will stay with a Cast Member until you are found.
Hopefully this covers most if not all your questions about the Disney baby center! It's such a perfect spot for parents that are traveling with little ones. Hopefully you can take advantage of this amazing service on your next Disney vacation! Whether its to feed, nurse or just simply have a well deserved break! Have you ever been to the Disney baby center? What your favorite amenity? Please comment below and let us know your thoughts!