Are you planning a trip to Disney and need to know the best Disney Springs Stores to check out while you're there? Look no further! Here is a handy list of the absolute BEST shops at Disney Springs you can't miss!
If you're like us, shopping is one of your favorite things ever to do, and being on vacation is an excellent excuse to shop even more! After all, how else are you going to show off your awesome vacation to all your friends and family?
Be sure to bookmark this post to save it for when you go on your trip for easy access! Want to get started early and do some shopping before your trip? Check out 12 Creative and Easy Disney Bound Outfits to look your best while you're checking out all the fun Disney Springs Shops below!
If you aren't sure what Disney Springs is, it is a high end area of Disney with over 100 shopping locations, 60 dining locations, and more than 20 experiences daily!
Whether you're looking for something for a big Disney fan, a toy lover, or even an NBA fan, Disney Springs stores have something for everyone! Don't forget to Download The Official Disney Springs Map to make your experience more enjoyable and easier to understand!
Get a FREE printable 30/60/90 day Disney countdown by joining our private Disney Facebook Group and share your photos and ask for tips and tricks!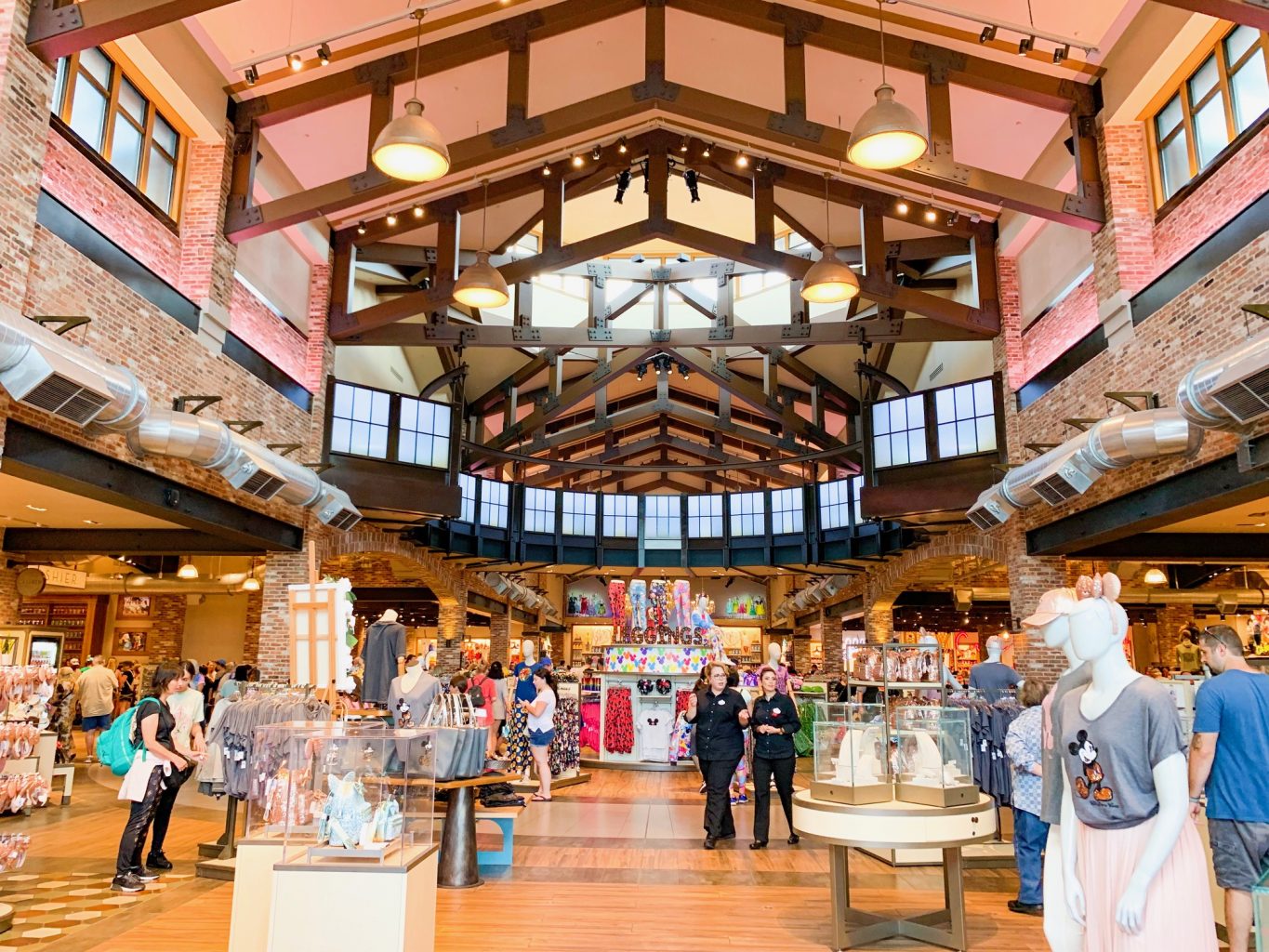 15 Best Disney Springs Stores You Shouldn't Miss
Days of Christmas
Since Christmas is just around the corner, let's start off with an awesome Christmas store in Disney Springs. However, just because it's close to Christmas now (almost exactly two months away!), it doesn't mean you can't visit Days of Christmas any time during the year! It is open every single day of the year! That's right! 7 days a week, 365 days a year!
While you're browsing this fun store, keep in mind they also personalize souvenirs as well! A Disney artist will handwrite a message on an ornament, stocking, or something else for a small fee. A lot of people choose to have their names, the date, or a meaningful phrase written. The coolest thing about this is that the message is handwritten, versus done with a machine at many other places.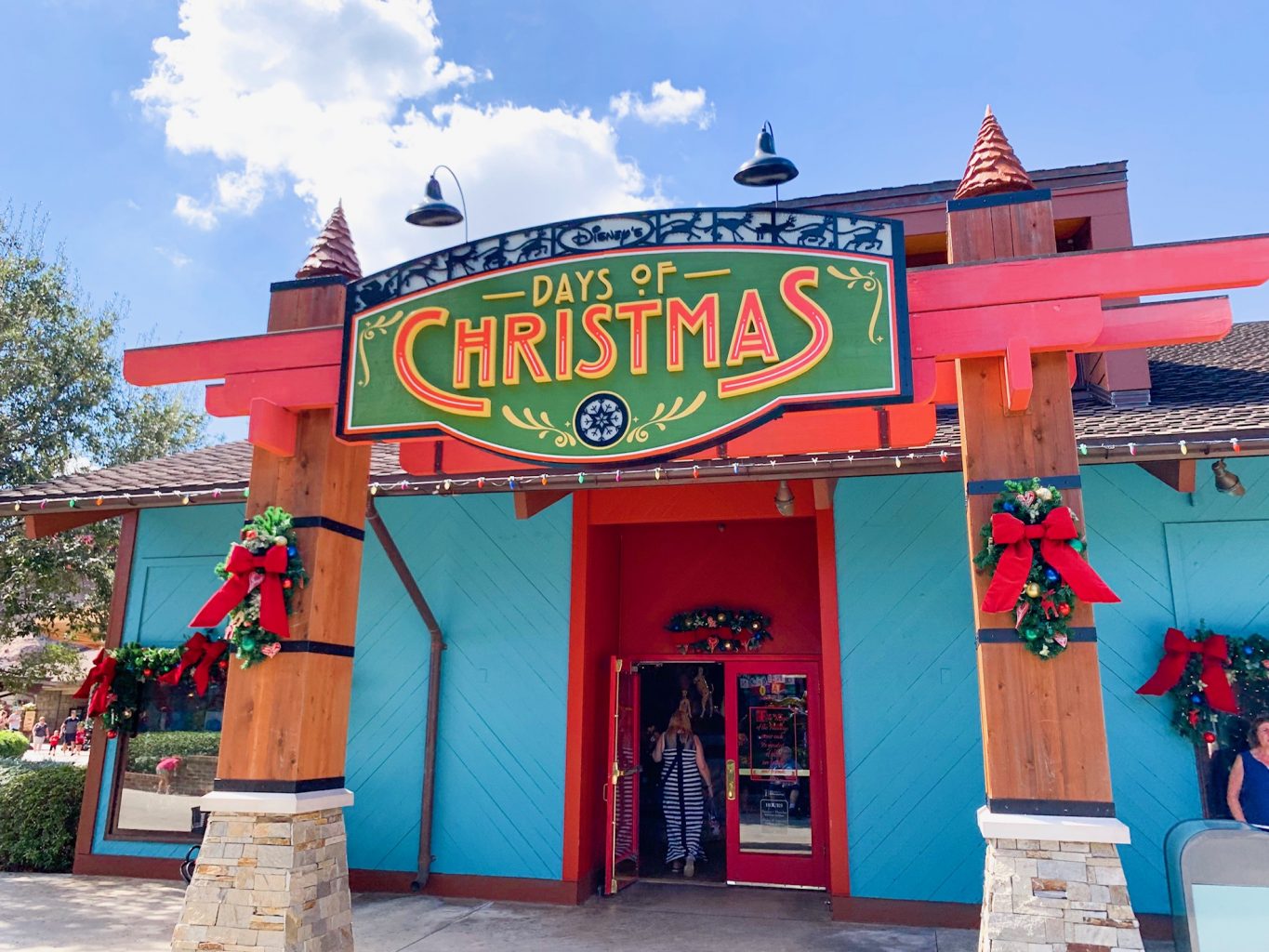 Disney Pin Traders
Are you a pin fan? Do you love trading your pins with friends and family? Do you want every Disney pin there is? Then Disney Pin Traders is going to be your new favorite store! Of all the Disney springs stores, this is the best one for collectors to visit! Not only do they sell pins, but you can also find lanyards, accessories, apparel, and vinylmation (a brand of small collectibles found exclusively at Disney. They are either 1.5″, 3″, or 9″.)
Not only can you purchase your pins here, you can even trade with fellow guests and cast members. Disney Pin Traders holds daily and monthly events where fellow traders can get together for some pin fun! The events are a long time tradition that keep pin fans coming back year after year!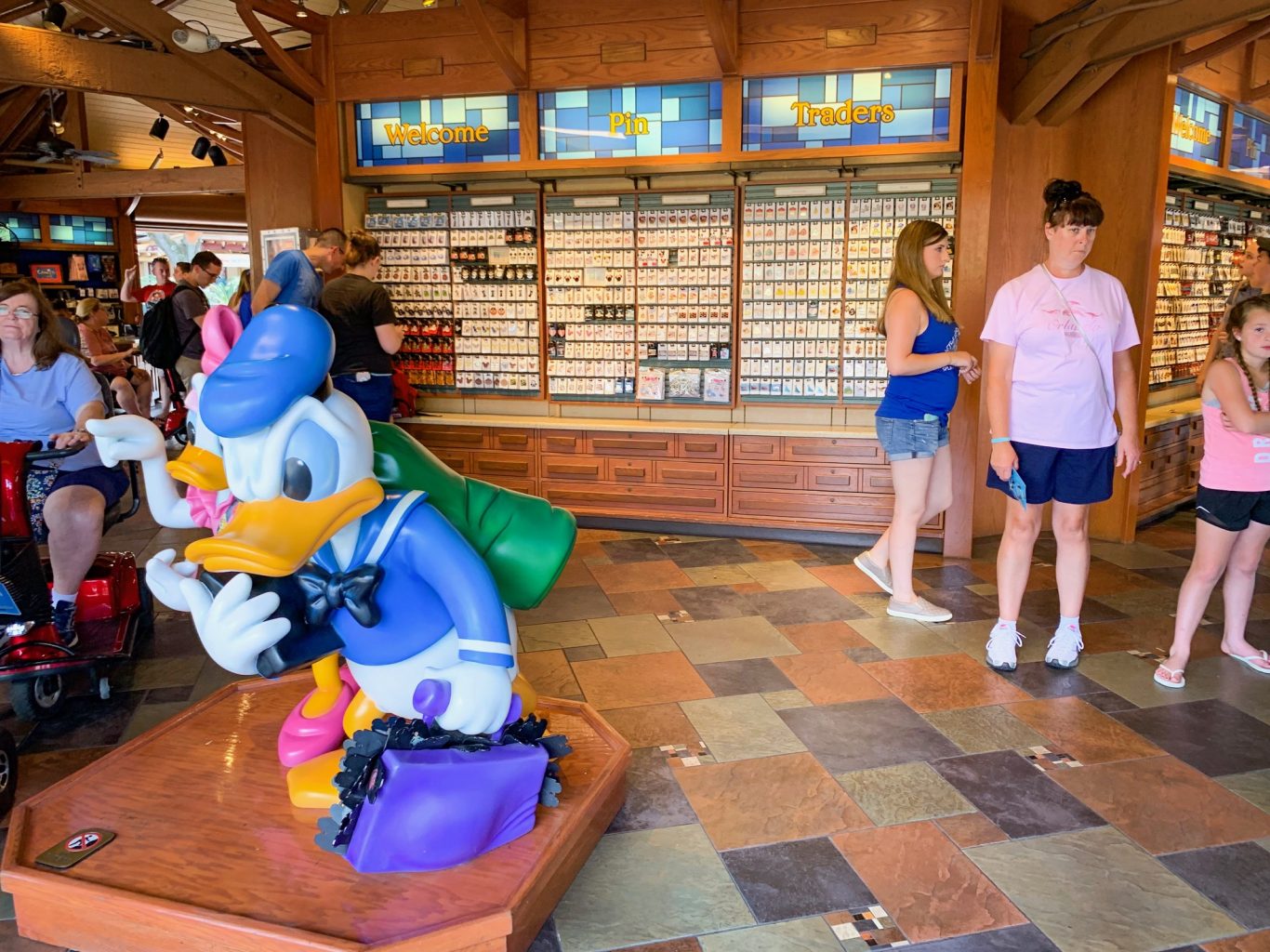 Basin
If you're like us, you are OBSESSED with anything bath bomb related, so when you combine bath goods with Disney, it's pretty much heaven. Not only are the bath bombs and soaps Disney themed, but they also have holiday themed things as well! What bath and Disney lover wouldn't love to have some Basin items in their stocking? Basin carries everything from bath and body products, to haircare, to fragrances.
If you're ready for an experience of your senses, imagine stepping inside Basin. Immediately, a relaxing feeling overcomes you with the stimulating scent of aromatherapy making you feel like you've stepped into a spa. Once inside, browse through their fabulous array of bath bombs, body butters, bath salts, face masks, sliced soaps, and more! The best part of these products is that they're animal friendly and all made without parabens, alcohol, mineral oil or chemicals.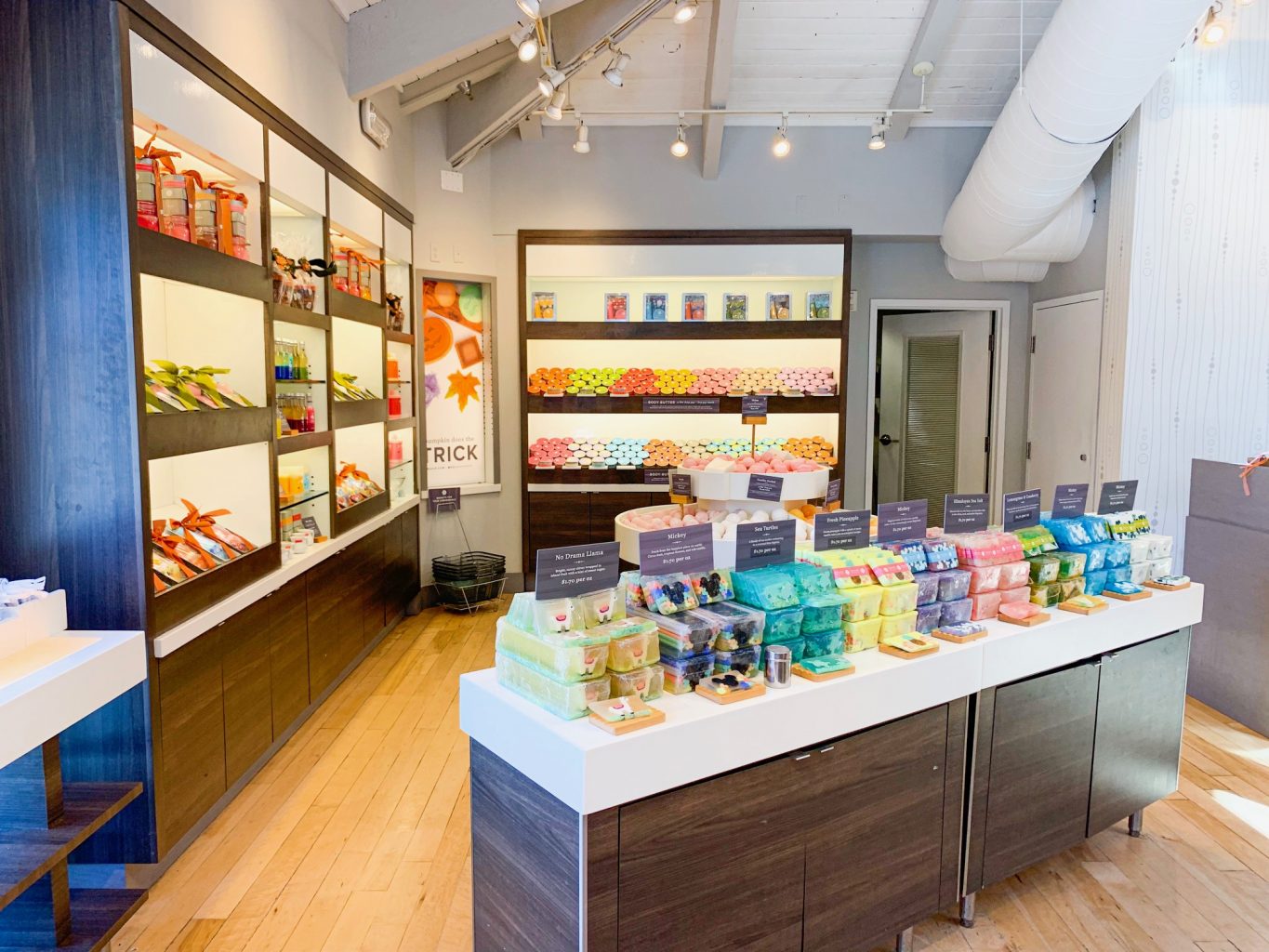 Savannah Bee Company
Of all the Disney Springs stores, Savannah Bee Company is the most environmentally important. Did you know that if honey bees go extinct, humans would cease to exist as well? Honey bees pollinate a great percentage of our food and without them, our crops wouldn't be able to grow, giving us less food, and eventually not enough food.
Support honey bees by checking out Savannah Bee Company while you're doing your Disney Springs shopping. You will find everything you could ever want here including specialty honey, raw honeycomb honey, whipped honey, as well as honey themed clothing, body care, candles, food, and more! Visit the honey bar to learn all about bee keeping, honey, and the vision behind Savannah Bee. Plus, if you're over 21, try Savannah Bee's wine, made with fermentable sugar derived from wine. Yum! While you're there, take some pictures to share on social media and spread the word to #savethebees.
The Lego Store
One of the best Disney springs stores for both adults and kids alike is the lego store! It is one of the biggest lego stores in the world, filled with individual bricks, kits, LEGO-themed merchandise, and more!
In addition to traditional legos, you can also find collectible playsets inspired by your favorite Disney shows and movies from Frozen Castles to Star Wars Ships and more!
You can spend all day at the lego store building a lego masterpiece, race against other guests, check out larger than life models, and play at the play table.
Among the shops at Disney Springs, this is definitely one of the most interactive ones that you should definitely visit while on your trip! It is located right near T-Rex which is one of the best Disney Springs restaurants so keep your eyes out if you can't find the Lego Store.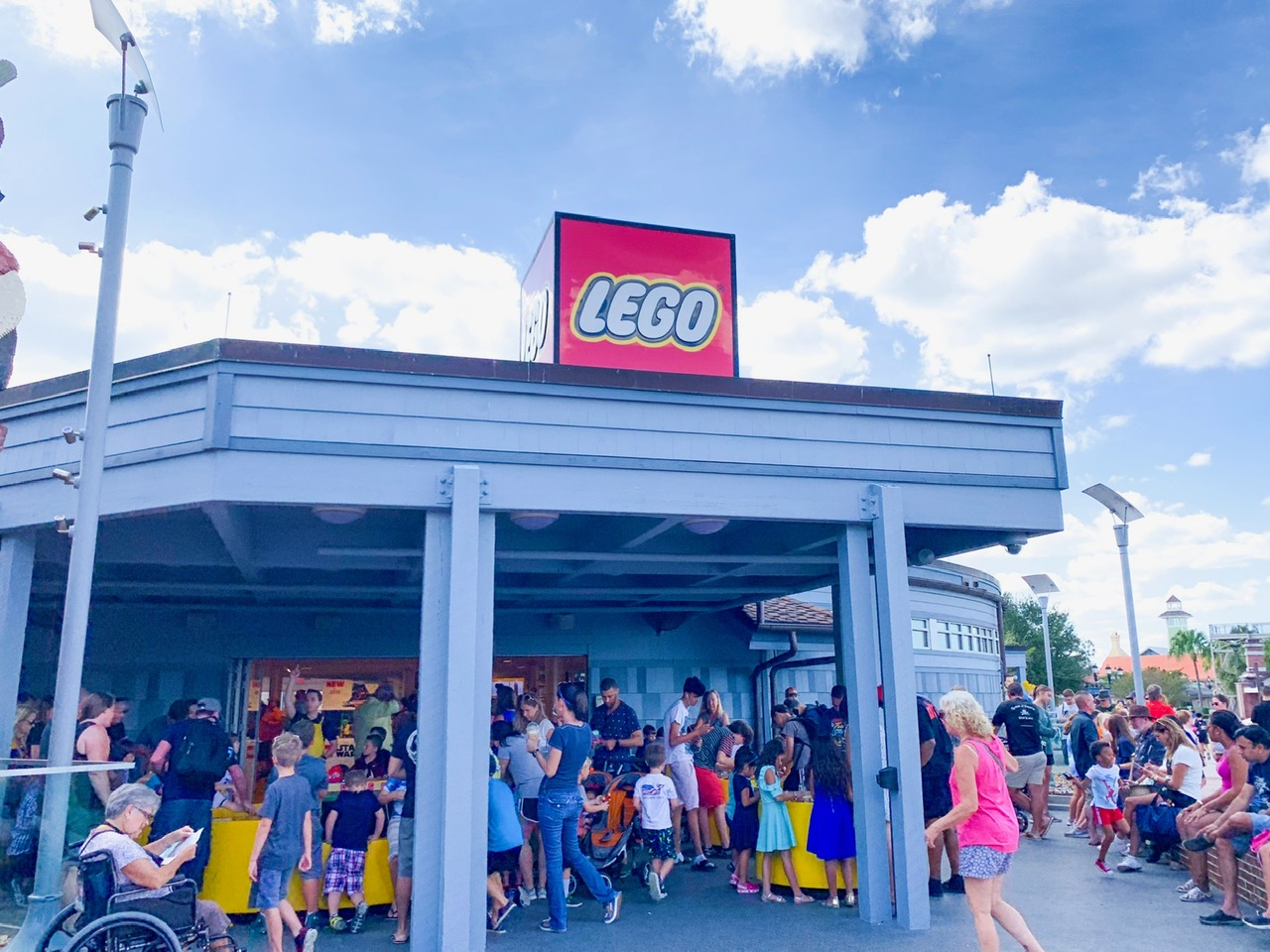 The Art of Disney
If you're a fellow art lover, The Art of Disney is a MUST while doing your shopping at the Disney Springs stores. You can find everything from classic works of art to new pieces. There is something for every art lover, but especially those who appreciate fine art and want a great quality piece that will last forever. Imagine walking into your grandchild's home in 50 years and seeing the piece of art you purchased at The Art of Disney.
Walking into the store, you can feel the magic as you are surrounded by beautiful pieces of art, displayed gallery style. This beautiful art is inspired by classic Disney films, theme parks, and characters. You can find everything from framed prints, paintings, figurines, postcards, and more. In addition, you should also check the calendar as the artists sometimes visit! If you see an artist in the store, you may ask them to sign their artwork creating a timeless piece of art.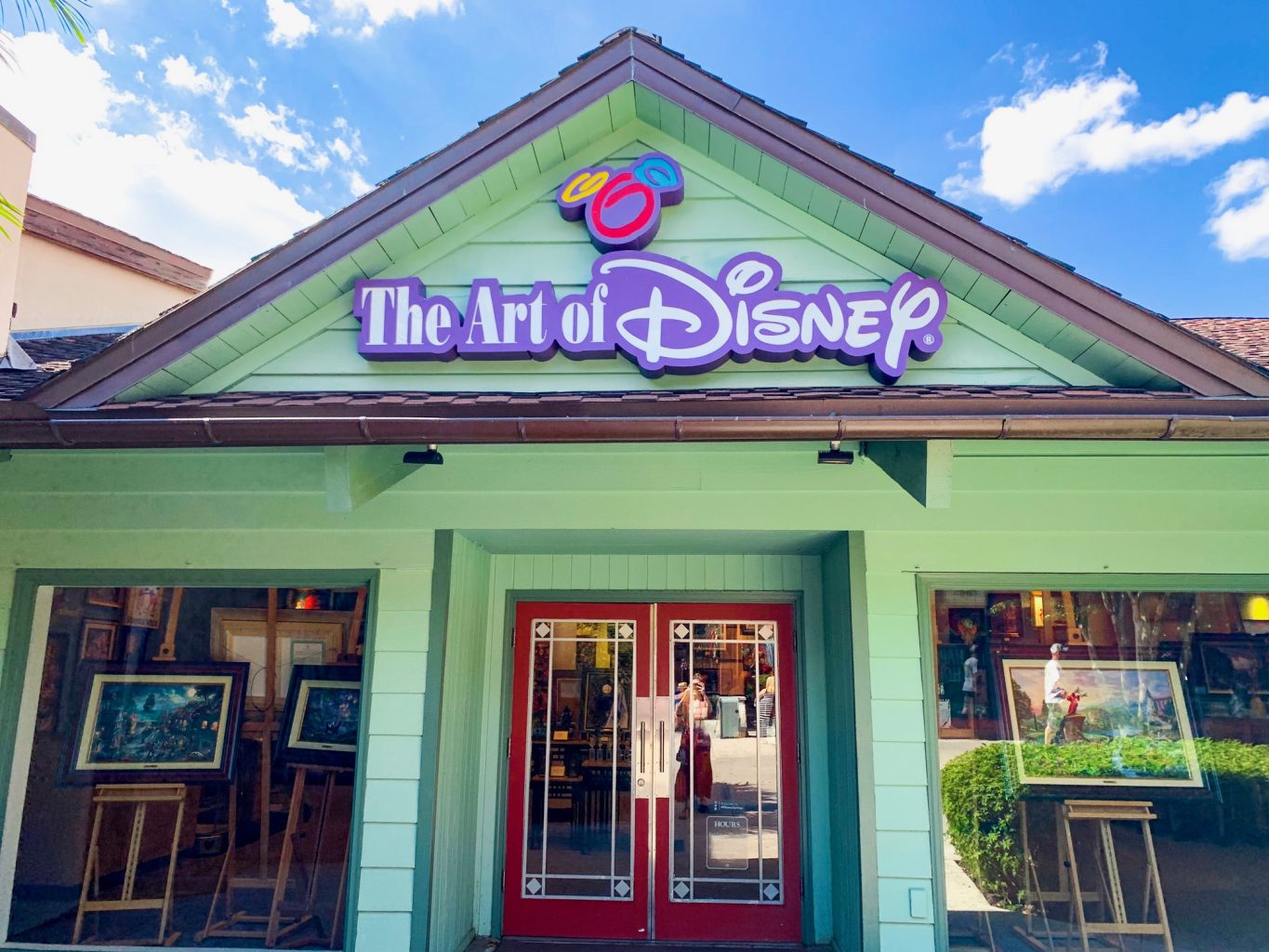 Marketplace Co-op
Of all the shops at Disney Springs, the Marketplace Co-op is a must visit if you're looking for a store that sells a little bit of everything! This one-stop-shop sells everything you could ever ask for from apparel, pet items, home décor, personalized items, and more!
The marketplace has individual vendors as well as brands and you can find basically anything you want (and more!) in the shop! A few items you can find are: Bowes signature candles (diffuser oils, wax melts and natural soy wax candles crafted with eco-friendly wicks), Cherry tree lane (iconic Disney themed apparel often inspired by Disney classics such as Snow White), Disney Centerpiece (home furnishings such as dishes, glassware, linens, pillows, serving pieces, towels, etc…), Disney Tails (everything for your furry friend from bandanas, collars, leashes, and food/drink bowls with your favorite Disney characters), WonderGround Gallery (limited-edition prints, original artwork and merchandise by well-known Disney artists), among many others! There are too many wonderful Disney Springs stores inside the Marketplace Co-op that we simply can't list them all.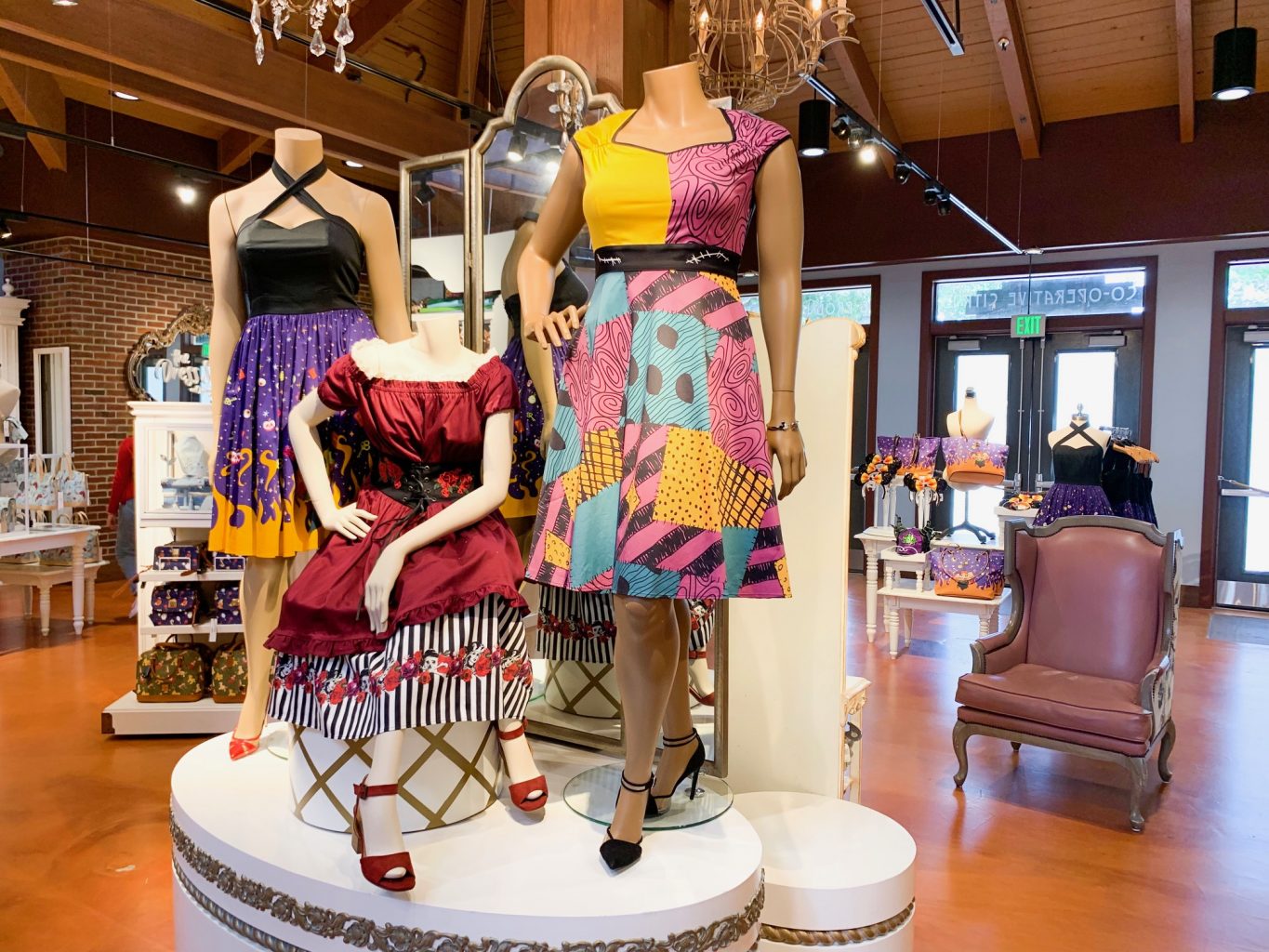 Lefty's The Left Hand Store
While not technically a store, but a kiosk, Lefty's deserves a place on this list just because of how cool it is. This store is super specific to people who are left handed, which is only about 10% of the entire population on Earth. Even though most of the population is right handed, Lefty's products caters only to that ten percent.
You can find a great array of left handed products at Lefty's, including, but not limited to, kitchen gadgets, gardening gear, office supplies, tools, and school items. You will find the Lefty's logo on the items, consisting of a thumbs up left hand. If you're an awesome lefty, this kiosk should definitely be on your list for your Disney Springs shopping.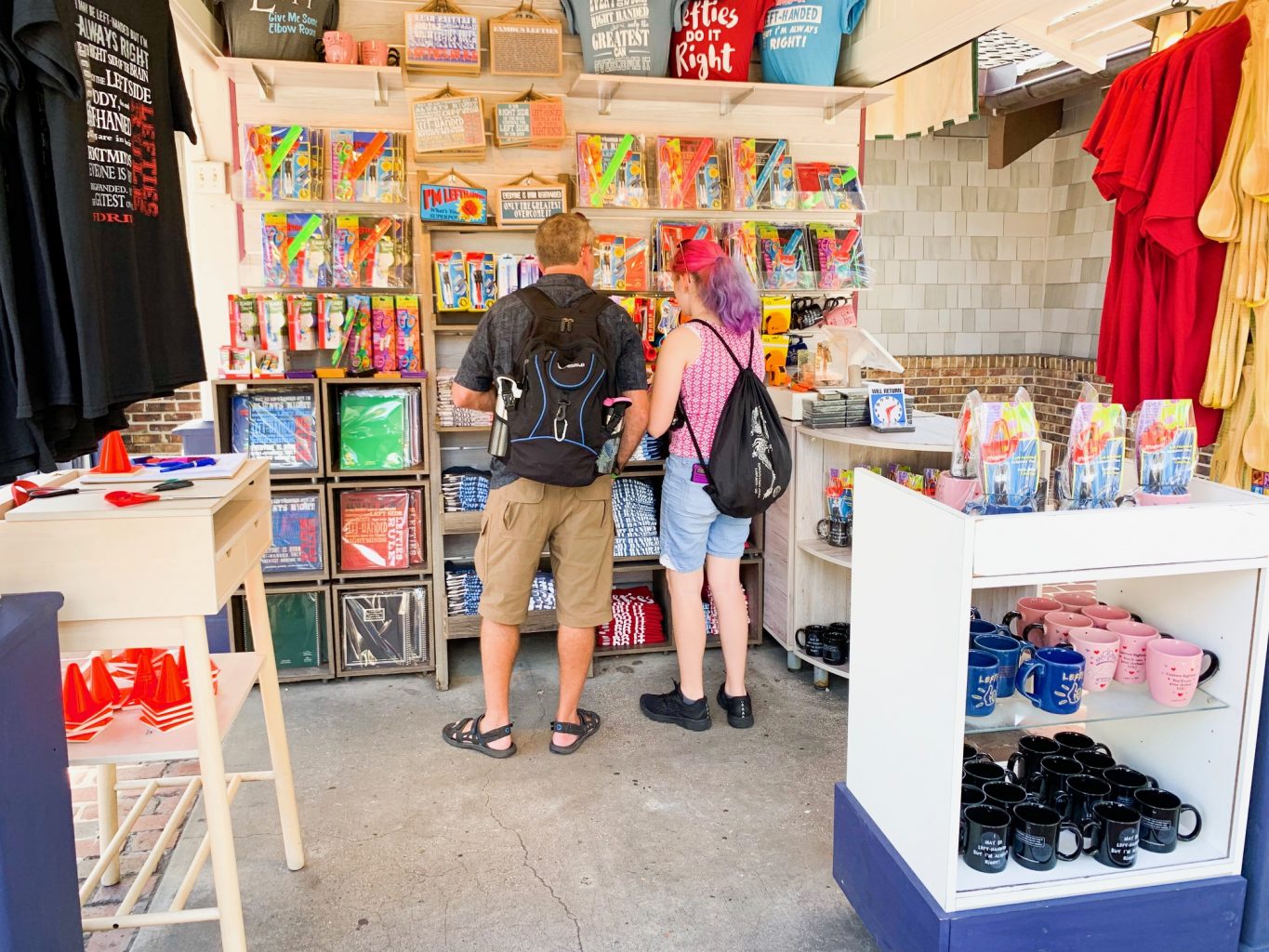 Once Upon a Toy
Once Upon a Toy is one of the most fun Disney Springs stores, inside and out! Whether you are a kid or just a kid at heart, Once Upon a Toy has something for everyone to enjoy. You can find everything from collectibles, board games, puzzles, plush and more inside this mega toy store! While you're shopping for toys, you can also share your fun experience online with family and friends!
Incorporate social media in this interactive space using larger than life props such as Mr. Potato Head, Buzz Lightyear or Tinker Toy. Be sure to share your photo-ops to Instagram and tag #onceuponatoy to see others fun photos as well!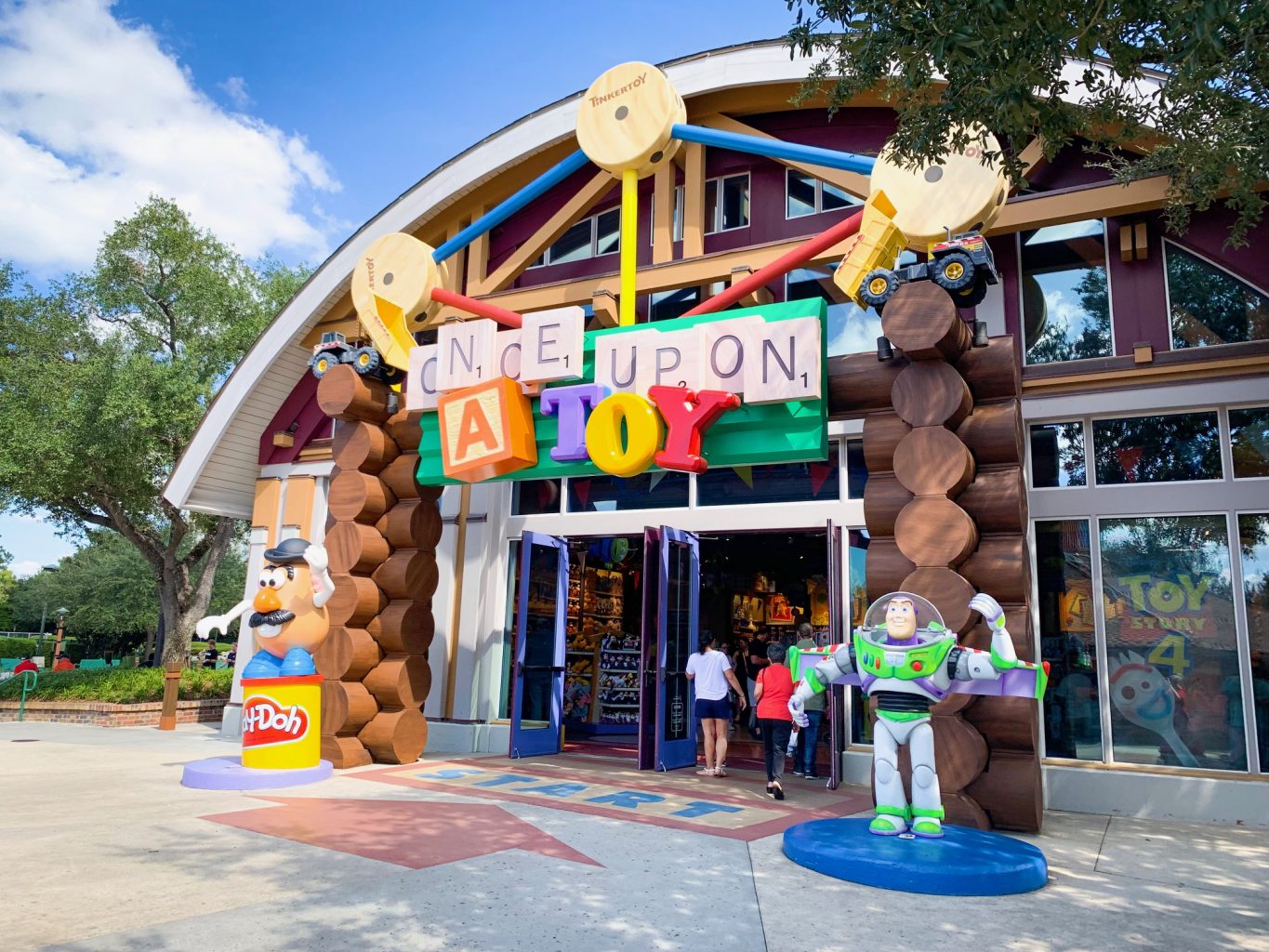 Star Wars Galactic Outpost
If you are a Star Wars fanatic, you definitely have to check out this store while doing your Disney Springs shopping. This store is described as giving an "Epic Experience" so you do not want to miss it! This store has everything Star Wars related you could ever imagine, including, but not limited to: clothing, accessories, drinkware, lightsabers, MagicBands, toys, Vinylmation, and some awesome wall art!
Want an awesome Disney shirt to wear to this themed store? Check out the Star Wars themed shirt in 20 Unique and Hilarious Disney Family Shirts. If you're really into Star Wars and one store just isn't enough, check out our next store located on the opposite side of Disney Springs!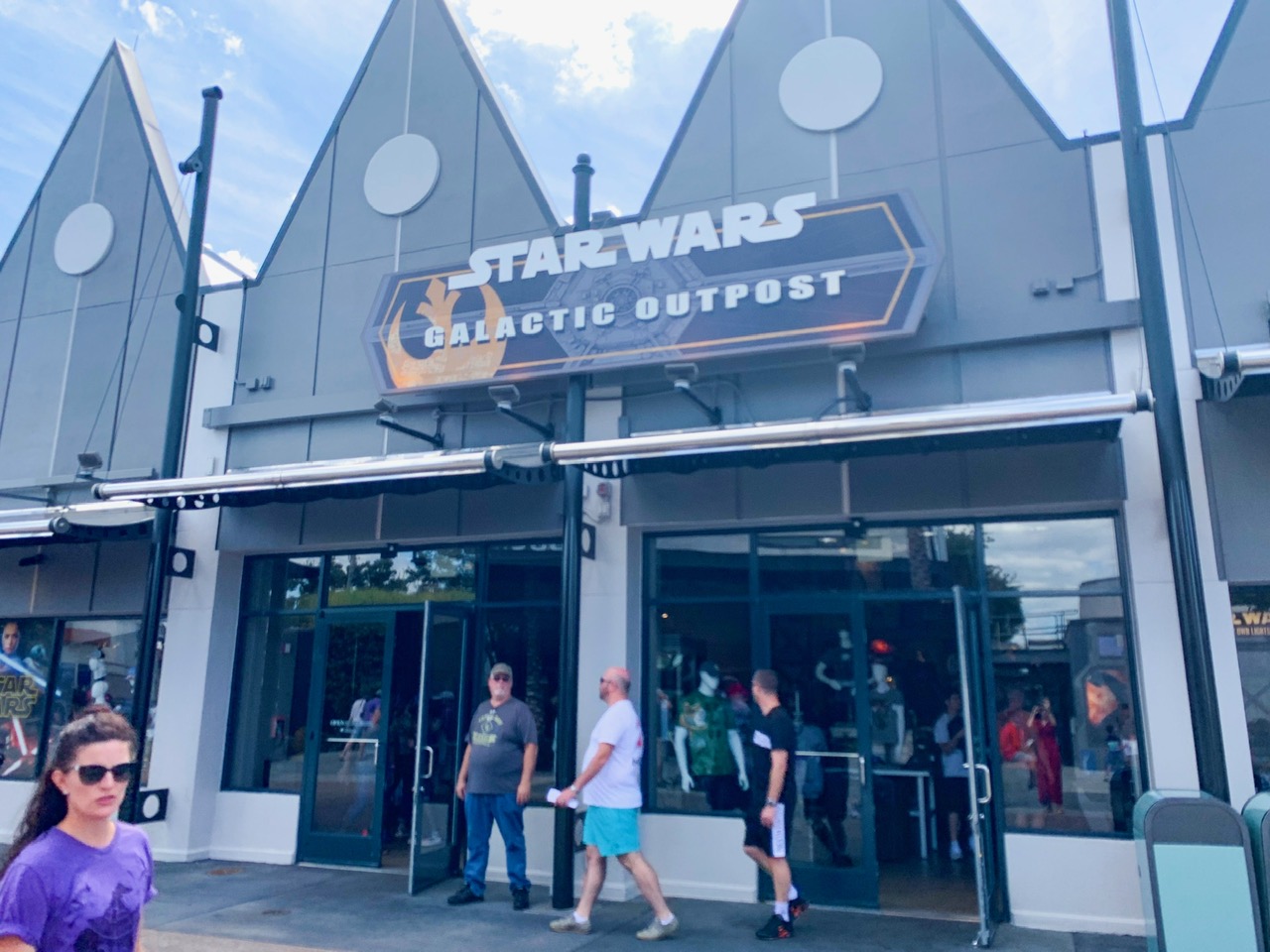 Star Wars Trading Post
Star Wars is so cool, we just had to include it twice! The trading post isn't as large as the outpost, but sells a lot of the same items like clothing, drinkware, souvenirs, Vinylmation, and more! Not only can you do some shopping, but you can also build your very own lightsaber (or droid)! How cool is that?!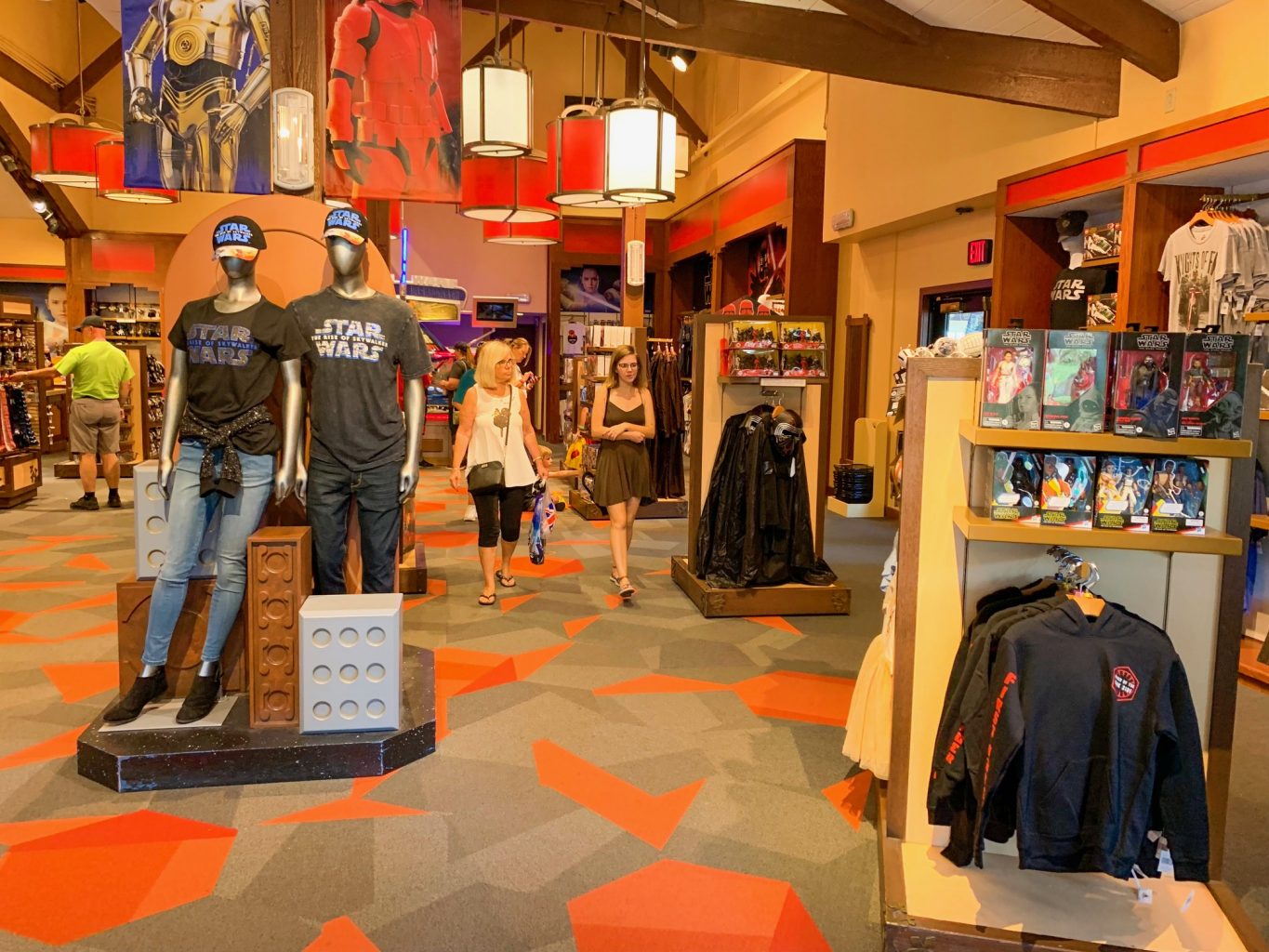 DisneyStyle
This store is a must-visit for any Disney fashionista. There are so many options from t shirts, sweatshirts, handbags, headwear, socks, and more! Use your creativity to create the ultimate Disney outfit to show off while walking around Disney and having the time of your life!
Show off your style by tagging #DisneyStyle on Instagram and following the official DisneyStyle account!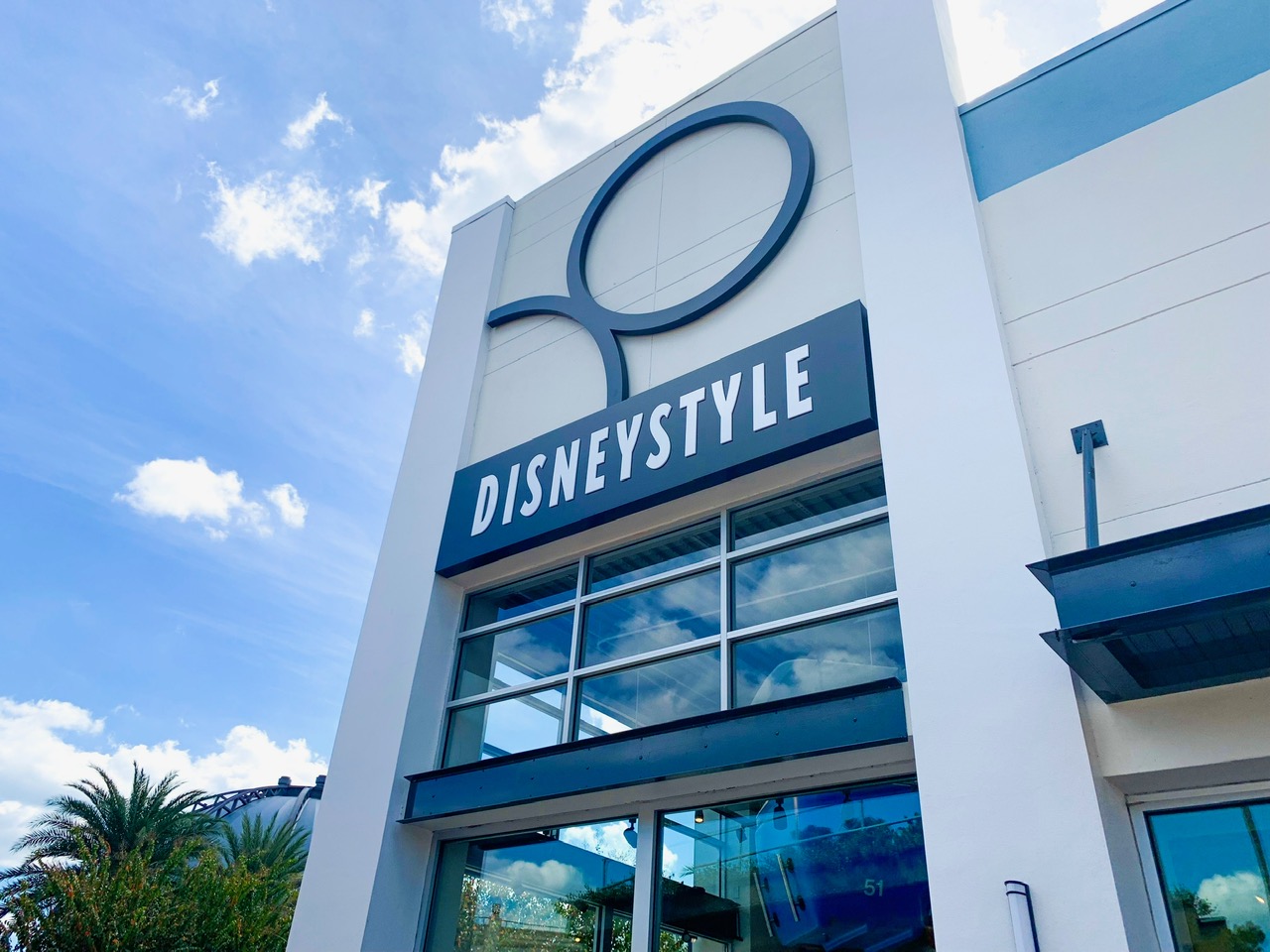 Shop for Ireland
Do you want to go to the land of the Emeralds? Or maybe just pretend like you did? Want to show off your Irish heritage? If so, you need to check out this fun Ireland shop! Each item in this super cool store is imported from Ireland, making it authentic.
There are so many options for every Ireland lover in this shop at Disney Springs. You can find everything from clothing, birthstone pendants, family crests, cookbooks, fragrances, and more! After picking up a few gifts, you can keep the Irish spirit going by visiting the Irish pub or restaurant next to the shop!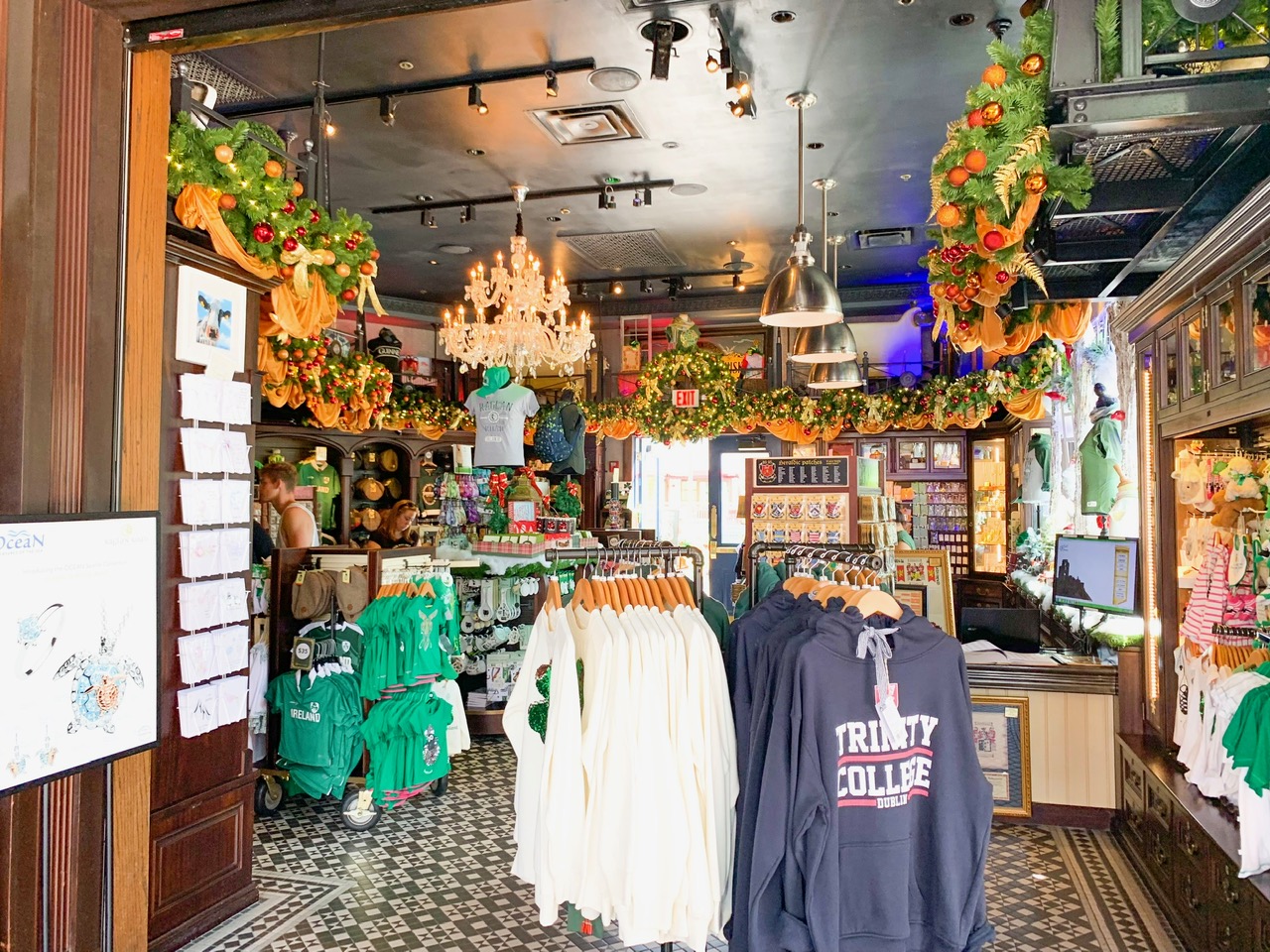 NBA Store
If you're a basketball/NBA fan, this store is a must visit for you! Have a basketball lover in your life? Stop in for some NBA merchandise. The NBA store is an official store by the NBA, which is super special for being one of the Shops at Disney Springs! Find this awesome store inside the NBA experience while shopping at your favorite Disney Springs stores.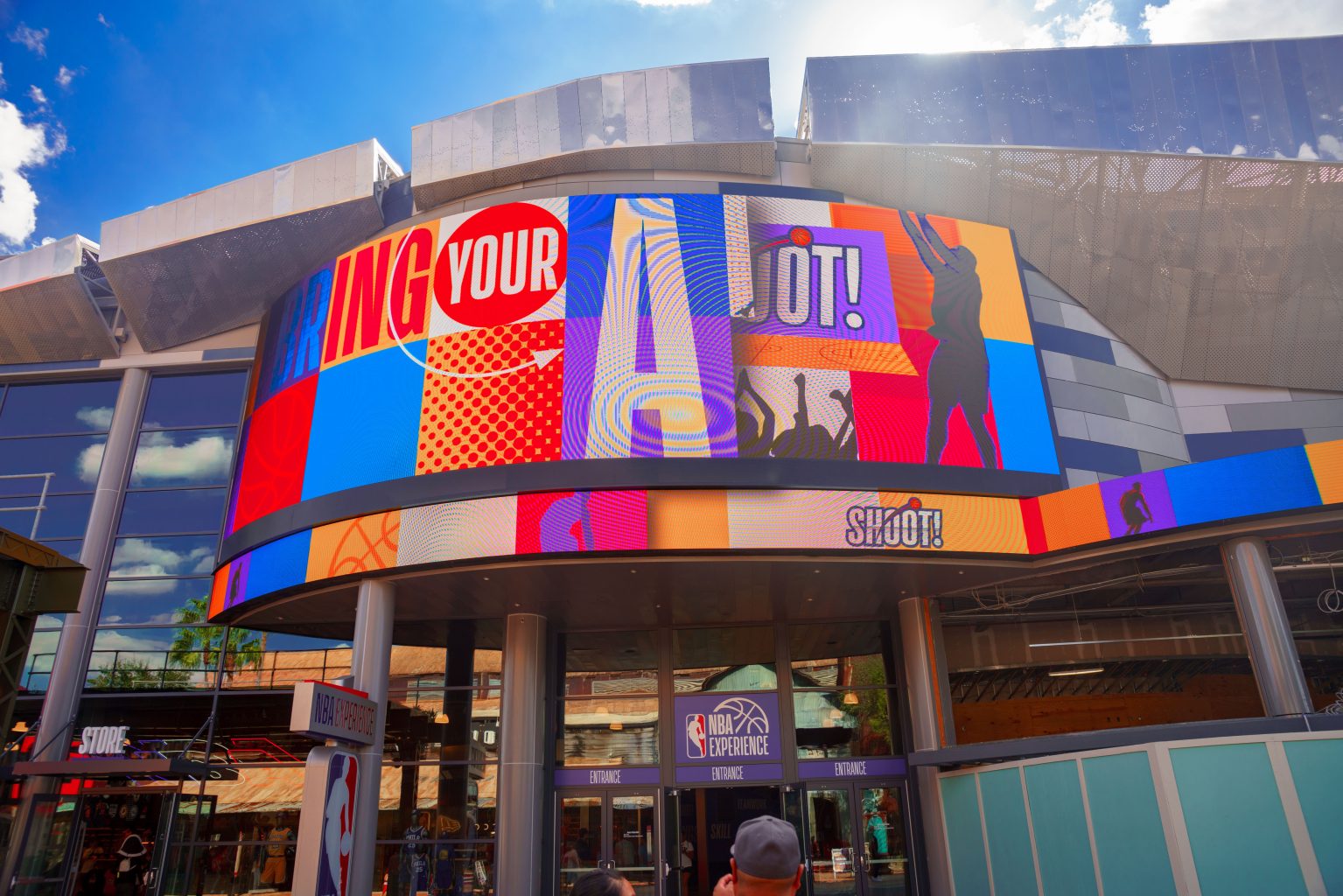 The Art Corner
Bring out your inner creative in this immersive and interactive store! Each piece of art is created by a professional artist in the store. There is nothing like watching an artist create a masterpiece right in front of you. Purchase a piece of art for yourself, for a friend as a gift, or both!
There are so many different options from caricatures, custom-marbled silk and hand-drawn names embellished with illustrations, and more! Another super cool addition to this store is the unique art of Mikel. Each piece is painted with a unique paint made from one of our favorite things: coffee! That's right! How amazing, right?! Each painting contains between 60 and 150 brewed cups of coffee!
World of Disney
We saved one of our favorite Disney Springs stores for last! World of Disney is the ultimate store for any Disney lover and has absolutely anything you could ever want for yourself, or the other Disney lovers in your life. If you're like us, several people just popped into your head (as they should – Disney in the best!)
If you saw this store from the outside, you would think it was museum with how big and beautiful it is! The official Disney Springs website even describes the store as having a "masterfully curated collection" which sounds exactly like a museum, does it not?
Step inside this 51,000 square foot store for a magical Disney shopping experience! You can find anything your little Disney heart can imagine (and more) such as any piece of Disney clothing you can imagine, Mickey Ears and home décor to toys, pins, plush, souvenirs and so much more! You can also view the magical décor which consists of movie posters, mystical pieces of art, and even ink jars that are animated with pixie dust for your Tinkerbell loving friends. If you visit only one store while you're at Disney Springs, it HAS to be this one. You could probably spend an entire day there! (I know we can!)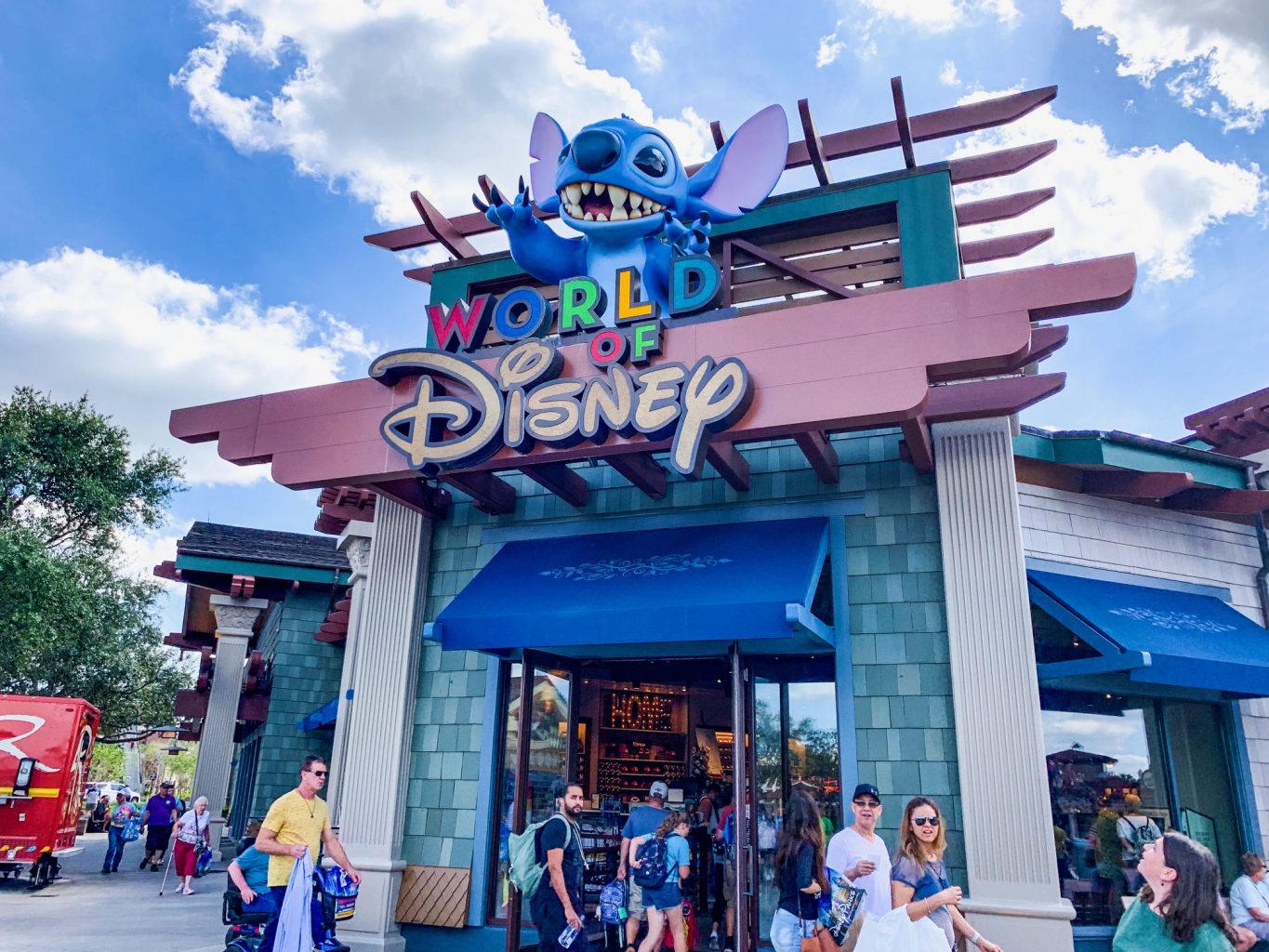 Did this post get you excited to go shopping at Disney Springs? It sure did for us! Are you already an avid shopper who has some favorite Disney Springs stores? Did we miss any? Tell us in the comments! Want to learn more about Disney Springs? The official Disney Springs website is a great source for even more Disney Springs stores.
Pin this post: