Disney is a magical place in general, and going to Disney in December is an amazing time to visit! Christmas is the most wonderful time of the year, especially at Disney! Christmas at Disney just gives you a warm and happy feeling inside.
There is so much to do during the holidays at Disney World. Each park has something special going on, and you can't miss out on Mickey's Very Merry Christmas Party! The party just screams festive and holiday fun!
Not only is there so much to do, there is so much to see, eat, experience, etc. The list goes on and on! There is never a dull moment at Disney during the Christmas Season. And when you need a break from all the madness, there are so many things to see and do around the resorts and Disney Springs!
Here we will tell you all you need to know about going to Disney in December. If you are planning a vacation for December, there is a lot of important information to keep in mind while planning. We have everything you need to know about the weather, crowds, special events, discounts, and more!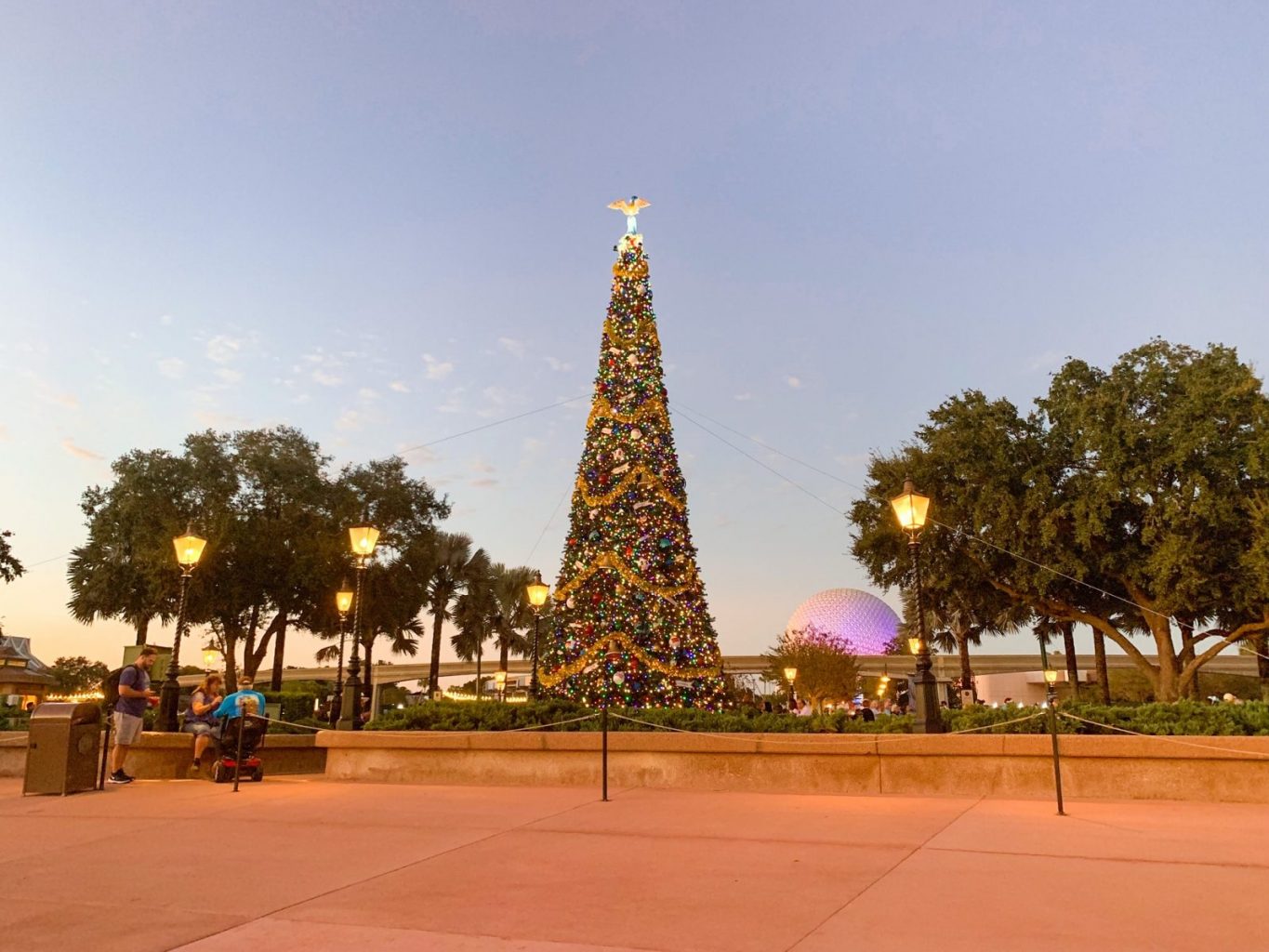 The Ultimate Guide To Visiting Disney In December
Disney World Weather In December
Whenever you think of traveling to Disney World, you might think of the hot and humid days, the sweat, and the constant need to cool down. A lot of walking around the parks is done outside, so this is usually unavoidable. It can make your magical trip not so magical. In terms of weather, December is one of the best months you can visit Disney World!
Disney in December is a prime time to go and not just for the holiday specials! The average high for Disney in December is 74°F and the average low is 56°F. To put it in perspective, Disney in July sees an average high of 90°F and a low of 75°F, and it can still get much hotter than this!
If you live in the north, going to Disney World in December will be a nice tropical escape from the cold without experiencing too much heat. If you live in the south, the weather might be the same or even a little cooler than what you are used to. It's a win-win for everybody! December also sees a lower humidity in Disney. The humid air makes the summer months even more unbearable. Without as much humidity, Disney can be a far more enjoyable place. No more pit stains!
The summer months at Disney are famous for their sporadic rain showers. It can totally catch you off guard if you aren't prepared. The wonderful thing about traveling to Disney in December is there is less of a chance you get caught in the rain! The average amount of days it rains in December in Orlando is 4 days out of the month. This is nothing compared to the average 13 days in July!
There is an average of 7 hours of sunshine during December, ensuring less time you are in the sun getting overheated. There are a lot of wonderful nighttime activities you can experience at Disney World, so you are not missing out on anything! However, the nighttime does come with cooler temperatures.
It is important to know that with a cooler day comes an even cooler night. With the average low being in the 50s, it is necessary to bring clothing items meant for cold weather. You really never know when you might be needing a scarf or a hat.
We aren't exactly able to tell you what the weather will be like at Disney in December. You could have a perfect day every day, hotter than normal days, or even cold days for Florida. As long as you bring clothing for all types of weather, you will be set!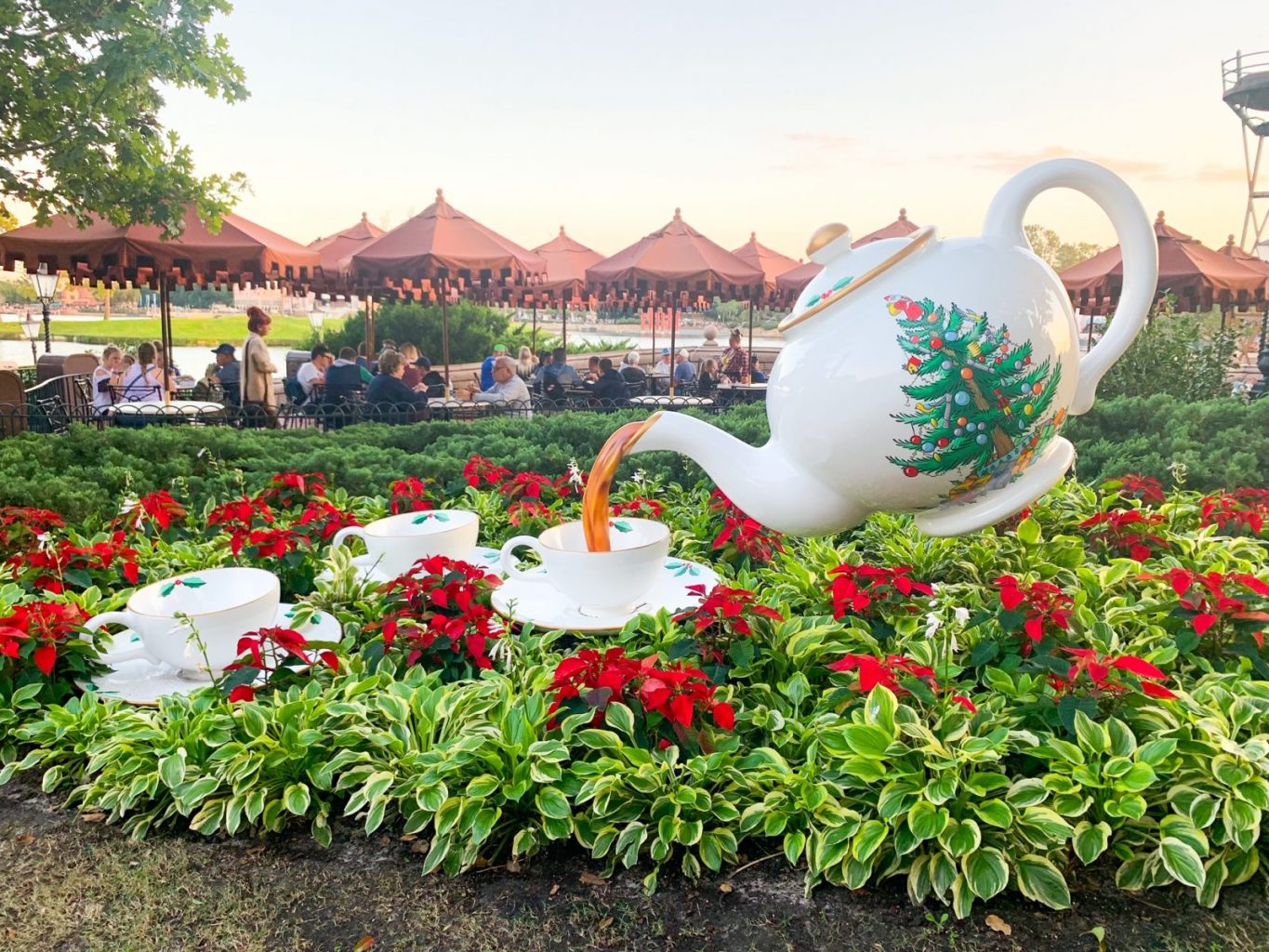 December Crowds At Disney World
The crowds at Disney World in December can be manageable but you have to be smart and plan things out. If you don't, you might be stuck in some of the worst crowds you've ever experienced! No one wants to be packed into a park shoulder to shoulder like a can of sardines! Here you can view our Disney Crowd Calendar to see what dates would work best for you.
If you really want to visit Disney during the Christmas season (which we very highly recommend), we suggest you plan your trip for the first week of December. During this time, college students are taking their finals, kids are still in school, and not many people are on their Christmas break yet. Therefore, there will be way less people than later on in the month. You will still get to see the Christmas decorations and do all Christmas related activities, so you aren't missing out on anything (expect for the crowds of course)!
The second and third weeks of December progressively get worse as time passes on. During the 6th through the 12th of December is Pop Warner Week. Pop Warner is a football and cheer program for the youth. During this week they go to Disney to compete in their championships at the ESPN Wide World of Sports center in Disney World. When these groups visit, a lot of the value resorts fill up, mainly the All Star Resorts. They will also sometimes visit the parks, making them a little more crowded. If you want to stay at these value resorts or avoid these big groups in general, avoid planning your trip during these days.
The week during Christmas is one of the absolute busiest times for Disney! If you can avoid going this week you definitely should, especially if you can't stand crowds! Christmas Day is especially worse! Everyone tends to flock to Magic Kingdom first on Christmas, forcing the park to reach capacity early on in the day. Then the other parks follow suit once people realize they aren't getting into Magic Kingdom.
If you are visiting Disney over Christmas, we highly recommend making this a resort/relax day. With everyone at the parks, there will be more space for you to explore the resorts! There are so many activities to do outside of the parks, such as visiting the Gingerbread Houses at some of the Disney resorts! Or you could visit all the resorts to see their own unique Christmas tree! You will be glad you decided to stay away from the parks.
If you really need to be at a park during Christmas Day, we suggest visiting one of the less popular parks, such as Animal Kingdom. Hollywood Studios would have been a great place to go in the past, but with the opening of Galaxy's Edge, we expect the park will be crowded very early on in the day.
New Year's Eve is another day that sees very high crowd attendance at Disney World. While counting down to the new year can be very exciting in the parks, it can also be very hard to get a lot done due to the high volume of people. Going to Disney Springs on New Year's Eve is a great option to avoid the crowds while still getting a Disney experience. There are a lot of fun and unique bars you can hop around to while enjoying your last night of the year!
Here's a few tips to make your time at Disney in December more enjoyable:
Avoid Parks With Extra Magic Hours
Parks with Extra Magic Hours are going to be more crowded than parks without it. If you want to utilize the Extra Magic Hours while avoiding the crowds, either enter the park early for the Morning Extra Magic Hours or visit the park late during the Evening Extra Magic Hours. It is advisable to get Park Hopper tickets so you can leave the park as soon as the morning hours are over or visit another park until it is time for the evening hours.
Go to Magic Kingdom on Party Days
Magic Kingdom is less busy on the days there is a Mickey's Very Merry Christmas Party in the evening. This is because the park closes early on these days, giving guests less time in the park if they don't have tickets to the event. Visiting the Magic Kingdom before the party is a great idea if you want to get some rides done with less crowds. Even though there is less time, you will be able to get way more done than on a crowded non-party day. Then you could park hop to another park to end the night.
Likewise, we recommend avoiding the Magic Kingdom on non-Christmas party days because these days will be much more crowded.
Consider Buying Park Hoppers
To get the most out of your vacation in December, it is a good idea to buy Park Hopper tickets if possible. This way you can switch from crowded parks to less crowded ones when needed, ensuring you get the most out of your vacation.
Disney in December can be a bad experience if you don't play your cards right. Now that you know all the tips on how avoid the crowds, it is possible to have a great vacation! There of course will still be tons of people around, but once you plan accordingly, you can make the vacation feel like a breeze!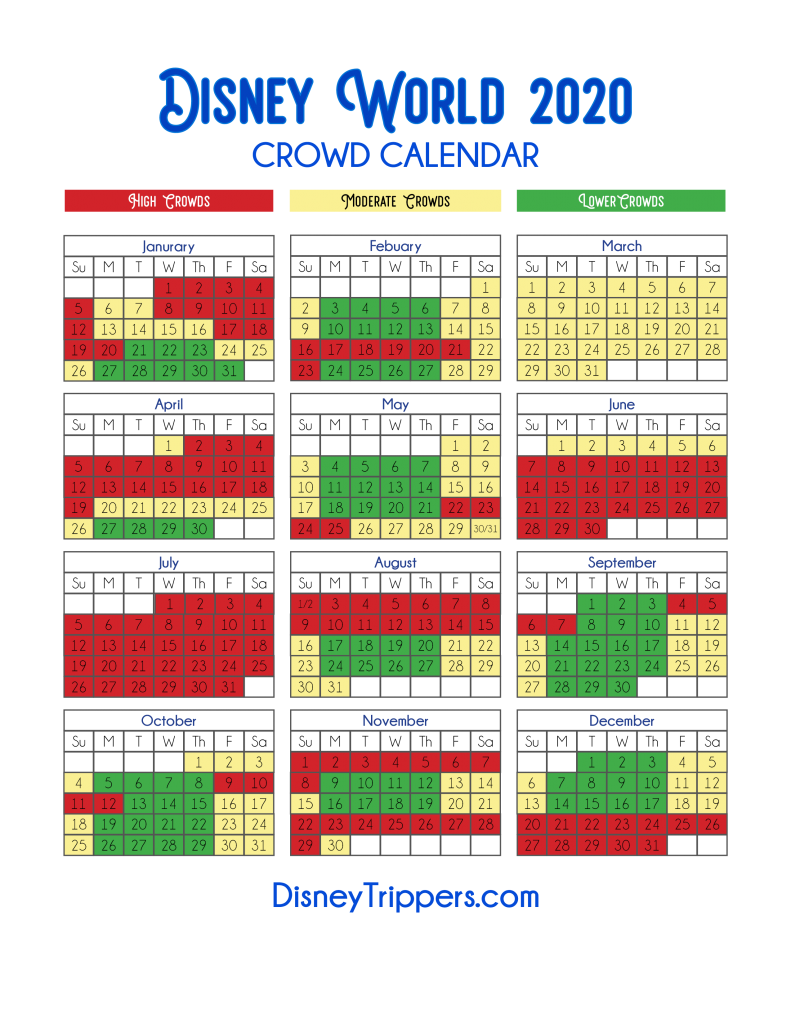 December 2020 Special Events At Disney
Buckle in because there are a lot of special events offered at Disney in December!! If you love the Christmas season and Disney, then this is the absolute best time for you to go! Christmas at Disney will even put a smile on the grumpiest of faces! We are going to break down these awesome holiday activities by park/location so you can find exactly what you are looking for!
MAGIC KINGDOM
The epitome of Disney Christmas happens at the Magic Kingdom! This park gets the most decked out in fun decorations and has the most holiday activities for all ages!
Mickey's Very Merry Christmas Party
The biggest event during Christmastime is Mickey's Very Merry Christmas Party. This party is amazing and very fun if you decide it is worth the expensive ticket price. Tickets can cost up to $150 for adults with children costing $5 less than the adult ticket price for that specific date. This can definitely add up for bigger families, so it is up to you to decide if it is worth the money based on the party's offerings!
The party only happens on select dates about 3 to 4 times a week, with the last date being a few days before Christmas. These tickets sell out pretty fast, especially the dates closer to Christmas, so we recommend grabbing tickets the moment you decide you want to attend the party! There is so much to do including an exclusive parade, stage show, and fireworks!
Fun and free offerings during Mickey's Very Merry Christmas Party:
Free cookies, hot cocoa, and apple cider (plus a few other tasty treats! Last year they had little soft pretzel snowmen! Super cute!)
Special Character Meet and Greets
Character Dance Parties
Snow on Main Street
Minnie's Wonderful Christmastime Fireworks
Once Upon a Christmastime Parade
Mickey's Most Merriest Celebration Stage Show
A Frozen Holiday Wish (Elsa covers the caste in shimmering ice crystals in this short stage show!)
A Totally Tomorrowland Christmas Show
The Edge Effect (A capella group that performs Christmas songs 4 times a night)
Holiday Themed Ride Overlays
The holiday themed ride overlays are a recent addition to the Christmas parties and they are so fun! The Tomorrowland Speedway gets decked out with lights to marvel at as you drive past in your "speedy" car. Monster's Inc. Laugh Floor has a fun holiday twist to their usual silly antics. The Mad Tea Party has special lights and music to enhance your Christmas fun. And for the best new overlay, Space Mountain is accompanied by Christmas music and holiday light shows! It was so awesome we had to ride it multiple times!
The Jungle Cruise also gets a very fun overlay during the holidays, and this overlay has been going on for a while now. But that doesn't make it any less awesome! Jungle Cruise gets enhanced into Jingle Cruise! This holiday themed cruise is decked out in fun decorations and lights. Plus, the skippers get into the spirit with new holiday spiels! The best time to experience this is at night when you can really see all the wonderful lights glowing in the jungle! Just to let you know, the Jingle Cruise can be experienced outside of the Christmas party, so don't worry about buying a ticket to experience this fun attraction!
There are also a couple of extra ticketed events you can experience during your Christmas party!
Tony's Most Merriest Town Square Party
This add-on party costs $99 per person, so in total you will be paying well over $200 for the Christmas party and the Town Square party. This party offers a small buffet of small bites ranging from appetizers to desserts. They also serve complimentary wine, beer, and non-alcoholic drinks.
Guests who purchase this add-on will get a reserved viewing location for the 11 p.m. parade. This party also runs until 12:30 a.m., thirty minutes after the Christmas party ends. This way you can grab some last minute snacks before you leave.
It might not be a great idea to book this party if you are trying to save money because the Christmas party already provides you with free cookies, snacks and non-alcoholic drinks. So you are essentially paying more for extra snacks and a slightly better view for the less crowded parade.
Minnie's Wonderful Christmastime Fireworks Dessert Party at Tomorrowland Terrace or Plaza Garden Viewing
This is another add-on event that will cost you extra money. The dessert party in Tomorrowland costs $84 per adult and $50 per child. The dessert party with a Plaza Garden View costs $69 for adults and $41 for children. With this Christmas party add-on, you will get specially reserved firework seating in either Tomorrowland or the Plaza Gardens.
The party provides you with complimentary desserts and drinks. While the seating is nice, this is another event you have to decide if it is worth the extra cost. Again, you still get free treats during the party, so it might not make sense to pay extra for more snacks.
Non-Party Specials
Love everything Christmas and Magic Kingdom but don't want to shell out the extra cash for a Christmas party ticket? Don't worry! There's still a way to experience some of these exclusive activities!
A Frozen Holiday Wish happens nightly all the way up to December 31, so you do not need a party ticket to experience this! Just a heads up though, this is not a long show. It runs for a little over five minutes with Elsa and her friends coming out to light the castle up with icicles. It is a cool show to watch, and kids love it!
A great way to view Mickey's Once Upon a Christmastime parade without buying a party ticket is to wait until the parties have ended for the year! After December 22, the parade is shown during the day at Magic Kingdom. Granted it isn't the same as watching the parade at night, but it is still awesome none the less!
There is so much to experience at Magic Kingdom in December with or without Mickey's Very Merry Christmas Party! You definitely won't get bored but if you do, just grab as many cookies and cocoas you want until your heart's content!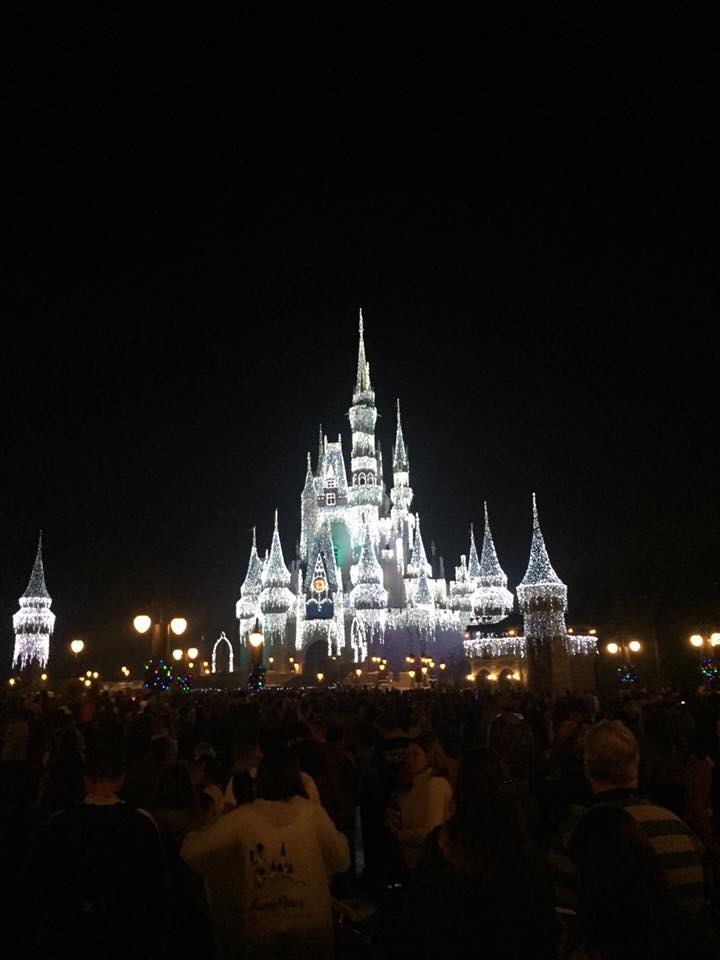 ANIMAL KINGDOM
In the past, Animal Kingdom didn't do much in terms of holiday specials or decorating, but now they have stepped up their game! Animal Kingdom's way of decorating for the holidays is unique compared to the traditional holiday decorations in Magic Kingdom. Each land sticks to its own theme of decorations that ties into the land itself.
Dinoland gets decked out in bright lights strewn across the area. A usually brightly lit land shines even brighter with the glow of extra holiday joy. Even Dino-Sue gets wrapped up in lights and is adorned with a Santa hat and beard! It's a great sight to see when entering this fun, prehistoric land! Some of the characters at Donald's Dino-Bash even decide to join in on the holiday fun with some extra holiday costume attachments and decked out meeting locations.
Discovery Island has some great new additions as well! Their biggest attraction is their new "Merry Menagerie" of animal puppets! These fun and playful creatures walk around the land to interact with guests and each other. Guided by their puppeteer, they are able to roam around freely on Discovery Island to explore what it has to offer. These new winter pals have been a crowd favorite.
Some of the animals include polar bears, foxes, penguins, and much more! The way the puppeteers make the animals move is almost life-like, fooling guests into thinking they are interacting with that animal in the moment! This is a fun new addition to Animal Kingdom that really puts the park into a wintery state.
Even when the park gets dark, the holiday excitement isn't over! The Tree of Life Awakenings happen every night starting at dusk and ending when the park closes, performing every 30 minutes. During the holidays, these awakenings get a fun holiday overlay with wintery animals. Accompanied by holiday music, these little shows are a perfect way to end your night at Animal Kingdom.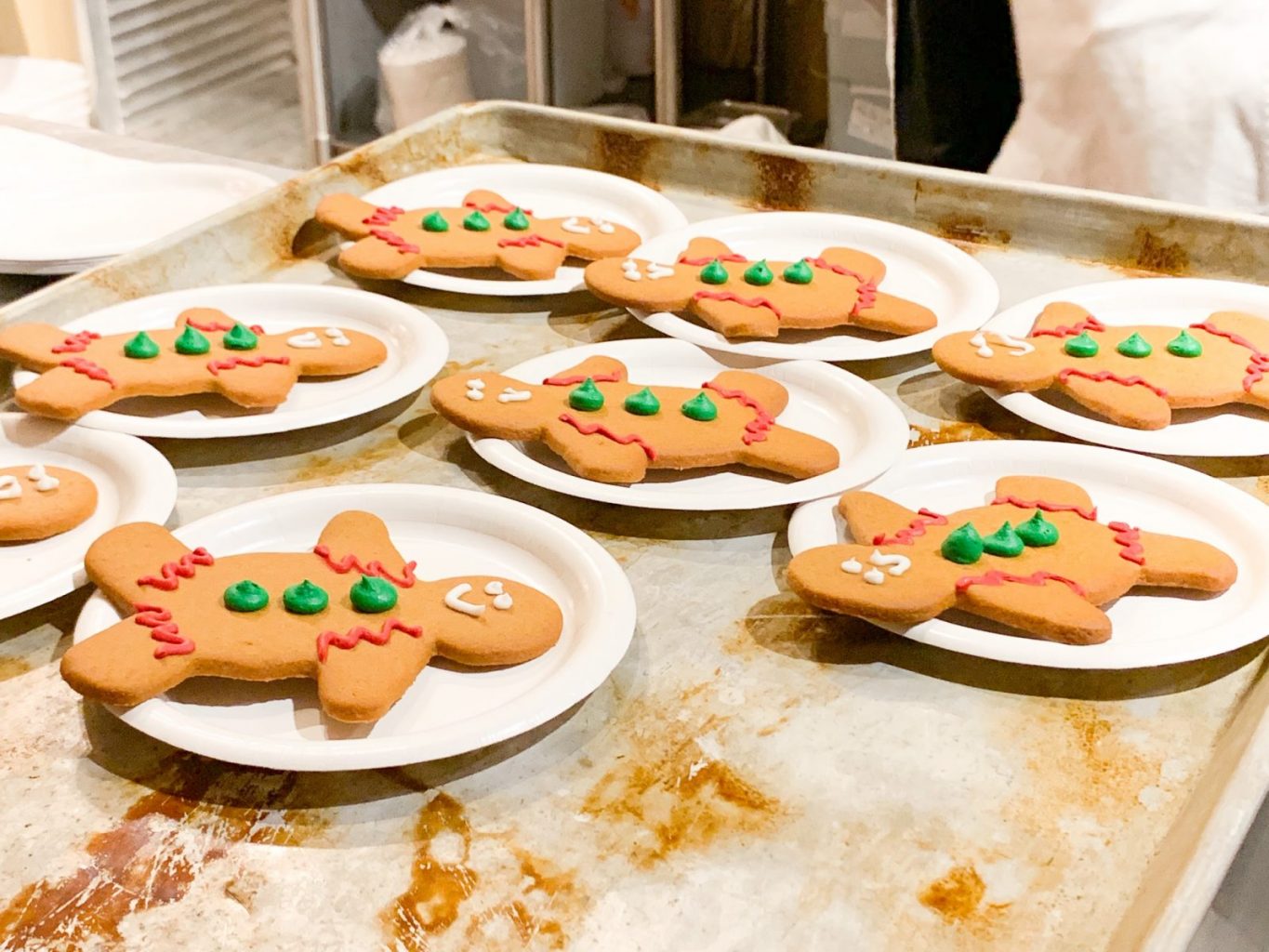 EPCOT
Epcot is a wonderful place to visit during the holidays! There are so many great decorations placed throughout the areas. Visiting World Showcase gives you a chance to experience the holidays from a different perspective!
International Festival of the Holidays
Think of International Festival of the Holidays as basically a mini Food and Wine Festival. There are Holiday Kitchen booths from countries all around the world placed throughout the World Showcase. These booths serve seasonal snacks and treats from their home countries, giving you a little taste into their holiday traditions. They even have fun specialties like spiked hot cocoa flights! Looks like you'll have another reason to drink around the world!
There is so much to experience while traveling between the countries of Epcot, but why not accompany all that traveling with a fun scavenger hunt! Chip and Dale's Christmas Tree Spree is a fun way to keep your kids (or yourself!) occupied while traveling around World Showcase. You can purchase the map and stickers at select merchandise locations.
International Storytellers
Another great way to entertain yourself while traveling around World Showcase is to listen to the holiday storytellers in certain countries. Throughout the day, storytellers (basically that country's Santa Claus) will tell listeners about their country's holiday traditions. This is great if you want to learn more of a certain country's culture, but it can be hard to experience every storyteller in one day.
The countries without storytellers will have bands play holiday themed music for guests to enjoy! Both the storytellers and the bands can be an educational holiday addition to your Epcot day!
Candlelight Processional
One of the biggest events at Disney in December is Epcot's Candlelight Processional. The Candlelight Processional is hosted by a celebrity guest narrator each night who then retells the Birth of Jesus with the help of a choir and an orchestra. The choir performs beautiful Christmas songs, and certain celebrity narrators make the shows even more crowded than normal. There are performances every night, multiple times a night, starting on November 27 and ending on December 30.
It is completely free to watch the Candlelight Processional, but expect to be waiting in line for a while if you would like to score a good seat. On certain nights, some people will even wait up to 4 hours before the show! It can be a wonderful event, but because of its popularity it can get very crowded.
If you really want to see the Candlelight Processional but you don't want to count on waiting in a long line to get a seat, we recommend booking a Candlelight Processional dining package. If you already planned on eating at a table service restaurant, this is a great deal because it covers the cost of the meal and gets you a pass to guaranteed seating during the Candlelight Processional show. Costs vary depending on the restaurant you choose but it usually includes an appetizer, entrée, dessert, and non-alcoholic beverage.
The Candlelight Processional can be a relaxing and peaceful way to end your holiday filled night at Epcot.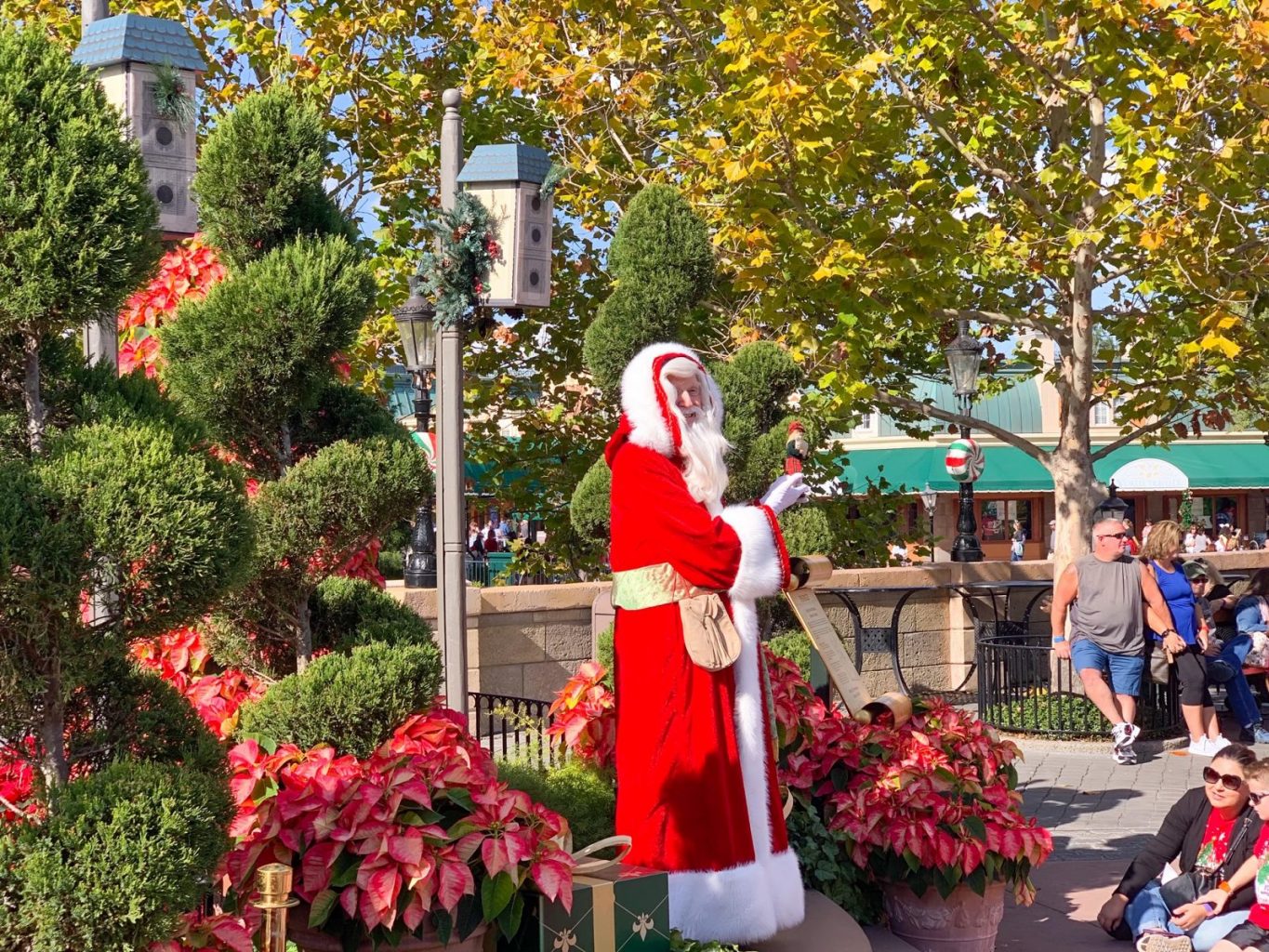 HOLLYWOOD STUDIOS
There are several holiday events you can experience during your time at Hollywood Studios! We are hoping this year Galaxy's Edge joins in on the festivities! We would love to see what they could do with the land! Hollywood Studios gets decked out every year in wonderful Christmas decorations. Even though we no longer get to enjoy The Osborne Family Spectacle of Dancing Lights, there are still some holiday themed activities to get you in the festive mood.
Hollywood Studio's main holiday attraction is their Jingle Bell, Jingle BAM! Holiday Fireworks Spectacular. This show happens on the Chinese Theater! Yeah that's right, not in front of it, on it! Scenes from your favorite Disney movies are projected onto the theater to play along with the story and theme of the show. The show is accompanied by fireworks, lasers, special effects, and even snow (soap)! If you have ever seen Star Wars: A Galactic Spectacular, it is very similar to this type of show.
Sunset Seasons Greetings is the second holiday nighttime show offered at Hollywood Studios. This show projects scenes from Disney movies onto the Hollywood Tower Hotel! There are also special projections that will pop up on billboards along the street. Even the palm trees play along and light up with the show! This show happens continuously throughout the night, so if you miss one of the earlier showings, you have a chance to catch it at a later time.
Toy Story Land and Echo Lake also participate in the holiday fun! The characters of Toy Story adorn their favorite Christmas items among their outfits, and there are oversized decorations throughout the land! The two rides even get a small holiday overlay. While on Slinky Dog Dash, you can hear sleigh bells ringing. On Alien Swirling Saucers, there are two holiday tracks that play while holiday lights fill the ride!
Even though there isn't as much to experience at Hollywood Studios holiday wise, it can still be fun to look at all of the festive decorations and experience the bright holiday shows.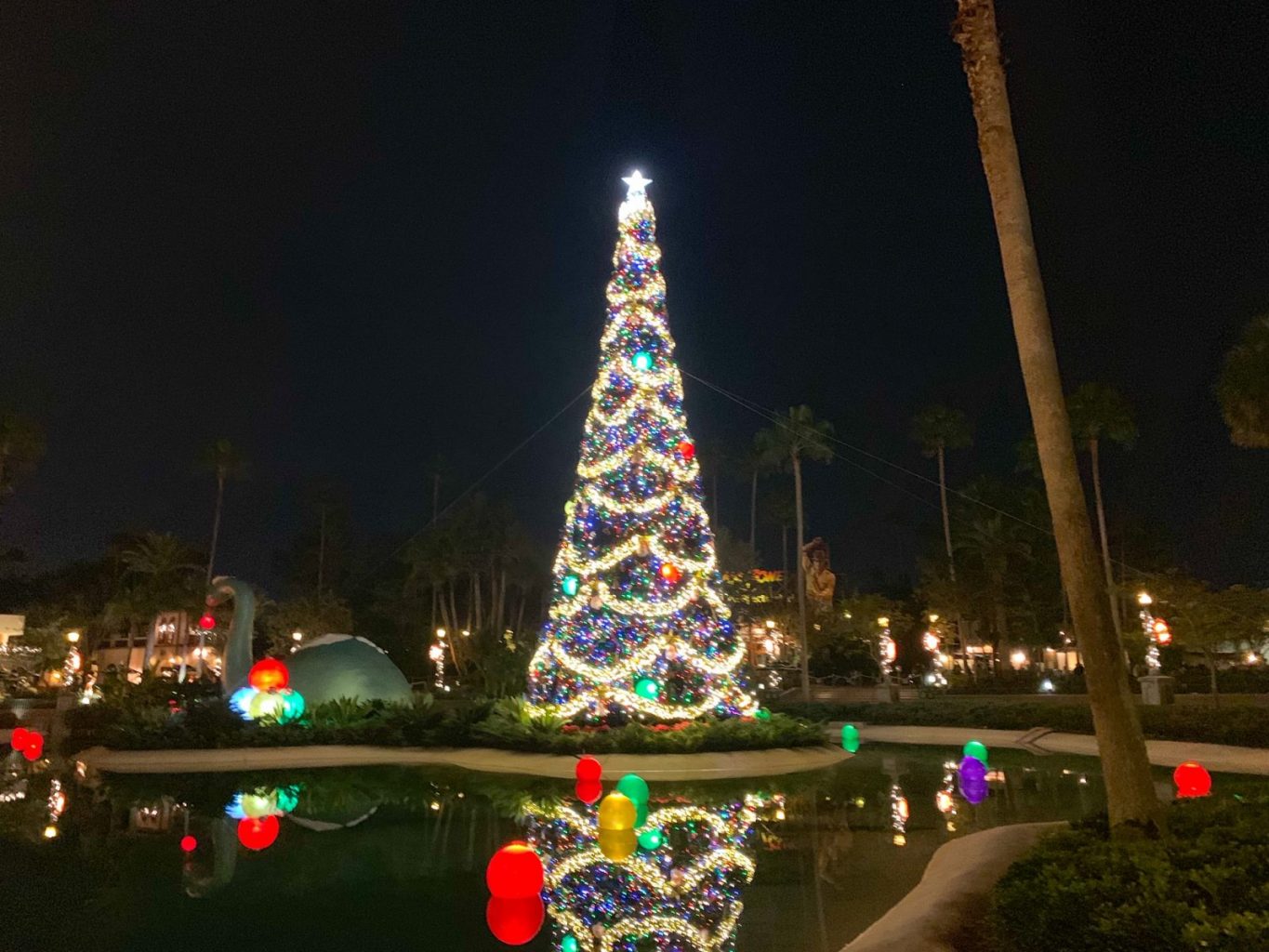 DISNEY SPRINGS AND RESORT HOTELS
Disney Springs isn't just a place for shopping, it is also a great place for some entertainment, especially holiday entertainment! There are so many little performances roaming around Disney Springs, you never know what you are going to find! There are Christmas carolers, Toy Soldier stilt walkers, and more!
Some activities you can expect to see at Disney Springs are:
A nightly tree lighting ceremony
Photo spot with Santa
Holiday themed DJ Dance Party
Christmas Tree Trail
The Christmas Tree Trail is a fun and short walk-through the whole family can enjoy! There are over 20 Christmas trees featured, and each tree is dedicated and themed to different Disney characters or movies. The trees are filled with decorations and ornaments related to their movies and are beautifully decorated.
Upon entering the Christmas Tree Trail last year, guests were handed a booklet for Stitch's Holiday Gift Hunt. This is a free scavenger hunt guests can follow to find stitch in certain locations around Disney Springs with certain Christmas items. Once you find Stitch, you can place the matching item to his clue. When done with the hunt, you can turn it in for a special holiday treat! It's a unique and free way to kill some time.
In regards to holiday theming at the Disney resorts, each resort gets decorated with trees or decorations that match that resorts theme/atmosphere. It can be really fun to see certain trees for some of your favorite hotels!
The best holiday themed resort offering is the Gingerbread Houses! Certain resorts have life-size gingerbread houses that turn into a snack shack for guests to buy treats from! It really is a neat thing to see because the cast members who build the houses use edible products to make them. Yes, that is real gingerbread you are seeing (and smelling)! The resorts that have these incredible houses are the Grand Floridian, Wilderness Lodge, Saratoga Springs, the Contemporary, Beach Club, and the Boardwalk.
This proves that you don't need a park ticket to enjoy some holiday festivities around Disney World! There are so many ways to embrace your holiday spirit!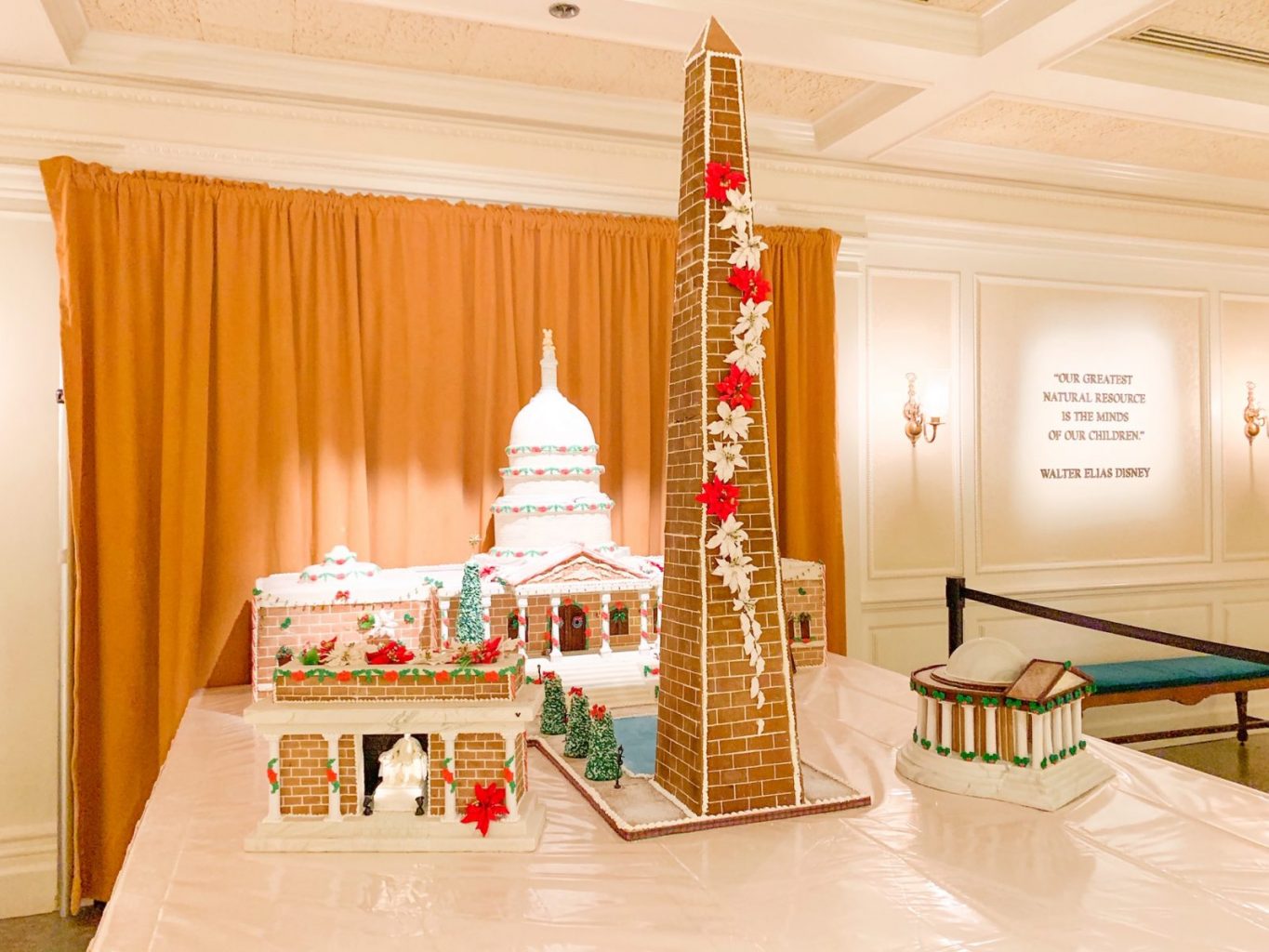 2020 December Ride Closures And Refurbishments
NOTE: PLANS ARE ALWAYS CHANGING IN DISNEY SO CURRENT INFORMATION MIGHT BE DIFFERENT FROM THE INFORMATION WE HAVE IN OUR ARTICLE
Ride closures and refurbishments are constantly changing or being added at Disney World, so this is the information we have as of now, but it will most likely change once it gets closer to December. This way you can be a little prepared for what to expect. However, we do recommend checking the Disney website closer to your vacation date to see if anything has changed!
There isn't much going on in ride closures or refurbishments for Magic Kingdom in December. The Walt Disney World Railroad closed down once Disney started to build their new Tron coaster ride. There is no reopening date set for the railroad, but it will most likely be in 2021.
There is even less going on with closures or refurbishments in Animal Kingdom. The only recent thing that has happened is Primeval Whirl has become a seasonal attraction. We don't know if this is how the ride will stay or if it will eventually be closed down permanently.
The biggest changes are happening over at Disney's Epcot! Future World is getting a full on make-over and rebranding. Pretty much all of Future World has already been closed down including Club Cool, Electric Umbrella, and more. Mouse Gear has been closed and moved to a temporary location. Lastly, Spaceship Earth is set to close on May 26 to be refurbished. There is no opening date set at the moment, but it will most likely open in 2022.
The earliest the Future World make-over could be done is in 2022. There are a lot of unsightly construction walls placed all around the area. Even though it might not look like much now, the new Future World is supposed to be mind-blowing with some of the best attractions we've ever seen. This will definitely be worth the wait!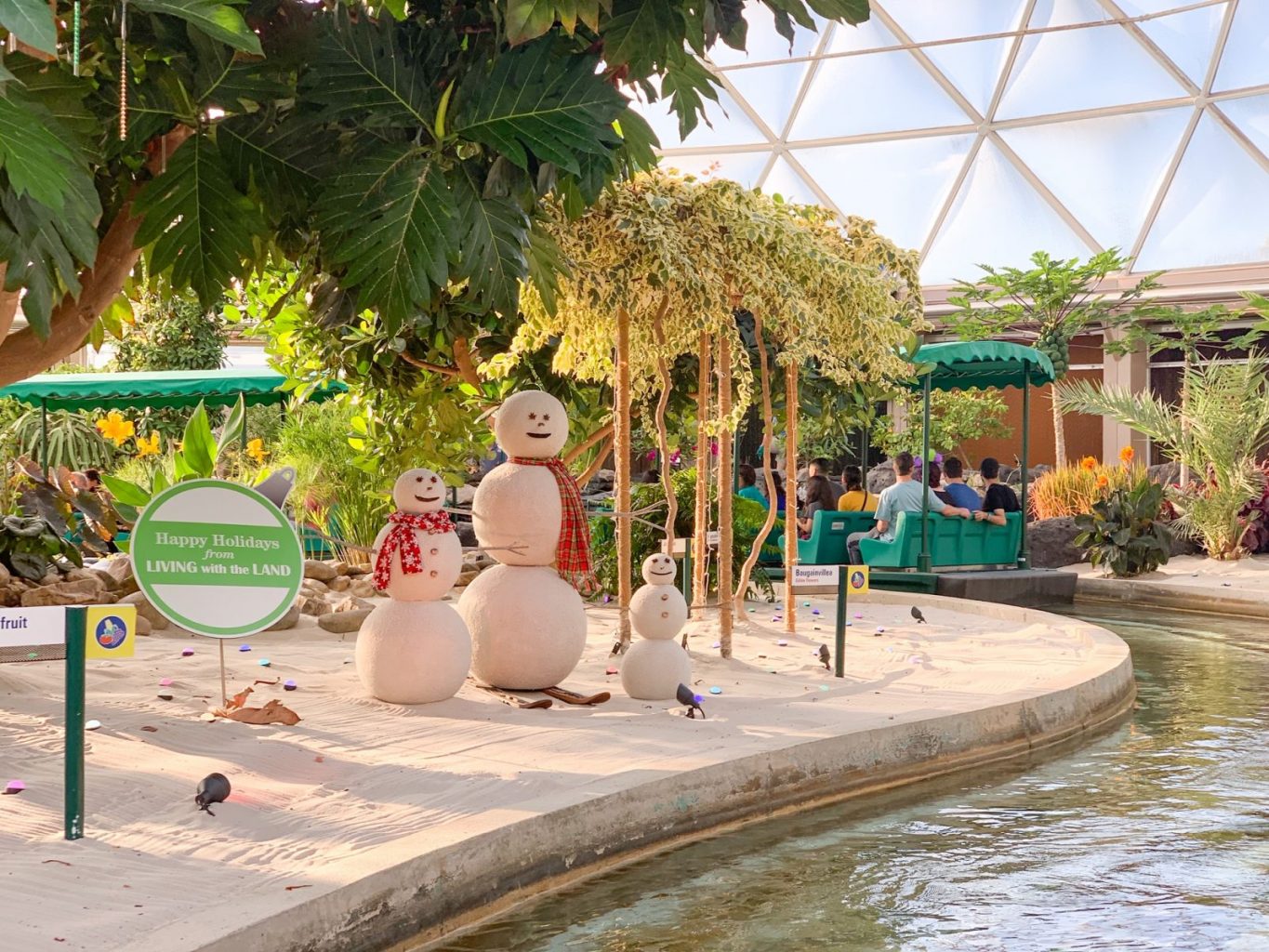 December 2020 Discounts And Promotions
There are several discounts and promotions Disney offers throughout December. If you can get your hands on one of these special discounts, it can really help with the cost of your vacation! There aren't many discounts during December, but whatever you can get will help!
Disney usually has a couple of discounts and promotions for all guests to have access to in December. In the past during this month, they have offered room only discounts for guests to take advantage of. This can depend on the time you are planning on going and the place you are planning on staying at. If you can be flexible with your dates and hotel location, you have a better chance at being able to use this discount!
In the winter season, Disney usually offers a Free Disney Dining Plan promotion. This is an add on to your reservation and will give you a dining plan for you and the people in your room. This is a great promotion to take advantage of because it can really cut down the costs of your meals!
There are a couple of discounts that we know Disney will for sure implement for U.S. Military Members. Disney is offering specially priced tickets for retired and active military members. There is a 4, 5, or 6-day ticket option for members to choose from. These tickets are park hoppers, and members can purchase them now through the second week of December. Members can add on Memory Maker at a discounted price of $98 now until December 18. Disney is also offering special hotel room rates from now until December 18 for U.S. Military Members.
If you are an Annual Passholder, a great thing to know is you can get specially priced tickets for Mickey's Very Merry Christmas Party! These discounted tickets are only for certain dates, but it can save you a bit of cash, leaving you more to spend at the party instead!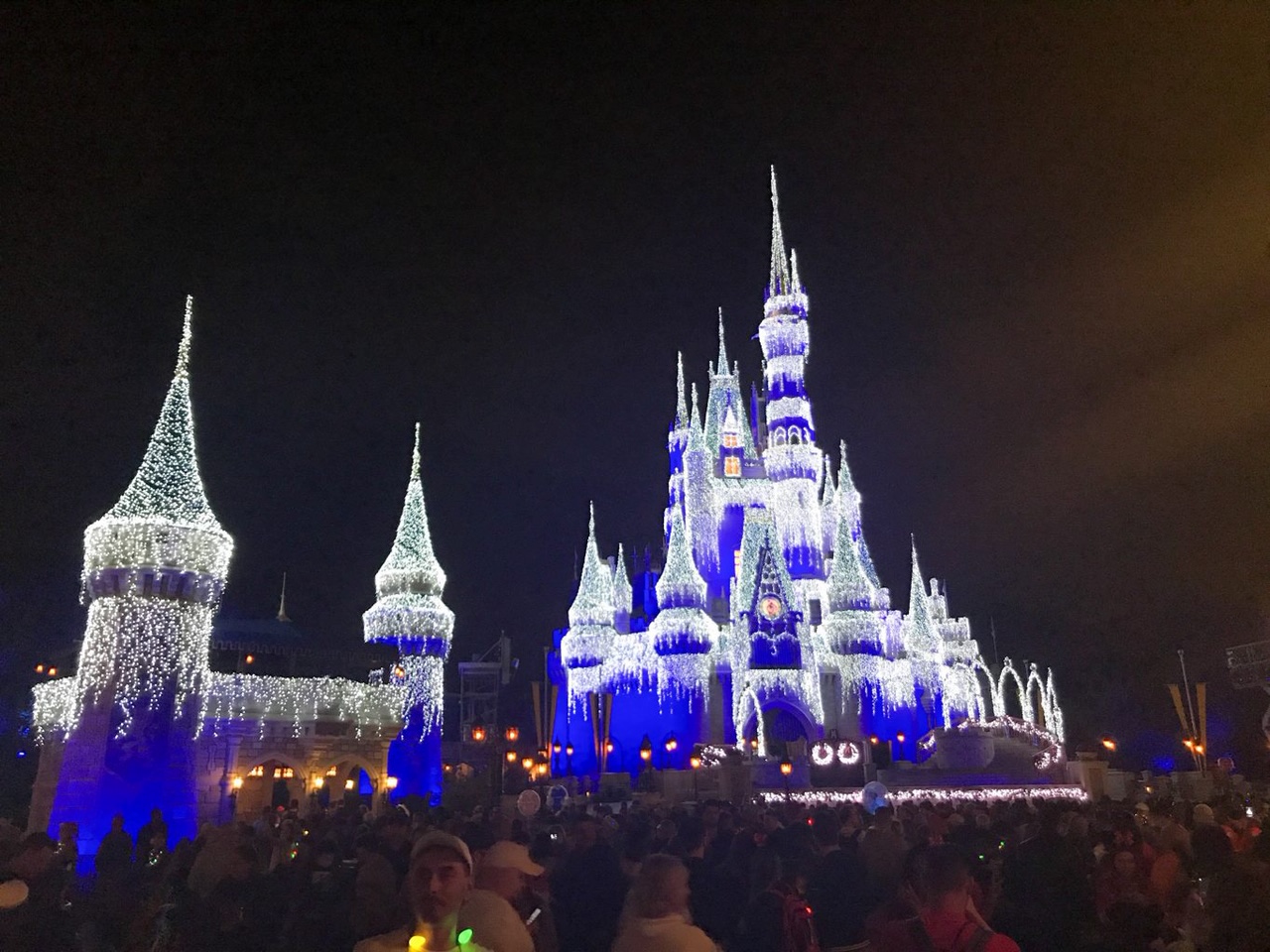 Spending Christmas At Disney
Depending on who you are as a person and how you like to spend your time at Disney will affect how you spend Christmas there! Everyone has a different taste therefore you can specialize your trip to make sure you do the Christmas activities that are important to you! We have broken down some of the most important Christmas activities for families with kids, foodies, show enthusiasts, and Christmas lovers. If you fit into one of those categories, you will know exactly what you should focus on while in Disney at Christmas!
Families with Kids
If you have younger children, there is plenty of entertainment all around Disney to keep them occupied with! If your kids love meeting characters, there are a lot of great ways to meet some of these characters in wonderful Christmas attire!
Going to Mickey's Very Merry Christmas Party will give you the chance to meet some unique characters your kids will love. There are a lot of options of characters to meet and some of them will be dressed for the occasion! You don't want to miss out!
At Animal Kingdom in Dinoland there is a dance party every night called the Holiday Hoopla Dance Party. Chip and Dale will come out in their best holiday dinosaur costumes and encourage kids to get in the Christmas spirit and dance!
Another great activity your kids might enjoy is the scavenger hunts Disney offers. Chip and Dale's Christmas Tree Spree is a paid scavenger hunt around World Showcase in Epcot. Stitch's Holiday Gift Hunt is a free scavenger hunt throughout Disney Springs.
Foodies
In recent years, Disney has become a highly sought out place for foodies from all over! Disney has really upped its snack game, and the holidays are no different! There are so many new seasonal snacks to try, you might be feeling like Santa by the time your vacation is over!
The most famous foodie location is Epcot, and Epcot does not disappoint for the holidays. Epcot has their Holiday Kitchens for the International Festival of the Holidays. These are food booths from countries all over the world that will serve you seasonal snacks and drinks from that country. Foodie paradise!
The Holiday Cookie Stroll is a creative way to try new cookies! Pick up a booklet at Epcot and go around the holiday booths to pick up each cookie. There are 5 cookies in total to try, and you will get a stamp each time you purchase a cookie. This is a yummy activity for anyone to enjoy!
Obviously Mickey's Very Merry Christmas Party is great to visit if you love food! There are several locations where cast members will pass out cookies and hot chocolate, and there are multiple flavors of cookies! Plus, you can always go through the same line for more cookies!
Visiting the Gingerbread Houses at certain Disney resorts is a tasty way to curb your sweet tooth outside the parks! There are so many snacks and goodies, you can't make a bad choice! Happy eating!
Show Enthusiasts
The great thing about Christmas in Disney is there are so many new and great shows to experience! The best shows during the Christmas season for show enthusiasts are:
Candlelight Processional
Jingle Bell, Jingle BAM!
Sunset Seasons Greetings
Winter themed Tree of Life Awakenings
A Frozen Holiday Wish
And at Mickey's Very Merry Christmas Party:
Once Upon A Time Christmastime Parade
Mickey's Most Merriest Celebration Stage Show
Minnie's Wonderful Christmastime Fireworks Show
Christmas Lovers
For anyone who is a huge Christmas fan, Mickey's Very Merry Christmas Party is definitely worth the money! You will get your fill of holiday activities during this festive event.
For those who want to relax while looking at holiday décor, you're in luck! There are so many places to visit for a chance to enjoy some Christmas scenery. You can resort hop to look at the themed Christmas trees at every resort. You can visit Disney Springs to walk through the Christmas Tree Trail. Or you can visit the resorts with Gingerbread Houses to marvel at their intricate designs.
Disney in December turns into one big Christmastime celebration, so there are so many options for you to enjoy during the holiday season! No matter what you like or how you like to spend your time at Disney, there is something for everyone!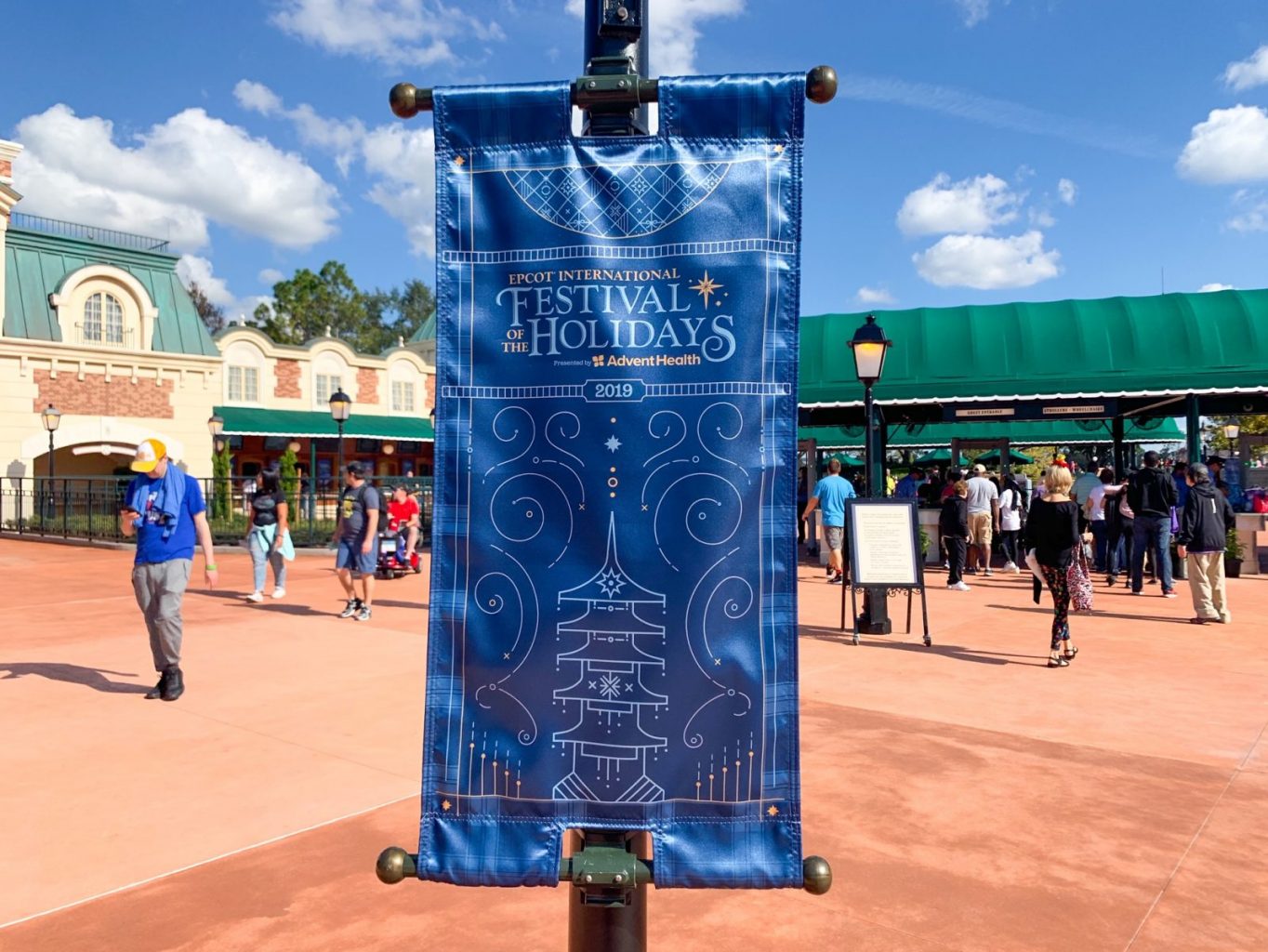 What To Wear At Disney In December
The most important thing to know when packing for Disney in December is to expect the unexpected! You never know when a hot day could turn into a particularly cold night or vice versa. It's good to be prepared with all types of clothing during your trip. The best thing you could do is layer! Some mornings might be cool but will then get hot during the day. Then it might drop down to cool temperatures in the night again. If you have layers that you can easily remove and add on, you will be just fine!
There are lots of options out there for Disney shirts and Disney Christmas shirts! One of our favorite Disney Christmas shirts is the 2020 Merry Christmas Shirt. This shirt would be a super cute outfit for everyone in the family to wear to Mickey's Very Merry Christmas Party!
If you want something a little more subtle and not so Christmas-y, these Disney Home shirts are perfect! The shirt has a golden castle with the word "Home" written over the top of the castle. It's a cute and simple shirt that everyone in the family can enjoy.
For pants, we found these awesome Christmas leggings to really get you in the holiday spirit! They are a little flashy, but they would be perfect for the Christmas Party with a simple shirt to go with! We also have a list of cute Disney leggings you could wear!
Disney is a huge place and with that comes a lot of walking! You must wear comfortable shoes to the park if you don't want to end the day with sore feet and legs! Comfy sneakers are perfect for Disney in December because it doesn't rain too much and it is usually the perfect temperature. The Brooks Women's Launch 4 Sneakers are great for women who need some added comfort in their shoes. The NIKE Men's Tanjun Sneakers are perfect for any active man (and Disney keeps you very active)!
Layers are the best thing you can do for yourself for Disney weather in December, so we highly suggest bringing a light jacket or a hoodie. This hoodie has an adorable Minnie Mouse peeking over the pockets, so this will be a nice Disney touch to your outfit!
Last but certainly not least, it's not a Disney vacation without a pair of Mickey ears! There are so many creative options for Mickey ears out there, but we found some affordable holiday Mickey ears to compliment any outfit during Christmas at Disney!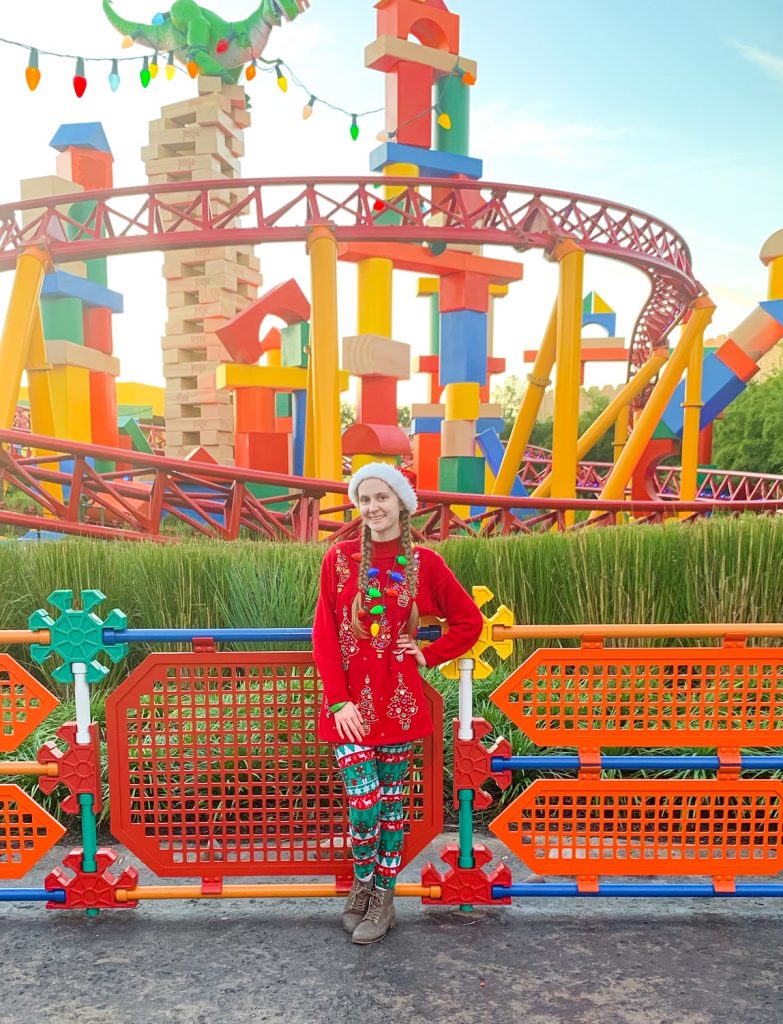 Now you are prepared for whatever Disney throws at you in the month of December! Hopefully all of these tips will help you create the most magical vacation for you and your family! Christmas is a wonderful time to visit Disney, and we highly recommend doing so. Just seeing the decorations and lights will get anyone in the Christmas mood! We hope you have a very Merry Christmas while there!