Looking for some adorable Disney leggings? Are you the kind of person who considers leggings as pants? I know I am! If you are like me and are completely obsessed with leggings AND Disney, stay tuned for a list of the CUTEST Disney leggings you've ever seen! You will be the best dressed person at Disney, especially if you pair these adorable leggings with one of these 20 cute Disney shirts for women.
We have scoured the internet (okay, mostly Etsy, because seriously, Etsy is the best) for Disney leggings, and as hard as it was, managed to narrow it down to these. Whether you are a fan of Baby Yoda, Beauty and the Beast, or Cinderella, you are guaranteed to find at least one (or ten!) pair of leggings you fall in love with on this list.
Get a FREE printable 30/60/90 day Disney countdown by joining our private Disney Facebook Group and share your photos and ask for tips and trick
15 Cute Disney Leggings You'll Love
Mickey Mouse Leggings
I grew up watching Mickey Mouse and these super fun and colorful Mickey Ears Balloons Mickey Mouse Disney Leggings send me right back to my childhood. Not to mention, they go perfectly with the Mickey Mouse Balloon Dooney and Bourke purse! There are so many options for these leggings that you will find something you like. You can choose between full length or capri length, standard or yoga waistband.
My personal favorite is the regular waistband. It goes higher than the yoga waistband and helps to hide the tummy more. The yoga waistband is really nice as well because it's thicker and softer at the seams. These leggings are available in a wide variety of sizes to fit every body from XS to 5XL.
When you order these leggings, not only can you choose your legging length and waistband, you also get to choose the fabric. The shop has two different options you can choose from. First is Montreal (a premium high performance fabric, thicker than the next choice). Second is Hong Kong (your choice of a soft and lightweight polyester and spandex blend or fleece fabric). Which one should you choose? Well, if you want to use them more for working out or being athletic, choose Hong Kong. If you are in an extremely warm environment, the lightweight fabric from Hong Kong will breathe better and the fleece is great is colder environments. Actually, maybe you just need several pairs of these awesome Disney Leggings.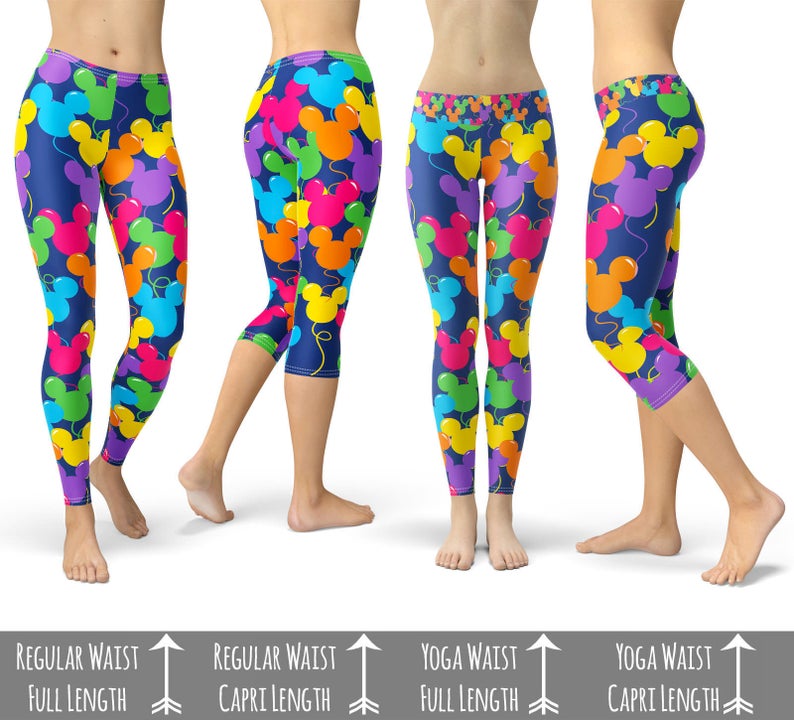 Minnie Mouse Leggings
Are you like me and completely obsessed with anything that sparkles? If you are, you will love these Girly Mouse Head Minnie Mouse Disney Leggings just as much as I do! The super-soft material feels like velvet on your skin. You can almost feel the buttery feel as you imagine pulling them over your legs, embracing your every curve. Guaranteed to be opaque, they are squat proof and perfectly safe to show off at the gym.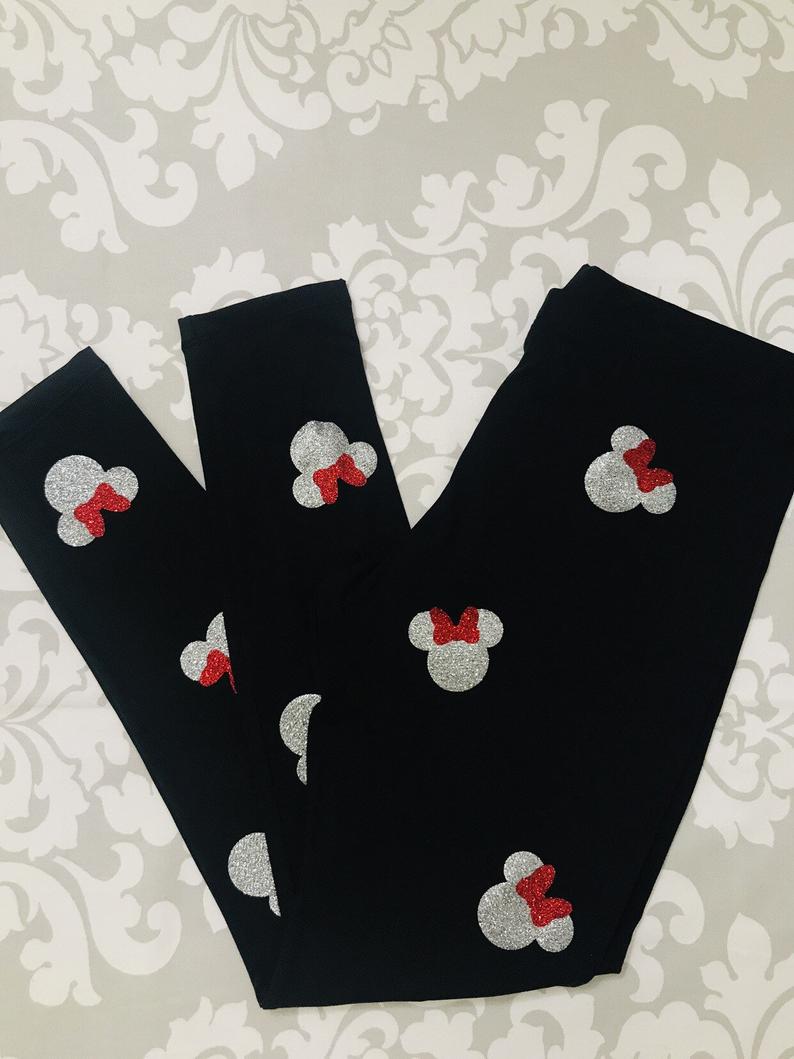 Beauty and the Beast Leggings
Beauty and the Beast is one of my (and I'm sure your) ALL TIME favorite Disney movies! These Enchanted Rose Beauty and the Beast Leggings are so adorable, I can't believe they are real!
The graphics on this pair of beauty and the beast leggings represent different visuals from the movie including the rose, books, and teacups. I also really love the royal blue background color because it's so pretty! No matter what size you wear, you can find a pair that fits you, as they range in size from one size to curvy, to plus size (sizes 2-28).
They are made of polyester and spandex, making them super soft and fit snugly with a yoga waistband. According to reviews, they run a little small, so if you're in between sizes, you may want to size up to ensure a good fit.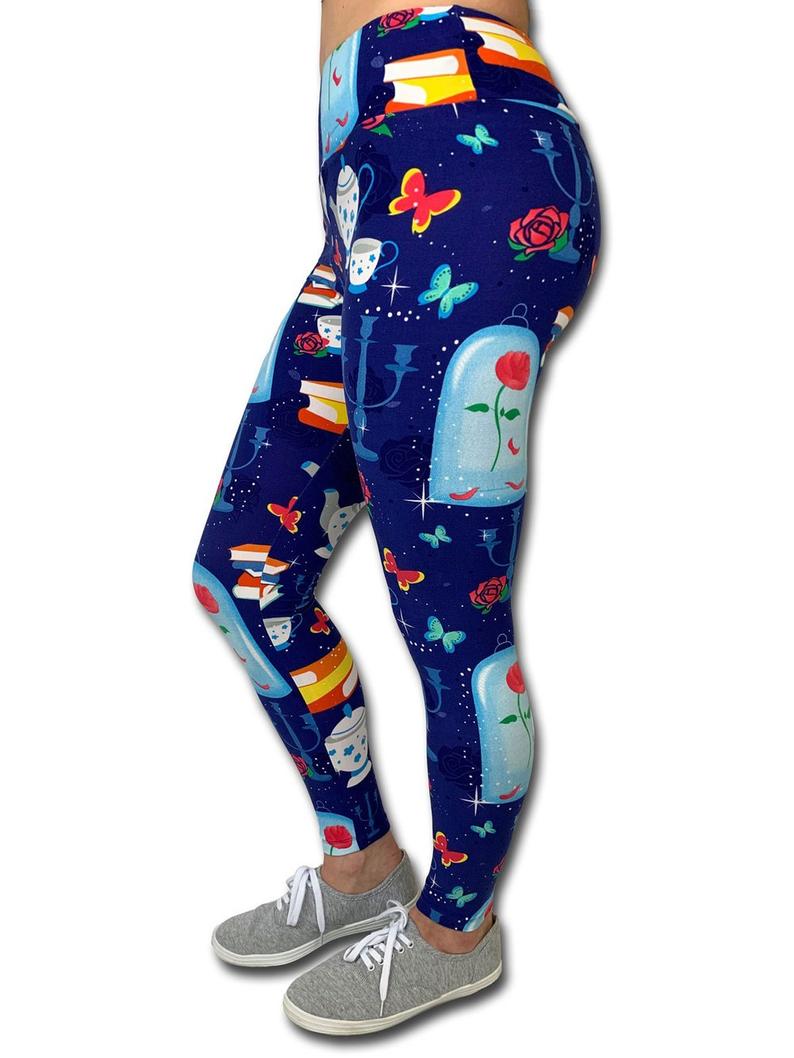 Frozen Leggings
Since you know how much I love anything glittery, you should also know I can't resist adding a second pair of glitter Disney leggings. These Frozen Leggings are the prettiest shade of blue, reminiscent of the wintery scenes in Frozen. Whether you fit into an XS or an XL, these leggings will fit you like a glove. Also, choose whichever length and waistband you want because there are SO many choices including standard ankle, standard mid-calf, or standard shorts, yoga ankle, yoga mid-calf, or yoga shorts.
The sleek Ombre pattern combined with smooth, microfiber yarn, and polyester/spandex blend fabric makes these leggings look and feel like a dream. They have a four-way stretch that recovers after being stretched out so they never lose their shape. If you want more tummy control, go with the yoga waistband which is thicker and higher than the standard waist. Possibly the best thing about these leggings is that even though they look like real glitter on the bottom, it is simply screen-printed, meaning you won't have to worry about getting glitter everywhere, or the glitter coming off in the wash.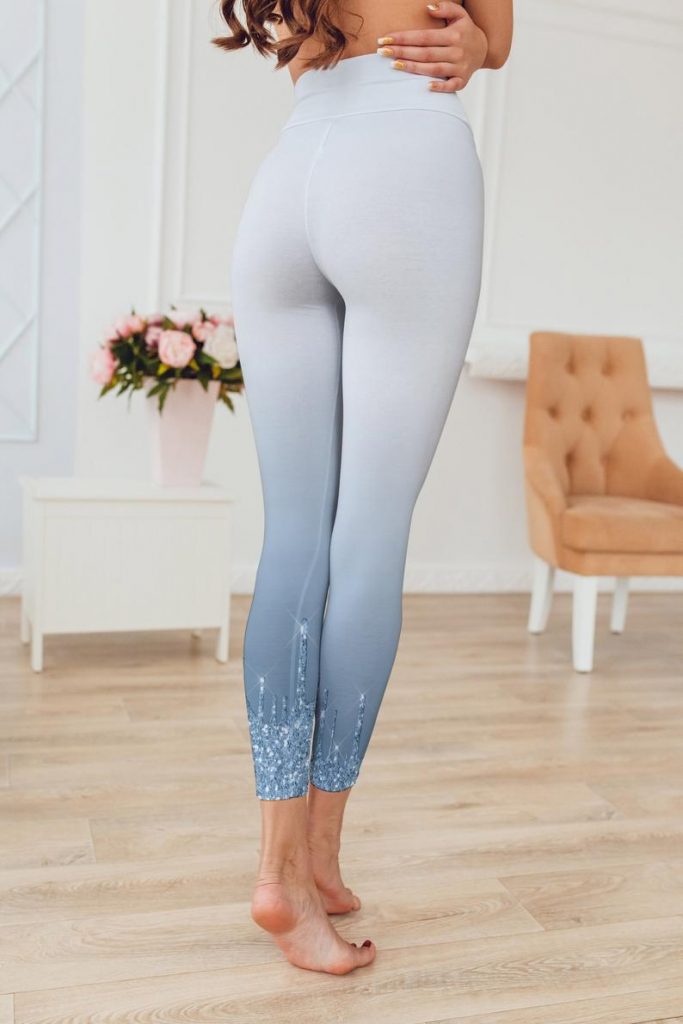 Sleeping Beauty Leggings
If you want to look like you're hot enough to be on fire, these Maleficent Flame Sleeping Beauty Leggings are the perfect fit (pun intended). Speaking of fit, at 82% polyester and 18% spandex, four-way stretch, a precision cut, and a soft elastic waistband, these leggings will fit you like a glove. They are printed on-demand and hand-sewn, which means when you order a pair of these super cool (hot) leggings, they are custom made especially for you!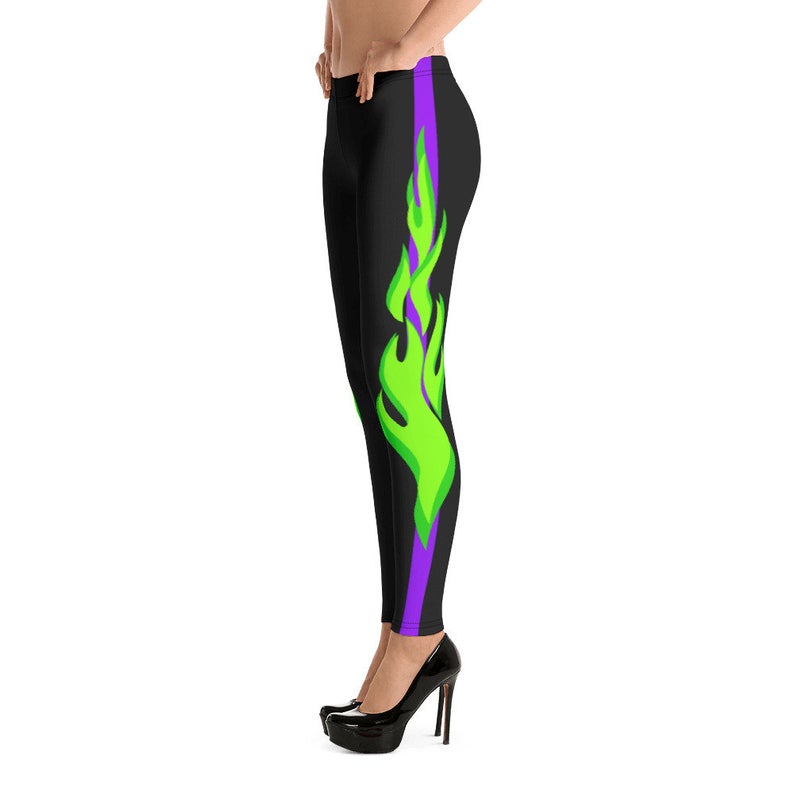 Lion King Leggings
Do you need a pair of leggings that are sophisticated enough for everyday wear, yet fun enough that they have visuals from a Disney movie? Well, look no further! These Lion King Yoga Disney Leggings are absolutely gorgeous and I'm completely in love with the big lion head design. Lions are one of my favorite animals, which fits since The Lion King is one of the best Disney movies!
These high waist leggings are made of premium material and are hand-printed and sewn in the United States. The deep black fabric is squat tested and approved, meaning you can workout and squat to your heart's content with no worries! To assist with working out, the microfiber yarn helps to pull sweat away from your body, keeping you cool during your hot sweat session. On the opposite end, it also helps you stay warm when it's chilly outside. There is no doubt that you need these leggings in your life, and since they're black, they'll match pretty much anything!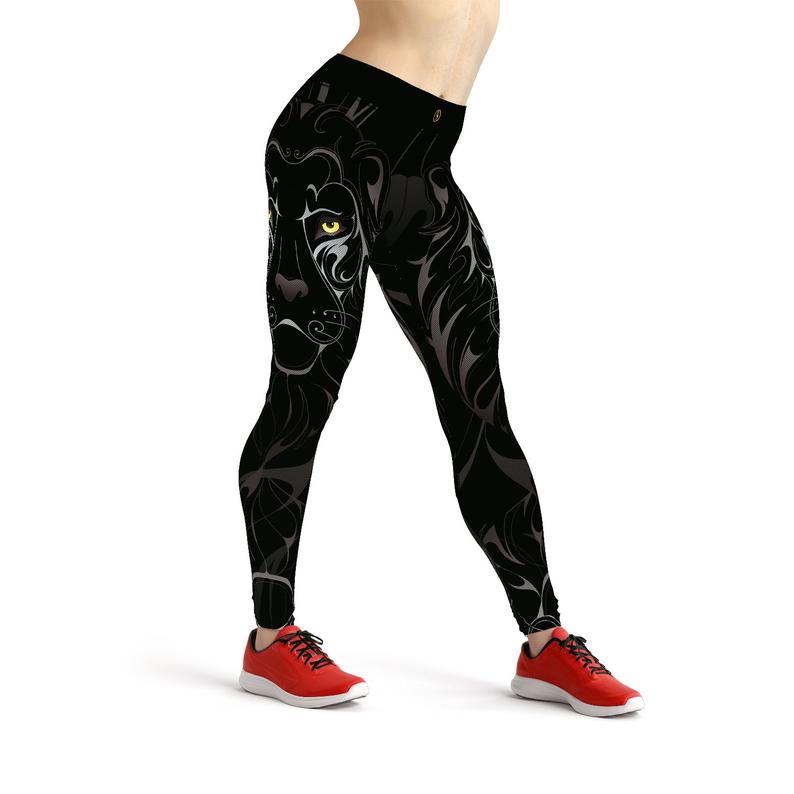 Little Mermaid Leggings
Every girl needs her dinglehopper and a great pair of leggings! Lucky for you, these adorable Dinglehopper Little Mermaid Leggings have both. At $18 and available in one size, curvy, and plus, they are super affordable and you are sure to find a pair that fits perfectly. They are made of polyester and spandex and have a super soft and wide yoga waistband.
If you're a fan of The Little Mermaid and Ariel, you will love that these Disney leggings have all of her favorite things on them including dinglehoppers (of course!), treasure chests, ocean plants, and more! According to reviews, they run a little small, so if you're in between sizes, buy the next size up for optimal fit.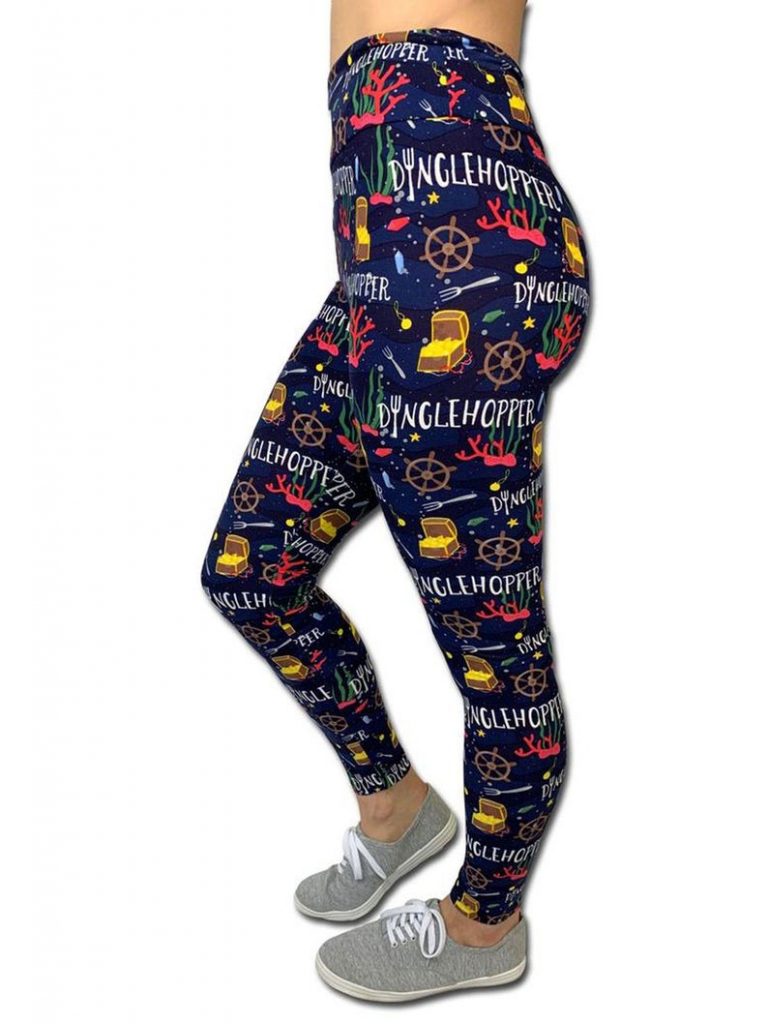 Haunted Mansion Leggings
How COOL are these super unique Stretch Painting Haunted Mansion Leggings? I love these Disney leggings because I have never seen anything like them. One of the best things about these leggings is how many options you have when buying. You have the choice between a Hong Kong printer which includes a regular waist or yoga waist as well as a soft/lightweight fabric or fleece fabric, or you can choose the Canadian printer in Montreal which is a thicker, better quality performance fabric perfect for fitness.
The design is inspired by the Haunted Mansion ride at Disneyland, specifically the stretch paintings. The paintings feature include the tightrope walker, the quicksand men, the dynamite man, and the old lady. Any Haunted Mansion fan needs these awesome Disney leggings in their life.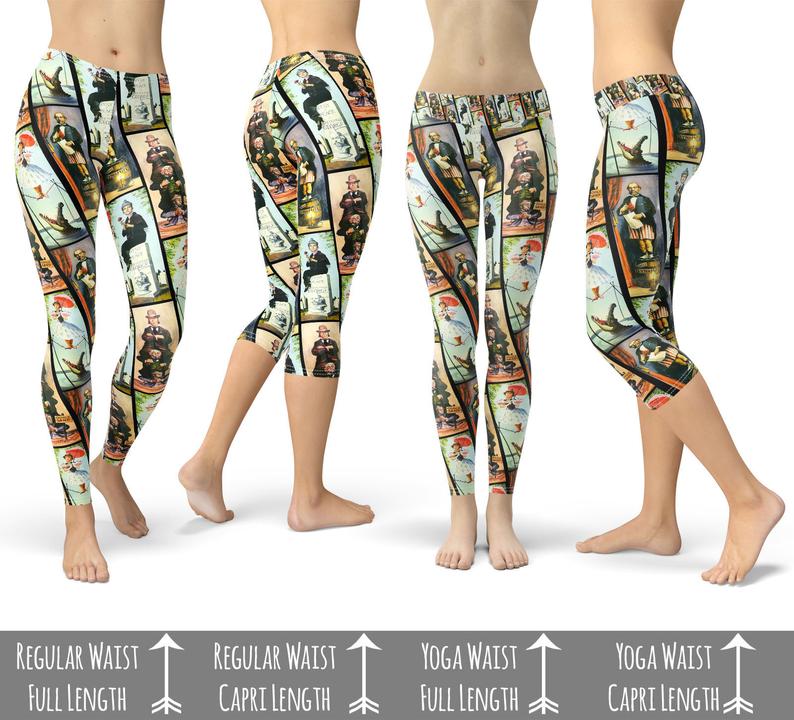 Cinderella Leggings
Glass Slipper Leggings
I am a little biased here because Cinderella is my all time favorite Disney movie. However, I'm fairly certain you will agree that these Glass Slipper Cinderella Leggings are some of the cutest pair you have ever seen. The background is a beautiful shade of soft baby blue and the design has glass slippers, the magic wand, and the clock almost turning midnight.
You have so many options with the length and waistband that you will find exactly what you're looking for. The two lengths available are regular and capri and each are available in XS to 5XL (4XL-5XL is Hong Kong regular only). Additionally, you can choose between a high quality performance fabric (Montreal), a soft and thin fabric (Hong Kong), or fleece (Hong Kong).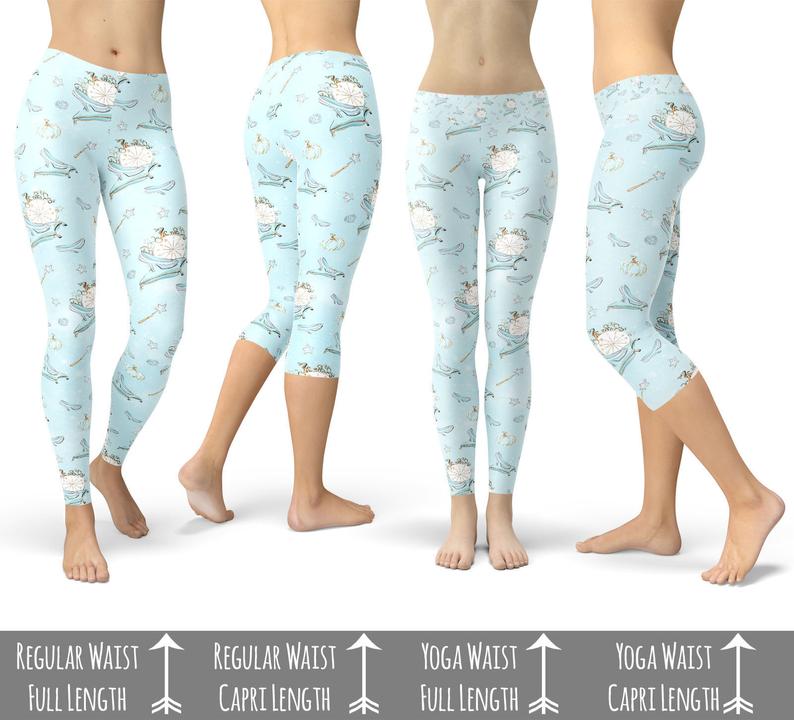 Midnight Magic Capri Leggings
I love these Midnight Magic Cinderella Disney Leggings so much I can hardly contain my excitement! The background is a gorgeous royal blue and the design consists of the pumpkin carriage and the glass slipper. These Capri leggings have a wide yoga waistband making them comfortable enough to wear all the time, whether you're doing your morning yoga, afternoon errands, or evening Disney movie night. The sizes range from 2-28 so you will find a pair to fit you like a glove. You can also find these leggings in a kids version and a full length version, so there really is something for everyone!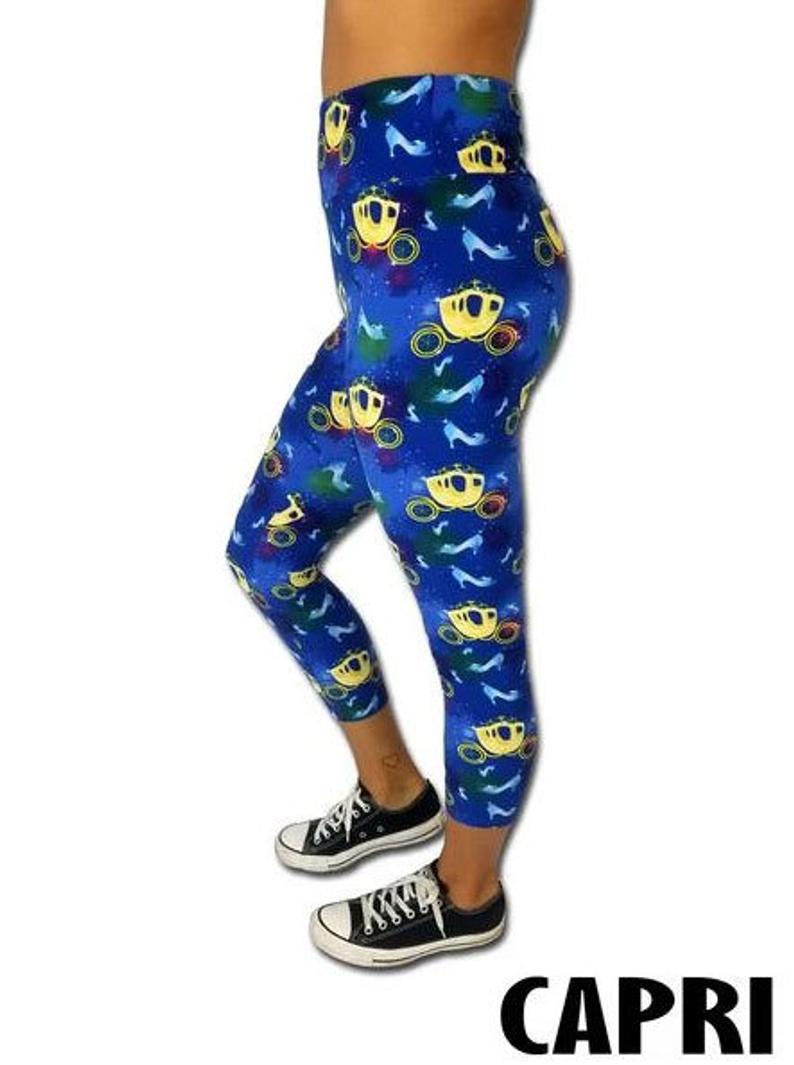 Star Wars/Baby Yoda Leggings
Baby Yoda Kids and Adults Leggings
If you've been anywhere near the internet for the past few months, you have probably seen one or two, or six hundred Baby Yoda memes. Baby Yoda is so adorable so who can blame you? These Baby Yoda Disney leggings come in every size from 2T-5X which means you can buy a pair for everyone in your family! Six Princesses Boutique handmakes these super soft leggings in their original design, which means you can't find any other leggings like these! Be sure to order at least ten days before you leave for your Disney trip to allow for shipping time.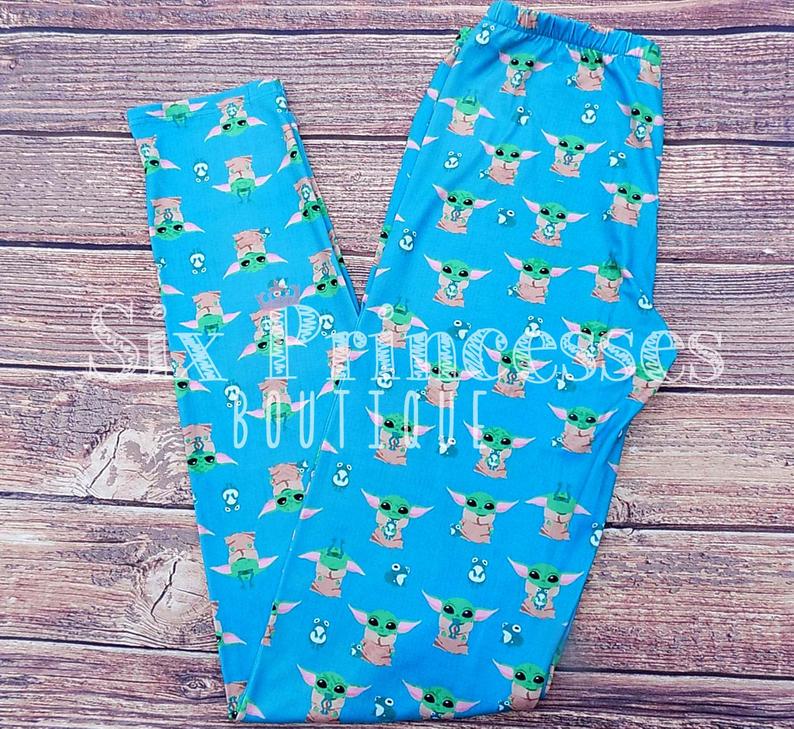 Yoda Yoga Leggings
What do you get when you combine Baby Yoda with super soft fabric? These super cute Baby Yoda Yoga Disney leggings! The light green background color contrasts well with the black details of Baby Yoda along with the black yoga waistband. Plus, the absolute best thing about these leggings is that they have pockets! Yes! Pockets!!! These baby yoda leggings are perfect for your morning yoga session with their four-way stretch and raised waistband or just running your everyday errands.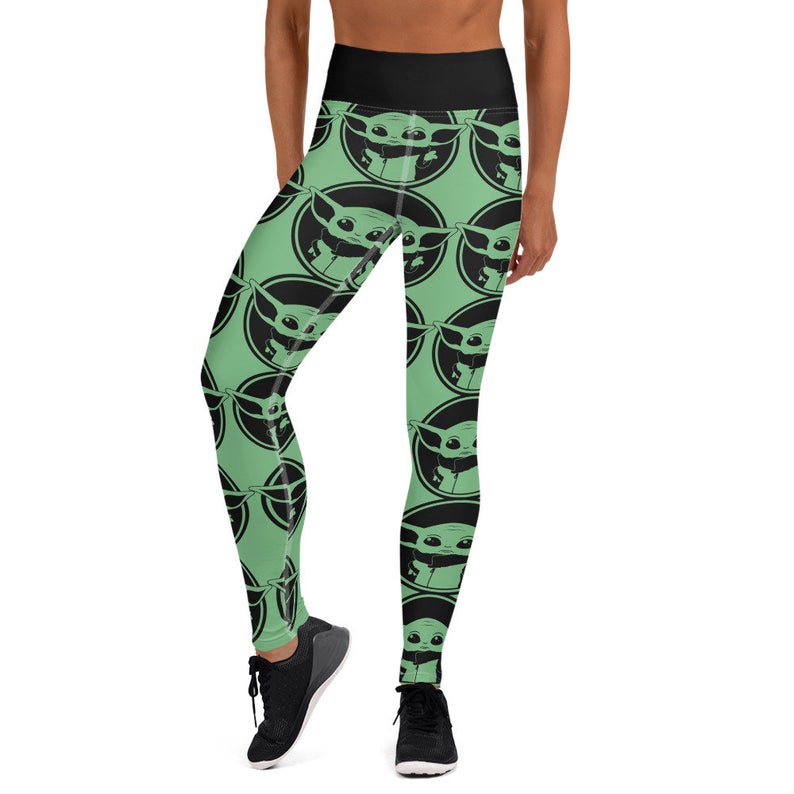 Disney Christmas Leggings
It's the most wonderful time of the year – or at least it could feel like it year-round with these super cute Santa Mickey and Minnie Disney Christmas Leggings. The forest green background and the red Christmas hat and Mickey/Minnie Mouse details go perfect together and gives you that Christmas spirit. Along with the Mickey and Minnie designs, there are also snowflakes and different shades of green trees.
Choose between regular and capri length in XS to 5XL. Also, choose the fabric you prefer whether that is a sports performance fabric ideal for sports and working out, a soft and lightweight fabric, or fleece, keeping you super warm in those chilly winter months.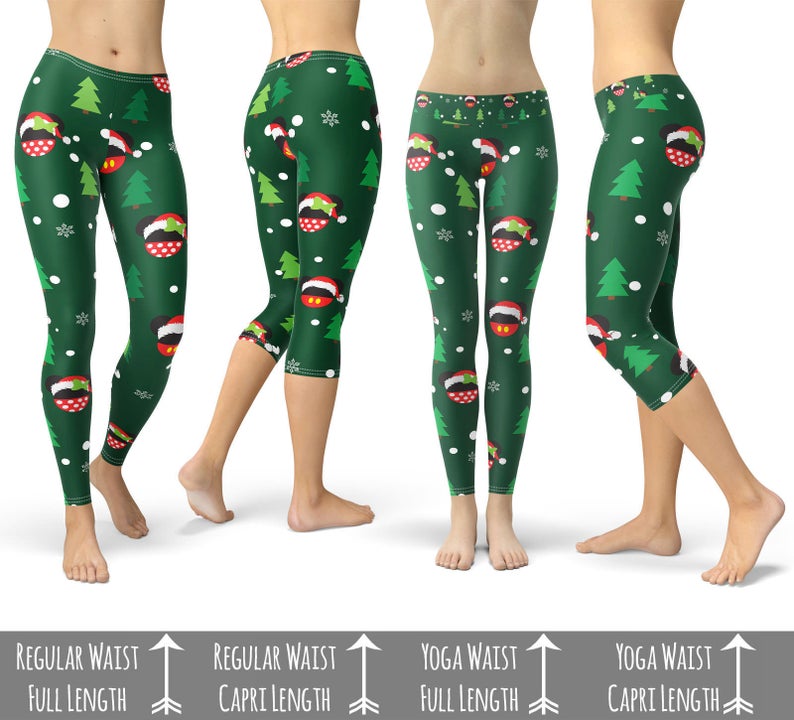 Plus Size Disney Leggings
While most other leggings shared here also are available in plus sizes, going to size 5XL, here are a couple of options highlighting specifically plus size, including plus-size models in their photos. These plus size Disney leggings range in size from 2XL to 6XL, making it so you are sure to find a pair you feel and look great in.
Maleficent Plus Size Disney Leggings
Bring out your inner bad girl with these awesome Maleficent Plus Size Disney Leggings. They are made of polyester and spandex and have four-way stretch, making them perfect for working out. At one inch wide and a high waistband, they are super comfortable and helps hide the tummy.
The leggings are a deep purple color with intricate designs covering the leggings. There is also a maleficent inspired graphic showing a pair of yellow wings and horns on the lower thigh/knee.
Colors of the Wind Plus Size Disney Leggings
I know earlier I said Cinderella was my all-time favorite Disney movie but Pocahontas is also my favorite. Sorry, I can't choose just one! That's why when I found these Colors of the Wind Plus Size Disney Leggings, I couldn't help but include them! Just by looking at these awesome leggings, I can hear the song.
The black background contrasts well with the bright and colorful leaves covering the leggings. Made of a super soft polyester and spandex blend, a wide high waistband, and 4-way stretch, you won't want to take these off!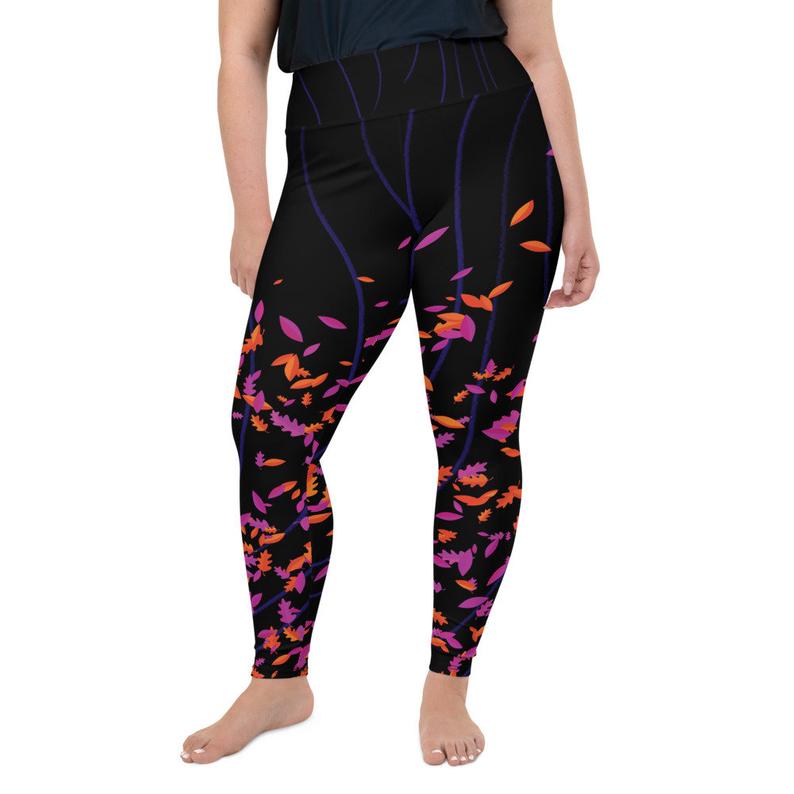 Which of these awesome leggings were your favorites? Are you going to be a pair (or six?) I know I am! We would love to see you in your Disney Leggings! If you already own a pair or buy a pair of these, upload a cute picture to Instagram and tag @disneytrippers #disneytrippers – we can't wait to see.