If you're looking for the best Disney resorts for adults, look no further! Whether you don't have children, or if they've grown up, or you simply want to leave them at home and have some adult-only Disney magic, we're going to run through the best Disney resorts for adults.
Walt Disney always wanted to appeal to everyone and even famously said that "Adults are only kids grown up, anyway". So don't worry about taking an adults-only trip to Disney World, you certainly won't feel out of place! To make sure you plan the perfect, child-free trip for you, you'll want to consider which are the best Disney hotels for adults and this is where we've got you covered!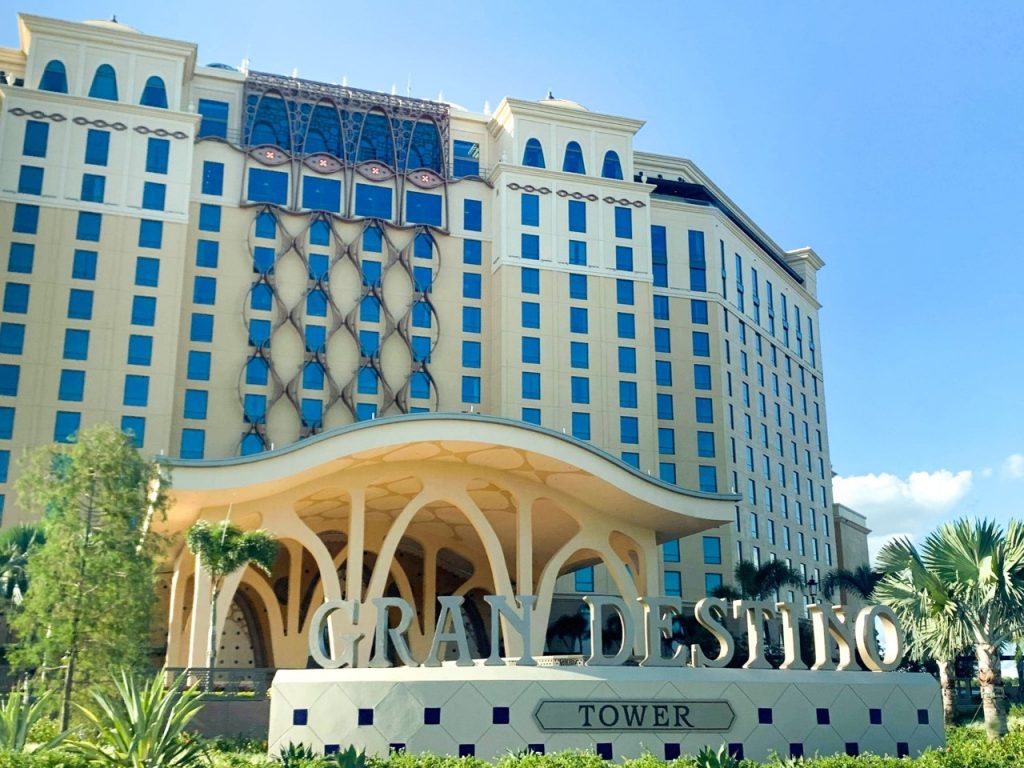 12 Best (And Worst!) Disney Resorts For Adults
Disney has three categories for its resorts: Deluxe, Moderate and Value. These refer to price ranges, so you can easily find a resort range to meet your budget. We've grouped our top picks in the same categories, to help you find the best Disney resort for adult only trips.
Best Deluxe Disney resorts for adults
Deluxe Disney resorts have some fabulous attributes that we think make them among the very best Disney resorts for adults. Whilst they all have fabulous amenities and theming, the greatest advantage is surely the proximity and transportation to the parks.
Disney's Beach Club Resort
Disney's Beach Club Resort is the Disney Trippers' Top Pick of the Best Disney resorts for adults! It is in a great location, within a few minutes' walk of the Epcot International Gateway, which is ideally placed for those of you wanting to eat and drink your way around the world!
The best bits…
One of the features of the resort that surely makes the Beach Club Disney's best resort for adults is Stormalong Bay: a three acre pool complex that is nearly a waterpark in itself! It includes a sand-bottom pool, lazy river, and a 230-foot-long water slide. If you want to splash out on some extra luxury, you can rent a private cabana (for half or full days) and get a ceiling fan, mini fridge with complimentary water and sodas, a safe and dedicated Cast Member to help you!
Because the Beach Club is a Disney deluxe resort, the transportation options are fantastic! Both Epcot and the Skyliner are within walking distance of this resort, so getting around is super easy. Hollywood Studios is also a short boat trip or a 15 minute walk away. Being able to independently get to the parks is another reason that this is the best Disney hotel for adults!
You're also just a short walk from the Fantasia Gardens and Miniature Golf which has 2, 18-hole mini golf adventures based on the Disney classic, Fantasia. Generally open from 10am to 10pm, this adds an additional element of fun to this resort!
There are several dining options on the property, by far the most popular is the Beaches & Cream Soda Shop. This old-fashioned ice cream parlor serves up some of the craziest shakes, sodas, and sundaes, including the Kitchen Sink Sundae, which includes basically everything ice cream-related in the shop.
If you want to bring some balance to the ice-cream and food(!), you have access to the in-resort Ship Shape Health Club, which comprises; a fully equipped fitness center and a spa to soothe mind, body and soul (among their services features a Massage for Two). Right next door to the Health Club, there's a salon which offers hair and nail services. What more could you ask for from the best Disney hotel for adults?!
The not so good…
The only downside we can find in this best Disney hotel for adults is its lack of solid, quick service dining options. After a day at the park, sometimes all you want to do is order some fast, good food and head to bed, but the quick service options at Disney's Beach Club Resort are mediocre at best. The great news is that most adults will most likely be delighted with the dining options at BoardWalk, which is a 10 minute walk away. Closer, still, from Disney's Beach Club resort are the quick service options in several of the World Showcase countries. Check out the Epcot Quick Service options we recommend.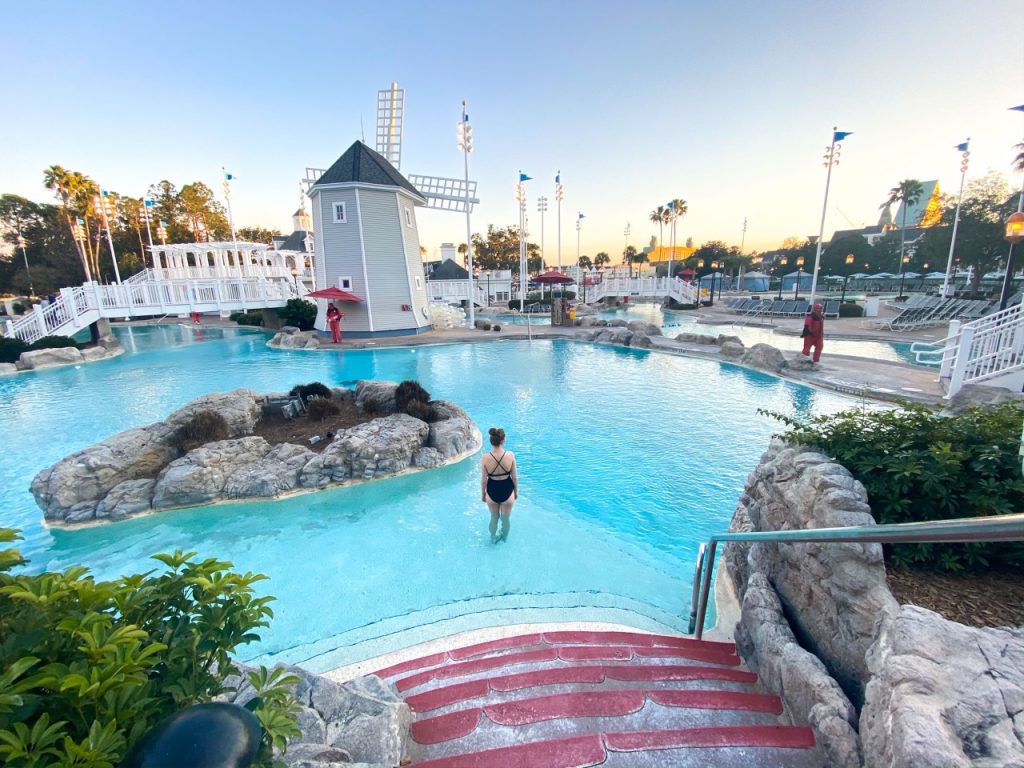 Disney's BoardWalk Inn
Disney's BoardWalk Inn has one of the coolest, most unique atmospheres of all of the Disney deluxe resorts; making it a very close second in our list of best Disney resorts for adults! This waterfront hotel based on Atlantic City and Coney Island is located on the Disney BoardWalk, which means there are tons of things to do.
The best bits…
The atmosphere at Disney's BoardWalk Inn is based on a boardwalk and, as a result, the environment is extremely fun and inviting. It also happens to be one of the more adult-oriented resorts at Disney World, as many of the dining and entertainment options would be more exciting for adults rather than children. Being so close to the BoardWalk itself, means that finding entertainment outside the magic of the Disney parks is so easy – it's literally on your doorstep! You can play carnival games, go clubbing, experience the sights and smells of a traditional boardwalk, or simply take in the views of Crescent Lake.
On top of all of those great perks, Disney's BoardWalk Inn also happens to be a fantastic place to catch amazing views of the Epcot fireworks. Most of the rooms have views of the BoardWalk and Crescent Lake (there are a few more affordable rooms with views of the gardens or parking lot) and many also have balconies.
The Disney Skyliner station at Epcot's International Gateway is just a short stroll from Disney's BoardWalk Inn and will take guests straight to Hollywood Studios. There are also recreational amenities, including pools, Fantasia Gardens and Miniature golf, movies under the stars, campfire activities, fishing, tennis, and the Side Show Games Arcade. As for food, Disney's BoardWalk Inn also happens to be home to Trattoria al Forno, one of Disney's fantastic character dining experiences.
The not so good…
What stops Disney's BoardWalk Inn from being at the very top of our list of best Disney resorts for adults? The rooms haven't been refurbished since 2014; the pool, whilst excellent, is nowhere near the scale of Stormalong Bay and the room price is generally greater than the nearby Disney's Beach Club Resort. The parking lot is also smaller and guests are advised that they aren't guaranteed to be able to self park.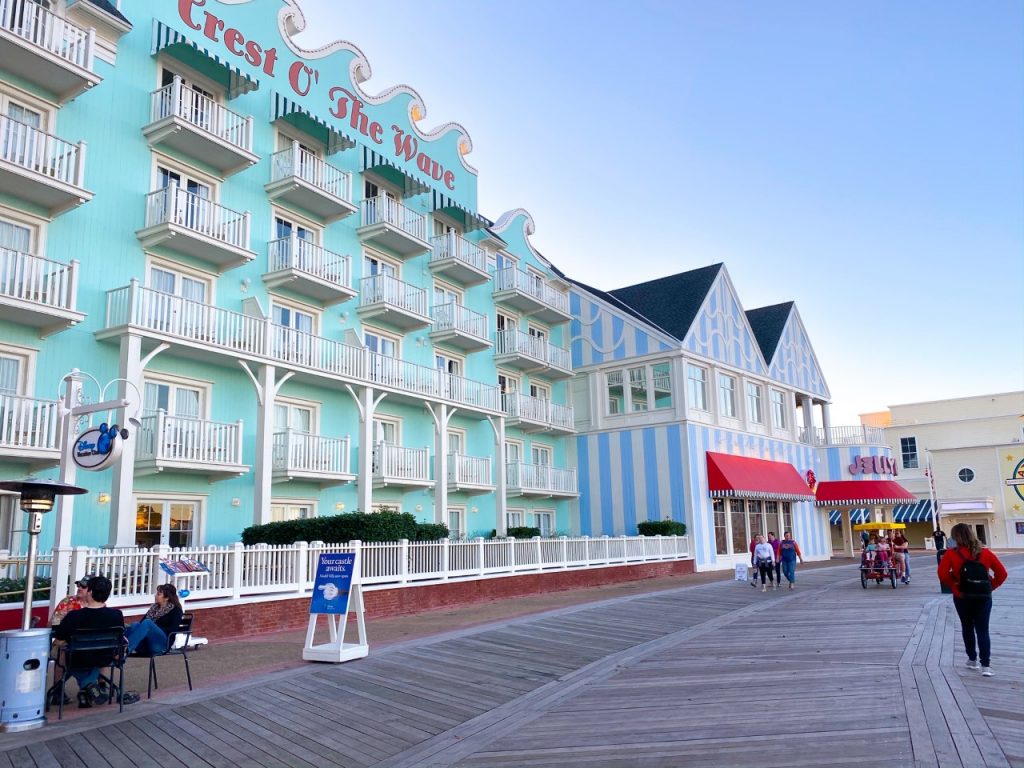 Disney's Riviera Resort
Disney's Riviera Resort is Disney's newest, having opened in December of 2019. The Riviera Resort is themed to be a European style resort filled with charm and high-class dining of a Mediterranean influence.
The best bits…
This resort has it's own Skyliner station, the new transportation system that connects to Epcot and Hollywood Studios, which is set to be a smoother and more comfortable ride to these parks than the buses.
Adult Disney fans are raving about the Riviera Resort for its stunning Disney-themed mosaic art pieces in the main lobby and it's relaxing and comfortable suites. There is a lot of Disney-themed art around the resort and much of it is actually for sale, so adult Disney art collectors should definitely check this place out. It's been said that this resort caters for adults, just as much as children.
Riviera Resort also features a rooftop dining experience and lounge perfect for foodies and those who want to check out the views of the theme parks and their nighttime fireworks shows. Topolino's Terrace has a French and Italian inspired menu with great wine pairings AND an amazing cheese board option.
There's a great gym, stylish looking pools and a stunning lawn where guests can play chess, bocce or chill on a porch swing
The not so good…
It may be too soon to say what's not so good, but early feedback suggests that the two bed Tower Studio rooms are not great value – high price for small rooms (compared with other Disney Deluxe Resorts) with a murphy bed that you fold down when it's bedtime (and which then takes up much of the room).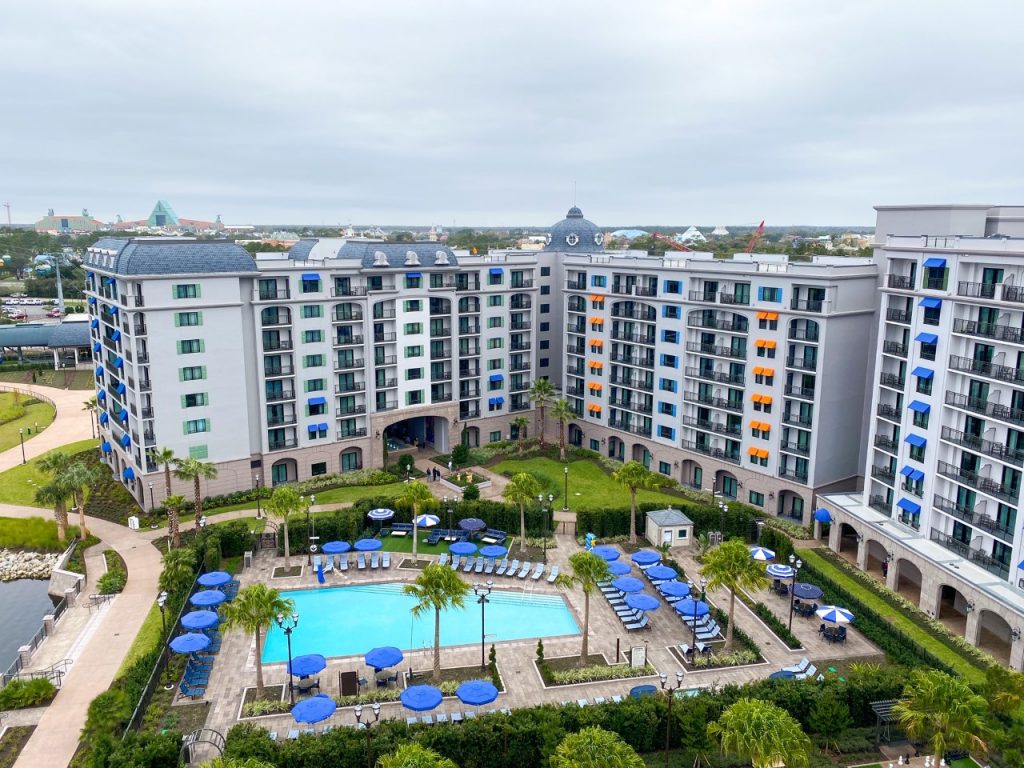 Disney's Polynesian Village Resort
Disney's Polynesian Village Resort is definitely one of the best Disney World resorts. The relaxing island theme is pervasive throughout the property, from the lei you're given when you enter to the many restaurants at this Disney deluxe resort. Plus, because it's a deluxe resort, it's extremely easy to access all of the Disney World parks.
The best bits…
There are so many things that gets this resort onto our list of best Disney resorts for adults. First, the transportation situation is fantastic. You can easily take a boat to Magic Kingdom, the monorail to Epcot or even change at Epcot for the Skyliner to Hollywood Studios. Plus, because the resort is so close to Magic Kingdom, you can actually get a stunning view of the fireworks show – including the music – without even entering the park! You can also enjoy the Electrical Water Pageant from the beach, every night.
The food offering at Disney's Polynesian Village Resort is also amazing. With over a dozen different dining options, there are so many delicious spots to choose from. Consider dining at Ohana, one of the best Disney World dining options, for either the character breakfast or dinner. Perhaps stop by Trader Sam's Grog Grotto for an extra dose of island paradise from this tiki bar; or visit the Tambu Lounge and sample a Lapu Lapu, which features on many visitors' "must have" lists!
In terms of recreation, this resort has the Seven Seas Marina, where you can rent motorized boats and have your own personal cruise on the Seven Seas lagoon! If you're feeling more energetic, you can also check out complimentary volleyballs from the Marina and have a game on the sand court.
The not so good…
The major downside of Disney's Polynesian Village Resort is the price. Because it is a Disney deluxe resort with all of these fantastic amenities, that's reflected in the cost of the rooms.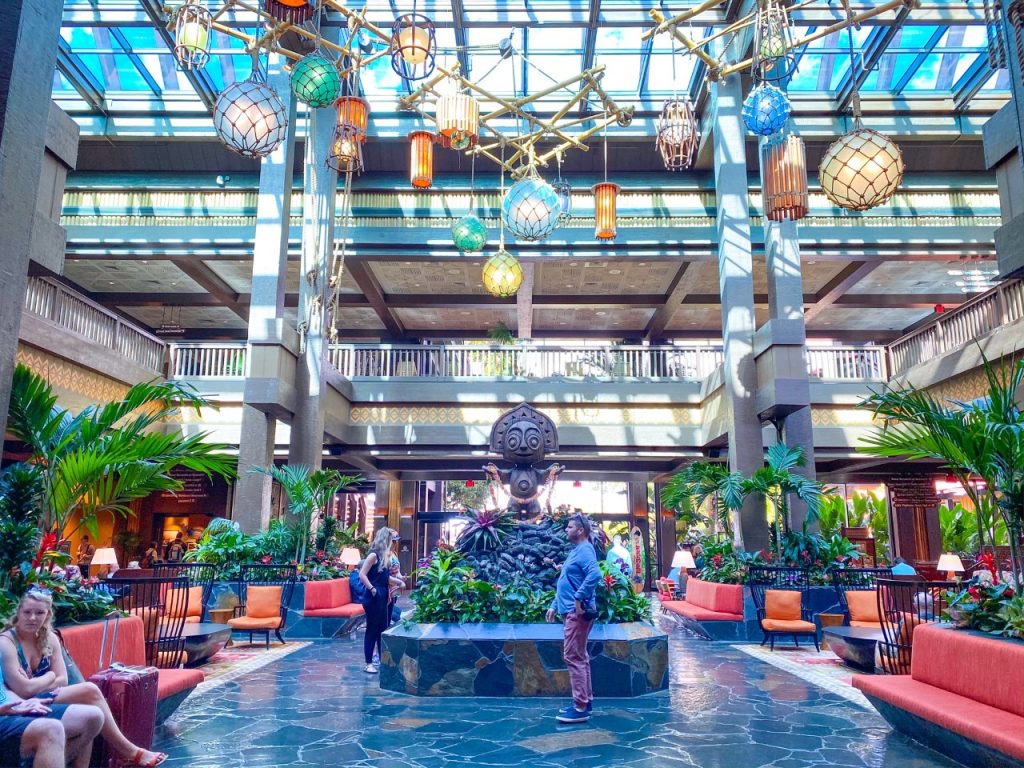 Disney's Grand Floridian Resort and Spa
As the first Disney World resort, Disney's Grand Floridian Resort & Spa immediately makes an impact. This Victorian-style resort fills the senses with elegance – from live orchestra music to green clover scents to the classiest of dining options at Victoria and Albert's. Even the views of Cinderella's Castle in Magic Kingdom add another level of sophistication.
The best bits…
One of the most fabulous features of Disney's Grand Floridian Resort & Spa may be the seasonal traditions. During Christmas time, for example, the chefs whip up an almost life-size gingerbread house, complete with a chimney that puffs out scented gingerbread!
A close second, however, is the food. The Grand Floridian is home to the classiest restaurant at Disney: Victoria & Albert's. This is the most upscale dining option Disney offers: it's been a AAA Five Diamond restaurant for 20 years!
If you're not feeling like fine dining, Disney's Grand Floridian Resort still has amazing options for you. Narcoosee's sits right on the lagoon, giving stunning water views with your meal and maybe even some fireworks, with a great New England style menu of lobster and steaks. Citricos is inside the main building of the resort and features a Mediterranean-inspired menu and a great wine list.
For a more relaxed table service option, 1900 Park Fare consistently gets rave reviews and has some really unique character interaction opportunities that you won't get elsewhere. You might feel that character dining isn't for you, but we regularly see adult only groups dining here!
As with most other Disney deluxe resorts, Disney's Grand Floridian Resort & Spa also has a fantastic transportation situation, as it's just a monorail stop from Magic Kingdom. This resort also has a few unique recreation options, including dream 'n' design, pirate adventure cruise, and Arcadia Games.
You can take private cruises around the Seven Seas Lagoon; watch the fireworks and the Electrical Water Pageant from the beach – what could be more romantic in your adults only getaway?
There's also a full service spa, offering the broadest range of women's and men's services that we've seen from a Disney Spa; health center and salon.
The not so good…
Disney's Grand Floridian Resort and Spa has the highest standard room rates of any Disney Deluxe resort and, while it undeniably offers you class and quality, some people may feel that the theming of the resort is too stuffy and fancy and not what they're looking for from their best Disney resort for adults.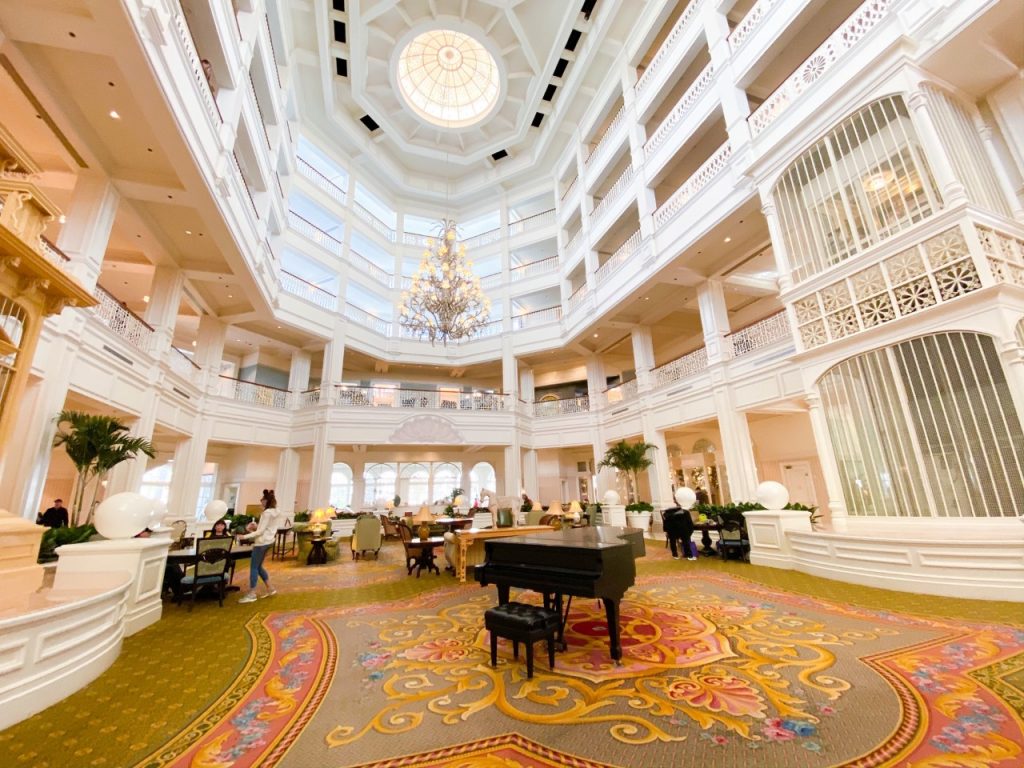 Disney's Animal Kingdom Lodge
This magnificent Disney deluxe resort embraces aspects of African culture and design in the creation of this Disney-caliber accommodation. Expose all of your senses to African experiences – from music to art to food. And outside of these beautifully adorned walls, we certainly can't forget about the great savannas just outside of the buildings.
The best bits…
Disney's Animal Kingdom Lodge is absolutely the best Disney resort for your adults only trip, if you want to see giraffes walk up to the window or balcony of your room! This resort has it's own savanna with gorgeous animals wandering around as they please (but be careful – giraffes may steal towels left hanging on your balcony railings!) Animal Kingdom Lodge is (obviously) very close the Animal Kingdom theme park, but this does make it more removed from much of the other properties at Disney, so this is a great quiet resort option, if you're looking to escape.
Overall, Disney's Animal Kingdom Lodge is AMAZING, especially the savanna view rooms. Being able to watch stunning animals, like giraffes, zebras, ostriches, and emu, all day from the comfort of your own balcony is simply a magical experience. Even the food options, including Boma – Flavors of Africa and Jiko – The Cooking Place, are some of the best restaurants in all of Disney World! Sanaa is an Indian/African fusion restaurant with sweeping windows that look right out into the savanna and their menu is filled with amazing spices and flavors. Don't miss the naan bread appetizer- it features three types of naan AND a ton of amazing sauces to go with them.
As you might expect from a Disney Deluxe resort, there is a well equipped spa and fitness center – you can even get a massage in your room, if you would like! There's also pools with fabulous theming; Jambo House campfire activities and Movies under the stars.
The not so good…
The only major downside to Disney's Animal Kingdom Lodge: it's SO far from anywhere else in the parks. In order to get anywhere from Disney's Animal Kingdom Lodge, you MUST take the Disney bus system (the least exciting of all of the Disney World transportation options). Basically, while the hotel is absolutely fabulous, be prepared to commit a good amount of time to travel anywhere in Walt Disney World, or use your own/hire a car.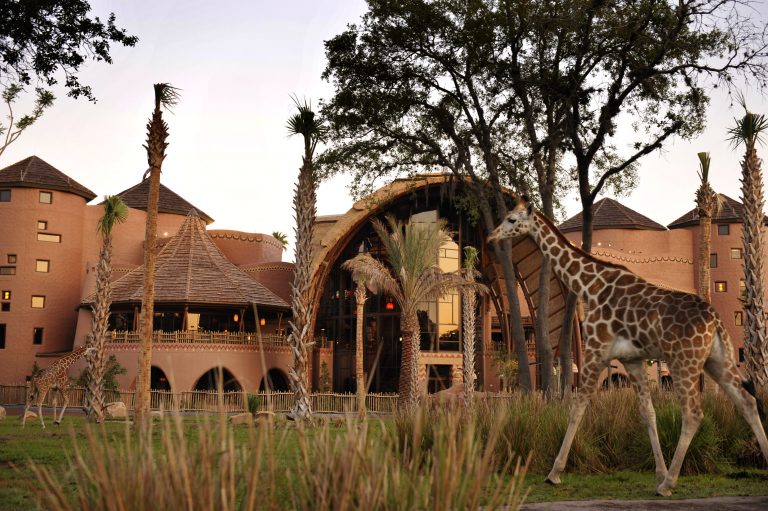 Best Disney Moderate Resorts for adults
Moderate resorts are a great middle-ground for those who may want somewhere nice to stay but who generally feel that the hotel is for sleeping in and who may not be up for lounging around the resort a lot. Moderate resorts offer more amenities and options than the Value resorts and while they're not as close to the parks as Deluxe resorts, transportation time to the parks is generally less than at Value resorts! Check out our breakdown of Disney's moderate resorts for more details.
Disney's Port Orleans Resort – French Quarter
Disney's Port Orleans Resort is broken into two distinct sections: Riverside and French Quarter. Both are amazing options, but to feature as one of our best Disney resorts for adults, we recommend French Quarter. Port Orleans French Quarter is a great, quiet and intimate resort- it's actually Disney's smallest moderate resort! Themed around New Orleans and it's French Quarter, this resort has great charm.
The best bits…
While there's no table service restaurant at Port Orleans French Quarter, you will be well served in the Sassagoula and Food Factory (don't forget to grab your Mickey beignets! These are a fabulous New Orleans style treat that Disneyland's New Orleans Square has had for years but at Disney World you can only find them at this resort!).
The resort is so small, you can easily walk to the food court from any of the rooms to get your morning coffee (or your bedtime nightcap!), which makes this resort quite unique among Disney's moderate resorts and that's why we love it as one of the best Disney hotels for adults.
If you want to stroll to the Riverside Marina, you can try dockside fishing, take a romantic horse drawn carriage ride or, if you're feeling adventurous, rent a Surrey bike.
If you want to maximise your adults only trip with an evening (or more!) at Disney Springs, the bus isn't your only method from Port Orleans resorts, you can hop onto the boat for a relaxing and more restful journey for your evening of dining and/or entertainment. The last boat returns from Disney Springs around 11.30pm.
Scat Cat's Club lounge is the place to be for swingin' jazz, appetizers, cocktails and beers. This place has a great atmosphere and authentic theming.
The not so good…
There is only one pool at Port Orleans French Quarter, the Mardi Gras themed Doubloon Lagoon, but if you prefer a quieter pool, or more choice, it's a very short walk across to Port Orleans Riverside and, as a guest of French Quarter, you can use and of the pools there. You could also eat at the table service restaurant, Boatwright's Dining Hall.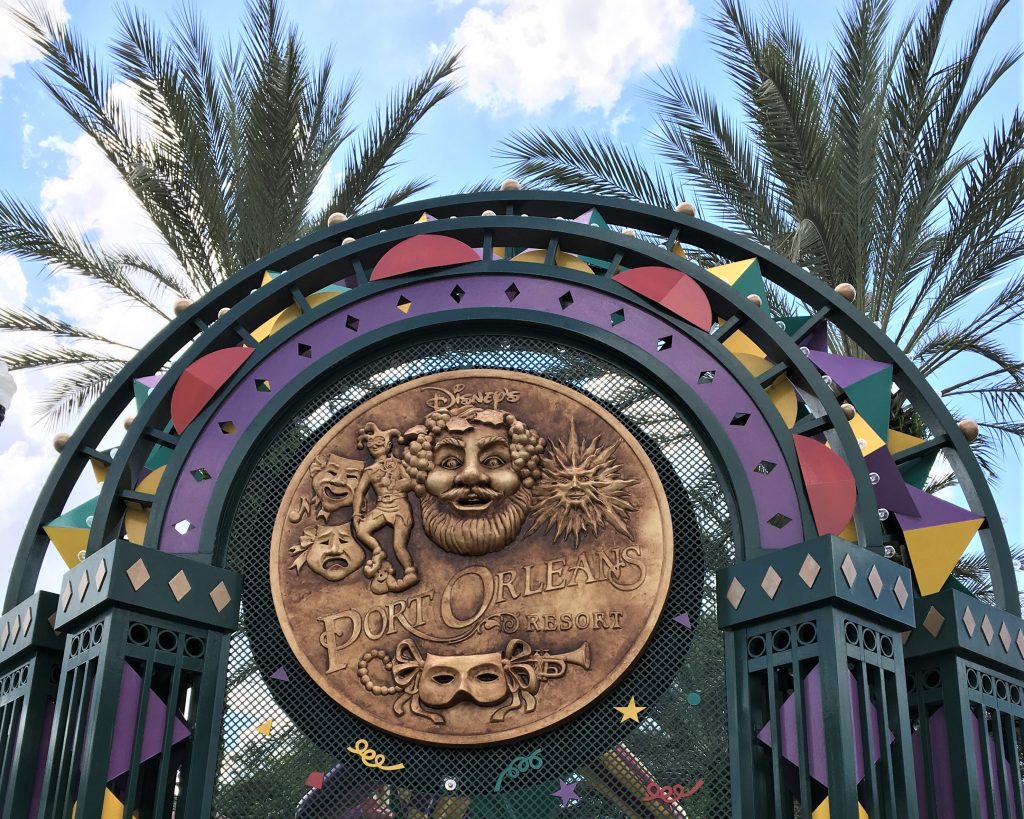 Disney's Coronado Springs Resort
Coronado Springs is newly renovated and gorgeous! It's pretty spread out, with several different buildings for rooms plus the new Gran Destino Tower, which has dining, the main lobby, and more rooms! All of the rooms in the resort are newly renovated and guests have been vocal in their praise for the new style rooms. It's the gorgeous theming and top dining options that puts Coronado Springs onto our best Disney resorts for adults list. Check out our full review of Coronado Springs!
The best bits…
There's a great choice of places to eat and drink at Coronado Springs; there are 2 pool bars; 3 lounges (one of which is a Sports Bar and Grill) and 3 table service restaurants, as well as a great quick service dining area. The Dahlia Lounge is a rooftop lounge on the Gran Destino Tower and serves cocktails and tapas, which sounds, to us, like a wonderful escape and a real bonus in a best Disney resort for adults.
This resort also features two fitness centers, a spa and a salon. The range of services from the spa includes a Massage for Two or even an in-room massage, so you don't even need to leave your resort room.
The not so good…
The main downside of this amazing moderate Disney World resort is the fact that it's a convention hotel. In other words, there are often large groups bustling around the resort, which may feel a little bit odd and make the resort seem crowded.
At Disney's Coronado Springs Resort, the buildings are far apart, which means that there can be quite a lot of walking and the only method of Disney transportation to and from Coronado Springs is the buses. You may not mind this, because of all the other benefits this resort has, but you may want to factor the travel time into your planning.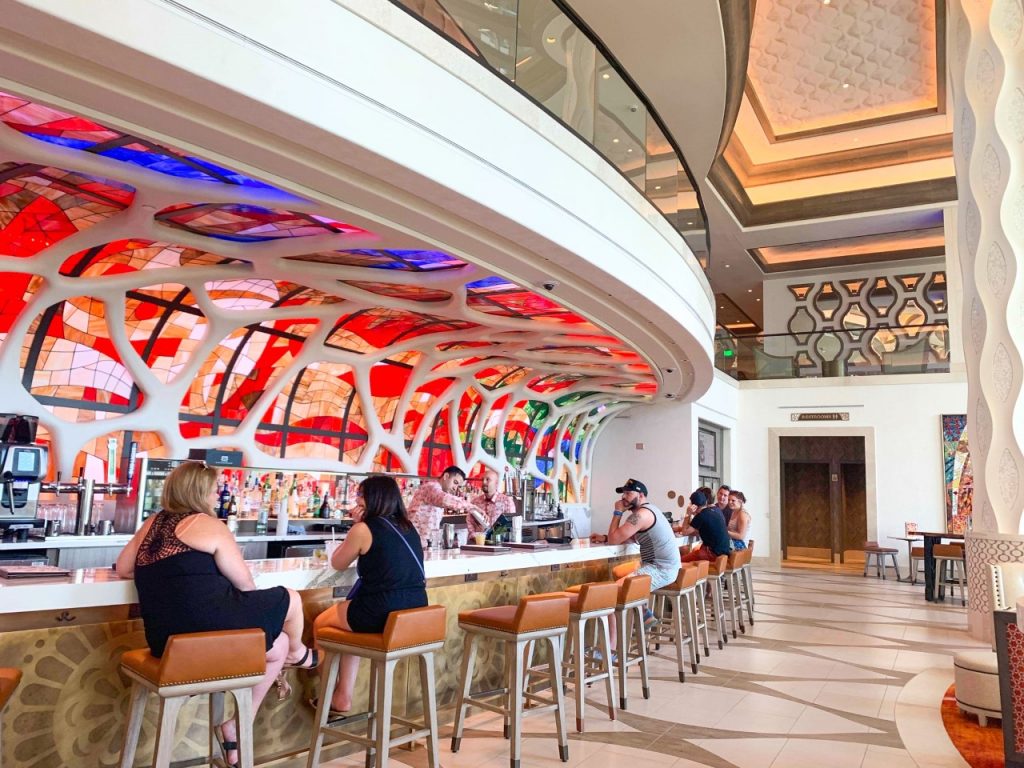 Best Disney Value resorts for adults
Value resorts are a great way of being able to access all of the perks of staying at a Disney resort, at the lowest price tag. The prices still vary, depending on the season you go, but you can generally find some great deals in this category and then use the free Disney transportation system to move around Disney World without ever having to drive! The theming of value resorts is more 'in your face' than the moderate and deluxe choices.
Disney's Art of Animation Resort
There are several value resorts, but to feature in the best Disney resorts for adults, Disney Trippers recommend Art of Animation. This resort is a little bit more appealing and a little quieter than its counterparts, with a super cute theme and fun themed rooms. Art of Animation has The Lion King, Little Mermaid, and Cars themed areas that are very thorough and detailed!
The best bits…
The introduction of the Skyliner has made it really easy to get from Art of Animation to Epcot and Hollywood Studios.
The Animation Hall – movie buffs (and geeks!) will love the Animation Hall to see how some of our favourite movie characters developed from sketch to the finished article. There's a level of detail that you may not have had time to slow down and see, before.
The food court is easily the best among the value resorts (and some of the Moderates, too) and you get to eat off actual plates, with real silverware.
The not so good…
While the themes are very cute, it's largely geared towards kids, so it would be best to sleep here and spend your time around the rest of Disney World.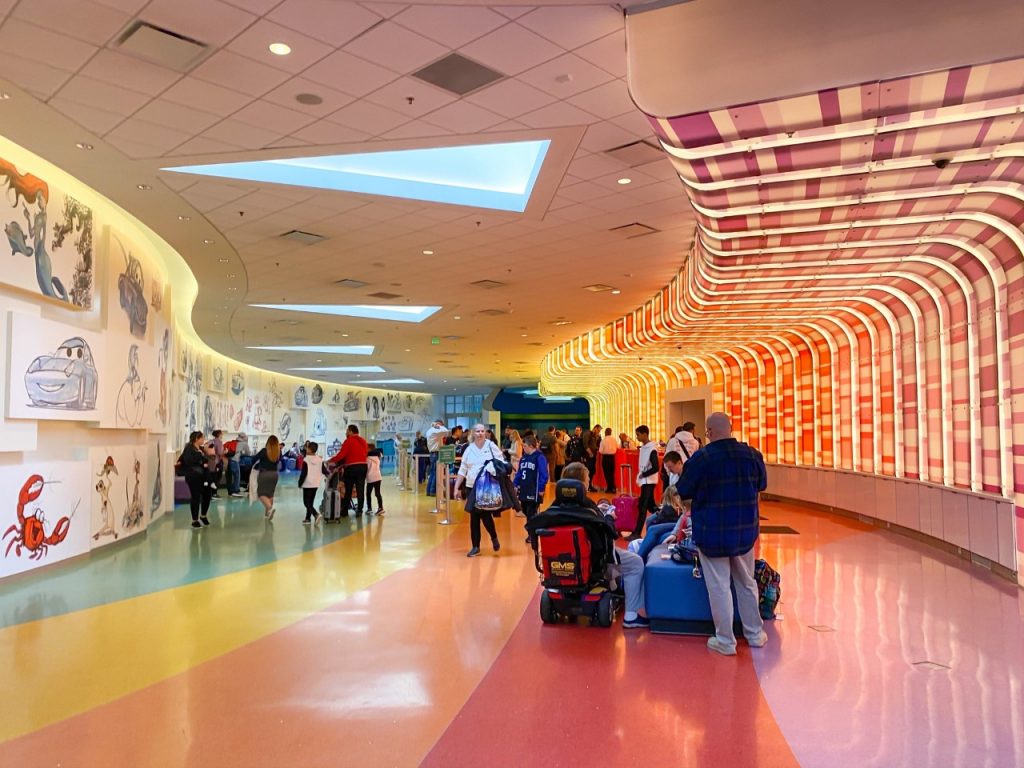 Worst Resorts at Disney for adults
It could be argued that there's no such thing as a bad Disney resort, but this wouldn't be an accurate list of the best Disney resorts for adults without listing the resorts that we feel won't give you that child-free experience you might be seeking.
Disney's Caribbean Beach Resort
Honestly, there is nothing absolutely horrible about the Caribbean Beach Resort, it is just that nothing really stands out either. It is the worst for being spread out and having to walk forever to get to anything you want to do. There are palm trees, island influences and Caribbean inspired decor, and the Spanish themed pool is simply gorgeous.
There are a lot of dining options. The Caribbean Beach Resort has a sit-down restaurant in Sebastian's Bistro, quick-service meals in the Centertown Market, and comfort food in the American themed Spyglass Grill.
The addition of the Skyliner was contentious among some die hard Caribbean Beach enthusiasts; some feel the steel poles and presence of the gondolas just ruin what was a peaceful oasis of tranquility. Others are sure to find it appealing, because it gives another, more direct, method of transportation to Epcot and Hollywood Studios.
Disney's Caribbean Beach Resort is one of the Moderate resorts that offers childcare services – this may make it a popular pull for families and therefore may be a factor in people deciding it is not, perhaps, the best Disney resort for adults.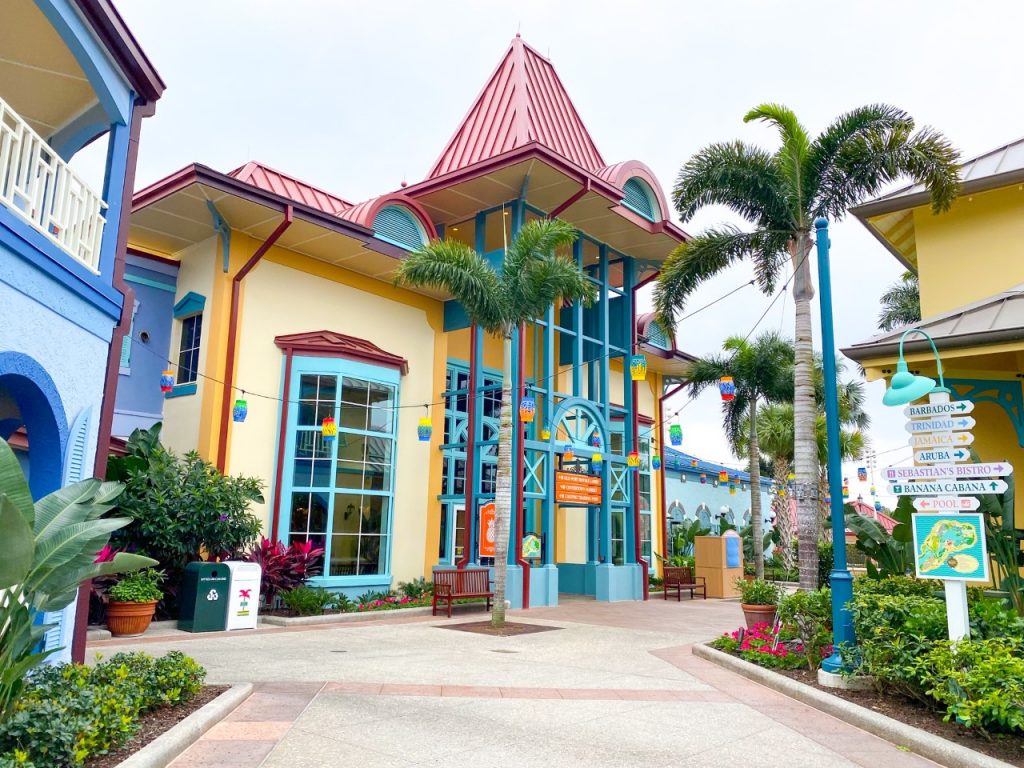 Disney's Pop Century Resort
Pop Century is the second most expensive of the Value resorts. At this resort, you will get to enjoy the pop culture from the 1950's to the 1990's; it is very much targeted at families. If you are having a hard time choosing the Value resort, read our comparison between Art Of Animation Vs Pop Century to help you choose!
Pop Century has its own dedicated bus service to the parks and, following the introduction of the Skyliner, getting from Pop Century to Hollywood Studios and Epcot is now much easier!
Pop Century has a great food court and is only a short walk from Art of Animation, so you could use their fabulous food court. There's really nothing wrong with Pop Century as a basic resort. There are few amenities and little to do, other than already mentioned. There are movies in the evenings, but these will also be geared up towards the kids.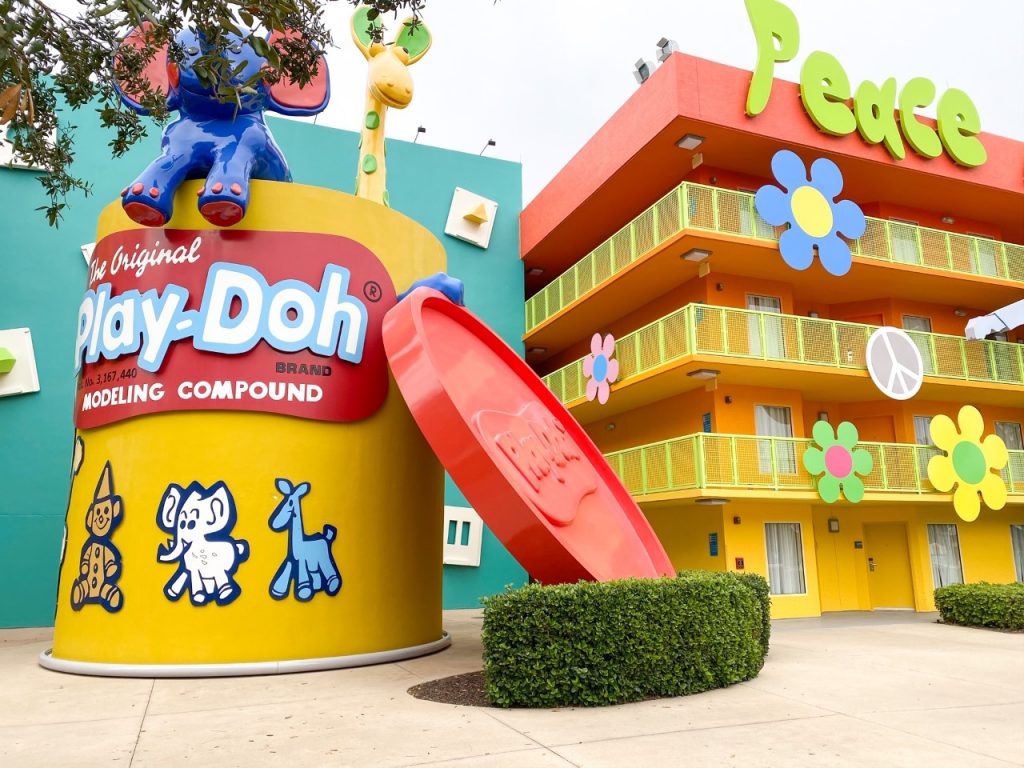 Disney's All Star Resorts
The All Star Resorts – Movies; Music and Sports – undoubtedly offer great Disney theming and most reasonable pricepoint. But as Disney resorts for adults go, these resorts are geared up, primarily, for children. The theming is quite 'loud' and in your face – some people would go as far to say they're tacky. While there's nothing wrong with loud (or tacky), it may not be what you're looking for in your child-free vacation.
The pools' theming is very appealing to children and there are no hot tubs by the pools in Value resorts.
The only method of Disney transportation from the All Star Resorts to the parks and Disney Springs is the bus. Because the Value resorts are further away, you can expect a longer bus ride than with the Moderates. At quieter times, the All Star Resorts may share buses, so it might take longer to get to your hotel. At peak times, each resort has its own bus.
If you're simply looking for a place to lay your head at night and know that, the rest of the time, you'll be in the parks; at the BoardWalk or at Disney Springs, then you may feel that the ambience and decor is irrelevant to you and, perhaps, the best advice would be to pick the resort that suits your budget best.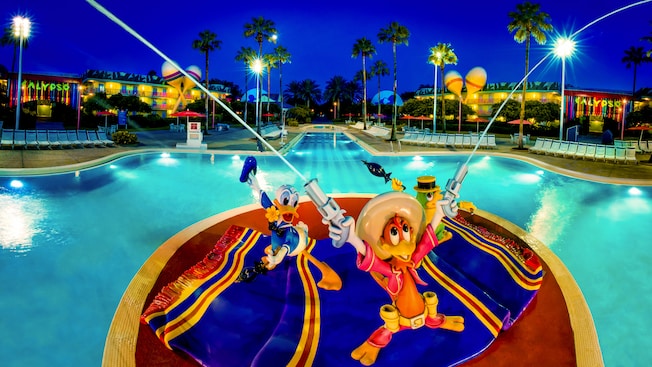 So that wraps up our list of the best (and worst) Disney resorts for adults! We hope we have been helpful in helping you figure out which one to make your vacation exactly what you want it to be. What do you think? Do you agree or disagree? Let us know in the comments which is your favorite and where you choose to stay! And if you need any more tips or tricks, check out all our articles on our Disney Planning Page.
Pin this post: