Looking for a list of all of the Epcot Mexican restaurants? The Epcot Mexico Pavilion has a few great options for you to choose from. Depending on what you may be looking for, each of these Epcot Mexican restaurants offers something a little bit different, whether it's the food, atmosphere, pricing, service, or views. Make sure to check out the Official Epcot Map so you know where Mexico is located in the World Showcase [hint! It is quite close to the entrance!]
Epcot is the Disney park known for its showcase of global cultures. You can visit the pavilions of countries such as Norway, China, Italy, and of course Mexico. In addition to the Gran Fiesta Tour ride and the towering Mayan pyramid, Epcot Mexico boasts three fantastic Mexican restaurants. So if you feel like munching on some tacos el pastor, sipping on an avocado margarita, or finishing off a meal with a flan de maiz, one of these Epcot Mexican restaurants may be a perfect place to grab a bite to eat during your day at the Disney park.
Get a FREE printable 30/60/90 day Disney countdown by joining our private Disney Facebook Group and share your photos and ask for tips and trick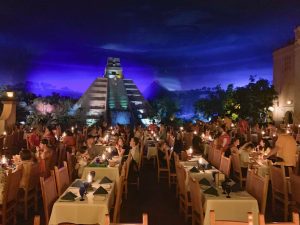 A Detailed Comparison Of The Epcot Mexican Restaurants
San Angel Inn Restaurante
At the base of Mayan pyramid lies one of the best Epcot Mexican restaurants: San Angel Inn Restaurante. The real highlight of this restaurant is the atmosphere. In addition to being located at the base of a Mayan pyramid replica, there are also Mexican tile floors, stucco walls, a mural of a stunning Mexican sunset, and the casual passing of the boats from La Gran Fiesta Tour ride. It almost feels as if you have been transported across the border to Mexico.
As for the food, there is a variety of traditional Mexican food available at San Angel Inn. Chile relleno, mole poblano, puerco en salsa verde have all found their places on the menu. San Angel Inn Restaurante also offers several signature drinks and margaritas, including Café de Oaxaca, Piña Loca, and the San Angel Inn Margarita. There is a vegan/vegetarian menu upon request.
If you're hoping to get a table at San Angel Inn Restaurante, know that it is extremely hard to get a reservation, so make sure to reserve it far in advance. There are no walk-ins or no walk-up reservations.
Just as a quick note, do know that the bathroom at this restaurant is typically quite busy. If you are on the Disney Dining Plan, it is a great way to use up your credits!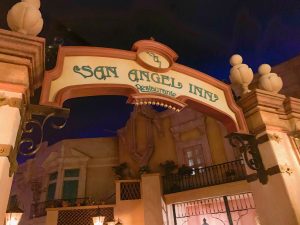 La Hacienda de San Angel
La Hacienda de San Angel is one of the best restaurants in all of Epcot, not just the Epcot Mexico Pavilion. To start, you'll get free chips and salsa as you wait for your order to come out, which is a rarity at Disney. With popular dishes like costillas en salsa de chile (braised short ribs), tacos de camarones (shrimp tacos), and queso fundido, you really can't go wrong with whatever you pick. Don't forget to top off your meal with the delicious empanada de manzana (caramel apple empanada) or volcan de chocolate (chocolate lava cake). There is also a vegan menu upon request.
La Hacienda de San Angel also has some of the best views in Epcot. Located right next to the World Showcase Lagoon, this restaurant offers prime views of the lake and the other international pavilions. If you happen to be eating late enough, it's also a fabulous place to watch Epcot's evening show, IllumiNations: Reflections of Earth. Regardless of what time of day you choose to eat, be sure to ask for a table next to the window to get the best view possible! It also makes our list of the best restaurants at Disney and that takes into consideration all dining options from across all the parks.
Because of all of these wonderful highlights of La Hacienda de San Angel, the restaurant is very popular. Be sure to reserve in advance if you want to eat at this lovely Epcot Mexican restaurant. If you forget to reserve in advance, it is possible to get walk-up seating for the day of your visit if you check early enough, but this is quite rare.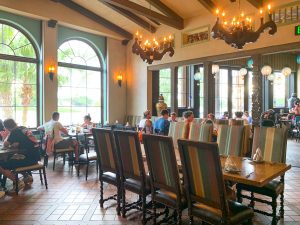 La Cantina de San Angel
If you're looking for a Quick Service Epcot restaurant, La Cantina de San Angel is a fantastic option for you! This quick service restaurant and its seating area is also located on the shores of the World Showcase Lagoon, making for some epic views, including of IllumiNations. The chips and guacamole, empanadas con queso, and churros are all crowd favorites.
Unfortunately, there are not many vegetarian options at this Epcot Mexican restaurant.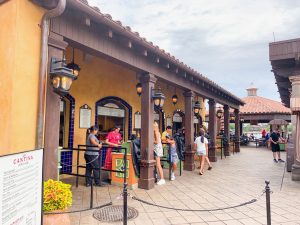 La Cava del Tequila
If you're looking to grab a fantastic drink or two, La Cava del Tequila is the place to go. La Cava del Tequila's goal is to celebrate the heritage and tradition of Mexican tequila making through making fantastic tequila-based drinks, and they definitely deliver on that mission!
If you are drinking around the world, this bar should 100% be on your list!
Try out their tequila blanco, tequila reposado, or tequila añejo. If you simply can't decide, choose one of their tequila flights. Or if you're looking to splurge on their specialty margaritas, opt for their fantastic avocado margarita, complete with fresh avocado, tequila, melon liqueur, and a hibiscus salt rim. To pair with this delicious array of drinks, La Cava del Tequila also sells a few appetizers, such as chips and salsa, queso, and guacamole.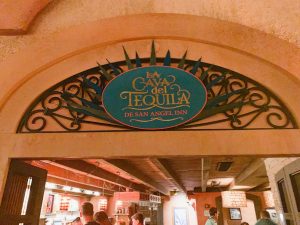 Rides in Epcot Mexico
La Gran Fiesta Tour
La Gran Fiesta Tour ride is the only ride in Epcot Mexico. This boat ride which stars The Three Caballeros takes riders along the Rio Grande past some of the most famous sights in Mexico, such as Mexico City, Acapulco, and Chichen Itza. Because this is one of Epcot's calmer rides, it is very kid-friendly and there are no height requirements.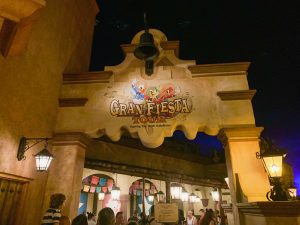 Shopping in Epcot Mexico
Because of the international theme of Disney's Epcot, you can feel as if you've traveled the world without leaving Orlando! You can even shop for souvenirs, such as clothing, crafts, and food items. The first souvenir that most people think of when they think of Mexico is a sombrero, but there are also embroidered dresses, wooden carvings of Dia de los Muertos, and even habanero hot sauce.
These shopping items can be found at the Plaza de Los Amigos, the Artesanias La Familia Fashions, El Ranchito del Norte, as well as various vendor carts located around the Epcot Mexico Pavilion.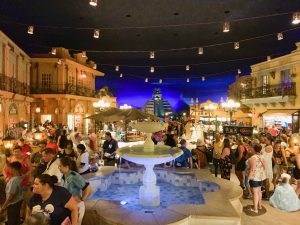 Kidcot in Epcot Mexico
For small children, the World Showcase is not the most exciting part of Disney. In order to encourage children to learn more about the different countries in the showcase, Disney started Kidcot. Every country in the world showcase has a Kidcot stop with a card with information about the country on one side and a picture to color on the other. For the Mexico Pavilion, the picture depicts Donald Duck about to hit a piñata as Huey, Dewey, and Louie all watch in excitement. At each Kidcot station, there are sharpies available for the kids to color with. The children also receive a country-themed sticker on their visits to each of the Kidcot stations.
The Mexico Kidcot station is located within the Mayan pyramid.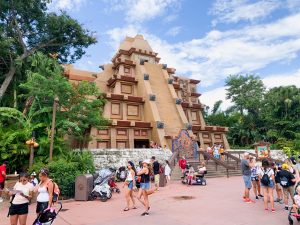 Where To Stay At Disney World
If you are reading this post, you are probably planning a trip to Disney World! Check out some of our favorite hotel recommendations in the Walt Disney World resort area. No matter your budget, there is something for you and somewhere to stay!
Walking Distance From The Parks. Walt Disney World Swan. Check Rates: Booking.com
Upscale. Four Seasons Walt Disney World. Check Rates: Booking.com
Family-Friendly. Wyndham Bonnet Creek. Check Rates: Booking.com
Our Favorite: Hilton Orlando Buena Vista Palace. Check Rates: Booking.com
Affordable: Comfort Inn Maingate. Check Rates: Booking.com
5 Things To Pack For Disney World
Check out these necessary things to pack for your trip to Disney World!! A trip to Disney can be a much smoother experience if you simply add a few items to your bag of things to pack!! Check out some of our favorites below.
#1. Good Quality Walking Shoes. Good quality walking shoes are a MUST for Disney! And I highly recommend my favorite Vionic Farra Sandal. I literally cannot tell you enough how much I LOVE this sandal! I originally bought them for a trip to India where I wore them every day for 2 weeks, but they quickly became my best shoe for Disney! I even went back an bought a second pair in the same color just in case Vionics ever stopped making them! Vionics are my favorite brand for Disney because they are supportive, affordable, and perfect for Disney in the Florida heat!
#2. A Sturdy Backpack. OutdoorMaster Sling Bagis our very favorite functional backpack for Disney! If you have never used a sling backpack, you haven't lived yet! [Just kidding but you are going to love it.] A sling backpack for Disney will change your life! It doesn't hurt your back the way traditional backpacks may and leaves one shoulder completely free.
#3. Multiple Memory Cards. If you have a camera on your Disney packing list, you need to add additional memory cards on your list of what to pack for Disney as well. Unless you are packing a computer for Disney, you will not be able to upload photos and clear your existing memory card. Purchasing additional memory cards cost under $20 and take up no space in your luggage when packing for Disney.
#4. A Reusable Water Bottle. If you don't want to pay for water every single time you go out to eat or are hot while at Disney, simply bring a reusable filtered water bottle and drink that while you dine. Water in the parks costs a lot of money so bring your own bottle and fill it around the parks! I love and recommend this Bobble Water Bottle!
#5. A Poncho Instead Of An Umbrella. Add a poncho to your Disney packing list instead of a travel umbrella! Unless you are outfitted in a waterproof jacket, pants, and shoes, you are going to need something to stay dry in the event of a squall. A poncho folds up teeny tiny in your suitcase and is easy to throw into a backpack when you're are sightseeing. It is quick to whip out and put on and keeps you more covered than an umbrella. When considering what to pack for Disney make sure you pick a poncho that is made of quality material so it doesn't rip when you put it on.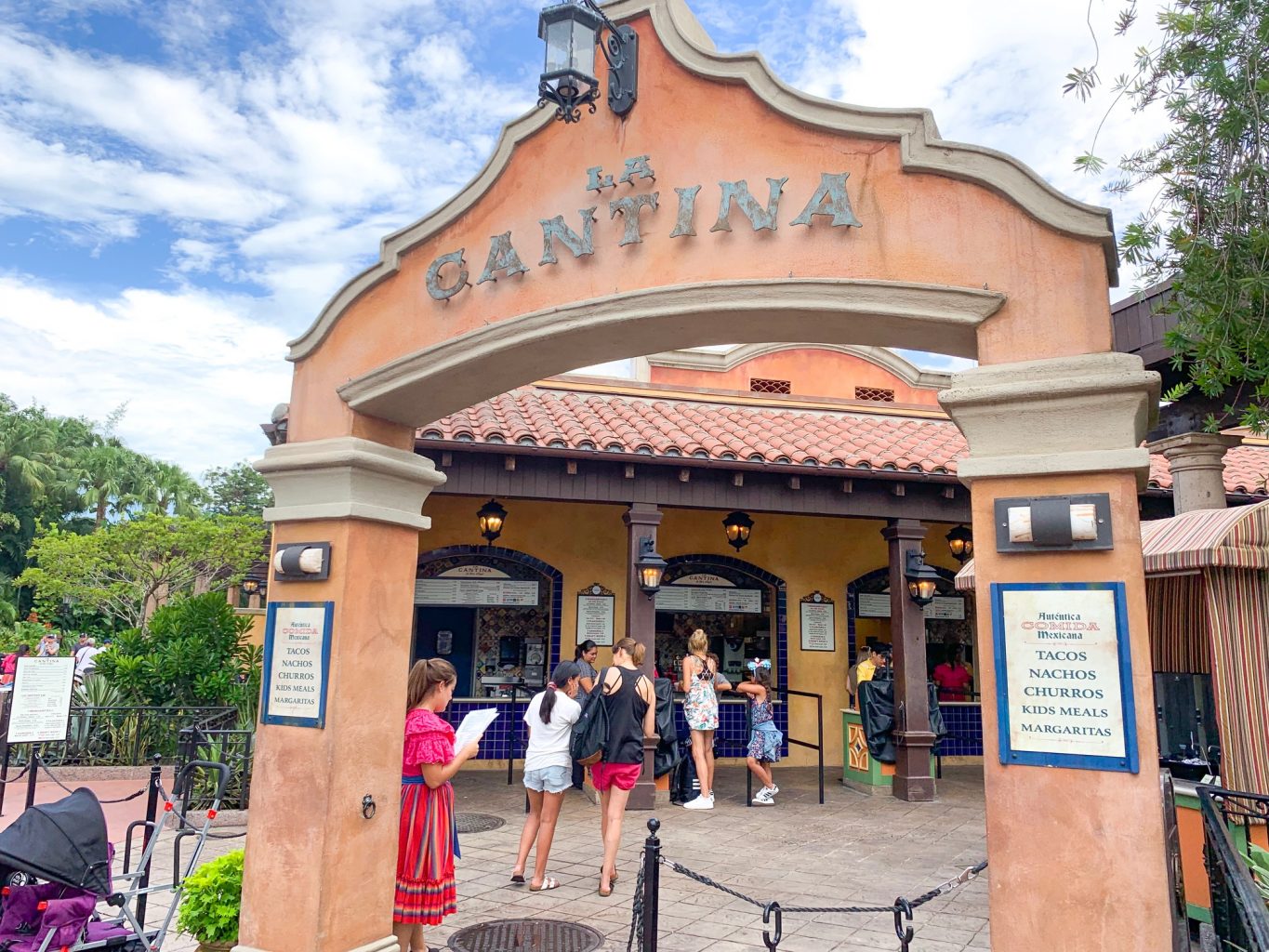 I hope you enjoyed reading about some of the Epcot Mexican restaurants. Which one of these dining options is your favorite? Let me know in the comments! As always, if you have any questions, I am more than happy to answer them for you! Thank you for reading!