One thing you must try during your next trip is Disney Mobile Ordering! With the global pandemic that has taken up the majority of this year, we are all adapting to the reality of the world right now. For some, this means not being able to sit-in at restaurants, or worse yet, our favorite restaurants being closed indefinitely.
Now, more than ever, we are trying to be safe and cautious. We are finding common ground in limiting contact with others and still enjoying our favorite things. This is the reason that utilizing Disney World mobile ordering is so relevant! As many of us do in our everyday lives, mobile ordering is one of the best ways to limit contact with others. Similar to the way you can order Dunkin' Donuts and Starbucks ahead of time from an app, pay, and simply walk in and pick it up when it's ready, you can utilize this same option now at Walt Disney World with Disney Mobile Ordering.
Not only is mobile ordering COVID-19 friendly due to limiting contact with others, it saves you time! This way, you can get right back in line for Space Mountain! It also eliminates the hassle of trying to carry and keep track of credit cards, gift cards, debit cards, etc. Here are our tips for using Disney Mobile Ordering.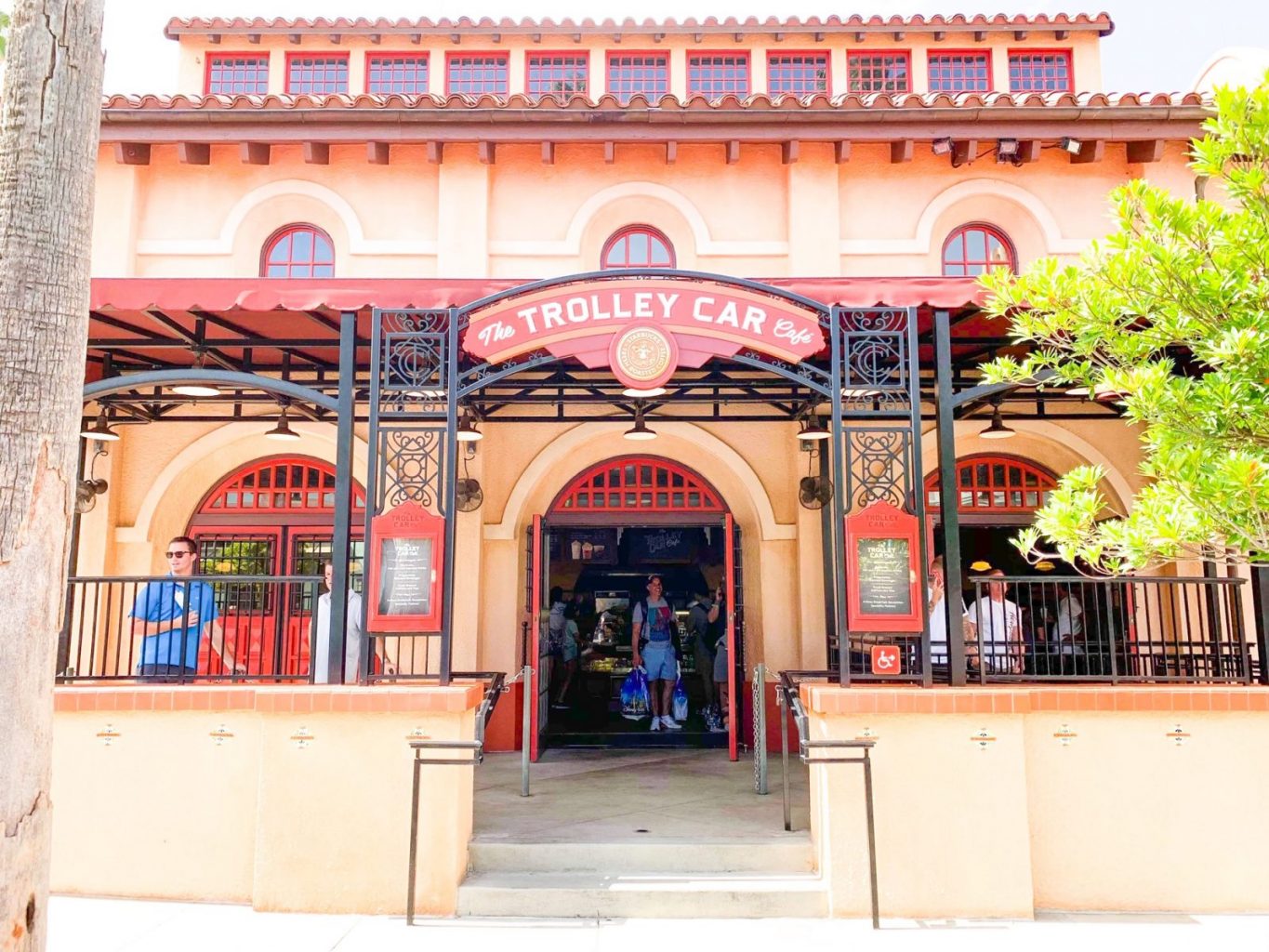 Tips For Using Disney Mobile Ordering (Step-By-Step Guide!)
What Is Mobile Ordering At Disney World?
Mobile ordering at Disney World allows you to order a quick service meal or snack without the hassle of waiting in line, trying to read the menu, ordering, paying, and having to wait some more for your food to be ready.
Mobile Ordering at Disney World is one of the best ways to ensure you are maximizing your time in the parks. With technology seemingly taking over our world, ordering food is now so easy you can do it right from your phone!
When y0u want to place a mobile order at Disney, you can simply use your MyDisneyExperience app to order and pay for your food online. Though this service is offered at most quick service restaurants and snack stands, there are a few exceptions, as always. Please note you are not able to use cash when it comes to Disney mobile ordering! You must pay on the app BEFORE you pick up your food.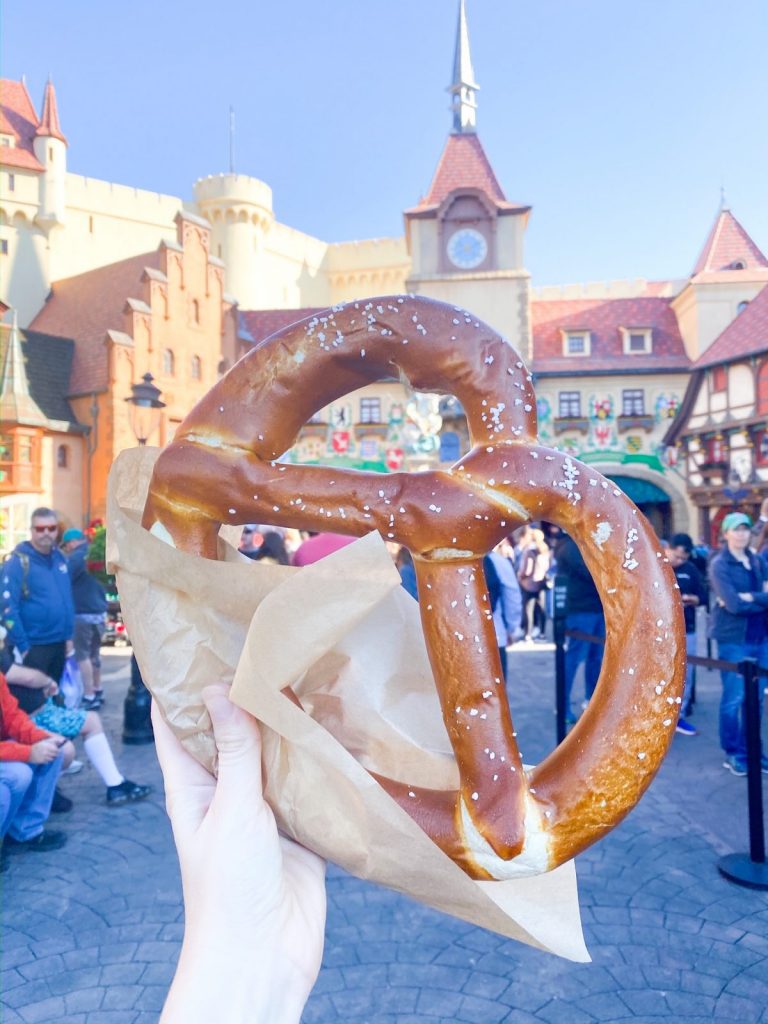 Why Is Disney Mobile Ordering Used So Much Now?
Though Disney Mobile Ordering has been around for a few years now, it only gained popularity recently. Due to COVID-19, this option is becoming more and more favorable to the majority of Walt Disney World guests. When you mobile order at Disney World, you are limiting the crowd of people who would normally wait in line. This helps tremendously with social distancing and aids in keeping everyone safe.
In addition, due to having to pay on the app, it saves you the struggle of trying to keep track of debit, credit, and gift cards as well as other payment options when you're trying to get through the parks and see everything you want to see. It also limits the people who have to touch your cards, you having to sign receipts, etc, saving everyone from passing along germs that can easily be avoided by mobile ordering in Disney.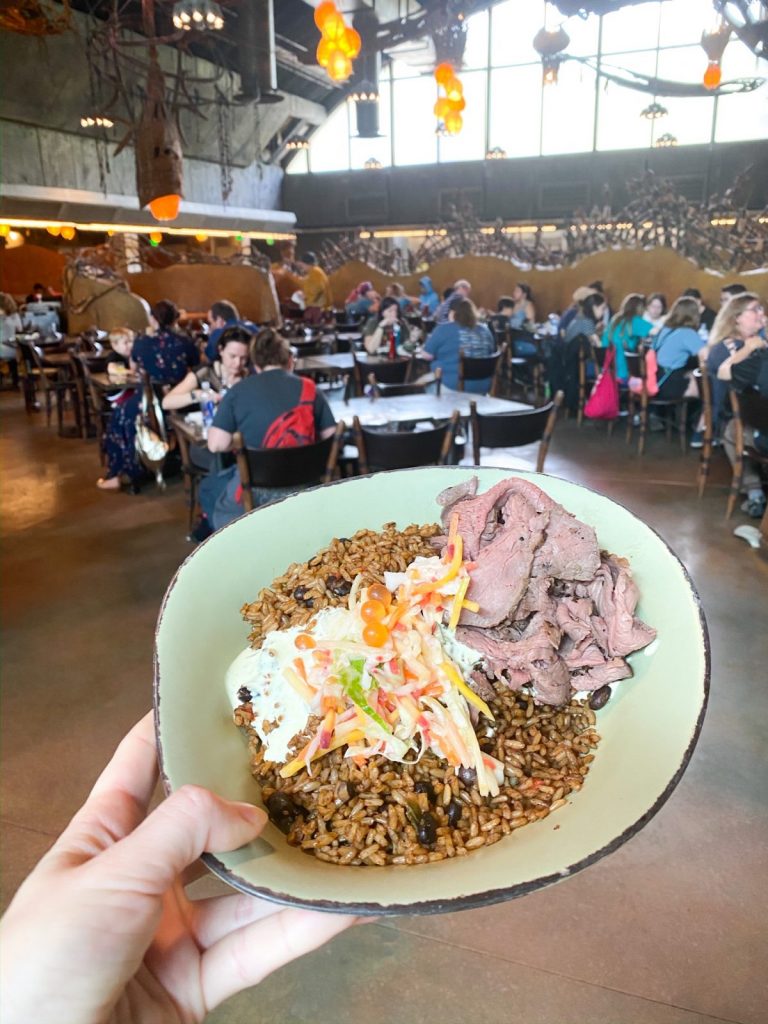 Upsides To Using Disney Mobile Ordering
Aside from being a safer option to ordering Due to limited contact, Mobile ordering at Disney World has many more benefits. One of the first benefits is the ability to pay on the app ahead of time. It's always a hassle in Disney world with your hands full trying to Russell through your wallet or purse or whatever you're carrying when your hands are full. When Disney mobile ordering, All you have to do is choose your food and pay with the click of a button.
That being said, everyone knows when going on vacation with your family and friends, not everyone wants the same thing at the same time. Therefore, Disney mobile ordering allows everyone to choose what they want to eat and illuminates the hassle of having to wait in line at multiple different places.
Another upside is that Disney mobile ordering tends to be faster than waiting in line! It also helps keep you right on track with your daily itinerary while you are able to plan your meals hours ahead of time!
Additionally, the food is made fresh at Disney World, so you don't have to worry about how long it's been sitting out or if it won't be as fresh as it would've been if you waited in line. This way, you can simply decide what you want and even pay in place your order hours before you plan to get it, as long as you choose the right time on the app. For those who follow a strict Disney schedule, this App is literally perfect for you!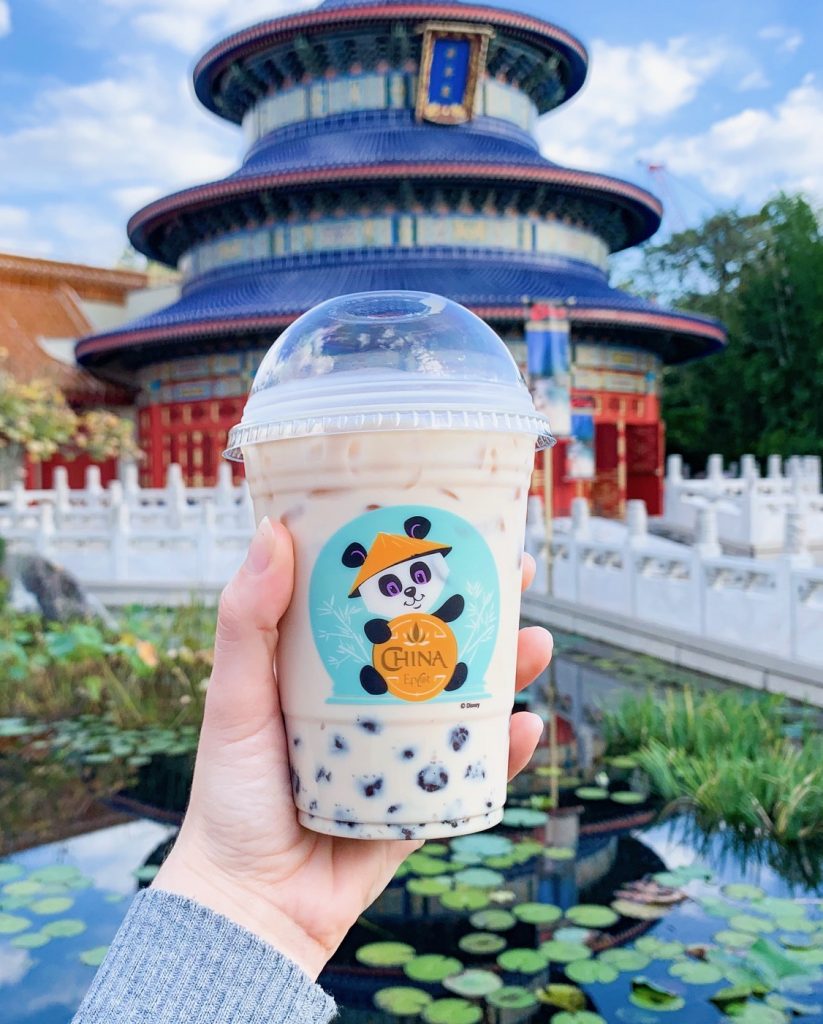 Downsides To Using Disney Mobile Ordering
Of course, with every service, there are a few reasons you may not want to use it or not be able to. The first example would be those who tend to use cash when they are in the parks. Because of its contactless pick up, when you Disney mobile order, you are not able to use cash to pay.
Another downside is that there is a money limit on orders of $150. If you have a large group, you may not be able to put it all on one order.
While Disney is pretty good with substitution options, for people who are extremely picky, there are some ingredients that cannot be substituted on the app. Additionally, there are sometimes limited menus when it comes to Disney mobile ordering. This goes for regular menu items and also seasonal ones as well.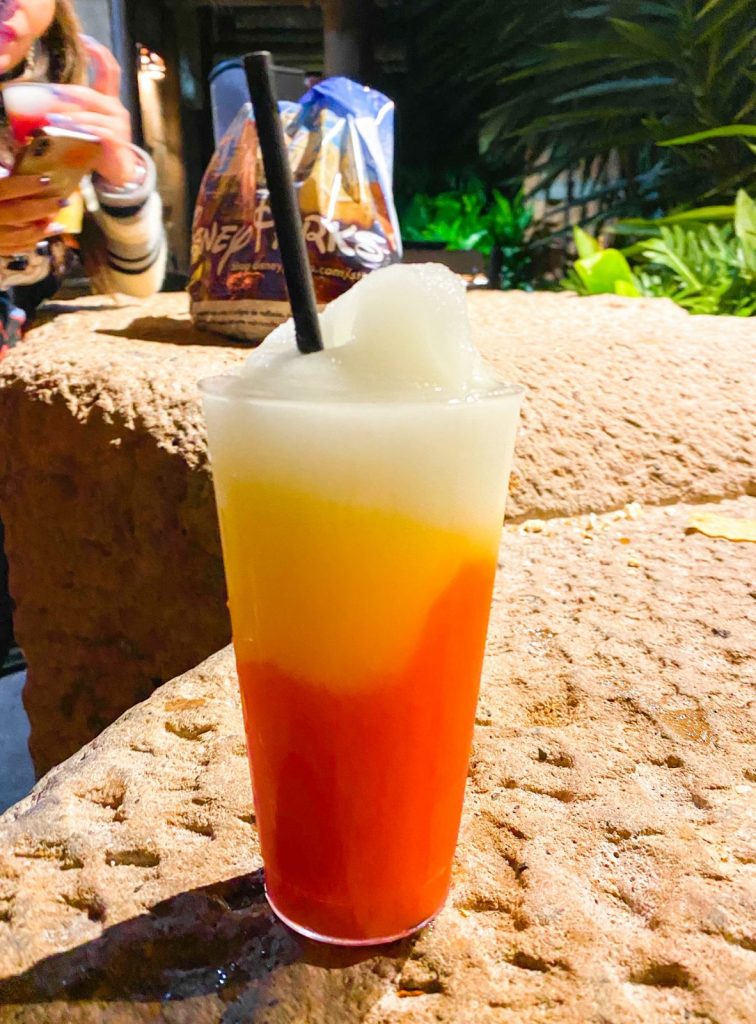 How To Use Disney Mobile Ordering
Luckily, Disney mobile ordering is super easy to do as long as you have the app. All you need to do is download the My Disney Experience app and we will walk you through the rest!
When you open the app, it should look something like THIS: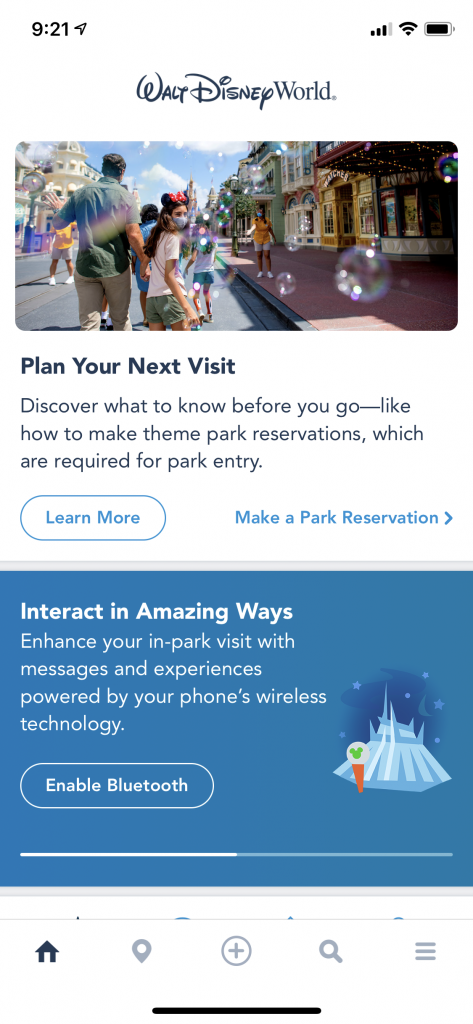 First, you will want to open the app and click on the plus sign in the middle of the icons on the bottom of the app. Clicking the plus sign icon will bring up a list like THIS: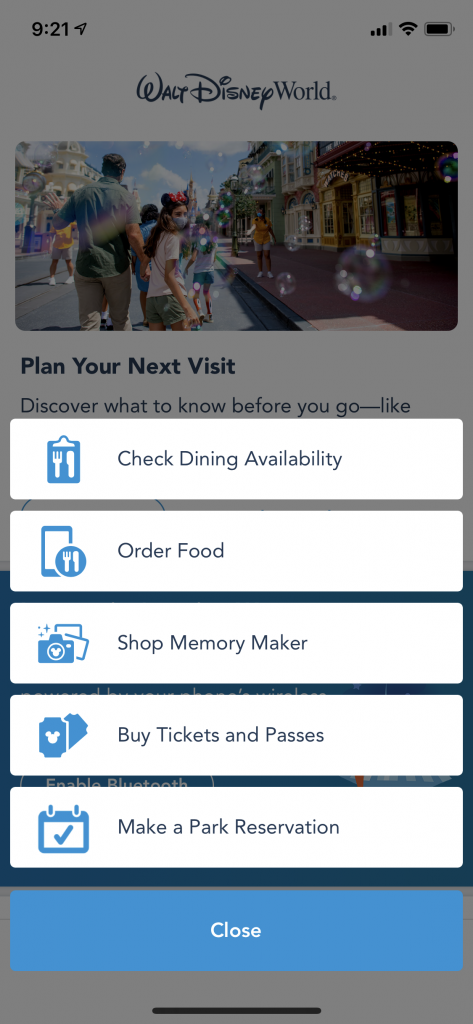 Next, click the "order food" option. Once you do, you will be prompted to choose an arrival window. The restaurant options will show up in a list format.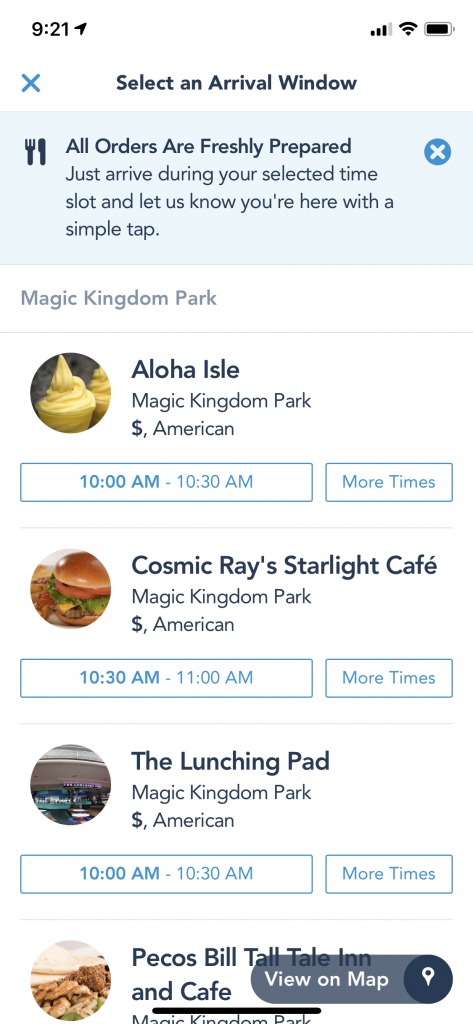 If you click view on map in the bottom left corner, you will be able to see a map of the parks and the Disney mobile ordering sites in proximity to one another.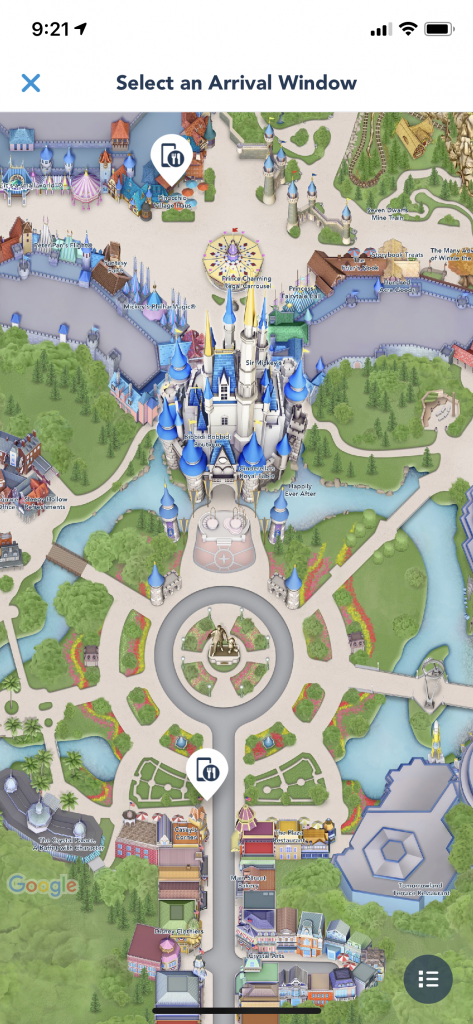 Once you find the restaurant and food option you like, simply modify it if you need to, and click add. once you click add, it will go into your car in the top right corner. You can continue to add food or click the bag icon to place your order.
Upon clicking the bag icon, you will see all of the food options you chose. Click "review order summary" to check out.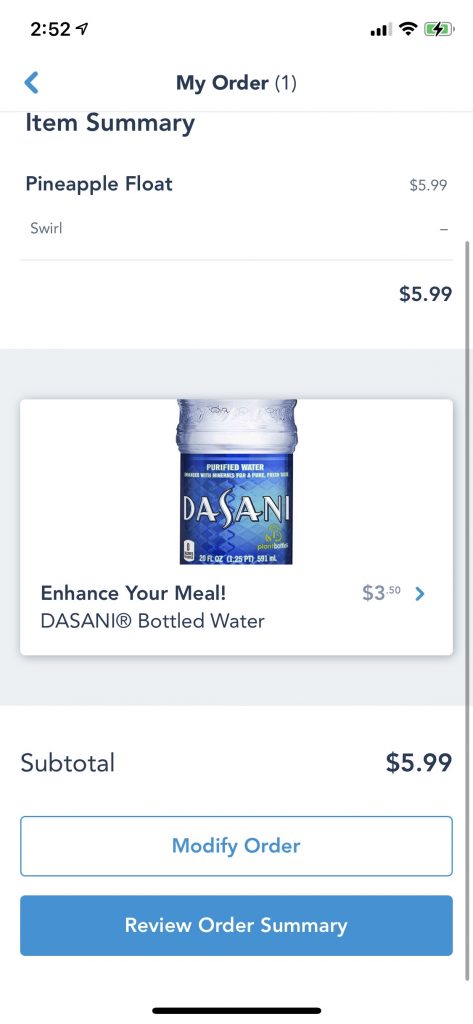 From this final screen, you can add promo codes, discounts, and your payment information. Once you do so, hit "place order," and it's a simple as that!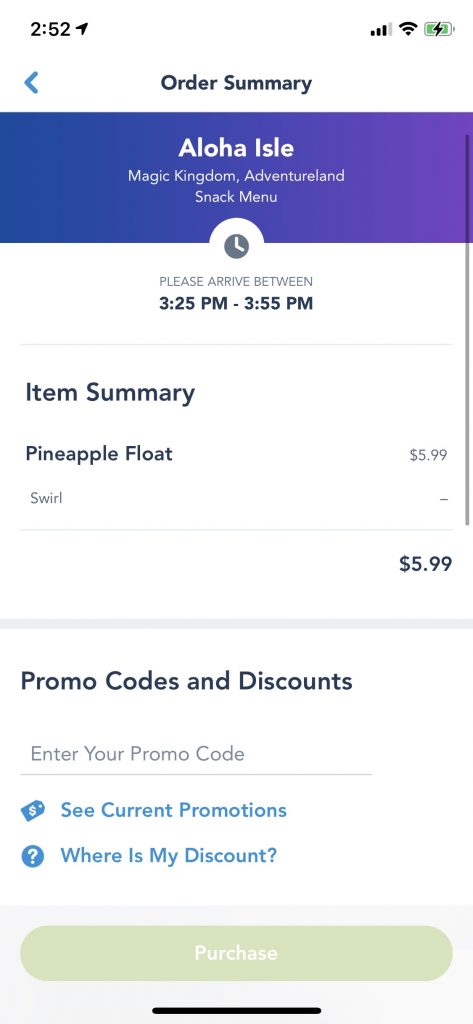 Be sure to arrive to pick up your food during your arrival window. Similar to fast passes at Disney World, you can pick up the food anytime during the slot they give you. Depending on where you order from, there should be a separate line or pick up area for mobile ordering. Once you find it, you are all set!
Which Quick-Service Restaurants Use Disney Mobile Ordering
Nearly every Disney World park and resort offers mobile ordering options. Below, we have listed all of the park locations that offer mobile ordering, as well as resort locations that do as well.
Disney park locations that offer mobile ordering:
Magic Kingdom Park: Casey's Corner, Pinocchio Village Haus, The Lunching Pad, Aloha Isle, Columbia Harbor House, Tomorrowland Terrace, Pecos Bill Tall Tale Inn, and Cosmic Ray's Starlight Café
Disney Springs: D-Luxe Burger
Epcot: Regal Eagle Smokehouse: Craft Drafts and Barbecue
Hollywood Studios: Woody's Lunch Box, Milk Stand, Catalina Eddie's, ABC Commissary, PizzieRizzo, Rosie's All-American Cafe, Backlot Express, Docking Bay 7 Food & Cargo, Fairfax Fare, and Ronto Roasters
Animal Kingdom: Restaurantosauraus, Satu'li Canteen, Flame Tree Barbecue
Disney resort locations that offer mobile ordering:
Saratoga Springs Resort & Spa: The Artist's Palette
Grand Floridian Resort & Spa: Gasparilla Island Grill
Polynesian Village Resort: Capt. Cook's
Art of Animation Resort: Landscape of Flavors
All-Star Resorts: World Premiere Food Court, Intermission Food Court, End Zone Food Court
Animal Kingdom Lodge: The Mara
Contemporary Resort: Contempo Cafe
Caribbean Beach Resort: Centertown Market, Spyglass Grill
Saratoga Springs Resort & Spa: The Artist's Palette
Wilderness Lodge: Roaring Fork
Pop Century Resort: Everything Pop Shopping & Dining
Port Orleans Resort – French Quarter: Sassagoula Floatworks & Food Factory
Port Orleans Resort – Riverside: Riverside Mill Food Court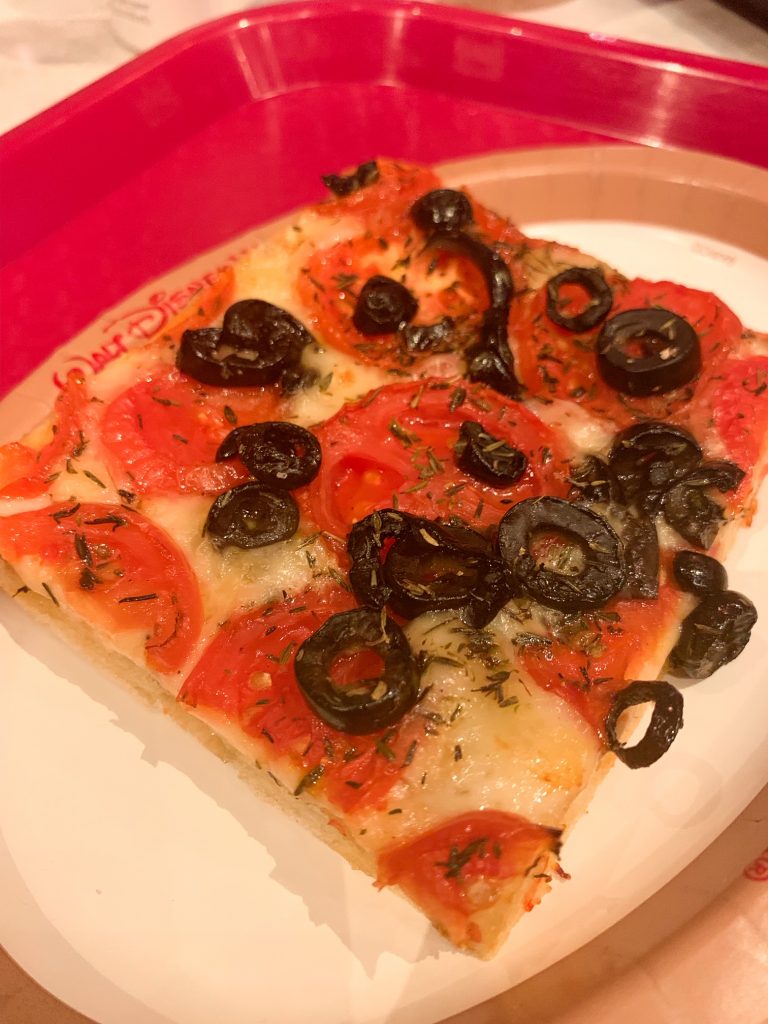 Which Table Service Restaurants Use Disney Mobile Ordering
There's only a few table service restaurants at Disney World that use mobile ordering, as of right now. Though they are all in Disney resorts, they are easily accessible using Disney transportation!
Contemporary Resort: The Wave…of American Flavors
Animal Kingdom Lodge: Sanaa
Old Key West Resort: Olivia's Cafe
Yacht Club Resort: Ale & Compass Restaurant
Polynesian Village Resort: Kona Cafe
Coronado Springs Resort: Three Bridges Bar & Grill
Keep an eye out to see which table service restaurants add mobile ordering in Disney next!!
Mobile Ordering With Requests or Allergies
For those who have allergies or requests in regards to their diet, do not be discouraged by Disney mobile ordering! If you log into the MyDisneyExperience app, you'll see that each and every menu offered for mobile ordering has a breakdown of different categories to choose from when it comes to dietary needs or restrictions.
Some of the categories include snacks, beverages, sides, entrees, plant-based, and allergy-friendly. When you open the allergy-friendly menu, you will see a multitude of options! These allergy friendly options include: gluten/wheat, egg, milk, peanut/tree nut, soy, etc.
That being said, if you are still worried about food allergies, you do not have to! Be sure to let a cast member know of your allergies when you arrive at the restaurant you are trying to eat at. They will surely allow you to walk to the counter and order your food normally. In other cases, cast members were even willing to let guests speak to the chef about allergy concerns! Our best advice when mobile ordering is to use your discretion. While the restaurants do their best to ensure the safety of their guests, it is always best to do what makes you the most comfortable.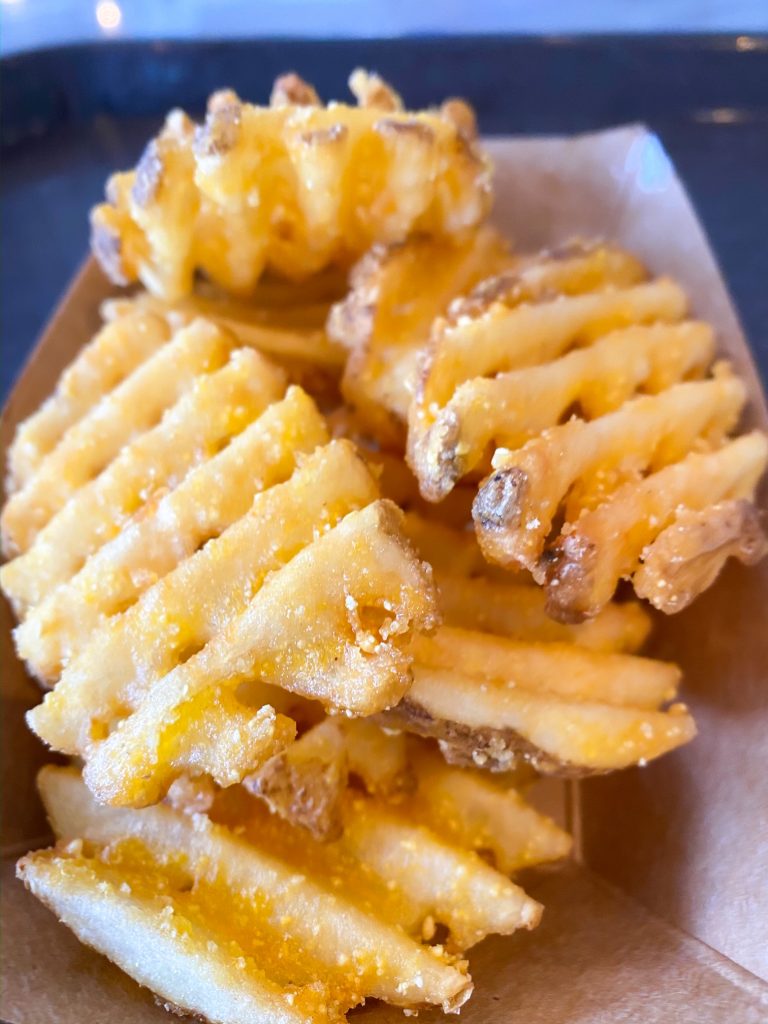 Tips For Mobile Ordering At Disney
One plus side to mobile ordering at Disney is that it is usually faster than if you were to wait in the regular lines for food. So long as your mobile order goes through, there should be no issues. That being said, apps can crash. If this happens to you, be sure to check in the previous food orders section to avoid ordering and paying for the same meal twice!
Also, be sure to link your Disney dining plan to your My Disney Experience app. This way, you can use your snack and meal credits when mobile ordering at Disney.
Be on the lookout for speciality items when it comes to Disney mobile ordering. One advantage to using the app is secret menu items! Be on the lookout for exclusive menu items only available when mobile ordering.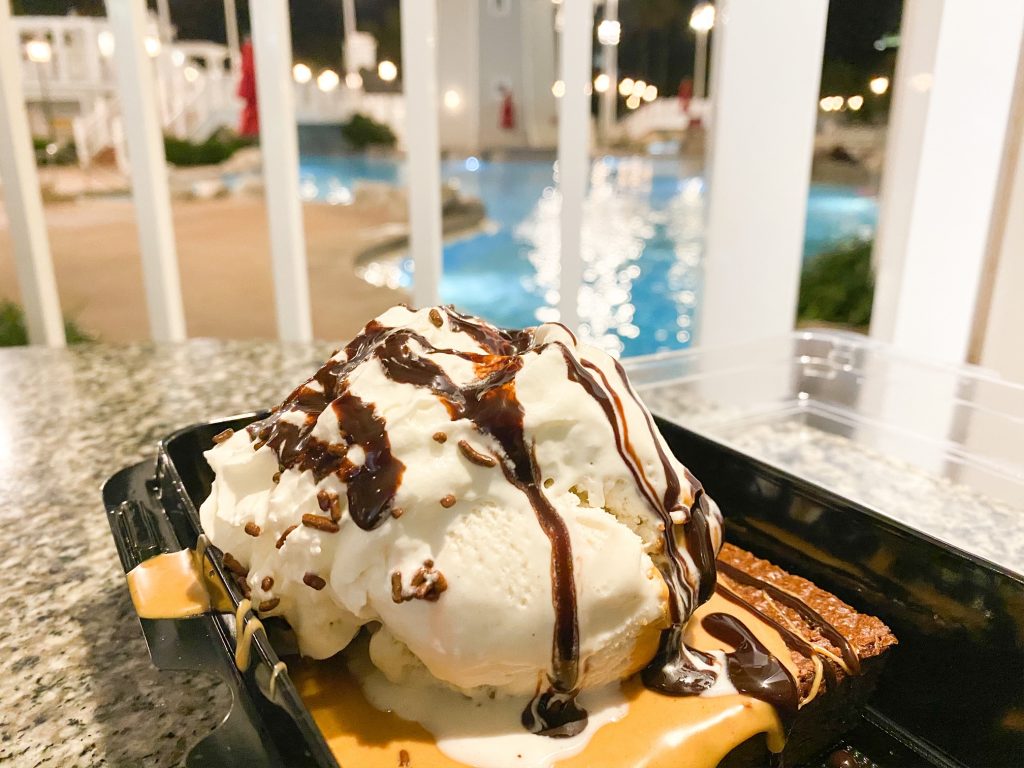 Should You Mobile Order?
Absolutely! Mobile ordering is super easy to do and saves so much time! It allows you to save time and plan ahead, as you can view menus from the comfort of your hotel room, the bus, etc.! It's just as easy, if not easier, than walking up to the register and ordering as you would normally do.
Whether you are in a hurry, want to customize a menu item, order dessert, or pay ahead of time, Disney mobile ordering is the right choice!