If you're curious as to how Disney online check in works for their hotels, and want to know all the details about it, you've come to the right place! We've used the Disney World online check in service several times, and we've navigated the system to troubleshoot any issues you might have.
We have all the pros and cons, and even the step-by-step how-to for checking in online. You'll find out the technology you'll need, get some of our best tips, and find out how you can use it to start your vacation the minute you arrive. So before your next Disney World trip, keep reading down below, and learn how to use Disney online check in.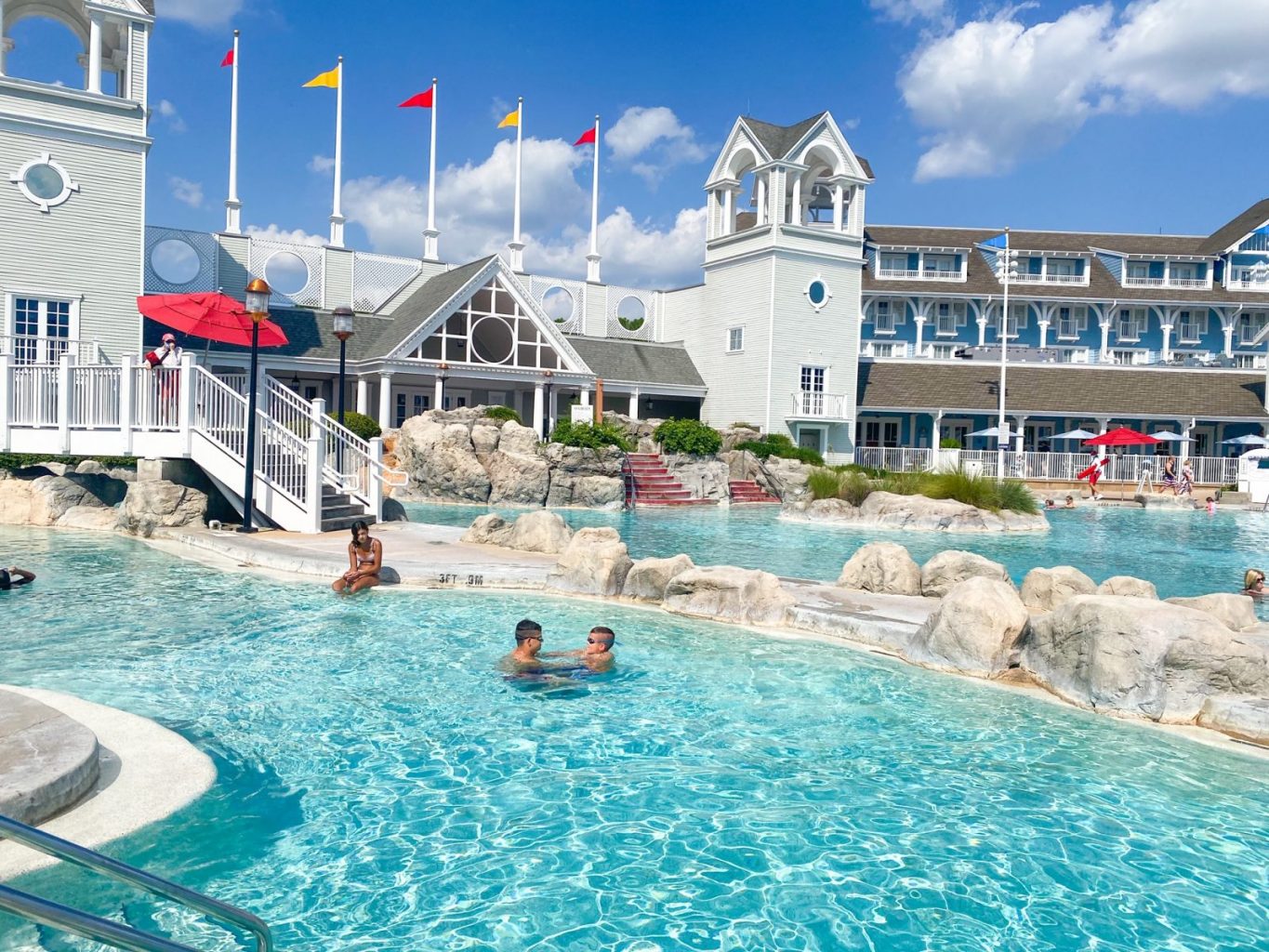 What is Disney Online Check In?
The Disney Resort Online Check In allows those staying at Disney World Resort Hotels to skip the front desk upon arriving at their hotel. You don't have to physically check-in, can avoid the lines, and can go straight to your room and start your vacation! This is available at all of the Disney World Resort Hotels, but it isn't available at Swan and Dolphin, or the good neighbor Disney Springs hotels.
Right now, during these unprecedented times, Disney World is encouraging all guest to use the Disney online check in.
Is Checking In Online Free?
Yes! Checking in online is completely free, and included in your stay at one of the Disney World Resort Hotels. There are some things you will need to have though, in order to use the online check in successfully.
Prior to check in, you need to have the My Disney Experience (MDE) app downloaded onto your smartphone and have an account. You will also need to have a MagicBand linked to the app, or you can choose to use the "Unlock Door Feature" on the app to be able to unlock your resort room door with your phone – pro tip: have your MagicBand ready instead! The unlock door feature on the app isn't consistent, and we know from experience that it can leave you locked out of your room and searching for a Cast Member to let you in your room!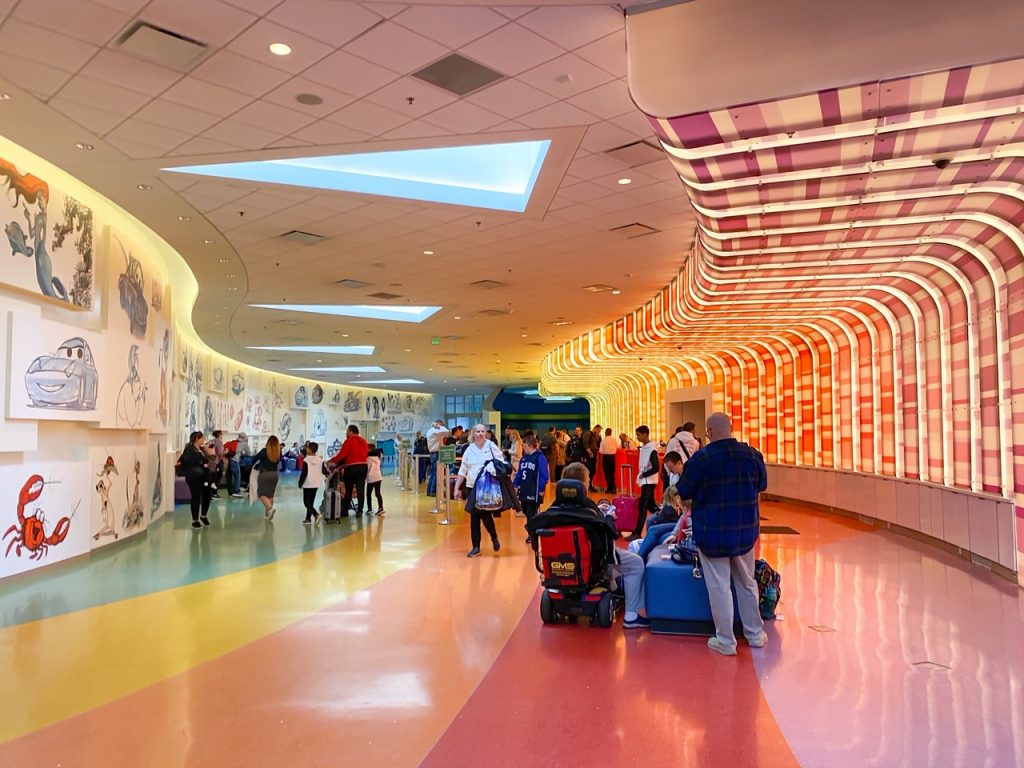 How Do You Check into Your Disney Resort Online?
Like we mentioned earlier, prior to your arrival, make sure you have access to the My Disney Experience app and you have an account with your MagicBand and your trip linked up to it. For these steps, we are using the My Disney Experience app, but you can also do this on the Disney World website if you prefer. It's just much easier on the app, and, of course, better to use if you're traveling.
Click on "My Plans" in MDE.
Select "Start Check-in" once you're on the page with your resort plans.
Select "Start Check-in" once more, and you'll get some information about check-in time and resort information as well.
Make sure your phone number and email address are correct, since Disney will most likely text you your room number/building/floor once it's ready, as well as you will get a notification on the app.
Pick your estimated arrival time – try to be as precise as possible. If you plan on arriving before the 3 pm check in time, Disney will not guarantee that your room will be ready, but they may try a little harder to have a clean room ready for you prior to check-in.
Save a card on file for room charges and incidentals.
Set a pin for your MagicBand – if you've linked your MagicBands before or used the Disney Dining Plan you my have already done this. On this screen, you can make sure it's the same pin you want to continue to use if that's the case.
Pick the "Service your way" settings – this allows you to deny Mousekeeping (housekeeping) during your stay and you'll receive a gift card for $10 per night of your stay, minus the first night – more on this later.
Enter your room requests on the app.
Agree to the online check in policies.
Check your text messages and notifications from the MDE app upon your arrival to receive your room number, building, and floor number!
Pros of Doing Disney's Online Check In
Being able to check into your Disney Resort Hotel immediately upon your arrival definitely has several pros to it!
Skip the Front Desk
For some people, skipping the front desk can definitely be a pro. You'll avoid standing in line, avoid waiting a long time when the front desk gets busy at certain times(think early in the morning, around lunch time, when the parks close). Especially now, being able to skip the front desk and avoid lines can be quite helpful because it minimizes the amount of time you'll be around other people and promotes physical distancing.
Being able to use the Disney online check in can also be beneficial for people with social anxiety or those who tend to be introverted. You don't have to speak to someone in order to get your room number and location, and this can save someone a little bit of anxiety at the beginning of a trip.
Service Your Way Digitally Offered
Thankfully, the "Service Your Way" program is now offered when you sign up for online check in, and you no longer have to visit the front desk to ask for this. This program isn't one that is too well-known, even though it's been around for years now. We personally have taken advantage of it several times, and is a great way to earn a little bit of money for your trip!
Picking "Service Your Way" means you are declining the Mousekeeping service during the length of your stay, and they will not clean your room daily. If you choose to do this, you will be sent a digital gift card within 24 hours of your check in, and you receive $10 for every night of your stay – excluding the first night. So if you are staying for 6 nights, then you will receive a $50 gift card.
We've done this several times, gotten a gift card for declining, and definitely enjoyed it! You are still able to call the front desk if you are need of extra towels or soap or whatever, and this doesn't void the arrangement.
Weird Arrival Times
Disney online check in is perfect for those who aren't arriving at their Disney World resort right at that 3pm check in time. We all know that flights depart and arrive on their own schedule, and we have no control over how long a shuttle bus or private car will take to drop off everyone on your loop. You might arrive 2 hours after your flight has landed, and being able to head to your room is a relief.
This is also great for those who are driving a long distance to get to Disney. Sometimes you have to drive overnight, and based off of traffic and unexpected stops, you might get there way before check in time or way after. By using the online check in, you can make sure your room is ready whenever you get to your Disney Resort Hotel.
Start Your Vacation
By skipping the front desk and doing the Disney online check in, you'll be able to start your vacation immediately upon your arrival. If you need a shower after flying or driving, or need to lay down and take a nap, you'll be able to do so. Maybe you want to spend your arrival day by heading straight to the pool, or you want to book it to Disney Springs for a little shopping and a great dinner. You can do these since you don't have to wait in line at the front desk.
This gives you a little more time during your vacation, and helps you cut out unnecessary waiting and standing around. You're gonna stand in enough lines during your time in the parks so you might as well not do it at your hotel too.
Avoid Extra Walking
Since you're going to do tons of walking around the parks, being able to cut out some of that is a blessing. If you arrive at your Disney World Resort Hotel and the room you're assigned is on the total opposite side of the resort from where the lobby is, driving or heading straight to your building will save you a lot of steps walking to the lobby for no reason.
You can head right to your room, whether that's by driving around to your building or heading straight there from your airport drop off, and you can bypass the lobby. Save your steps and strength for the days you're going to be walking in the parks!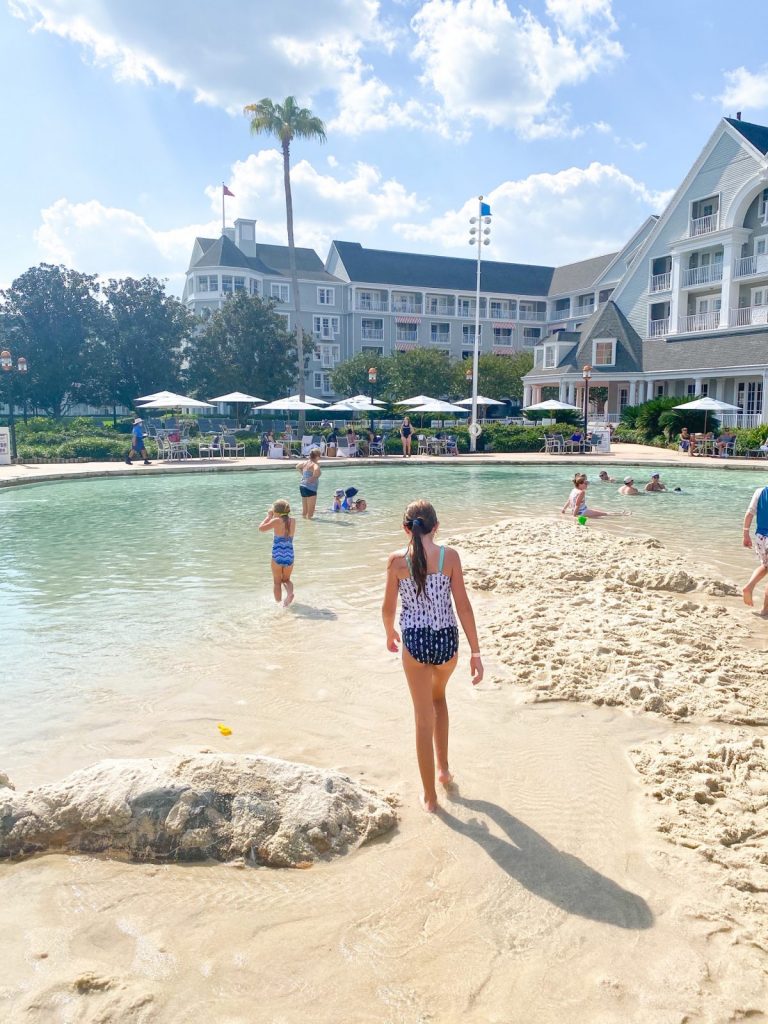 Cons of Disney's Online Check In
Even though there are pretty of pros when it comes to using the Disney online check in system, nothing is without cons. There are some cons when you check-in in advance by using the My Disney Experience app.
Room Request Problems
The online system for room requests that's on the My Disney Experience app can be confusing to use and hard to navigate at times. What you select may not be what you receive, and Disney does take some liberties with what they give you. You may pay for a preferred room, but based on your other selections, you might not be put in a preferred location.
This recently happened to us during a stay at Disney's Boardwalk Inn. We requested "by an elevator" and "high floor" in able to get a great view. Instead, we received a room with a view of the pool obscured by trees – not exactly what we paid for.
When it comes to room requests, sometimes it's much easier to talk to a live person at the front desk. If you have specific requests, especially for mobility issues, it's best to skip this section on the app and visit the front desk to guarantee your requests are followed.
Resort Familiarity
If you've never stayed at the resort you're using online check in for, you might end up lost. Disney resorts are HUGE and can be quite confusing. By skipping the front desk, you won't get the map for where your room is located and the best way to get over there.
This has happened to us before. On a stay at Coronado Springs, we were dropped off by the shuttle at 9pm in front of the Gran Destino – which is where the lobby is now located. Unfortunately we were staying in Casitas 5, and we had never been at that hotel before and had no idea where that was. We had to walk halfway around a giant resort in the dark to find our room after using online check in.
We definitely recommend checking in at the front desk if you've never been to the resort before, or if you are visiting one of the larger resorts like Coronado Springs, Caribbean Beach, and Saratoga Springs and your room may not be anywhere near where you are dropped off or arrive.
MagicBand Issues
Most people won't have issues with their MagicBand during their trip, but this does happen! Your MagicBand may stop working, or may not open the door to your room. We've actually had this happen to us, and had to walk all the way across Pop Century to the lobby to get the front desk to check the MagicBand – and to end up getting a new one.
Since MagicBands are technology, sometimes they do what they want, and they do die after a while. They may not always pick up the signal, and by bypassing the front desk at check-in, this doesn't give the Cast Members a chance to check your MagicBands and be sure that they work.
Also, if you haven't booked your trip way in advance and you haven't received your MagicBands prior to your arrival (and you don't have existing ones from a previous trip), you will have visit the front desk. They will have the MagicBands you selected waiting for you, or you will receive the generic grey ones. This means you won't be able to head to your room until you get your bands.
Miss the Warmth
Unfortunately by skipping the front desk upon arrival at your Disney World Resort Hotel, you may miss out on feeling welcomed into Disney World. Disney Cast Members are so warm and welcoming when you go into the lobby, and they are there to help you in any way possible.
When you bypass the front desk and head straight to your room, you won't get this feeling. You don't get to see the lobby and get a feel for the resort you're staying in, and you may not come into contact with a Cast Member until the next day. Going to the lobby and the front desk gives you that warm, fuzzy Disney feeling, and can make you feel more at home and welcomed into your vacation.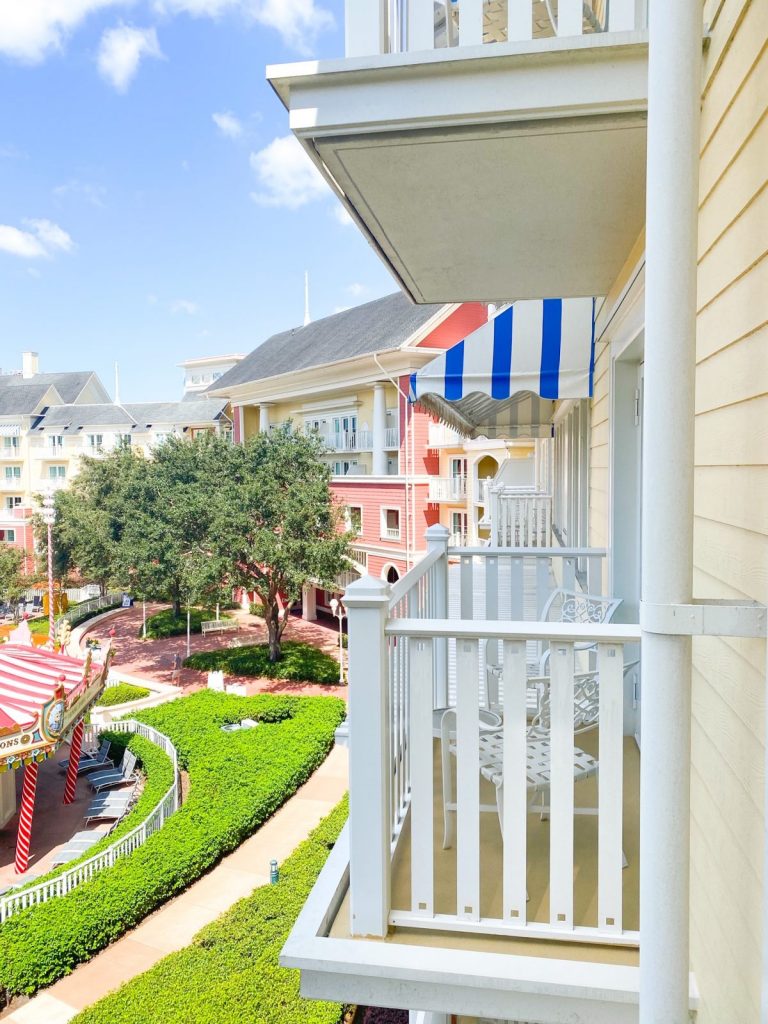 Is Online Check In at Disney Worth It?
In a word, yes! We do think that utilizing the Disney online resort check in is worth it. It saves time and you're able to start your vacation right away, whether that means relaxing or heading on your first adventure.
Using online check in lets you get straight to the fun, avoid long lines, and check in whenever you arrive – regardless of the time.
Especially right now, Disney is encouraging online check in since it promotes physical distancing and helps keep lines down. We definitely recommend it right now!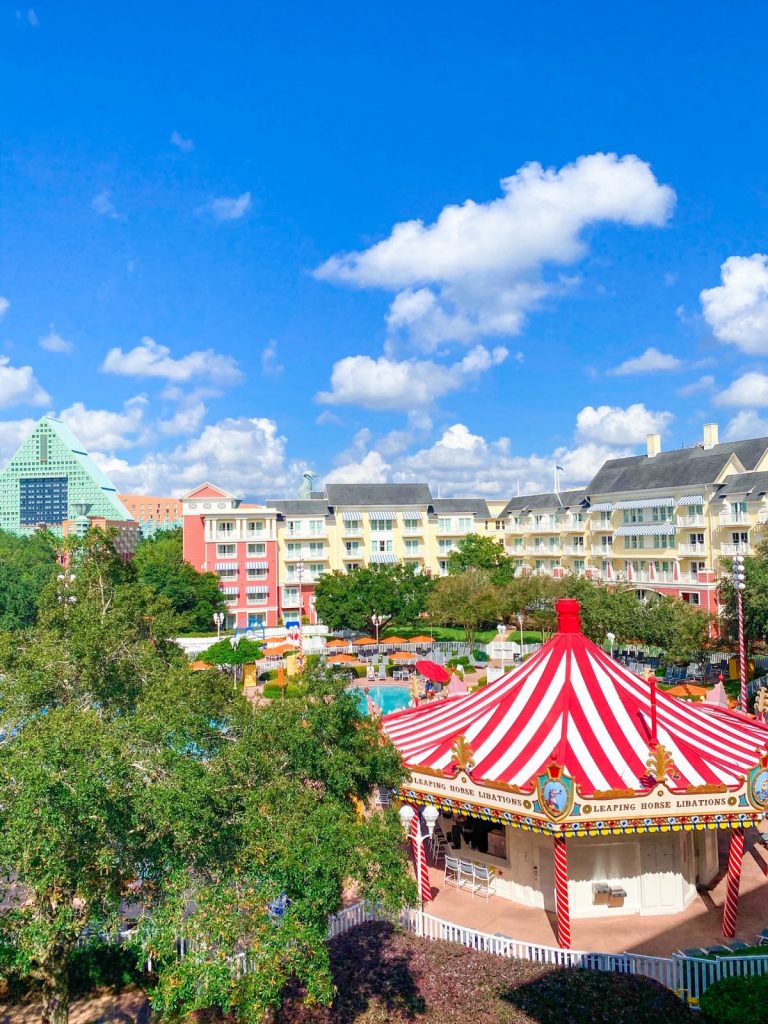 Hopefully our list of pros and cons have helped you decide whether Disney online check in is right for you, and that you feel more prepared to use it. We know technology can be confusing sometimes, but the online check in is easier to use than most think! We think that it's a great free service offered by Disney, and it can definitely save time and effort during your trip – as long as it's right for you!
Have you used the online check in before? Did you love it or hate it? Let us know in the comments!