With Christmas now around the corner, it's time to start planning your Christmas decorating! We know you want to make this holiday season as merry and bright as possible. If you love Christmas and Disney, pick out your favorite Disney Christmas decoration to decorate your house with!
We have searched through all of Shop Disney to find the best and cutest Disney decorations out there! It was hard to resist buying them ourselves! We have compiled a list of 25 festive Disney Christmas decorations that you will love, and we can't wait to share them with you!
Also check out our 20 Festive Disney Ornaments You Will Love for even more Disney Christmas decorations!
25 Festive Disney Christmas Decorations You Will Love
Jack Skellington Holiday Wreath
The great thing about the Jack Skellington Holiday Wreath is it can be used for Halloween and Christmas! Hang it up in October and leave it up until the start of the new year! The Nightmare Before Christmas has a huge fan base, so of course Disney had to make a wreath to commemorate the Pumpkin King. This is a felt bone wreath with an adorable Jack Skellington face at the bottom. He is decorated with a red Santa hat to give him that extra touch of joy!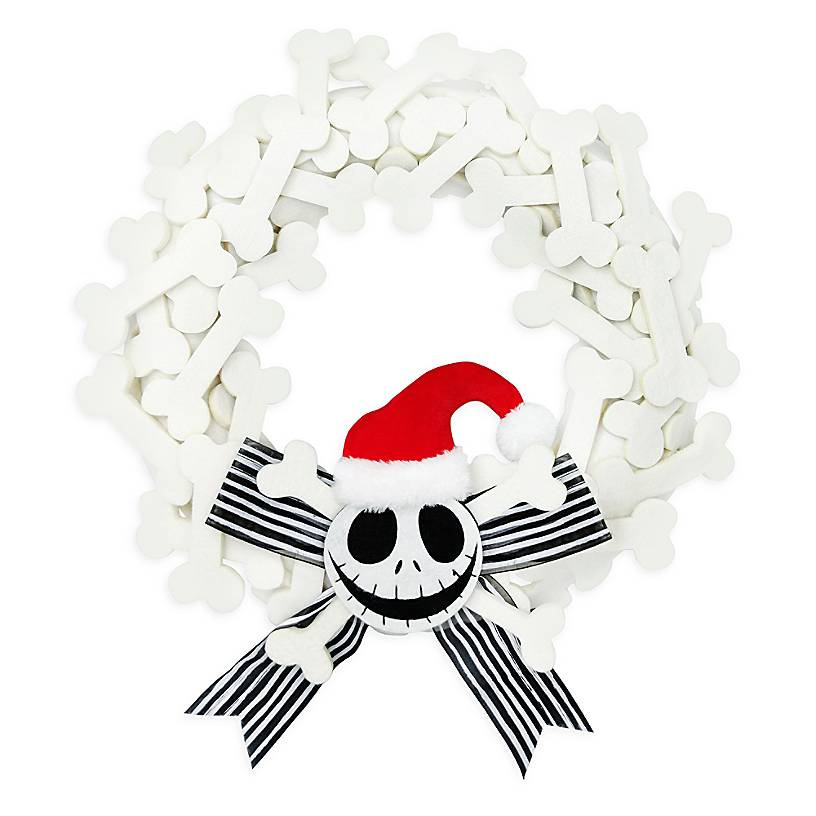 Mickey and Minnie Mouse Light-Up Holiday Tree Topper
No Christmas tree is complete without a topper upon the top of it! The Mickey and Minnie Holiday Topper is the perfect addition to any Disney fan's tree! Mickey and Minnie stand atop a white star. The star glows bright when turned on! The topper is battery operated, so you don't have to worry about any pesky wires. Super cute for any Christmas tree!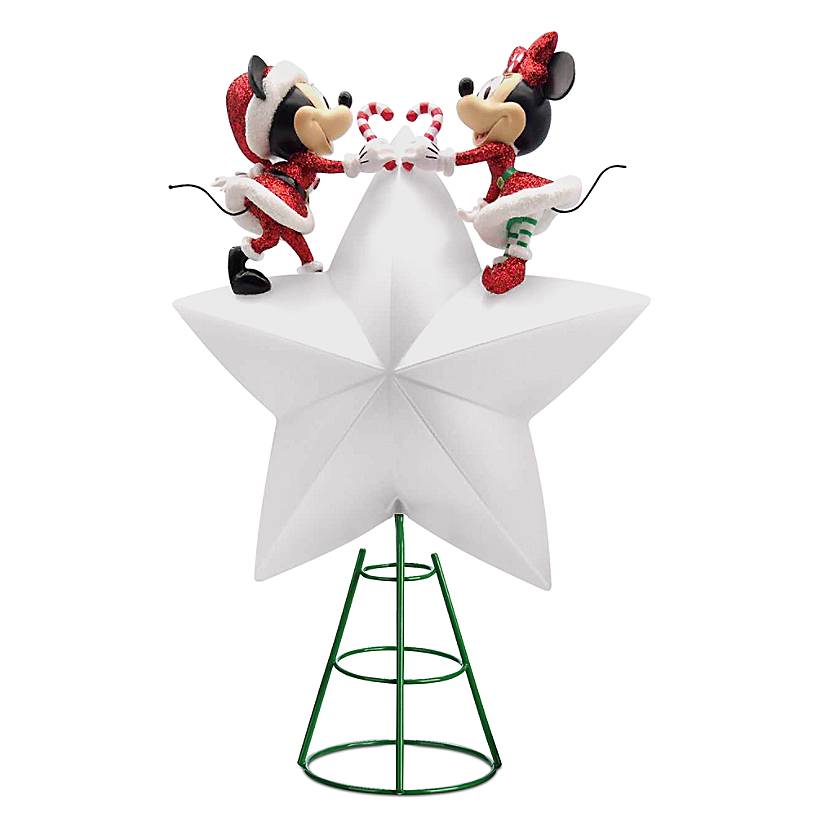 Nightmare Before Christmas Tree Topper and Ball Ornament Set
Are you a fan of Nightmare Before Christmas and want a Christmas tree topper that isn't the traditional star? This is the Disney Christmas decoration for you! In the Nightmare Before Christmas Tree Topper and Ball Ornament Set, Jack Skellington in his homemade Santa suit sits atop a tree topper while holding a black star. Not only do you get the tree topper, but you also get seven ball ornaments featuring your favorite Nightmare Before Christmas characters like Jack, Sally and Oogie Boogie. You can decorate your tree with some spooky Christmas spirit!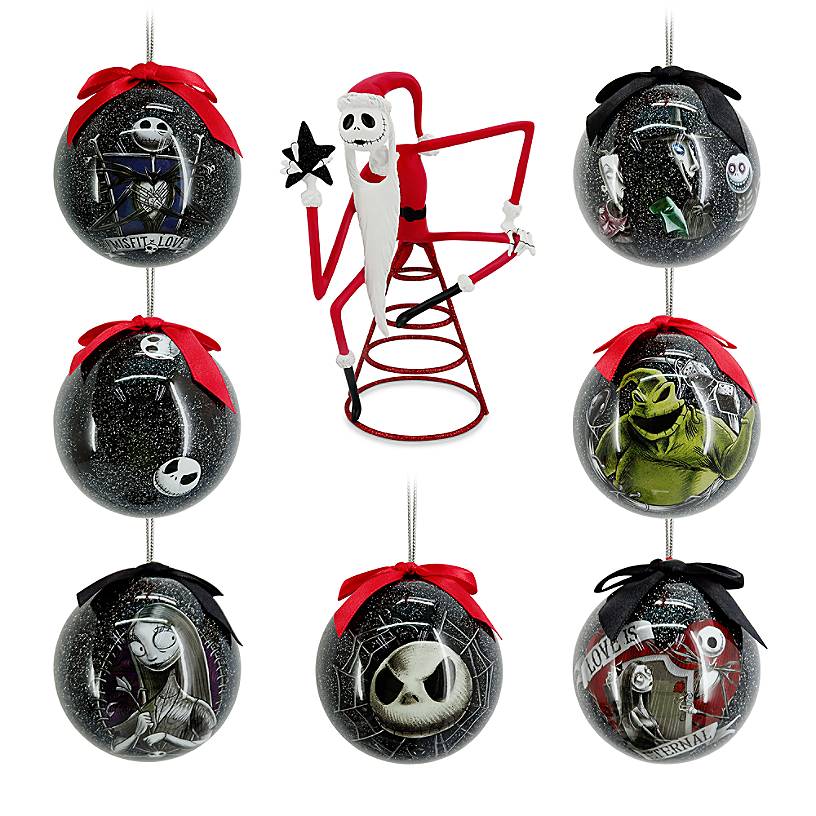 Mickey Mouse and Friends Holiday Tree Skirt
You've got the top of the tree covered with a topper, but what about the bottom? Disney has this adorable Holiday Tree Skirt that is perfect for any Christmas tree! This red skirt features Mickey and his friends riding a Christmas train. It includes embroidered snowflakes and cute peppermint shaped buttons. You can even personalize it if you wish! Add your last name to give it that personal touch. If you ever feel like your tree is lacking that pop of Christmas, add this tree skirt to finish off the look!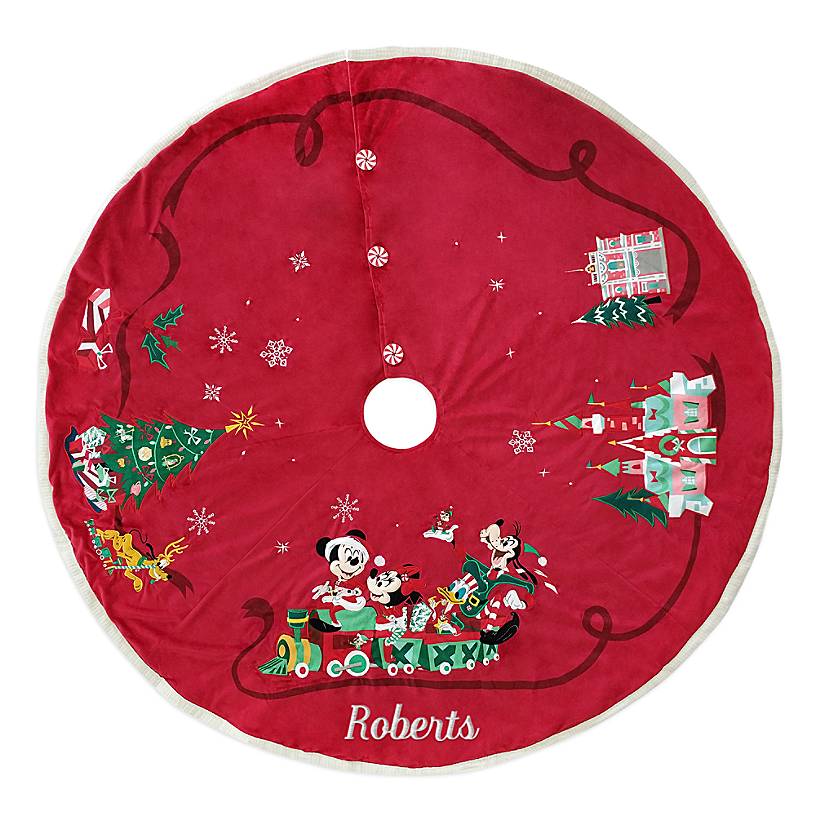 Mickey Mouse and Friends Musical Holiday Figurine
You can place this Musical Holiday Figurine anywhere in your home to give yourself a bit of Disney Christmas magic! The piece features Mickey, Minnie, Donald, Goofy, Chip, and Dale. They are riding on a train in front of a decorated Christmas tree. The best part about this figurine is that it plays music! There is a wind up key on the back that will play We Wish You a Merry Christmas when turned.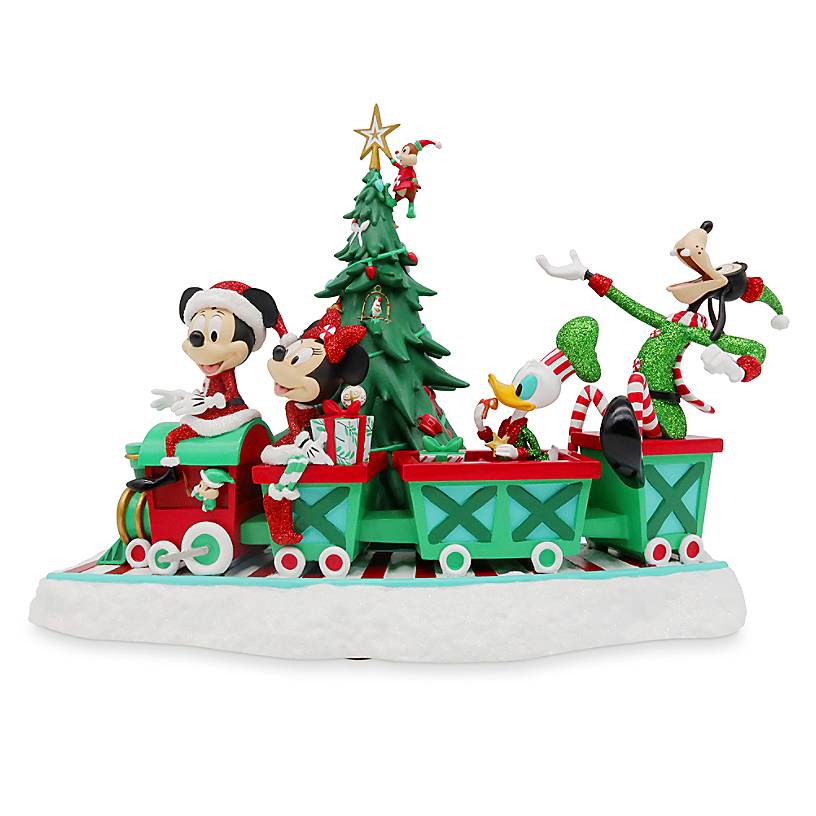 Mickey and Minnie Mouse Holiday Countdown Calendar Castle
I thought the Holiday Countdown Calendar Castle was so adorable when I first saw it! This is a castle that looks like it is made of gingerbread with blocks that can be used to count down the days until Christmas! It features cute, little gingerbread cutouts of Mickey and Minnie. This is the perfect Disney Christmas decoration if you can't wait until Christmas and want to be able to count down the days!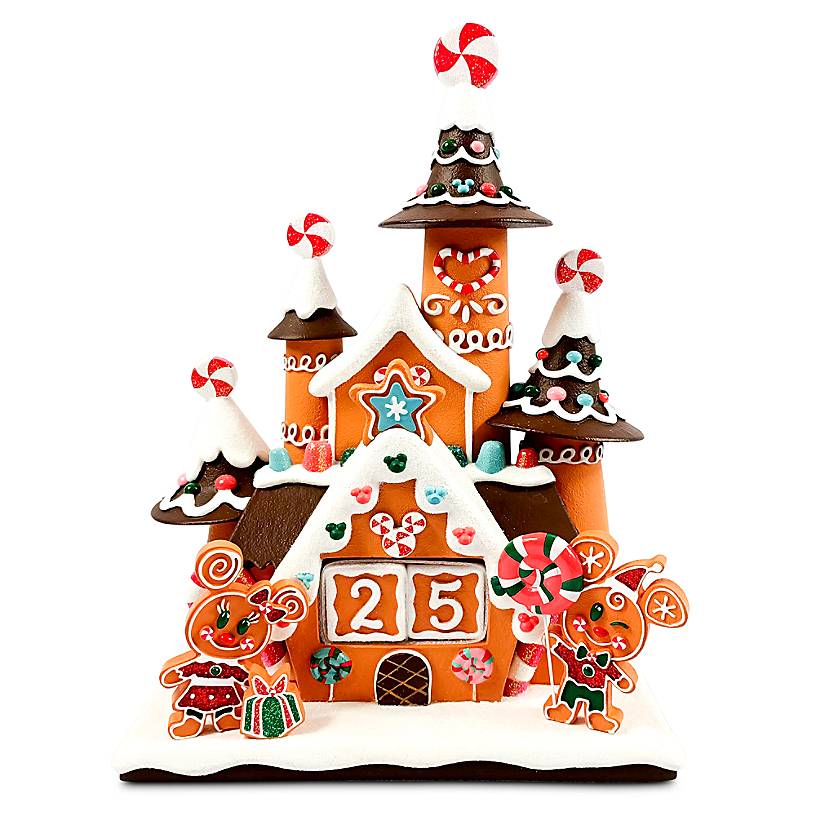 Minnie Mouse Holiday Stocking
It's not Christmas without stockings hanging on the mantle! Don't forget to hang up your stocking this year and get this Minnie Mouse Holiday Stocking to collect all of your Christmas goodies! This stocking features Minnie Mouse wearing her best Christmas attire. You can also personalize this stocking if you'd like! Add your name to the top of the stocking so Santa knows whose it is!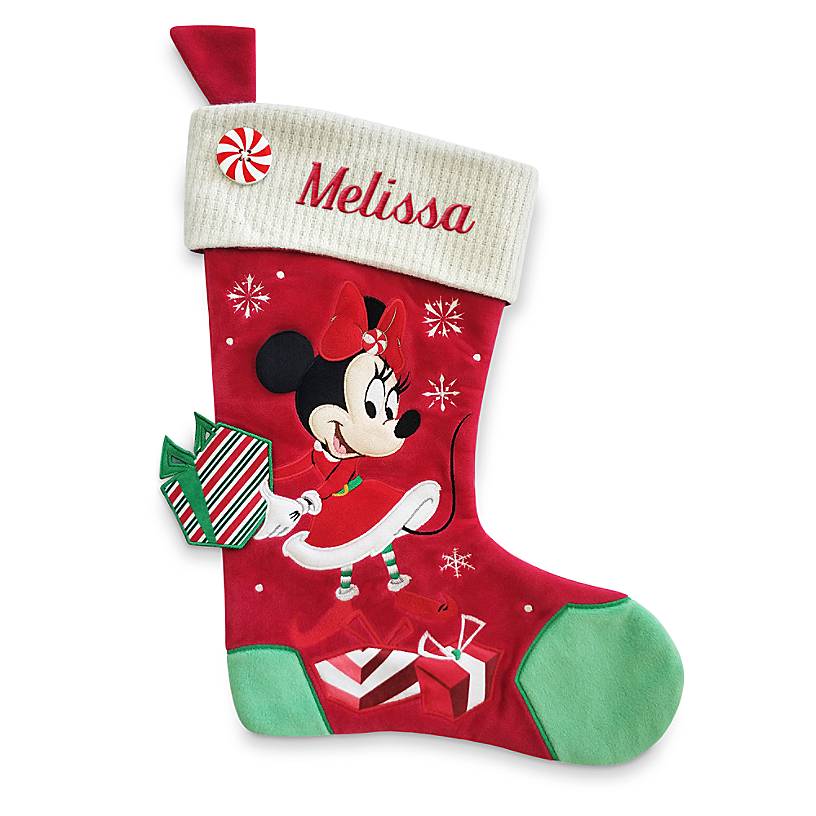 Mickey Mouse Holiday Stocking
The Mickey Mouse Holiday Stocking pairs perfectly with the Minnie Mouse one! Buy both to have a complete and matching set! This green stocking features Mickey wearing a Santa suit while holding an ornament. Just like the other stocking, this one can be personalized as well! Maybe get one for you and your significant other with each of your names so you can match!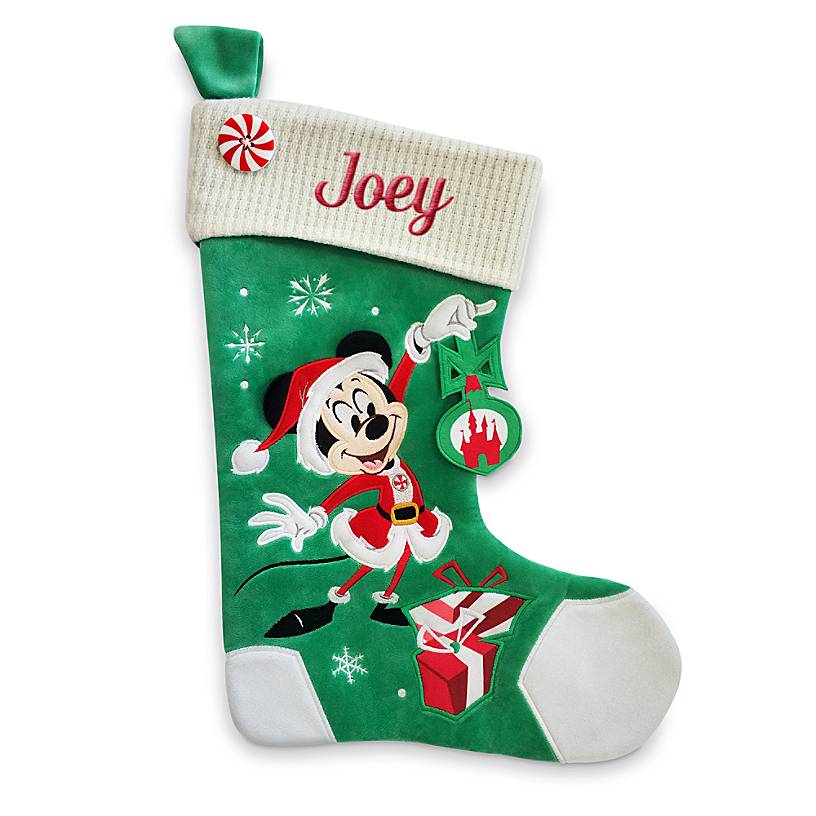 Mickey Mouse Holiday Door Mat
You may have lots of indoor Disney Christmas decorations, but that doesn't mean you have to skimp on your outdoor ones! Disney has the best Holiday Door Mat for the holidays! This green mat has the word "JOY" printed on it in large letters. However, a vintage-looking Mickey replaces the "O" of the word. Mickey is of course wearing the famous Santa hat! Let visitors know you are a fan of Disney and Christmas with this wonderful doormat!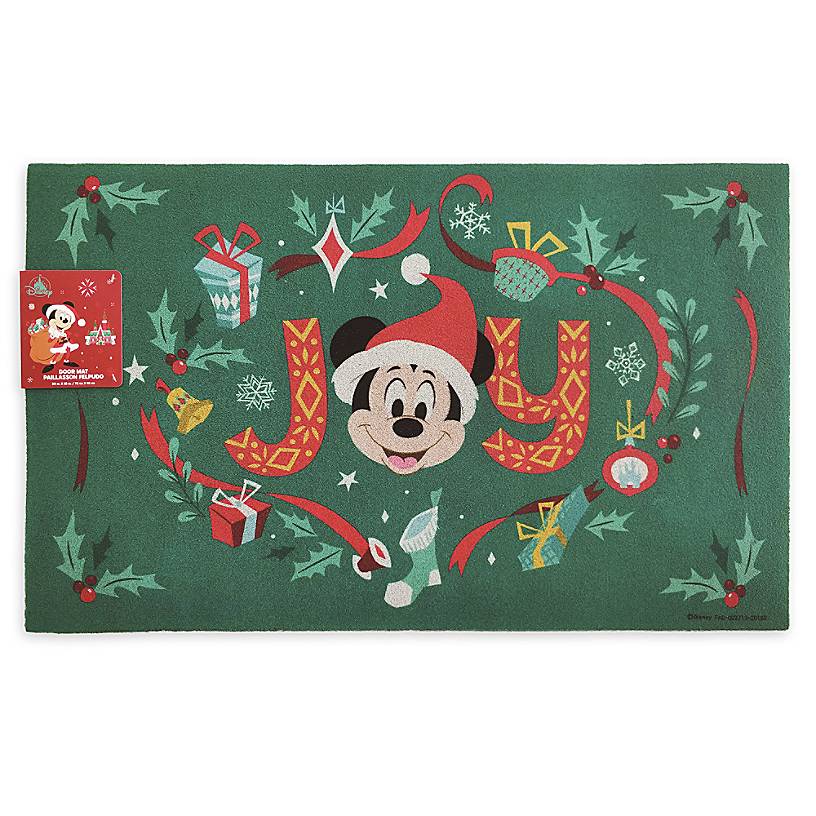 Mickey and Minnie Mouse Holiday Fleece Throw
I know technically this isn't a Disney Christmas decoration, but you can still throw it over your couch to give it a nice pop of Christmas! Cozy up with this soft, reversible Holiday Fleece Throw! One side is red and adorned with a cute, Disney Christmas design. The other side is a furry, white fabric with an embroidered Mickey and Minnie. Use it to be nice and toasty while watching a movie, then lay it over your couch for an easy Christmas decoration!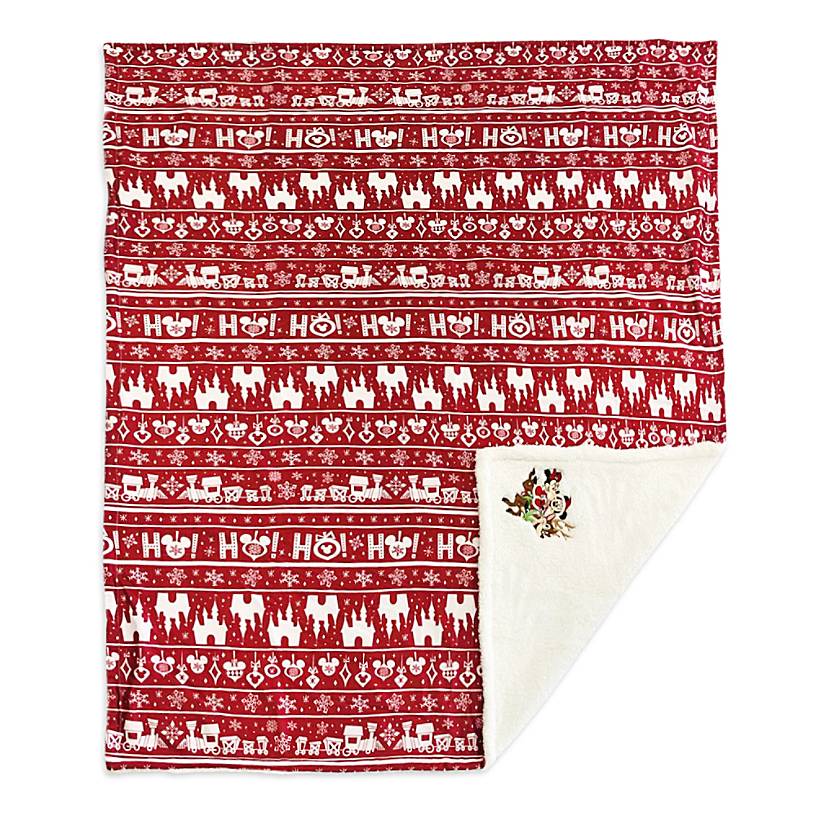 Tinker Bell Light-Up Holiday Tree Topper
This Holiday Tree Topper is very similar to the Mickey and Minnie one, but instead, it features Tinker Bell! Tinker Bell is wearing a glittery red dress and holds her wand over the star as if she's lighting it. This star also glows white by the use of batteries. This Disney Christmas decoration has the perfect touch of magic to complete your tree!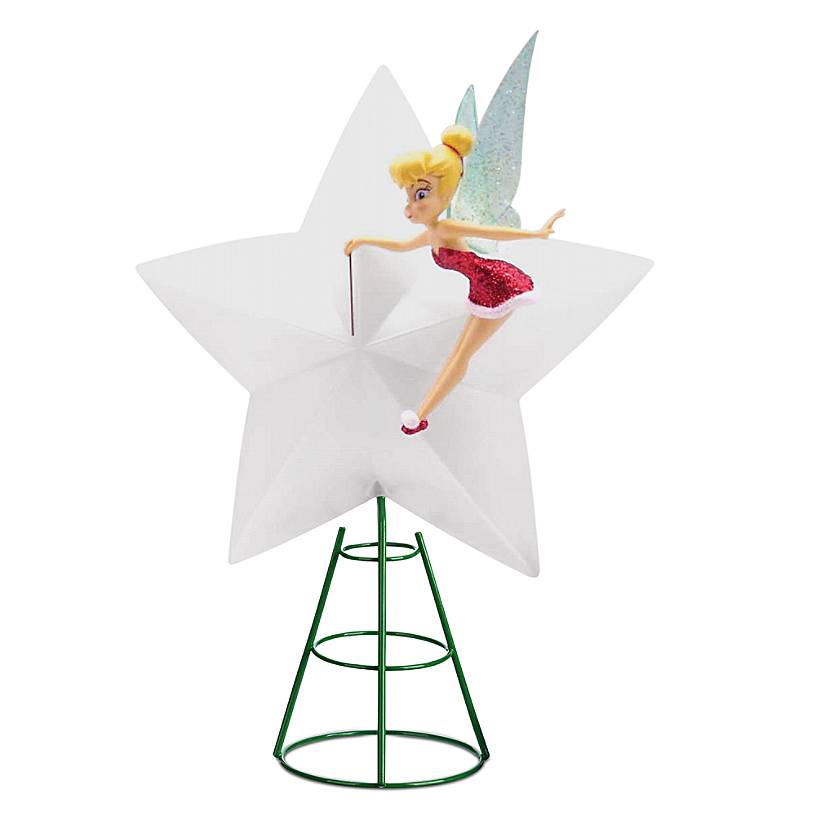 Mickey Mouse Icon Sequined Holiday Wreath
Want to add a Christmas wreath to your door, but still want to make it Disney? This is the perfect Holiday Wreath! This Mickey-shaped wreath is adorned in sequins that make the wreath look like a peppermint! With a green sequin bow, the wreath is complete! Hang this on your front door or in your house to let others know that you are a true Disney and Christmas fan!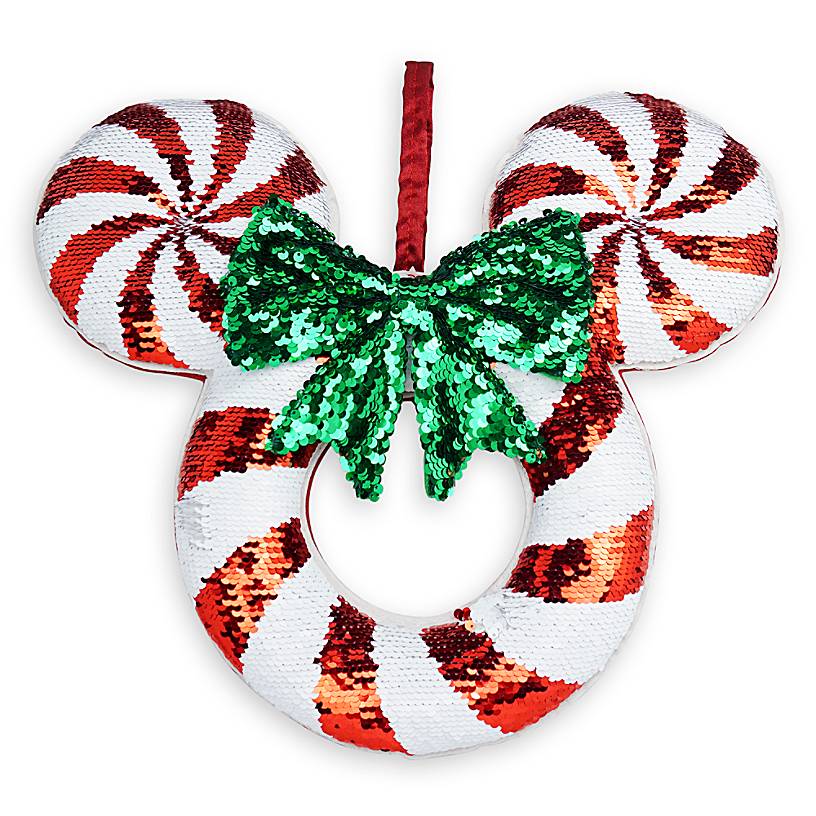 Mickey Mouse and Friends Holiday Baking Set
I again know this isn't technically a Disney Christmas decoration, but it was just too cute not to add to the list! This Holiday Baking Set includes a mixing bowl, two spatulas and Mickey and Minnie cookie cutters. Yes, you use them for baking, but that doesn't mean you can't set them out to decorate your kitchen when they aren't being used! The items feature gingerbread versions of Mickey and Minnie, and they almost look sweet enough to eat! Whip up some delicious treats with this baking set, and then display it for all to see!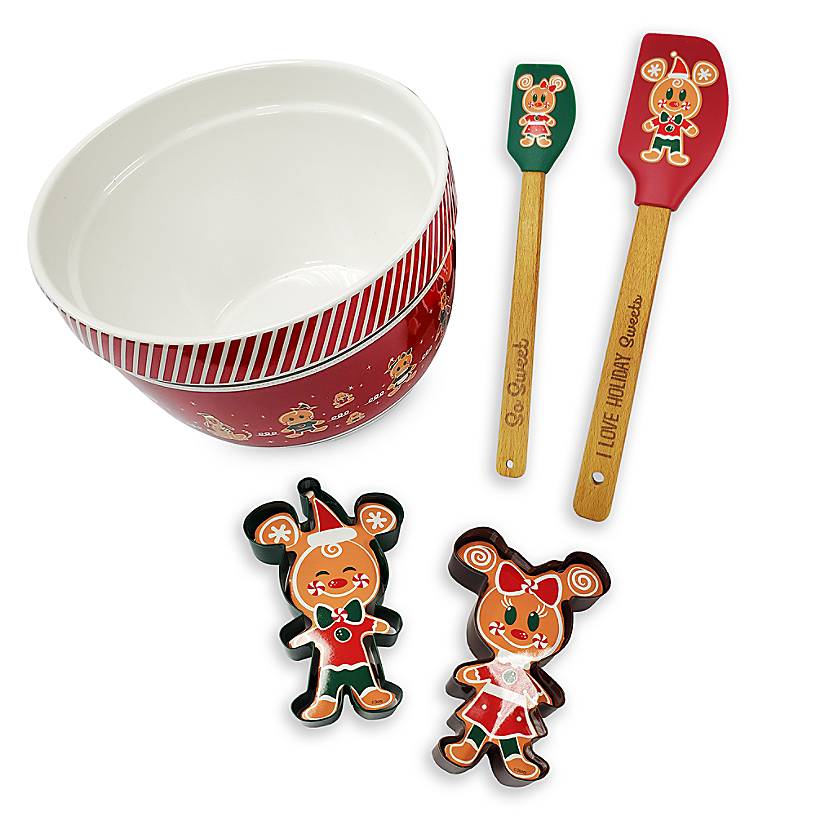 Mickey Mouse and Friends Holiday Cookie Jar
Now that you have baked some yummy treats with your baking set, you need somewhere to put them! Disney has a beautiful Holiday Cookie Jar to store all of your sweets! The jar is shaped like a gingerbread house, and the top of the house comes off so you can reach inside! The jar features Mickey, Minnie, Goofy, Donald, and Daisy as gingerbread characters. This jar looks just as sweet as the treats you will be putting in it!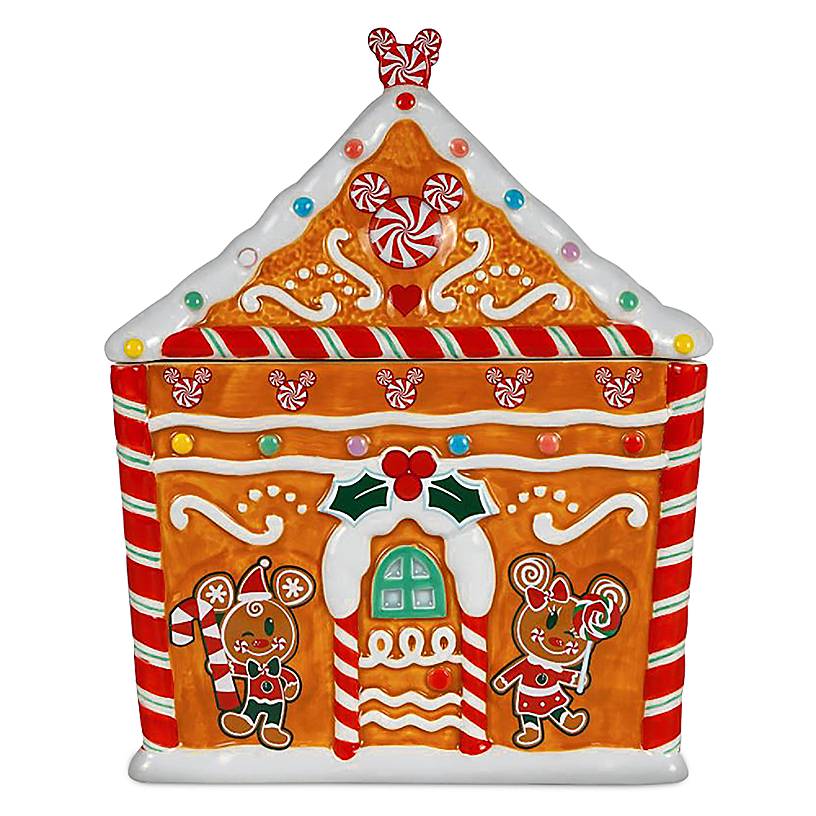 Mickey and Minnie Mouse Plush Advent Calendar Wall Hanging
The Plush Advent Calendar Wall Hanging is another creative way to count down to Christmas! Hang this on a wall for all to see so everyone can get excited as it gets closer to Christmas day! This calendar is shaped like a Christmas tree, and each ornament is a numbered pocket. Move the small gingerbread mouse from ornament to ornament as the days pass by. The last day is on the golden star at the top of the tree! Mickey and Minnie sit under the Christmas tree to help count along!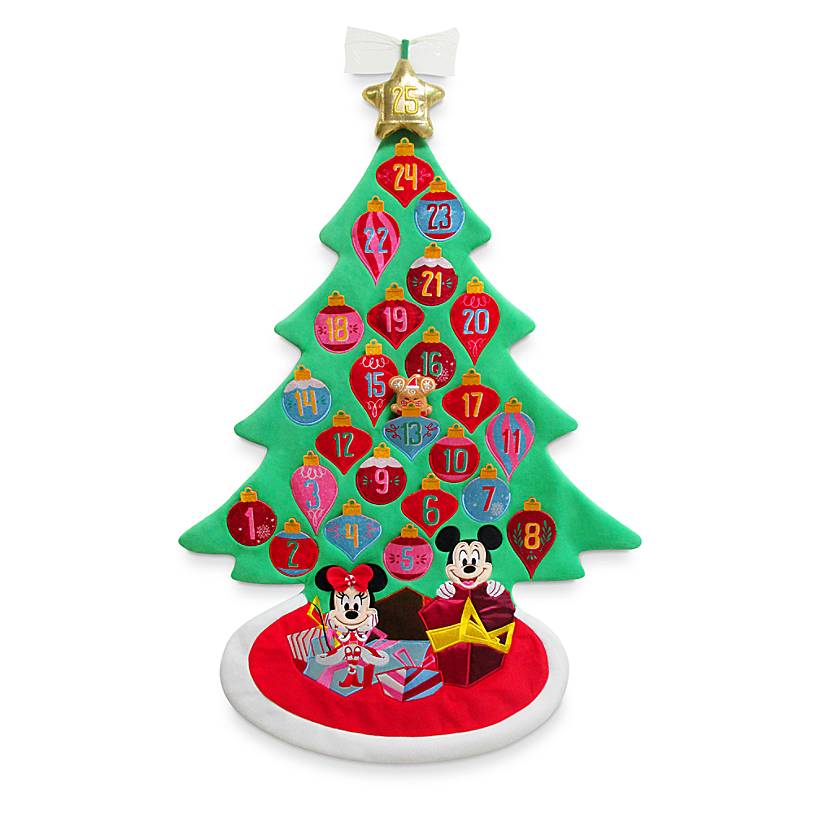 Mickey Mouse and Friends Holiday Train Bowl Set
The Holiday Train Bowl Set is perfect for any holiday party! This set comes with four different sized bowls that are each shaped to form a train. Mickey, Minnie, Goofy, Donald, and Daisy are on the train to join in on the fun! Spruce up your snack or treat spread at your next Christmas party with this creative and fun bowl set!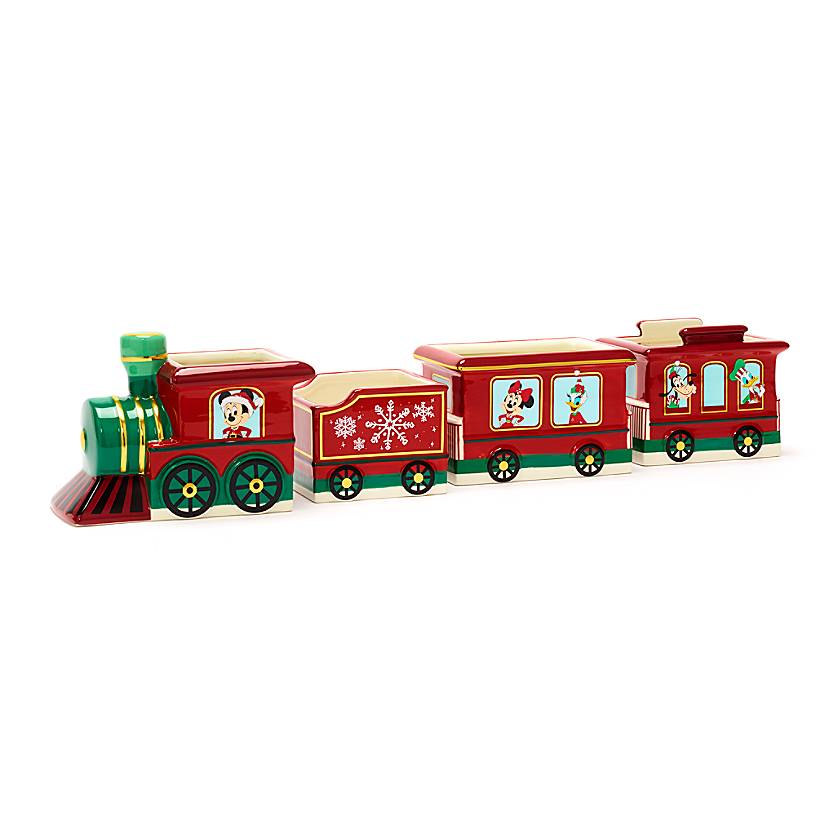 Mickey Mouse and Friends Reversible Holiday Table Runner
Turn your dining table from drab to fab with this Disney Holiday Table Runner! This runner has two sides, so you can change up the look of your table whenever you want! The first side is red and features Mickey, Minnie, Donald, Goofy, and Pluto spreading holiday cheer. The other side is green with a Christmas treat pattern including Mickey gingerbread cookies, Mickey-shaped caramel apples, and Mickey-shaped cookies! This will give you something cute to look at while eating your Christmas feast!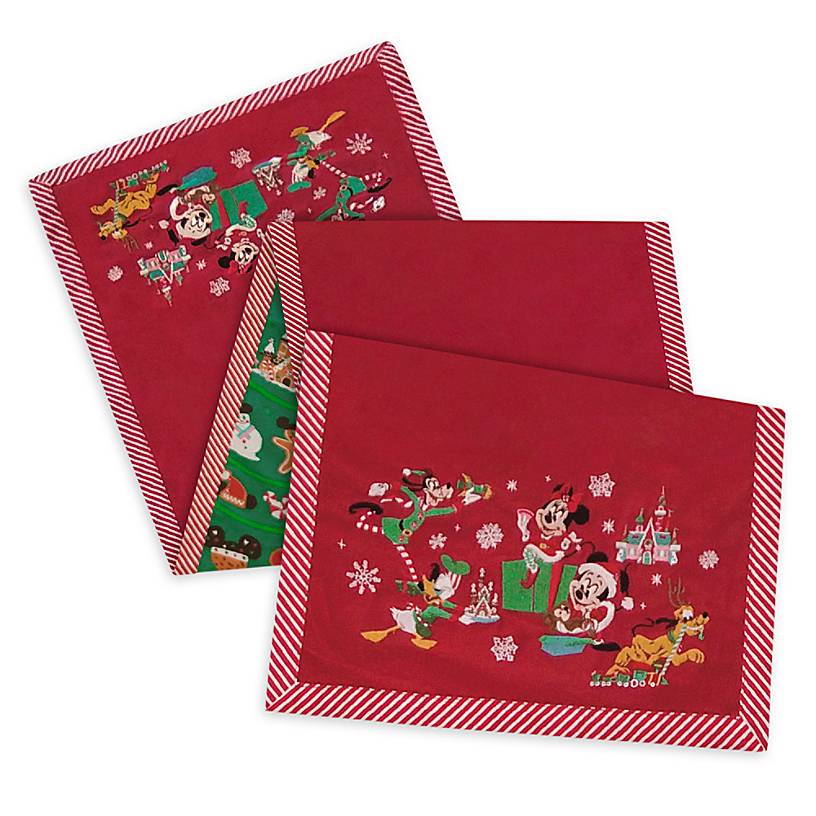 Mickey and Minnie Mouse Holiday Throw Pillow
Who doesn't love a good throw pillow? Switch out your everyday throw pillows for this Holiday Throw Pillow during the holidays! It reminds you to make the season "Merry & Bright" with the help of Mickey and Minnie. The pillow is a bright red with festive decorations to liven up your sofa!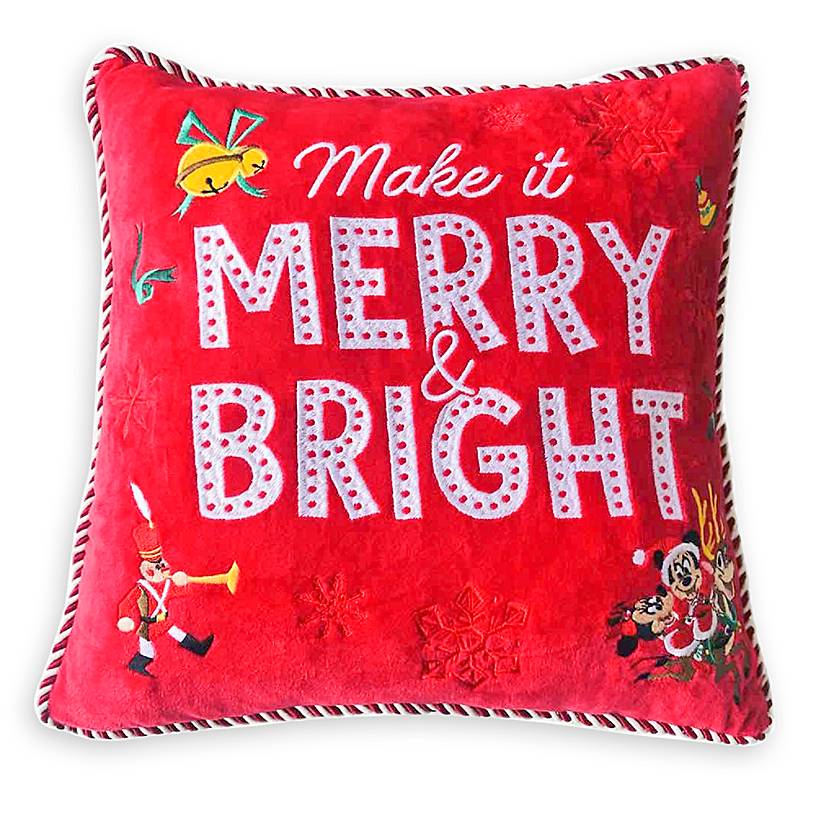 Mickey and Minnie Mouse Holiday Snowglobe 2020
This next Disney Christmas decoration would make a great gift or sit nicely on a mantle. The 2020 Holiday Snowglobe combines the holiday spirit with the year 2020! Mickey and Minnie hold two candy canes to create a heart inside the snow globe. Shake it up and watch the snow fall around them!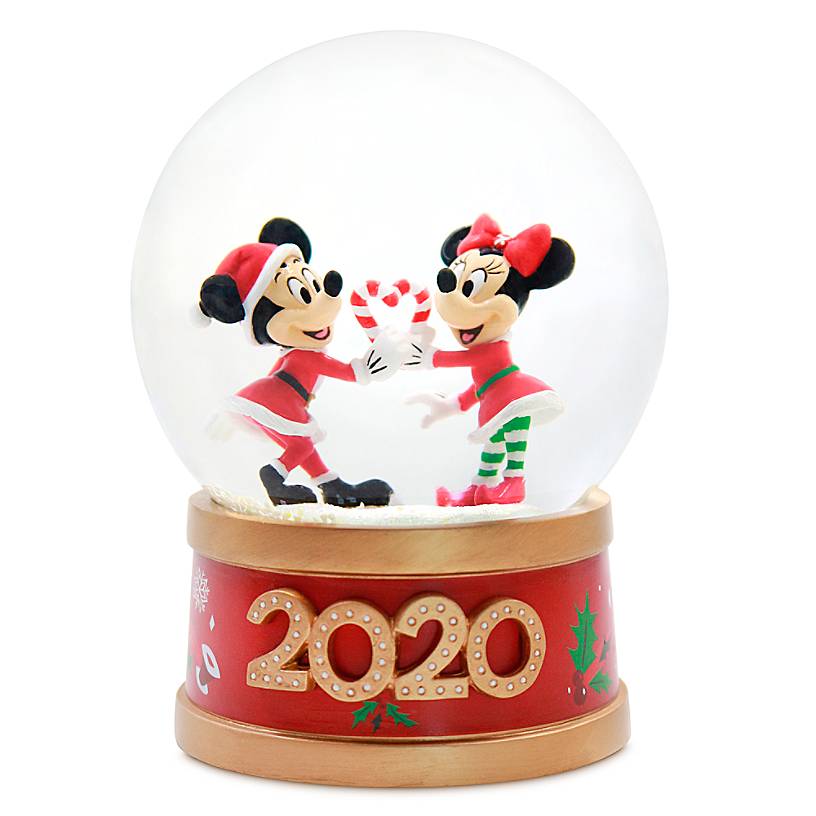 Mickey Mouse and Friends Light-Up Holiday Display
Brighten up the holidays with this Light-Up Holiday Display! Hang it up in your house or in front of the window to spread some Christmas cheer. The sign says "Tis the Season to be Jolly" and features Mickey, Minnie, Goofy, Donald, Chip, Dale, and a Christmas decorated castle. The sign has a battery pack on the back, so you don't need to worry about plugging anything in! When turned on, the snowflakes, the castle, and the writing glows! This is a great way to make Christmas shine!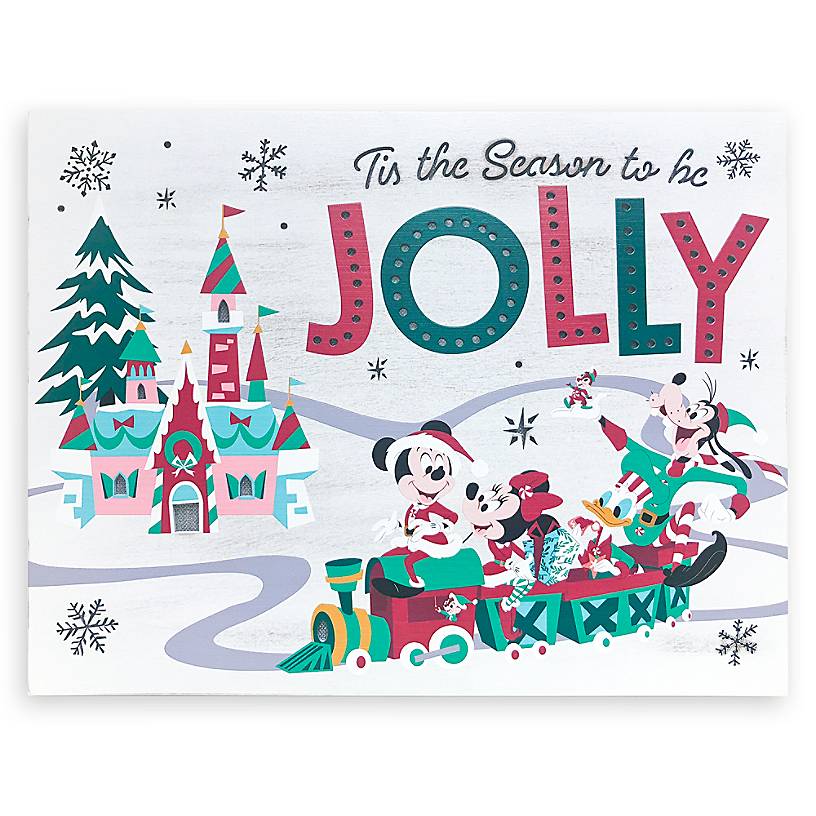 Mickey Mouse and Friends 2020 Holiday Train Set
You know those awesome moving model Monorail sets Disney came out with? Now they have a Holiday Train Set! This train has over 22 feet of track that can complete a full circle. My family's favorite tradition is to put the Monorail set around the base of the Christmas tree, and you can do the same thing with this train set!
The train has four carriages and an extra skating carol car at the end. The carol car includes Mickey, Minnie, Donald, and Daisy. The best part is Minnie even "skates" on the car! Those aren't the only Disney characters featured on this festive train. You can also find Stitch, Chip, Dale, and Pluto figures in the train windows. These windows are able to move up and down.
The train is electronic and can be controlled by a radio transmitter. The headlights turn on, and the train plays Christmas carols for all to hear! The train also has forward and reverse options to keep things interesting! With this train set, you also get two lamp posts to decorate with. The Holiday Train Set is the perfect Disney Christmas decoration for any home!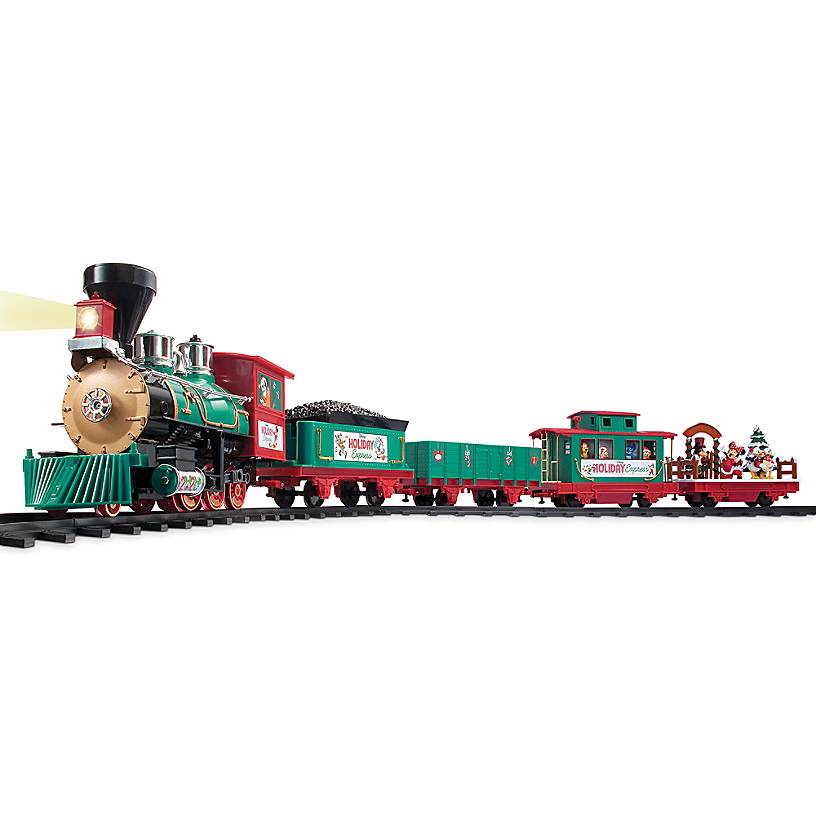 Mickey and Minnie Mouse "Sleigh Bells and Mistletoe" Holiday Figure
Santa Mickey and Minnie ride in Santa's sleigh to deliver joy and presents in this "Sleigh Bells and Mistletoe" Holiday Figure! They have a sack full of presents and a list of all of their friends. Mickey and Minnie are cuddled up under a blanket while mistletoe dangles above them. This piece is hand-painted with love to give your house an extra touch of holiday magic!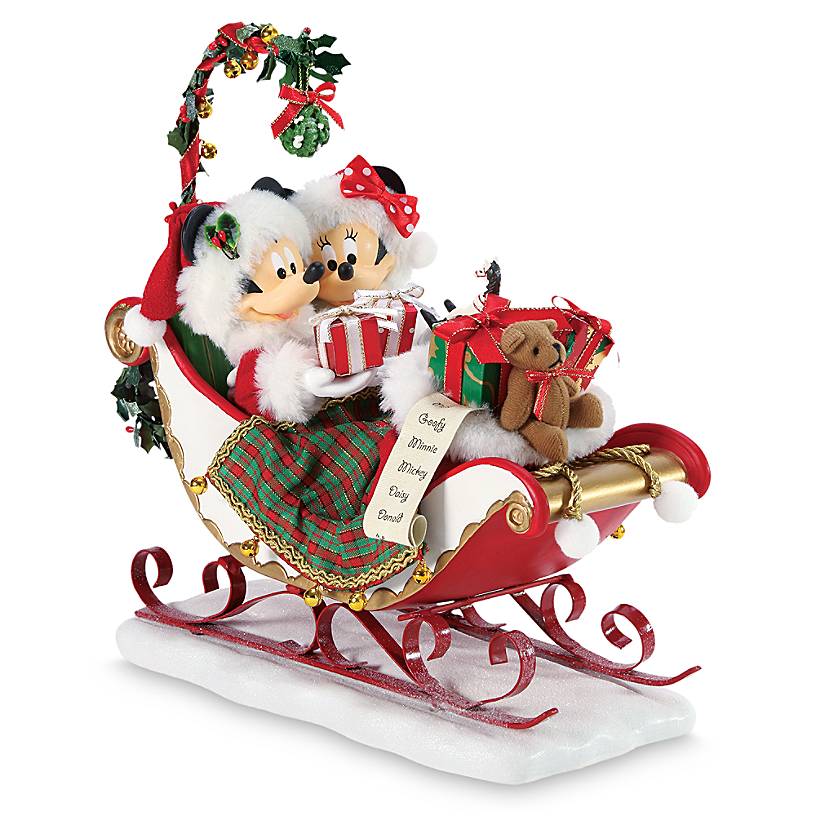 Mickey and Minnie Mouse Gingerbread Holiday Dish Towel Set
The Holiday Dish Towel Set is the perfect addition to your holiday-themed kitchen! You get two dish towels, both equally adorable! The first towel contains the saying "Baking Spirits Bright" with gingerbread Mickey and Mickey cookies. The other towel features all kinds of sweet treats like a gingerbread castle, gingerbread Mickey, Mickey cupcakes, candy canes, and more! These dish towels are sure to get you in a sweet mood!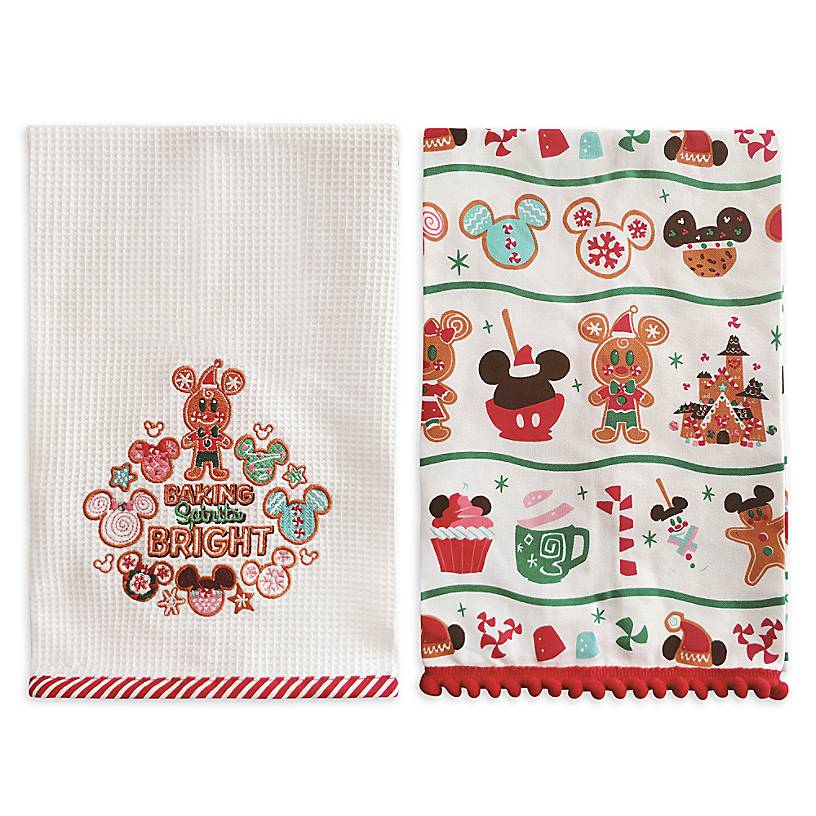 Mickey and Minnie Mouse Light Up Holiday Snow Globe
Mickey and Minnie share gifts by the Christmas tree in this Holiday Snow Globe. The base of this snow globe is Mickey's Toon Townhouse. If you turn on the switch, his windows glow! Shake up the globe to watch glitter confetti fall down around our favorite Disney couple!
Mickey Mouse and Friends Sketchbook Ball Ornament Set
What's a Disney Christmas without a Disney Ornament Set?! In this set, you get six ornaments featuring Mickey, Minnie, Donald, Daisy, Goofy, Chip, and Dale. These glittery ornaments come in red, silver, and green to keep things in the holiday spirit! Each ornament includes a satin bow atop for hanging. Spread that Disney Christmas magic with these holiday ornaments!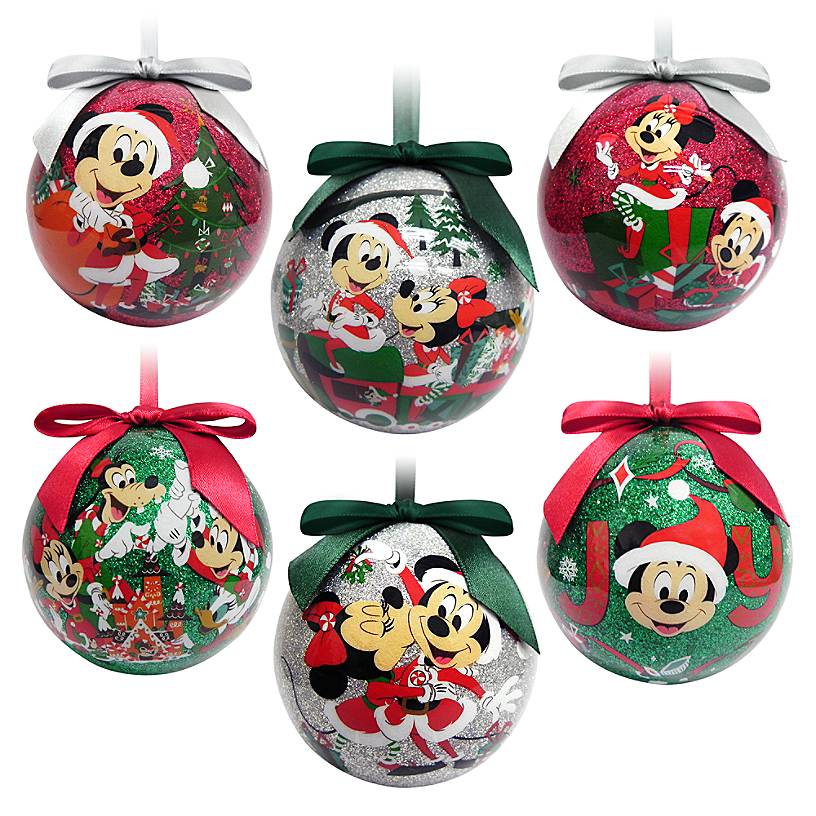 There you have it! 25 Disney Christmas decorations you would absolutely love. I'm going to be honest and admit that I want to buy every single one of these decorations! There's just something about the holiday season that makes me want to decorate the entire house from head to toe with Christmas cheer. Why not combine your two favorite things and decorate your house with Disney Christmas decorations! Happy decorating!