We know visiting Orlando and cheap aren't typically used in the same sentence, but we promise you can do Orlando on a budget! It's absolutely possible to visit Orlando, enjoy great food, and go to the theme parks and still save money. You don't have to go all out money-wise on your next trip to Orlando to have fun.
But how do you know when to go to save money? How do you find reputable discounts to use on your trip? And how do you find the FREE things to do when in Orlando? Follow along with us!
Here we've compiled the ultimate list of tips for visiting Orlando on a budget, and will help you and your family save some money on your next vacation!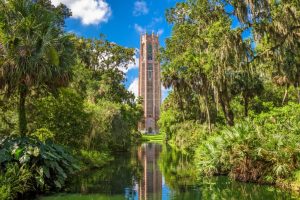 Go During the Off-Season
Even though it seems like there isn't an "off-season" anymore to vacation in Orlando, there are still some times of the year that are less crowded –  and cheaper! –  than others.
As a general rule, visiting the theme parks in Orlando will be less expensive during the least crowded times, mostly because the parks offer discounts to get people to come when they know it's not as busy. September,  the last three weeks of January, February, and May all tend to be a little less crowded due to kids being in school and no major holidays fall during those times.
For some more Disney-specific timing, check out our article on the best times to go to Disney World – you might be able to snag a great deal if you go during the off-season!
Stay Off-Site at Disney
Disney World has some amazing resorts and staying on property has a lot of great perks, but all those perks definitely come with a cost. So what if we told you that you could stay at some AWESOME hotels with similar perks but without the price?
Well you can! There are several hotels located near Disney World but that aren't Disney-owned – which are considered off-site – where you can score some Disney perks without the Disney price. These hotels tend to be cheaper, offer transport to the parks and even FastPass+ selections, and have shops, restaurants, bars, and pools that are top notch.
A lot of these hotels also fall into the "Deluxe" category at Disney, but you won't pay anywhere near Deluxe prices. We've even made a list of our favorites!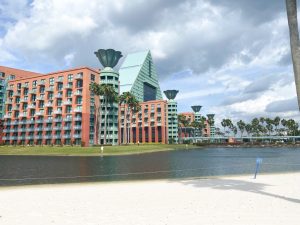 Staying at an Airbnb Near Disney
If your family needs some more space on your next trip, an Airbnb might be a better fit for you. There are tons of cute and affordable Airbnbs near Disney World, and they are great choices for those traveling to Orlando on a budget.
An Airbnb offers more space and rooms, as well as full kitchens, at a much cheaper price than it would cost to get several hotel rooms at a Disney or Universal hotel. Airbnbs allow larger families or multiple families to save some money on their stay  – especially if you plan on using that kitchen to make some of your own meals.
There are some really fun themed Airbnbs near the parks as well as some super luxurious ones that won't set you back thousands of dollars the way multiple rooms would – and we have a list of our favorites that are your best choices for your next trip!
Use the i-Ride Trolley to Get Around
Whether you are staying on International Drive in Orlando or not, using the i-Ride Trolley can be a great way to get around on the cheap. You don't have to spend the money to rent a car or pay for an Uber/Lyft/taxi to take you everywhere.
International Drive is a hotbed of restaurants, shops, and attractions and is a great place to visit during your trip – especially if you are focused on Orlando on a budget. Using the i-Ride Trolley to visit all these places can cost as a cheap as $2.00 per person and $.65 for those over 65, and they also offer very affordable unlimited multi-day passes as well.
Take Advantage of Free Things at Disney
Free and Disney don't get thrown around together a lot, but there are actually a lot of free things to do at Disney World!
Disney Springs, the outdoor shopping center at Disney World, is probably the best free thing to do at Disney and visiting is absolutely free. The Boardwalk is another free Disney location that is great to walk around and enjoy.
You can also resort hop for free, and you could take a day out of the parks to visit the different resorts and take advantage of the fun activities there! Many of the resorts offer free scavenger hunts, activities, and Animal Kingdom Lodge has animals you can watch as well.
These are just a few of the amazing free things to do at Disney, and we have a list of the others so you won't miss out on a single one on your Orlando on a budget trip!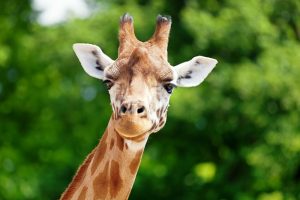 Get the Orlando Explorer Pass
If you're looking to take advantage of several Orlando attractions at a discount, the Orlando Explorer Pass might be the right ticket for you. This is a pass you purchase in advance, and allows you to visit anywhere from 2-5 Orlando attractions during your trip at a discount – sometimes up to almost half off! The 2 attraction pass starts at $50 for adults, and you can visit Gatorland, the Wheel at Icon Park, and many others.
This pass can save you a lot of money off of the gate price, and can help cut down on costs if you're playing to stay on or visit the attractions on International Drive. You can buy the tickets and pick your number of attractions here, and go save some money!
Staying on iDrive
When picking a hotel on International Drive (iDrive), there are several things to consider. Take into account the proximity to the attractions you want to see, the rating of the hotel, and the amenities it offers. But there's something else you want to consider: does your hotel have a shuttle to the parks you plan on visiting?
Not all of the hotels on iDrive offer free shuttle service to Disney World, Universal Orlando, and Sea World, and that can complicate getting to the parks and the cost you'll pay to get back and forth. By picking one that does offer the shuttle service, you will save some time and money on transportation.
Buy Souvenirs Outside the Park
Souvenirs in the theme parks can get pretty expensive, and if your family members have to take something home from your trips, it can be really hard to keep your budget in check. Buying souvenirs outside of the park can save money and keep you from overdoing it!
There are two outlet malls near Disney World, and both have Character Warehouse Outlets where you can buy Disney park merchandise at an outlet price! You can even bring souvenirs you buy at home from Target or Wal-Mart – if your little one loves Mickey Mouse, they'll love the Mickey Mouse you give them during the trip – regardless of where you bought it.
Take Advantage of Military or Industry Discounts
Both Disney World and Universal Orlando offer discounts for active military members, as well as Disney World has the Shades of Green Resort where military members and their families can stay. If you are affiliated with the military and are planning a trip to Orlando, taking advantage of these discounts can definitely help with your trip to Orlando on a budget.
Many companies also offer discounted tickets and ticket offers to the theme parks, and most people aren't even aware these are even offered. Check to see if your company takes part in Tickets at Work, or if they offer member discounts for Disney World and other theme parks.
Take the Bus from Orlando Airport to iDrive
Most people think that once they arrive at Orlando International Airport (MCO) they will have to either rent a car or get a car service to take them to their hotel, but this isn't true! The Orlando airport offers a bus service that is extremely affordable, and will take you to hotels on iDrive as well as the Disney Resort area.
The prices for trips to iDrive are only $2 per person, and the trips to the Disney area are only $4 per person! This is definitely cheaper than a Lyft or Uber, and will get you started on the right foot for your trip to Orlando on a budget.
Take Advantage of Happy Hour
Not only do many of the restaurants on iDrive take part in Happy Hour, but so do some of the restaurants and bars at Disney Springs. If you've ended up at Disney Springs for a free Disney thing to do, take advantage of some of the Happy Hour deals to score some great food and drinks at a discount.
House of Blues Restaurant, Raglan Road Irish Pub & Restaurant, Paradiso 37, City Works Eatery & Pour House, Terralina Crafted Italian, and STK Orlando all offer Happy Hour specials at Disney Springs. To help choose which may be the best bar or restaurant for you to visit, check out our list of the best at Disney Springs.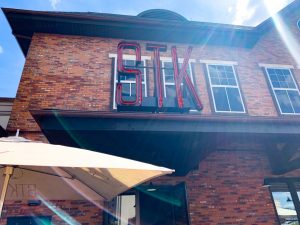 Consider the Costs of Renting a Car
If you didn't drive to Orlando in your own car or a rented one, you may need a form of transportation in order to get around Orlando and to the theme parks on your own time. Renting a car may not be the cheapest option for everyone, but it can help some save a little money on their trips.
If you're staying at a Disney resort or a hotel that offers shuttles to and from the parks, renting a car may be an expense you don't want to incur. Staying at a hotel can be costly enough, and taking free transportation is the way to go. Plus, it costs money to park at the theme parks and that would be on top of the rental cost.
For those staying at an Airbnb, the cost of renting a car may not be the worst thing for you to add into your budget. You'll still have to pay for parking at the theme parks, but you've already saved money on your stay at the Airbnb and might be able to more reasonably fit it into your vacation budget.
Order Groceries and Pack a Lunch
Food at the theme parks is very expensive, and sometimes making or bring your own food is the better option. Whether you're staying in a hotel or an Airbnb, ordering groceries during your trip can save you a lot of money on food.
If you plan on cooking some of your own meals during your vacation to save money, it may also make sense to get your groceries delivered. You won't have to take time out of your trip to go shopping, or worry about getting a form of transportation in order to get there. To find out the best places to order groceries from, check out our article here!
And if you decide to get some groceries and try to cut down on food costs, try to bring lunches and snacks with you into the parks. You can bring food as long as it isn't in a huge cooler and isn't in any glass containers. Bringing bag lunches with you to the parks is so much cheaper than the food you'll encounter in the theme parks, and even just bringing snacks will cut down on some of the costs.
Take Day Trips Around Orlando
During your trip to Orlando you don't have to just visit theme parks to have a great time. Orlando offers lots of free and affordable local areas to visit and take a day away from the theme parks.
Celebration, Florida is a small town right outside of Orlando and is the town that Disney built. It was developed by the Walt Disney Company, and has kept that small town Disney charm. It's very pretty and picturesque, and you can visit the shops and restaurants, take a self-guided tour of the town, or even a horse-drawn carriage ride.
Winter Park is another quaint area outside of Orlando. It's a trendy town, with funky shops and great places to eat. They also offer a popular farmer's market, and some great parks and playgrounds for kids and families.
Visit Icon Park
Icon Park is located on iDrive and is another great place to visit on your trip to Orlando when on a budget. There's dining, shopping, an arcade, multiple attractions, and, of course, the iconic Wheel. You can visit many of the attractions for less than $40 a person, or just walk around and visit the area for free.
They often have music or tasting events here as well, and if you are lucky enough to visit during one of these times you'll be able to have some great fun at a good price!
Rainy Day Activities
It rains A LOT in Orlando, and that can put a damper on a park day. Instead of spending money on an expensive theme park ticket when the weather is a wash out, you can visit some areas around Orlando for free or on the cheap.
Both the Crayola Experience and Ripley's Believe It or Not are fairly affordable, and are great indoor activities. Ripley's is less than $25 a person, and the Crayola Experience is $25 per person but you are able to go multiple times for that price.
You can also visit the multiple malls or outlet malls around the Orlando area, and just enjoy walking around looking at the sales and shops for free.
See Orlando's Natural Beauty
If you are a nature lover and want to enjoy the great outdoors while on your trip to Orlando on a budget, we have some great suggestions for you! There are over 10 natural springs located just over an hour away from Downtown Orlando, and these are very affordable to visit – most of them are under $10 per car. These natural springs offer swimming, nature walks, paddling, and the ability to cool off away from the tourists and theme parks.
Other options for seeing some nature around Orlando are Harry P. Leu Gardens and Bok Tower Gardens. These are botanical gardens that offer over 15,000 plants to view as well as historical manor houses you can tour. You can take a self-guided tour of all the different gardens at either location for less than $15 a person – perfect for visiting Orlando on a budget.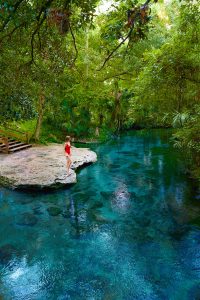 When planning your next trip to Orlando, take advantage of some of these deals and discounts we've mentioned. Pick the best hotel or Airbnb for your family, find the perfect activities, and make sure you stay under your budget! Hopefully these tips and tricks will help out your family when it comes to planning, and make you feel like you truly can visit Orlando on a budget.