When planning a trip to Disney World, the most common question may be "how much does Disney World cost?" We know that things can get pretty pricey there, but a trip may be more affordable than you think!
We've been to Disney World countless times on all types of budgets. We have taken trips on a very, very tight budget and had a great time doing the cheaper experiences. We've spent a little bit more money, and done a few more experiences. And, we've visited Disney World with even more money to spend, and have taken advantage of some of the more exclusive experiences they offer.
So trust us, we understand! We've compiled all of our knowledge into this article so that you can pick the right budget for you and be able to plan the perfect trip to Disney World – regardless of your budget!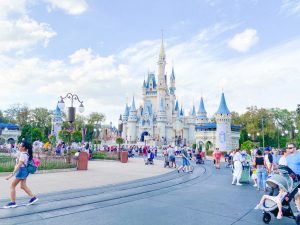 What Can I Expect to Spend on My Trip to Disney World?
There's no exact math and answer to this question, but we can give you the best estimates for the types of trips you can take. A big factor in how much a trip will cost for you not only depends on where you live and are traveling from, but also what kind of person you are. Not everyone is able to – or wants to – spend a lot of money on a family vacation.
For the sake of this article, we are going to be giving most of the prices for things as "per person." We know that the stereotypical 4 person family isn't the reality for everyone, and having a per person price will give you a better idea of how much a vacation to Disney World will really cost for you and your family.
We are going to breakdown the Disney World costs by budget, mid-range, and expensive.
The Budget cost of a Disney World trip will range anywhere from $2000-$4000, and this is based on using the budget options we list later on in the article.
The Mid-range Disney World cost can range from $4000-$6000, and again is based off of the other choices for your trip.
And lastly, the Expensive Disney World cost is literally $6000 and up. You can spend as much as you want at Disney World, and the sky is the limit.
How Much Does it Cost to Fly to Disney World?
In order to figure out how much it will cost a family to fly to Disney World, we have to take into account where the family is flying from, and what kind of flights are available to them.
The range we are going to put in here will be based off of North American travelers. If travelling internationally, like from Europe, the cost of the flights will be much more and will make the cost of the overall trip more expensive.
We are also assuming that you will be flying into Orlando International Airport (MCO), since that's where Disney's Magical Express picks up guests.
In order to save even more money on your flight, you can drive to a bigger airport if you don't have one close to you – these normally have more flight options available. You can also choose a flight with more layovers versus a nonstop option since that will be cheaper as well.
Flights to Disney on a Budget
Depending on how early you book your trip, and the day of the week you flight on, you can score a pretty good deal on flights to Orlando. Try to fly out during the week on a weekday instead of arriving on a weekend.
Look for flights with layovers instead of nonstop, and try not to travel during holidays. You can also book with a "budget airline," if those are offered at the airport near you.
The average range for budget flights to Orlando will be between $150-$250 per person. These are roundtrip tickets, and if you can find one of these from your local airport, these are great deals to snag!
Mid-Range Flights to Disney
If you don't mind spending a little bit more for your flight, then a mid-range option may be for you. You can book on a better airline, or get a more premium seat/flight experience. You will also be more likely to book a nonstop flight if that's a possibility from your location.
The average range for mid-range flights to Orlando will be between $250-$450 per person. Again, these are roundtrip tickets for your trip.
Expensive Flights to Disney
If you are looking for the most luxurious flight experience and don't care how much money you spend on your flight to Disney World, you can book whatever flight you want. Get a first-class ticket, book a nonstop flight, and choose whatever airline and airport you want.
For an expensive flight to Disney World, the cost per person is from $650 per person and up. Sky's the limit, literally.
How Much Does Disney Transportation Cost Around Disney World?
Just like transportation to get there, the cost of Disney World transportation varies. Again, based off your preferences and how much you want to spend, the Disney World cost of transportation ranges from free to expensive.
Transport in Disney World on a Budget
If you are looking to use the most cost effective transportation in Disney World, then you can use the free transportation that's offered. Disney World buses, boats, Skyliner, and monorails are absolutely free and can be used by anyone staying on property. The Magical Express is also free transport to and from the airport.
These are great options to have because you don't have to lift a finger and Disney takes care of all the transportation for you!
But, these are only available to people staying on Disney World property, as well as using these forms of transportation may increase wait times for traveling.
Mid-Range Transport in Disney World
Those on the mid-range budget may still choose Disney transport over other forms, but you can opt to use Uber/Lyft/Minnie Van services in order to save time on traveling – especially if you have reservations that you need to get to on time.
Those staying on Disney property can use the Minnie Van service, and whether you're staying off-site or on property you can use Lyft and Uber.
Expensive Transport in Disney World
If you don't want to use Disney transportation at all – or you aren't staying on Disney property – you can rent a car once you arrive at the airport use that for your trip. This means you will pay for parking at the theme parks each day, as well as you may have to pay for parking at your hotel.
Maybe you don't want to rent a car though and you want to be chauffeured around on your trip, which is way more relaxing anyways, then you can use Uber/Lyft/Minnie Van services for most of your transportation needs. Plus, you can still use Disney transportation when it's most convenient for you.
For an extra posh experience, you can have a Minnie Van pick you up at the airport and pay $150 for the trip to your hotel so that you don't have to ride the Magical Express with everyone else.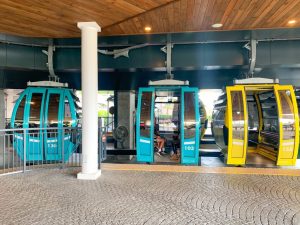 How Much Does Lodging Cost at Disney World?
Even though Disney World offers the most amazing resorts, sometimes staying at them doesn't always fit into the budget. Staying off property can save a lot of money and provide more space for bigger families.
Both on-site and off-site hotels offer luxury experiences – but they vary in price. So we've compiled the best places to stay based off your budget, and there are on-site and off-site options for all budgets.
Budget Lodging
If you're looking for a cheaper Disney stay, you can stay off of Disney property at both Airbnbs and off-site Disney hotels. Staying at an Airbnb can give bigger families more space and still end up being less than $100 a night! There are some great ones near Disney World – many of them Disney themed. The off-site Disney hotels offer more luxury for a value price, and can be great choices for smaller families or couples.
Now, if you want to stay on Disney property for a budget, consider staying at one of the Value resorts. You will be able to get the Disney experience and perks, but the price of the hotels will lower the overall cost of your trip.
The Budget Disney World cost of rooms can range from around $89 a night up to around $300 a night.
Mid-Range Lodging
If you want to spend a little more money on your stay, and receive more perks and more comfort, there are some great mid-range options around Disney World. The Disney Springs hotels are close enough to be considered on property, but your stay will feel more cozy and more luxurious – without the cost.
Booking a Moderate resort on property will also allow you to stay within the mid-range Disney World cost, and these hotels offer more restaurants than the Value resorts and often have better transportation options.
We also have a bona fide Disney Trippers hack for you as well! Did you know you can book DVC rentals for the cost of a Moderate resort? You can! Follow our guide on how to book these DVC rentals at a discounted price, and you may be able to score a resort much closer to your favorite park, or book a room that's a better fit for a bigger group – without the Deluxe DVC cost!
Mid-range costs can start a little under $200 a night if you're not going during a busy season, and can get up to around $500 a night during peak.
Expensive Lodging
If you're travelling to Disney World without a budget, then you can stay wherever you want and spend what you want. Really.
Now, if you want our suggestions, then book a suite at one of the Disney Springs Hotels, or book yourself a room at one of the Deluxe resorts that are on Disney property. You can book a fancy cabin or a Polynesian bungalow on the water, among other fancy rooms offered. And if you're going to go all out, you can stay Club level at the Deluxe resorts, and you'll not only get extra FastPasses, but you'll have snacks and drinks available to you all day long.
These rooms are going to start around the price of $400 a night, and can honestly go up to well over $1000 a night.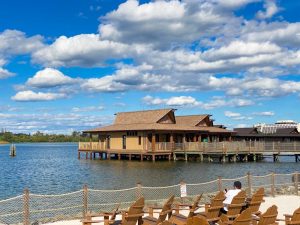 What Do Activities Cost at Disney World?
Just like the other categories here, you have tons of control in how much money you spend on activities while in Disney World. The only thing that is a given is that you, and everyone in your travelling party, will need tickets to the park in order to enter them.
Activities on a Budget
There are TONS of free things to do while at Disney World. You can resort hop and explore some really awesome Disney hotels, and of course, enjoy the free activities and pool offered at your own hotel. You can also go to Disney Springs, which is a free outdoor mall that anyone can visit.
When it comes to your tickets for entry into the parks, we suggest that you buy the base level tickets for your group. These tickets will grant you access to one park per day of your trip. If possible, try to book your trip during Value season and that will decrease your ticket price as well.
The current base ticket for those ages 10 and up is $109 per day right now, and that is for any trip from 1 to 7 days. The more days you visit, the cheaper the ticket gets per day. ADD CHILD COST
Mid-Range Activities
While you still may want to do some of the free activities, being in the mid-range Disney World cost bracket gives you more options for both your tickets and paid park activities.
You can choose to add Park Hopper to your ticket, which will allow you to visit more than one park per day (note: this is not available until 2021 due to the current pandemic). This will be an additional $65 per ticket for a 1-day visit, $75 per ticket for 2-3 days, and $85 per ticket for 4-10 days.
You could choose to do some of the less expensive private experiences at Disney World, like the Behind the Seeds tour in EPCOT and the Keys to the Kingdom tour at Magic Kingdom.
Another great option for those who want to spend just a little more money on their trip is to attend a hard ticket event during their visit, like Mickey's Not So Scary Halloween Party or Mickey's Very Merry Christmas Party. These hard tickets can range from $75 up to $159, depending on what night you attend the party.
Expensive Activities
For those looking to get the most for their money during their Disney World trip, you can spend a lot on special experiences. You can of course book the hard ticket events mentioned above, as well as booking other private tours. You can book the Backstage Magic tour, the Private VIP tour, and even do After Hours events at all the parks.
When it comes to tickets, you could pay for an Annual Pass, or add on all the extras to your base ticket like Park Hopper Plus – which will let you not only go to the parks but also to the Water Parks, the NBA Experience, Disney golf courses, and more. An Annual Pass per person can cost you up to $1100 per person and the Park Hopper Plus option will add another $40 or so each day per ticket.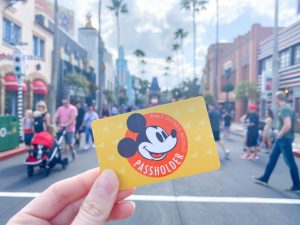 How Much Does Dining in Disney World Cost?
There are so many options when it comes to dining in Disney World. The parks and hotels offer everything from quick and affordable grab-and-go places to the fanciest of signature restaurants. Plus Airbnbs and Deluxe Villas offer kitchens you can use to make your own food, and Disney allows guests to bring their own food into the parks. And if you're staying on Disney property, the dining plans are available to you.
Dining on a Budget
One of the best ways to control how much money you spend on food in Disney World is to either bring your own or order groceries for your stay. You'll be able to take snacks you order into the park with you, so that way you don't have to drop $5 or more every time someone says they're hungry.
You can also pack a lunch to take with you, and then visit the quick service restaurants for your other two meals. The quick service restaurants are affordable options on Disney property, and often have a great selection of food. Some of them offer meals you can even share, and since Disney portions can be quite large, we can also recommend those who aren't big eaters to share meals or eat off the kids' menu in order to save some money.
If you do choose to eat at quick service restaurants, the quick service dining plan may save some money by allowing you to pre-plan and pre-pay for your food and snacks for the day. The refillable mug included with the plan will also save you a lot of money on beverages at your resort. The current cost of the quick service plan is $55 per person per night for guests over the age of 10.
Mid-Range Dining
When looking to spend a little more money on food and dining experiences at Disney, the regular Disney dining plan may be right for you. It allows you to eat at some of the nicer restaurants, and you still won't be spending tons of money on food. The current cost for this plan is $78 per person per night
Even if you don't choose to use the dining plan, you can still choose some of the nicer sit-down restaurants to fit into the mid-range cost. Buffets are a great option because you can get a lot of food for your money, and you can typically have one big meal a day if you visit a buffet – think snack for breakfast, quick or snack for lunch, and save up your appetite for a big dinner.
A lot of the table service restaurants have great menus with many options, and you don't have to order the most expensive thing. You can absolutely order appetizers or split entrees at many of these restaurants.
Expensive Dining Options
Disney World hotels and parks offer many fine dining experiences, and these are the perfect choices for those looking to fully enjoy their trip with no monetary limits. You could eat most of your meals at table service or signature restaurants. These will cost more, and offer some of the more unique foods and experiences. Victoria & Albert's at The Grand Floridian is probably the most iconic of these restaurants, and meals there will set you back over $235 per person.
If you're looking to enjoy these different luxury food experiences, we suggest getting the Deluxe Disney Dining Plan or the Disney Dining Plan Plus. These two plans will allow you to visit multiple table service meals a day, and use your points for the signature experiences as well. The Dining Plan Plus is currently $95 per person per night, while the Deluxe Dining Plan is $119 per person per night.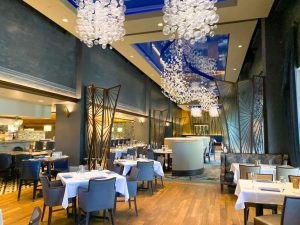 What Do Souvenirs Cost at Disney World?
Just like the other categories we have gone over, we are going to break down what souvenirs can cost you on your next trip to Disney World. You can, of course, spend nothing on souvenirs at Disney World if you don't want to, but chances are that you will find something you fall in love with and want to take it home with you.
Budget Souvenirs
Some of the most affordable souvenirs at Disney World are pens, keychains, and the little trinkets you will find in any Disney gift shop. Disney character stuffed animals and the cute little Wishable stuffed toys are also fairly affordable, and it's easy to find your or your kid's favorite character in these!
Character autographs are completely free to get, and are great souvenirs for both adults and children. Kids will enjoy visiting the KidCot booths in EPCOT, and the passport they get signed at the booths is free!
Mid-Range Souvenirs
If you want to spend a little bit more on souvenirs to take home with you, venture into the world of Disney fashion. Loungefly backpacks, Alex & Ani jewelry, dresses from the Dress Shop, and basically any of the cute clothing at Disney Style in Disney Springs make for great souvenirs. We love getting some wearable souvenirs, and none of these items will break the bank.
Disney ears and hats are also great mid-range souvenirs, and you can find ears inspired by just about any character or park nowadays. These range from $27.99-$29.99, and are a great option for souvenirs.
A lot of the Disney home décor is fairly affordable as well, and who wouldn't want to take home tea towels or tableware from Disney World?
Expensive Souvenirs
It's very easy to spend a lot of money on souvenirs to take home at Disney World, and if you don't have a budget, then you will be able to buy some awesome things! There's no shortage of designer jewelry, like Pandora, and designer handbags, like Dooney & Bourke, COACH, and Kate Spade.
There are also some fairly ridiculous things to spend your money on, like the life-size working R2-D2 in Galaxy's Edge that costs $25,000 or the crystal replica of Cinderella's Castle for a mere $295.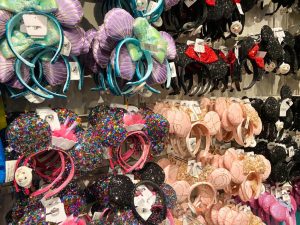 When it comes down to it, Disney World is as affordable or as expensive as you want it to be. The price depends on the hotel you stay at, how far you have to travel to get there, and how much money you choose to spend on food and souvenirs once inside the parks.
Ultimately it's up to you, but we hope that we've shown you that no matter where you stay or how much money you spend, you're going to have an amazingly magical time! Any trip to Disney World is a good trip, and the amount you spend has nothing to do with the amount of fun you'll have.