Due to the global pandemic forcing Walt Disney World to close on March 15, 2020, Disney launched the "Disney Park Pass Reservation System," (DPPRS) in order to follow CDC guidelines when the beloved park is in the clear to reopen in July. The system will assist Walt Disney World guests in rebooking their 2020 vacations which were canceled due to COVID-19.
Walt Disney World is currently not selling tickets for 2020, therefore this feature is only available for those who have a park ticket for a 2020 date (past or future) or are an annual passholder.
As of right now, Walt Disney World is set to reopen the Magic Kingdom and the Animal Kingdom on July 11, 2o20. They will then reopen Epcot and Hollywood Studios on July 15, 2020.
Walt Disney World is doing their best to keep guests safe by practicing social distancing, limiting the amount of guests allowed in the park, eliminating the park hopping feature, and requiring guests to wear masks,(except when dining or swimming).
In addition, guests will be temperature-checked before the enter the parks to ensure the utmost safety for everyone in attendance. There will also be hand sanitizer provided for guests and cast members, as well as various hand-washing stations throughout the Disney parks. Nonetheless, they are still ready to bring the Disney magic!
Guests can still enjoy many of their favorite things in Walt Disney World while adhering to these guidelines, such as riding attractions like Space Mountain, seeing the animals at Kilmanjaro Safaris, or dashing through the Seven Dwarfs Mine Train. There will still be opportunities to see your favorite characters during your visit, as well!
Another highlight of Walt Disney World is the monorail hotels, which are luxurious-themed vacations within themselves! For a look inside these glamorous resorts with convenient transportation on Disney's monorail, (and to see which is our favorite one,) read here!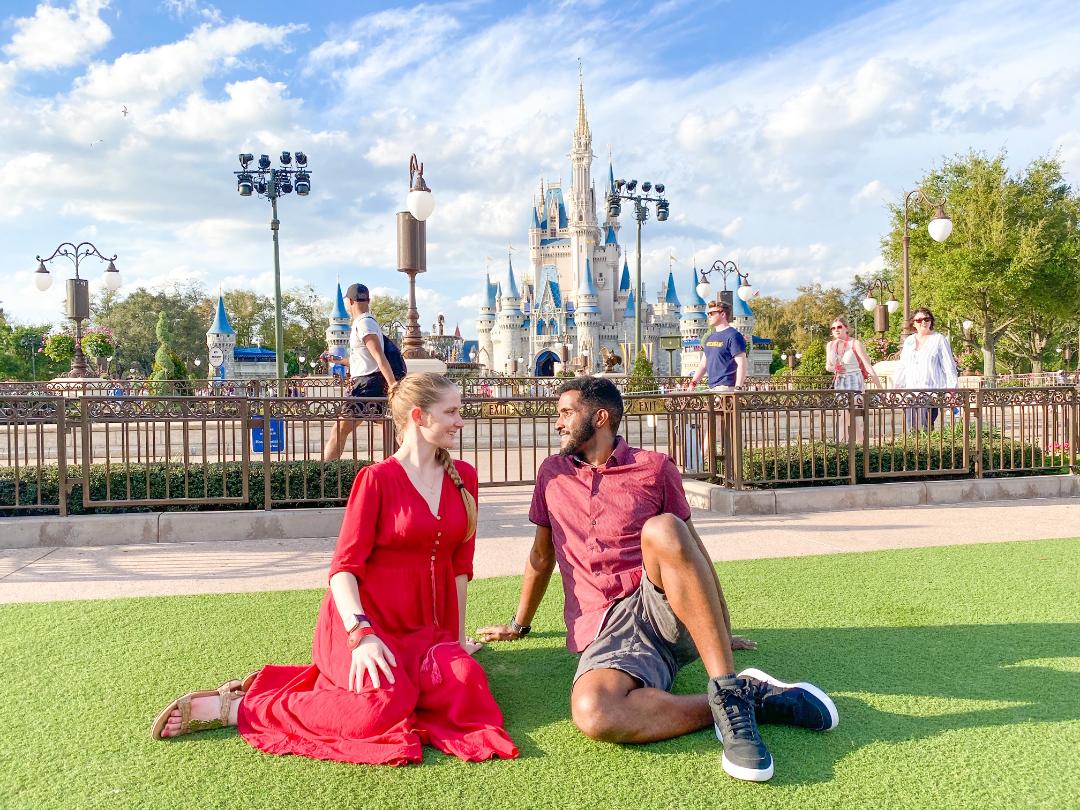 What Is The Disney Park Pass Reservation System?
Upon reopening Walt Disney World, the Disney Park Pass Reservation System is the way guests can reserve their spot in the parks due to the attendance cap in effect during the phased reopening in mid-July.
The DPPRS will not only allow Walt Disney World guests to rebook their vacations, but it easily links to your My Disney Experience account, where you are able to find wait times, park maps, and other useful information while visiting the Disney Parks.
If you previously booked a vacation package, your ticket eligibility goes hand in hand with your package travel dates. If you are interested in changing the date, you are welcome to modify your vacation package dates. The good news is the Disney park pass seems to still have high availability, even with just days before they plan to reopen.
This app is ESSENTIAL during your stay, as it also offers card-less payment and mobile food ordering to limit contact!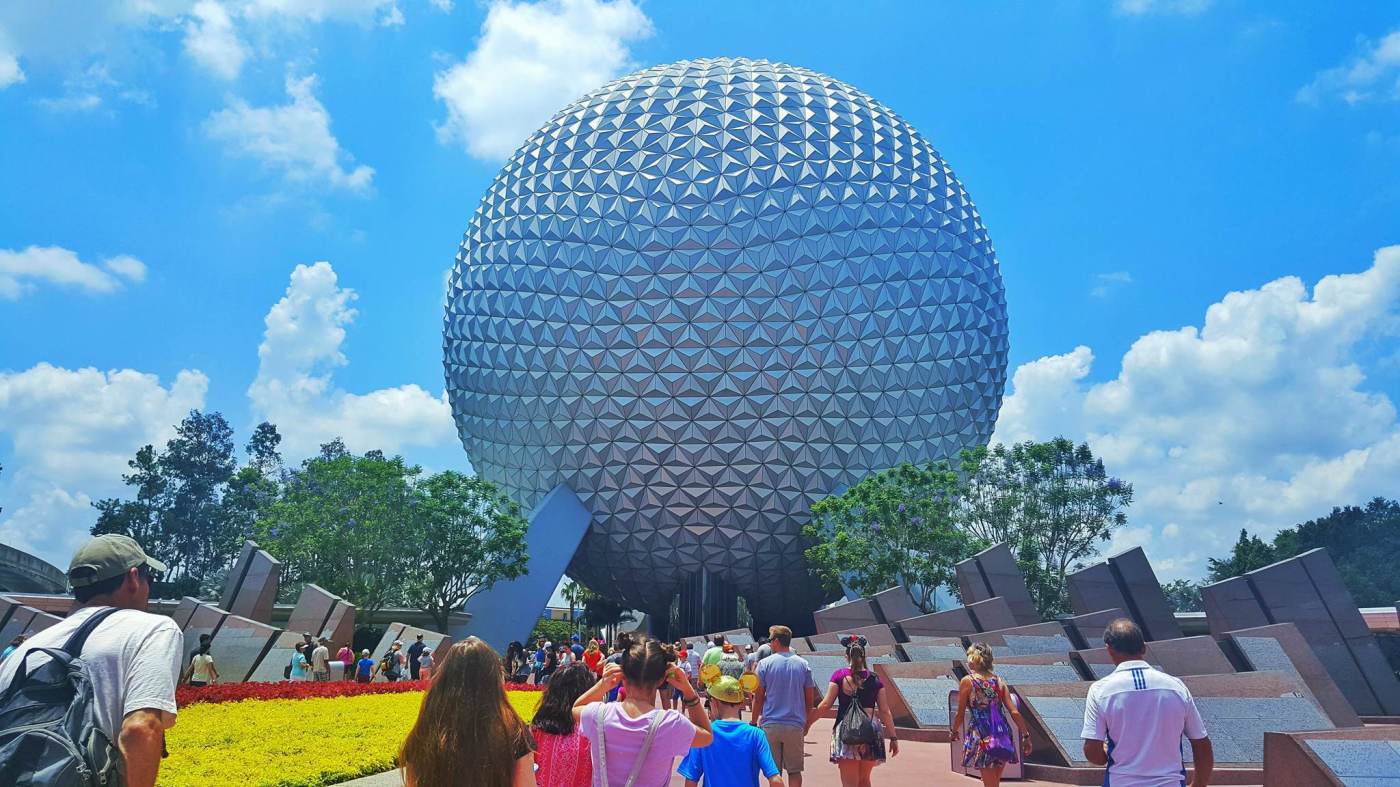 How Long Will Disney Require The Park Pass Reservations?
As of right now, Disney will be using the Park Pass Reservation until September 26, 2020. There is no way to know what the future holds, but it is safe to say that as long as Walt Disney World has a guest capacity, the feature will be in use.
Essentially, it all depends on just how busy the parks are. Some Disney World guests may want to be the first ones there on opening day. Others may wait a month or two.
Until Walt Disney World reopens, there is no way to know for sure just how busy they will be. As mentioned earlier, Disney projects using the DPPRS until September 26, 2020. They plan to resume ticket sales in late summer 2020 for 2021 dates ONLY.
However, with rising COVID-19 cases across the country, it's anyone's guess just how long certain restrictions will go on, especially in a theme park like Walt Disney World where the max capacity in the Magic Kingdom alone is around 100,000.
How Do I Get A Disney World Park Reservation?
To begin, we suggest checking the availability calendar here. This feature is broken into three sections: Theme Park Tickets guests, Disney Resorts Guests, and Annual Passholders.
NOTE: If you have a resort stay, regardless of the fact that you're also a passholder, you are considered a "Disney Resort guest," and must choose that option.
As mentioned before, Walt Disney World is currently not selling any tickets for 2020, therefore this feature is only for anyone who has a park ticket for a 2020 date or is an annual passholder. Needless to say, if you vacation was cancelled this year due to COVID-19, you can find solace in the fact that you get first dibs at rebooking sometime this year!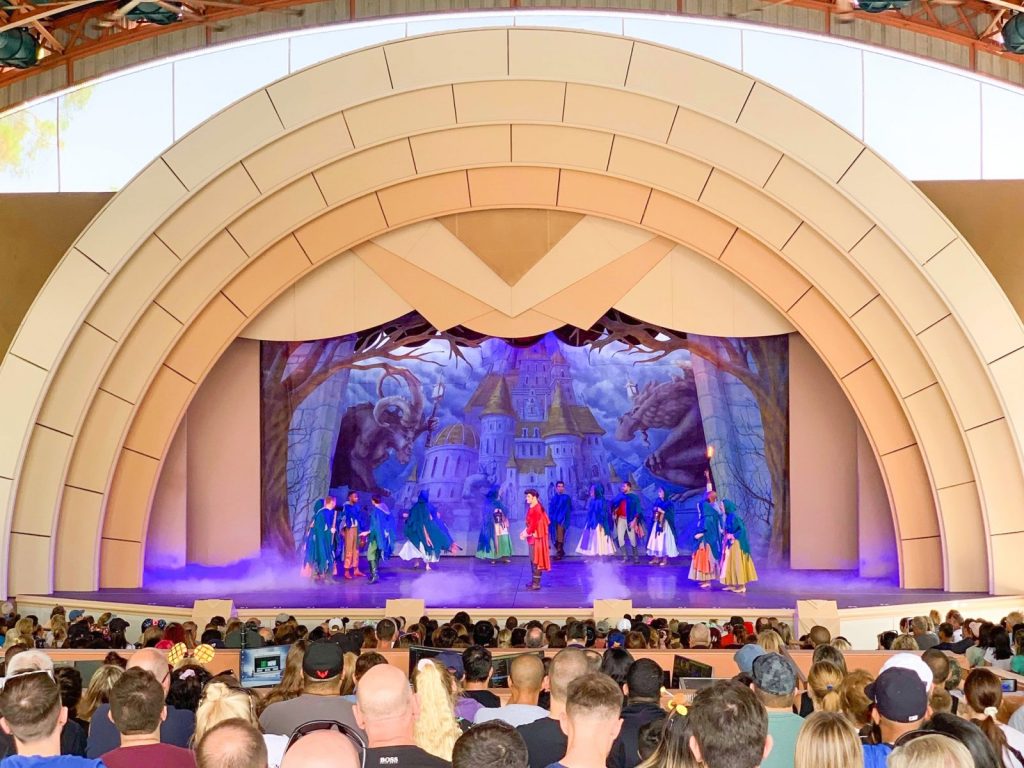 How To Book Your Disney Park Pass Reservation
Before booking your reservation, there are a few things to be checked off before you can access this feature. First, log into My Disney Experience. You must do this on a web browser, as opposed to using the app.
Next, you must link your ticket to the park to your My Disney Experience account. Be sure to confirm your hotel reservations are accurate as well before you begin to book your reservation.
Finally, go to the parks reservation page and click through to make your Disney Park Pass Reservation. You will want to add your party of family/friends. You can do this from the "Disney Park Pass System" link on the drop down menu shown below.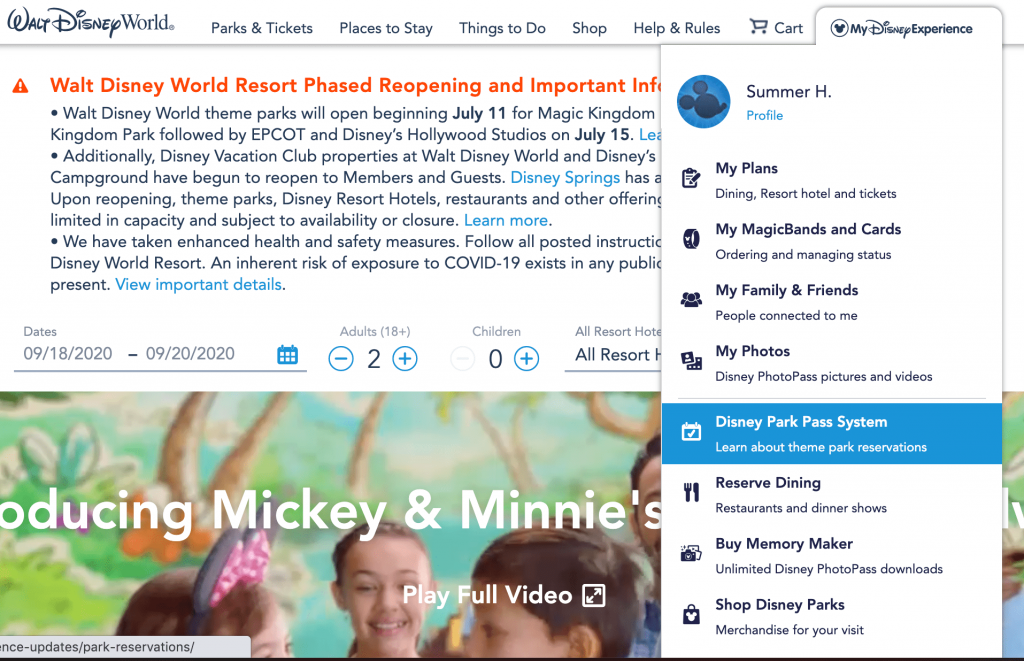 Here, under "Create Your Party," you can work on adding the friends and family you are vacationing with. The MyDisneyExperience app is so handy for trips to Walt Disney World because it allows you to keep track of your fast passes and reservations, keeping you nice and organized for your trip. Though you must utilize the DPPRS through a web browser, once you are booked, you can review your plans right from the app on your phone!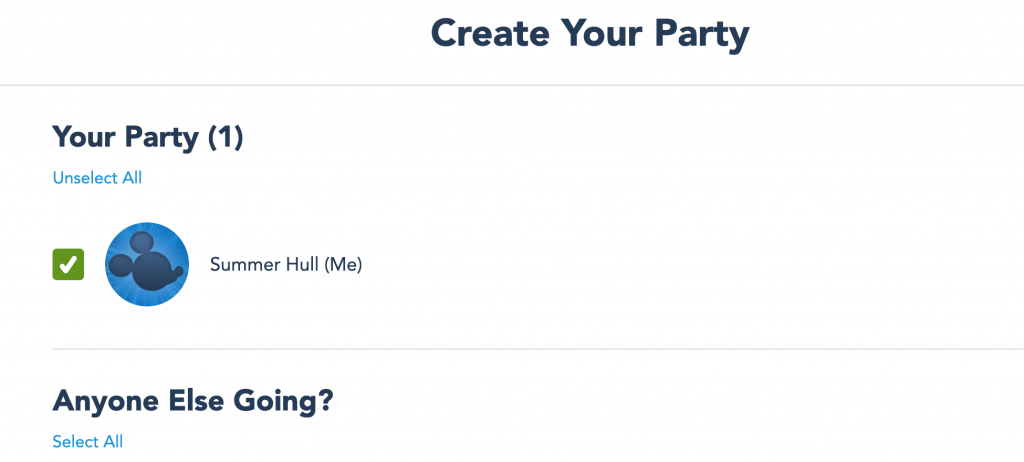 Once you have completed adding your party, you may begin booking your actual reservations. Here is a quick step by step to guide:
Step 1: Select A Date
You will see a calendar on the screen with gray, green, and yellow markings to indicate park availability; gray, meaning no parks are available, yellow meaning some are available, and green, meaning all are available.
As you can see below, depending on the date, the green check will indicate which parks are available. In this scenario, Disney's Hollywood Studios is not accepting reservations for the selected date.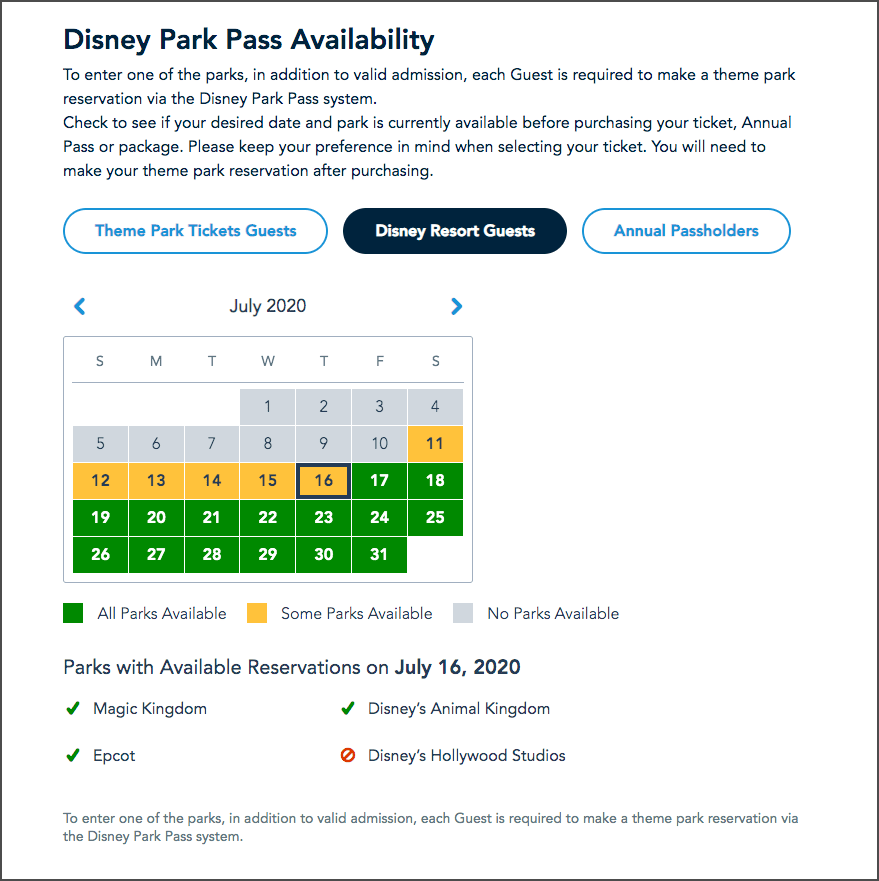 Step 2: Select A Theme Park
Once you select a date, you will be able to see which parks are available for that specific date. As mentioned before, green means all four parks have availability. That being said, it never hurts to choose a date marked in yellow, so long as the park you're interested in not the one sold out for that day!
As shown below, Epcot and Disney's Hollywood Studios are not available on this specific date. However, Magic Kingdom and Animal Kingdom are!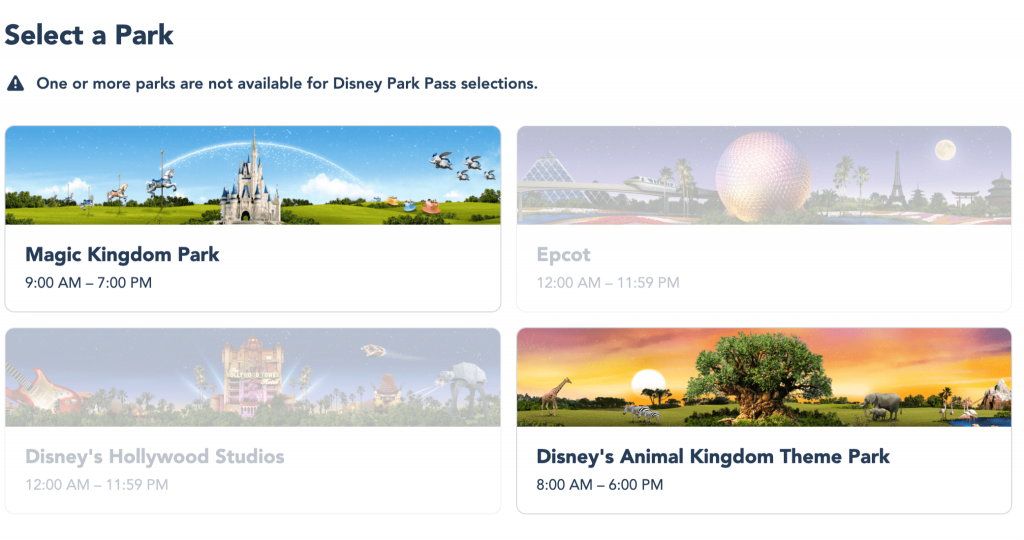 Step 3: Select A Time
As you select your theme park, you will notice the time slots below the park name. Luckily, as of right now, it seems as though the time frames are the normal park hours. You are prompted to choose a time frame for the park and told to show up at any time during these hours.
Keep in mind, there is no park hopping for the time being! Therefore, once you choose a park, plan on spending the majority of the day there!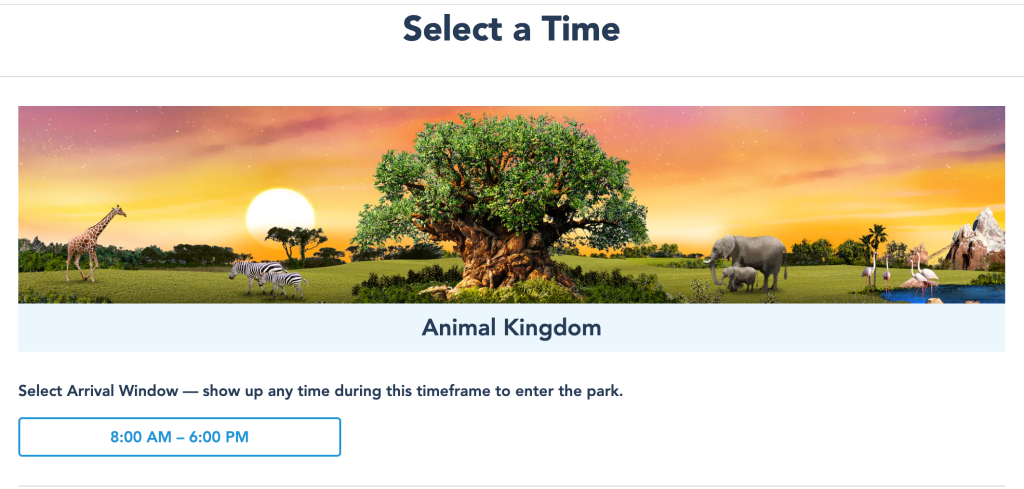 From here, you are set to review and confirm your plans! After confirming and agreeing to the terms and conditions along with the COVID-19 liability waiver, your reservations will be shown under My Plans on My Disney Experience online AND on the app. From here, you can also cancel your reservation if need be.

There you have it! It's very simple!
Tips For Reserving As An Annual Passholder
As an annual passholder, it is important you know you may only hold up to three reservations at a time. You can make a reservation for the length of your hotel stay, if and only if you have a reservation at a Disney hotel.
However, as of recently, there were reports of Disney Annual Passholders not being given the option using the Disney Park Pass Reservation System to stay more than the three days they originally had plans for. We assume Disney will sort out this issue soon.
Though somewhat vague, Disney also mentions on their site, "Some pass benefits and features will not be available during periods of limited capacity." We presume we will hear more details as Walt Disney World reopens, as we are all figuring this out together.
For more information on becoming an Annual Passholder, check out our post HERE!
Disney also has a page on their website with more details on annual passholders using the Disney park pass.
Though the restrictions being set on the happiest place on Earth are sad, they are definitely worth it if it means Walt Disney World can reopen after the last few months of closure! As my favorite mouse likes to say, "See You Real Soon," Disney World!!!