There are tons of Disney secrets hidden throughout the Disney parks. Some Disney secrets, like hidden Mickeys, are ones guests are supposed to know and get excited about. But there are also quite a few Disney secrets that guests aren't supposed to know about that we're sharing below!
Piecing together these secrets at Disney World can be part of the magic! Will you understand how Tinker Bell flies? Or maybe you'll find Aladdin's lamp in a lost and found! (He's always losing that lamp, isn't he?) Keep reading to learn which Disney secrets you should keep your eye out for!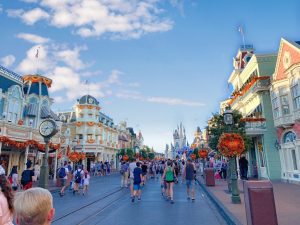 18 Hidden Disney Secrets You Aren't Supposed To Know About 
Tinker Bell Really Does Fly!
Towards the end of the Once Upon a Time night show at Magic Kingdom, you'll see Tinker Bell soaring through the night sky! While the little ones just revel in the magic of a fairy flying in their presence, the adults likely try to figure out how exactly she flew through the sky. Well, the cat's out of the back, because we're about to reveal this Disney secret.
Tinker Bell is actually given a firm push from a window of Cinderella's Castle! This allows her to "fly" across the night sky on a thin little wire! However, if Tink isn't given a hard enough push, she actually won't make it to the end. So Tink will have to use her arm strength to pull herself to the end of her flight path! Because of this requirement, cast members who play this park need quite a lot of upper body strength. In this particular situation, Tinker Bell is often actually played by a man!
Make sure to check out our list of fun hidden things to do at Disney!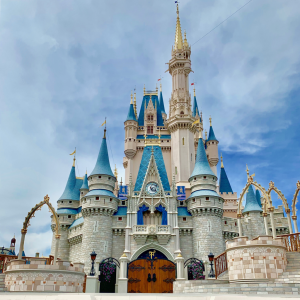 What Disney Secret Is Hiding On The Be Our Guest Ceiling?
If you do happen to snag a reservation at one of the best Disney restaurants, Be Our Guest, there are so many little details you should enjoy. There are gargoyle statues guarding the entrance, the mosaic of Belle and the post-transformation Beast, and the iconic rose in its class dome. But you certainly can't miss the painted ceiling. The heavenly ceiling is filled with little baby cherub faces – which just so happen to be the baby faces of the Disney Imagineers!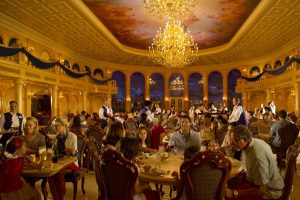 Disney Secrets For Buzz Lightyear's Space Ranger Spin
Everyone wants to be the best in their car for Buzz Lightyear's Space Ranger Spin – if not the best of the day, month, or year. After all, who doesn't love a little competition? While the typical tips and tricks are to shoot far targets instead of close ones and to target moving targets instead of still ones, most people have already figured those out. If you're here, you're looking for the real secrets of Disney World.
Some of the biggest point gains can be obtained as you are leaving the first room. Usually, your car will automatically spin in a certain direction. But don't just stay there – spin your vehicle all the way around, so that way you are facing the opposite direction! Then, your goal is to shoot the orange robot's arm, the back of the buzz saw, or the back of the orange robots (that last one will earn you up to 100,000 points per hit!).
And lucky for you, we're not quite done sharing our tips for Buzz Lightyear's Space Ranger Spin. In the most memorable room, the one with the huge Zurg, try to shoot the target that is just below him. If you hit it, that's another 100,000 point in the bag!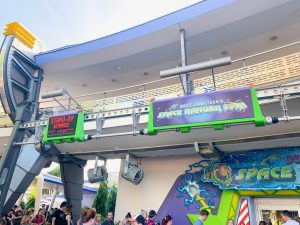 Open Up Casey's Corner With An Opening Pitch
Casey's Corner is known for its classic American food. With half a dozen variation of hot dogs – including one that's been made into nuggets – it serves up quite the iconic theme park food. And theme park food just so happens to nicely line up with the food served as sporting events.
Each morning, because Casey's Corner opens its doors, one lucky small guest can help to participate in Casey's Corner's opening ceremony. One child is chosen to throw an opening pitch with a cast member and help lead the crowd in a rendition of the popular baseball song, Take Me Out to the Ball Game. Then, the little helper will be rewarded with a box of Cracker Jack – and so will a bunch of other people in the hungry crowd!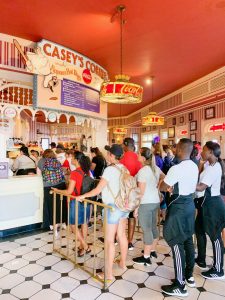 Wakey, Wakey Tinker Bell!
We all know that Tinker Bell is a busy little fairy. She's always tinkering, spreading pixie dust to her human friends, and helping Peter Pan and her fellow fairies out! After all that hard work, we can't blame her for needing to sleep in a little bit.
Because Tinker Bell usually sleeps in until after the park opens, you can actually  go and wake her up! Each morning, the first person who enters Tinkerbell's Treasures in Fantasyland and asks to wake her up will get to do just that! This little morning ritual is such an exciting experience for little fairy-lovers filled with Disney magic, and even a glimpse of Tinker Bell.
Do note that this activity has gotten more and more popular, so if you want to have a chance to do this, be sure that you're at the park the second it opens! And be sure to have a game plan on how to get to Tinkerbell's Treasures as quickly as possible.
The Terrifying History Of The Tower Of Terror
The Tower of Terror is the one of the scariest rides at Disney World. But did you know that this famous ride has a terrifying history of its own?
Before guests hop on this adrenaline-pumping ride, riders watch a pre-experience video through which they are told about a group of guests who mysteriously disappeared after lightning struck the hotel. However, little did you know, there's a little nugget of truth in that story. While the Tower was being built, it was actually struck by lightning! What a crazy Disney World secret!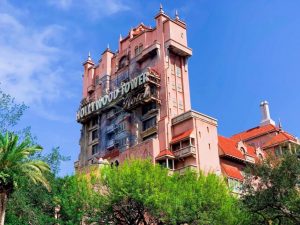 The Tree Of Life Has Some Disney Secrets Too
In comparison to the other Disney World park icons like the Epcot ball and Magic Kingdom's Cinderella's Castle, Animal Kingdom's Tree of Life doesn't seem to get as much recognition. That's honestly a shame, because there are so many amazing details on this singular tree!
First of all, did you know that the Tree of Life doesn't have real leaves? There are over 100,000 artificial leaves on the Tree of Life that had to be added by hand. What a job for the Imagineers! There are also 300 hundred different animals that have been hand-carved into the tree, including flamingos, iguanas, lemurs, kangaroos, and so much more!
As if that wasn't enough, the Tree of Life is surprisingly built on an oil rig, which is an interesting fun fact. Plus, there's actually a theater hidden within the Tree of Life's root system. There, you can watch an 8-minute video with your favorite characters from A Bug's Life, including Flik and Hopper, and learn about the bug-eat-bug world.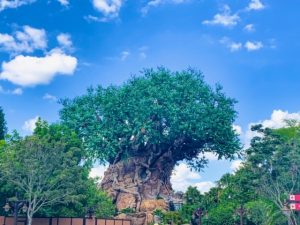 The Spooky Secrets Of The Haunted Mansion
 Disney Imagineers had a blast hiding tons of Disney secrets in the dark, spooky realms of the Haunted Mansion. There are a lot of spooky shadows, odd bats, and hidden Mickeys (and Minnies and Donalds). But the first real Disney secret is that the Haunted Mansion ride at Walt Disney World actually stretches up. It's not an elevator that takes you up, as in Disneyland California or Disneyland Pairs. It stretches.
There's also a tribute to Mr. Toad in the Haunted Mansion. As many Disney fans know, Mr. Toad's ride was replaced by The Many Adventures of Winnie the Pooh. Not only did Mr. Toad get a tribute at that ride, but he's also buried in the pet cemetery at the Haunted Mansion.
Then, there's the invisible piano player whose shadow is still somehow visible, the hands on the clock that are actually fingers, and the invisible horse leading the carriage in the courtyard. And I'm sure there are more Disney secrets hidden in the Haunted Mansion that haven't been figured out yet.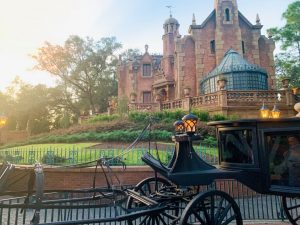 Eavesdrop On An Old-Fashioned Telephone
In the Main Street Confectionary at Magic Kingdom, you'll find an old-fashioned telephone mounted on the wall. If you pick it up and listen, you can eavesdrop on a conversation between a mother and her daughter named Annie. You'll even be able to hear another nosey eavesdropper named Miss Klump listening in on their conversation as well. The cashiers at the Main Street Confectionary will tell you that these are the tenants living above the store!
Stay A Bit After The Park Closes
Once the park closes, most people rush out of the park. After all, it's late, and they need some sleep. But if you hang around for an extra thirty minutes or so (outside of Magic Kingdom's gates), you'll be able to see a "kiss goodnight" from Cinderella's Castle.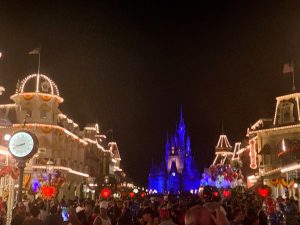 The Little Treats Of Walt Disney World Railroad 
Because Walt Disney himself was a train enthusiast, it only makes sense that this underrated Disney attraction is filled with some of the best Disney World secrets.
First of all, if you board at the Main Street station, there is a shelf with belongings waiting to be picked up. Find treasures like Aladdin's lamp and other famous Disney characters' belongings! (You'll likely need to ask a cast member to help you find this shelf.)
And that's not all you can do at the Main Street station! Scattered around the platform, there are antique mutascopes (the gadgets where you spin a wheel and flip through a series of pictures to create a movie.) While most people assume these are just for decoration, they actually work! Just pop a penny in and get a nearly-free movie!
The one last Disney secret of the Walt Disney World Railroad actually happens on the train. If you take a seat in the last car (the one with the platform in the back), you could be asked to be a guest conductor. You'll be able to announce "all aboard!" and the names of each of the lands that you pass into the microphone for all of the other riders to hear.
Pretend To Be The Captain On The Liberty Square Riverboat
Most Disney guests don't realize this, but, if you simply ask, Disney will try very hard to make your request happen. After all, isn't that part of the Disney magic? One example of this is on the Liberty Square Riverboat. If you simply ask to ride in the captain's room, you'll probably be able to do so. You'll even receive an official Liberty Square Riverboat captain's certificate!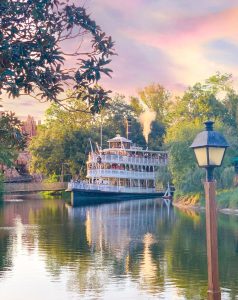 Soak in the Sun, Like The Solar-Powered Trees
As implied by the name, Tomorrowland is meant to showcase the world and the technology of tomorrow. One small element of Tomorrowland is the palm trees. Most people probably notice that they are made of metal. But what most people don't know is that they actually collect solar energy during the day and close up at night!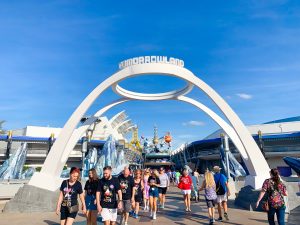 The Futuristic Trash Removal System
 Although not confined to the boundaries of Tomorrowland, Magic Kingdom's trash removal system is certainly futuristic. First of all, Walt Disney did a whole study where he found that people wouldn't hold their trash for more than thirty steps. So there is a trash can every thirty steps at Disney World.
The most futuristic part of Disney's trash removal system is actually much cooler than wisely-placed trash cans (although that was a very smart decision). When you throw your trash away in the trash cans at Magic Kingdom, it doesn't just sit there. It is actually sucked away at a whopping 60 miles per hour through an underground system of vacuum tubes. It is sent to a compactor before it is removed from the park. Sounds like something out of a sci-fi movie, right?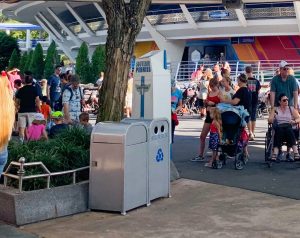 Disney's Secret Underground Level
Have you ever wondered how Disney cast members make their way through the park when they're not in costume? At Magic Kingdom, they're able to pull off this seemingly magical occurrence through a secret underground level. I mean, as if the futuristic trash removal system wasn't enough sci-fi for one park!
These underground tunnel systems allow cast members to move around the park without any of the thousands of guests above knowing! In these tunnels, there are costume changing areas, cast member break rooms, and corridors that connect every single land in the park. It's basically a completely different world down there!
While you may think that the only way to access these tunnels is to become a Disney cast member at Magic Kingdom, there is another way! The Keys to the Kingdom Tour gives guests access to this secret area without having to be on Disney's payroll.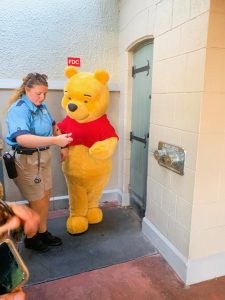 The Disney Secret Suite
What may be one of the coolest Disney secrets of all time is the secret "royal" suite inside Cinderella's Castle. This suite was original built as a getaway for Walt Disney and his family. Now, it's only available to a very select group of special guests and some extremely lucky contest winners. In other words, money can't buy you everything, including this magical secret suite. But perhaps with a little luck, you'll be able to!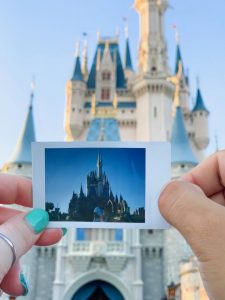 Avoiding Lines? Sign Me Up For This Disney Secret!
 Waiting in line is probably the least enjoyable part about Disney. But there are occasionally some ways around the long lines. For example, if you get to Animal Kingdom right when the park opens (or soon after), you can avoid the lines by heading into the Rainforest Café gift shop on the left side of the park's entrance. One you cross through the gift shop, you'll enter a part of the park with absolutely no crowds (and no lines). Pretty magical, right?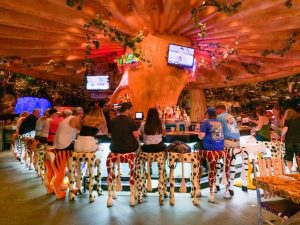 Wait, Those Bones Are REAL?
If you've ridden on the Pirates of the Caribbean ride, which is objectively one of the best rides at Magic Kingdom, you know that there are skeletons all over the place. But did you know that some of those bones are real? When Disney was building the ride in the late 1960s, the Imagineers thought their bone replicas weren't up to par. So, to fix this problem, they reached out to the UCLA medical school, who was able to arrange for Disney to have actual human skeletons for their ride.
Today, the vast majority of the real skeletons have been removed. Once exception to this is the skull and crossbones on the headboard. Those are still human bones.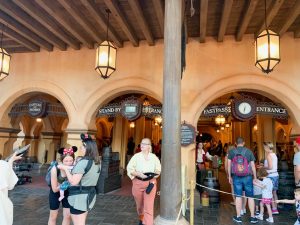 I hope you enjoyed learning about some of the coolest Disney secrets! Which of these secrets at Disney World is your favorite? What other Disney secrets do you know about? Let me know in the comments! As always, if you have any questions, I am more than happy to answer them for you! Thank you for reading!