Are you looking for the best Disney Magic Band secrets and tips? Then look no further! We've used MagicBands A LOT, and we know great tips to make sure you're getting the most out of your bands as well as your trip.
We want to help you decide whether Magic Bands are right for you and your family, and we want you to be sure you know everything that they do. Keep on reading to find out all about MagicBands, the new MagicBand+, and all the perks of having one as a Disney guest.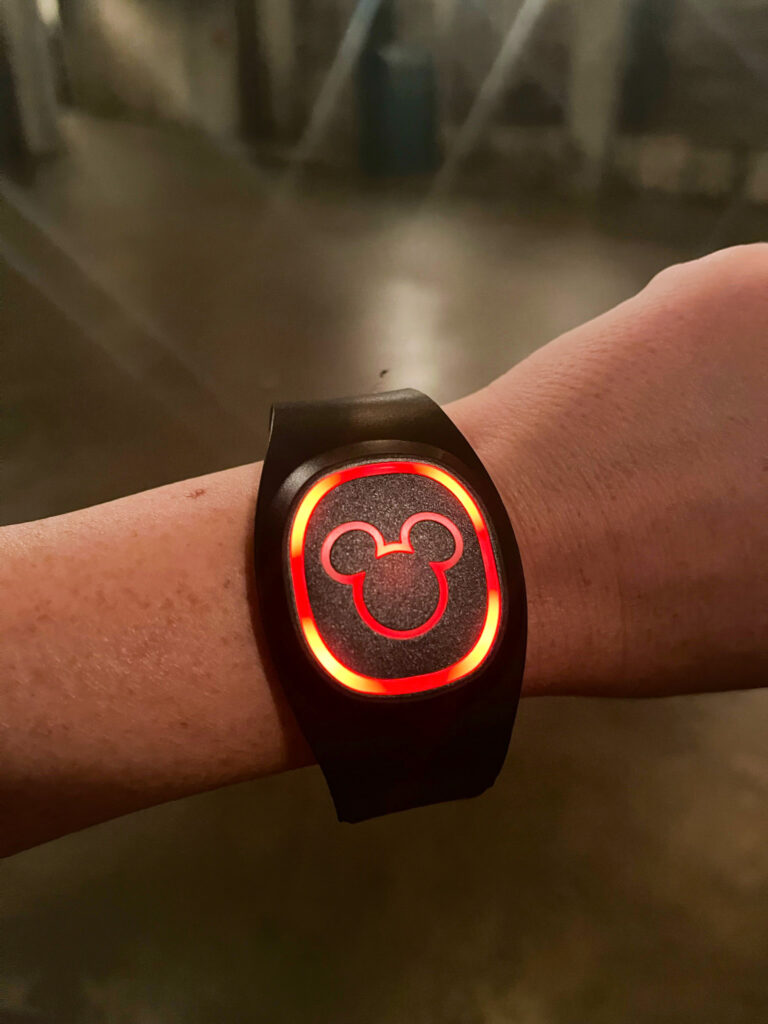 What are Magic Bands at Disney?
The original Disney Magic Bands launched in 2013, with a second version – the 2.0 – released in 2017. In 2022, the MagicBand+ was released with even more technological updates.
Disney Magic Bands are wearable pieces of technology that you can use during your Disney trips. They are essentially Disney bracelet passes. They are made of flexible plastic and are completely waterproof.
Inside of each band is an RFID chip that allows your band to interact with Disney technology, as well as it allows for the use of location services in the park.
The MagicBand 2.0 is a non-chargeable band, and they are less expensive than the newer MagicBand+.
The MagicBand+ is the newest version, and it is more interactive than any of the versions that came before it. They come with a charger – similar to a smartwatch – and have lots of interactive features for use in the parks (more about this later!).
Just a note: the MagicBand+ is the only accepted MagicBand at Disneyland. Both versions can be used at Walt Disney World.
How to Get Disney Magic Bands?
There are several ways to get Disney Magic Bands prior to your trip to Disney World or Disneyland.
Prior to your trip, if you are staying on Disney World property, you can customize and order your bands at least 11 days prior to your trip in order to have them arrive in time at your house.
If you order and customize them 6-10 days before your trip, you will be able to pick them up at the front desk upon arrival at your resort.
While in Disney World, you can buy many different types, colors, and both versions of Disney MagicBands at several shops on property. This is a great choice if you're looking for a better assortment, or you want MagicBands specific to certain parks, seasons, or events.
If you've been to Disney World before, you can also reuse any MagicBand 2.0 or MagicBand+ that you've used before. You can check the battery of MagicBand 2.0 on the My Disney Experience app, and you can be sure your old ones work. Reusing previous MagicBands is a great way to save money, and another way to get more value from your bands as well.
And, of course, you can always purchase them before your trip at ShopDisney.com. Or even sometimes on Amazon.com.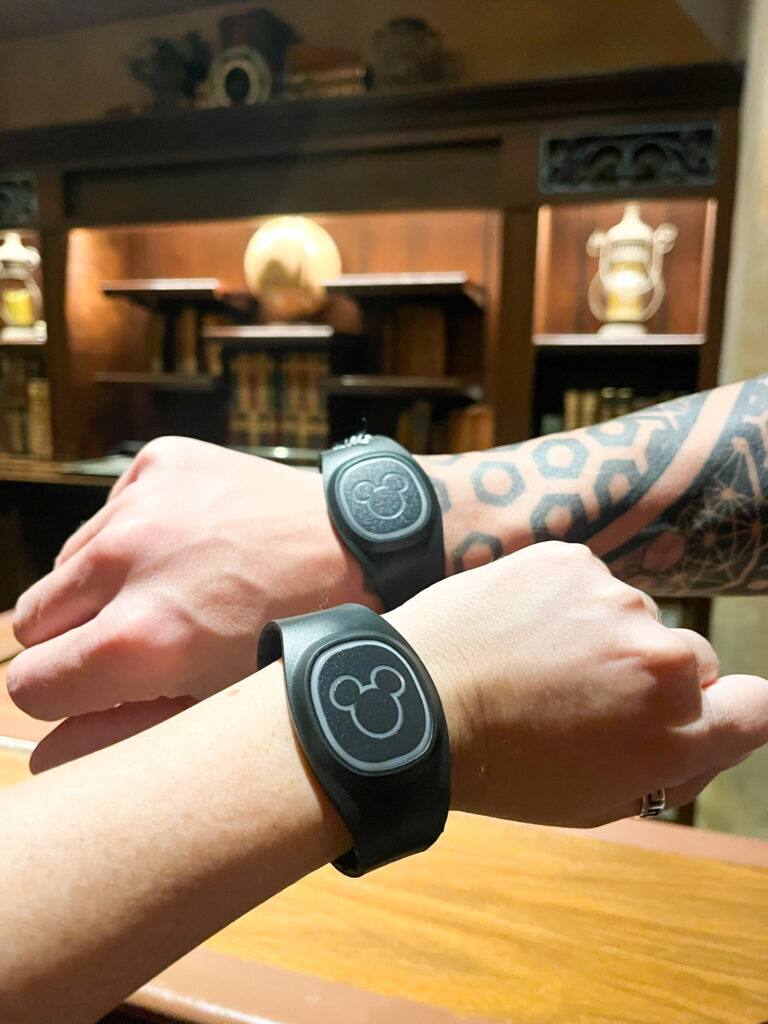 How Much Do Disney Magic Bands Cost?
The Disney Magic Bands that are the version 2.0 start at $19.99 and can up in price from there. Specialty ones or limited edition ones can be $59.99 or more.
The newer MagicBand+ costs $34.99 for the plain colors, and the Disney MagicBand+ cost $44.99.
Are Magic Bands Free for Resort Guests?
Disney World no longer offers free Magic Bands for resort guests, but they do offer a discount program. There is a pre-arrival discount if you stay on Disney property. You can do this on the Disney website or through the My Disney Experience app.
If you choose a MagicBand 2.0, the discount for the pre-arrival program is anywhere from $10-$15 off per band for the people in your party.
There's a $10 discount of select MagicBand+ for the pre-arrival program.
Annual Passholders for Disney World can also take advantage of the discount program, even if they don't have a resort stay planned. The Disney Magic Band price for the Annual Passholders is the same for the pre-arrival discount as other resort guests. A passholder can order a Disney Magic Band 6 days prior to a theme park reservation, to receive the discount, and this discount can only be used once during the year of the annual pass.
Do Not Pack Magic Bands in Checked Luggage
If you are flying into Disney World or Disneyland, don't pack your MagicBands in your checked luggage. You want to be sure that you are able to access your Magic Bands upon arrival. This will make it easier to be able to go straight to your room and open the door, or even go straight to the parks!
This could also create a lot of problems in case your luggage gets lost or misplaced. You don't want to have to buy all new Disney Magic Bands and have to link everything to your account again.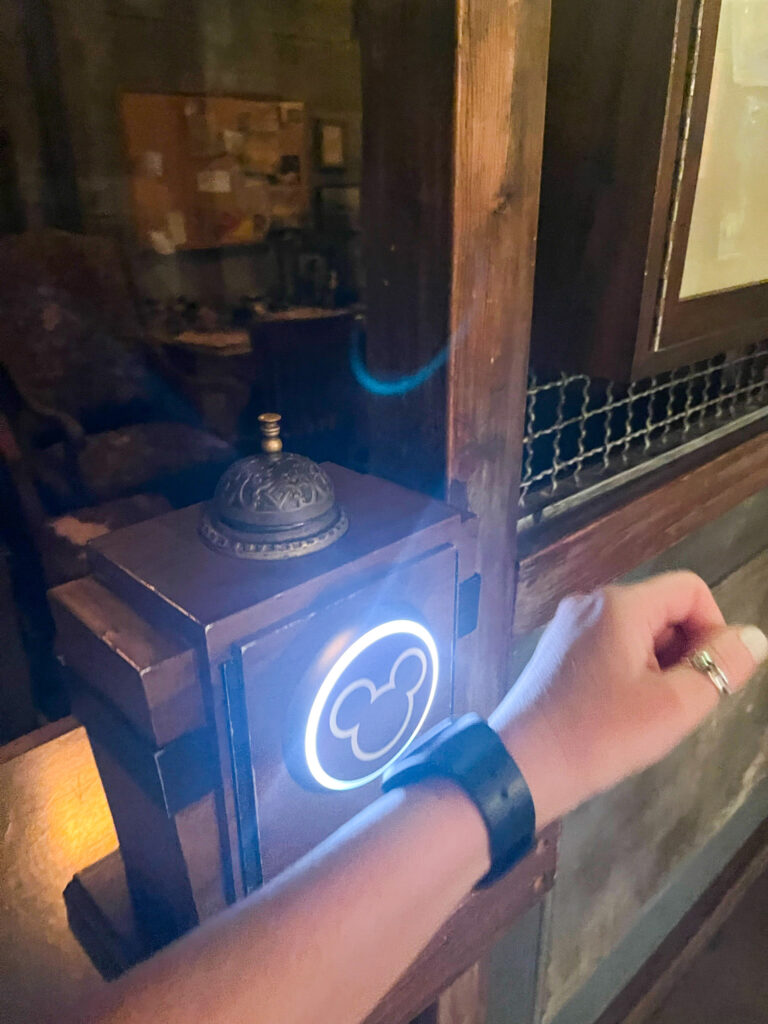 Are MagicBands Worth It?
If you're staying on Disney World property, then the answer is yes! Using your Disney Magic Band allows you to get into the parks, get into your resort room, make purchases of food and merchandise without a wallet and purse, and even more!
Having a Magic Band while in Disney makes it easier for those staying several days, for Annual Passholders, or those looking to travel light while in the parks.
Magic Bands are Customizable
There are several ways to customize your Disney Magic Bands, but the easiest way is to buy a color or design that you like.
You can also customize your Magic Band with stickers, nail polish, or skins that fit over the band. Skins are easy to find on Amazon or Etsy.
With the Disney MagicBand 2.0, you can pop out the middle puck – the section with the Mickey head on it – with a small screwdriver. You can then mix and match the pucks and bands, or even put the puck onto a holder. Disney sells both MagicBandits and MagicSliders that can be attached onto clothing, bags, or smartwatches. You can also find decorative sliders on Etsy as well.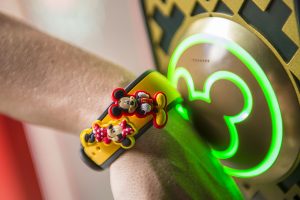 Wear a "Keeper" for Added Safety
If you're scared that you or your child may lose your Disney MagicBand, you can buy "keepers" or "locks" that help hold them on. These locks go around the arms of the band – where the snaps are – to help them from coming undone.
These are also known as "Bitbelts," and can be purchased from Etsy or Amazon.
Magic Bands are One Size Fits All
Both the Disney Magic Bands 2.0 and MagicBand+ have an outer band and inner band. If you push the inner band away and swiftly pull it away, you'll be left with a smaller band.
The smaller section is great for children and those with small wrists. This will make sure they fit all wrists more securely.
Using Your Magic Bands at Disney Parks
When it comes to Disney World especially, there are so many ways to use your Magic Bands at Disney Parks, and once you see all it does, you'll be able to better decide whether buying one is essential for you. In order to use the Magic Bands at Disney, you will tap the puck – the middle with Mickey – onto Mickey head touchpoints around the parks, or on the pin pads at shops and restaurants.
Resort guests can use them to get into their resort room, access the pool at their resort, pay for purchases for food and merchandise while in the parks or at Disney Springs. Tapping your band to pay for something will charge it back to your resort room.
You can use them as your theme park tickets for all 4 Walt Disney World parks and the two water parks, Blizzard Beach and Typhoon Lagoon. You'll also use your Disney Magic Band to redeem Lightning Lanes and Individual Lightning Lanes while in the parks as well as to scan in for a virtual queue return time.
You will use your Magic Bands at Disney to tap in for dining reservations – especially those that are at resorts you're not staying at.
Not only will you use your Disney Magic Bands to load photos onto your PhotoPass account after having your photo taken by a PhotoPass photographer or tapping to get a ride photo, but Disney also uses the RFID technology to get ride photos onto your account without having to tap.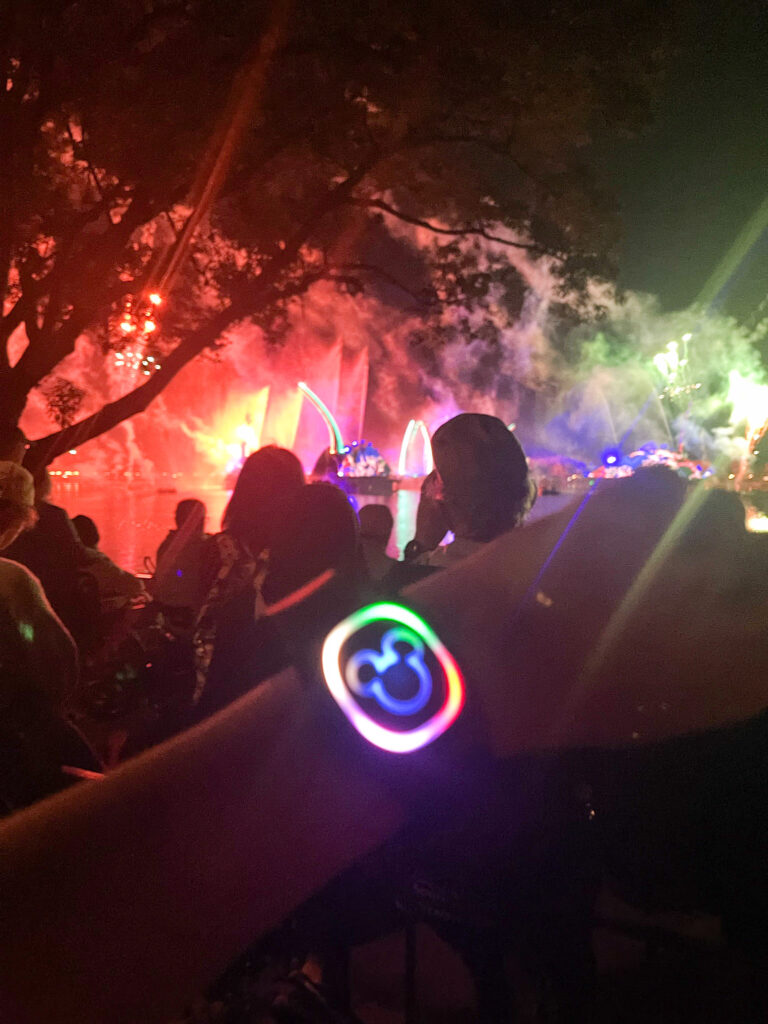 The MagicBand+ uses haptics and lights in order to interact with the 50th anniversary statues at Disney World, and to interact with the nighttime shows as well.
In both Disney World and Disneyland, you can the MagicBand+ to play Star Wars: Batuu Bounty Hunters in Galaxy's Edge. This is a fun interactive game that sends you around Batuu, playing as a Bounty Hunter and collecting characters.
Unfortunately, Disneyland only uses the MagicBand+ and many of these uses aren't applicable to Disneyland guests. MagicBands in general might be more practical for Disney World guests at this point.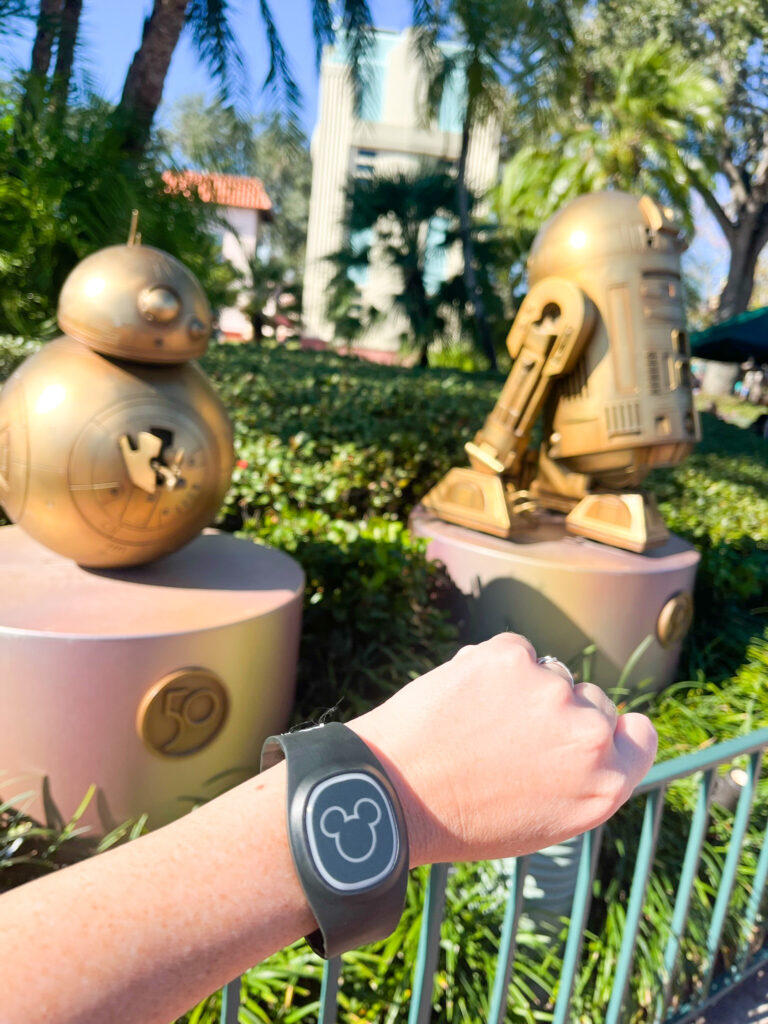 Are Magic Bands Secure?
Using Magic Bands at Disney are very secure and safe, and you really don't have to worry about them being misused in any way.
Magic Bands cannot be transferred to anyone else, so if lost, another person really cannot use it. In order to make a purchase with a Magic Band, you have to input the pin number that was created by the creator of the account. You also can't get into the park with a Magic Band without scanning your finger for a biometric screening.
If you do lose your Disney Magic Band, you should report it as lost at Guest Relations. They can deactivate it, and then you'll be able to get a new MagicBand and start all over.
If there are multiple people on your My Disney Experience account and are linked to your resort room, you can put a spending limit on the account so that no one goes overboard. This is great for families who want to give their children a little bit of freedom while on vacation but want to stay on a budget.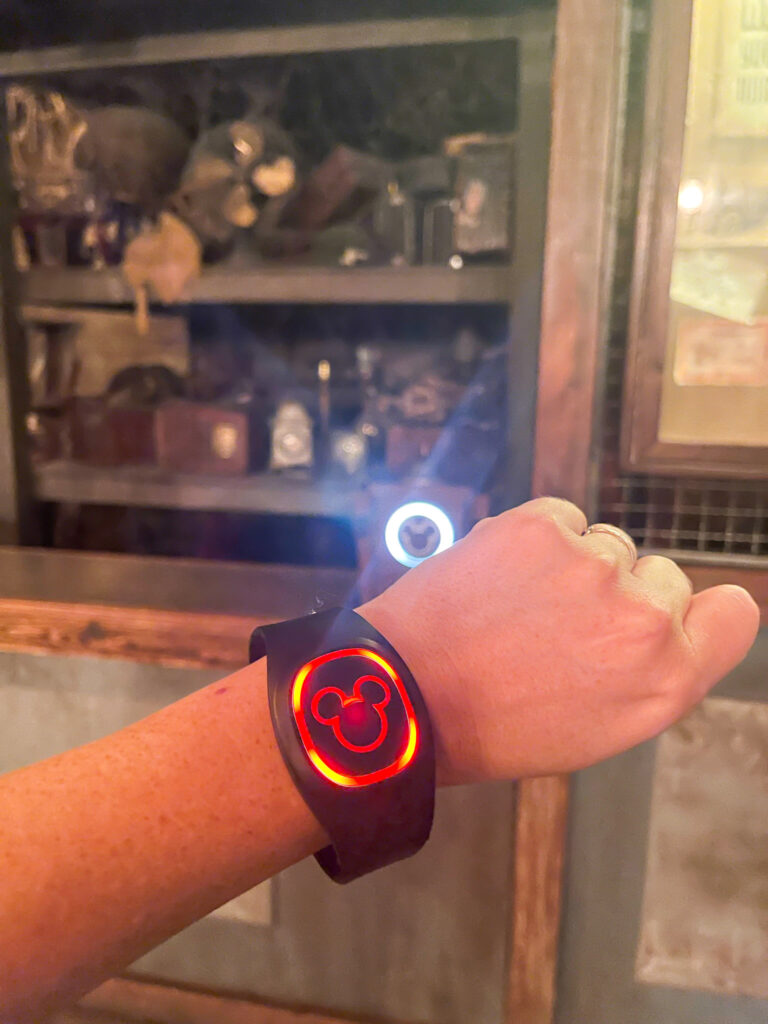 You can also make it so that only the adults on the account can charge purchases to the resort room as well. This keeps the money under your control and keeps kids from buying unnecessary things while in the parks.
One of the best security measures with the Disney Magic Band is how easy it is to use in the horrible chance that your child gets lost at Disney. Any Cast Member can scan the child's band, and not only will they get their name and be able to make the child feel comfortable, but they will get the access to your phone number, email, and resort so that they can contact you immediately.
You Can Use Your Phone Instead of a Magic Band
If Disney Magic Bands aren't for you or you aren't staying on Disney property, then don't worry! There are so many other ways to get in the parks. Using your phone might be just as easy as having a MagicBand.
If you have an iPhone, Apple Watch, or Google Pay-enabled Android phone, you can use the Disney MagicMobile Service. With this service, you can use your phone to enter the parks, connect PhotoPass photos to your account, gain access to virtual queues, charge purchases to your Disney resort room, check in for Lightning Lanes, and be able to use one device for an entire group.
If you're using MagicMobile with an Apple device, you can even use "Express Mode" so that you don't have to open My Disney Experience or unlock your phone to use the service.
To use the Disney MagicMobile Service, you do have to add all your tickets to My Disney Experience prior to theme park arrival and have activated the service.
You can also use your cell phone to unlock your Disney resort room, and you don't have to use the MagicMobile Service in order to do that.
How to Set Up Your MagicBand+
We want you to be ready to use your Disney MagicBand+ before you need to scan into the parks, so here are the steps to be sure that you are ready and your MagicBand+ is in working order:
Power on your band by pressing the button on the back, then tap your band onto your phone.
you'll be directed to either open the My Disney Experience app or to download it.
Follow instructions in the app to link the MagicBand+ to your account, assign it to a guest, and pair it to your phone. You will then use the app to make sure it is charged, and the band software is up-to-date.
link to your park tickets and reservations.
Just a note: you may have to charge your band and do a software update before your visit. Give yourself enough time before your park visit to do this!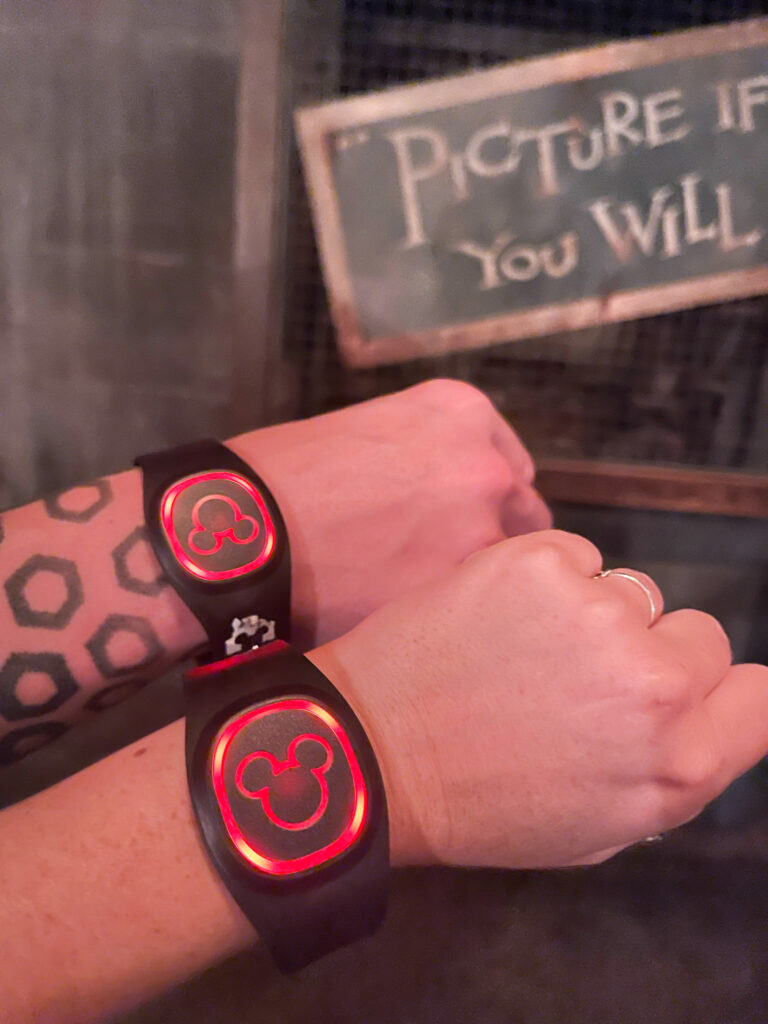 Favorite Magic Band Designs
We know that there are so many cute options and colors for Disney Magic Bands, and it's hard to choose one. You really can't go wrong with fun designs, whether it's a MagicBand 2.0 or MagicBand+. We have chosen a few of our current favorites and linked them for you to go shop!
Walt Disney World Map MagicBand+
This Disney MagicBand+ is so cute! It has a vintage style map of the Magic Kingdom as the print and would be a great band for those who love vintage Disney! Magic Kingdom fans won't be able to say no to this one.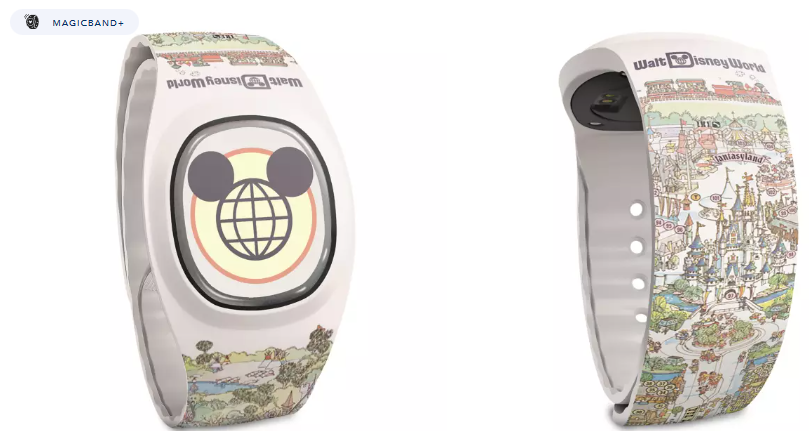 Winnie the Pooh MagicBand+
This MagicBand+ couldn't be any cuter with Winnie the Pooh carrying his "hunny pot" and surrounded by bees. Even the center design is a pot of honey, and kids and adults alike will love this whimsical band.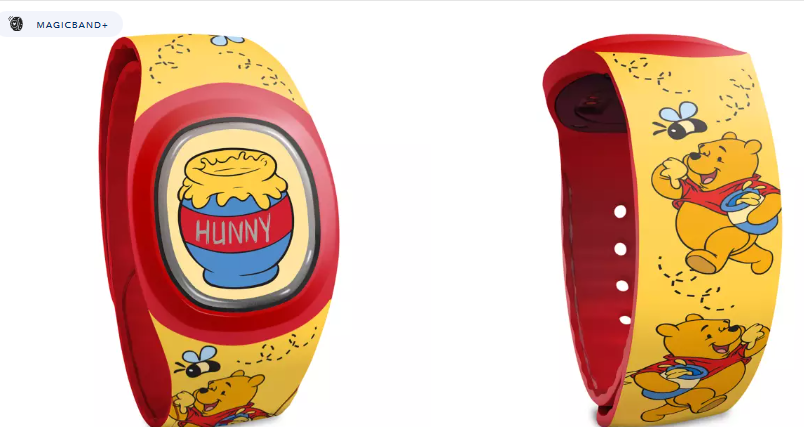 Black Panther: Wakanda Forever MagicBand+
This limited release MagicBand+ is perfect for Black Panther fans and lovers of the Marvel Universe. The center is the Black Panther helmet, and you can't go wrong with this powerful band.
Disneyland Marquee MagicBand+
We couldn't leave out Disneyland when it comes to finding a cute MagicBand+! This bright blue band has the iconic Disneyland sign on the arm, and the center is Sleeping Beauty's castle.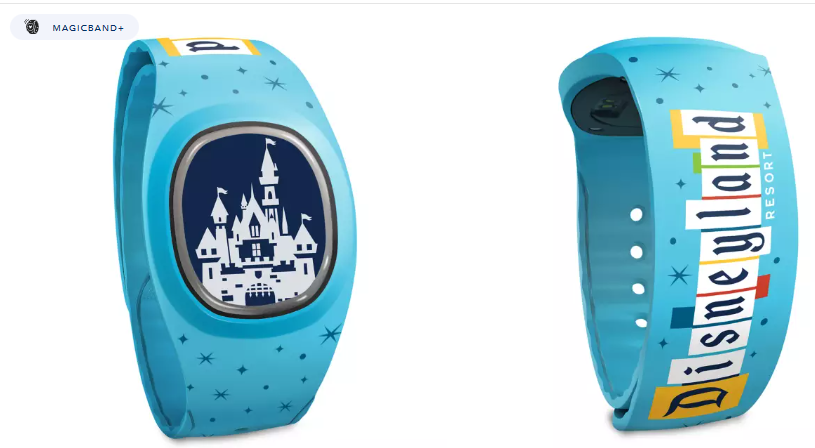 We hope this deep dive into Disney Magic Bands has helped you decide whether these are a must-have for you on your next trip. If you use MagicBands already, did you know these tips and secrets? And will you use any of them the next time you go?
Let us know in the comments!