When people think about Disney World, they might think about the parks, the resorts, the restaurants, and the merchandise. Planning a Disney trip can be incredibly stressful when it comes to picking out all of the things you want to do and see. Another thing you might want to think about when planning on which resort to stay at is what kind of pool you want to enjoy! Picking one of the Disney pools can be just as important as picking the resort itself!
There are lots of great Disney pools out there, and there are some not so great ones as well. You and your family might not even care about what kind of pool is at your resort and that's completely okay! However, for those swimming fans out there, the right pool can make your Disney vacation extra magical!
Each resort has something slightly different about their pool. We have picked the best pools at Disney based on their popularity, theming, features, scenery, and more! This list might help you pick between your top two resorts. There are some pools that are more suited for kids while others might be better for adults. It all depends on you and who you are traveling with!
We want to make sure you get the most out of your Disney vacation! A day at the pool can be just as fun as a day at the parks! We hope you are able to take a day to just relax by the pool and enjoy the ambiance around you.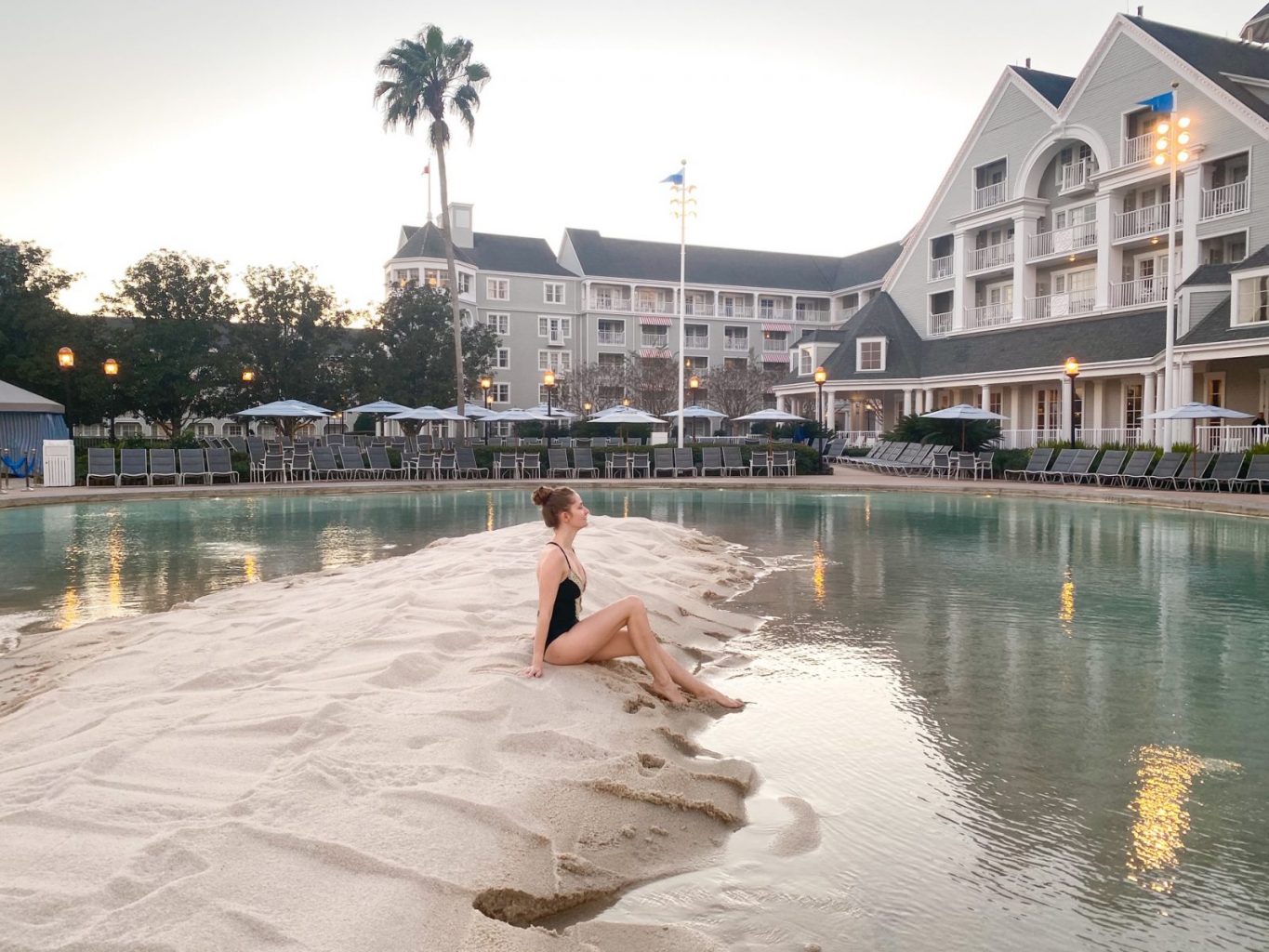 11 Best (And Worst!) Pools At Disney World
BEST:
This list features what we think are some of the best pools on Disney property. They really have something for everyone. Don't worry if your favorite pool isn't on the list! Every pool is fantastic in their own way, so go on and enjoy your resort pool!
Stormalong Bay – Yacht and Beach Club Resorts
This is hands down the best pool at Disney World! The Yacht and Beach Club resorts share the 3 acres that is Stormalong Bay. This is basically a mini water park at a resort. Stormalong Bay sports a shipwrecked theme for all you beach lovers.
This Disney pool features a sand bottomed pool, a 230-foot shipwrecked water slide, zero-depth entry, a lazy river, and 3 whirlpool spas! This pool really has it all! Stormalong Bay is perfect for families, couples, individuals, and basically everyone! You could spend a whole day at this mini water park and always find something to do!
Stormalong Bay is our top pick, so we highly recommend staying at either the Yacht or Beach Club to enjoy this amazing Disney pool!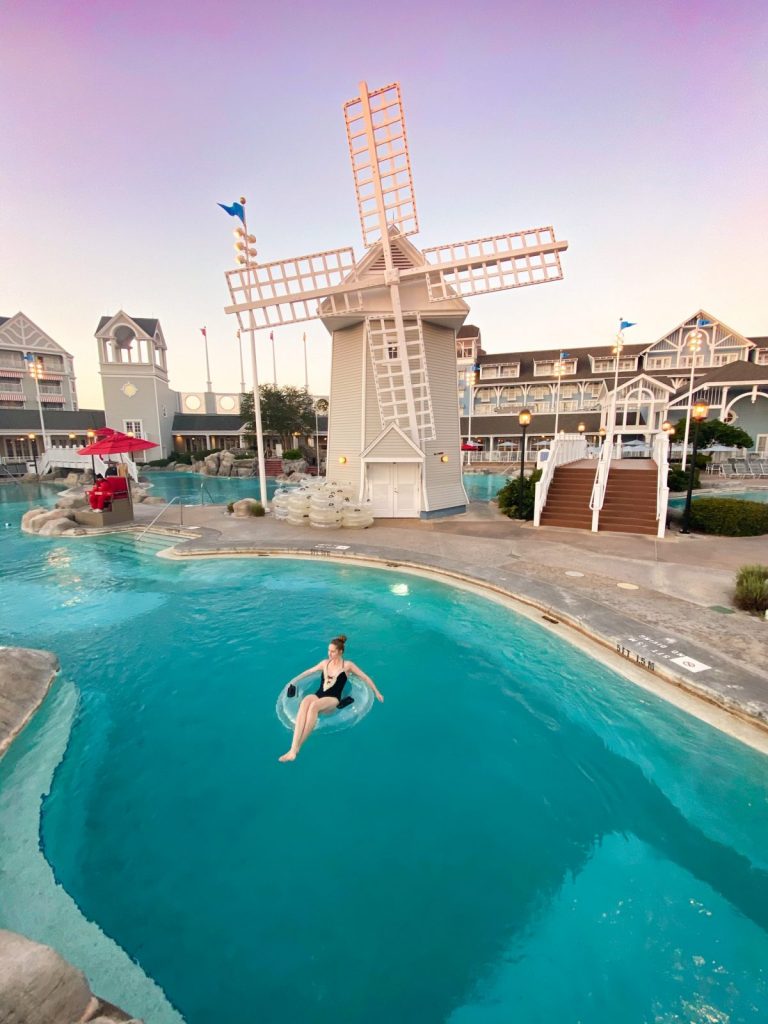 Copper Creek Springs Pool – Wilderness Lodge Resort
Copper Creek Springs Pool at Wilderness Lodge is another amazing Disney pool. The area and theming of this pool is absolutely wonderful! The nature theme makes guests feel as if they have found themselves swimming in natural spring water.
A creek that starts inside the resort runs through the lobby and outside towards the pool. Then it "feeds" into the pool, giving it that nature feel. The pool is heated to make sure all guests stay comfortable. There is also a 67-foot water slide built into the rocks near the pool.
Nearby are hot and cold whirlpool spas and a splash play area for kids. The best part is guests have a great view of Bay Lake right from where they are swimming! This Disney pool is a great place to relax and enjoy the scenery!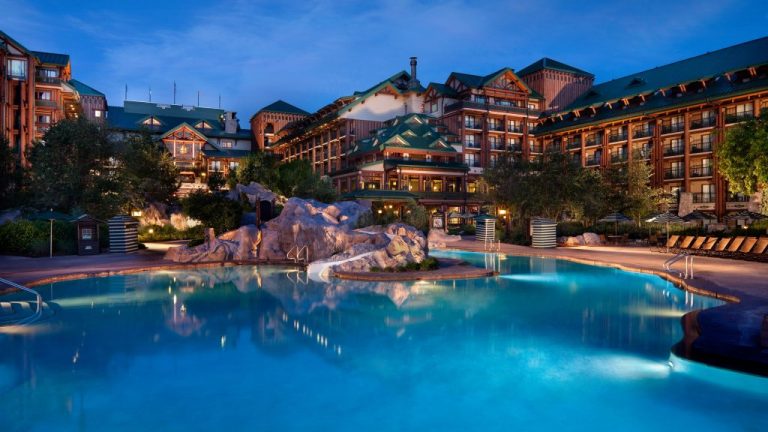 Lava Pool – Polynesian Resort
The Lava Pool at the Polynesian is a great pool for a relaxing day! This tropical themed oasis allows guests to cool off and soak up the sun while enjoying a drink by the pool! The feature attraction at this pool is the giant volcano that holds the 142-foot waterslide. This tropical area has a waterfall and a zero-depth entry.
Nearby is a hot tub and Kiki Tiki's splash area for the kiddos in your family. A great thing to note is a short walk from the pool is a bar where you can buy a spiked dole whip drink!
This Disney pool offers a great view of Seven Seas Lagoon and Cinderella's castle. Relax by or in the pool while viewing the beautiful area around you!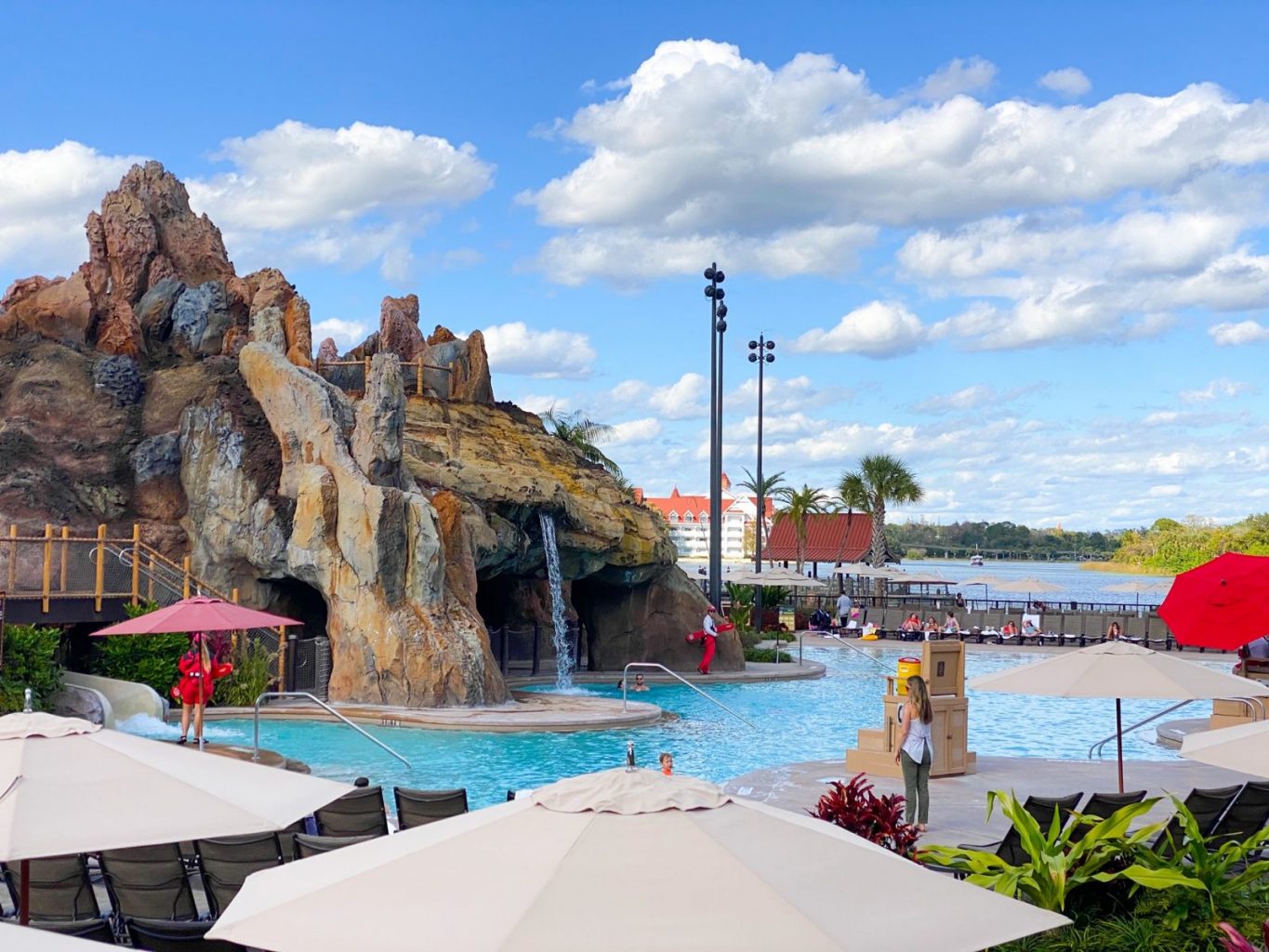 Fuentes del Morro Pool – Caribbean Beach Resort
So far we've only talked about the best pools at the deluxe resorts, but what about at the moderate resorts? The Fuentes del Morro Pool at Caribbean Beach Resort is a great pool for a moderate resort! And this resort is also on the skyliner route!
This Spanish fortress/pirate themed pool is great for all you adventurers out there! There is a zero-depth entry and 2 water slides! There are water cannons around the pool that pour water onto guests, making it a great area to cool off.
Nearby is a hot tub and the shipwreck water play area. The play area has mini slides, a splash area, a dump bucket, and sprayers! Your kids will have endless amounts of fun at this pool.
This Disney pool is large and has plenty of things for you to enjoy! A great option for everyone!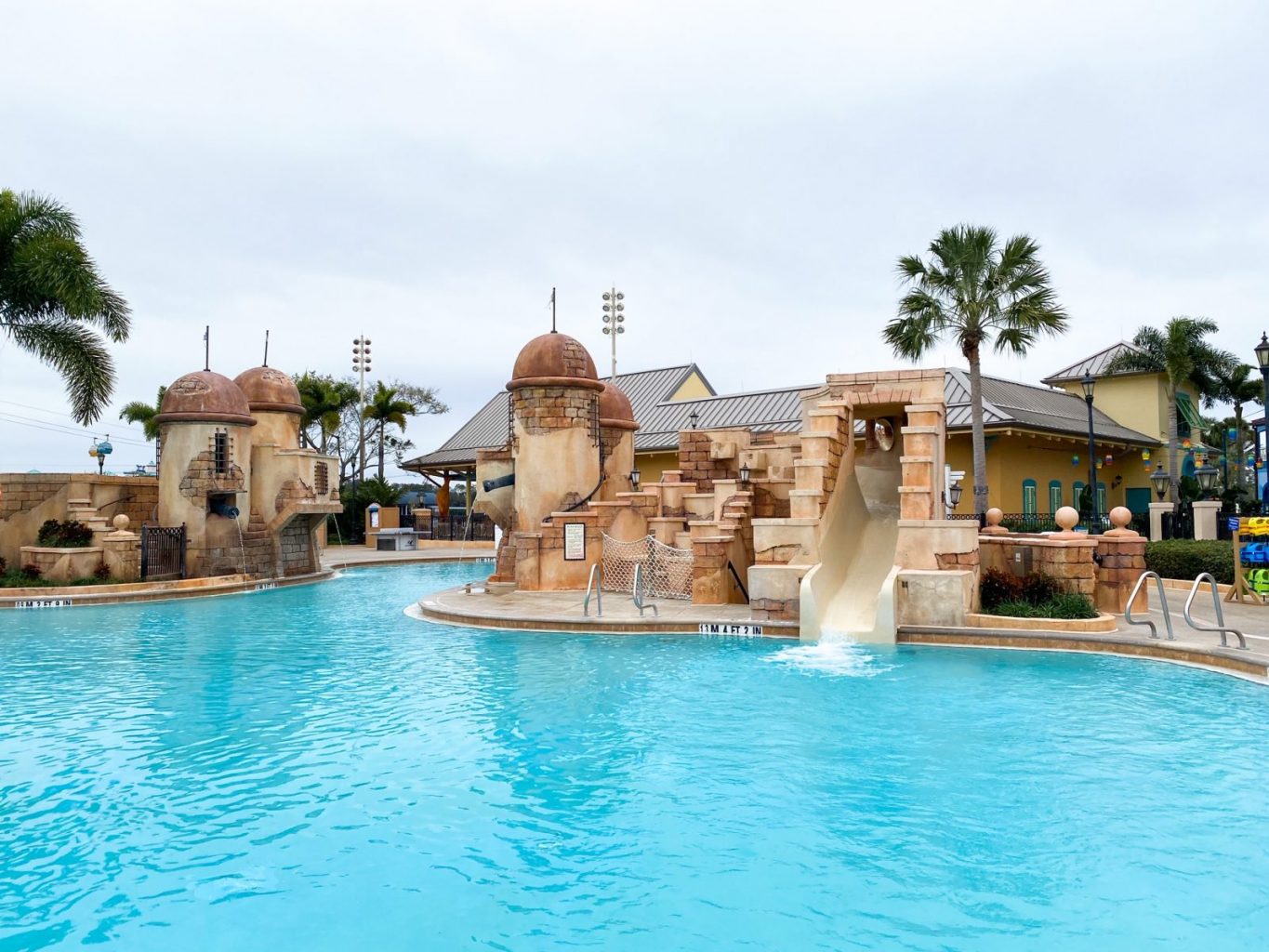 Big Blue Pool – Art of Animation
Art of Animation has the best pool out of all the value resorts! The Big Blue Pool is the largest Disney hotel pool, containing over 300,000 gallons of water. It is located in the Finding Nemo section, so of course it is Finding Nemo themed!
All around the pool are giant statues of characters from the movie. There is a zero-depth entry with giant statues of jellyfish! Nearby is the Schoolyard Spray ground. It features pop up jets that spray water.
The best part of this pool is that you can hear music when you go under the water! This is a cute and fun touch to the pool.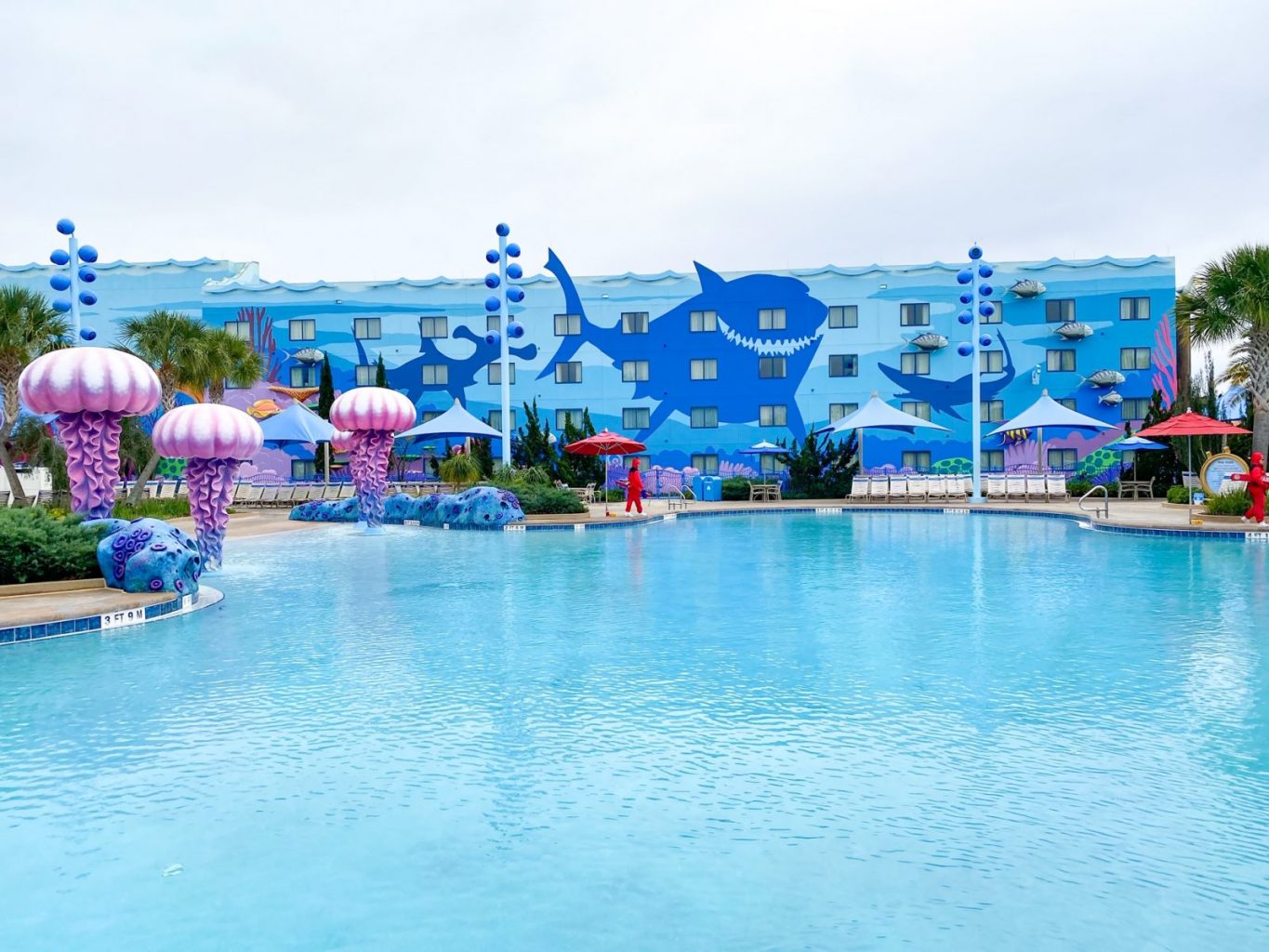 The Lost City of Cibola Pool – Coronado Springs Resort
Another great moderate resort pool is the Lost City of Cibola Pool at Coronado Springs. This area is based off the Mayan ruins and features a 50-foot pyramid that has water running down it! Guests can cool off at the bottom steps of the pyramid and enjoy the running water.
This Disney pool also contains a 123-foot long water slide with a spitting jaguar. Talk about great theming! Nearby are 2 hot tubs, a sand volleyball court, play area, and kiddie pool. Coronado Springs boasts the largest hot tub at a Disney resort. It can hold up to 22 guests!
This pool is a great place to relax and forget about the world around you for a little while!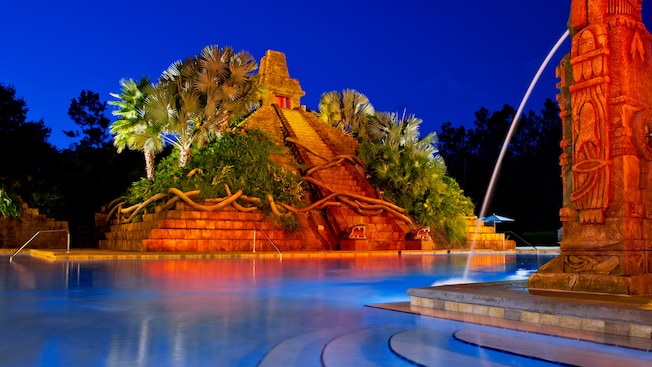 Contemporary Resort Pool
Right next to the Contemporary Resort pool is the marina that takes you on the lake. This give guests a sea/beachy feel of the area! This Disney pool is very relaxing and has some fun spray features. It's not the very best pool out of all the deluxe resorts, but it does have some cool features that give it a high ranking.
The Contemporary pool is heated and contains a 17-foot high water slide. The spray features in the pool give children (and adults) something fun to play and splash in! Nearby is a water playground and a hot tub.
Guests can rent a poolside cabana by the hour or for the day. This can really add a luxurious feel to your Disney pool day!
Even though the Contemporary pool isn't the greatest pool of all time, the Contemporary Resort gets bonus points for being a Disney monorail hotel! This makes it so much easier to get to the Magic Kingdom and the other monorail resorts!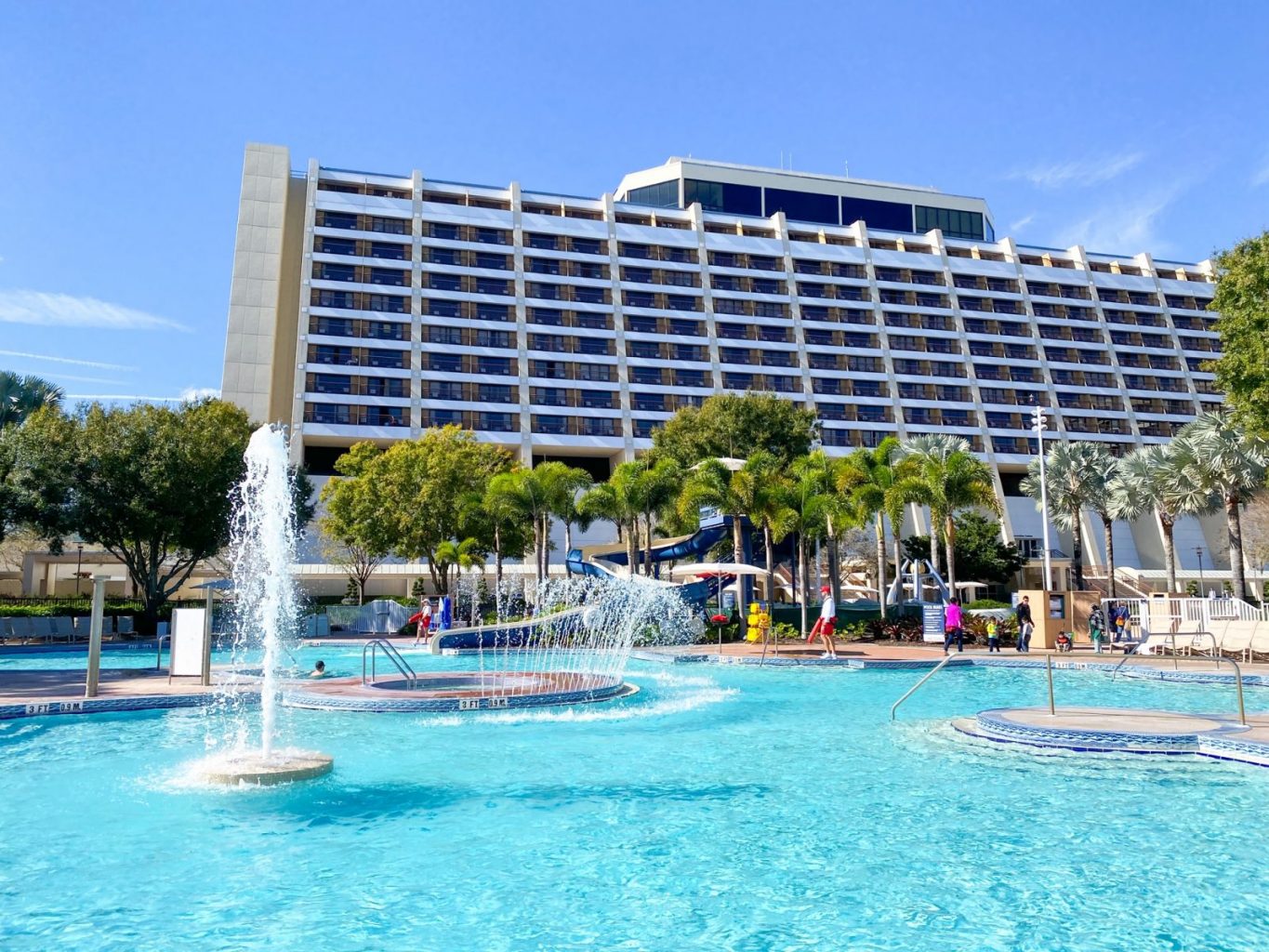 Uzima Springs Pool and Samawati Spring Pool – Animal Kingdom Lodge
Animal Kingdom Lodge has the Uzima Springs Pool at the Jambo House and the Samawati Springs Pool at Kidani Village. Both pools are very fun to visit!
The Uzima Springs Pool is 11,000 square-feet and contains over 230,000 gallons of water! It has a zero-depth entry that leads into this giant pool with plenty of room to swim. This Disney pool features a 67-foot long water slide for all ages to enjoy! A special touch to the pool is that nearby are animal viewing areas such as flamingos!
The Samawati Springs Pool over at Kidani Village features a 128-foot long water slide. This pool also has a zero-depth entry for easy access. The great part about this pool is nearby is the Uwanja Camp. This is the water playground that has different zones for different ages of kids. The water playground contains dump buckets, animal puzzles, sprayers, water cannons, and climbing crates. This is a child's paradise!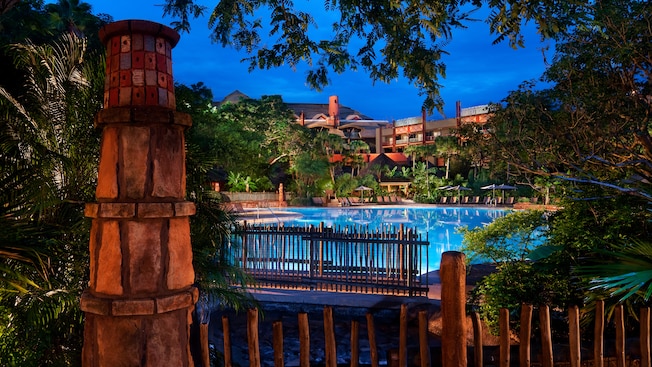 WORST:
These pools are the ones that we believe could have been made better. Disney could have gone with different theming, added features, or just making the pools bigger. We have nothing against these Disney pools, we just would rather go to a different resort pool than these.
Riviera Resort Pool
With how nice the Riviera Resort turned out, we were pretty disappointed when we saw their pool. It's pretty small for a deluxe resort, and there is not much to do. The best part of the pool is the beautiful European theming of the area, but besides that, there's not much to the pool.
There is a water slide that winds around a tower and leads into the water. The pool also does contain a zero-depth entry. Close by is the S'il Vous Play water play area. It contains fountains, two small slides, water cannons, and Fantasia statue characters.
Even though the resort turned out beautifully, the pool leaves much to be desired.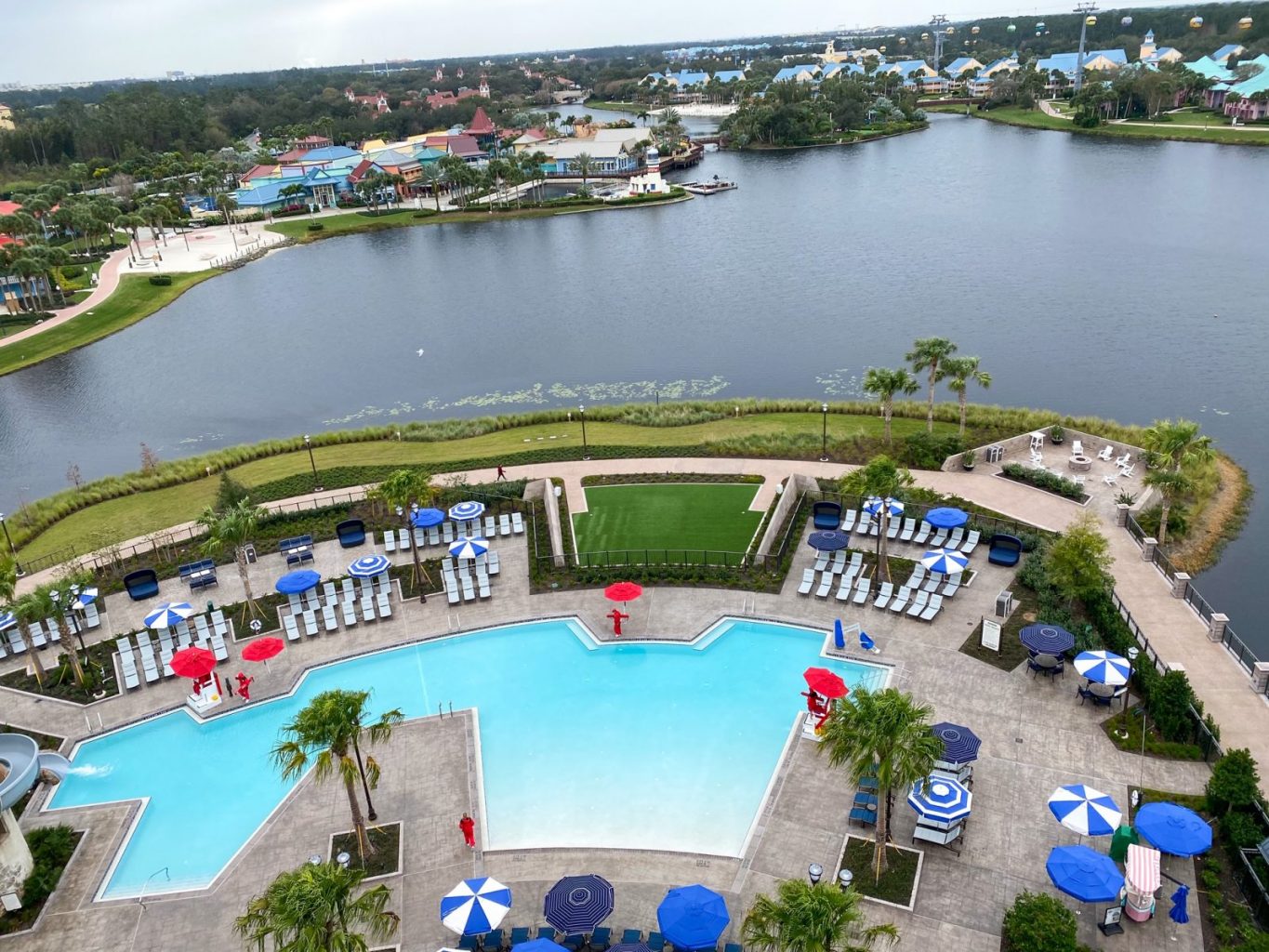 Beach Pool – Grand Floridian Resort
For such an amazing resort, the Beach Pool at the Grand Floridian is nothing special. It has a lot of room to swim, but it doesn't contain much to do or look at. This Disney pool features a 181-foot long water slide and a zero-depth entry. There is a waterfall and an Alice in Wonderland water play area.
The best part of this pool is that it is right by Seven Seas Lagoon, giving you a great view of Magic Kingdom! The Beach Pool isn't awful, it's just pretty bland. Not what you would've expected from this wonderful resort.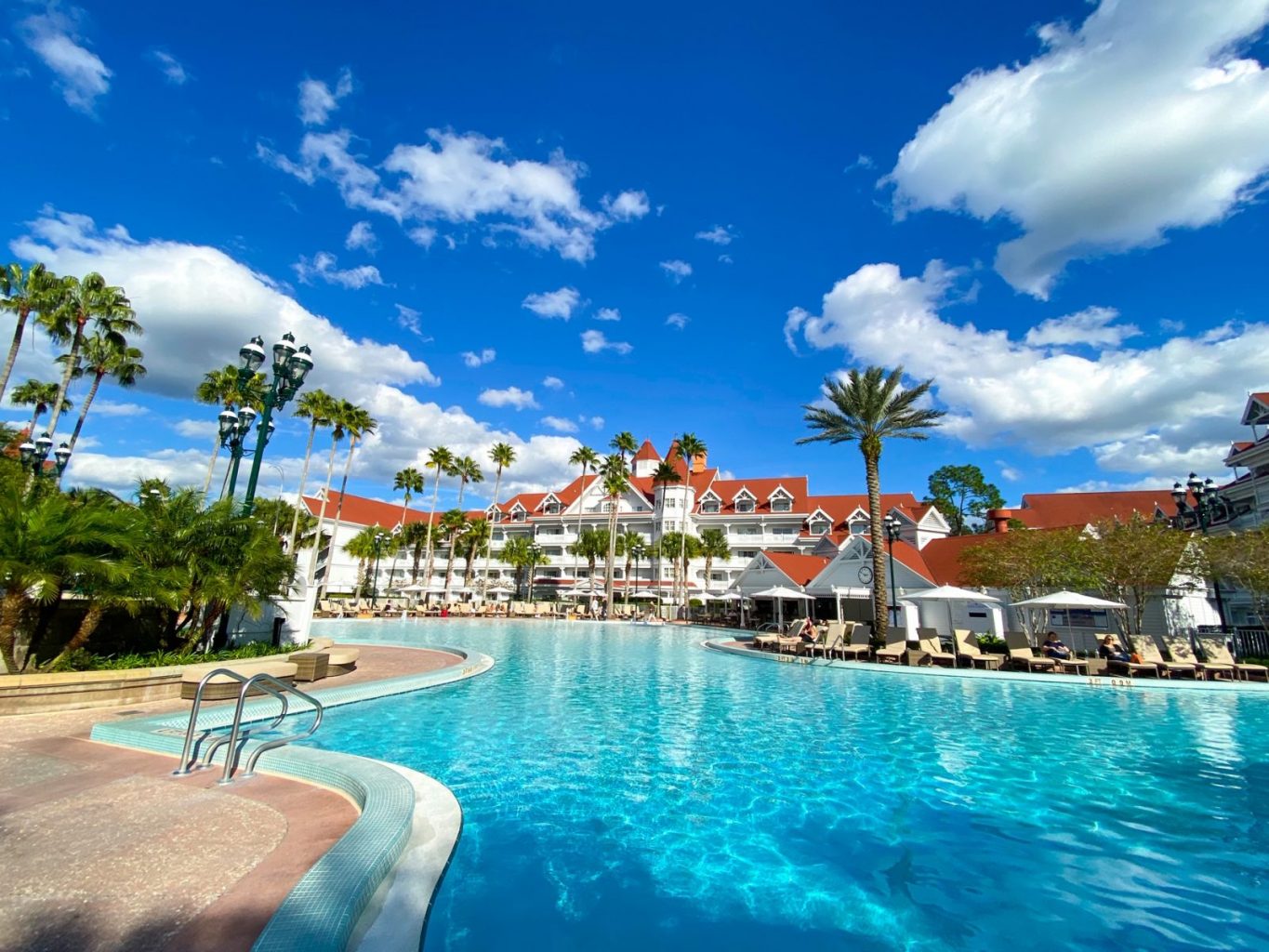 Luna Park Pool – Boardwalk Resort
Now for this pool there isn't a whole lot wrong besides it being incredibly creepy! The Luna Park Pool at the Boardwalk Resort features a 200-foot water slide that's made to look like a wooden roller coaster.
What makes this pool creepy is that the exit of the slide is out of a giant clown's mouth! This clown is the thing of nightmares, and we don't recommend it for anyone who has a fear of clowns.
The pool area also has a kiddie pool and a whirlpool spa. The pool itself isn't horrible, but the giant clown can be unsettling, especially for little kids. Therefore, we believe it is one of the worst Disney pools.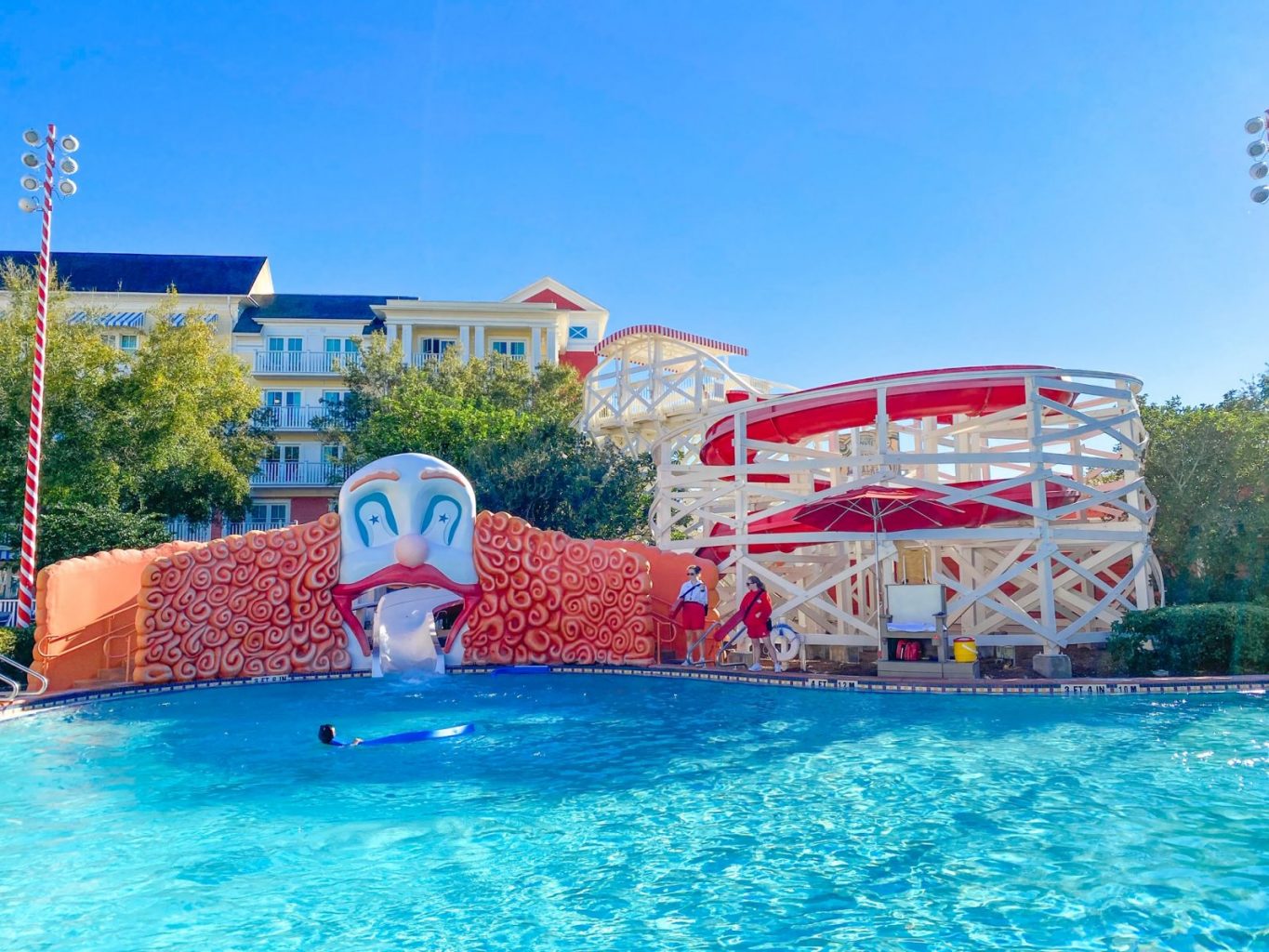 Disney pools might not be important to everyone, but it is to some people! We hope this list has helped you narrow down your top resorts to stay at. We love swimming at these pools, but we try to avoid the not so great ones. Hopefully you can enjoy these pools just as much as we did!