Looking for an unbiased Disney Aulani review? Well, you've finally found one. The vast majority of the reviews of the Disney Aulani Resort are at least partially sponsored by the company. However, this Disney Aulani review has all of the information that you want to know, without any of the funding.
While there are many places to stay on the island of Oahu, Hawaii, there is only one Disney Oahu: the Disney Aulani Resort. From accessibility to dining to activities to insider tips, this Disney Aulani review has everything you could want to know about the Aulani. (And if I missed something in this Disney Aulani review that you would like some information on, feel free to ask me about it in the comments below!)
Get a FREE printable 30/60/90 day Disney countdown by joining our private Disney Facebook Group and share your photos and ask for tips and trick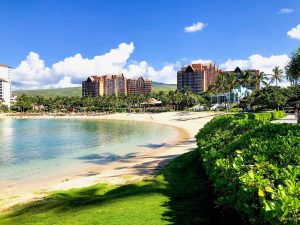 The Ultimate Disney Aulani Review + Insider Tips!
What is Disney Aulani Resort?
Opened in 2011, the Aulani, a Disney Resort & Spa, is an all-inclusive resort located on Lagoon 1 of the Ko Olina Lagoons on the island of Oahu, Hawaii. It is one of the few Disney hotels located outside of the Disney theme parks. While it is primarily marketed towards families with children, other guests also stay at the Disney Aulani Resort.
Check Rates: Hotels.com
Getting To Disney Oahu
If you would like to visit Disney's Aulani Resort, there is only one way to get there: through the Daniel K. Inouye International Airport (HNL). Formerly known as the Honolulu International Airport, HNL is the only airport on the island of Oahu. The Aulani is about a thirty-minute drive from HNL.
Most major airlines fly into the Daniel K. Inouye Airport. Because the company is based in Honolulu, Hawaiian Airlines has the most flights. If you're on a budget, Southwest recently added flights from the U.S. mainland (particularly Northern California) starting at a fraction of the previous cost!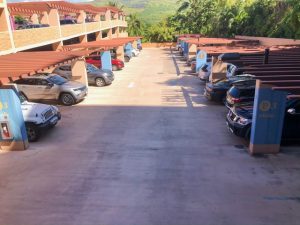 Best Time Of Year To Go To The Aulani Resort Hawaii
For many visitors, the time of year makes a huge difference in their Disney Aulani review and experience. If you happen to visit during August or September, it'll probably be much too hot for your liking. On the other hand, if you choose to visit in February, it'll likely rain throughout your trip.
The best time of year to visit the Disney Aulani Resort (and Hawaii in general) is either late spring (April to May) or late fall (October to November). Both of these times are on the edge between rainy season and the hot weather, making for a cool, yet sunny middle ground. Plus, since many visitors come either in the summer or the winter, you'll be able to avoid the worst of the crowds too!
How Long To Spend At The Aulani
The perfect amount of time to spend at the Aulani depends on if you and your family plan on exploring the other parts of the island of Oahu, Hawaii. If your plan is simply to get the most out of the Disney Aulani Resort and the surrounding area known as Ko Olina, a week should be great. However, if you want to explore the North Shore, Kailua, Waikiki Beach, and the rest of Oahu, you'll probably need two weeks on the island to see what's on your list.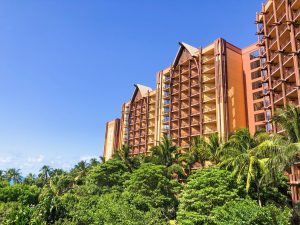 Booking Your Room at Disney Aulani Resort
This easiest way to book your room at Disney Oahu is through the Disney Aulani Resort website. As an alternative, you can also book your room through Hotels.com! If you are working with a Disney Travel Agent, they are able to help you out with this as well! The choice is yours where you want to book!
Arriving at Disney Aulani Resort
Once you arrive on at the Aulani, you'll begin to feel the Disney magic. Children are given a souvenir Menehune (a mythical Hawaiian leprechaun of sorts) necklace. And then of course, there are the Hawaiian leis. Women receive flower leis, whereas men are donned with kukui nut leis.
The attention-grabbing check-in desk is just to the right of the drop off area. While the check-in line can get quite long during peak hours, Disney has, of course, thought of everything. Directly next to the check-in desk is a little, easy-to-see room playing Disney cartoons to keep the little ones occupied.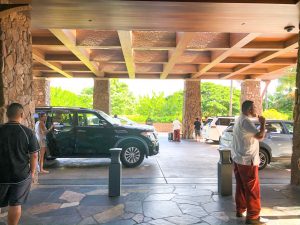 Disney Aulani Resort Room Review
The thoughtful touches around each room at the Aulani truly make a stay at the resort feel magical. There are both hotel rooms and multi-bedroom villas, which each have their own unique experience. Regardless of which room you choose, everyone gets their own personalized room keys with their names on them. What a nice touch! That's already a great start.
While the hotel rooms sleep up to four people, they are quite a bit smaller than the multi-bedroom villas, which can sleep between five (one-bedroom) and twelve (three-bedroom) people. If you want some extra space and even a kitchen to cook few meals in, the multi-bedroom villas are the way to go. In addition to a full kitchen (and even a rice cooker and a blender, upon request), the villas also include multiple bedrooms and in-room laundry. In other words, if your little ones' clothes get a little too dirty, it's so easy to just throw them into the wash.
If I were to only give one tip about the rooms at the Disney Aulani Resort that I wish everyone would listen to, it would be to get an ocean view room. The Aulani is located RIGHT on the Pacific Ocean. Now, imagine waking each morning, heading out to the balcony (locally known as a lanai), and sipping your cup of coffee while staring at the bright blue ocean. Doesn't this simple morning routine sound magical?
Check Rates For Aulani On Hotels.com
Disney Aulani Resort Pool
The pools at the Disney Aulani Resort basically create a miniature waterpark. Complete with a lazy river, two slides, a ton of hot tubs, eight pools, and even an artificial snorkeling area filled with fish, there will never be a shortage of water-filled fun! With a couple of food options situated right by the pool, you can basically spend an entire day (or two) at this mini waterpark. In case you're looking for a break from rowdy children, the Wailana Pool is reserved for guests 18 years and up.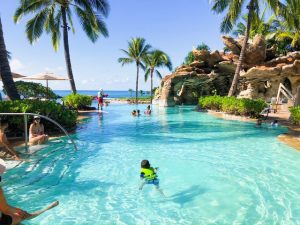 Laniwai, The Disney Aulani Resort Spa
Laniwai, A Disney Spa located at the Aulani, is a great place to unwind during your fun-filled trip. Its extensive list of spa therapies includes facials, traditional Thai massages, heated stone massages, and its signature lomilomi treatment. There are also many salon services, including manicures, pedicures, and haircuts. In addition to the many spa therapies and salon services, there is also a relaxing outdoor therapy garden and even a spa mixology area known as the Pulu Bar.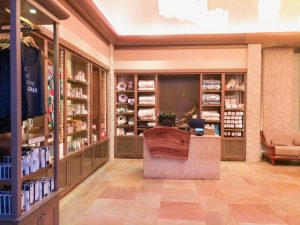 Dining at Disney Aulani Resort
There are several dining options at the Aulani, each with their own different spin.
Makahiki
Makahiki is easily the most popular restaurant at the Disney Aulani Resort. As a matter of fact, it makes it into most of the Disney Aulani reviews, because just about every Aulani guest chooses to dine there. Makahiki is the only character dining restaurant at the Aulani. At the breakfast buffet, you can see Mickey, Minnie, Donald, Daisy, Goofy, Pluto, Chip, Dale, Aunty from Aunty's Beach House, Stitch, and occasionally Lilo. Usually there are about four characters per breakfast. As for the food, there is everything from the classic Mickey-shaped waffles to made-to-order omelets to loco moco, which is a local favorite in Hawaii.
Four days a week – Sunday, Monday, Wednesday, and Thursday – characters decide to pop by the dinner buffet. All of the characters listed above have been spotted, and, on rare occasions, you can even catch Moana! (If seeing Moana is high on your list, you're more likely to see her just around the property, rather than at Makahiki.) As you hang out with your favorite characters, dine on steamed snow crab legs, yuzu-soy glazed salmon, and Hawaiian roasted kalua pork. And we certainly can't forget about the delicious array of desserts, including cinnamon bread pudding, pineapple cobbler, and tapioca pudding.
If you would like to eat at Makahiki during your trip, be sure to book in advance!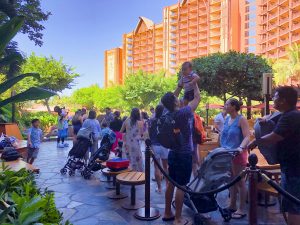 Olelo Room Bar & Lounge
Directly next to Makahiki is the Olelo Room Bar & Lounge. As a matter of fact, these two dining options are so close to each other that they are often mistaken for each other, even though they have very different atmospheres. While Makahiki is more kid-oriented, the Olelo Room Bar & Lounge is focused on adults.
Serving up a wide selection of beers, wines, and other specialty alcoholic drinks, it's the perfect place for adults to come to unwind. Sip on a tropical mai tai, a true blue Hawaii, or a mango mojito. And if you're looking for something to snack on several island-inspired appetizers, such as poke ahi, Hawaii ranchers holua sliders, and furikake-topped popcorn fries. There is also happy hour from 5 p.m. to 7 p.m. each night.
I would be remiss to mention the Olelo Room Bar & Lounge and not mention its focus on the Hawaiian language. While the Disney Aulani Resort as a whole makes an effort to infuse Hawaiian culture into everything it does, this is most noticeably seen at the Olelo Room Bar & Lounge. At this dining experience, the walls are filled with 'Olelo Hawai'i (the Hawaiian language) and the English translations of the words. Plus, all of the employees must know how to properly pronounce Hawaiian words. So if you're hoping to sharpen your Hawaiian language skills, the Olelo Room Bar & Lounge is the place to do so at the Aulani.
Ulu Café
If you're looking for something to grab and go, Ulu Café is the place to visit. Grab breakfast favorites, sandwiches, wraps, pizzas, and even poke bowls. It's also the perfect place to pick up a Dole Whip to enjoy right by the pool. While Ulu Café is set up like a grab-and-go eatery, there is also an outdoor eating area available.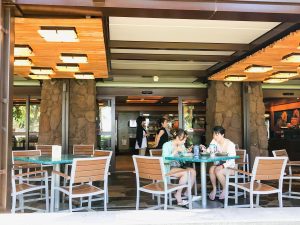 Papalua Shave Ice
Shave ice is a classic Hawaiian treat. With soft ice shavings topped with fruity syrup, this delicious treat is the perfect way to cool down during a hot day at the pool. I recommend adding ice cream to the middle and picking three tropical flavors, like mango, pineapple, and lilikoi (passion fruit). While you can get the shave ice in the shape of Mickey, I don't recommend it, because it only takes a couple of minutes until the ears slip off.
Wailana Pool Bar
Just steps away from Ulu Café is the Wailana Pool Bar. Enjoy a wide array of alcoholic beverages, including the ocean rita, Big Island iced tea, or coconut mojito. There are also several poolside dining options to enjoy, such as burgers, flatbreads, tacos, and even a charcuterie plate.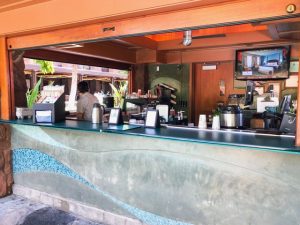 Off The Hook
Off The Hook is another poolside dining establishment that basically serves up the same lovely dishes as the Wailana Pool Bar, just on the other side of the resort.
Little Opihi's
This beachfront eatery is the perfect place to grab a quick snack for your time at the beach. Pick up salad, wraps, and rolls, some fresh tropical fruit, or even a few of the iconic Mickey-shaped desserts. Because Little Opihi's is actually located outside of the resort gates and on the lagoon walkway, it may be a little bit harder to find than the rest of the dining options at the Disney Aulani Resort. That said, that means there is easy access to Little Opihi's from the beach.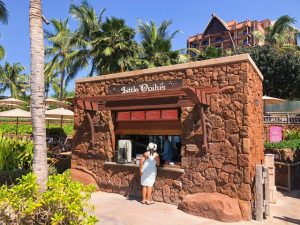 'AMA'AMA
Open for all three meals of the day, you really can't go wrong with this oceanfront dining experience. 'AMA'AMA serves up some of the most delicious food at the Disney Aulani Resort. Just for breakfast, there are so many fantastic options, including the 'AMA'AMA breakfast sandwich with truffle oil, the traditional loco moco breakfast, the acai bowl with local honey and mochi balls, and the buttermilk pancakes with a tropical fruit sauce.
Lunch and dinner both stay on par with the standard of dining set by breakfast – or some might even say that they are actually better! For lunch savor a lobster roll with bacon and avocado, take a huge bite of fresh fish tacos, or devour a half-pound grilled chuck burger. Dinner gets quite a bit more expensive than the other two meals of the day, and that's because it turns into a fine dining establishment. Enjoy a 14-ounce ribeye, a plate of freshly caught scallops, or a pair of Colorado lamb chops. And we certainly can't forget about dessert. For either lunch or dinner, finish off your meal with pineapple cheesecake, warm Honokaa honey mochi cake, or mocha Chantilly cake.
Mama's Snack Stop
When I think of a snack stop, I think of a place where I can grab a bag of chips. That is not at all what Mama's Snack Stop is. Instead of a bag of chips, you can grab local style "fish and chips" made with fresh fish and locally brewed beer. Plus, you can get coconut shrimp, an ono fish sandwich, and a macadamia nut pineapple cupcake.
Ka Wa'a Luau
While the Ka Wa'a Luau isn't a traditional restaurant dining experience, it definitely deserves to make it onto the list of dining options at the Disney Aulani Resorts. The Ka Wa'a Luau is a highlight of, not only this Disney Aulani review, but also of many others. The cast members at Disney truly embrace Hawaiian culture in this traditional Hawaiian celebration, while still making it kid-friendly.
Before the luau officially begins, there are a few traditional activities that visitors can participate in, such as kapa printing, temporary kakau tattoos, and taro pounding. The luau then officially begins with a traditional Hawaiian oli (chant).
As for the food, the Ka Waa Luau has found a way to fuse traditional Hawaiian, local favorites, and a modern flair through the use of locally grown ingredients. In addition to the must-have kalua pig, there is teriyaki chicken, fresh fish with macadamia nut sauce, and steamed bao buns as well. For most kids, this selection of dishes might be too adventurous for their palettes, so the kids' menu includes chicken tenderloin, mac and cheese, and Mickey pasta with tomato sauce and meatballs. To finish off this luau experience, the Ka Wa'a luau has a production show, which, while not necessarily traditional, tells a tale from Hawaiian history.
The Ka Wa'a luau also offers ASL interpretation upon request.
Aunty's Beach House
One of the main highlights of this Disney Aulani review is Aunty's Beach House. Aunty's Beach House is the name of the Kids' Club at the Aulani, and, it is so popular that Aunty herself has become an iconic character at the resort. Plus, with the exception of a handful of premium experiences, the activities at Aunty's Beach House are included in your stay!
The everyday amenities at Aunty's Beach House include a movie room, Xbox video games, Hawaiian arts and crafts, a closet filled with costumes, a bunch of game tables, and a playground. There's even a magic portal that shows your little ones beautiful scenes from across the Hawaiian Islands. In addition to these everyday amenities, there are also daily themed activities. These include taking hula lessons, finding the mischievous Menehune, dressing up as Marvel characters, and listening to the stories of the ancient Hawaiians.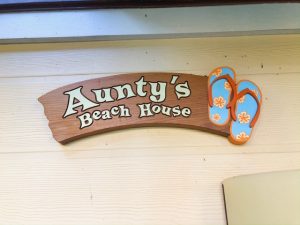 Disney Aulani Resort Excursions
The Aulani Resort Hawaii provides excursions to explore the island of Oahu, for an additional fee of course. Each of these excursions allows you and your family to learn a little more about the nature or culture of the Hawaiian Islands. Swim with dolphins in the wild, embrace your inner adrenaline junky with a ziplining tour, take a ride in a helicopter, or even pop over to another one of the Hawaiian Islands, including Maui, Kauai, and the Big Island!
The Daily IWA
The Daily IWA is the Disney Aulani Resort's daily newspaper or list of activities. While the front includes large-scale activities such as the Ka Wa'a Luau and Disney friends Meet and Greets, the back has smaller scale activities for both families, youth, children.
The family activities include everything from sunrise yoga to ohana hula. The youth activities, while they are the most limited, are quite exciting. Tackle the island treasure photo hunt or relax with teen spa services. As for the children's activities, practically all of them take place at Aunty's Beach House. Learn some keiki (children's) hula, make Stitch's space goo, or enjoy creating some Hawaiian-inspired crafts.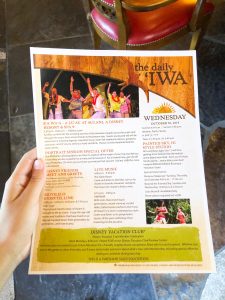 Insider Tips for Disney Aulani Resort
Pre-Register for Aunty's Beach House
By the time you get to the Disney Aulani Resort, your little ones are going to want to immediately dive into the fun. If they want to head to Aunty's Beach House, they'll likely have to wait for you to register them first. To a kid, that process can take eternity! In order to avoid that wait, you can register for Aunty's Beach House online up to 90 day prior to your arrival date using the online pre-registration form.
If you would like to participate in one of the three premium experiences for an added fee, be sure to book these far in advance, because they fill up quickly! These activities include learning how to play Hawaiian games with Moana, playing surfing games with members of the original Disney crew, and getting up close and personal with marine life.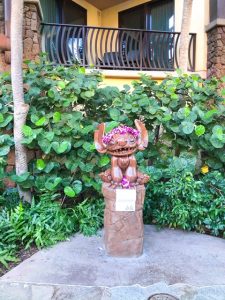 WiFi Isn't Always The Best So Keep This In Mind!
When people talk about their time at the Aulani, the one downside of their Disney Aulani review is the WiFi, and I would have to agree. It's honestly not the best. As a matter of fact, it can be easier to connect to the Four Seasons' WiFi instead! That said, you could take this downside and turn it into an upside. Think of it as a way to disconnect. After all, you're in Hawaii! Wouldn't you rather enjoy the warm sun and the ocean breeze rather than the blue light from your laptop?
The Aulani Times The Pool Chairs, So Keep This In Mind
We all know how it goes. You head to the pool, and you struggle to find a few seats together for you and your family. Usually, you'll end up sharing a couple of chairs until more become available. But sometimes, you'll hit the jackpot. The perfect number of chairs – one for each person – all nicely shaded.
If you're spending at day at the pool at the Aulani Hawaii, you'll want to make sure that you KEEP your jackpot-worthy chairs. At the Disney Aulani Resort, there are staff members dedicated to timing chairs. If you leave your seats too long to enjoy the pool, the slides, or the beach, your items will be removed and held at the recreation check-in desk, in order to give other guests a chance to use the chairs.
To avoid this problem, check in on your chairs rather frequently. If the towels are, once again, nicely folded over the top of the chair, grab them and lay them out to let the chair timers know that you're still around.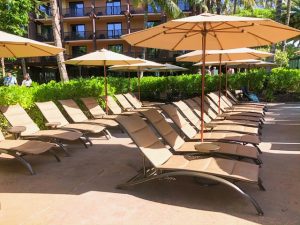 Buy Groceries To Save On Money
I'm not going to lie. Restaurants in Hawaii – especially at the Aulani Hawaii and at Ko Olina – are quite expensive. Even the small grocery store in the area is pretty expensive! If you're on a budget and trying to save money, it may seem impossible, but that's not true!
If you head into the town of Kapolei, which is just ten minutes away, there are tons of places to buy groceries, including Costco, Safeway, and the local favorite known as Foodland. There, you can stock up on breakfast items, snacks, and even some foods to barbecue.
Bring A Reusable Water Bottle
Many Disney Aulani reviews complain about the heat, especially when the stays take place during the summer. The west side of Oahu, where the Disney Aulani Resort is located, is known for being the hotter side of the island. Between the heat and the outdoor activities, it's important that you stay hydrated! An easy way to do this is by bringing a reusable water bottle. Plus, because the Aulani hotel has several free water containers scattered around the property, you'll easily be able to refill it with ice cold water.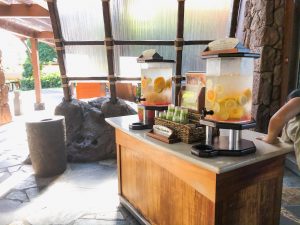 Don't Be Afraid To Eat Some Meals Off-Resort
While the Aulani Resort has quite a few good restaurants, there are also fantastic places to eat outside of the resort! Just across the street, there is Monkeypod Kitchen, one of my favorite restaurants on the entire island. (Plus, if you go during happy hour, their delicious pizzas and appetizers are 50% off.) Not far from that, there is Roy's, the perfect place to splurge on a fancy dinner. (Be sure to order the chocolate souffle if it's on the menu that day!)
If you're willing to venture a little further, head into the city of Kapolei, which is just ten minutes away from the Aulani hotel. Known as Oahu's "second city" (after Honolulu), Kapolei has grown significantly in the past decade. Head to My Café for breakfast or brunch, Plantation Tavern for lunch, and db Grill for dinner.
On the other hand, if you want to stick with resort food, but not necessarily Aulani resort food, there are a couple of other hotels in the area that fit the bill. The Four Seasons on Lagoon 1 boasts fresh seafood at Mina's Fish House and delicious Italian food at Noe. On Lagoon 3, Marriott's Ko Olina Beach Club is known for Longhi's, another Italian place that has become a crowd favorite.
Visit Some Of The Other Lagoons
The Disney Aulani Resort is situated on Lagoon 1 of the Ko Olina Lagoons. There are three other official lagoons that you can explore in Ko Olina. Plus, if you're even more adventurous, try to discover some of the small secret lagoons! (One of them is home to a few turtles, and, because the water is very shallow, it's perfect for kids!) Those who explore more of Ko Olina – and even more of the island of Oahu in general – are more likely to have positive Disney Aulani reviews.
Stock Up On Reef-Safe Sunscreen
Recently, Hawaii passed a law saying that starting on January 1, 2021, stores must only sell reef-safe sunscreen. What does that mean? Most sunscreens actually contain a couple of chemicals that cause quite a lot of harm to the reefs in the ocean. That means, if you were to go swimming at the beach by the Aulani, your non-reef safe sunscreen could hurt the reef, and, eventually, force all the fish to find a new home!
One downside of this law is that sunscreen-selling stores near resorts, including the one near the Aulani, have upped the price of sunscreen. To stick to your budget, consider purchasing a bottle of reef-safe sunscreen before you head on your trip.
Try The Scavenger Hunt
The Disney Aulani Resort has a scavenger hunt known as the Menehune Adventure Trail, that for the most part sadly goes unnoticed. This high-tech, iPad-using scavenger hunt gets kids to solve riddles, search for Menehune statues, and learn about Hawaiian history and mythology while having a blast!
To participate, check out a special tablet at the Pau Hana community center. Then, begin the adventure! Do note that the Menehune Adventure Trail is best suited for pre-teens due to the difficulty of some of the clues.
I hope you enjoyed reading our Disney Aulani review. What do you think of these opinions? Do you agree or disagree? Let me know in the comments what you think of the Disney Aulani Resort! Or if there's anything missing from this Disney Aulani review that you would like me to add, please let me know! As always, if you have any questions, I am more than happy to answer them for you! Thank you for reading!
Pin this post: