Are you searching for cute Disney dresses for women that you can wear on your trip to the Disney parks? We've scoured the internet (primarily the treasure trove of Disney apparel known as Etsy) and found the best of the best. Now, you can represent your favorite Disney characters (or even your favorite Disney parks) while wearing a fabulous new Disney dress!
There are quite a few Disney dresses for women out there for you to choose from. While you can of course find a classic Minnie Mouse dress, you can also find dresses inspired by little Lilo from Lilo and Stitch or by Jack and Sally from The Nightmare Before Christmas. Which one of these Disney dresses for women will you choose to get?
Get a FREE printable 30/60/90 day Disney countdown by joining our private Disney Facebook Group and share your photos and ask for tips and trick
16 Cute Disney Dresses for Women You'll Love
 Sorcerer's Apprentice Disney Dresses
 Think of Mickey Mouse's most recognizable outfit. You're probably thinking of him in his red pants with white buttons and yellow shoes. Now, think of Mickey's second most recognizable outfit. Does the one from Sorcerer's Apprentice come to mind?
To recreate Mickey's starry hat and red robe from the Sorcerer's Apprentice, this adult Disney dress has the same starry pattern on the top and a bright red skirt on the bottom. As a matter of fact, it's so spot on that this strapless Sorcerer's Apprentice Disney Dress is perfect for Disney bounding! In other words, there's no mistaking which Disney character (and outfit) this Disney dress for women is trying to represent.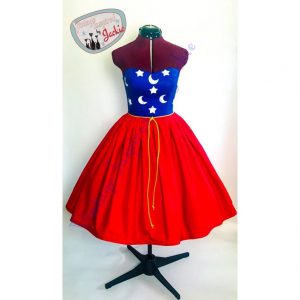 Magic Kingdom Inspired Disney Dresses 
Instead of wearing a dress inspired by your favorite Disney character, why not wear one inspired by your favorite Disney park? This Magic Kingdom Inspired Disney Dress is the perfect outfit to wear on your day at Magic Kingdom! And the design of the dress isn't too over the top. This simple blue dress has a tasteful drawing of Cinderella's Castle (complete with fireworks) along the bottom as well.
Haunted Mansion Disney Dresses 
These Haunted Mansion Disney Dresses for women may be some of the most over-the-top dresses on this list – and there's definitely nothing wrong with that! These gothic-style dresses inspired by the Haunted Mansion boast a purple, green, black, and white color palette. Between these bold colors and the eye-catching designs, there's no doubt that some heads will be turned during your day at the Disney park.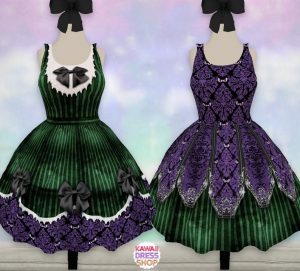 Up Disney Dresses
The most iconic part of the underrated 2009 Disney movie Up is Carl Fredricksen's balloon-floating house. That exact object is the center of this Up Disney Dress. Complete with a light blue sky, colorful balloons, and the Up house, this dress has everything you could want from an Up Disney dress. So while you may not be able to experience sitting in a house that floats due to thousands of helium-filled balloons, that doesn't mean you can't be decked out in that unbelievable image.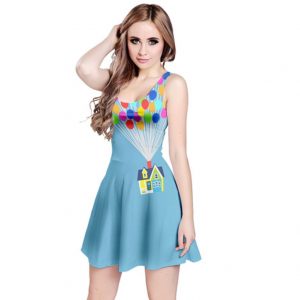 Epcot Disney Dresses 
Some of these Disney dresses for women are a bit over the top. I mean, gothic-style dresses with petticoats or balloon-covered torsos may be a bit too much for many people. But that doesn't mean that there aren't Disney inspired dresses for adults that are a little tamer.
This Epcot Disney Dress is the perfect piece of women's Disney clothing for someone who wants to wear something Disney themed that isn't too over the top. The geometric pattern of the famous Epcot ball (formally known as Epcot Spaceship Earth) makes up the entirety of the print on this cute high-low halter dress. It's so subtle that it may take onlookers an extra look or two to recall where they've seen that pattern in the Disney parks.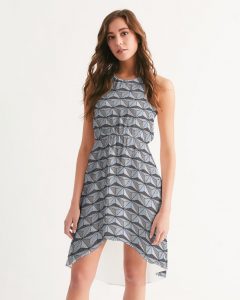 Lilo Hawaiian Disney Dresses
In my personal opinion, Lilo's dress is the most iconic casual Disney dress. Of course, the elegant gowns of Belle and Cinderella don't count in this comparison, because that's after they've been bibbidi bobbidi boo-ed. But does anyone remember the dresses those two princesses wore before their magical makeovers? It's pretty unlikely.
With Lilo, on the other hand, everyone can picture her bright red t-shirt dress with the white leaves. And you can look just like her with this Lilo Hawaiian Disney Dress in the exact same print! While a t-shirt dress isn't an option, there are five other style options for you to choose from.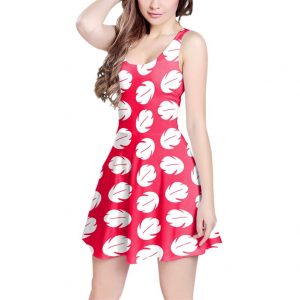 Disney Villains Dresses
This list of Disney dresses for women wouldn't be complete without an option for your dark side. This Disney Villains Dress is perfect for the Disney park visitor who doesn't want to dress up like Minnie or a princess, and, instead, wants to embrace something a little bit different.
Complete with a dark, mysterious looking color palette, this adult Disney dress showcases all of your favorite Disney villains. Mother Gothel from Tangled, Cruela De Vil from 101 Dalmations, the Evil Queen from Snow White and the Seven Dwarfs, and Maleficent from Sleeping Beauty all make an appearance. Are there any other Disney villains that you spot between the shadowed folds of this dress?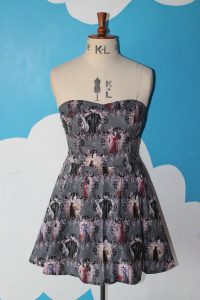 Jungle Book Disney Dresses
Although we've published several Disney-themed clothing posts on Disney Trippers already, including Disney shirts for women, Disney family shirts, and Disney Christmas shirts, not one of these articles has showcased a Jungle Book-inspired piece of Disney clothing. That changes today, because this original 1967 Disney movie needs some representation.
Hidden within green, leafy branches are all of the best Jungle Book characters from Mowgli to Baloo to Kaa to Baghera to King Louie. And you don't have to worry about Shere Khan, the evil tiger, making an appearance this time around! You can simply enjoy this Jungle Book Disney Dress and all of its nature-loving characters.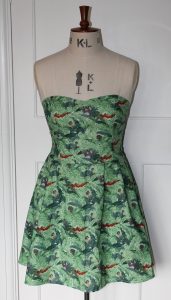 Jasmine Disney Dress
Somehow, we've made it over halfway through this list of Disney dresses for women without mentioning a single princess! That streak will be broken by none other than Princess Jasmine.
This Jasmine Disney Dress is one of the most elaborate ones on this list. Complete with Jasmine's recognizable teal color, gold decorations, and tasteful decorations of the palace and Genie's lamp, the only thing missing is the petticoat (which, while pictured, is not included). Or you can of course go without the petticoat, making this stunning dress much more practical for a day in the park.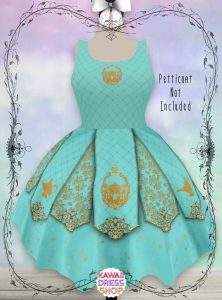 Buzz Lightyear Disney Dress
I don't know about you, but, when I was little, I was always confused on why Jessie from Toy Story became the go-to character for Toy Story marketing for girls. She didn't even appear until Toy Story 2! I liked Rex. Where were the Rex products for girls?
While this Disney dress doesn't showcase Rex, it does showcase a Toy Story character typically used for boys' clothing: Buzz Lightyear. Known for his catchphrase, "To infinity…and beyond," this Buzz Lightyear Disney Dress is perfect, not only for Toy Story lovers, but also for people who follow Buzz's life motto and are pursuing their goals at full force.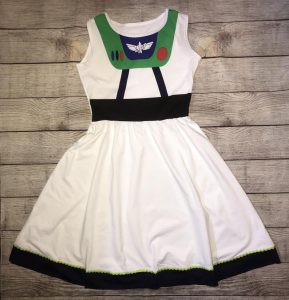 Retro Donald Duck Disney Dress
While most of the dresses in this article – with the exception of the Haunted Mansion Disney dresses – have a bit of a modern spin on them, this Retro Donald Duck Disney Dress goes back in time, rather than forward and into the future.
This Disney-inspired dress for adults showcases tons of retro Donald Duck posters layered over each other in a collage-like pattern. If you look closely, you can catch glimpses of Donald with Chip and Dale, with his nephews Huey, Dewey, and Louie, and even with a giant roaring gorilla! What other characters can you spot with Donald on the vintage posters on this dress? In other words, not only is this dress fashionable, but it is also a fantastic game of I Spy.

Snow White Disney Dresses
While the princess-inspired Disney dresses for adults are quite rare on this list, I would be remiss to leave off a Snow White Disney Dress. As the original Disney princess created in 1937, Snow White set the way for the rest of the dress-wearing Disney princesses that followed (as well as the ones that didn't wear dresses, like Jasmine). Therefore, it's only fair that I recommend a Disney dress representative of this Disney icon.
This Snow White Disney Dress is basically the same exact dress that Snow White wore in the movie, just a tad bit more modernized. The collar has been switched up and the skirt has been hiked up, but, other than that, it could be called a replica. Pair this dress with a red hairband with a little bow and pair of yellow shoes (also with bows), and you'll essentially be a photocopy of the first ever Disney princess.
Mickey Classics Disney Dresses
Mickey and his gang all make multiple appearances on these Mickey Classics Disney Dresses for women. Find Pluto playing, Goofy laughing, Minnie waving, and Donald smiling! With all these positive emotions and actions, this amazing Disney dress is sure to put a smile on your face – and on all of the faces of the people in the park!

Jack and Sally Disney Dresses
Now that Halloween has passed and Christmas is right around the corner, it's only fair that something inspired by The Nightmare Before Christmas finds its way into this article.
In order to make these adult Disney dresses a little less spooky and a little more fashionable, these Jack and Sally Disney Dresses aren't exact replicas of Jack and Sally's wardrobes from The Nightmare Before Christmas. Instead of Jack's black and white bat-winged suit, the dress depicts silhouettes of many of the well-known objects from the movie using the same color pattern. And instead of Sally's dress made of a hodgepodge of different fabrics, this Disney dress is covered in bows that only appear to be made of a bunch of different fabrics.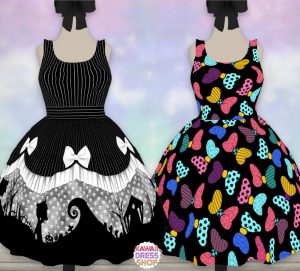 Moana Disney Dresses
Represent the tropical island of Motunui by wearing this Disney dress that looks just like Moana's outfit from the movie! Complete with the red, patterned top and the beige skirt with hibiscus silhouettes, everyone will know that you're dressed as the newest Disney princess in this Moana Disney Dress.
This dress is especially perfect if your Disney trip is taking you to the Aulani, the Disney resort in Hawaii, instead of one of the Disney parks. Who knows? You may even run into Moana on the property and be able to take a picture with her when you're dressed like twins!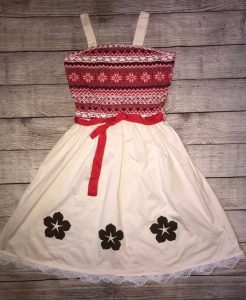 Minnie Mouse Disney Dresses
While we started this list of Disney dresses for women with a dress based on a famous outfit of Mickey Mouse, we'll end this list with one based on a famous outfit of Minnie Mouse. Honestly, how could you possibly go wrong with the classic red and white polka dot Minnie Mouse Disney Dress?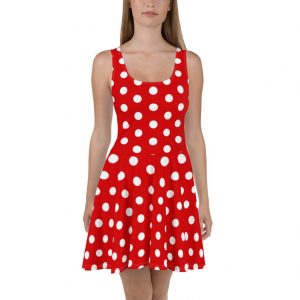 I hope you loved these cute Disney dresses for women! You can find so many more on Etsy, which is a fantastic place to shop for custom Disney products. You can search through a huge selection of Disney clothing and gear, while supporting small businesses! Just make sure to check reviews. I have included ones with great reviews on this list, but if you decide to buy other Disney dresses for women or Disney products, make sure to read them before you make your purchase!