Are you planning your family vacation and trying to find the cheapest time to go to Disney World? Don't worry, you've landed on the right page! We will show you how to find the cheapest time to go to Disney, which leaves you with more spending money for fun Disney treats and souvenirs. Planning your vacation during Disney value season provides another added bonus — it's also one of the least busy times at Disney World!
Finding the cheapest time to go to Disney World takes a little research, but we are here to help!  We've done all the hard work so you can easily plan the perfect Disney World vacation that won't drain your bank account. Prices typically drop during the slowest time at Disney World, which means you'll be saving money AND experiencing more attractions! What better way to make the most of your Disney World vacation?
Get a FREE printable 30/60/90 day Disney countdown by joining our private Disney Facebook Group and share your photos and ask for tips and tricks!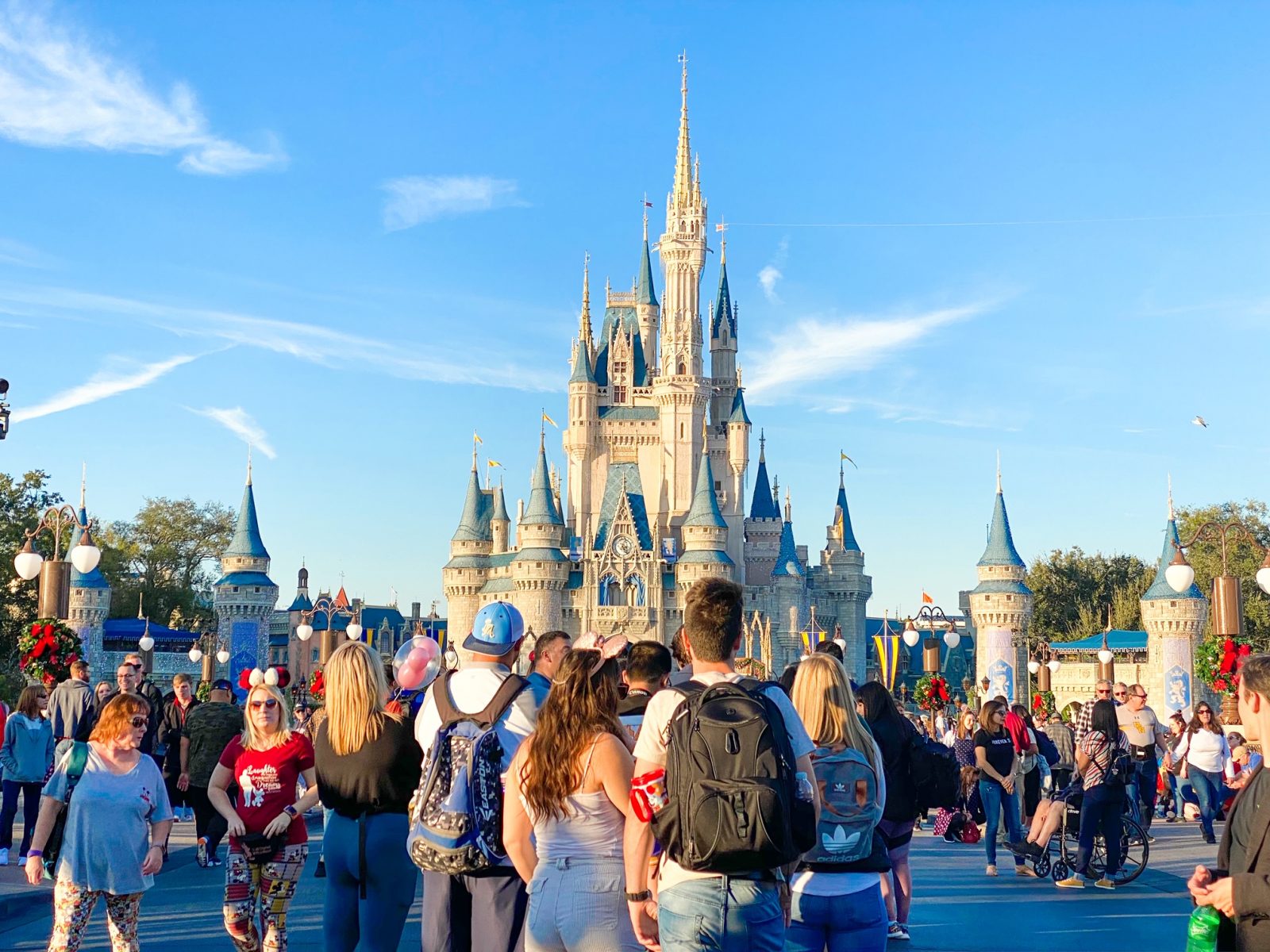 Exactly How To Find The Cheapest Time To Go To Disney World
Most Expensive Times Of The Year To Visit Disney World
In an attempt to better distribute the annual number of visitors to the parks, Disney World has switched to "demand-based pricing" admission. What this means for you is that when you travel to Disney World during high season, you'll be paying more. The busiest days at the parks are the highest-priced admission days.
The most expensive times of the year to visit Disney World correspond with popular US holiday periods. If you can, avoid times like the Christmas holidays and New Year's Day, Thanksgiving, Spring Break, summer vacation, and Memorial Day. It's probably not a surprise to learn that the most expensive days at Disney World also coincide with the periods when kids are on an extended school break, or there's a long holiday weekend.
Disney World hosts several events throughout the year that can affect pricing. These include cheerleading and dance competitions, the ABC Very Merry Christmas Day Parade, runDisney marathons, and the Pop Warner Super Bowl. You'll also want to try and avoid unofficial gathering days like Dapper Day (Disney fans dressed in cool vintage outfits), or Jersey Week (New Jersey teachers' convention) if you want lower prices.
These unofficial events can make attendance jump significantly. Disney World might not be as crowded and expensive as on a holiday like Thanksgiving weekend, but the added visitors will make a more significant dent in your spending budget, as hotel rates and admission prices will likely be higher due to demand. Learning how to avoid peak attendance days can help you save money on your Disney vacation. Fortunately, we have a helpful Disney World crowd calendar that can show you how to avoid the usual peak times.
Don't forget to check out our detailed breakdown of the Best Time To Visit Disney World for help with planning!
Using Our Crowd Calendar To Find The Slowest Time At Disney World
We've made finding the cheapest time to go to Disney World even easier with our Disney crowd calendar. Our calendar is super easy to follow, too! We've color-coded the calendar to indicate days with lower crowds (green), moderate crowds (yellow), and higher crowds (red). Maybe you can't avoid the peak times altogether, but you can visit on a few moderate days to save on costs.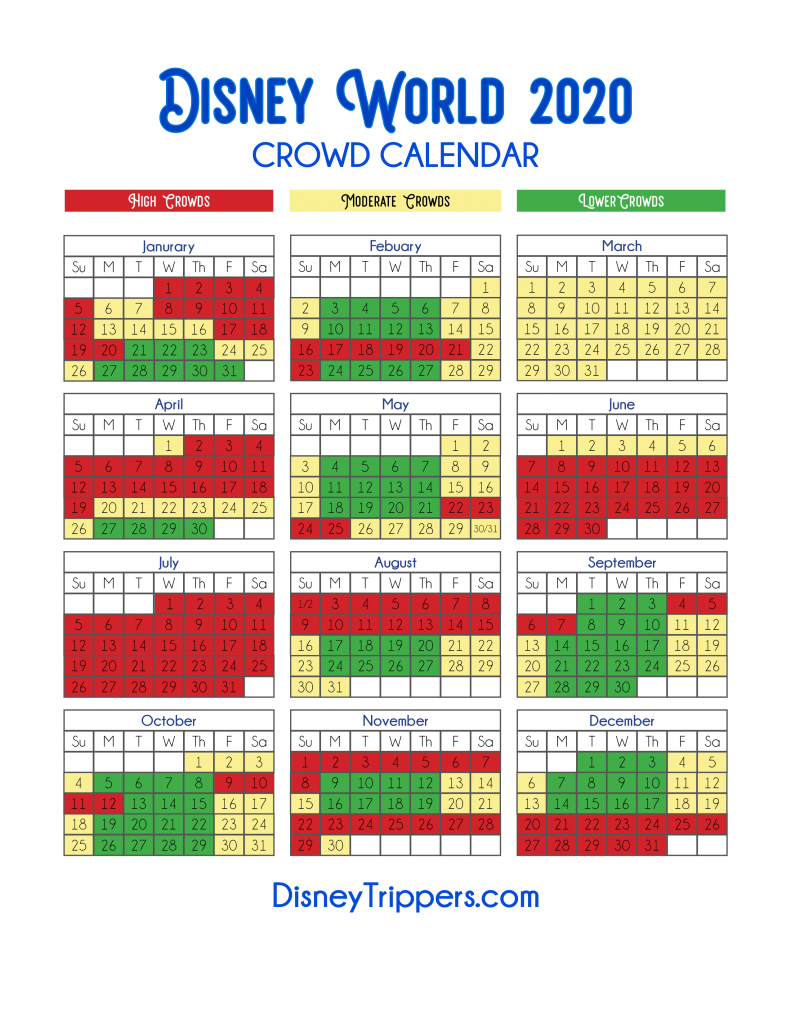 As you can see from the red dates on the calendar, there are many more high-crowd days than just the holiday periods we mentioned above. Our calendar takes into account these seasonal and unofficial event days to help you save even more money. Our primary goal is to help you plan the perfect Disney World vacation so you can afford to return again and again!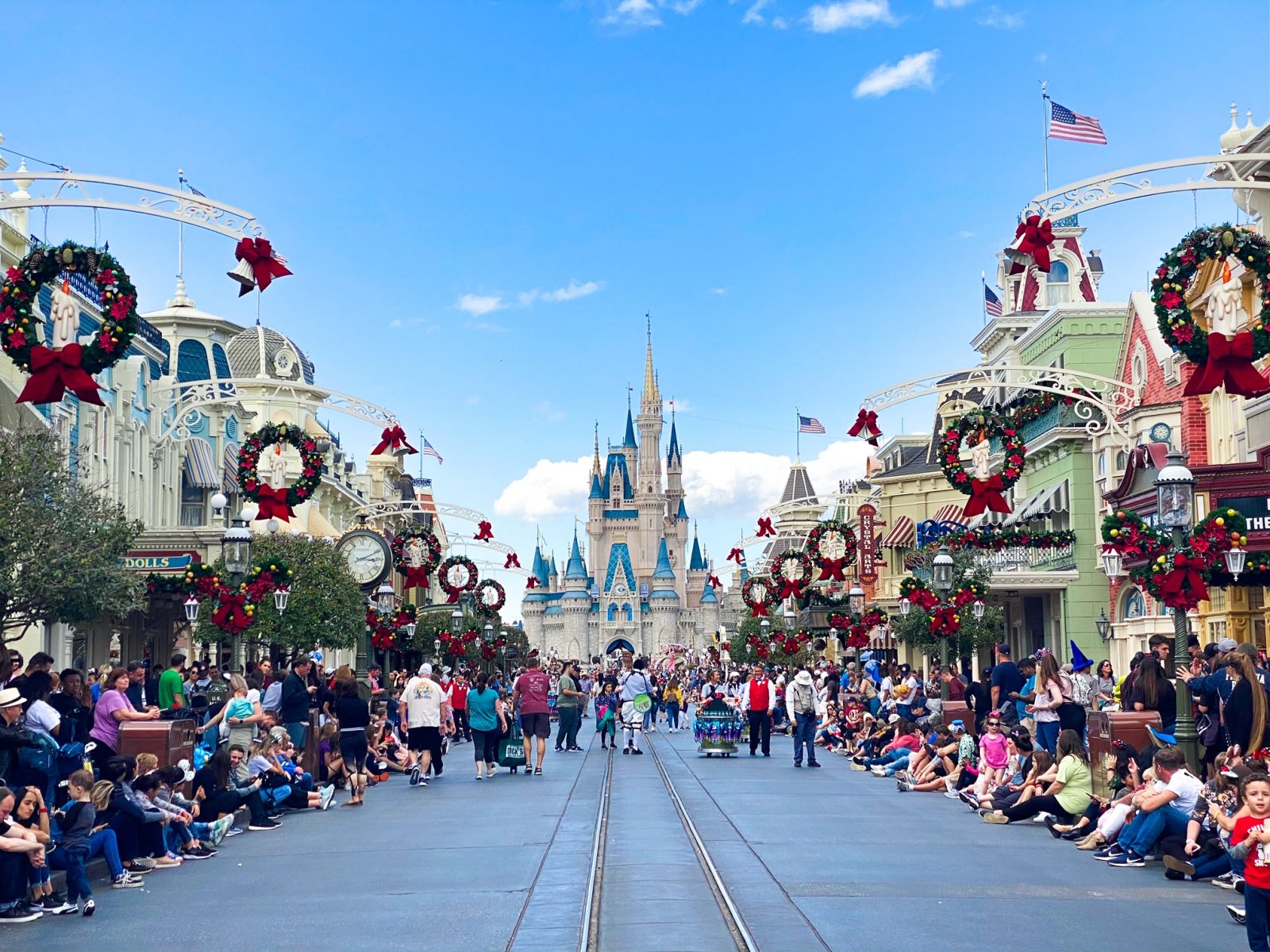 Using The Date-Based Ticket Calendar To Find The Cheapest Time To Go To Disney
Using Disney's interactive date-based ticket calendar can also show you the cheapest time to go to Disney World. Ticket prices will vary based on Disney value season, regular season, and peak season. Using the month of December as an example, you will see that you can save more money by choosing to visit on December 7th and 8th rather than December 28th and 29th, even though they are both non-weekend days.
Because Disney World tickets can be used on non-consecutive days, you may have to play around with the calendar to find the price combination that works best for your budget. When you purchase a two-day ticket, it calculates the price based on your start date. You have a four-day window to use the tickets. If part of that period extends into regular season or peak season days, the price will be higher.
Use October 2020, for example. Here, you'll see that you can save money starting your two-day park hopper on October 26th instead of October 12th — even though these are both value season periods. If you opt to start one day later, on October 27th, it will cause the Disney ticket prices to rise because the validity window will now extend into regular-season dates.
Once you understand that the pricing can vary even within the Disney value season, you can better plan your Disney World vacation. This also means that there are deviations in the peak pricing as well. If you are limited to the peak season due to work schedules and children's vacations, then choose the least expensive dates within the range. One idea would be to visit the week before Christmas as is cheaper than the week after, although they are both listed as peak season days.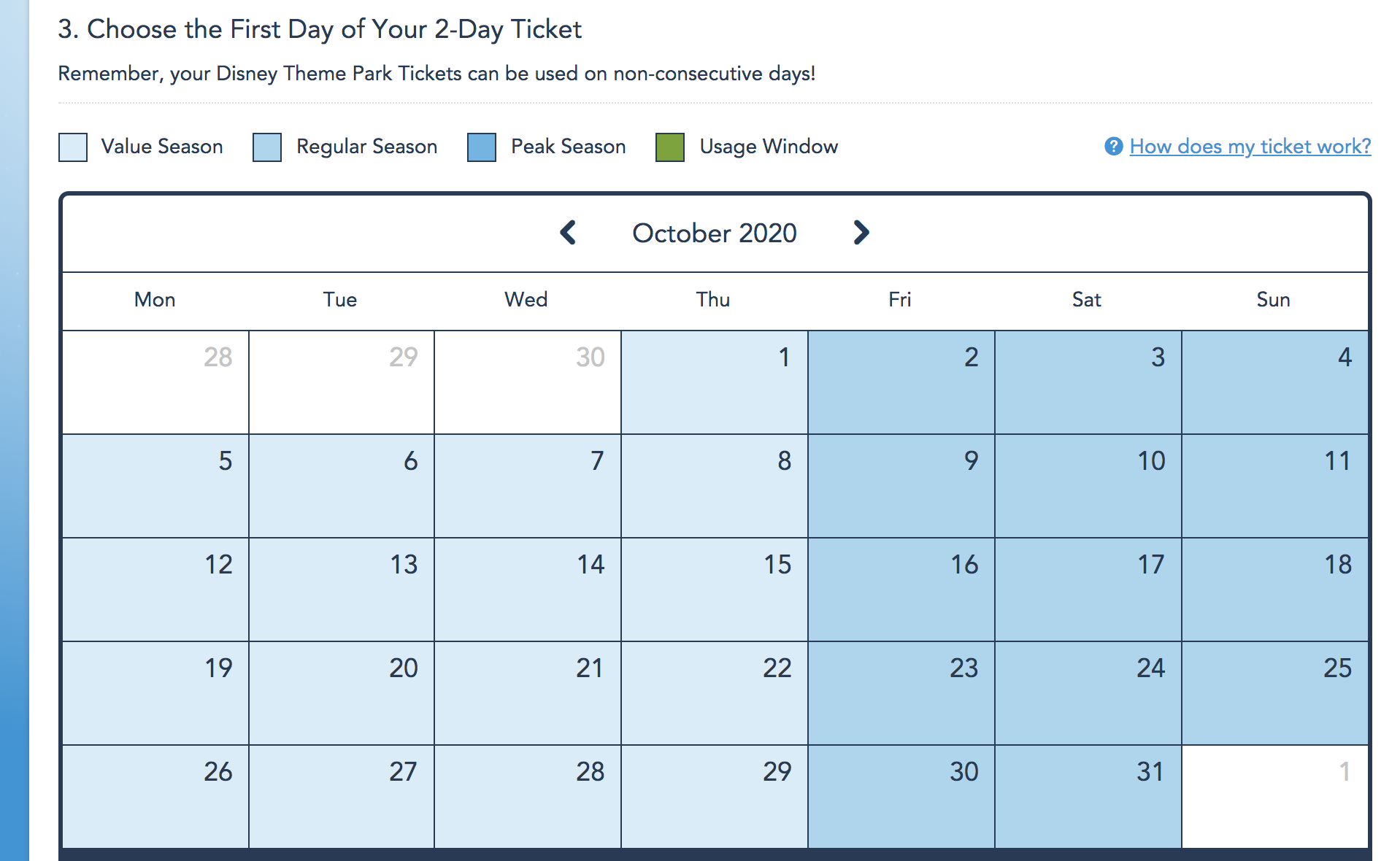 What Are the Disney Value Season Dates?
To understand what Disney value season is, you can refer back to the Walt Disney World ticket calendar that has color-coded days for value, regular, and peak season days. For the remainder of 2020, Disney value season dates are as follows:
February 16 and 18 – 27
March 3 – 5
April 20 – 23 and 27 – 30
May 4 – 7, 11 – 14, and 18 – 20
July 6 – 12, 17, 19, and 26 – 31
August 9 – 14, 16 – 21, 23 – 28, 30, and 31
September 1 – 4, 7 – 11, 13 – 18, 20 – 25, and 27 – 30
October 1, 5 – 8, 12 – 15, 19 – 22, and 26 – 29
November 9 – 12, 16 – 17, 19, and 30
December 2 – 3 and 7 – 10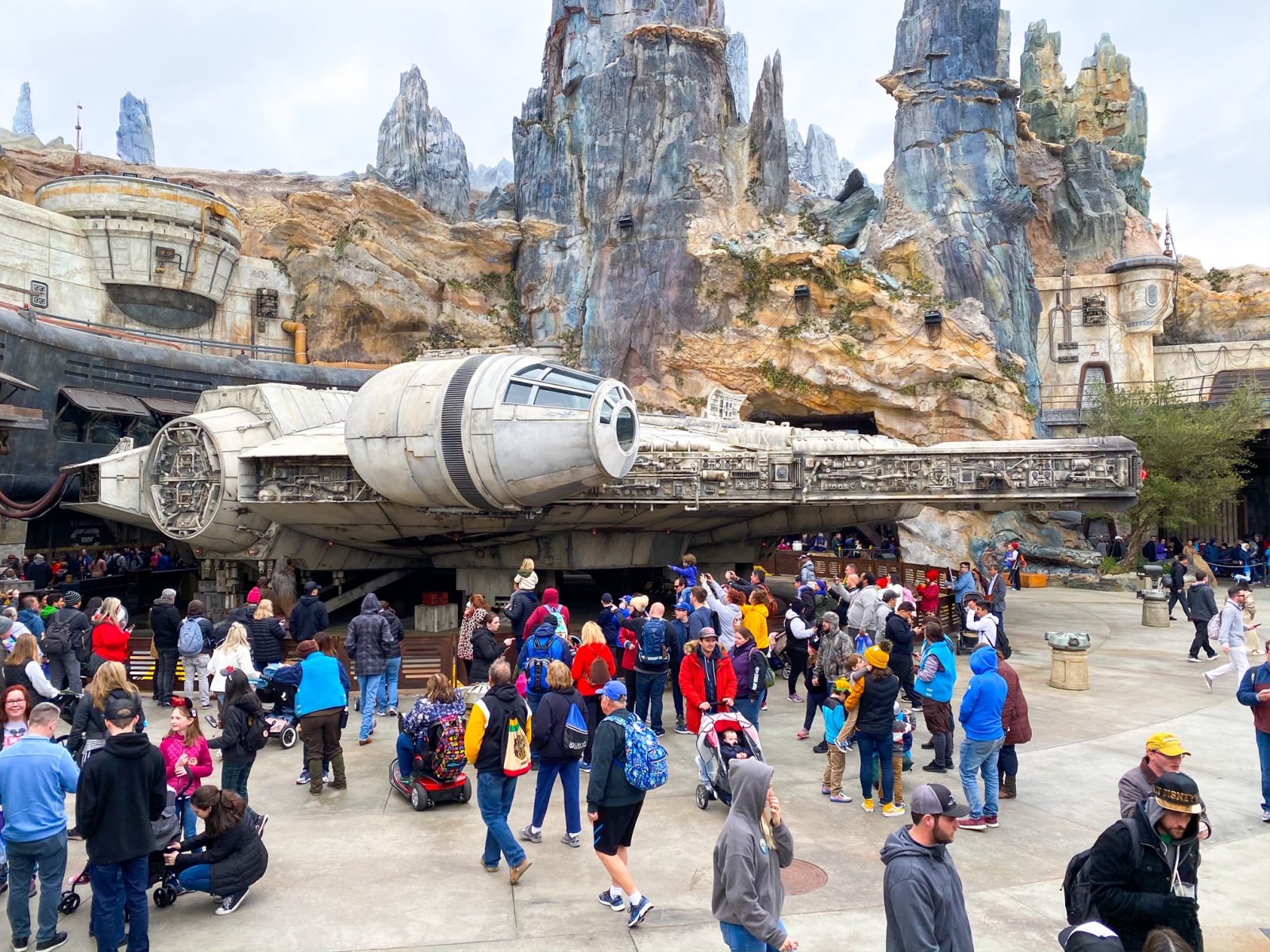 Cheapest Time to go to Disney World in 2020
When you study the date-based ticket pricing, you can figure out what the cheapest times to go to Disney World are. In general, you will find the most inexpensive tickets fall in four months every year — January, February, August, and September. We previously mentioned that there are fluctuations in pricing within Disney's value season. When you look at Disney value season, you can see different prices as you click on various dates.
For simplicity's sake, we will refer to them as value season one, which are the days with the absolute cheapest dates, and the next cheapest ticket options would be value season two. With value seasons one, four-day tickets are typically under $105 a day, whereas value seasons two tickets are usually four-day tickets for under $110 a day.
Remaining dates in 2020 under these two tiers are:
Value Season One
August 19 – 31
September 1 – 6
Value Season Two
February 16 – 24
April 20 – 30
July 3 – 9 and 23 – 28
August 6 – 18
September 27 – 30
October 20 – 26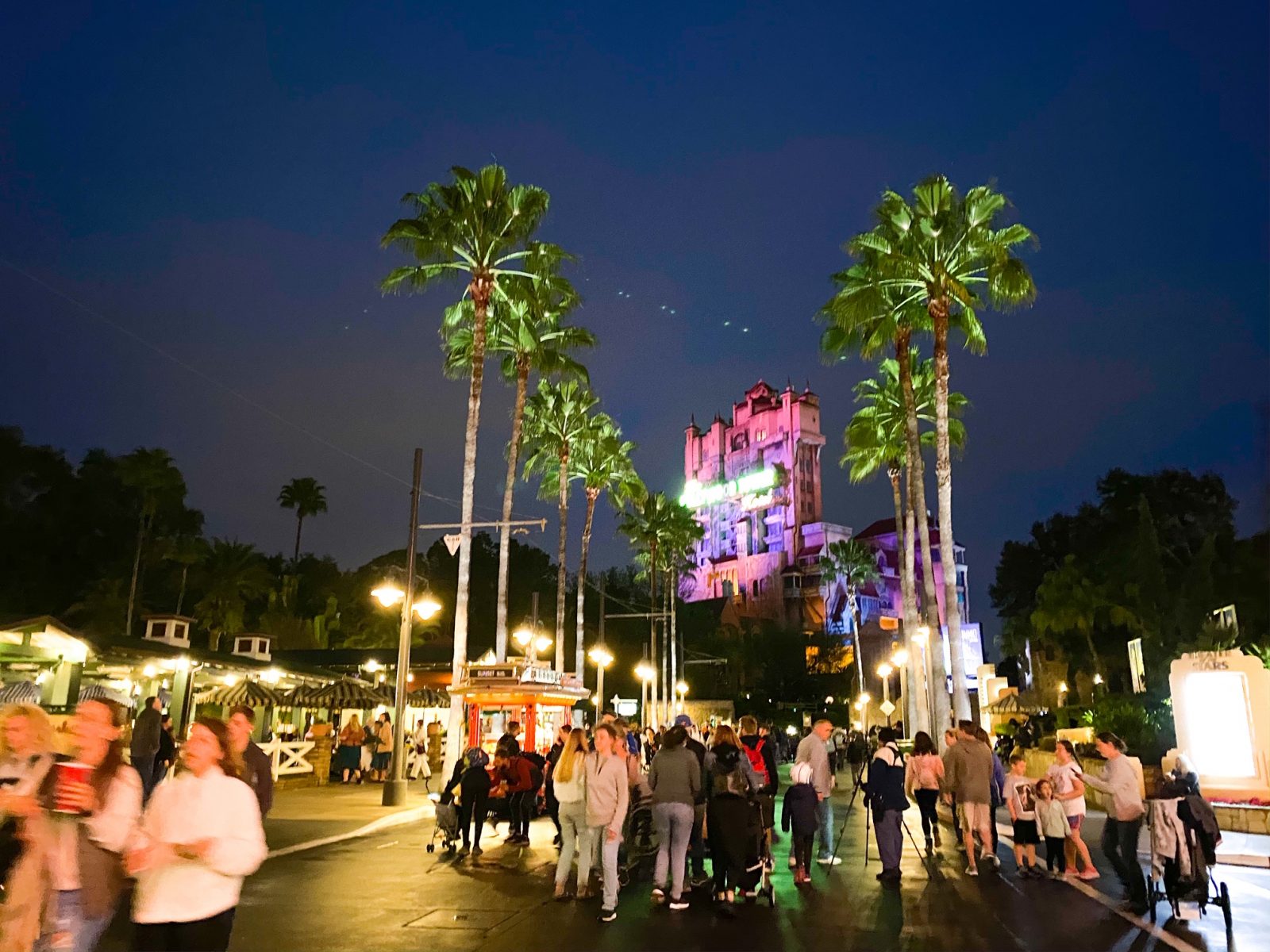 Cheapest Time of Year for Staying at Disney Hotels
Disney World admission tickets are not the only price fluctuations you are likely to encounter when planning your Disney vacation. Do you plan to stay at an official Disney hotel? If you hope to stay on property, you will definitely want to monitor prices for the cheapest time of the year for staying at Disney hotels.
In general, you want to avoid weekends when making a Disney hotel booking, as those are the most expensive days of the week. Prices for Disney hotels are the cheapest on weeknights, Sunday through Thursday. The price fluctuations can be high, so it is crucial to plan wisely.
Pricing Disney Hotels is easy when you look at the rate calendar, which lists the individual night prices directly on the calendar. There is no need to click through and check each night individually. As an example of varying Disney Hotels pricing, let us look at the Pop Century resort. During value season dates in August, the per-night price varies from $154 to $168 for weeknights and goes up to $212 and $221 on certain weekends. The rates increase to $262 and $270 per night around the Christmas holiday.
For 2020, the remaining dates that are the cheapest for booking your Disney World hotel are:
August 23 – September 12
October 25 – November 4
November 8 – November 20
November 28 – December 5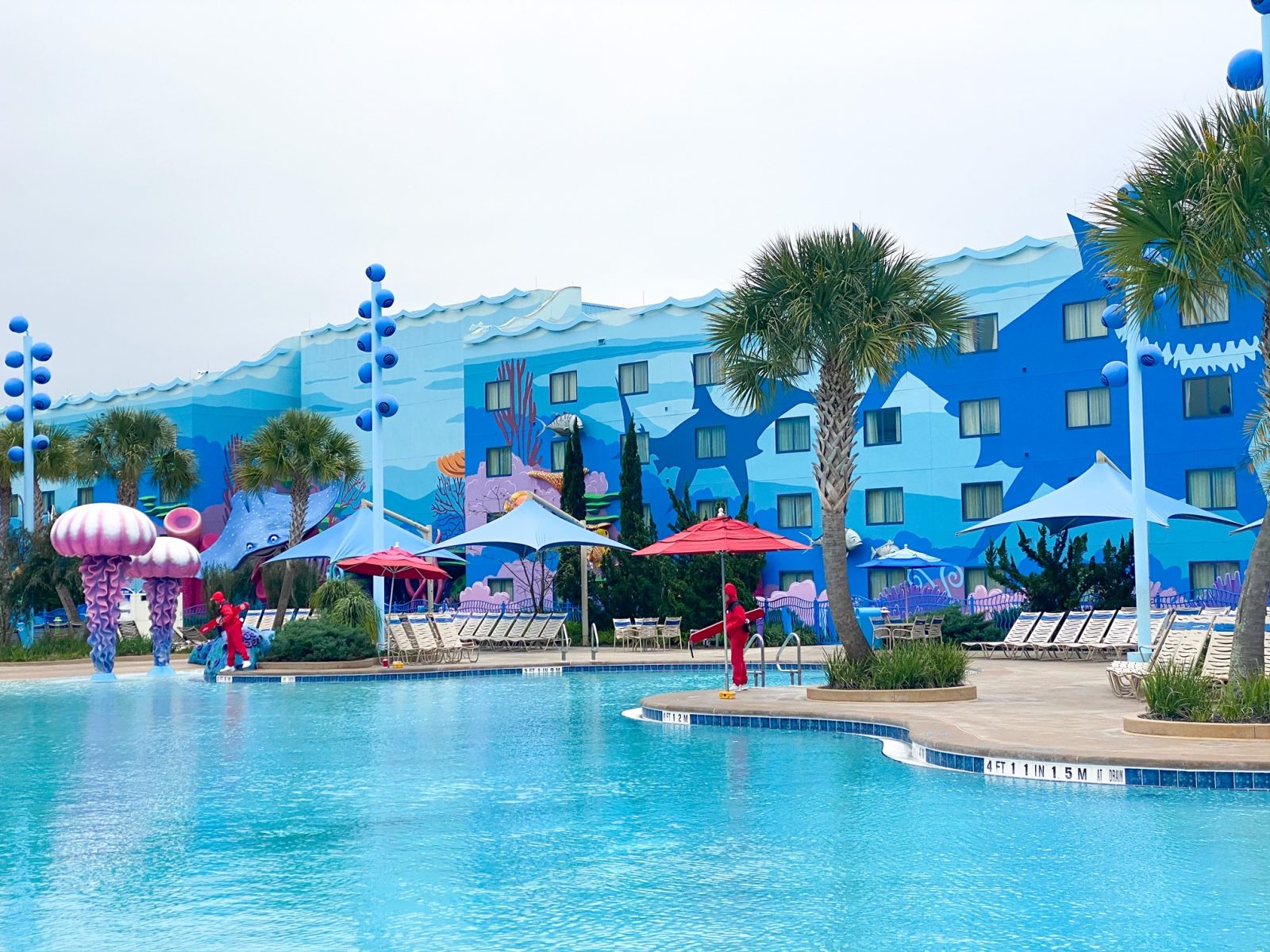 Cheapest Days of the Week to go to Disney
In general, you will find that certain weekdays are the cheapest times to go to Disney World. Hotels are the cheapest Sunday through Thursday nights, while tickets are cheapest Monday through Thursday provided it is during Disney's value season. Other times of the year, the dates will vary. For example, June has no value season days, so it is going to be more expensive no matter whether you visit Disney World on a Saturday or a Tuesday. If you wait until September, Sundays are also part of the Disney value season.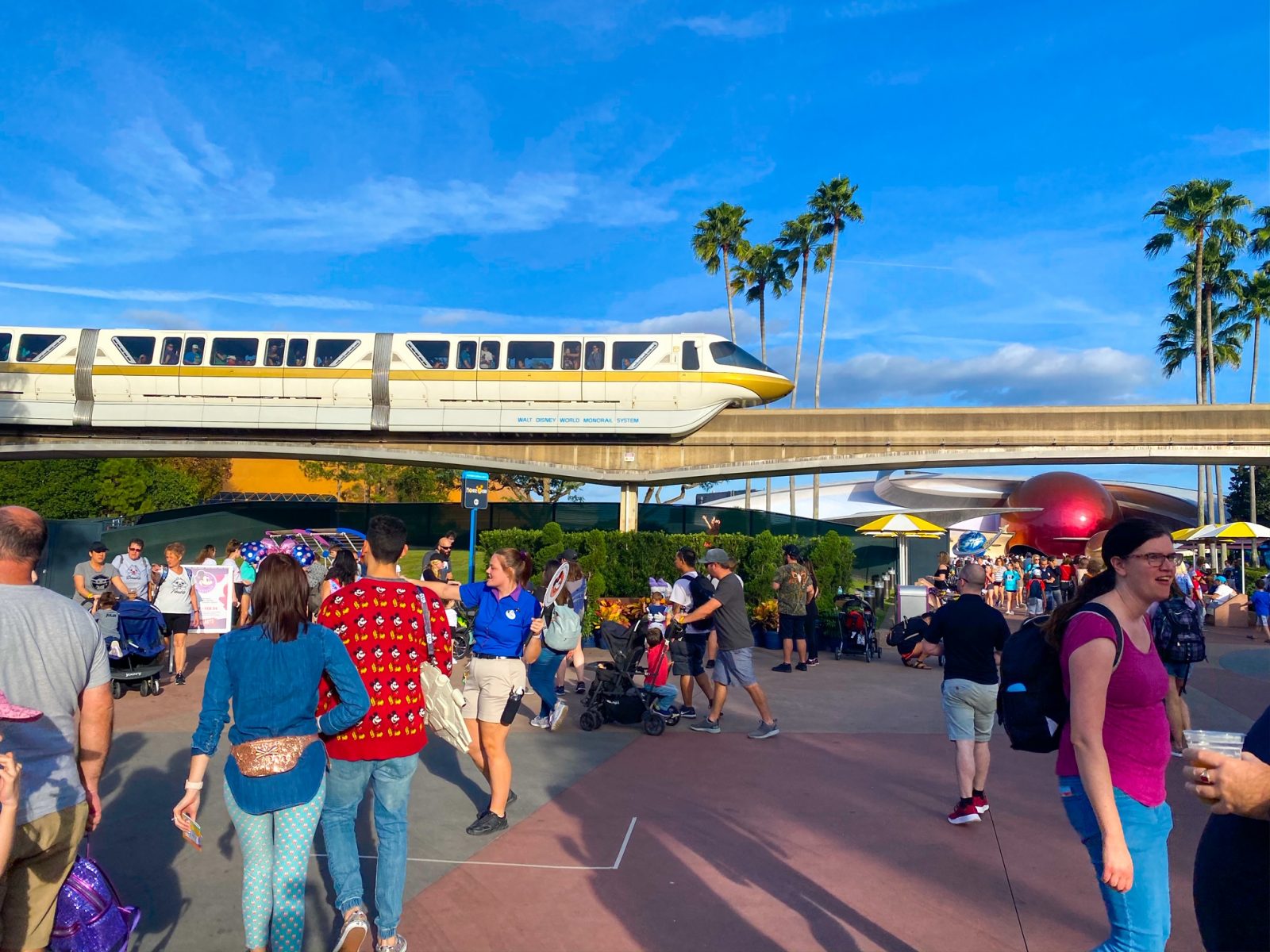 Weather at Disney World
Weather in Florida can be unpredictable and that goes for Orlando as well. Given that Orlando is in the center of the state, it can be affected by a wide variety of storm situations — tornados to hurricanes included. Two very important weather-related items to remember about Orlando are rain and humidity. If you do not live in a location that is prone to high humidity, the weather in Orlando might be shocking the first time around. The humidity can be oppressive during certain times of the year, especially for those who are not used to it.
Along with the standard humid days, you have to be prepared for the rainy season. Some people joke that the rainy season in parts of Florida starts on Jan 1st and ends on December 31st. While it might be a slight exaggeration, the fact remains that it rains a lot in Orlando. Some days may have periods of rain on and off, but it is also possible to have more steady rain days. During the Atlantic tropical storm season, you are likely to see even more rain. Hurricanes are possible, but they do not disrupt operations at Disney World on a regular basis.
If you are visiting Disney World during the winter, do not forget to pack a jacket! Yes, Florida may be the "Sunshine State," but it gets downright cold on a few nights of the year. If you forget to pack one, that can be your excuse to pick up a jacket or a cool sweatshirt at Disney World instead!
It is practically impossible to predict the weather months in advance, so the best option is to be prepared for everything and anything. You might find yourself there on an unseasonably warm winter day or stuck in the middle of a massive, muggy rainstorm in July. Mickey ponchos are a great purchase if you do not want to carry a rain jacket around all day wondering if it will rain or not. They are compact and lightweight so you can throw them in a bag without a second thought.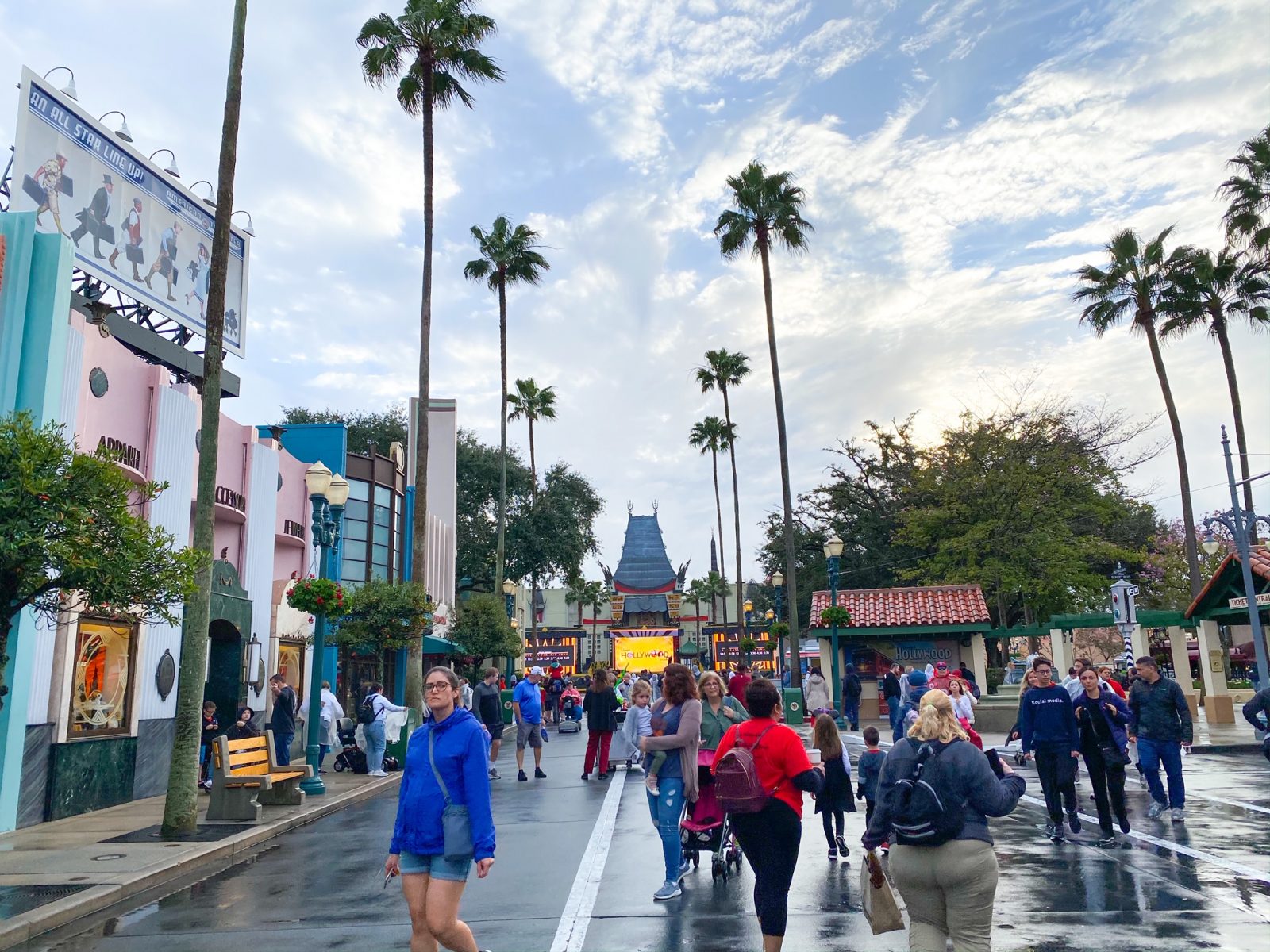 Our Personal Favorite Time of Year to Visit Disney World
Everyone has their own favorite time of the year to visit the Disney World parks, and we are no different. We absolutely love to visit Disney in January because it is during the Epcot Festival of the Arts. Because this event is not as well known or crowded as the Food and Wine Festival, this time of year is typically quieter at all of the Disney parks. This makes for a more enjoyable experience and allows you the opportunity to experience more attractions.
Next to repeat visits in January during the Festival of the Arts, we love going in February. The weather is nicer as it is colder out, and the parks are still not as crowded as other times of the year.
We hope you find our explanation on the cheapest time to go to Disney World helpful. Do not be discouraged if your planned time does not correspond with the least busy or absolute cheapest days. It does not necessarily mean that the parks will be completely full, and you will have a miserable time. As long as you are not going during Christmas week or on New Year's Eve, you and your family should still have a great Disney vacation!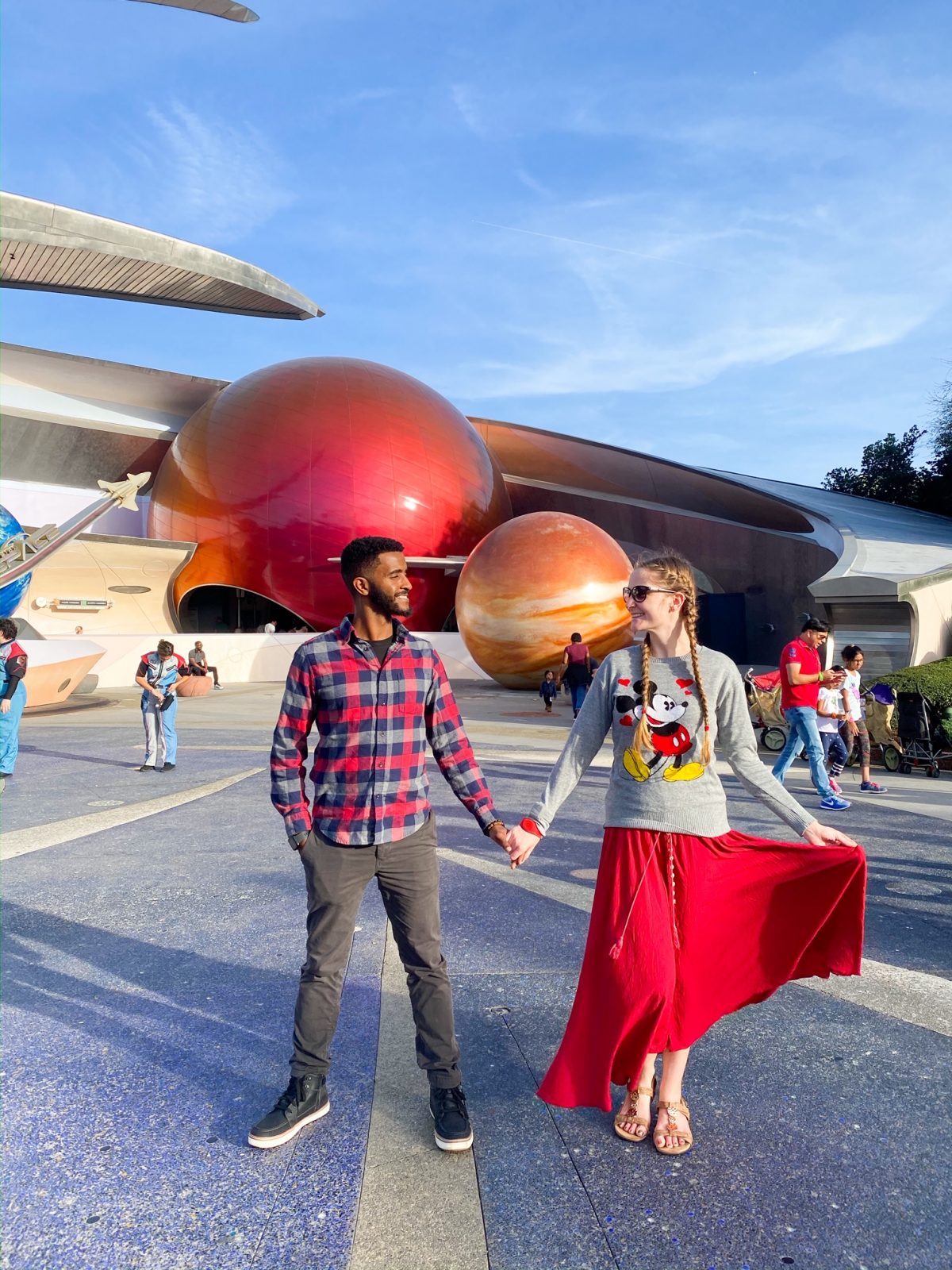 Planning your Walt Disney World vacation? Discover Where To Eat At Disney World by reading our restaurant reviews and suggestions. Next, check out our Disney World Crowd Calendar to see the best time of year to go to Disney and our other Disney Trip Planning Tools including Every Official Map At Walt Disney World to use when planning your trip! Finally, find out What To Wear And Pack For Disney World so that you are perfectly prepared!
Pin this post: