If you're looking for the best way to spend your Disney rest day, then look no further! We know that sometimes it's hard to spend every day of your vacation at the Disney Parks from open to close – and that it can feel less like a vacation when you do.
It's a great idea to build a Disney rest day into your trip: a day where you don't step foot into a Disney Park, and you take the day off from the crowds and craziness. How you spend that day is up to you, and we have some great ideas to help you make the most of your rest day!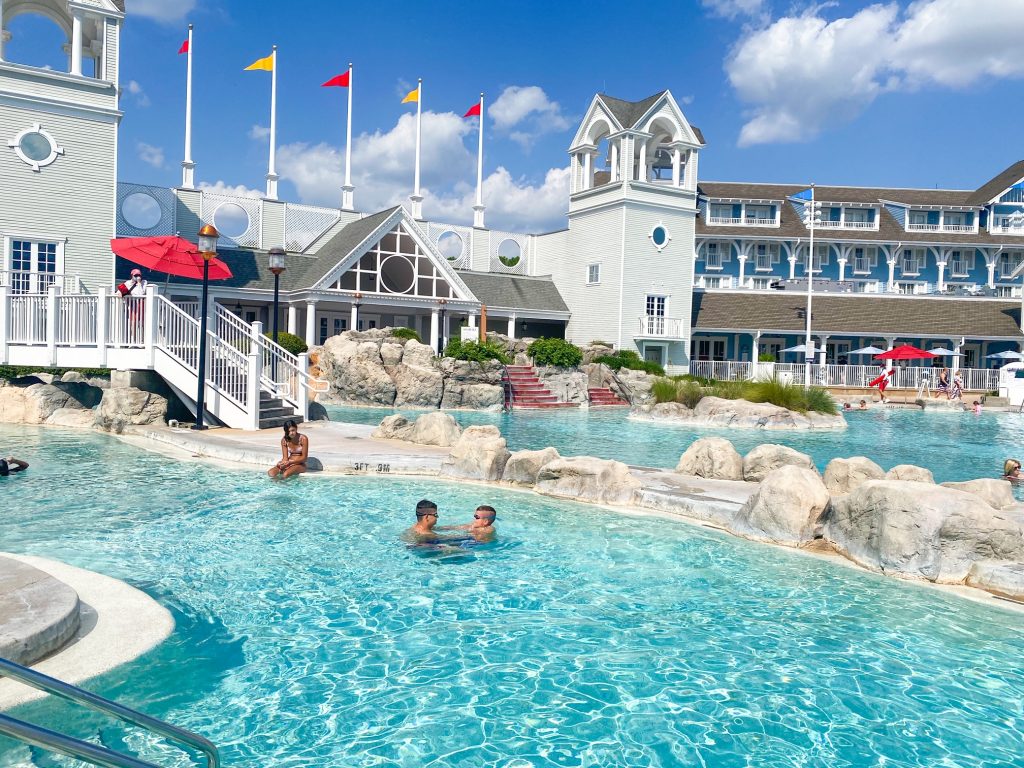 Spend Time Enjoying Character Dining
Character dining at Disney is offered at the parks, but is also offered at several of the resorts. Booking a character dining meal for breakfast or dinner is a great experience to take advantage of on your Disney rest day. Character meals can take up a lot of time, and can take a big chunk out of your day if you're visiting the parks but on a Disney rest day, you have a little more time to enjoy the meal and take all the character photos you want!
Having breakfast with Disney characters is a wonderful way to start a lazy no park day, and we recommend Topolino's Terrace at the Riviera Resort and Chef Mickey's at the Contemporary Resort. Topolino's has the better food and ambiance, but Chef Mickey's is classic Disney and a don't miss if you have little kids. These are on our lists of favorite character meals, and even our favorite places for breakfast too!
Explore Disney Springs
Even if you don't want to visit the parks, it doesn't mean you don't get to enjoy other things Disney has to offer. Disney Springs is the best free experience at Disney World, and you can spend all day looking in the shops, walking around, and enjoying some delicious food here.
Disney Springs is an outdoor shopping area, with over 150 different places to eat and shop, with many of them unique to Disney World. There are restaurants by world class chefs, the largest Disney store, and fun, upbeat nightlife. Visiting Disney Springs is a great way to spend your Disney rest day, and you'll never run out of things to see and do here.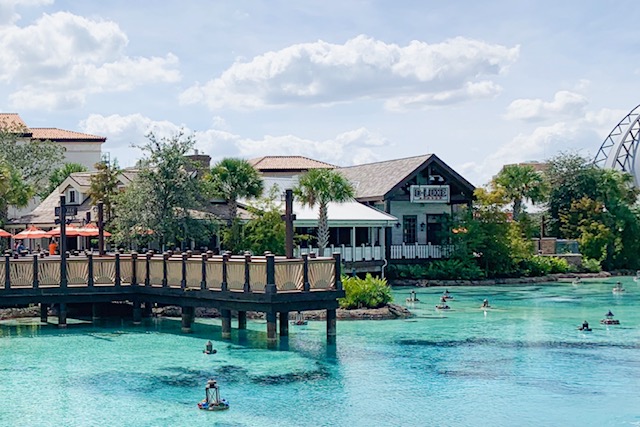 Go to a Disney Water Park
If you don't want to go to one of the four Disney Parks on your Disney rest day, but you still want to enjoy the warm weather, you will love going to one of the two Disney water parks. Disney World has two water parks, full of wave pools, lazy rivers, and awesome slides.
Both Typhoon Lagoon and Blizzard Beach offer family fun, and you can enjoy some Disney magic and water park rides. These water parks are a great way to spend your rest day, and you could lay out all day and just float in a lazy river – you don't have to go-go-go at the water parks to enjoy them. The two water parks are very different, and it's up to you whether Blizzard Beach or Typhoon Lagoon is right for your family.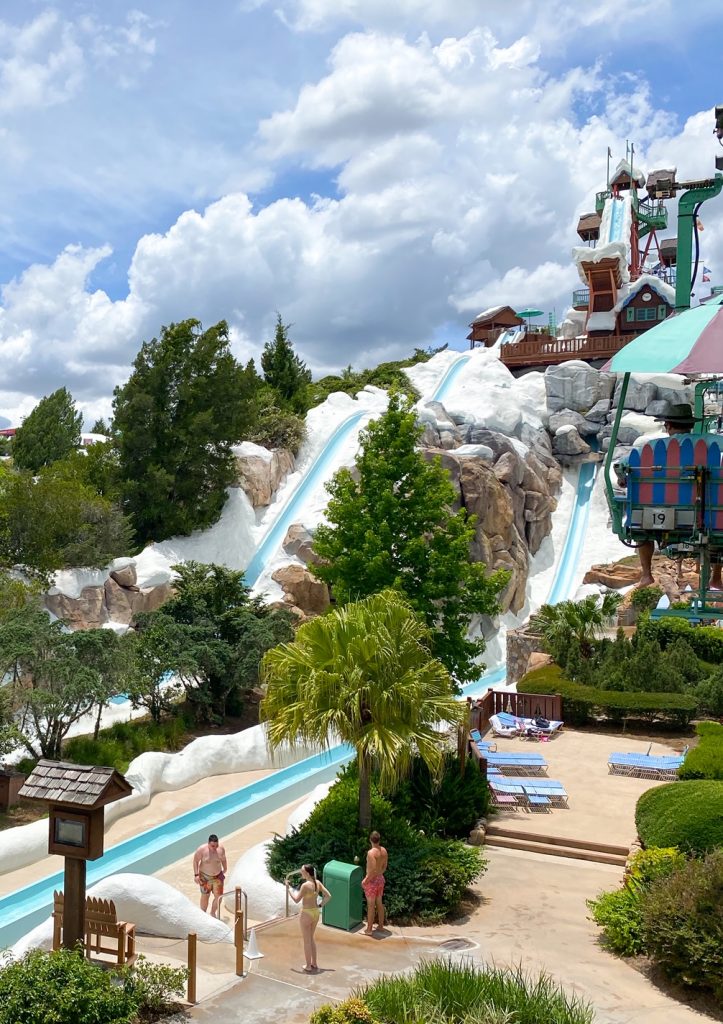 Resort Bar Crawl
The Disney Resorts are full of amazing restaurants, bars, and experiences that you don't want to miss out while visiting Disney World. If you're looking for a more adult way to spend your Disney rest day, consider doing a Disney Resort Bar Crawl.
You can visit the different resorts along the Monorail, or the Skyliner, or even create your own resort loop to go to some of the best bars at Disney. Grab drinks and snacks along the way, getting unique drinks at each resort, and you'll be able to see some of the other beautiful resorts at Disney World. Not to mention, it's free to resort hop and free to take Disney transportation – all you'll pay for is what you eat and drink.
Skyliner Dessert Crawl
If you're looking for a more family-friendly (or less alcohol-fueled) way to see the Disney Resorts, we suggest hopping on the Skyliner and going on a dessert crawl! You'll be able to see 7 different resorts, the Boardwalk, and you can grab desserts and snacks at every single stop.
This is such a great way to spend a Disney rest day, and to be able to include your kids and family in a "bar crawl." You can knock a lot of resorts off of your list, have some unique snacks and desserts, and enjoy Disney's most fun mode of transportation!
Visit Kelly Park and Rock Springs Run
Visiting a hot springs or nature park may be the perfect escape from the bustling Disney Parks. Located just 40 minutes outside of Orlando, near Apopka, Kelly Park is a nature park which has Rock Springs running through it. Kelly Park is great for hiking, trails, and camping, and is a gorgeous state reserve.
Rock Springs offers crystal clear water, that is only about 68 degrees on most days, and has a lazy river section running right through Kelly Park. But Rock Springs Run does continue for over 8 miles outside of the park as well. And not only is the park and springs beautiful, quiet, and the nature-filled escape you need on a Disney rest day, but it's also inexpensive – just $3 for a car with 1-2 people, and $5 for a car with 3-8 people.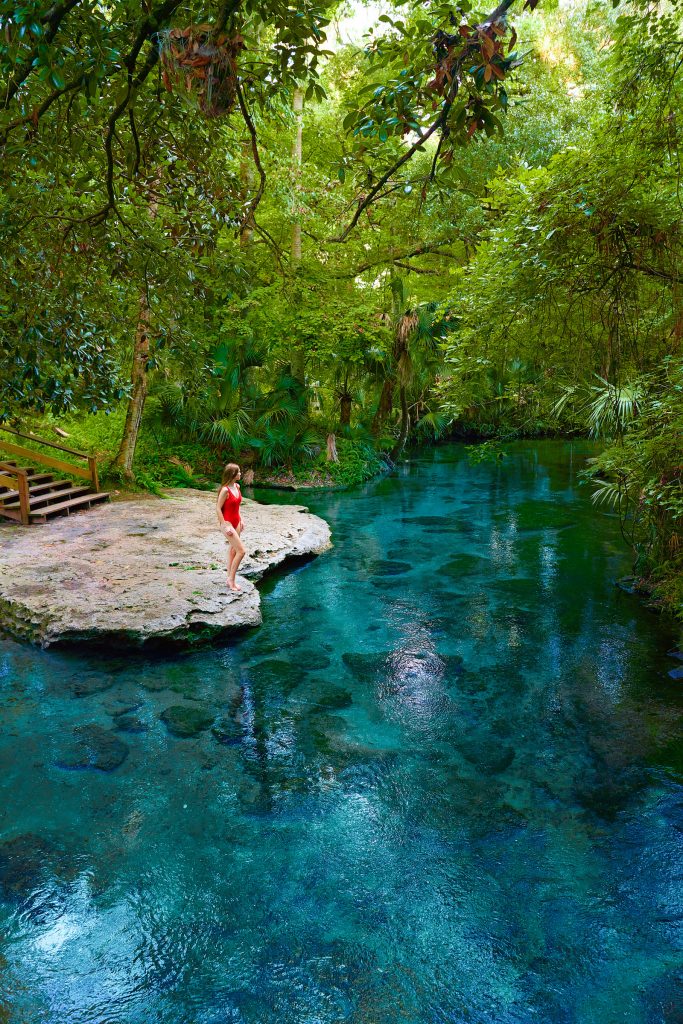 Visit Celebration
Celebration, Florida is the town that Disney built, and has held onto the Disney charm after all this time. Developed by the Walt Disney Company, Celebration is pretty and picturesque, and was inspired by American towns from the early 1900's. It's also only a 15-minute drive from the Disney Parks, making it a great place for your Disney rest day.
Celebration is full of parks, playgrounds, and a popular farmer's market. There's plenty of funky boutiques and quaint, delicious restaurants to enjoy during your visit. It's free to visit Celebration, and even just walking around this cute little town will make you think you've escaped to another time and place – and don't miss out on taking a self-guided tour here, or even a horse-drawn carriage ride around town.
Visit I-Drive
International Drive, otherwise known as I-Drive, is a hotbed for restaurants, stores, and attractions in Orlando. It's located just minutes from the parks, and most of the hotels there even have shuttles to the many theme parks. There are so many things to do on I-Drive, and you can even park and hop on the i-Ride trolley for just a few dollars to enjoy everything I-Drive has to offer.
If you want to do something a little different on your visit to I-Drive, check out ICON Park. For less than $40 you can go to Madame Tussaud's wax museum, SEA LIFE Orlando Aquarium, or take a ride on the ICON – a huge Ferris wheel. Not to mention ICON Park offers great shopping, restaurants, and the occasional music and food festivals. Whether you visit ICON Park or just enjoy the different shops on I-Drive, you'll enjoy your Disney rest day seeing a bit of Orlando outside of Disney.
Relax in Your Hotel Pool
Whether you're staying on Disney property or off-site, taking a pool day to relax is always a great idea. A Disney rest day isn't complete without laying on a deck chair, jumping into some cool water, and cooling off in the humid, Florida weather.
If you're staying on Disney property, make sure you take advantage of the amazing pools on property. Disney resorts have some of the best pools, and you don't want to miss out on lazy rivers, epic slides, and some of the most amazing theming the resorts have to offer. Spend your Disney rest day indulging in the best pools at Disney, and you won't regret slowing day for the day.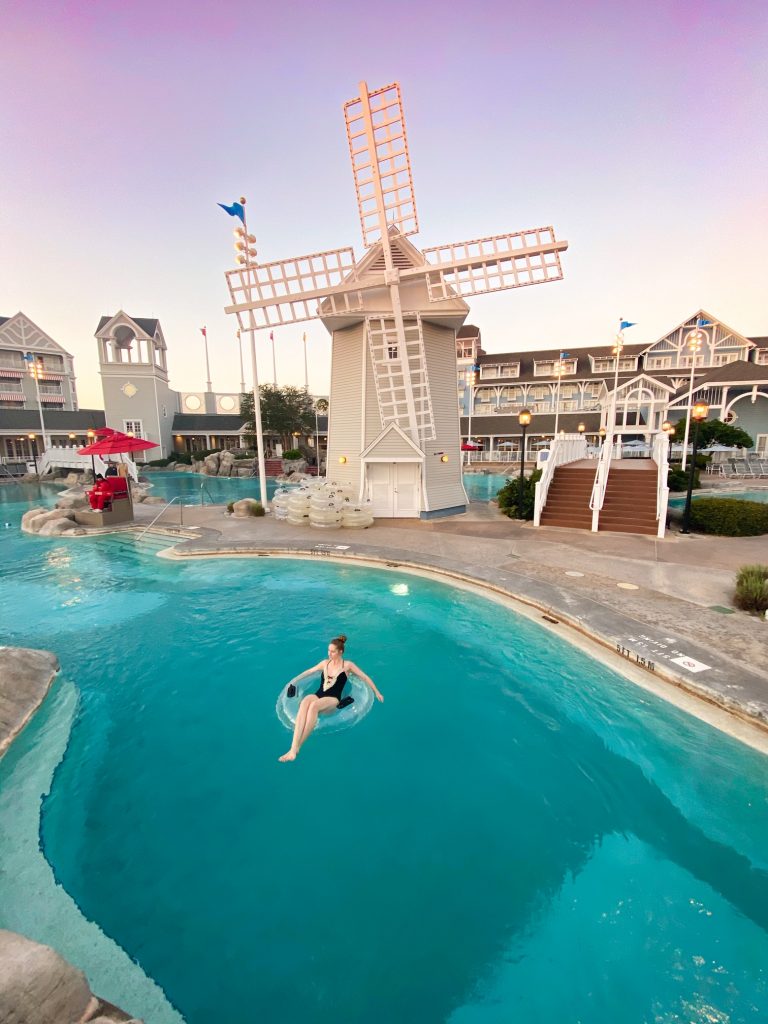 Play Mini Golf
Disney has two different miniature golf courses, and both are a fun way to escape the parks and spend your Disney rest day. Winter Summerland is themed after Santa's summer escape in Florida, and has two different 18-hole courses: Summer and Winter. Theming here is uniquely Disney, and is super cute – where else will you find snow and Santa year-round in Florida?
Fantasia Gardens is themed after the classic movie "Fantasia," and has two 18-hole courses as well. This is the cutest mini golf experience, you'll recognize many of the characters from the film, and the whimsical, musical touches of the course will make you smile.
Experiencing either course – or both – is a great way to spend your Disney rest day, and your family will enjoy playing a few rounds and getting away.
Take a Day Trip to Bok Tower Gardens
Just an hour drive from Downtown Orlando and the theme parks, Bok Tower Gardens is located in Lake Wales, Florida. Bok Towers Garden is a 250-acre botanical garden and bird sanctuary, that offers tours of both the gardens and Pinewood Estate – the 1930's mansion on site.
For less than $15 a person, your family can tour the gardens, enjoy the outdoors, and see a National Historic Landmark. The icon of the gardens is, of course, the tower. This 150-ft. tower is actually a 60-bell carillon, and can't be missed. This is a beautiful and historic place to visit on your Disney rest day, and is something completely different than the theme parks.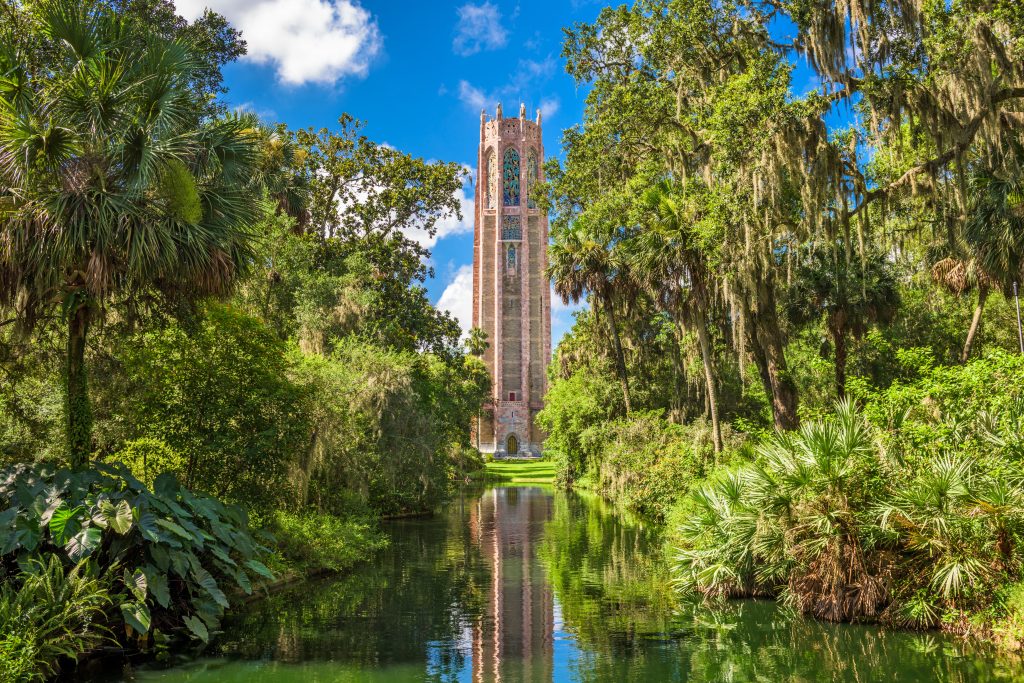 Take a Day Trip to Florida Beaches
Even though Orlando doesn't have any beaches, it is less than an hour from the Atlantic Coast, and only an hour-and-a-half from the Gulf Coast of Florida. There are 10 beaches less than two hours driving distance from Orlando, and any of these would make for a great Disney rest day.
Cocoa Beach is the closest beach to Orlando, just an hour away. This is a very popular beach, with beautiful white sands. This is considered one of the best beaches in Florida, and is family-friendly as well. Cocoa Beach is also popular for surfers, and is a great beach if you surf or anyone in your family does.
Daytona Beach, considered by many to be the World's Most Famous Beach, is just an hour northeast of Orlando. There's 20 miles of beaches to enjoy, and not only is it great for families with children, but it's perfect for a day trip.
If you're looking for a quieter beach to escape to, New Smyrna Beach is right for you. Just over an hour away, New Smyrna is a hidden gem. It's not as crowded, more laid back, and the golden sands beach isn't as busy as other beaches. Not to mention, New Smyrna is a cute town full of restaurants and boutiques.
Visit Disney's Boardwalk
Just a bus or Skyliner ride away, Disney's Boardwalk is a bustling, quarter-mile stretch of restaurants, nightlife, and entertainment. Inspired by American boardwalks like Coney Island and Atlantic City, Disney's Boardwalk is a fun place to spend your Disney rest day. It's also close to several resorts, giving you the ability to do a little resort hopping as well.
There's no shortage of things to do at the Boardwalk, and adults and children will enjoy spending time here. Go to a dueling piano bar, a sports bar, or even play some midway games to pass the day away. We love Disney's Boardwalk, and we think you'll enjoy your Disney rest day experiencing it.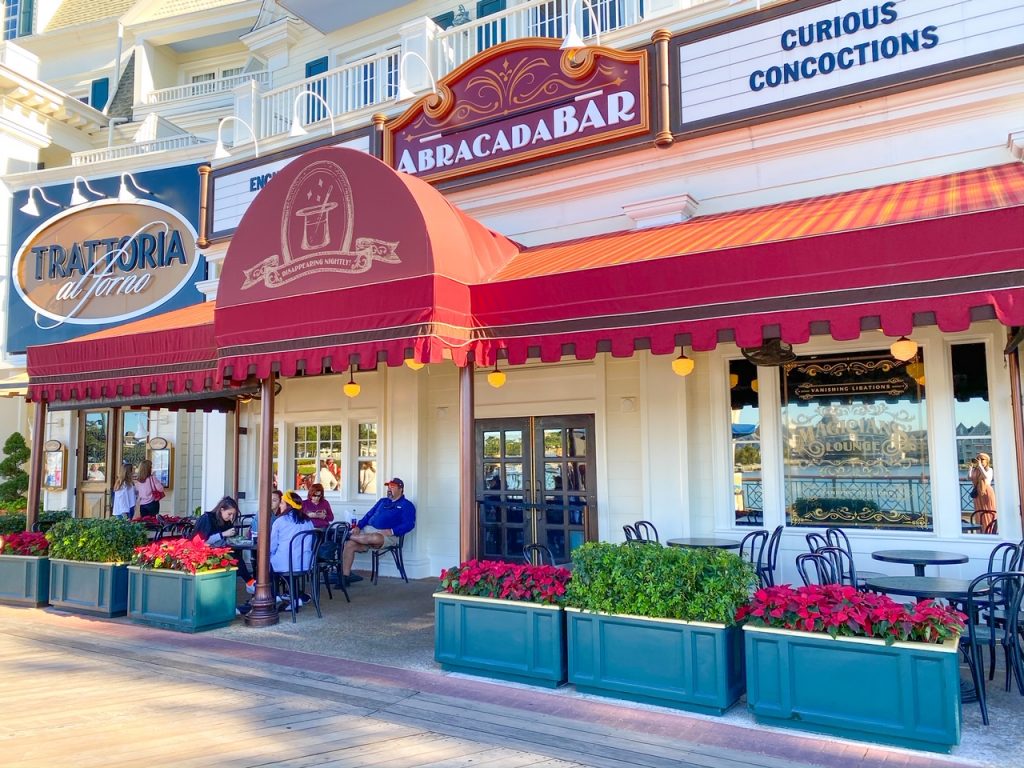 Visit Harry P. Leu Gardens
Located less than 30 minutes away from Disney World, Harry P. Leu Gardens is a 50-acre botanical garden. Considered to be one of the best botanical gardens in the country, Leu Gardens is peaceful, beautiful, and a wonderful way to spend your Disney rest day. Kids and adults alike will enjoy the arid garden, the rose garden, and the butterfly garden that is full of plants to attract colorful butterflies from all around.
Thanks to Florida's climate, the garden has many both tropical and temperate plants. Along with beautiful walkways, there's the Leu House Museum to tour, and lots of wide-open spaces for the kids to run around. For less than $15 per person, visiting the Leu Gardens will make for a wonderful escape and Disney rest day.
Go See Tri-Circle D Ranch
Located at Disney's Fort Wilderness Resort, Tri-Circle D Ranch is a rustic ranch where you can take part in outdoor activities and see a little bit of the wilderness on your Disney rest day. Here you can experience horseback riding, the little ones can ride ponies, and you can go on trail rides as a family. The pony rides are fairly inexpensive, but the other activities are a little bit more expensive. It is free just to visit though, and walk around.
While visiting Tri-Circle D Ranch, stop by the stables and see Cinderella's ponies and the horses that parade down Main Street, U.S.A. You can see several different breeds of horses while here, and you can learn all about them from the cast members that work at the stables. You can also view the Dragon Calliope – which Walt Disney bought in the 1950's and used for the Mickey Mouse Club Circus Parade at Disneyland.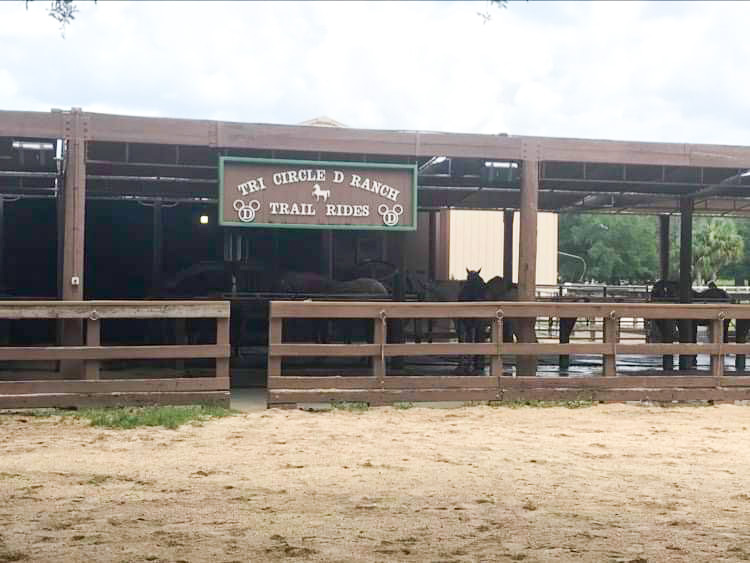 Hopefully you will enjoy your Disney rest day on your next trip to Disney World, and we hope that you will use our list to find the perfect escape for your family to enjoy. Whether it's a day at the pool, the beach, or exploring a beautiful botanical garden, taking a rest day from the parks will help you recharge and appreciate the calmer moments in life.
Do you normally take a rest day while at Disney? Or are you thinking of adding one in on your next trip? Let us know in the comments what you plan on doing during your next Disney rest day!