Now that Downtown Disney has completed its magical transformation into Disney Springs, finding the best restaurants at Disney Springs may seem even more challenging than before. But fear not, you are in the right place for the full scoop on the best (and worst) Disney Springs restaurants.
No matter what type of meal you are looking for in Disney Springs, this list will help steer you to the perfect dining option at Disney Springs, and away from those that are not deserving of your limited magical time! Don't forget to Download The Official Disney Springs Map to make your experience more enjoyable and easier to understand.
Whether you are looking for a fully immersive experience, delicious food from the other side of the globe, a meal created by a Top Chef Master or, maybe, an Iron Chef, or a meal with live entertainment, the restaurants at Disney Springs provide plenty of options ensuring you can check off each item on your list.
When Disney began transitioning Downtown Disney to Disney Springs, many of us did not know what to make of this huge change. What we learned is that the transition from Downtown Disney dining to Disney Springs dining allowed Disney to really step up its game! Read on to learn more about the Best, and unfortunately Worst, Disney Springs Restaurants!
Get a FREE printable 30/60/90 day Disney countdown by joining our private Disney Facebook Group and share your photos and ask for tips and tricks!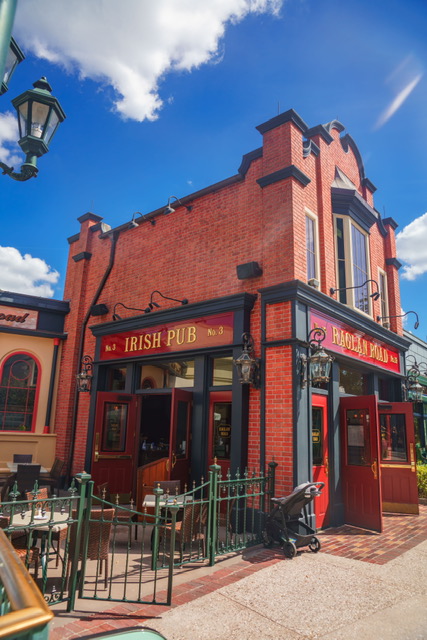 17 Best (And Worst!) Restaurants at Disney Springs
Disney Springs is divided into four areas – The Marketplace; The Landing; Town Center; and West Side.  The Best (and Worst) Disney Springs Restaurants can be found sprinkled around all four areas.
Best Table Service Restaurants at Disney Springs
Although Walt Disney World has quite an impressive list of great table service restaurants, to be sure you can dine at your top choice(s), advanced reservations are recommended. Before you go, be sure to visit Walt Disney World's Official Dining Reservation website or use your My Disney Experience App to book when you prepare your phone for Disney! 
Keep in mind, you can book your dining reservations 60 days before your arrival.
The Edison
The Edison is a 1920's steampunk themed power plant and can only be described as the coolest restaurant in Disney Springs! The Edison is comprised of multiple lavish rooms and bars including, the Ember Parlour, the Telegraph Lounge, the Patent Office, the Tesla Lounge, the Radio Room, the Waterfront Patio, and the Lab, and every room is worth exploring.
This steampunk inspired hot spot has so much to offer, including massive portions and delicious burgers. The atmosphere will have you in awe with the entire restaurant centered around a stage where you can catch DJ's, aerialists, singers, and musicians in the evening.

Before 10 pm, the Edison is a family friendly restaurant in Disney Springs serving up their famous clothesline candied bacon, short ribs, and drool-worthy sandwiches. The Edison burger has its own following so if you are burger person, you should not pass up this signature burger. If meat is not your thing, they have an entire mac and cheese section on their dinner menu, a beyond burger, and plenty of lighter options.
There is also plenty to entertain the entire family with old shows and cartoons playing on projectors around the restaurant and visits from Rory the Inventor, who can stop by your table for a visit to show off some of his science and magic.  If you want to end the meal with a real special split treat, order the Black Cherry Cream Shake and grab a few extra spoons.
Before heading out, check out the secret tunnel to Maria and Enzo's. If you can snag a table outside during the fireworks at Magic Kingdom, you can catch a free fireworks show as well! Just listen to the clock ring out each hour, since at 10 pm, the restaurant turns it up a notch, but also becomes age-restricted.
After 10 pm, the Edison is 21+ to enter (nightly) with a $10 entry fee and dress code Thursdays through Sundays. Given the age restriction at night, we recommend if you intend to dine with friends and family under 21 years of age, come early so that you have plenty of time to enjoy the atmosphere and scrumptious food. As the clock creeps towards 10 pm, the entertainment on the stage will really pick up.

Many claim the Edison is going to be the solution to those looking for more nightlife options on Disney property since Pleasure Island closed to make way for the new and improved Disney Springs.
At night, a large portion of the main dining room is cleared to make a dance floor and you can see everything from hula hoop artists to cabaret singers. If you are looking for a grown-up night out in Disney, the Edison is the best spot to grab a classic American cocktail and check out some unique entertainment.
The Edison is located in The Landing at Disney Springs.

The BOATHOUSE
The BOATHOUSE offers a unique waterfront dining experience with super good food and a really cool theme making it one of my top choices for a restaurant in Disney Springs. If you couldn't guess from the name, the BOATHOUSE has a seafood-focused menu with a nautical theme.
There are three bars inside the BOATHOUSE and an expansive floating dock with great sunset views. The restaurant is beautiful and filled with vintage amphicars and retro dream boats.
The impeccable service puts the BOATHOUSE above the many other seafood options you can find spread out through the restaurants at Disney Springs. Some of the best menu options are the shrimp and andouille mac and cheese, oysters, fish tacos, baked crab stuffed lobster, and the traditional clam bake.
Don't worry if the whole group does not eat seafood, the filet mignon sliders are top notch and the menu includes options like pulled pork sandwiches and burgers. Conveniently, the menu is the same for lunch and dinner which means you can munch on your favorite choices day or night.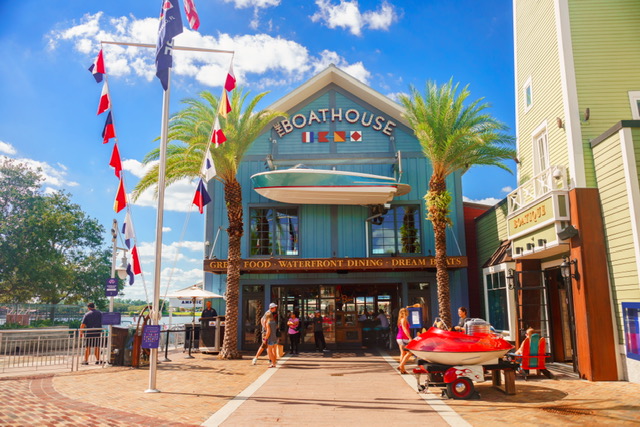 Saving room for dessert here is a must! The S'mores Baked Alaska is massive, unbelievably delicious, and even though it is not cheap, it is made for sharing! If you decide to tackle this delicious treat, be sure to grab a photo first! If the Baked Alaska is too much, the key lime pie is another tasty choice, especially given your Florida location!
If you eat at the BOATHOUSE (technically, if you spend $50 or more at the restaurant), you can opt for the boat option which allows you to get a discount towards an amphicar ride. The amphicar ride is the only one in the world and is a 20 minute water tour of the highlights of Disney Springs.
Amphicar rides can only be reserved in-person at the dock or podium in the restaurant. The BOATHOUSE also offers tours on The Venezia, a breathtaking 40-foot Italian Water Taxi, which can also be booked in person at the dock or podium.
The BOATHOUSE is located in The Landing at Disney Springs. The BOATHOUSE even holds a spot as one of the Best Disney World Restaurants.  Given that Walt Disney World is home to over 75 table service restaurants, that is no easy feat.

Morimoto Asia
Morimoto Asia is by far the prettiest restaurant in Disney Springs with its grand dining room and stunning Forbidden Lounge, it also just happens to also serve up delicious and unique Asian food. Morimoto Asia, owned by Iron Chef Morimoto, is always a crowd favorite serving up scrumptious Pan-Asian cuisine.
Morimoto Asia is one of the only two restaurants in Disney Springs serving up sushi, and amazing sushi at that, so this is the ideal spot to take sushi lovers.
If raw fish is not on your agenda, Morimoto Asia also offers a variety of dishes from all over Asian, including Japanese, Chinese, and Korean food.
The ramen will make you feel like you are in a small ramen shop in Tokyo slurping down the affordable dish and the Peking Duck will transport you to a beautiful restaurant in Shanghai.  There are two bars at Morimoto Asia, one upstairs and one downstairs, as well as a sushi bar on the second floor.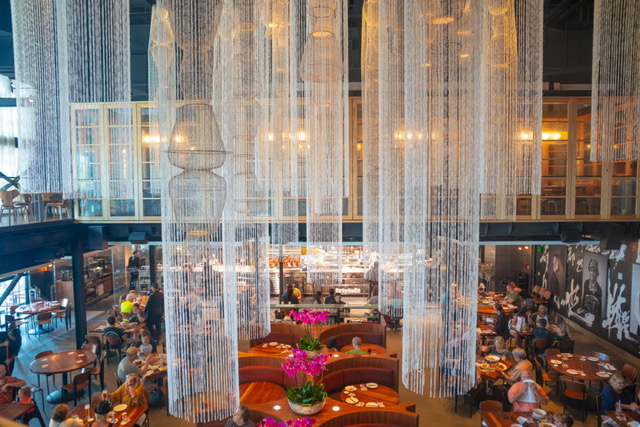 There is also the late night menu Forbidden Lounge hidden behind a secret entrance. If you are lucky, you may even catch Chef Morimoto behind the sushi bar, or having dinner in his dining room, as he is known to be a hands-on owner frequenting his own restaurant in Disney Springs frequently.
Morimoto Asia offers several menus, including a lounge menu and late night menu; none of them will limit your options for oishī (delicious) food. The pork bao and shishito peppers are the perfect start to your meal and don't miss the Shanghai noodles and buri bop, which even the sizzle will make you excited to dig in.
Morimoto Asia is also a unique stop for a restaurant at Disney Springs as it offers dim sum (yes, you read that right, dim sum at Disney Springs) and lunch sets allowing you to try the soup, salad, grilled dishes, and sushi all at once. For those who like to cap off a great meal with something sweet, check out the mochi ice cream or the yuzu pie. This restaurant is breathtaking, but it is the food that keeps people coming back.
Morimoto Asia is located in The Landing at Disney Springs.
Disney Springs Restaurant Tip – If you are dying to try Morimoto Asia, but missed out on a reservation or want a quick service meal, located just outside of the main entrance is Morimoto Asia Street Food. Pretend you are on the streets of Tokyo by grabbing a quick order of ramen, takoyaki, or a quick California roll. No reservation, no fuss, delicious, and well priced.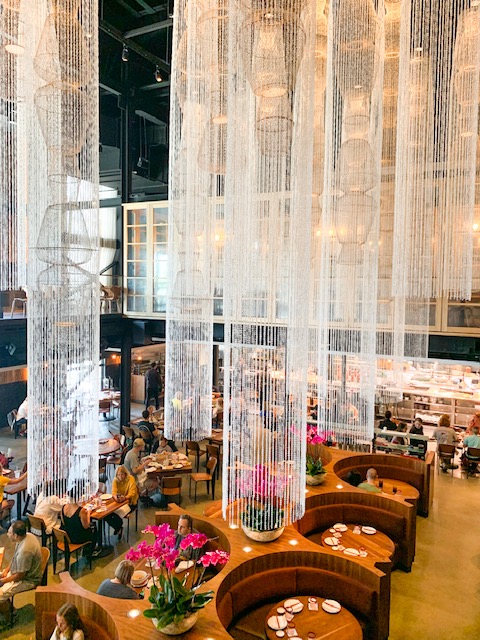 Raglan Road Irish Pub and Restaurant
Raglan Road Irish Pub and Restaurant is not only a current restaurant at Disney Springs, but it was a restaurant at Downtown Disney as well. The fact that is survived the massive overhaul speaks volumes about the atmosphere and food!
Raglan Road is an Irish-inspired pub and restaurant, including an expansive patio. It is also super fun for all ages with the all day, and night, live entertainment, no age restriction, and great food. If you are around in the morning, Raglan Road is also one of the best Disney Springs Brunch Locations!
Stepping into Raglan Road will make you feel like you are not at a restaurant in Disney Springs, or even in Orlando. This may be because the buildings were actually built in Ireland and shipped to Disney Springs.
Given the popularity, you may end up with a bit of wait even if you have a reservation, but fear not, the patio with live music is a great spot to hang out, dance, and take in the fun while you wait.

Raglan Road is known for a properly poured Guinness, well prepared classic dishes, live music, and Irish dancers. We have so much fun when we go here and always love it.
During your meal of gluten free Shepards Pie, glazed ribs, a scallop forest, a chowder that is most definitely Not Bleedin' Chowda, and Gers bread and butter pudding, you will be able to experience live Irish music, bands, and Irish dancers.
On the weekends Raglan Road offers brunch with live entertainment and they offer a late night menu. Their menus all contain a lot of options, most with some very funny and creative names, and cover everything from bangers and mash to burgers to steaks to vegetarian and vegan options.
They also serve up a big kids menu for the younger guests and a great beer menu for the older guests.
Raglan Road is located in The Landing at Disney Springs.

T-REX
Don't have kids in your dining party while at Disney Springs? Do not let that lead you away from T-REX while on the hunt for a great restaurant in Disney Springs. T-REX is an awesome experience, with or without kids, and since it is Disney, aren't we all acting like kids anyway?
T-REX shows us how a truly themed restaurant can do it right. Eating with massive dinosaurs? Yes please. Building my own Dino? Most definitely. Getting to actual enjoy a great meal at the same time? Magic!
Each room at T-REX has a different theme, with six in total – Coral Reef, Fern Forest, Geo-Tech Room, Sequoia Room, Shark Bar, and Ice Cave. You can request a room at check in so if you are looking for the most dinosaurs, check out the Sequoia Room, and if you are looking for the best atmosphere, check out the Ice Cave.
Not only does T-REX have themed rooms and themed menu item names, but it also has hands-on discovery zones and the world's only Build-A-Dino, providing guests of all ages with plenty to do before, during, or after the meal.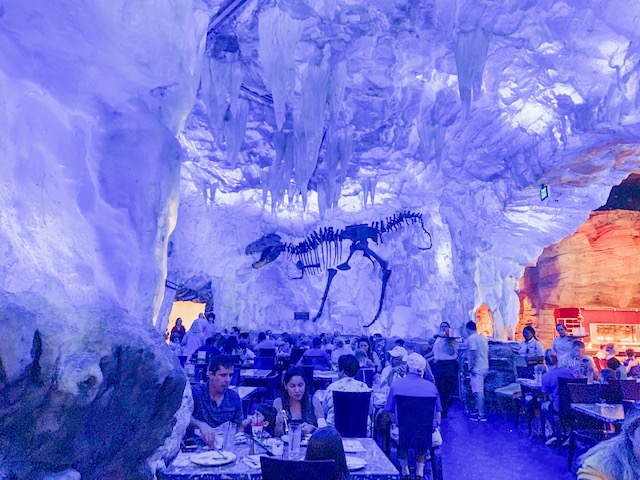 From the moment you walk into T-REX, no matter what room you are seated in, you will be immersed in the land of dinosaurs. Not only is T-REX full of massive autotronic dinosaurs, but you may also experience a meteor shower, light show, and erupting volcanoes throughout your visit.
Don't let the theme fool you though, the food is excellent. Check out the appetizer sample, with something for the whole group, the Carnivore section of the menu for meat eaters, the Seafood section for the pescatarians or seafood lovers, and the Pasta section for the vegetarians. No matter what you decide, be sure to end your meal with the chocolate extinction, sized to share and arrives to your table smoking!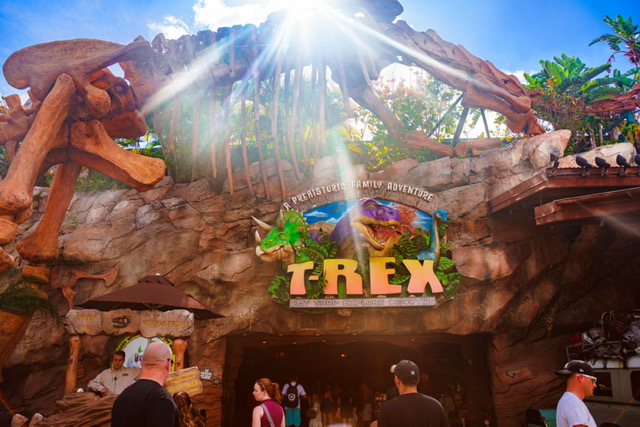 Frontera Cocina
Disney Springs is one of the few places in the world where you can find a restaurant owned by an Iron Chef and a restaurant owned by a Top Chef within a few feet from each other. Frontera Concina is chef Rick Bayless' highly rated restaurant located in Disney Springs.  Oh yea, Chef Bayless has seven James Beard awards and Frontera Cocina allows you to chow down on his delicious food for a very reasonable price.
Serving up mouth watering Mexican food, this spot may be the best Mexican on Disney property (sorry Epcot World Showcase!). Frontera Cocina has excellent views and, unlike many other restaurants in Disney Springs, simple, although still beautiful, decor.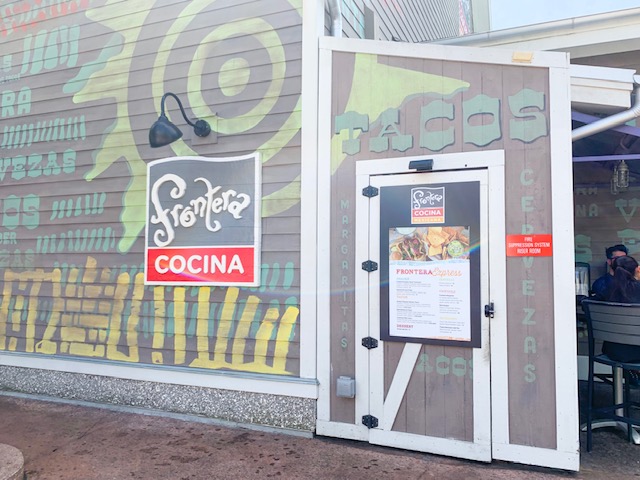 Start off your meal with a delightful margarita, one of the guacamole options, and try out of the queso fundido, pepito torta, and mole chicken. Or maybe just go for some scrumptious tacos. For foodies, try out his Taste of Riveria Maya Yucatan portion of the menu, staring octopus tostadas, grilled bass, or cochinita pibil (slow roasted pork).
You will have an option of a flour tortilla or a house-made corn tortilla, go with the house-made corn tortillas and it will put your meal over the top. To finish off your meal, go for the ancho chili chocolate cake or buñuelitos.
Frontera Cocina is located in the Town Center at Disney Springs.

Maria and Enzo's
Finally! Upscale and flavorful Italian at a restaurant in Disney Springs! We have been asking for it for a long time and Maria and Enzo's has finally arrived to answer our wishes. Maria and Enzo's is beautiful with high ceilings and a grand staircase, but since we all know Disney is pretty phenomenal when it comes to atmosphere, it really comes down to the food.
The menu at Maria and Enzo's is set up like a traditional Italian menu featuring antipasti, salads, pastas, secondi's, and desserts. The main focus is Italian, including pasta dishes, but the menu provides everything from antipasti to salads to lobster to chicken. I would be doing a disservice to Maria and Enzo's if I did not highlight their service, it is superb.
Maria and Enzo's hopes to transport guests to the golden age of air travel and an authentic Italian trattoria and it is well on its way. This menu has so many delectable options, but the burrata, arancini, lasagna, and chicken parmesan. Maria and Enzo's offers Sunday brunch with the perfect mix of Italian classics and sweet and savory breakfast choices.
Disney Springs Restaurant Tip – Somewhat hidden across from Maria and Enzos, and down a bit of stairs and under the bridge, is Enzo's Hideaway, a tunnel bar, and outdoor patio, with a 1920's speakeasy vibe. You can access Maria and Enzo's underground via tunnel or you can walk down into it from stairs across from the Maria and Enzo's entrance. Enzo's Hideaway serves up prohibition cocktails, charcuterie boards, salads, pastas, and gelato. Pizza Ponte also belongs to Maria and Enzos, and it's a great place to grab pizza at Disney.
You can even bring your own bottle of wine and the corkage fee is waived on Sundays. If you check out Enzo's Hideaway you will have to make the big decision between sitting outside under the bridge or in the speakeasy, but either way, get the Nonna's Pasta for Two.
Maria and Enzo's is located in The Landing at Disney Springs.  Enzo's Hideaway is located in The Landing and just under the bridge connecting The Landing and the West Side.

Chef Art Smith's Homecomin'
If you're on the search for great southern food while visiting Disney World, then you want to stop by Homecomin'. The food here is classic southern comfort food with a Florida twist, and everything is delicious. Homecomin' is owned by renowned Chef Art Smith, who is famously known for being a personal chef for Oprah Winfrey as well as an expert in Southern cuisine.
You don't want to miss out on the Church Lady Deviled Eggs, Art's Famous Fried Chicken, and Kitchen Plate – which lets you eat three sides of your choice as your entree! We suggest the mac-and-cheese – it's ooey, gooey, and perfectly cheesy.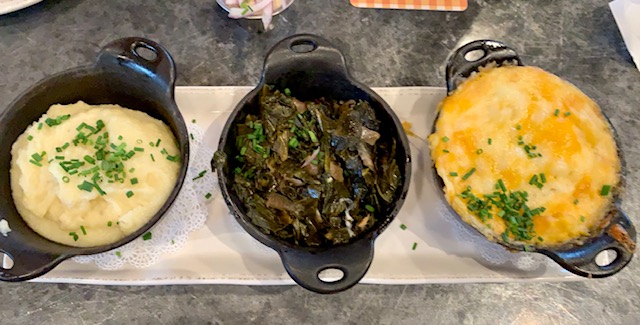 While here, sit on the porch, get a moonshine cocktail, and relax while enjoying the views and sounds of Disney Springs. And don't forget dessert! Both the Shine Cake and Hummingbird Cake are to die for.
Homecomin' is a great place to grab brunch and one of the best Disney Springs dinner restaurants, and that makes it one of the best Disney Springs restaurants on our list.
Homecomin' is located in The Landing, right on the water.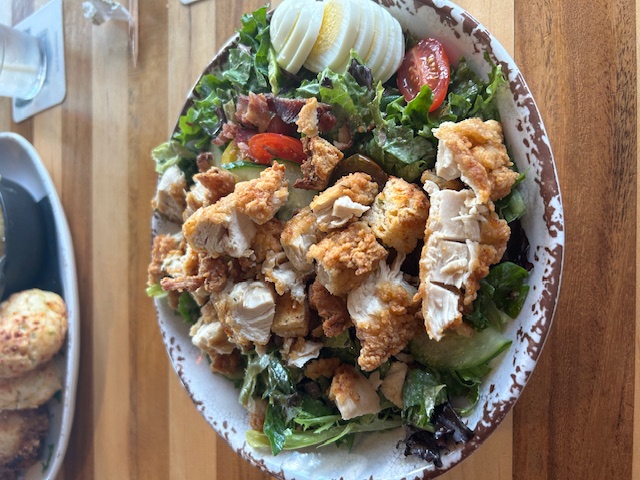 House of Blues
Located on the West Side, House of Blues Restaurant & Bar is a great place to grab a meal and a drink. The menu is a mix of both global and Southern cuisines, and they have an extensive drink menu. You can get just about anything here, from delicious salads, juicy burgers, and Southern specialties like shrimp and grits.
While here, grab a cocktail and enjoy the live music they have some nights. The whole place is a vibe – it's super funky and fun, and you don't want to miss out looking at all the Americana memorabilia and shopping in the gift shop.
This is arguably the best brunch at Disney Springs- you can't go wrong with Southern breakfasts like biscuits and gravy and chicken and donuts, paired with bottomless bloody marys.
Not to mention, you can eat dinner here and then head to the connected club for a concert, which is one of the best things to do at Disney Springs.
House of Blues is over in the West Side.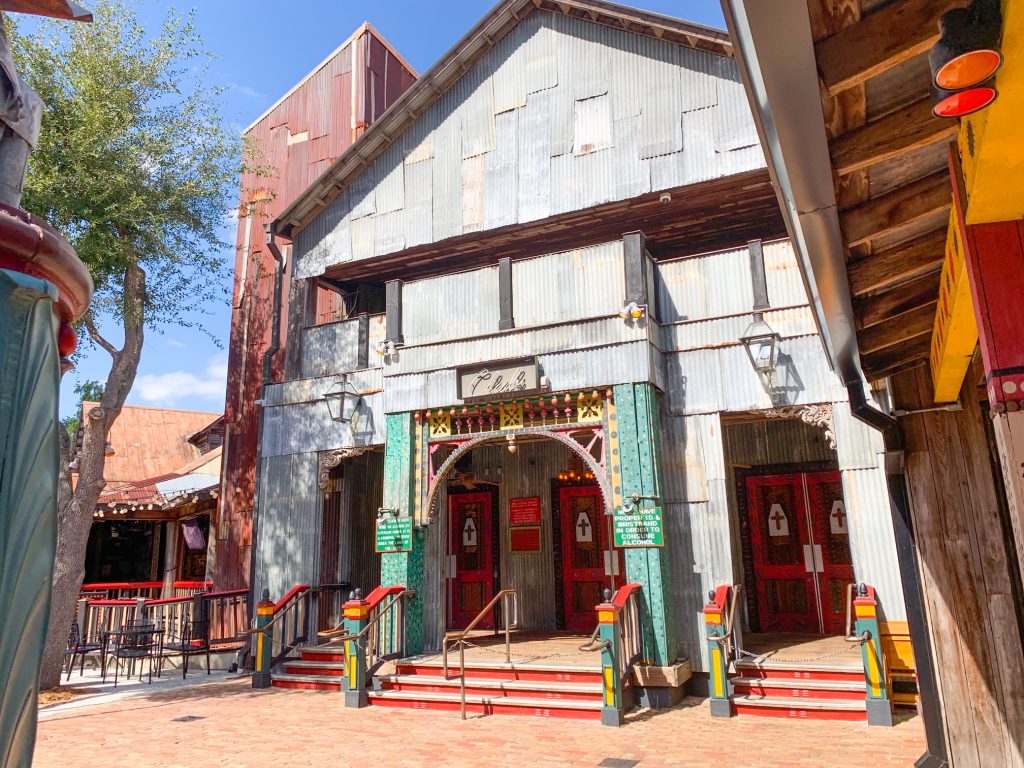 Jaleo by José Andrés
If you're looking for an authentic Spanish meal and some of the best fine dining at Disney Springs, then stop at Jaleo. This is another restaurant ran by an Iron Chef, but this time it's Chef José Andrés. The food here is out of this world, and designed to be shared. Everything is tapas-style, and totally innovative.
Grab a great sangria here, definitely try the authentic Íberico and Serrano hams, and all the delicious cheeses. If you want the fanciest of dining experiences, choose items off the Chef's Tasting Menus, and enjoy Chef Andrés' favorites and the best things this Disney Springs restaurant has to offer.
José Andrés himself is an amazing person and humanitarian, not just an amazing Iron Chef. He's won multiple awards including 2 Michelin stars and "Humanitarian of the Year."
Jaleo is located in the West Side section of Disney Springs.
Wine Bar George
Eating at Wine Bar George is a must do for those looking for not just some of the best fine dining at Disney Springs, but some of the best table service dining in all of Disney World. Run by Master Sommelier George Milotes, Wine Bar George offers exquisite dining and the biggest wine selection at Disney World – over 200 wines available by the glass.
But the food here isn't second fiddle to the wine. The meatballs, Mac-n-cheese bites, and the charcuterie board are all top notch starters. For your entree, you don't want to skip the skirt steak that serves 2-4 people, which is a great family style experience.
Don't forget to ask for expert wine pairings, and you might even get a table side visit from George himself! He's often at his restaurant, making wine recommendations and checking on guests.
This is another great choice for best breakfast at Disney Springs, since they offer the Wine Country Brunch on Saturdays and Sundays. Lots of breakfast classics mixed in with unique items like the Wine Country Omelet, Shakshuka, and Rolled Pavlova.
Disney Springs Restaurant Tip: Don't want to have a big dinner or try to get a reservation here? Then stop by The Basket at Wine Bar George. Sit outside and grab some small bites like the hummus and the hand pies. Don't miss out on the Froscato made with Dole Whip! It's a dreamy, creamy cold cocktail perfect for a hot Florida day.
Wine Bar George is located in The Landing.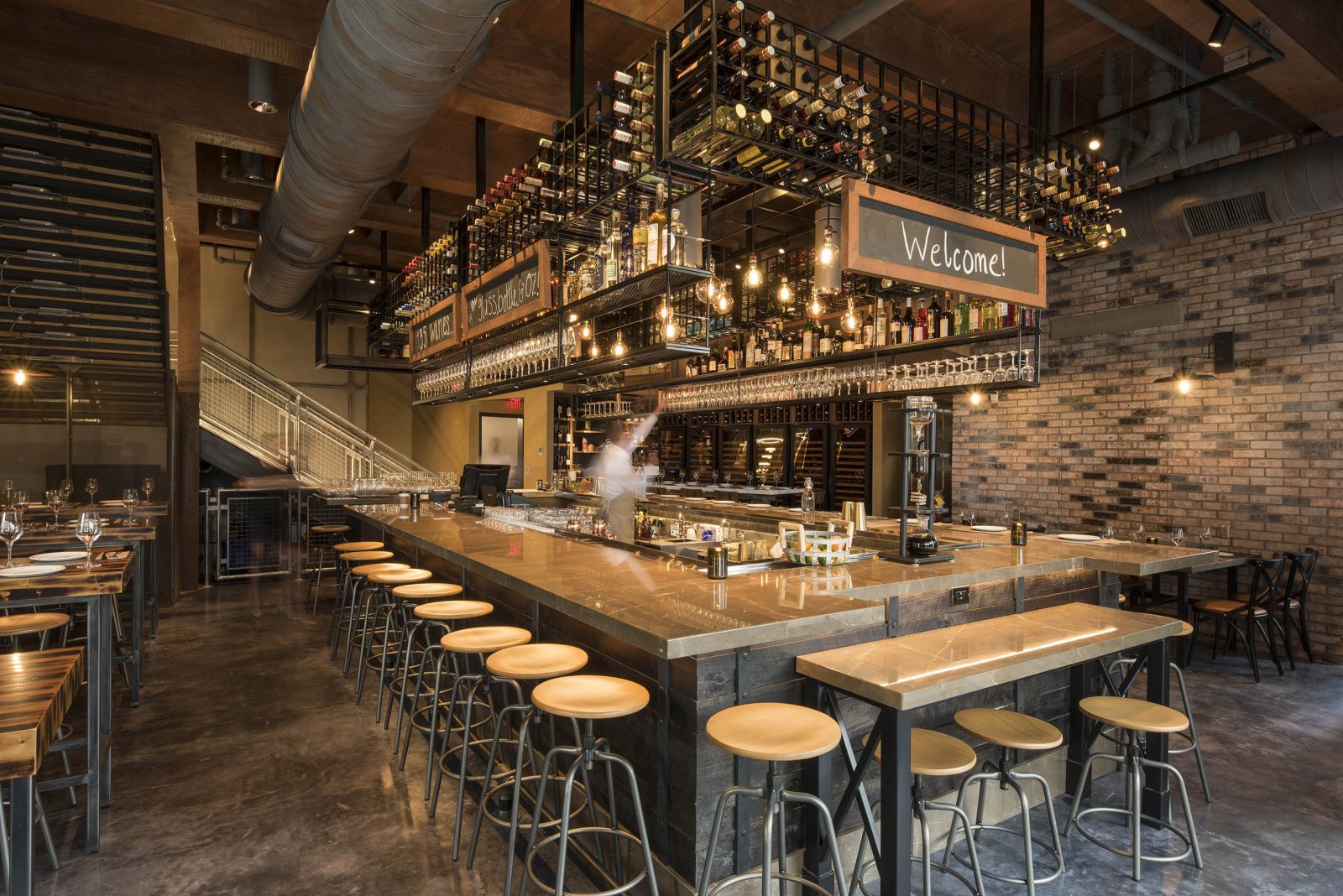 Worst Table Service Restaurants at Disney Springs
Rainforest Cafe
With locations in 11 US states and 5 International locations, you have probably seen a Rainforest Cafe. Disney Springs is still home to one of the many locations and although we used to eat here a lot, in hindsight it was a big mistake because we were missing out on so many better options.
The food will be mediocre, and nearly the same as the food you can get at any other Rainforest Cafe, so while you are experiencing Disney Springs don't waste your time, or a valuable meal slot, at Rainforest Cafe. There are far better options out there, including other options that are include a fully immersive, family experience – i.e. the T-Rex Cafe.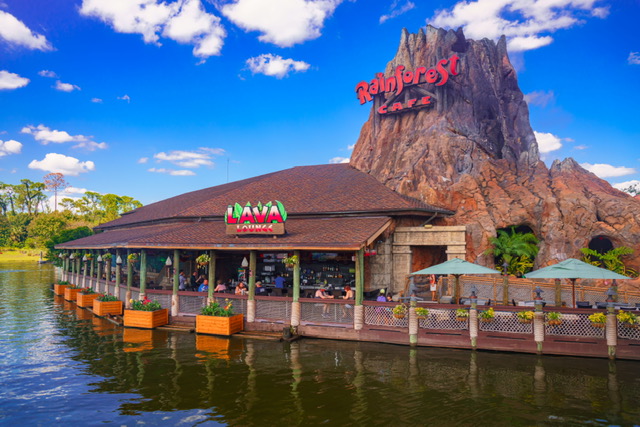 Planet Hollywood
Although Planet Hollywood at Disney Springs just underwent a seriously needed upgrade, this Planet Hollywood is like all the rest. It feels like Planet Hollywood is always trying to make it a thing, but it just probably will never happen. While the outside may have been elevated with the recent renovation, the menu, and subpar food, remains as it has been.
With the menu looking similar to any chain restaurant you would find an American suburb, at Disney prices, you are better off exploring one of the many delicious American options in Downtown Disney. Instead of Planet Hollywood, if you want good table service American fare check out T-Rex, The Edison, or Chef Art Smith's Homecomin'.

STK Orlando
The STK Orlando is reliable for one thing, bad reviews. It is also one of the worst steakhouses in Walt Disney World. While Walt Disney World is home to quite a few very good steakhouses, STK Orlando is not one of them. With overly high price points, poor service, and barely average food, this is one spot that you can afford to miss.
Now that there are so many good quality, and reasonably priced, table service restaurants at Disney Springs, STK Orlando's weaknesses have started to be emphasized. If you want a great steak while visit Walt Disney World check out Le Cellier Steakhouse in Epcot while you explore the Countries in the Epcot World Showcase.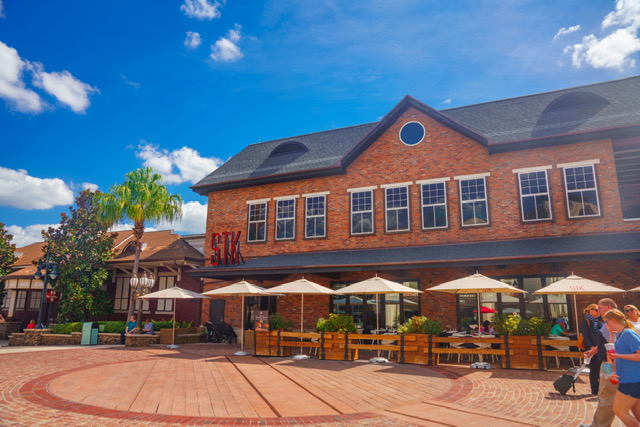 Paddlefish
Paddlefish has almost all of the elements necessary to be one of the best restaurants at Disney Springs, except good food and service. Located on the iconic Disney paddle boat, floating in Lake Buena Vista, this restaurant never seems to be a fan favorite. While it is not the worst meal you can get in Disney Springs, it is also far from the best and I promised to tell you where you could lose magical time, this is one of them.
The service ranges from just okay to downright bad, slow, and rude. Given the price point here, and what is generally expected from those working in Disney, cast member or not, it is impossible to overlook the bad service and just acceptable seafood. This is Florida after all and there is just no excuse for mediocre seafood. For your seafood fix, check out The BOATHOUSE instead.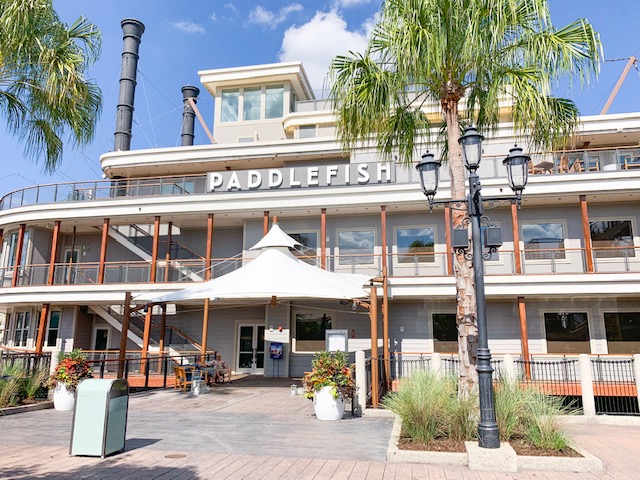 Terralina Crafted Italian
Disney Springs offers a handful of Italian spots, creating a bit of competition and allowing us to not settle for bad Italian food. Terralina Crafted Italian is a typical Italian-American restaurant but priced higher than most of the really good restaurants at Disney Springs.
If you are really craving Italian, Maria and Enzo's will offer you a better meal, definitely more tasteful, with significantly better customer service at a more acceptable price point. Terralina seems to struggle with customer service, especially with visitors with a restricted diet, and their food never seems to hit the mark, tending to be pre-made and flavorless. This shouldn't be your pick for a Disney Springs Italian restaurant.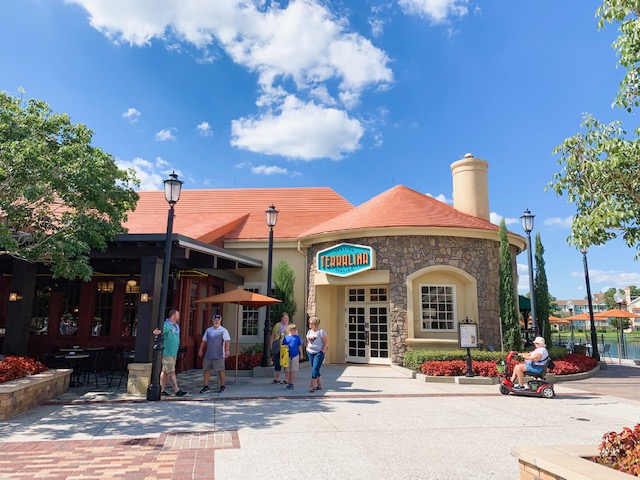 City Works Eatery & Pour House
City Works Eatery & Pour House serves up classic food, think sports bar and Americana. They also have a large alcohol selection and lots of TVs for sports fans. And it's not that City Works is awful, but there are lots of better table service meals to have at Disney Springs.
City Works can be loud, busy, and the food isn't the most exciting. It's a great place to watch a sports event if you need to do so while at Disney, but it's not one of our top choices for a great sit-down meal.
PHOTO?
Best Counter Service Restaurants at Disney Springs
Polite Pig
The Polite Pig is a newer restaurant in Disney Springs and an unbelievably good addition! It is a modern BBQ restaurant, with a Florida twist, but it has plenty of non-BBQ options too. And everything is so good! If you love meat and/or BBQ, this is a no brainer and the restaurant for you.
Polite Pig makes their own BBQ sauces, may I recommend trying all of them, and it does not serve huge portions (this is a pro when you are walking around in the sun for days).
Polite Pig does have a built in tip, to ensure a living wage for their employees, but it is modern counter service so you will order your food and then take a table, where your food will be brought over to you. Since the Polite Pit is on the Disney Dining Plan, including the Quick Service Plan, this is a great value for those on the plan.
The Polite Pig has libations on tap, what does this mean? This means you can get an old fashioned on tap. You also can get a flight of bourbon from the bourbon bar and excellent beer options are available. For those that drink, I think this speaks for itself. It is hard to tell you what to get on this menu, because in all honesty, every single thing you get will be delectable. T
he burnt end BBQ meatballs are a great way to start off your meal and once you a ready to dive in, the carnivores should go with a smoker option. Polite Pig offers several smoker options, including salmon, chicken, pork, brisket, ribs, and sausage.
Sandwiches or meat plates are the best ways to go. Don't fret if you don't eat or love meat, they offer a three market sides for $15 option and the sides are probably the best part of the meal. Top choices are the BBQ cauliflower, grilled corn, mac and cheese, and potato salad.

Erin Mckenna's Bakery
Erin Mckenna's Bakery was so popular in New York City that Disney decided to bring the magic down to Disney Springs. This all vegan and allergy friendly bakery is always a hit. This bakery is vegan, kosher, and gluten free, but absolutely heavenly.
Featuring cupcakes, donuts, cookies, cinnamon rolls, bagels, and even ice cream (available on the weekends)! It does not hurt that the bakery is also adorable. While other restaurants in Disney Springs offer gluten free and/or vegan options, is the only restaurant in Disney Springs that is completely gluten free and vegan!
Even if you don't have any dietary restrictions, Erin Mckenna's is serving up some of the best treats in Disney Springs. Fortunately, Erin Mckenna's Bakery has found a way to remove the allergens, and ingredients that make many bakeries available to only certain people, and keep the moisture, consistency, and flavor of your favorite baked goods.

For anyone with an allergy, or restricted diet, the options can become overwhelming after constantly being told your limited options at most restaurants, bakeries, and shops. Our advice? Go with a loved one, or two, and try a bit of everything!
Start with the vegan milkshake, make your way through the vegan cupcakes and coffee cake, cookie sandwiches, coffee crunch donut, and wash it all down with a cup of lemonade, or hot chocolate if its chilly season in Orlando. If you want to bring the treats home, Erin Mckenna's sells baking mixes too!
Erin Mckenna's Bakery is located in The Landing at Disney Springs.

D-Luxe Burgers
D-Luxe Burgers is one of the counter service restaurants in Disney Springs that lands a spot on most blogs and tip guides, and is a huge hit in most Disney groups, and its bragging rights are well deserved! D-Luxe Burgers specializes in burgers, but they also serve up some of the best breakfast in Disney Springs so I recommend a quick service meal at D-Luxe Burger any time of day.
The burger options are what draws the crowds, and since they have plant based and chicken options, there is a burger for everyone. Check out the Southern Burger (fried green tomato and pimento cheese), or the El Diablo Burger (fried banana peppers, pepper jack, grilled onion), or the Buffalo Chicken Sandwich. If you are not solo, or just really hungry, you can try out the Duos which serves up two burgers.
D-Luxe Burger also serves up salty, perfectly crispy, hand cut fries and handmade dipping sauces, including chipotle mayo and curry ketchup. What goes perfectly with a burger and fries? Obviously a shake! D-Luxe Burger takes it up a notch with gelato shakes – s'mores, cookies and cream, salted caramel, and the classics.
If you are a fan of adult shakes (with alcohol), go for the vanilla porter gelato shake or chocolate and strawberry malt shake. For breakfast, try our the biscuit, egg sandwiches, or an early morning burger.
D-Luxe Burgers is located in the Town Center in Disney Springs.

Gideon's Bakehouse
If you haven't been to Gideon's, this needs to be at the top of your list for your next visit to Disney Springs. You need one of these decadent, heavy, almost half-pound cookies in your life!
The interior of Gideon's is so delightfully creepy, with the walls covered in drawings of little spooky characters, the back wall lined with precarious bookcases, and an overall dark and mysterious feel.
And even though you should go to see the decor, you don't want to miss out on the cookies and cakes – they're the stars here. The Original Chocolate Chip Cookie is a must-have, but don't forget to grab a seasonal cookie while you're here too – they rotate out monthly, and so do the seasonal cake flavors. And don't forget to wash down your dessert with the amazing peanut butter cold brew.
Gideon's is in the heart of Disney Springs, in The Landing.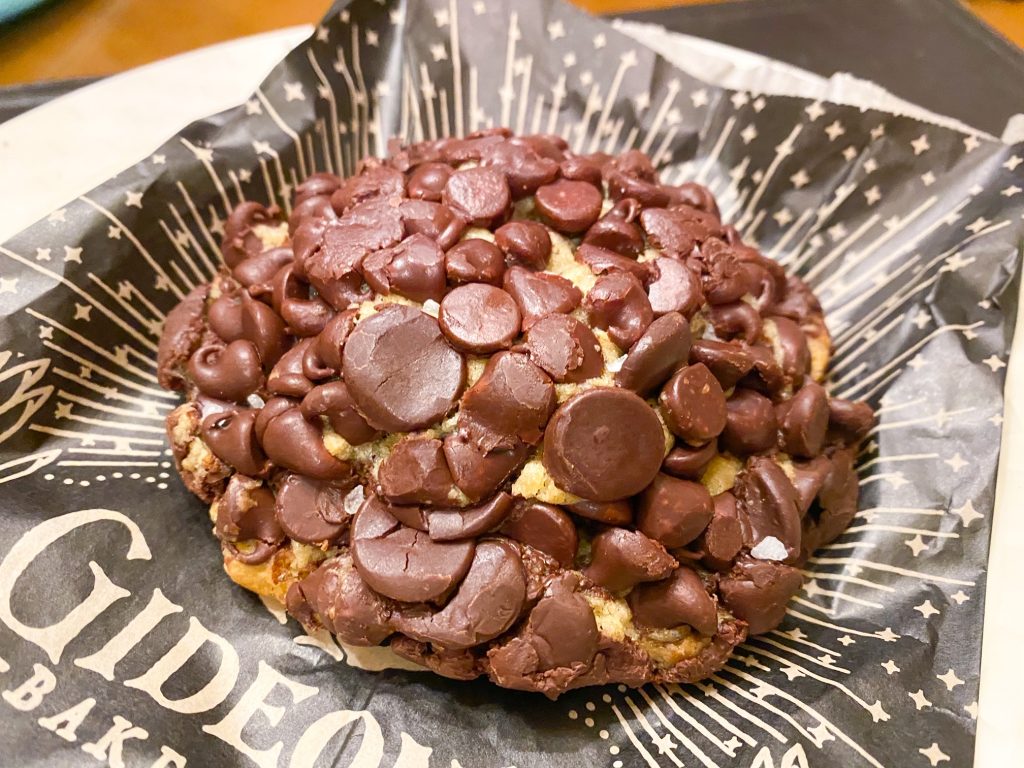 4 Rivers Cantina Barbacoa Food Truck
4 Rivers Cantina Barbacoa Food Truck is another food truck located in Disney Springs, but requires its own spot on the list of the Best Counter Service Restaurants in Disney Springs.  This food truck is serving up Latin and Mexican inspired BBQ dishes and desserts.
Simply put, you can get a taco in a cone here! The menu at 4 Rivers Cantina is the same for lunch and dinner, so you can score a taco cone almost all day.
First, you pick your filling – brisket barbacoa, chicken tinga, grilled steak, pork sofrito, or rice and black beans. Second, pick your vessel – a taco cone, a burrito bowl, three tacos, or nachos.  Third, enjoy the deliciousness.
We recommend going for the cone, because how often can you get a taco cone?  4 Rivers Cantina also offers a squash blossom quesadilla which makes a great appetizer to share before you dig into your main dish. After you have enjoyed your main dish, be sure to try the dulce de leche churro balls or chocolate nachos!
4 Rivers Cantina Barbacoa food Truck is located in the Marketplace at Disney Springs.

Worst Counter Service Restaurants at Disney Springs
We promised we would lead you to the Best Restaurants at Disney Springs, but we also need to show you the Worst. Your time, and money, at Disney Springs is limited so there is no reason to waste any of it at a bad counter service restaurant.
Blaze Pizza
While Blaze Pizza, which is a California based chain, is affordable, it also tastes cheap and cannot compete with the far better counter options around Disney Springs. The "dough" can only be described as a heavy tortilla and if you want the "thick" option, it is simply two tortillas stacked on top of each other, which slide apart.
Blaze Pizza has a lot of locations, so maybe you will stop in and grab a quick pizza while you are running errands during a work week, but it is not worth your time, or money, while at Disney Springs. If pizza is your craving, and you want counter service, check out Pizza Ponte instead.
Earl of Sandwich
Earl of Sandwich is yet another chain that has somehow survived in Disney Springs, despite the far better options out there. It is okay, at best, and definitely nothing special. For the price point the portions are also small likely to leave you unsatisfied and maybe still hungry.
Based on the new restaurants at Disney Springs and the snack options, there is really no reason to pick Earl of Sandwich and waste your precious meal there. There are so many other options for a bomb sandwich – D-Luxe Burger, Polite Pig, and even Pizza Ponte – don't settle for an overpriced and mediocre version you can find in a strip mall.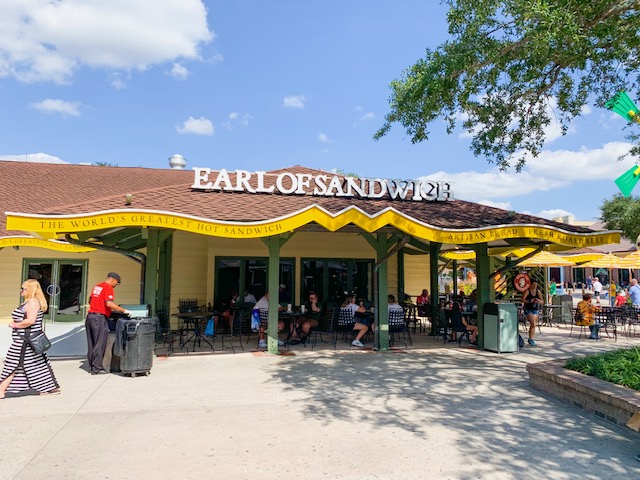 Are you hungry yet?! We hope you this guide helped you find the perfect restaurant in Disney Springs for your next trip to Disney World! And hopefully it will help you avoid a disappointing experience while in the Most Magical Place on Earth. Enjoy your next culinary adventure in Disney Springs and don't hesitate to let us know in the Comments your favorite dining spots!
Pin this post: