There are lots of Disneyland Paris restaurants to choose from so it can be tough working out where you want to eat. Disneyland offers different dining options, from quick service restaurants to all-you-can-eat buffets to sit down three course meals, meaning that choosing only a few different restaurants to try during your trip is very hard. You're unlikely to be able to eat at every single one of the 62 Disneyland Paris restaurants (but by all means give it a go!) so it's important that you know which restaurants are worth visiting and which ones you'd be ok to skip.
That is where this list comes in. We've rounded up the very best (and worst) Disneyland Paris restaurants for you, so you can have a good idea of where to eat whilst you're in the parks before you go. To give you the fullest idea of the best Disneyland Paris restaurants, we have also included Disney Village on this list, so you don't even need park tickets in order to experience some fantastic Disney dining!
Get a FREE printable 30/60/90 day Disney countdown by joining our private Disney Facebook Group and share your photos and ask for tips and tricks!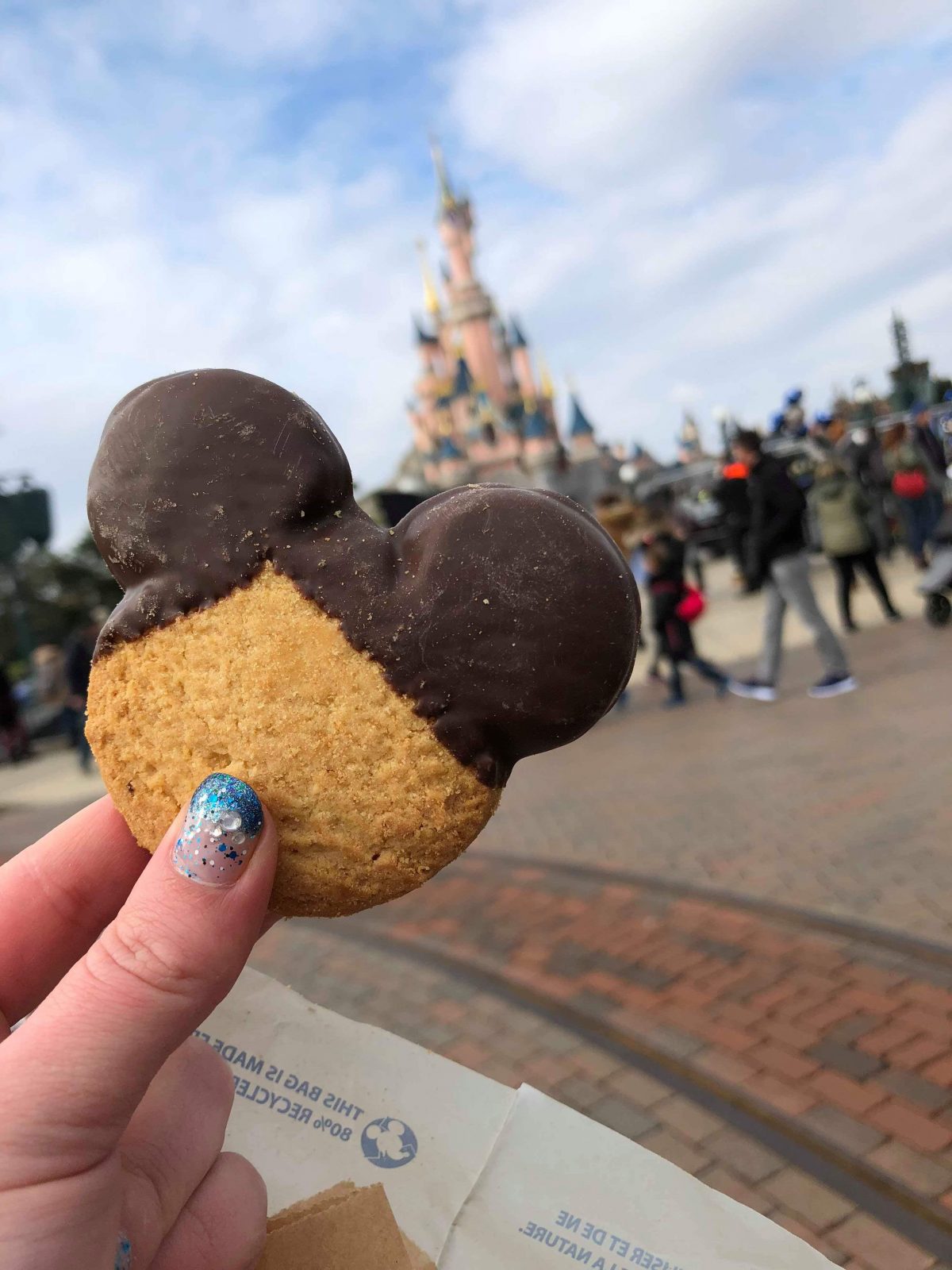 23 Best (And Worst!) Disneyland Paris Restaurants
Disneyland Paris Restaurants
Before we get into the best and worst of the Disneyland Paris restaurants, we've put together a list of all the restaurant options available. This lets you see what your selection is out of for every area at the parks.
It should be noted that during the winter period (generally from early November to mid-March), there is a special dining event in Walt Disney Studios called L'hiver Gourmand de Disneyland Paris where festive food stalls are open in Le Place de Remy. These offer various sweet and savoury treats from around the world. As these are seasonal, and change from year to year, we've not included them here, but they are an additional option for dining in Walt Disney Studios if you're travelling in the winter season.
Disney Village
Annette's Diner
Billy Bob's Country Western Saloon
Buffalo Bill's Wild West Show
Café Mickey
Earl of Sandwich
Five Guys
King Ludwig's Castle
McDonald's
New York Style Sandwiches
Planet Hollywood
Rainforest Café
Starbucks
The Steakhouse
Vapiano
Disney Hotels
Crockett's Tavern
Chuck Wagon Café
La Cantina
Cape Cod
Yacht Club
Hunter's Grill and Beaver Creek Tavern
California Grill
Inventions
Disneyland Park
Au Chalet de la Marionnette
Auberge de Cendrillon
Pizzeria Bella Notte
Cable Car Bake Shop
Casey's Corner
Cookie Kitchen
Market House Deli
Plaza Gardens Restaurant
Captain Jack's Restaurant des Pirates
Colonel Hathi's Pizza Outpost
Restaurant Agrabah Café
Restaurant Hakuna Matata
Fuente del Oro Restaurante
Silver Spur Steakhouse
The Lucky Nugget Saloon
Café Hyperion
Cowboy Cookout Barbecue
Last Chance Café
Fantasia Gelati
Toad Hall Restaurant
The Coffee Grinder
The Gibson Girl Ice Cream Parlour
The Ice Cream Company
Walt's
Walt Disney Studios Park
Bistrot Chez Remy
Restaurant en Coulisse
Disney Blockbuster Café
Restaurant des Stars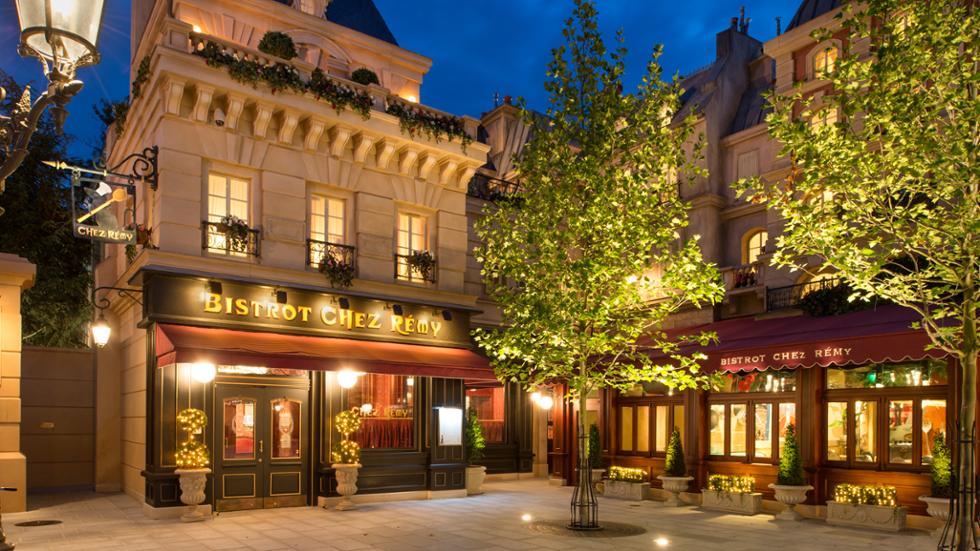 Best Restaurants in Disneyland Paris Park
Walt's
As the restaurant bearing Walt Disney's name, it is expected that Walt's will be one of the best restaurants at Disneyland Paris. Walt's certainly lives up to these expectations and is indeed a phenomenal table service restaurant that everyone should try and visit at least once. Walt's is designed to be a sort of miniature Disneyland with six different rooms representing the different aspects of the park. Each of the rooms have different qualities and are worth a look around; the servers are more than happy to let you have a look at all the different rooms. Try and get a table by the window and you'll get to see the other guests passing along Main Street U.S.A below you.
The food is also great. They are modern takes on some of Walt's favourite meals so there is a great thanksgiving style meal which is absolutely delicious. Some meals also have a mac and cheese accompaniment which seems a bit odd but it's very tasty. There is a good selection and offers some good vegan options as well. The mocktails and cocktails are also a great addition to your meal and are very nice. It does come with a big price tag though and reservations are definitely needed in order to get a table. You should still try and eat here at least once as it is a great experience – like dining in Walt Disney's mind.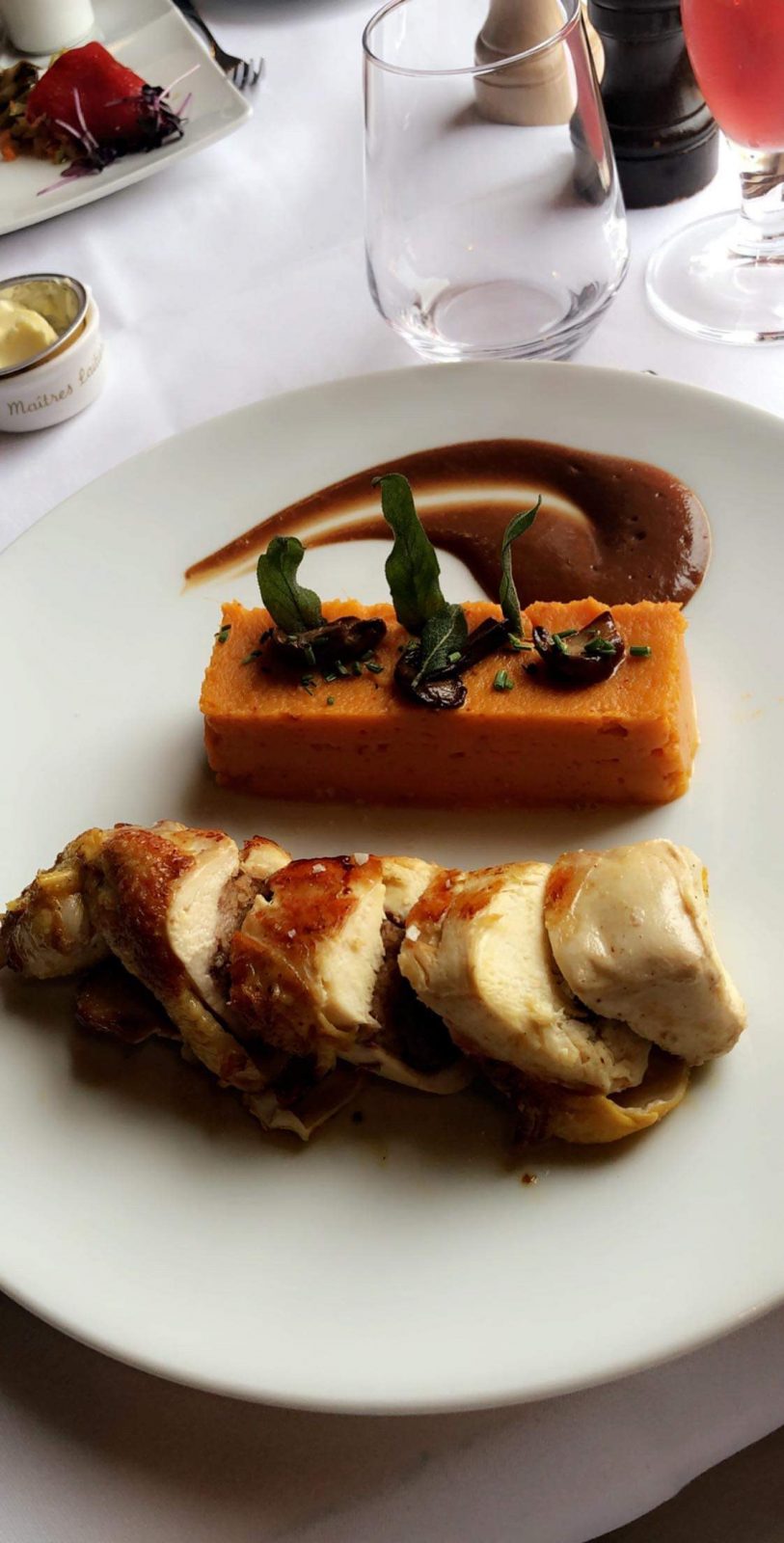 Captain Jack's Restaurant des Pirates
Captain Jack's is one of the best restaurants in Disneyland Paris for atmosphere. Overlooking part of the Pirates of the Caribbean ride in Adventureland, the low lantern lighting and the tropical setting makes for an amazing experience when dining here. It is a hugely popular restaurant, however, so booking is essential if you would like to dine along the shores of Pirates of the Caribbean.
As would be expected, Captain Jack's serves up some Caribbean and Creole favourites such as plantain banana and Caribbean chicken. The menu is also prefaced with a page of recommendations for vegetarians and the rest of the menu has a much larger choice than other sit-down restaurants in Disneyland Paris. Most items on the menu also come with a wine recommendation to accompany the meals so you know you'll be getting an all-round good experience when you dine at Captain Jack's.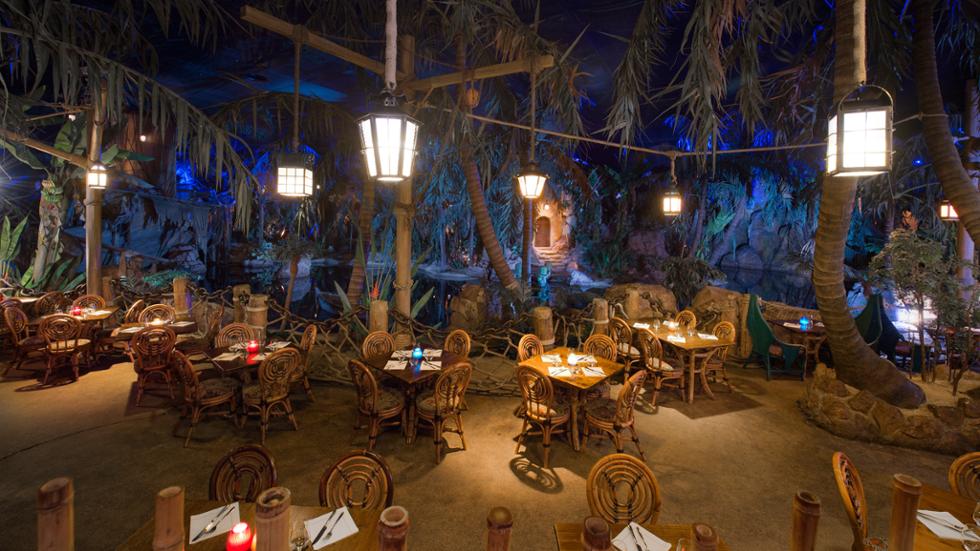 Fuente del Oro Restaurante
Step into the world of Coco, in this family style Mexican restaurant. Fuente del Oro is a counter service restaurant in the heart of Frontierland serving fantastic Mexican and American south-west cuisine. Classically decorated, with bright colours and intricate details, Fuente del Oro is a great place to relax away from the hustle and bustle of Disneyland Paris. This restaurant has a real small-town feel and a great atmosphere as well as excellent food options.
The Mama Coco meal of chicken fajitas is a particularly good choice and comes with churros for dessert! All the different meals offer good portion sizes and plenty of taste. None are overly spicy either so it's still a great option for little kids, or anyone who isn't keen on spice. Fuente del Oro is a fantastic choice for everyone and is a relatively healthy choice too, vegetables being included in almost every item on the menu.
Last Chance Café
Last Chance Café is our absolute favourite snack restaurant in Disneyland Paris. It's a pretty small and unassuming restaurant but serves some epic food. The western theme is also out in full force in Last Chance Café, with wanted posters and saddles adorning the interior. There is ample seating outside though, which gives a good view of the rest of Frontierland passing by. It's a nice place to lay low for a little while in the French summer sun.
Last Chance Café offers hot snacks of spectacular quality. The vegan chilli is excellent, with the added bonus of it being vegan which can be difficult to find food options for in Disneyland Paris. The chicken bites are also great if you're a meat eater and are looking for a hearty snack while you're enjoying your day in Disneyland Paris.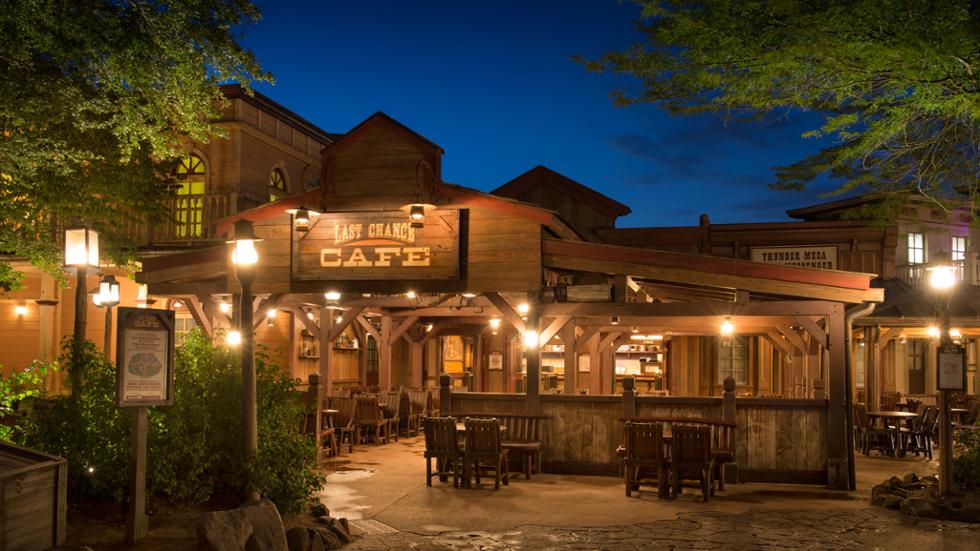 Au Chalet de la Marionnette
Pinocchio inspired restaurants tend to rank fairly lowly in other parks (see here where Pinocchio's Village Haus places at Walt Disney World) however the Disneyland Paris offering bucks the trend and is a fantastic place to grab a quick meal. The outside is designed to fit in with the small-town aesthetic of Fantasyland and it does so very well. Inside you can enjoy some beautiful wood carvings and painted scenes from the movie whilst perching on a barrel to eat your food.
Marionnette offers traditional Bavarian meals, in pretty large quantities for the price. The Bavarian hot dog with currywurst sauce is a particular favourite and gives you a nice change from the traditional hot dogs you can find elsewhere in the park. You can also get half a roasted chicken for a pretty small price in comparison to what you receive. And what Bavarian restaurant would be complete without a delicious strudel for dessert!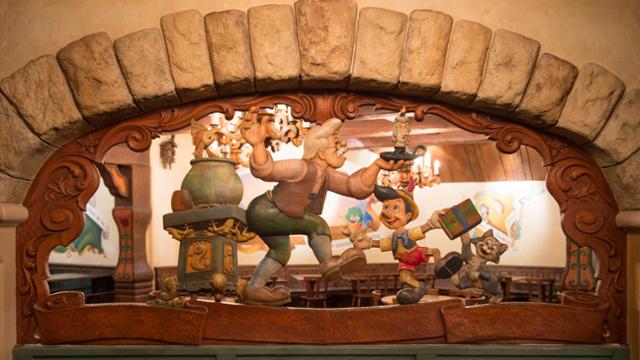 Restaurant Hakuna Matata
Set slightly apart from the rest of Adventureland, Restaurant Hakuna Matata features on this list because of its incredible attention to detail. The restaurant is designed with painted mud walls and has a thatched roof, so you truly feel like you're stepping into a little piece of Africa inside Disneyland Paris. The many paintings on the walls, both classical African designs as well as illustrations for the Lion King, are all absolutely incredible and a real joy to look at.
The food on offer is also very good and some of it packs that bit of kick that you want from African food. The Lion's Favourite Feast is particularly tasty and everything comes in sizable portions so your hungry lions and lionesses will be able to have a good filling meal here. This goes to the motto of the place, if everyone's happily fed then there'll be no worries for the rest of your day!
Cowboy Cookout Barbecue
Located in a spacious barn on the outskirts of Frontierland, Cowboy Cookout is an excellent choice for dining in Disneyland Paris. The cavernous space feels very homely with the wagon chandeliers and dark wood furnishings. There's plenty of space so you don't feel cramped and there's even room to have a bit of hoedown to the live country music that Cowboy Cookout plays.
This restaurant is unique in that it blends counter service with a buffet. You have plenty of options to choose from the starter and dessert buffets and then you have a couple options of full grill meals to enjoy as your main. The food is very scrumptious and it's great to have an unlimited amount of starters and dessert. You'll definitely leave Cowboy Cookout with a full stomach.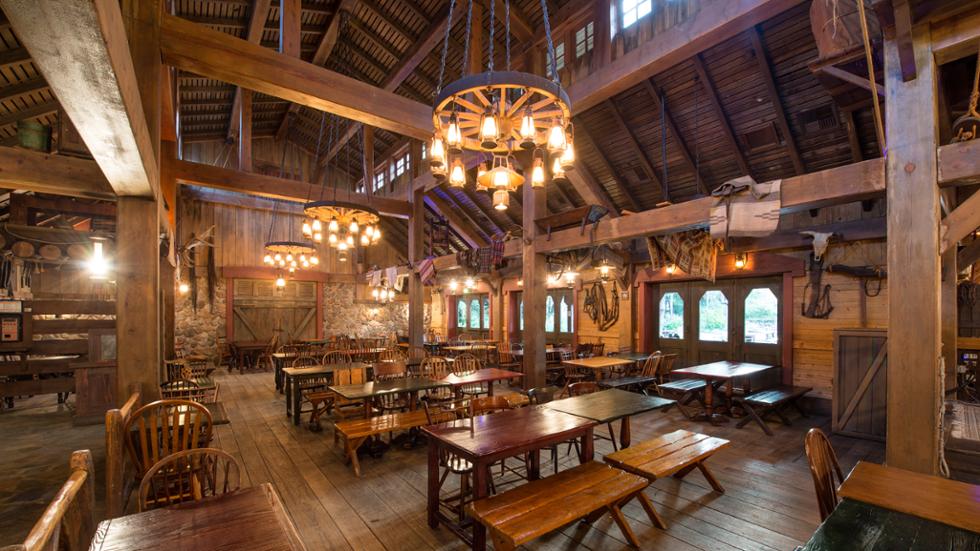 Casey's Corner
An absolute staple of Disneyland dining, Casey's Corner is a classic American quick service option with a baseball theme. Located on the corner of Main Street U.S.A, Casey's is a great choice when it comes to grabbing a quick snack when you're in Disneyland Paris. It also has a pretty decent view of the Disney Illuminations if you buy food and sit down to eat facing the castle. Casey's is also chocked full of baseball memorabilia so you can find some pretty interesting pieces if you're a baseball fan.
One issue with Casey's Corner is that they don't have any meals, but rather you order each individual food item alone. This makes it better if you're just stopping for a quick snack as creating a whole meal can end up more expensive than other restaurants. For example, a hotdog, fries and drink would cost €16.27, compared to the €13.99 for the same meal at Au Chalet de la Marionnette. That being said, the food is yummy (particularly the chicken nuggets) so if you're just after one thing, Casey's is a good place to eat in Disneyland Paris.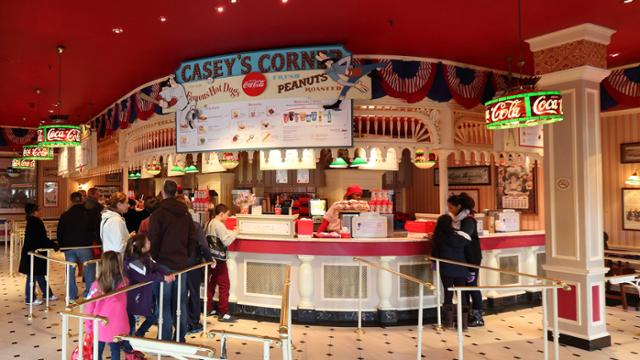 The Lucky Nugget Saloon
Lucky Nugget can be found along the riverbank in Frontierland and is one of the most intricately designed restaurants in Disneyland Paris. You can't help but feel like you have travelled back in time and walked into an Old West saloon. All the seats are arranged towards the stage where an exquisitely painted depiction of Frontierland is hung. There are occasionally shows here, the puppets are particularly excellent so check the board outside for show times and grab a table then.
Despite the name, Lucky Nugget is one of the few Disneyland Paris restaurants where you won't find chicken nuggets on the menu. The instead offer a range of pub classics, such as burgers and fish and chips. The pork spare ribs are particularly delicious and all the set meals are served with an ice cream sundae for dessert which is never a bad thing!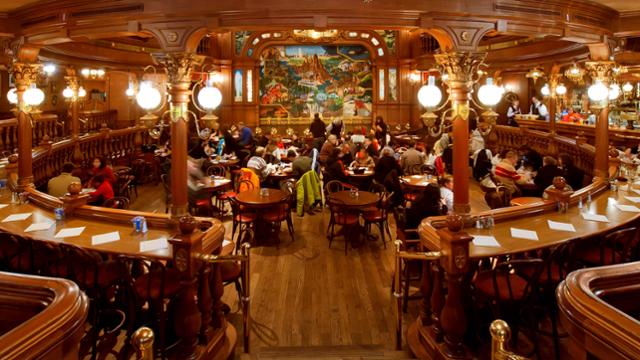 Colonel Hathi's Pizza Outpost
A lesser known character from the Jungle Book, Colonel Hathi is the leading elephant who for some reason has been given an Italian counter service restaurant. Whilst this doesn't make that much sense, the food at Colonel Hathi's makes up for that. Step into the Indian jungle where animals adorn the walls and the ceiling is filled with leaves. The centre of the restaurant showcases a huge tree which is absolutely stunning when covered with beautiful flowering plants.
The name is a little misleading as there are only two types of pizza on offer here and more pasta dishes and other Italian flavours offered as well. The pizzas are delicious though and despite the odd mix of aesthetics it's a good, clean and tasty Disneyland Paris restaurant. There are also occasionally a few of the Jungle Book characters hanging around nearby to Colonel Hathi's, so you might bump into a few cool cats.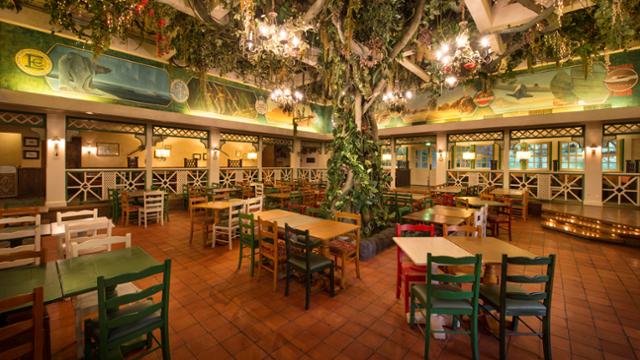 Worst Restaurants in Disneyland Paris Park
Auberge de Cendrillon
Auberge de Cendrillon is one of the most popular restaurants in Disneyland Paris. It features on our list as one of the worsts due to the lunch and dinner menu. The character dining breakfast with the Disney Princesses is great if you are interested in meeting them and the breakfast can't be faulted. If that's your intended meal at Auberge de Cendrillon then you're in good company there.
The fault lies with the lunch and dinner menus which are excessively fancy and therefore can be difficult to even understand, let alone find something for everyone (little kids especially) to eat and enjoy. The restaurant is fantastically decorated and is great for princess fans but it's not worth the price tag eating lunch or dinner there.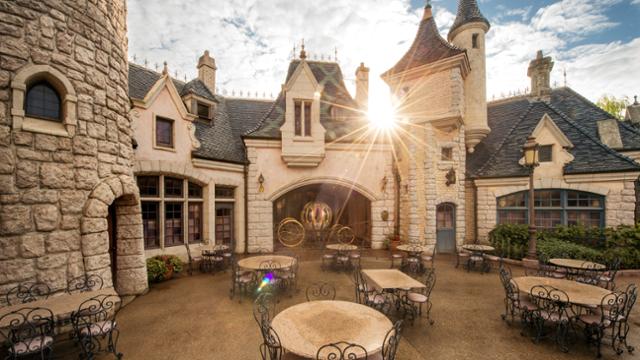 Restaurant Agrabah Café
Stylistically, Agrabah is very good. It's stunning inside and the Arabian theme is done beautifully. However, the quality and quantity of the food leave something to be desired. There is a very limited choice at Agrabah, especially compared to the other buffet restaurants in Disneyland Paris. The options that are available are also mostly cold foods which is alright in the height of summer but it's not necessarily what you want if you're looking to have a really filling meal in the cooler evening. The desserts are probably the one redeeming quality of this buffet.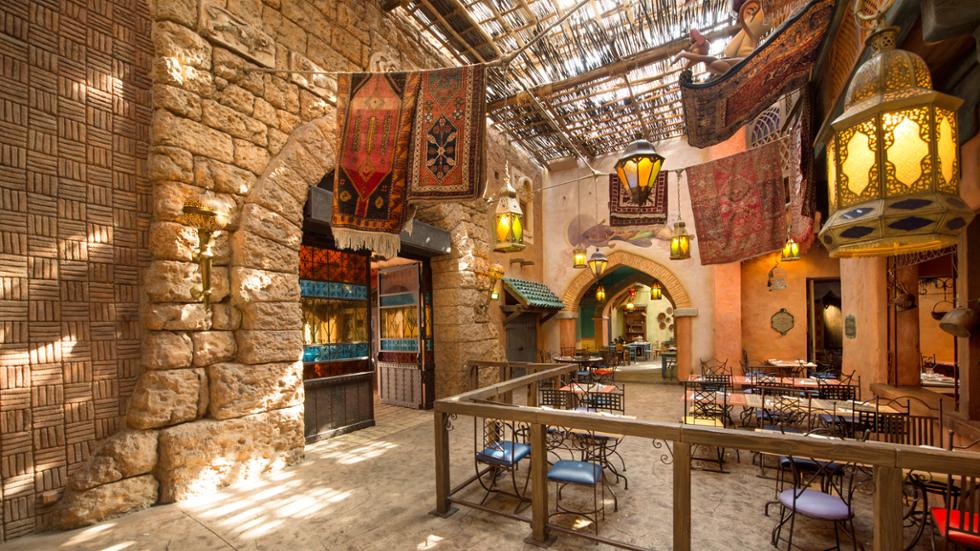 Café Hyperion
Hyperion is huge. It is by far the largest restaurant in Disneyland Paris so it is a good place to take a break and eat something, however it's better to eat something that didn't come from Hyperion itself. Hyperion burgers are nothing special and there are so many better options around the parks for you to try. We would recommend grabbing a snack elsewhere and taking a break inside Hyperion as there is always plenty of seats even during peak dining hours. They also have a large stage which either has live performers or has a Disney movie or television programme playing so there's plenty to keep everyone entertained.
Plaza Gardens Restaurant
Placing Plaza Gardens on the worst lists is likely to be an unpopular opinion as this is often one of the favourite Disneyland Paris restaurants. However, as a buffet it offers some strange options and it's almost impossible to create a full meal with the choices available. The food is of a decent quality but there are better buffet options within the park that are often less busy. Plaza Gardens is also starting to suffer with poor maintenance and can often look quite faded rather than opulent like it's supposed to.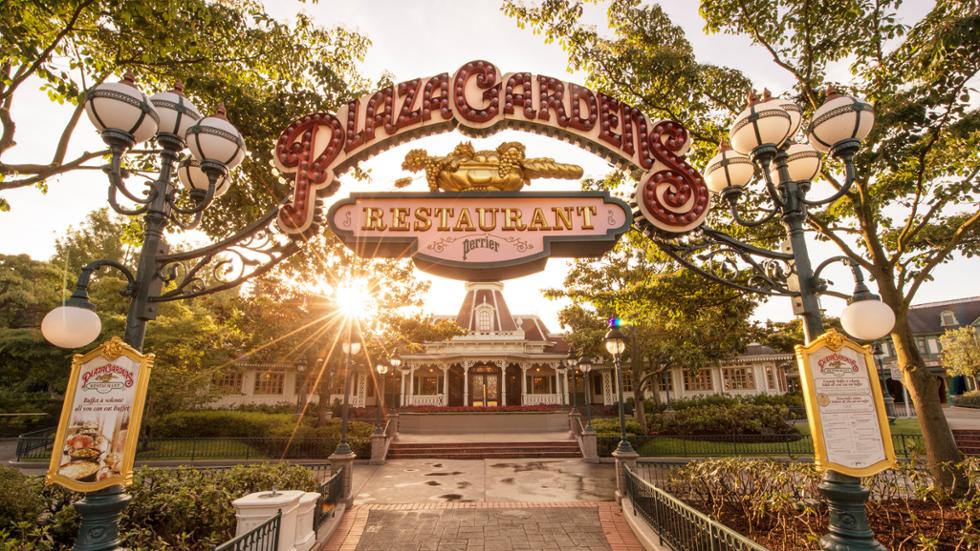 Best Restaurant in Walt Disney Studio Park
Restaurant des Stars
What's better while you're in Paris than having an all-you-can-eat French style buffet? Restaurant des Stars in Walt Disney Studios is a classy affair, offering scrumptious French cuisine and as much as you could possibly want of it too! The restaurant feels very cool and clean with its timeless art deco style and the food is all laid out to showcase how stunning it all is too. The movie theme is also very tastefully incorporated so you can feel like a true movie star whilst you're eating here.
The food is particularly good here – you do sort of expect Disneyland Paris to be able to prepare good French food after all! There is a large selection to get stuck into, so you'll easily leave feeling full to bursting. The desserts are particularly fantastic, and you'll want to make sure to leave room to have loads of them!
Worst Restaurant in Walt Disney Studio Park
Bistrot Chez Remy
It's difficult to say Chez Remy is the worst restaurant in Walt Disney Studios as it is a great restaurant in terms of its theme. Being one of the newer restaurants, no expense was spared when Chez Remy was made and it continues on from the Ratatouille ride (one of the best rides in Disneyland Paris) and presents you with a rat's eye view as you dine. The food is also very good, and they have a large selection for vegetarians and people with food allergies. However, it is incredibly difficult to get a reservation, particularly at peak times, and once you do get in the plates are very small for the price. There are much better options for dining at a similar standard that you don't have to book 6 months in advance for and where you get a lot more for your money.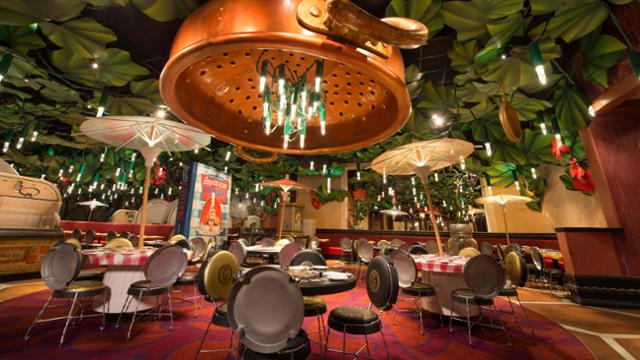 Best Restaurants in the Disneyland Paris Hotels
Inventions
In our opinion, Inventions is the best option at Disneyland Paris for character dining. Inventions is inside Disneyland Hotel which means you get a chance to explore the hotel as well if you are not staying there. Inventions offers character dining for lunch and dinner as well as brunch on Sundays. Inventions generally has the best range of characters, and often some of the lesser seen characters such as Scrooge McDuck and Gepetto. Whilst the characters there do change and the amount can never be guaranteed, we've always had a good range of 6-9 different characters come to our table. It does get incredibly busy so reservations are a must, but it doesn't ever feel rushed and you get a good interaction with the characters.
The food and the restaurant itself are also amazing! Inventions showcases classic Victorian inventions on the walls and hanging from the ceiling so there is always something to be looking at even when the characters are busy with other tables. The buffet is also full of incredible dishes, offering the most variety available out of all the buffet restaurants in Disneyland Paris. There's ample food available so you'll leave feeling very full (of both food and magic) so definitely worth the pretty hefty price tag.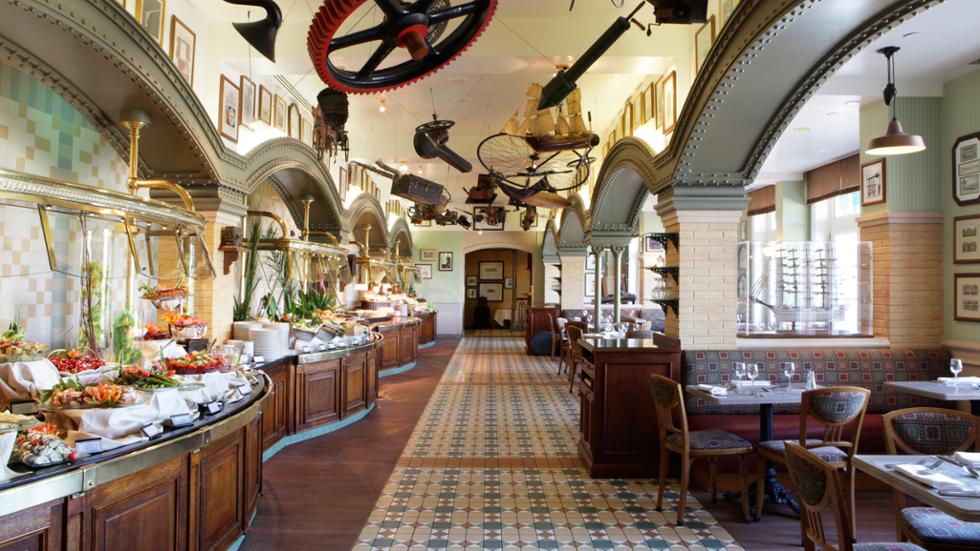 Cape Cod
Cape Cod restaurant is located in Newport Bay Club hotel and serves a fantastic nautical buffet. Newport Bay Club is one of the premium hotels that Disneyland Paris resort offers for guests and as such the restaurant is fancier than some of the other hotels. The interior is absolutely stunning, very clean and bright. The decoration is also fantastic with food being served in giant shells and mermaids and fish decorating the walls.
The breakfast buffet is pretty much the same as all the other Disneyland Paris hotels but the lunch and dinner buffets are phenomenal! It is mostly seafood as the name would suggest, so it might not be the best for those who are not oceanicly inclined. However there is a fair range available so even the pickiest of eaters is likely to find something they'll enjoy. The food all tastes very fresh too, which can be a worry when you're dealing with buffet seafood. But Disneyland Paris pulls out all the stops to make this a buffet dinner worth going back to.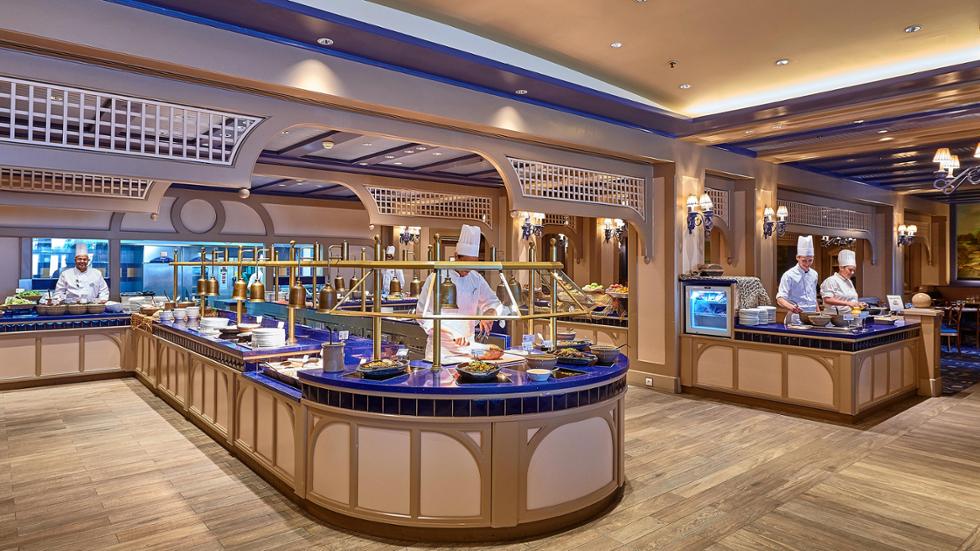 Best Restaurants in Disney Village
Annette's Diner
At the closest end of Disney Village to the parks, right by the train station, you can find Annette's Diner but once you step inside you will be transported to 1950's America. Annette's is designed to give you the experience of a 'Happy Day's style diner, complete with juke boxes on the tables and wait staff on roller skates! There is even a pink corvette outside with Disneyland Paris' opening date on its license plate. Its big neon sign is also difficult to miss, especially at night.
Annette's Diner offers classic American cuisine; burgers, fries, shakes etc. all for less than you'd pay in the parks (although only slightly) and generally with bigger portions. There's much more choice on the menu than you'd find inside the park as well – the Double Rockabilly Burger is a particularly good one! Like all the restaurants in Disneyland Paris it can get very busy, so reservations are recommended. It tends to be quieter for lunch when most people are dining inside the parks, so you're likely to get quicker service then and find it easier to secure a table. Annette's is also one of the few Disney Village restaurants that accepts meal plans (plus or premium) so it can be a good alternative if you can't get reservations in the park restaurants or fancied a change of pace.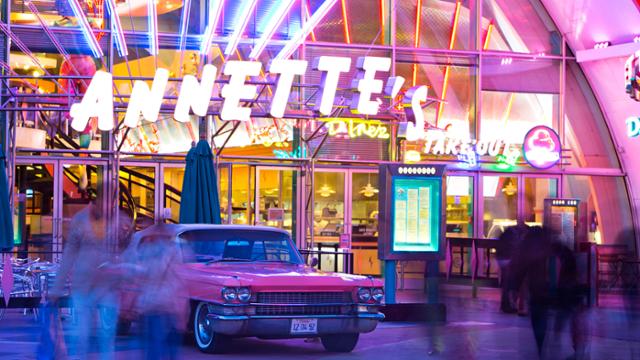 Café Mickey
Café Mickey lets you experience character dining outside of the parks. The characters here change quite a bit but generally it's Mickey and a few friends, but it is offered at a slightly lower price than the character dining options inside the park. Café Mickey is a great place to eat at Disneyland Paris, but reservations are highly recommended if you're going to try Café Mickey. Café Mickey is the closest restaurant in Disney Village to the hotels so it's convenient if you're heading back to the hotels for a nap after lunch! It also offers incredible views over the lake and the PanoraMagique hot air balloon.
The menu boasts a range of Italian options including a phenomenal porchetta-style pork belly, as well as different pizza and pasta dishes. The portions are quite big for Disney and the desserts are particularly good. There is a decent range of foods to have and has a pretty different menu from the other Disneyland Paris restaurants so it's a good place to add some variety to your meals.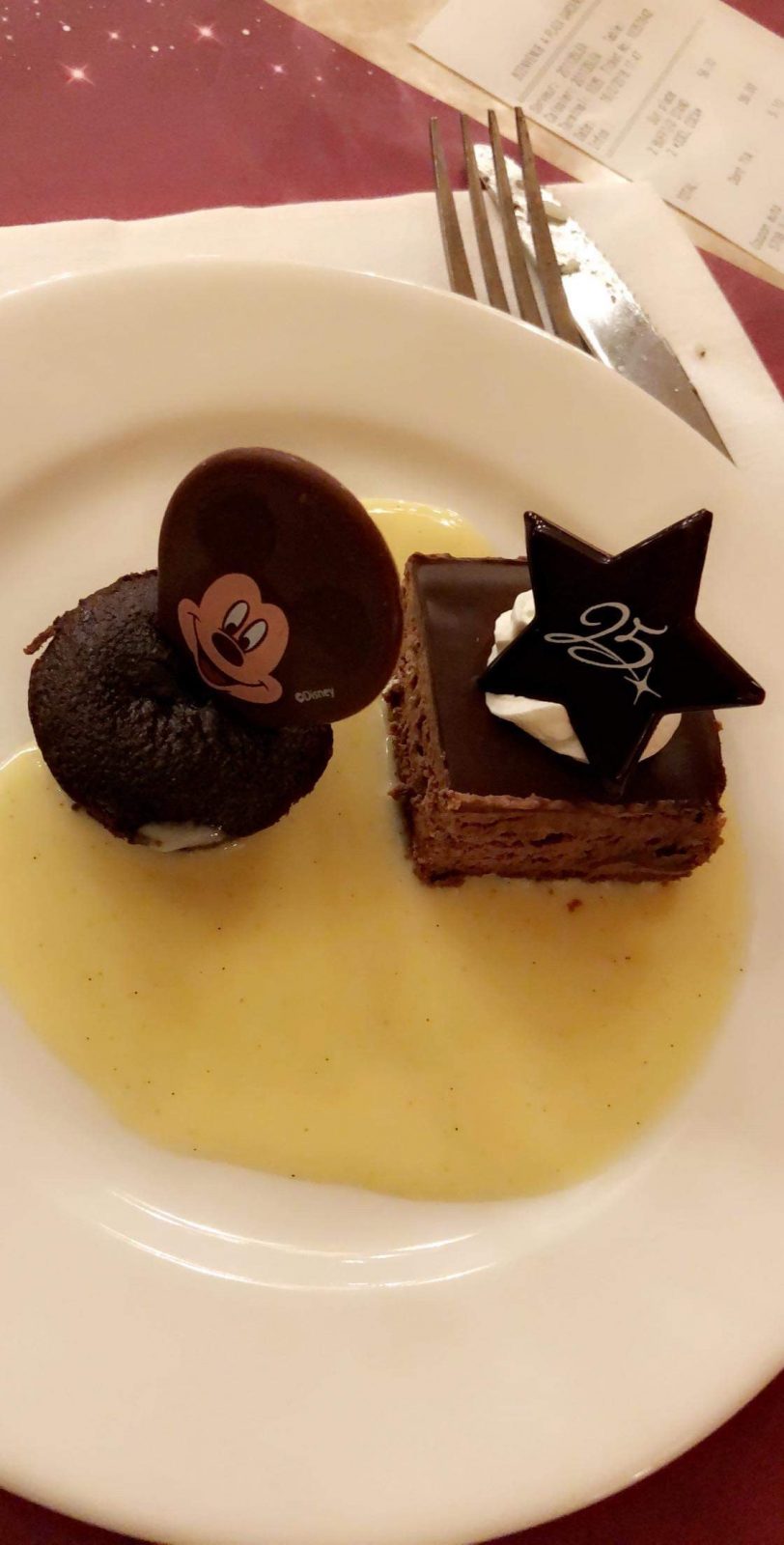 Planet Hollywood
The huge blue planet is relatively difficult to miss as you go through Disney Village. This planet is the entrance to the Disneyland Paris Planet Hollywood. Whilst you can find plenty of Planet Hollywood's across the world, this is featured on this list purely because of how it deals with customers with food allergies. All of the restaurants at Disneyland Paris will be able to provide you with allergy information for their food however most will resort to the special allergen-free Natama menu rather than working with you to adjust the food on the standard menu. In our experience, Planet Hollywood is one of the best restaurants when it comes to working out a meal that fits with the allergy that is still tasty and showcases the best of the menu. Other than this, Planet Hollywood is similar to every other Planet Hollywood in existence and you'd be better off eating elsewhere in order to get some more Disney magic while you're in Disneyland Paris.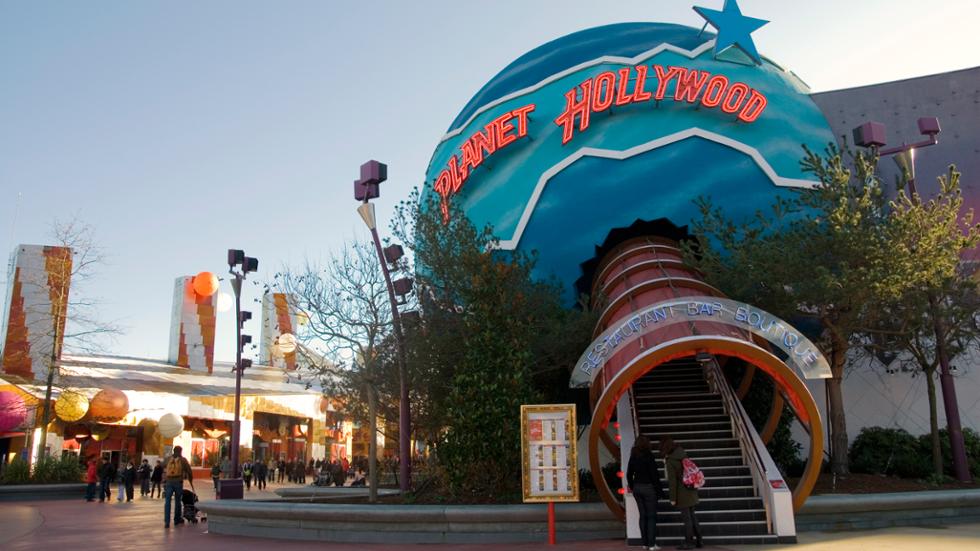 Worst Restaurants in Disney Village
Buffalo Bill's Wild West Show
Buffalo Bill's Wild West Show is a dinner show in Disney Village that shows you how the West was won with Mickey and friends making appearances during the show. It is supposed to be a good way to have an entertaining show and a good meal all at the same time. However, both of those things don't live up to the hype. The show is subpar compared to the rest of the shows available inside the park and the Texan barbecue menu leaves something to be desired. It's expensive for the quality of both the food and the entertainment. If you're seriously into the Old West it might be worth a visit, but for the same price you can have a much better time inside the parks at a different Disneyland Paris restaurant or a better show.
Rainforest Café
While this Disney Village restaurant has pretty decent food and a good atmosphere, it is the same Rainforest Café that you can find in many cities around the globe. This isn't necessarily a bad thing in other circumstances but when you're in Disneyland Paris you don't want to waste a dining slot on something you can have at home. There are much better Disney themed restaurants for you to enjoy whilst you're looking for places to eat at Disneyland Paris.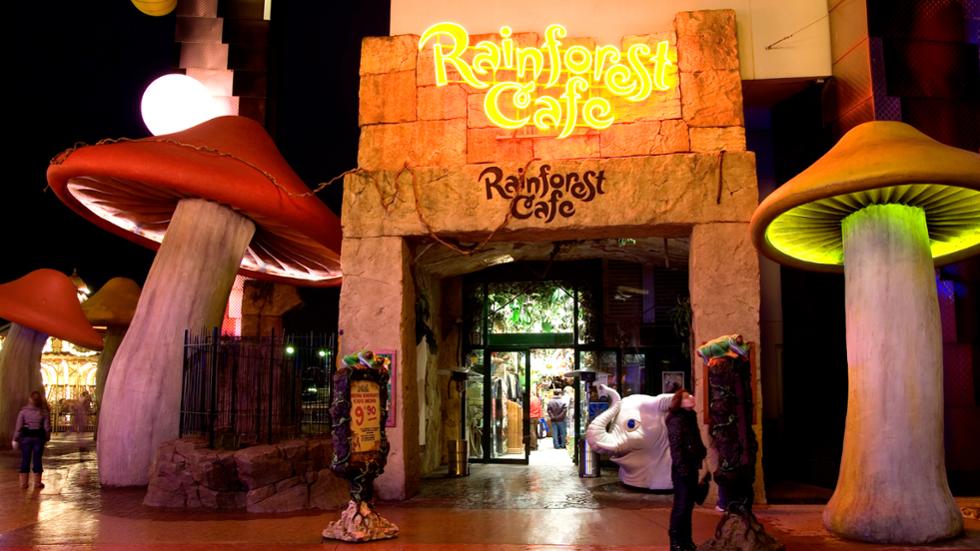 Do you agree with our list or do you think there are better or worse restaurants in Disneyland Paris? Regardless of the rankings we've made, good food in Disneyland Paris is never too difficult to find and everyone has different experiences. We're sure you'll have a magical time at Disneyland Paris, wherever you choose to eat. Let us know what your favorite dining experience at Disneyland Paris has been in the comments.
Pin this post: