Are you Disney bound and already daydreaming about all of the magical Disney souvenirs you want to buy, but don't want to go broke on vacation? Look no further! You have found THE list of Disney's 26 Best Souvenirs That Won't Break The Bank! It is entirely possible to do
Disney on a budget
, but that does not mean you have to skip souvenirs from Disney all together. The only requirement for a souvenir is that you collect or purchase it during your trip and transport it home as a memento of your visit, it is not required for you to spend a whole bunch of money on it!
Disney has thousands of souvenir options, because as we all know, every ride must end with a gift shop, but this list will put you on the right track when shopping at Disney World. This list will help steer you some of the best souvenirs at Disney World that won't hurt your wallet. Be sure to keep this list handy while you explore all the souvenirs Disney World has to offer!
When on the hunt for Disney souvenirs and shoppoing around Disney World, keep in mind that many of the items you see can only be purchased in the parks. If you fall in love with a Disney souvenir, don't bank on the ability to buy it online after your trip! With the recent retirement of the ShopDisney Parks App it is even more difficult to find in-park only items online.
Get a FREE printable 30/60/90 day Disney countdown by joining our private Disney Facebook Group and share your photos and ask for tips and tricks.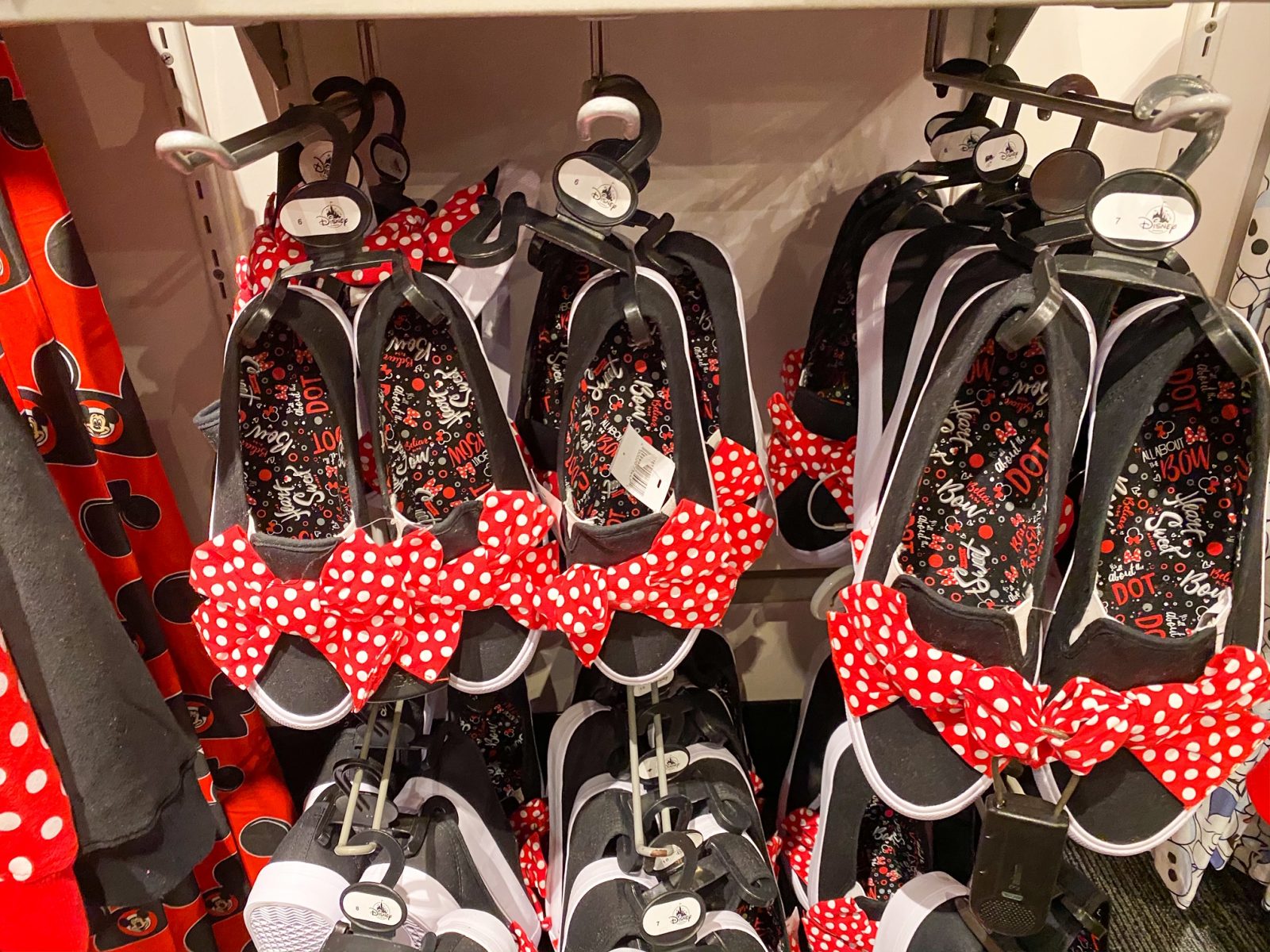 26 Best Disney Souvenirs That Won't Break The Bank
Pick- A-Pearl
Just because you are buying our souvenir at Disney World, does not mean it MUST have Disney characters or logos on it. In fact, some of the best Disney souvenirs are simply unique souvenirs that will remind you of where and when you purchased it, and probably most importantly, who you were with when you got it. You can find many unique Disney souvenirs in Epcot's World Showcase!
While you wanter through the Japan Pavilion, stop by Pick-A-Pearl to score the perfect Disney souvenir that won't break the bank and comes with a true experience. Pick-A-Pearl leaves you with a beautiful Disney, but not so Disney, souvenir!
You can find the Pick-A-Pearl in the Mitsukoshi Department Store in the Japan Pavilion in the Epcot World Showcase. This Disney souvenir comes with a true experience. You will pay to pick your pearl at the register and take your receipt over to the pearl station to receive your number. Feel free to watch others pick their pearls while you wait, or wander around the department store and check out all the cool Japanese gifts, toys, and snacks.
Once your number is called, you will have the ability to pick an oyster from one of the two tanks and once you make your pick, the Cast Member will perform a special ceremony with you, and you will finally get to see your pearl. After you select your pearl, you will decide what to do with it – take it home as is or have it placed into a jewelry setting.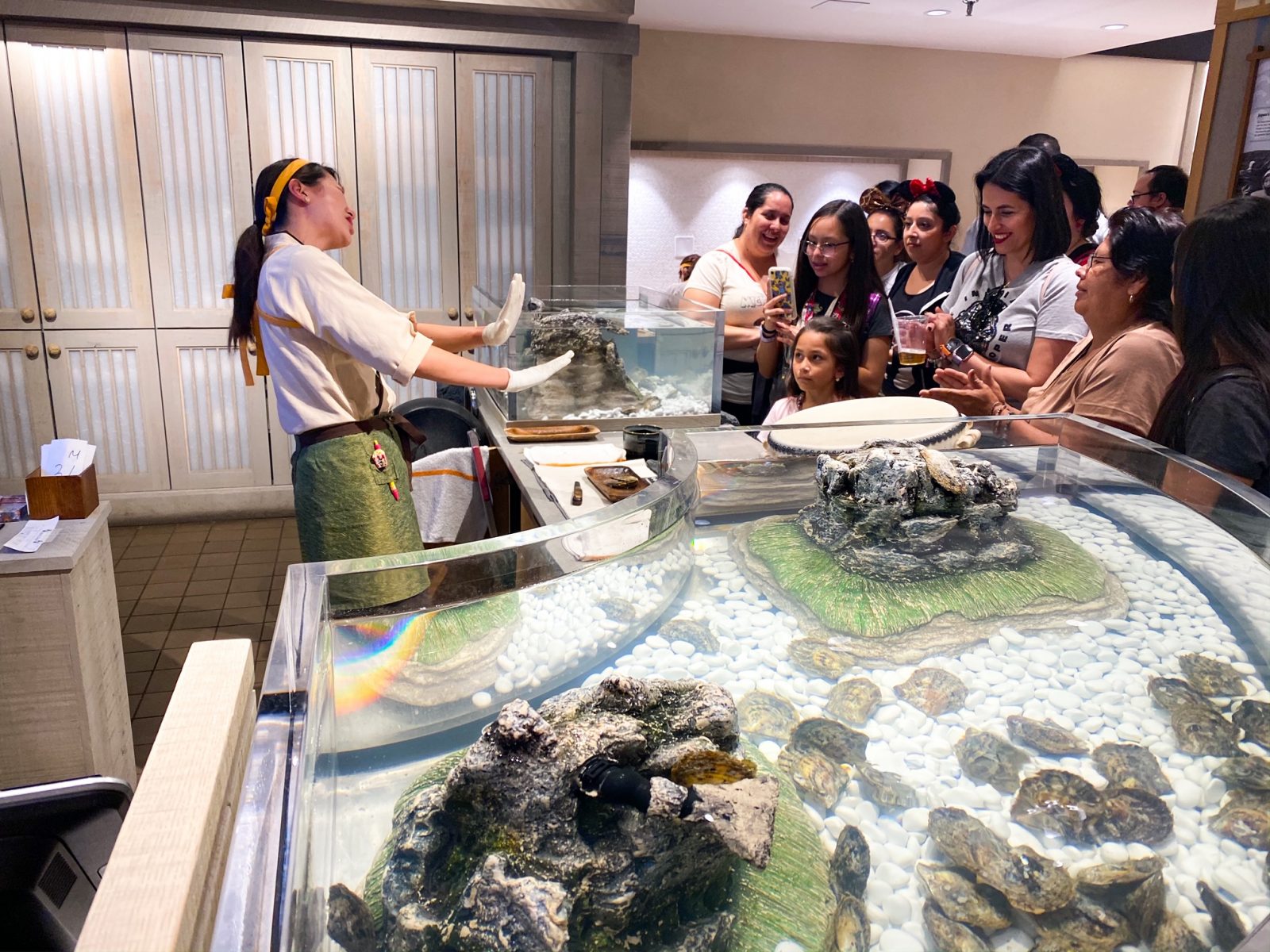 Insider Tip – You can also pick a pearl at the Pearl Factory in Disney Springs. Pearl Factory is a kiosk located in the Marketplace at Disney Springs and a great alternative stop if you want to avoid shopping while inside the parks.
Pressed Pennies, Or Quarters
One of the most popular affordable Disney World souvenirs are pressed pennies, and now quarters, which are quick, cheap, fun to collect, and also come with a mini experience. One of the best insider tips for doing Disney on a budget is to take advantage of the cheap souvenirs and a .51 cent souvenir is exactly the type of affordable souvenir I am talking about. There are entire blogs dedicated to pressed pennies, so if this is right your alley, the Internet is a treasure trove of tricks, tips, and secrets, but let me lay out the basics!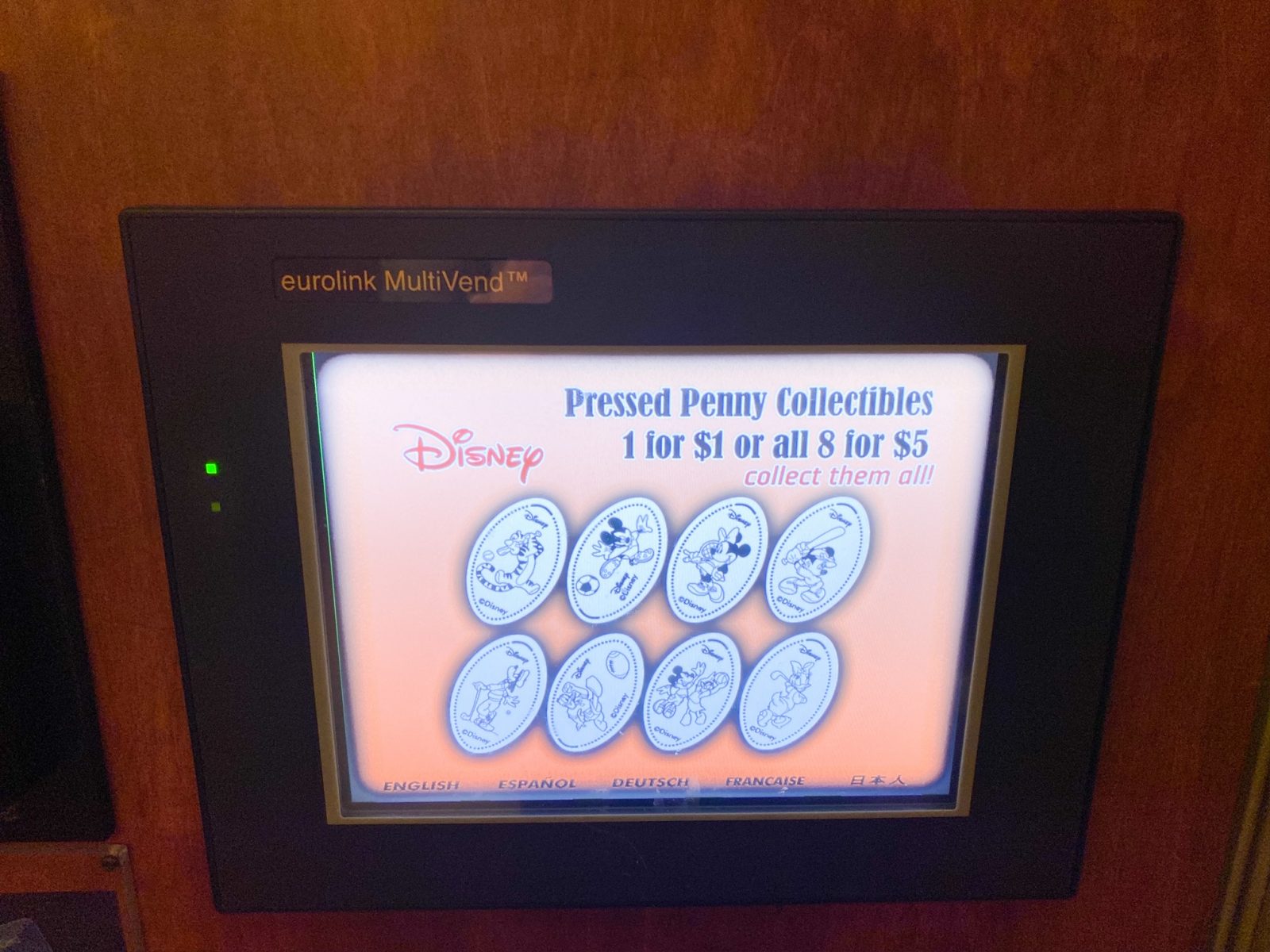 Disney World is packed with pressed penny, and now some pressed quarter, machines. You can find these machines inside parks, on the Boardwalk, around Disney Springs, and Disney hotels. The pressed penny will run you .51 cents, .1 cent is the penny you will end up with and .50 cents is the cost of doing business.
As for pressed quarters, these will run you $1.25 with the .25 quarter being your souvenir and $1.00 being the cost of the press. You can locate all of Disney World's pressed coin machines on the Disney website and Disney App – so be sure to have your phone ready for your trip!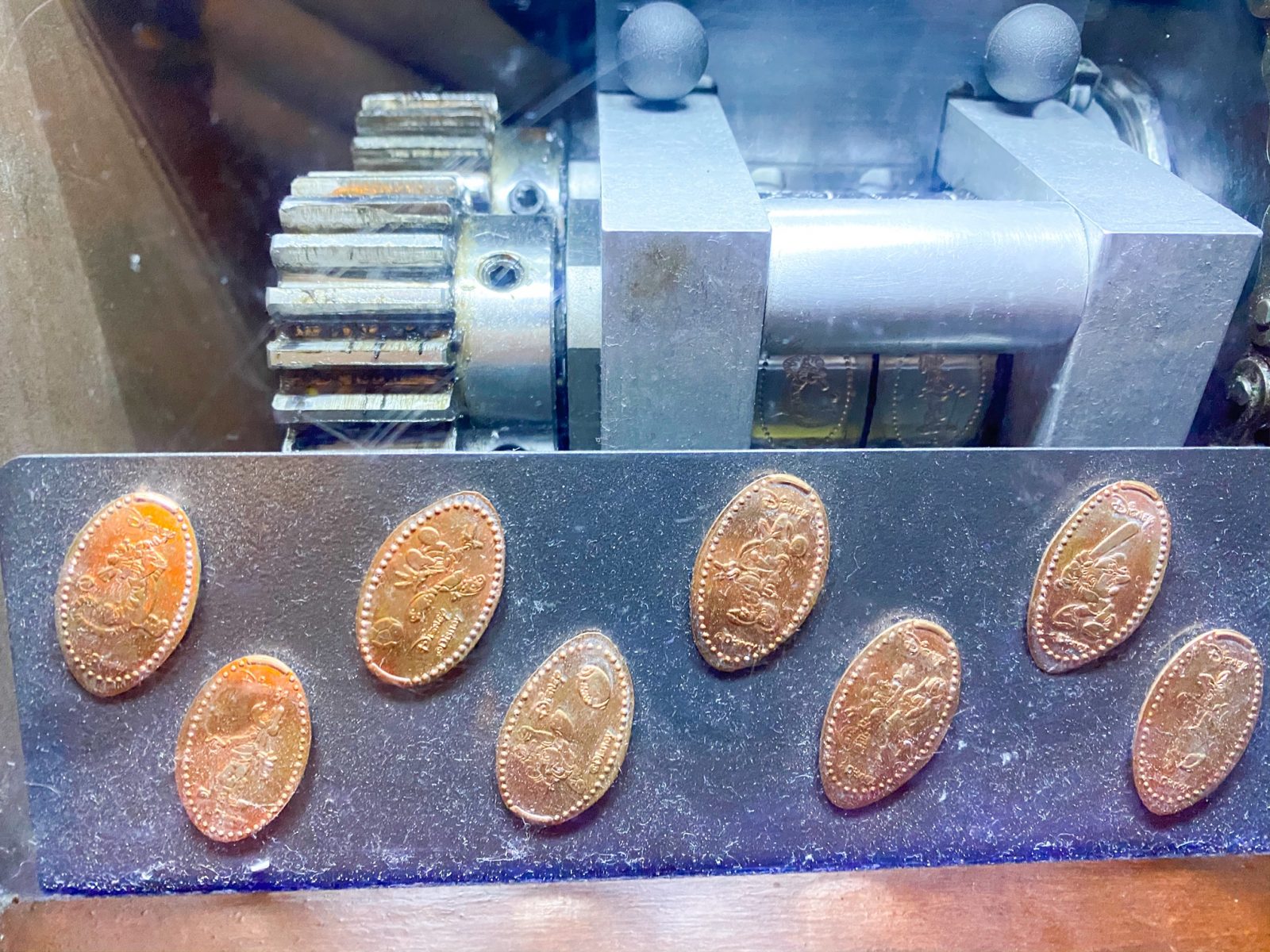 Not only are pressed coins an affordable souvenir, they are super easy to carry around. You can find a pressed penny book online or you can take an even smaller storage option while you collect and put the coins into a recycled tube or small coin purse! With each park having over 100 pressed coin options, plus the machines all over Disney World, pressed coins are a Disney souvenir that you can collect every time you go back and this souvenir only requires your extra change!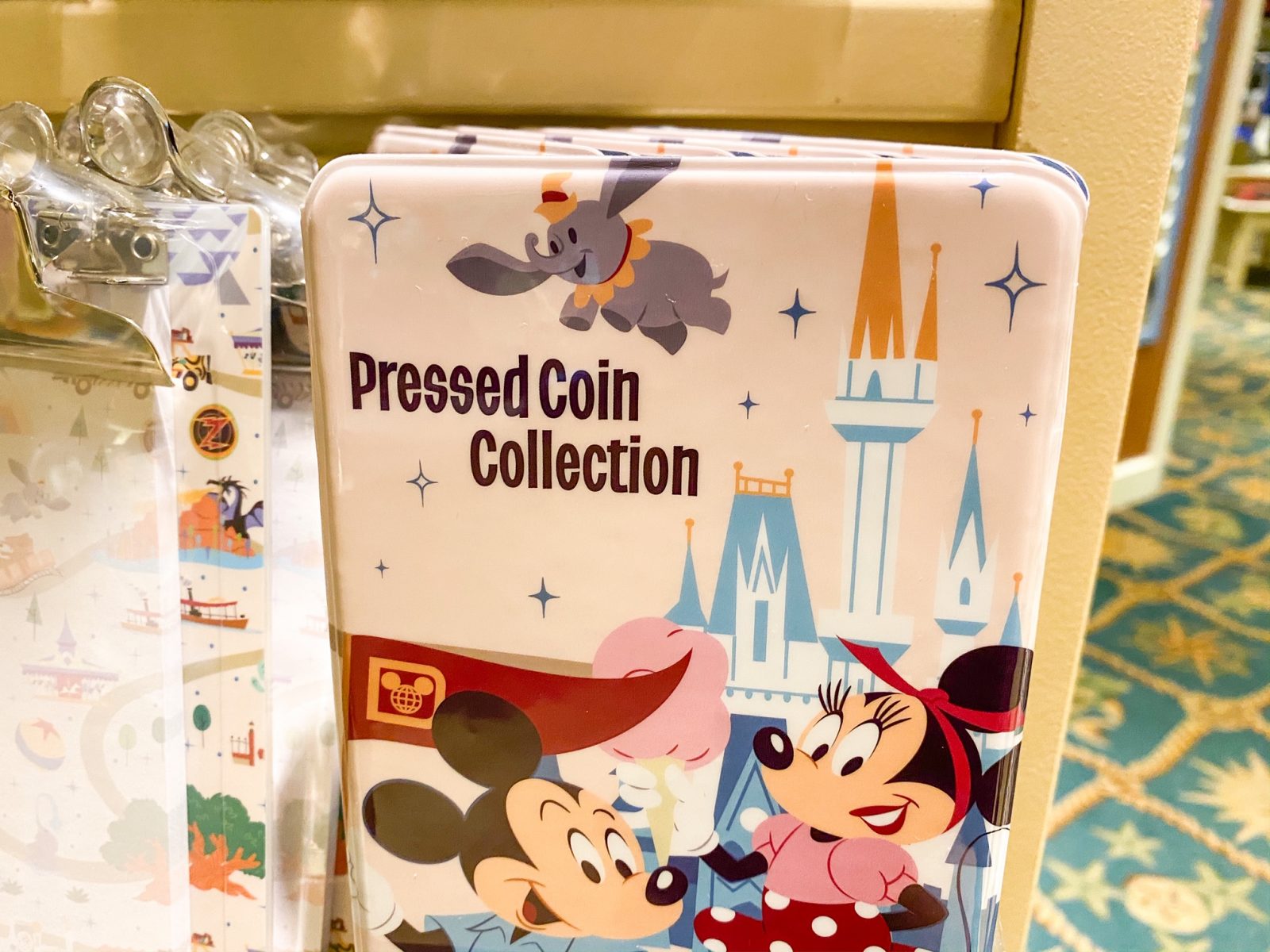 Disney Tote Bag
Looking for an affordable Disney souvenir you can use both during your trip and after? Look no further, a Disney tote is the perfect souvenir for you! Disney World shops have a lot of tote options. Some may actually break the bank, but for every spendy tote, Disney has three more affordable totes for the more budget conscience guests.
If you are looking for a super affordable, and reuseable, Disney souvenir – check out Disney's $3.00 reusable totes, like this
reuseable Princess tote
. If you are budgeting a bit more for your Disney souvenirs – check out one of Disney's many $19.95 tote bags, like this
Disney Villian Ursula tote
.
My advice? Spend a little time on your first day at Disney World looking around for the perfect Disney tote. Once you make your purchase, make this your primary bag for the trip. This means you can pack one less item and you will feel the instant gratification of the perfect Disney souvenir purchase. No need to back a beach bag for the pool and once you return home, you can take a little piece of your Disney memories with you to the grocery store, gym, or on a Target run!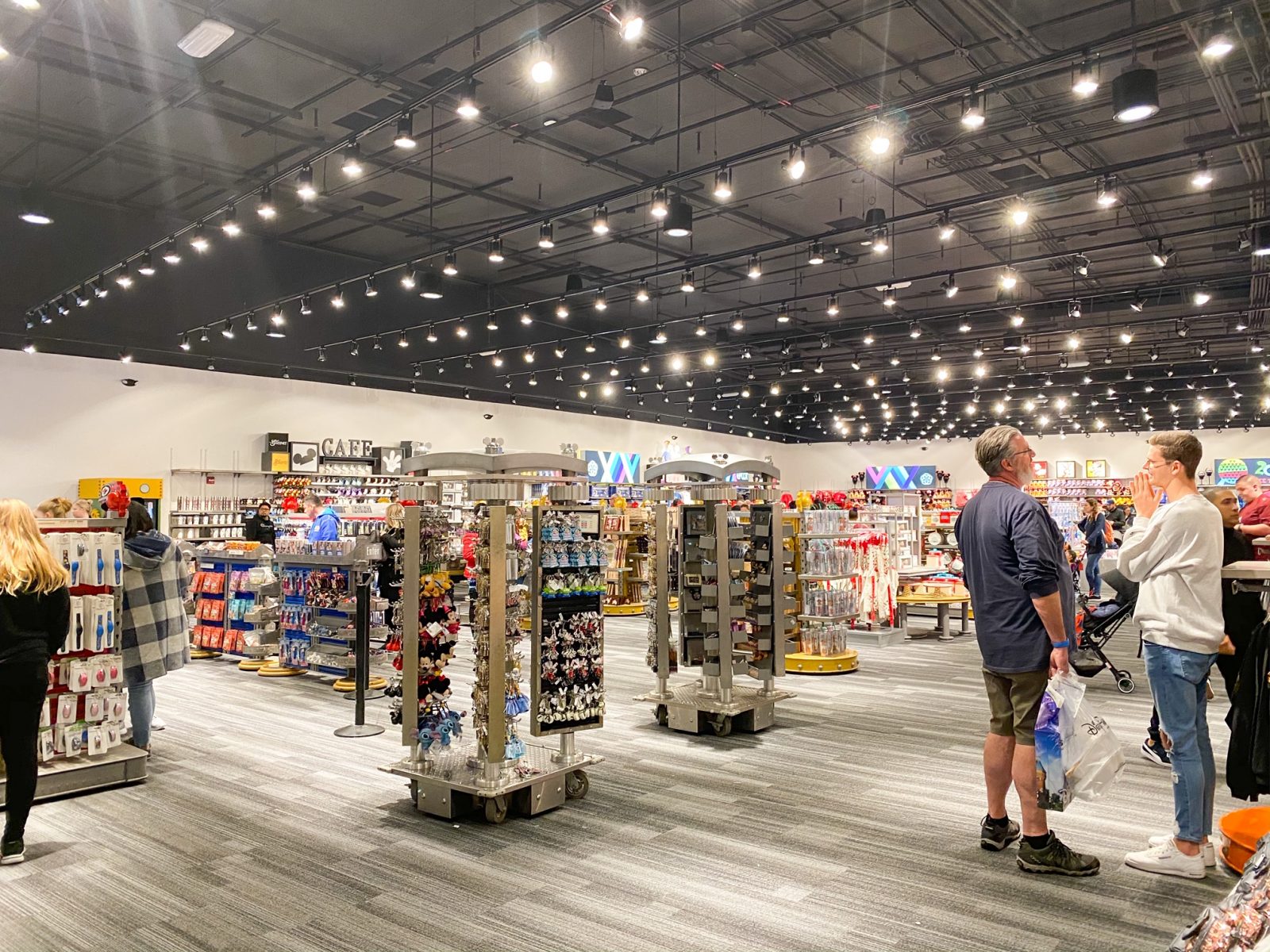 Disney Monopoly Set
Want to transport the excitement of Disney games back home after your trip? Pick up a Disney Monopoly! Disney has paired with Monopoly to offer some of the best Monopoly options. Love Disney parks as much as I do? Monopoly's Disney Theme Parks Edition is the perfect pick. What about Disney animation? Perfect Disney souvenir – Disney Animation Monopoly has arrived – this is also currently the cheapest of the sets costing $29.95.
Disney Monopoly also comes in movie-specific sets and the options are constantly growing. Disney Monopoly is an ideal Disney souvenir who wants to play with their souvenir once their vacation comes to an end, but is a bit too told to play with a stuffed animal or play set. But remember, it is just a game so don't take it too seriously!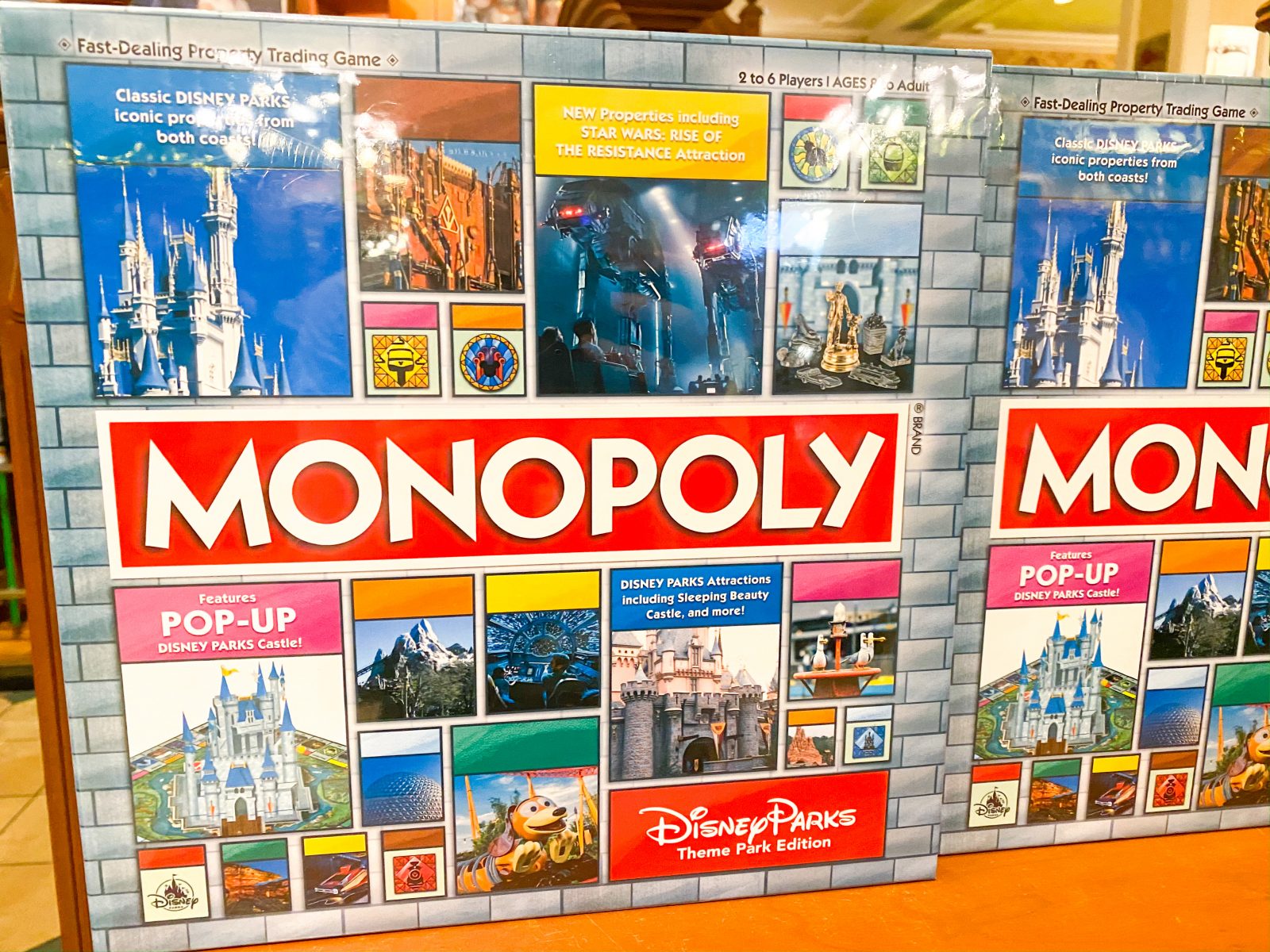 Disney Caricature Drawing
One of the most classic Disney World souvenirs, the Disney Caricature drawing, is a great souvenir that comes with a built in break and rest time! There are actually quite a few places around Disney World to get your caricature done, currently spread throughout the parks, Disney Springs, and even hotels. What makes these different from the caricatures at a local fair or market? They are Disney-fied! A Disney Caricature artist will turn you into your favorite Disney character, making this is a very personalized Disney souvenir.
While the artists change frequently, as Disney has a whole crew of caricaturists, the price remains the same. Disney Cariacture prices are per PERSON – here is the rundown of the current prices: $15 for face only in black and white, $20 for face only in color, $20 for face and body in black and white, and $30 for face and body in color.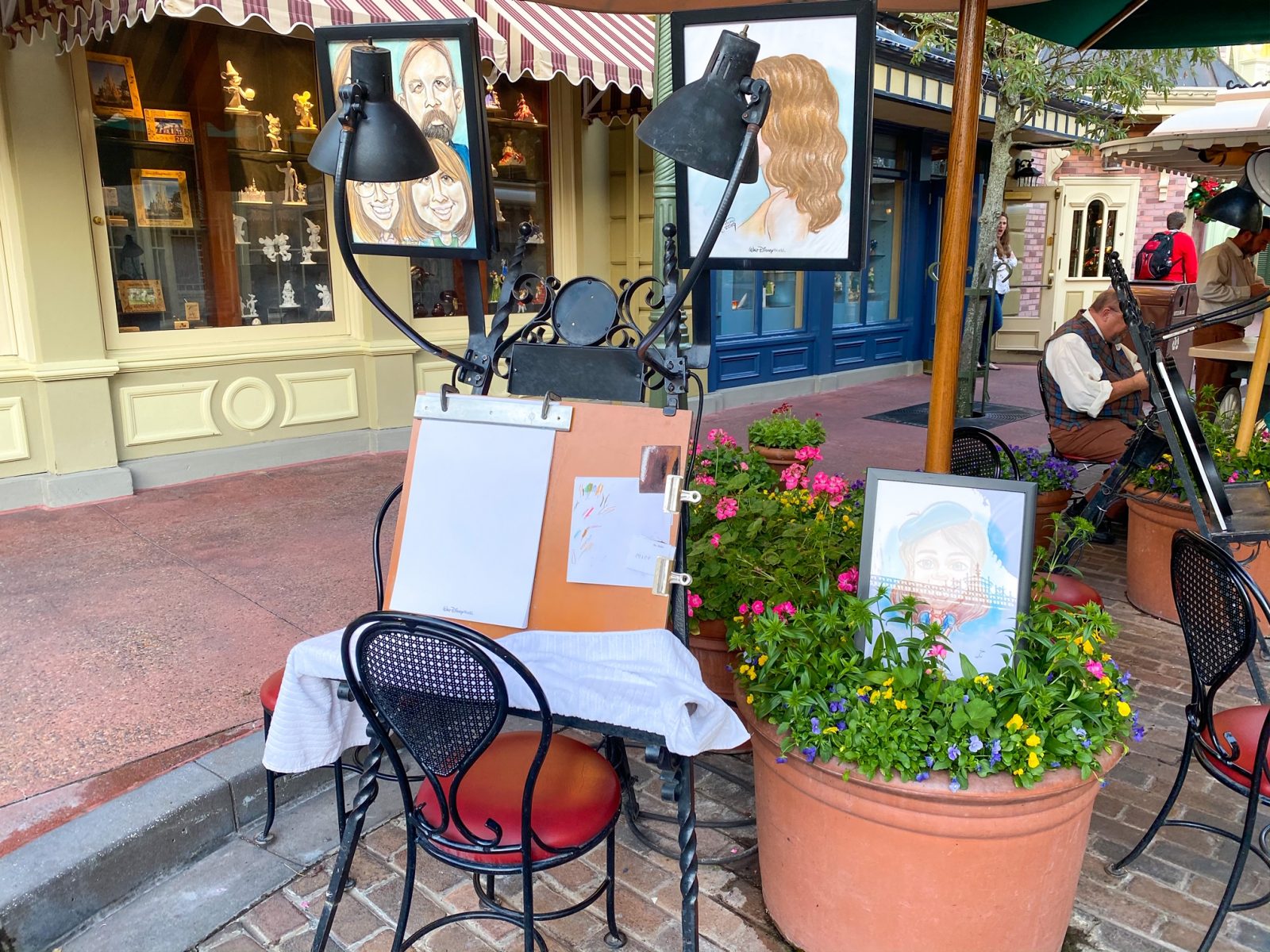 Don't worry if a little one, or even an easily distracted adult, cannot sit for the whole process, you just need to sit still while the artist draws the pencil sketch. After that, movement is okay as the artist goes back over the pencil sketch and then adds all of the fun. Disney Cariactures are a Disney souvenir that you will be grateful for years down the road and it comes with a built in break getting you off your feet and forcing you to take a few minutes to stop, people watch, and relax!
If you want something a bit more simple, or maybe even old fashioned, have a siloutte drawn instead. Taking as little as 60 seconds, the silhouette a super fast alternative for a Disney souvenir while still sending you home with custom art to look back on over time. Check the My Disney Experience App for artist locations!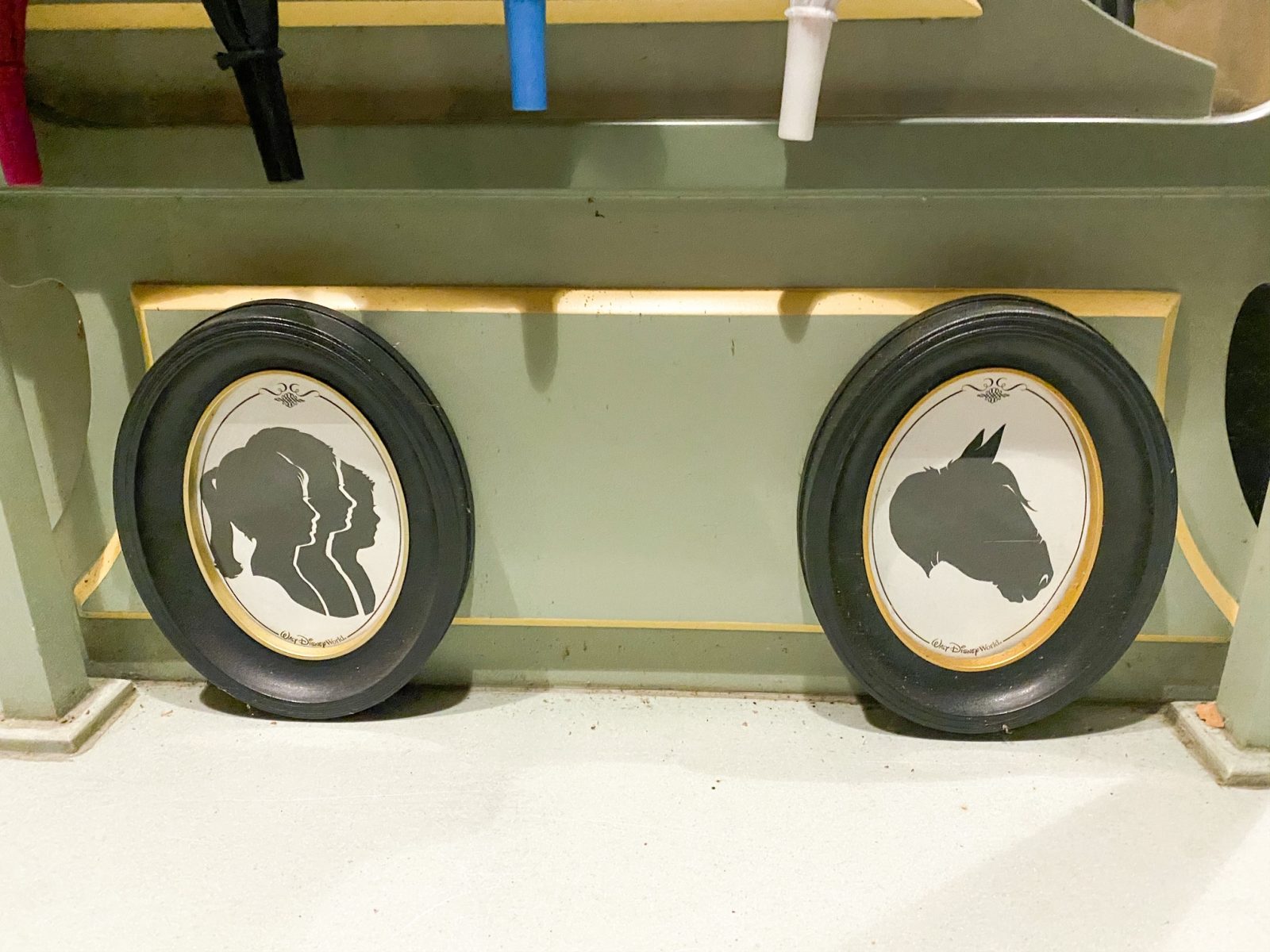 Disney Hat
Can you ever have too many hats? The answer is nope! A Disney hat is a great affordable Disney souvenir for all Disney fans and Disney has plenty of options so you are sure to find one you love. From the floppy hats and caps at Chapel Hats Shop in Disney Springs to the Disney character hats sprinkled through the parks, there is a hat for everyone. In true Disney fashion, you can always score a hat with ears, and not just mouse ears, or opt for a more traditional baseball cap.
Disney hats for adults start as low as $12.99 and kids hats start as low as $9.00, but the large majority will cost you between $20 and $30 USD. Given the amount of sun we have in Florida, a hat is also a great souvenir that you can use throughout your entire trip to protect your eyes, face, and scalp from the powerful sun!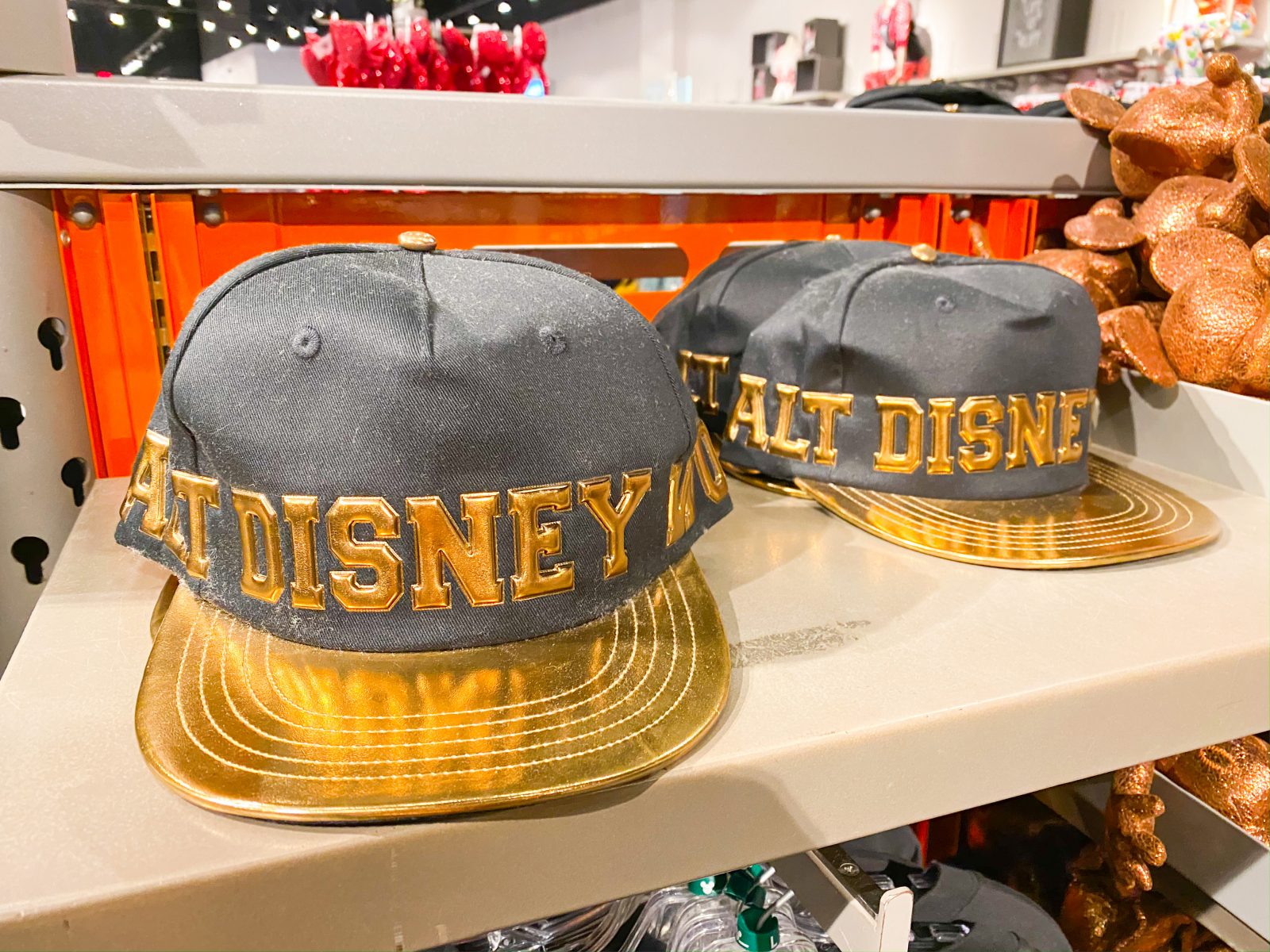 Disney Keychain
Disney keychains are a top pick for a small, and useful, Disney souvenirs that won't break the bank. Disney keychains come in what feels like millions of options with the majority of Disney stores carrying display stands full so you should have no problem finding the perfect one. Disney World offers a yearly keychain, so you can sport the year of your last trip, and endless character, ride, and land-themed keychains.
For small items, such as keychains, Disney World often uses a color system. The color on the tag for the item (mint, purple, red, teal, etc.) matches to a displayed price point. Once you find your favorite keychains be sure to compare the prices to avoid a surprise. Most Disney keychains will run you less than $14.00 so they make a very affordable Disney souvenir.
My top Disney keychains are the ones that show off which Disney location and/or Disney park you have been to and they make a great Disney souvenir collectable as you can pick one up at every Disney park all over the world!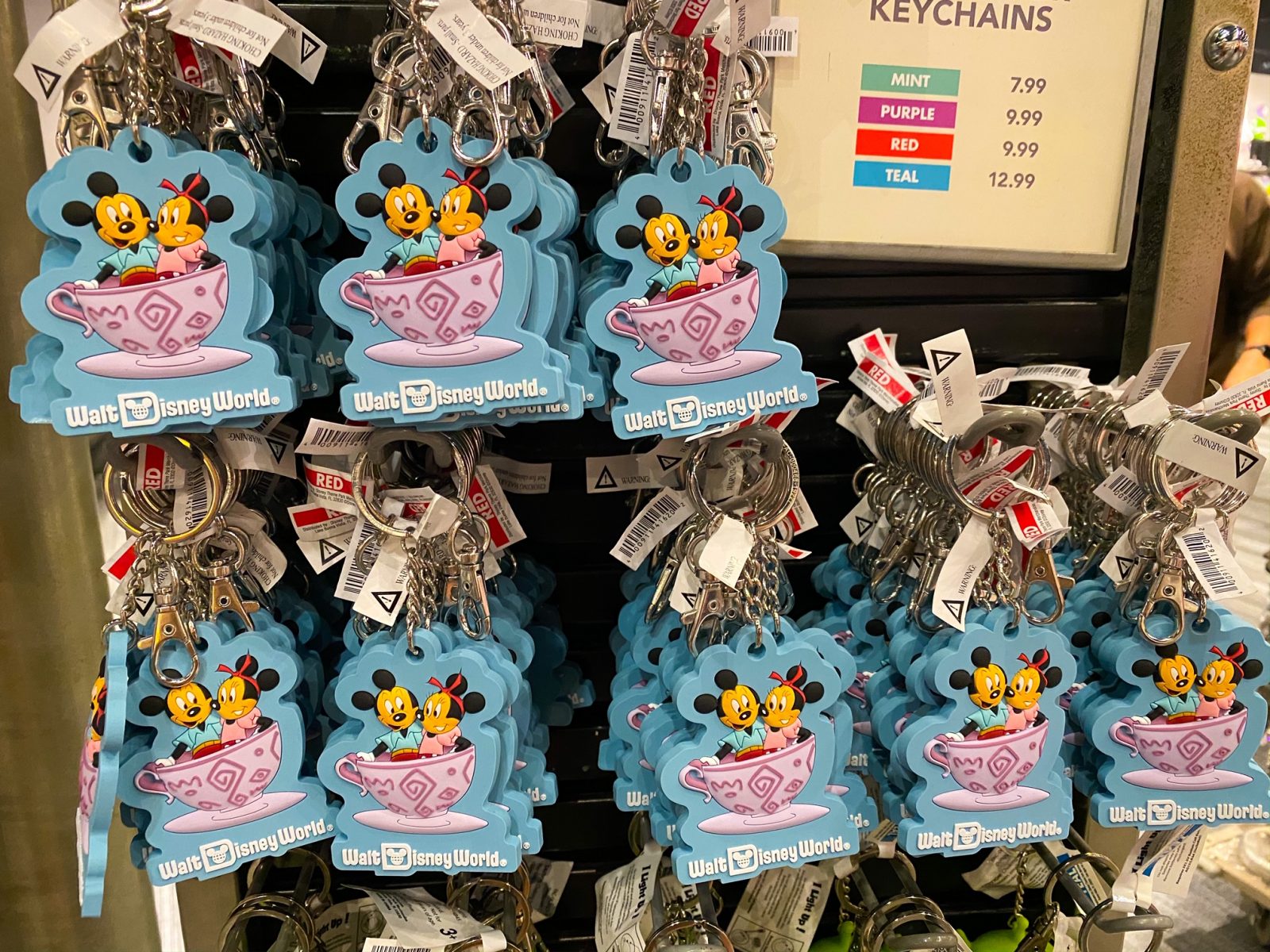 Disney Magnet
Disney magnets, similar to the Disney key chains, are a great way to pick up a small, affordable, easy to carry, and easy to collect souvenir. Some of the coolest Disney magnets are the photo frame magnets, allowing you to put a small picture from your trip inside. You can use a PhotoPass photo or a cell phone picture to fill the frame once you return from your magical vacation.
Disney has a magnet for every person, and for every special event. Be sure to check out the limited time magnets during your trip, which usually cater to the year of your travels and special events and holidays. Of course, if you just want to stick with the classics, you can always find a character, or attraction, land-themed magnet.
Be sure to check out the attraction gift shops for limited edition attraction-themed magnets. Given how small the magnets are, and the low cost, these are another great Disney souvenir to collect.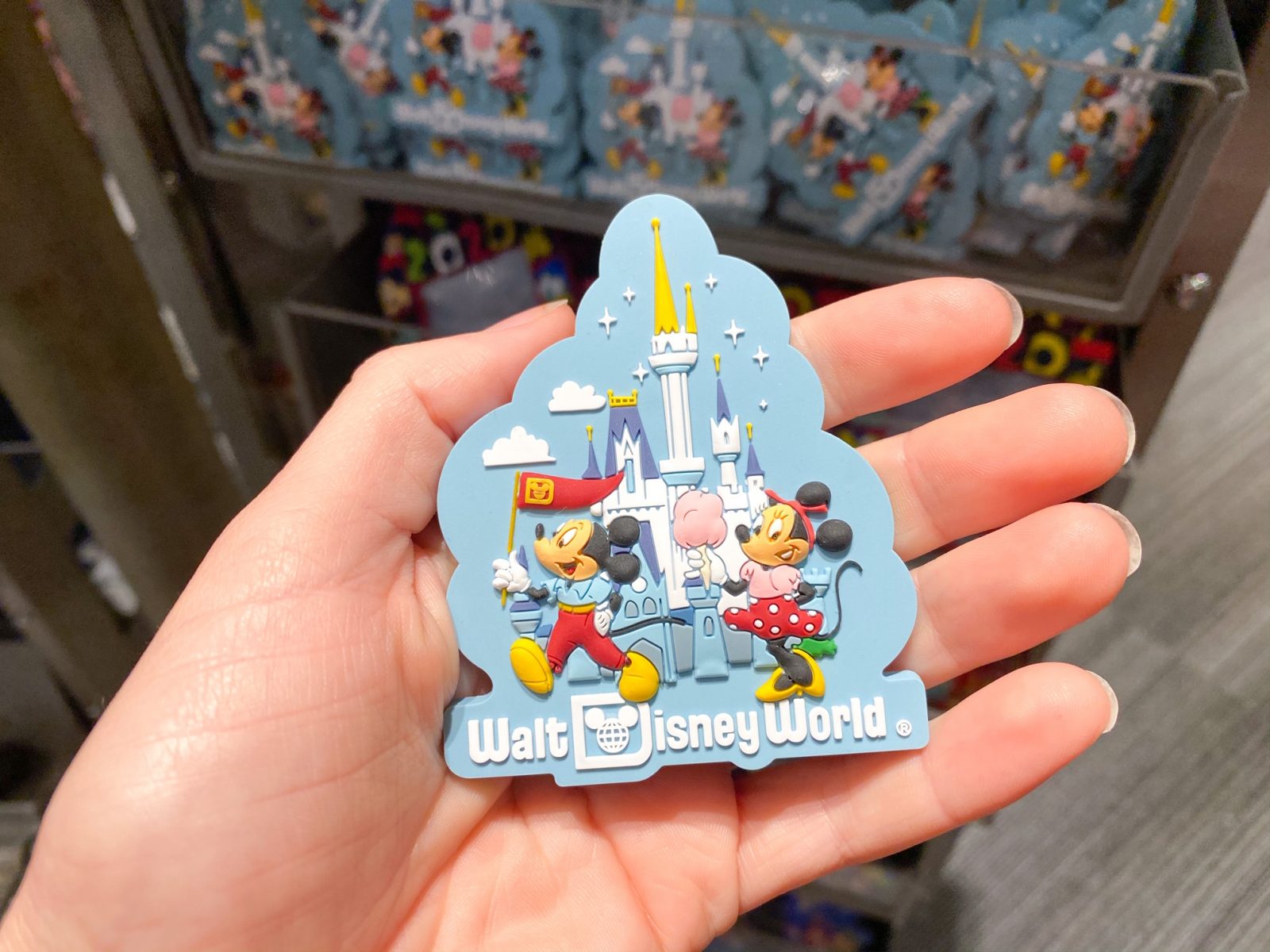 Epcot Passport
Although you don't need a passport to travel through the eleven countries in Epcot's World Showcase, an Epcot Passport is a great Disney souvenir! The World Showcase Passport Pack can be purchased in most of the shops around the World Showcase, including at the
World Traveler
shop located in the World Showcase (between the United Kingdom and France). Inside you will find your very own Epcot Passport, a Mickey button, and eleven sheets of stickers, one for each country.
The Epcot World Showcase Passport provides several pages for each country where you can place the stickers for that country, get stamps and signatures from cast members, fill in your visit details, and fill in your "favorites." The new updated Passport, launched in 2019, comes in a zippered plastic sleeve, which can be attached to a landyard, making it much easier to keep safe from Florida's likely rain showers.
Since I love Disney souvenirs that come with an experience, the Epcot World Showcase Passport is perfect. Affordable at $12.99, light and small enough to carry without inconvenience, and it involves exploring the Epcot World Showcase and the phenomenal cast members around the showcase!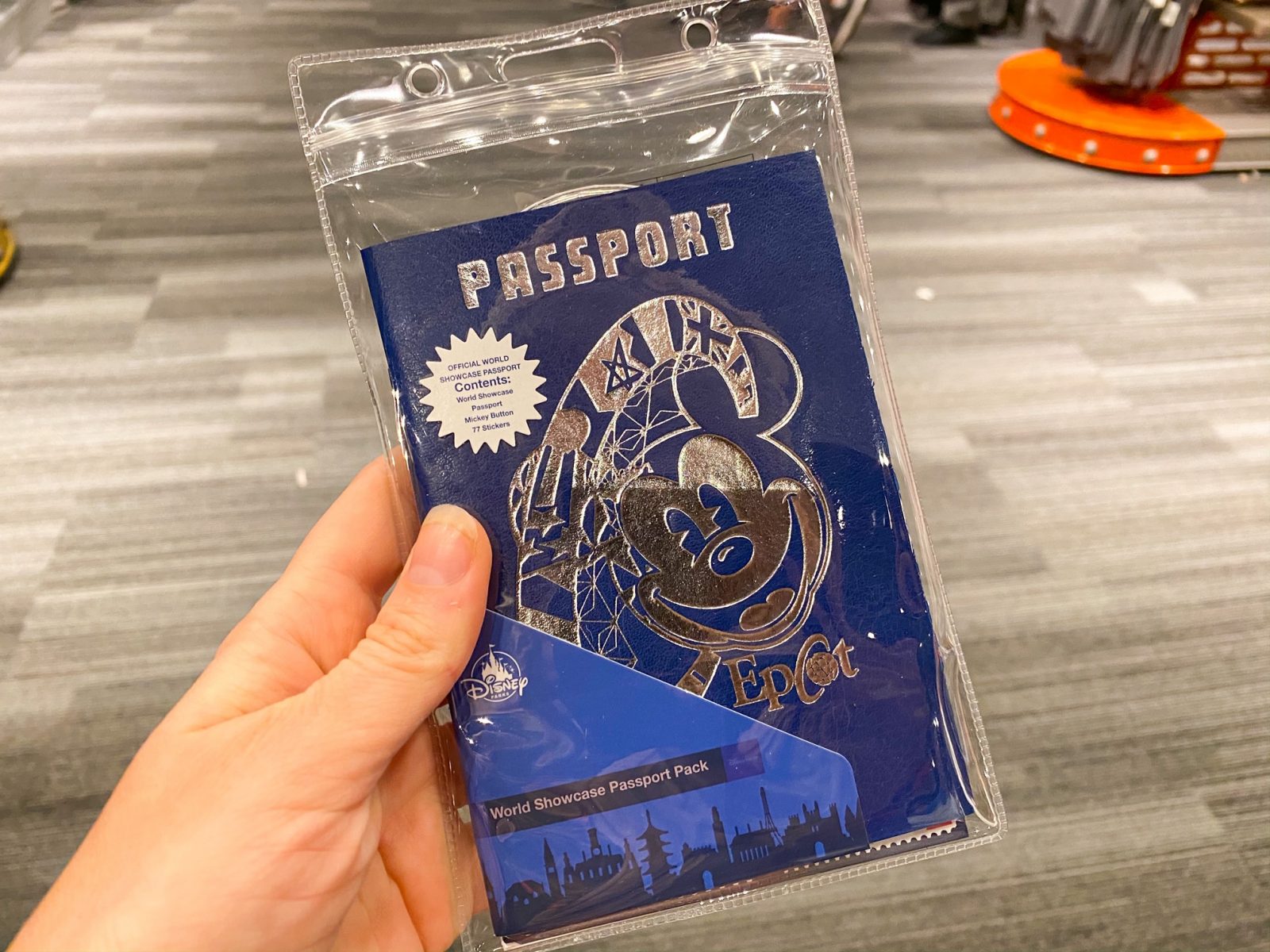 Insider Tip
– Be sure to stop by
Kidcot
in each country to get your stamp and chat with a cast member, who will be a native to the country you are visiting. Be sure to learn a few words and maybe how to write your name in another language(Japanese, Chinese, and Arabic). If you want to get the stamps and meet the cast, but don't want to splurge on the Passport because of your
Disney budget
, pick up a free Kidcot Ziploc and stop by each Kidcot for your free sticker, stamp, drawing, and cast interaction.
Disney Starbucks Reusable Tumbler
One of the best teams is Disney and Starbucks and thankfully, that team has pulled through in the Disney souvenir department. A Disney Starbucks reusable tumbler is a great purchase item at Disney because you can use it the whole trip and every day after that to get your Starbucks (or Dunkin…#nojudgment) fix.
Like many Starbucks destination products, many of the Disney World Starbucks tumblers, and mugs, at Disney World. But, if you want to pick one up outside Disney World, or you want to plan your purchase in advance, you can find a few Starbucks Disney products
online at shopDisney
.
Disney and Starbucks have teamed up to offer a few options each season for tumblers, cups, and mugs so this Disney souvenir can also support a pretty solid, but managable, collection. The Disney Starbucks tumbler is a great souvenir that will continue to help you each and every Monday morning.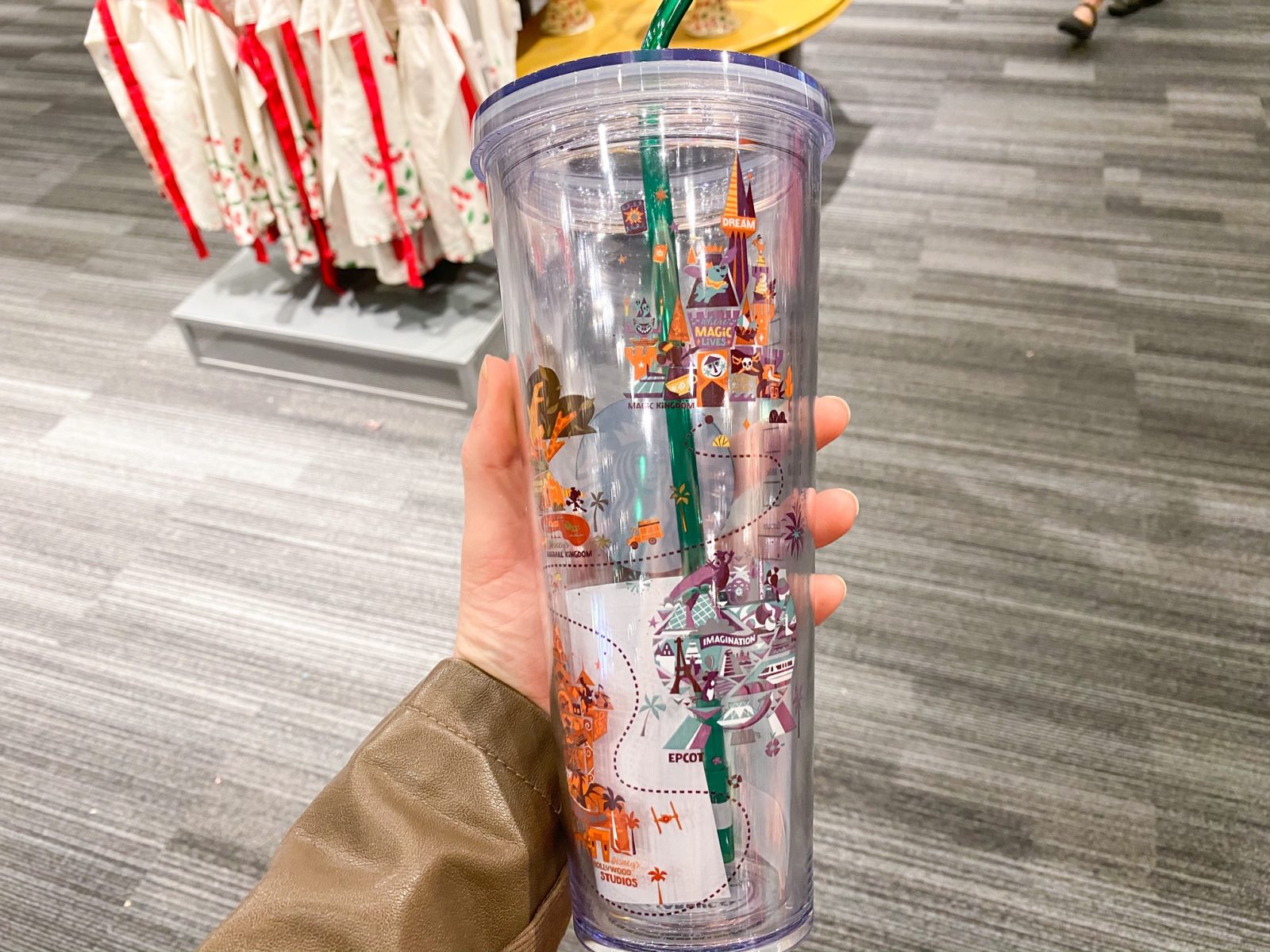 Disney Kitchenware
Disney has really stepped up its game with respect to adult souvenirs, especially housewares and kitchenware. A great Disney souvenir is a piece of Disney kitchenware. If you can't tell, I like souvenirs that are useful and Disney kitchenware is definitely useful. Disney has quite a few themes for the kitchenware collections and the pieces vary by price.
Be sure to check out the Kitchenware items at
World of Disney
,
Marketplace Co-Cop
, and the gift shops and pick up a super cute cookie jar or cake plate. If you want a smaller item, check out the salt and pepper shakers. Disney Springs is great place to hunt for Disney Kitchenware souvenirs so be sure to at last window shop at the best Disney Springs stores not to be missed!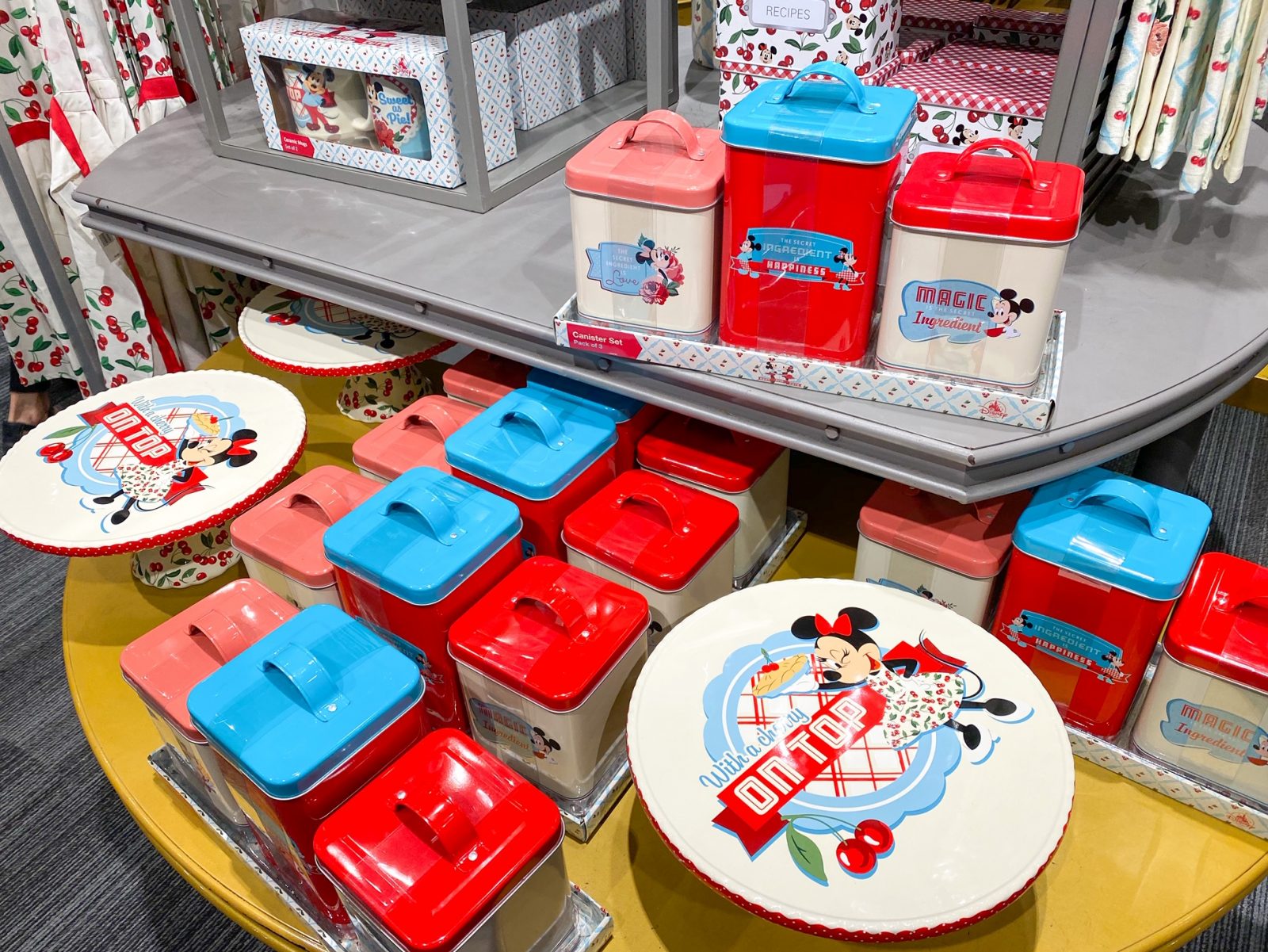 Disney Plush Toys
Disney plush toys are a top pick souvenir when shopping at Disney World for kids or anyone who loves a soft keepsake. It will not surprise you that there are hundreds of plush toys all around Disney World. Given the wide variety, they also vary in sizes, prices, and even how "limited" they are.
While you may think you cannot use this during your trip, it is Disney World so there is nothing stopping you from bringing this friend along with the group for rides and photos. But, even if you want to leave this Disney souvenir back in the hotel room, or purchase towards the end of your trip, it is always fun to get back home and see your Disney plush sitting on the bed, shelf, or couch, ready for snuggling anytime.
Be sure to check out World of Disney for a massive stock of Disney plush toys!
Disney Mug
Disney mugs are not only one of my top Disney World souvenirs, but also a top Disney World gift. Who doesn't love a great mug?! Disney World has more mugs than one person could possibly collect, although I am sure many do try, so picking the perfect mug may take a bit of window shopping and narrowing down. You can find mugs for most of Disney World's attractions, themed-lands, parks, movies, characters, and more.
I love a great mug souvenir, especially from Disney World, because it's a Disney souvenir that I can use all the time. It serves a purpose, it's easier to store, and it has to put a small smile on your face to remember the amazing vacation you had while you sip on a cup of coffee or tea.
Be sure to check out the mugs sold all around Disney Springs at the not-to-miss shops and stop by Arribas to get your mug engraved for an extra special touch.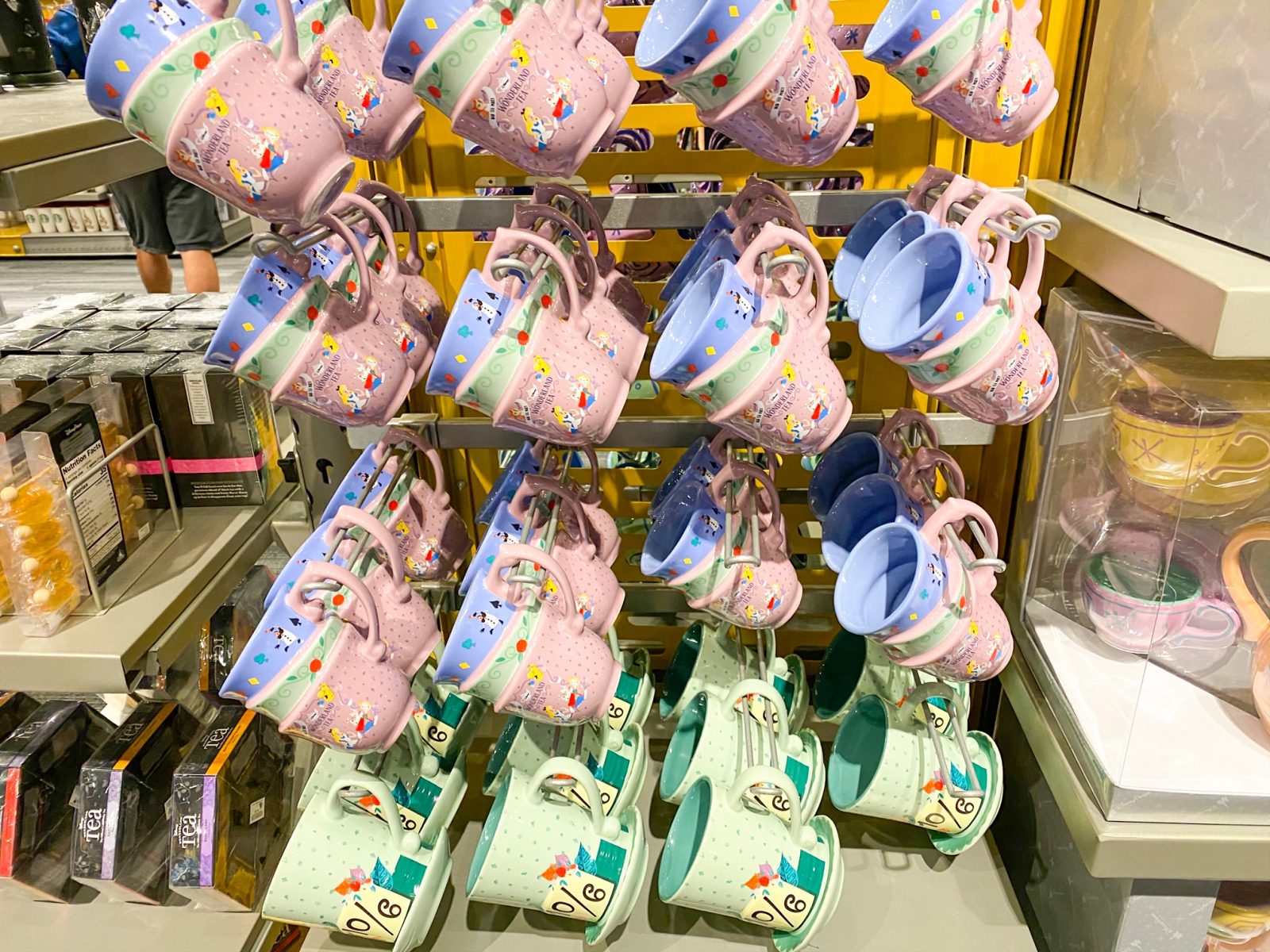 Disney Cup
Disney cups come in SO many options that Disney cup is another excellent, and budget friendly, souvenir. Disney's cup game is as strong as Disney's mug game. The options can be overwhelming, but the variety means they have a perfect cup for every person you could possibly need or want to buy a cup for. Giant disco Mickey head? Yup! Glowing rose tumbler? Yup!
Disney cups are another great Disney souvenir that you can use during your trip, just picture sitting by the pool with a giant Frozen cup, and when you get back home and the post-Disney vacation feeling sets in. They are also a great choice for kids as many come in plastic and have lids – win/win!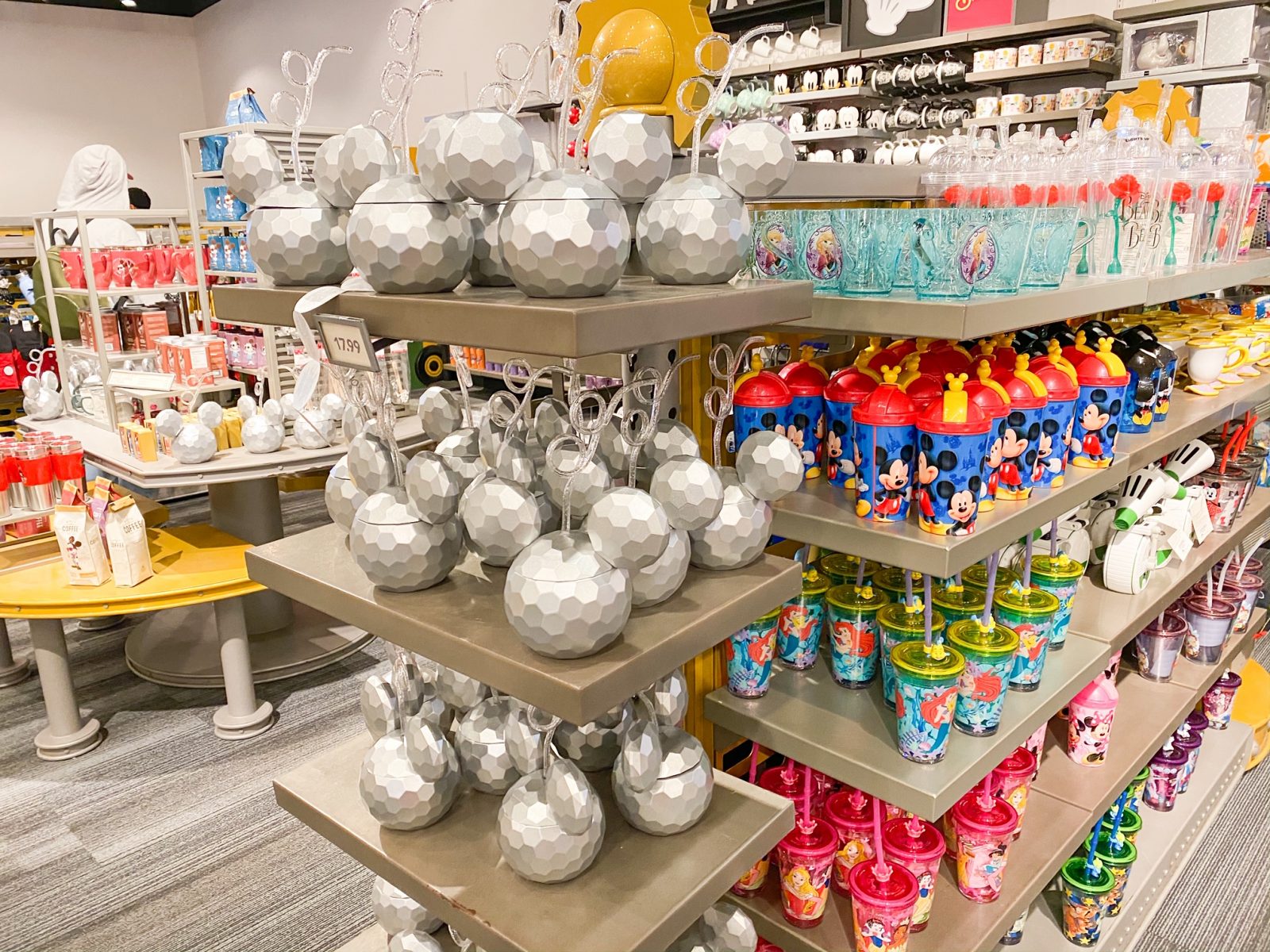 Disney Princess Doll
If you are shopping around Disney with a Princess, and so many of us do, a Disney princess doll is an ideal Disney souvenir. While enjoying the Disney parks you will see a lot of young guests carrying around these Disney princess dolls with them throughout the parks, so if you have a huge Princess fanatic, prepare and pick up a doll in advance.
Magic Kingdom, especially the shops in Fantasyland, have quite a few great shops carrying princess dolls. You can also find the Princess dolls at World of Disney and other large souvenir shops. One of the best toy shops at Disney World is Once Upon a Toy so be sure to check this one out when you are in Disney Springs.
Disney Shirt
If you ever went to Disney World in the 1970's through early 2000's, you probably have a Disney shirt. While these likely thrift shop gems may be what you think of when you think Disney shirts, Disney World upped their shopping game and really expanded the offerings. A timeless, yet modern, Disney souvenir fan favorite is the Disney shirt.
I couldn't begin to list where to get Disney shirts or the types available, because there are probably thousands. Just remember if you see a special shirt, be sure to pick it up because you may not see it again if it's a more limited shirt. Disney shirts are a great souvenir because like many great souvenirs, you can use it all the time once you get home.
For a more unique Disney shirt be sure to shop around the Marketplace Co-Op and DisneyStyle in Disney Springs! If you love the classics, Disney World always has a commemorative yearly shirt as part of the Disney Parks Dated 2020 Collection (or the new collection updated each year).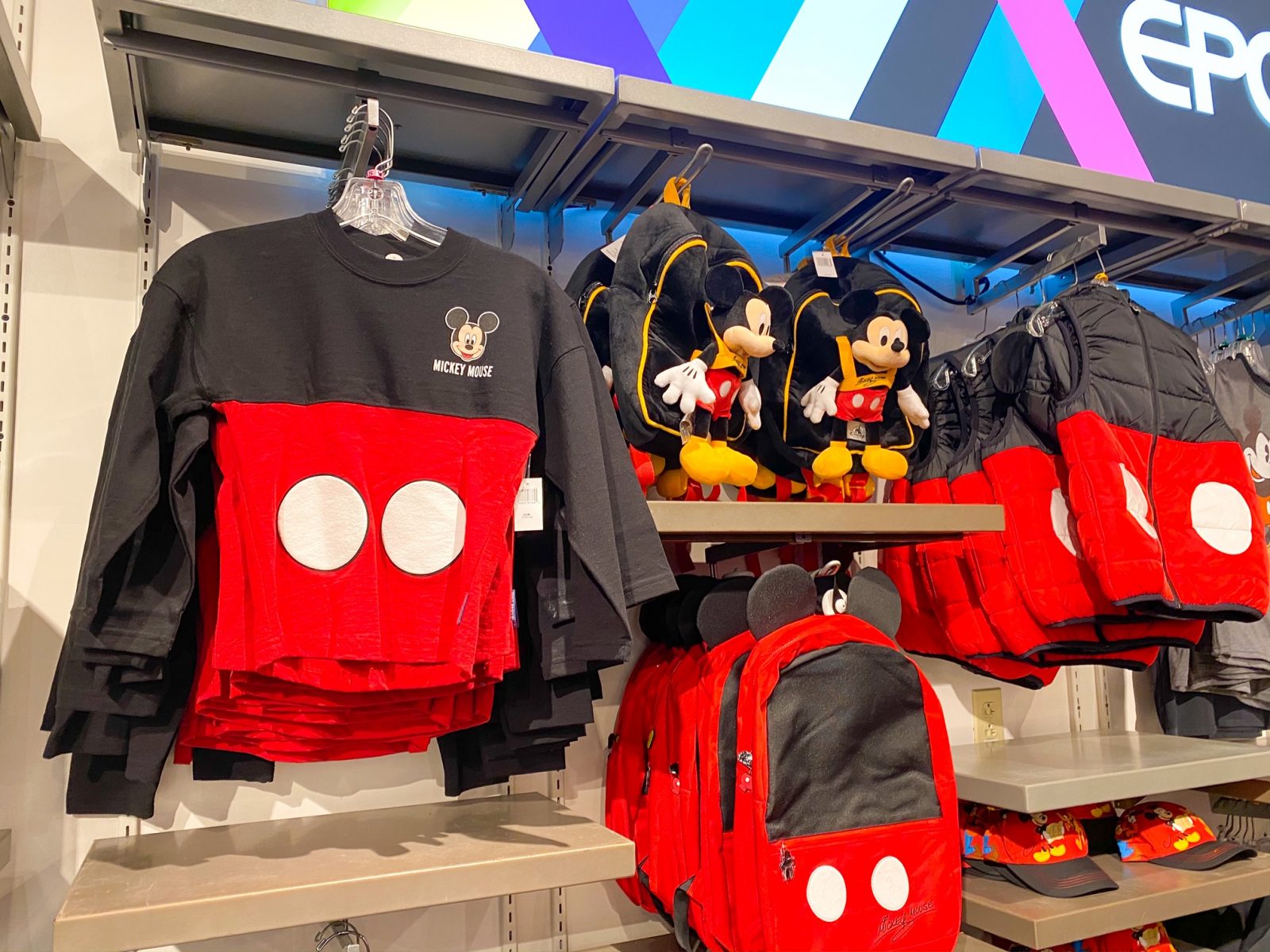 Disney Pin
Disney pins and pin trading is one of the most popular Disney World collections and activities. If you Google pin trading, you could spend years researching and perfecting pin trading, but if you want a super quick and unbelievably helpful introduction to pin trading with the best tips check out my 8 Insanely Useful Disney Pin Trading Tips!
Disney pins are one of the best souvenirs for so many reasons. Small, affordable, tradable, and endless options, what more could you need. To get started with Disney pins check out Disney's starter packs. If you want to show off your pins while visit Walt Disney World, pick up a lanyard and get going.
While shopping at Disney World you will find pins in almost every single store, on every cast member, and on every kiosk. For a quick overview of a lot of pins Disney World has to offer during your visit, check out Disney Pin Traders at Disney Springs!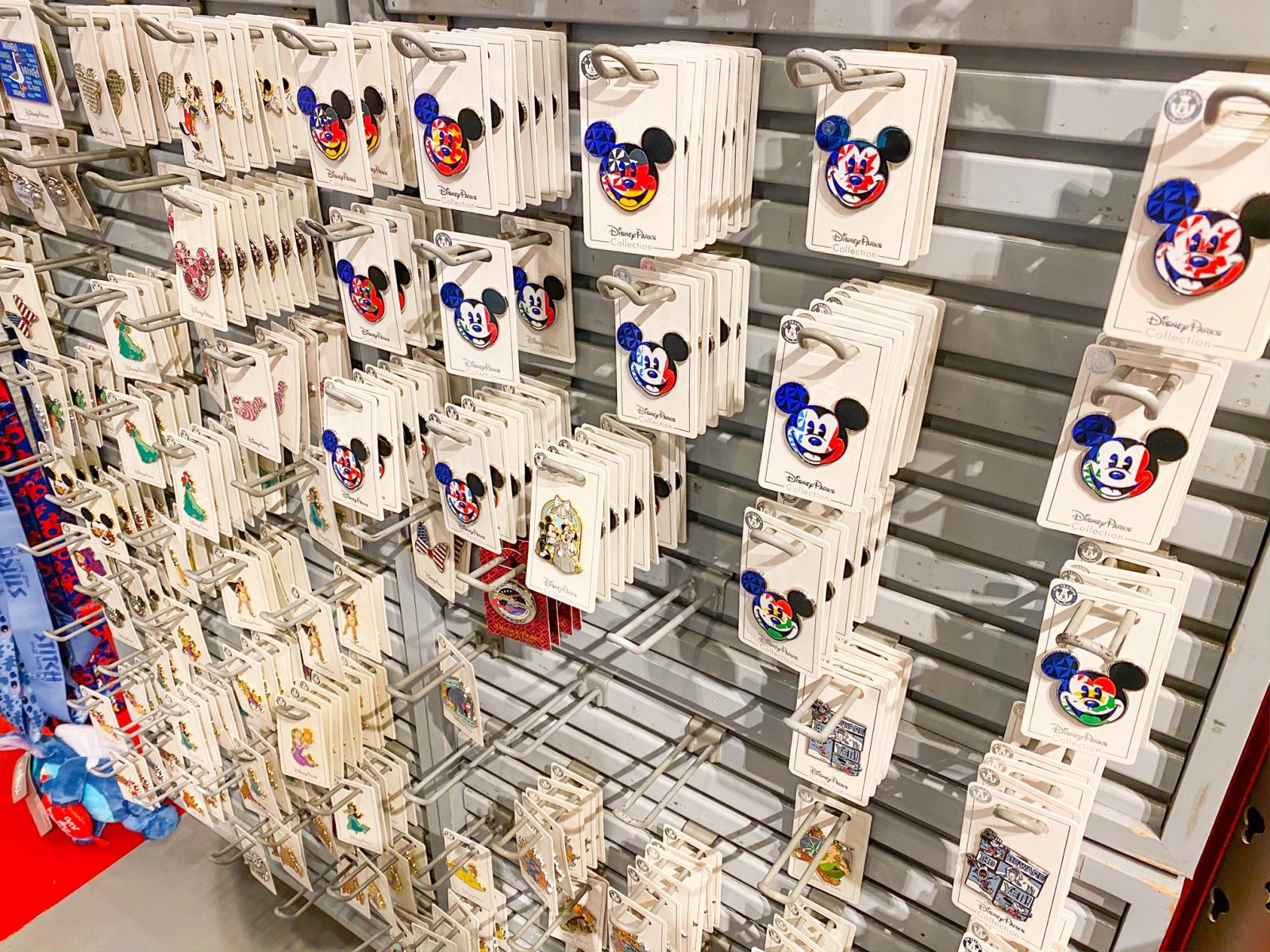 Disney Snacks and Candy
One of the most overlooked Disney souvenirs are the Disney snacks and candy. While these won't last forever, that means less clutter and its a souvenir you get to eat. I see both of those factors as perks! If you want to make your Disney snacks and candy your souvenir, be sure to hold off on eating it until you arrive back home. A great way to extend your Disney vacation is to snack on Disney goodies in the days, or weeks, after your arrive home.
My top picks for Disney snacks and candy include the Candy Cauldron in Disney Springs, Goofy's Candy Co. in Disney Springs, and the candy in, and from, the 11 countries in the Epcot World Showcase!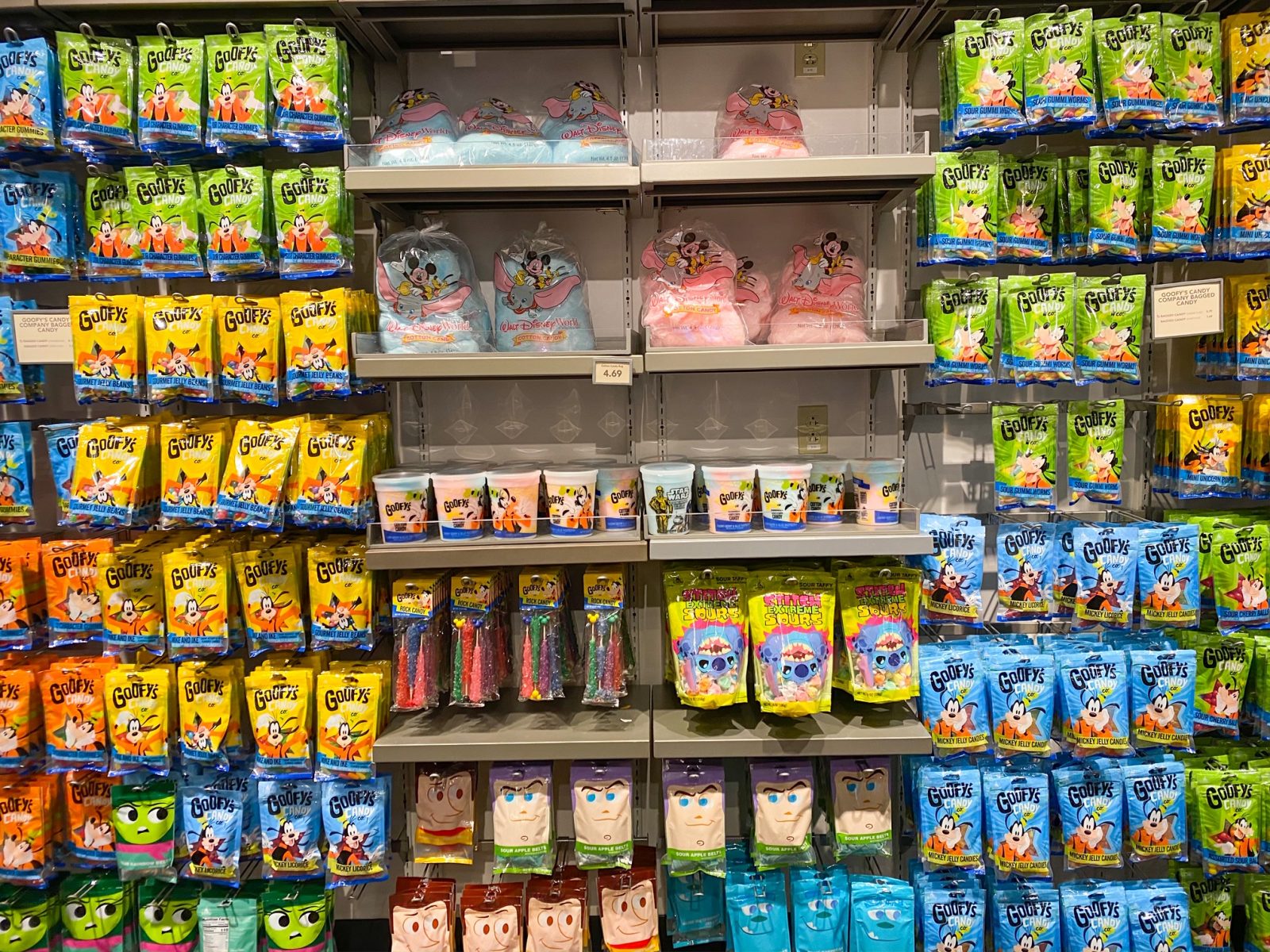 You can find unique Disney snacks at most gift shops and stores. My tips? The Disney candy, and caramel, apples are amazing and are perfect for an Instagram photo. Just be careful if your buy chocolate, Florida can get very hot and humid so if you purchase chocolate take into account timing, storage, and weather.

Disney Autograph Book
A great Disney souvenir for tracking memories throughout your whole vacation is the Disney autograph book. With an autograph book, you can get character signatures at all of the character meet-and-greets located all over Disney World! Autograph books are the perfect souvenir to pick up before, or at the start of, your vacation and collect memories each day. You can also bring your autograph book back over and over creating a massive memory book of all of your magical vacations.
You can pick up a Disney autograph book at Disney World,
online from shopDisney
or
Amazon
, or make your own. The autographs in the book are souvenirs themselves and they won't cost you a thing! And don't limit yourself to character autographs, ask the Cast Members in the World Showcase to sign and write a note in their native language!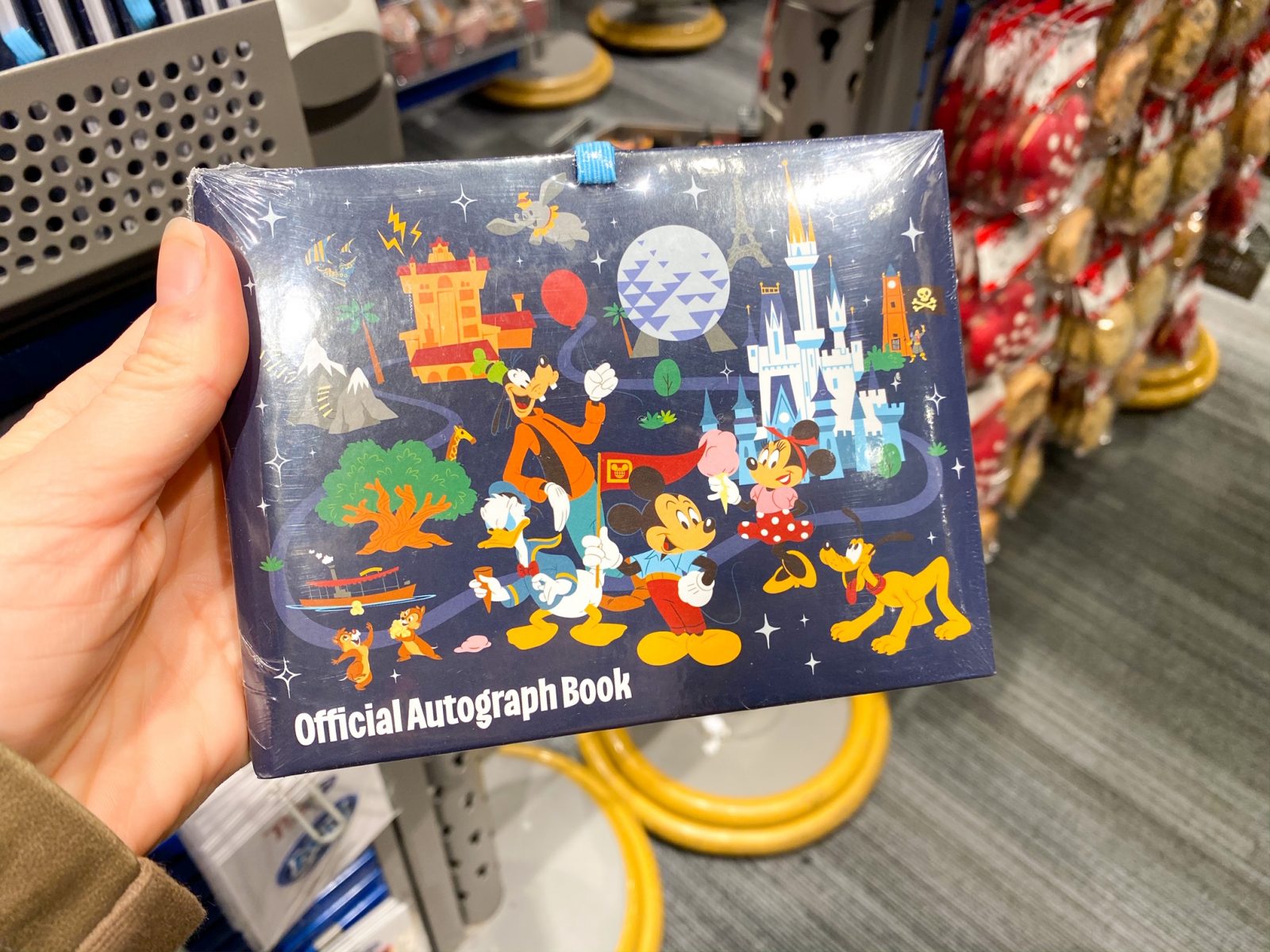 Disney Backpack
When shopping around Disney World for the perfect Disney souvenir, be sure to check out the backpacks, even if you are not a student. Disney carries a wide variety of adorable backpacks for both kids and adults. From pull string backpacks to higher end DisneyParks backpacks, Disney has you covered. Some even have sequins and ears!
This is another great souvenir that can be used all of the time even after your vacation has come to an end. Since Disney has really expanded the higher quality backpacks, there are plenty of options you can use in "the real world," but you can also use this Disney souvenir during your vacation and accessorize your Disney outfit. Most importantly, you can use your Disney souvenir backpack to carry around the 15 things you do not want to forget when visiting Disney World!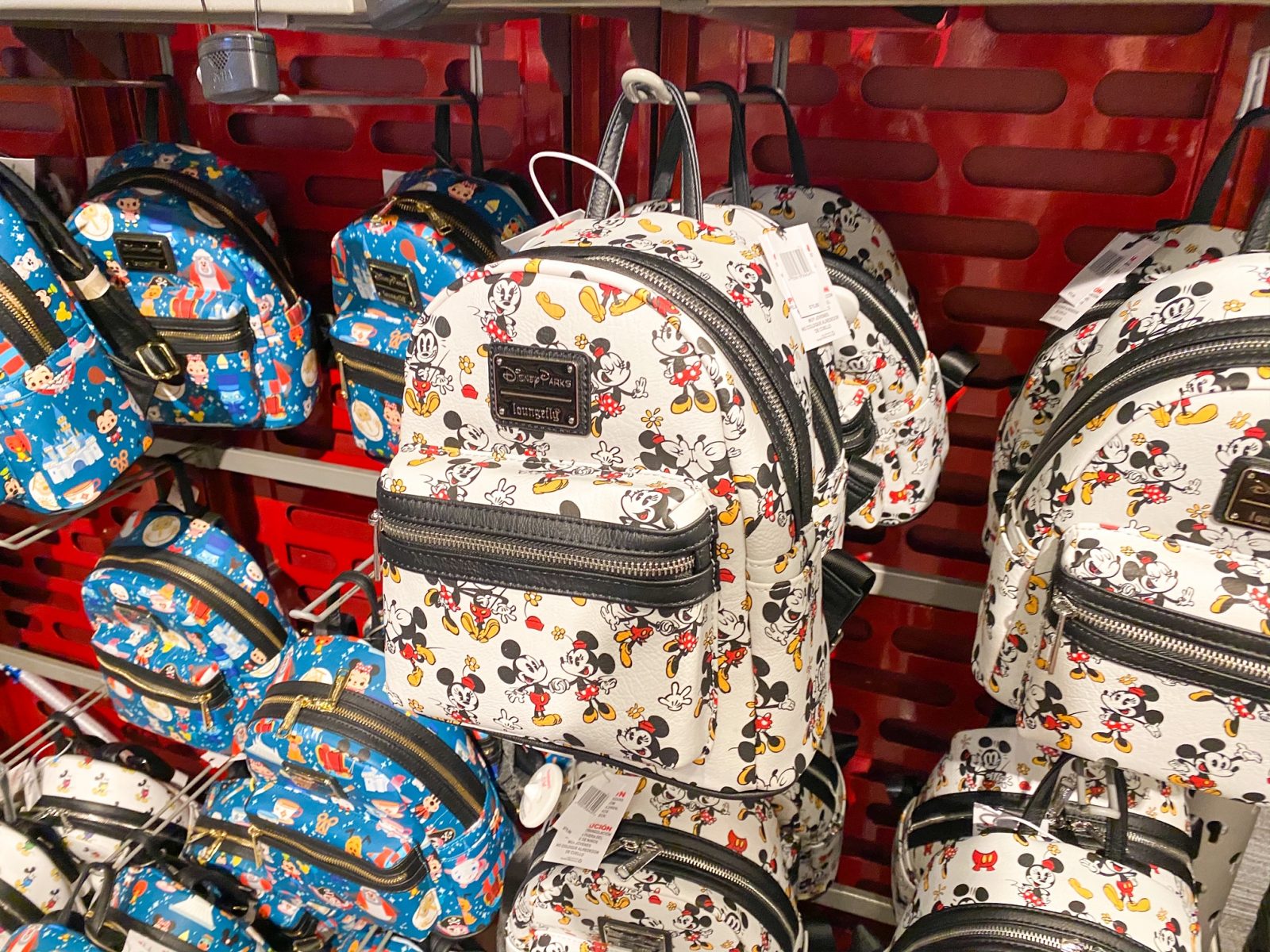 Disney Necklace
A small and beautiful Disney souvenir option is a Disney necklace. If you couldn't guess, Disney Parks have their own jewelry. A Disney necklace is a great souvenir to take home and wear to put a little magic in each day! Disney necklaces, and jewelry, allow you to take home a souvenir and dress up any outfit showing just a touch of your love for Disney and the memories you made on vacation.
While you can pick up plenty of Disney accessories, including Disney necklaces, at the gift shops and larger Disney stores, like World of Disney, for jewelry, be sure to shop by the speciality shops! The Disney specialty shops carrying jewelry are all over Disney World, be sure to check out Pandora, La Tienda Encantada, Na Hoku, La Gemma Elegante, and House of Good Fortune!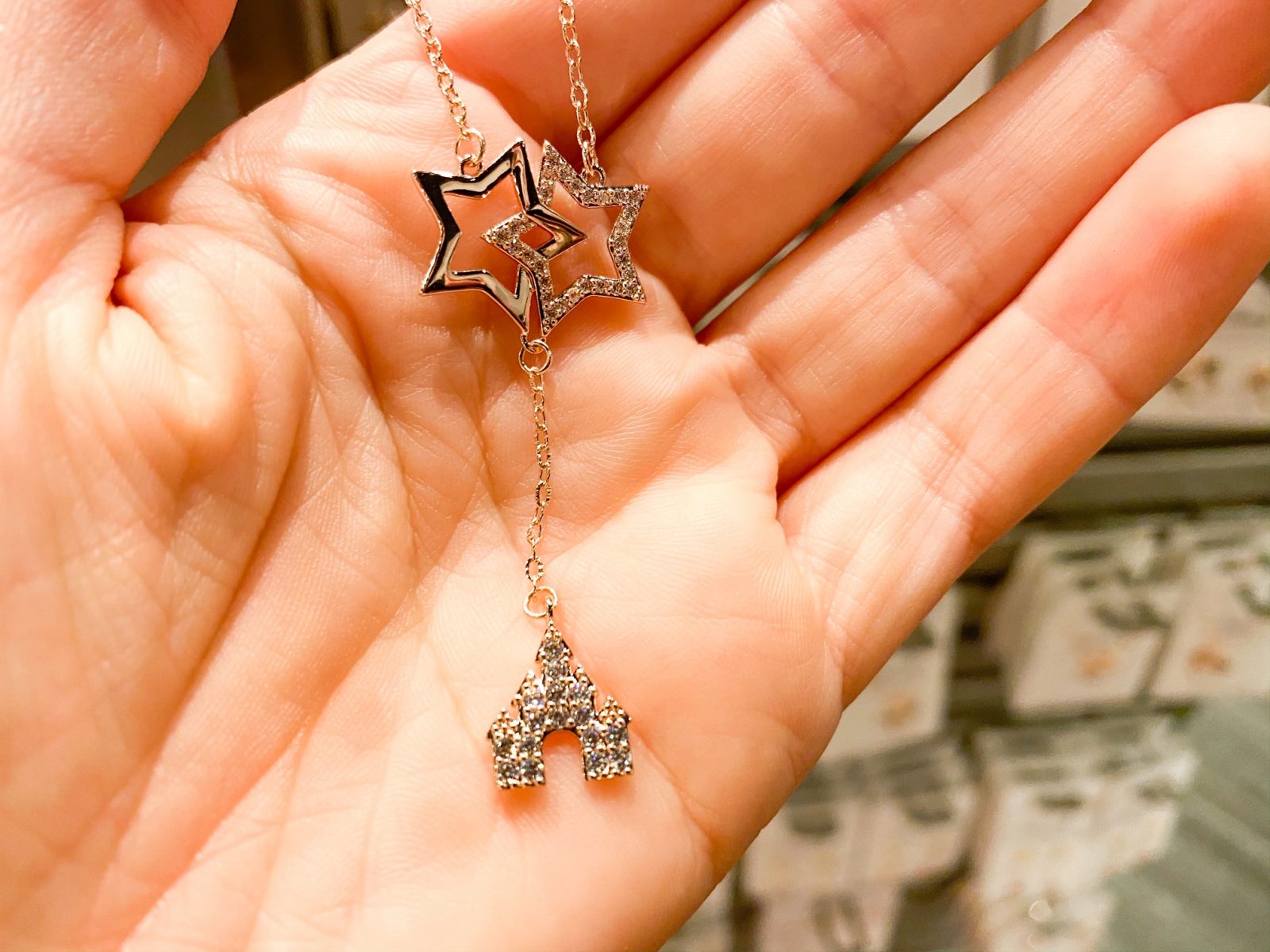 Disney Leggings
Who doesn't love leggings?! Given how extraordinary leggings are, once you add Disney, leggings become an incredible Disney souvenir. You will absolutely see Disney guests rocking their Disney leggings all around Disney World, so feel free to wear your Disney souvenir leggings during your trip. Once you get home, no need to stop with the Disney leggings since they are adorable enough to wear any time.
A great place to check out Disney leggings are DisneyStyle and the Marketplace Co-Op, two of the best shops at Disney Springs. Even looking at these Disney leggings makes me feel comfy!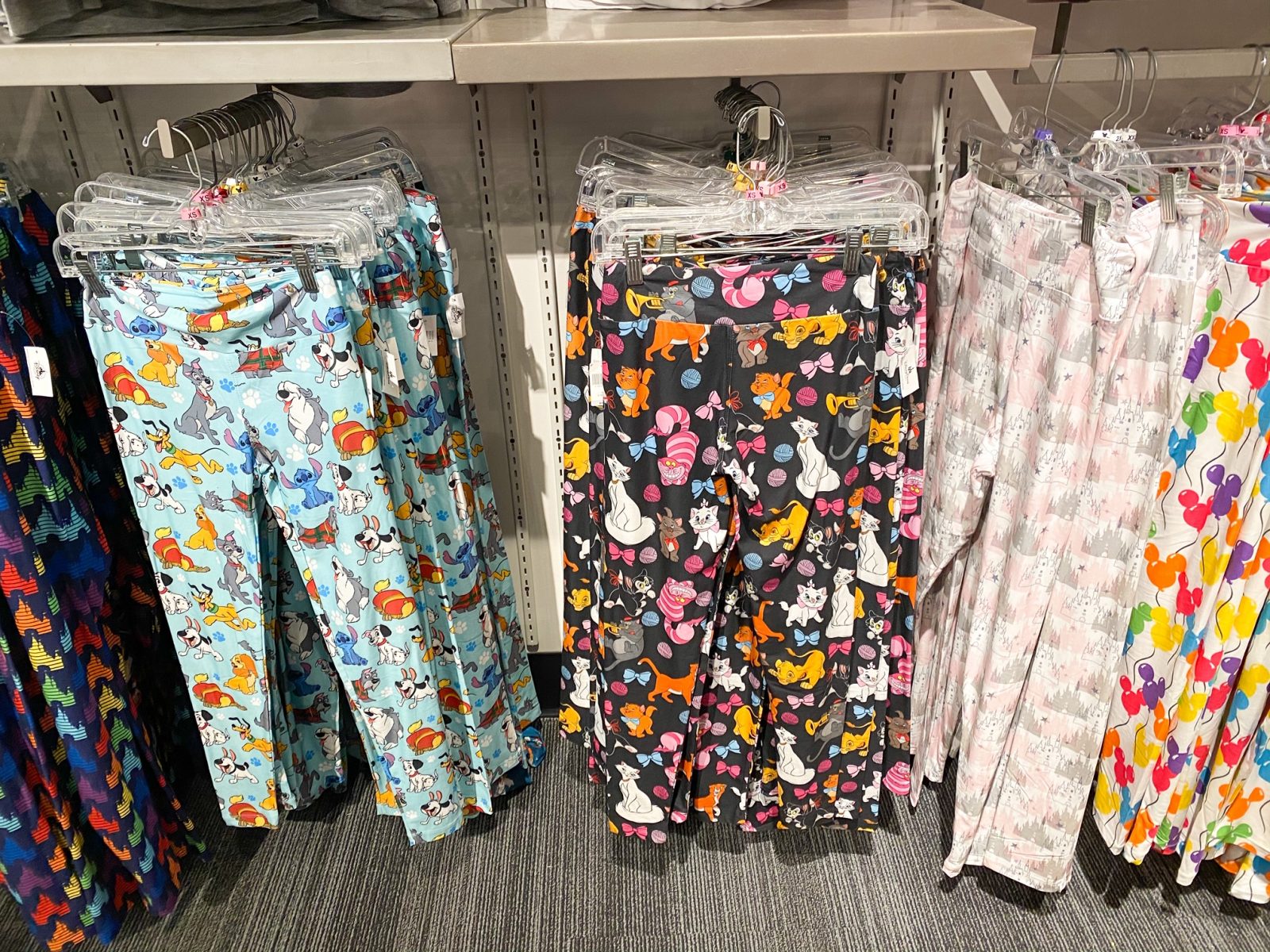 Mickey, and Minnie, Ear Headband
EARS! Everyone wears them, Disney has hundreds of options, and they simply make the most perfect Disney souvenir. From sequins, to bows, to ride themes, and veils, Disney has the ear game covered. You can rock this souvenir from the moment you start your Disney vacation until the moment you get home and they make every outfit look instantly Disney!
If you see ears that you like, be sure to get them then and there. Not all ears are equal and not all shops, or even parks, carry the same ears! There is no need to limit yourself to rocking these ears at Disney, they make a great post-vacation accessory for fun events or decor so you can remember your trip as Disney World feeling fades away.
Check out the Disney ear headbands currently on ShopDisney, but keep your eyes open for more variety during your trip!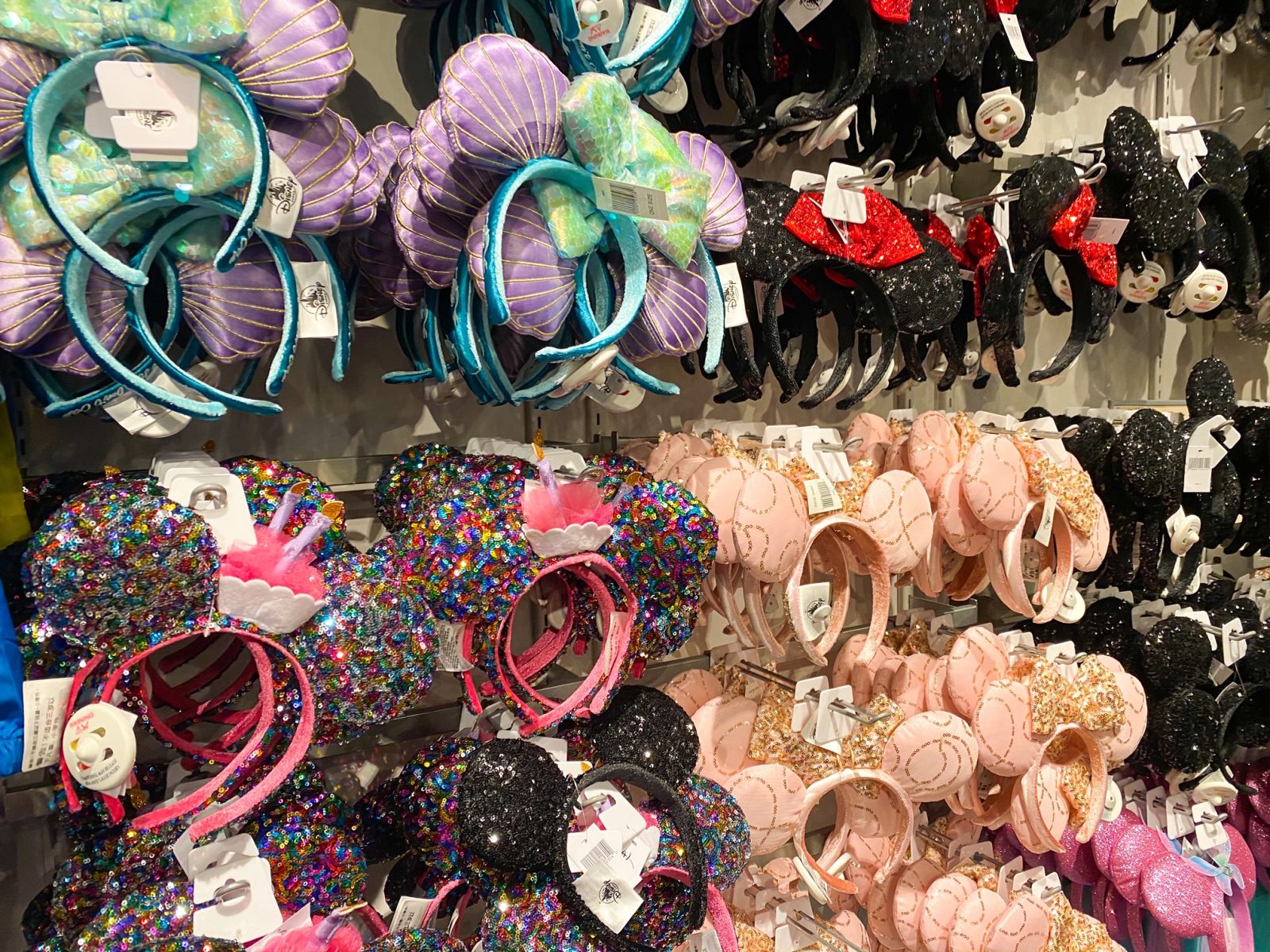 Disney Wallet
Another great, and useful, Disney souvenir is a Disney wallet! Everyone needs a wallet, so why not make it Disney AND let it be a memento from your vacation. DisneyParks has their own collection, similar to the backpack collection, and there are so many design and size options.
If a Disney wallet sounds like the ideal Disney souvenir, be sure to check out the Dooney & Bourke options and the wristlet options too! One of the best parts about the DisneyParks collection is that you can get a wallet, or backpack, or purse, based on your favorite Disney attraction and you are not limited to Disney movies/characters!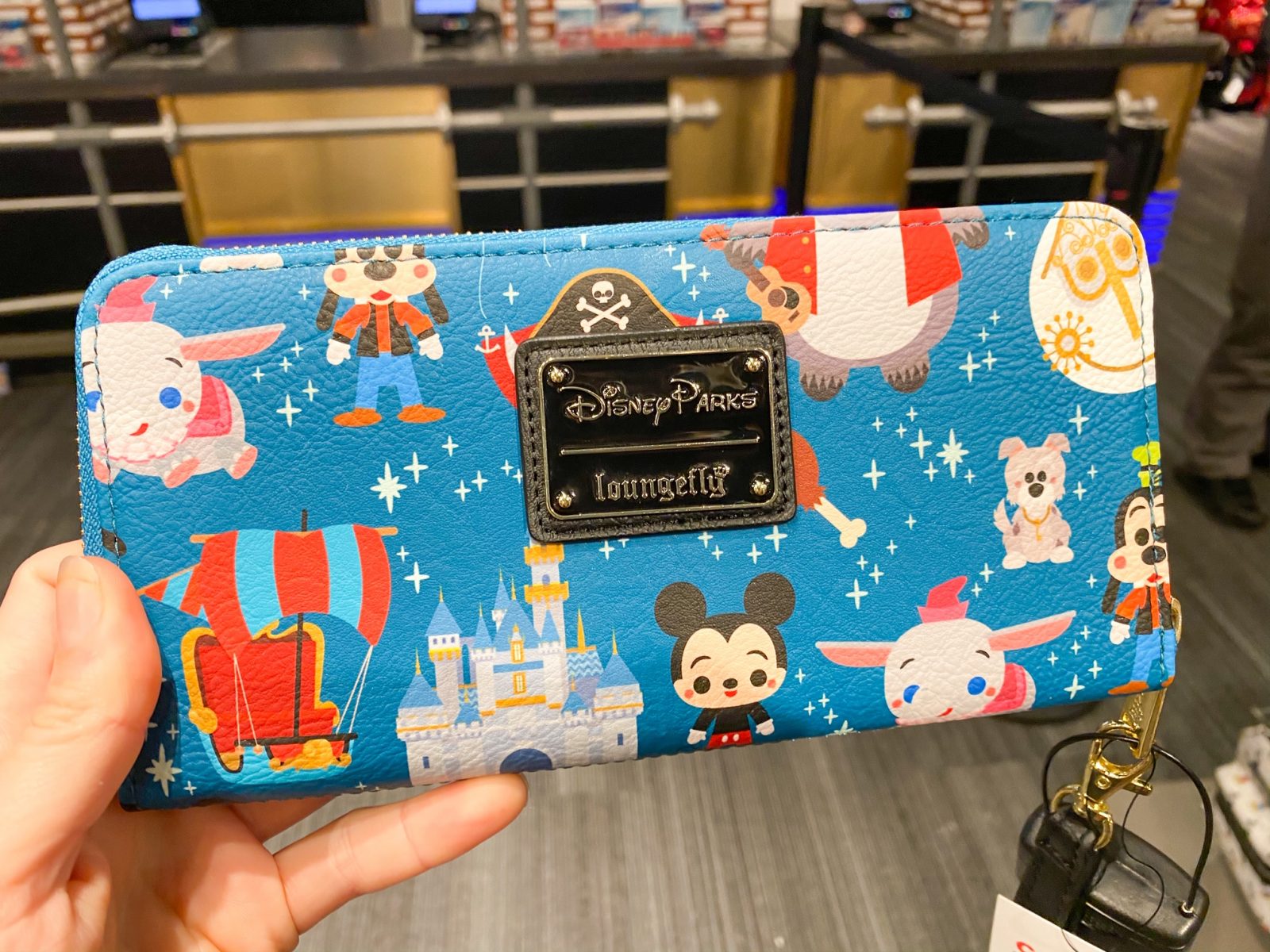 Disney Christmas Ornament
Even if you don't go to Disney World near Christmas time, you can always score an exceptional Disney Christmas ornament souvenir! Disney sells
Christmas ornaments
all year round and in true Disney fashion, there are plenty of options. You can't go wrong with the Disney Christmas ornament with the year of your Disney vacation, but if you want to be a bit more creative, make sure to stop at the Disney Christmas stores.
Open and full of Disney Christmas magic all year long, the
Ye Olde Christmas Shoppe
in Magic Kingdom and
Disney's Days of Christmas
are two of the top places to find an awesome Christmas ornament! Hanging up your Disney Christmas ornament each year is a great way to remember your vacation and is the perfect time to reminisce about the great memories from your trip!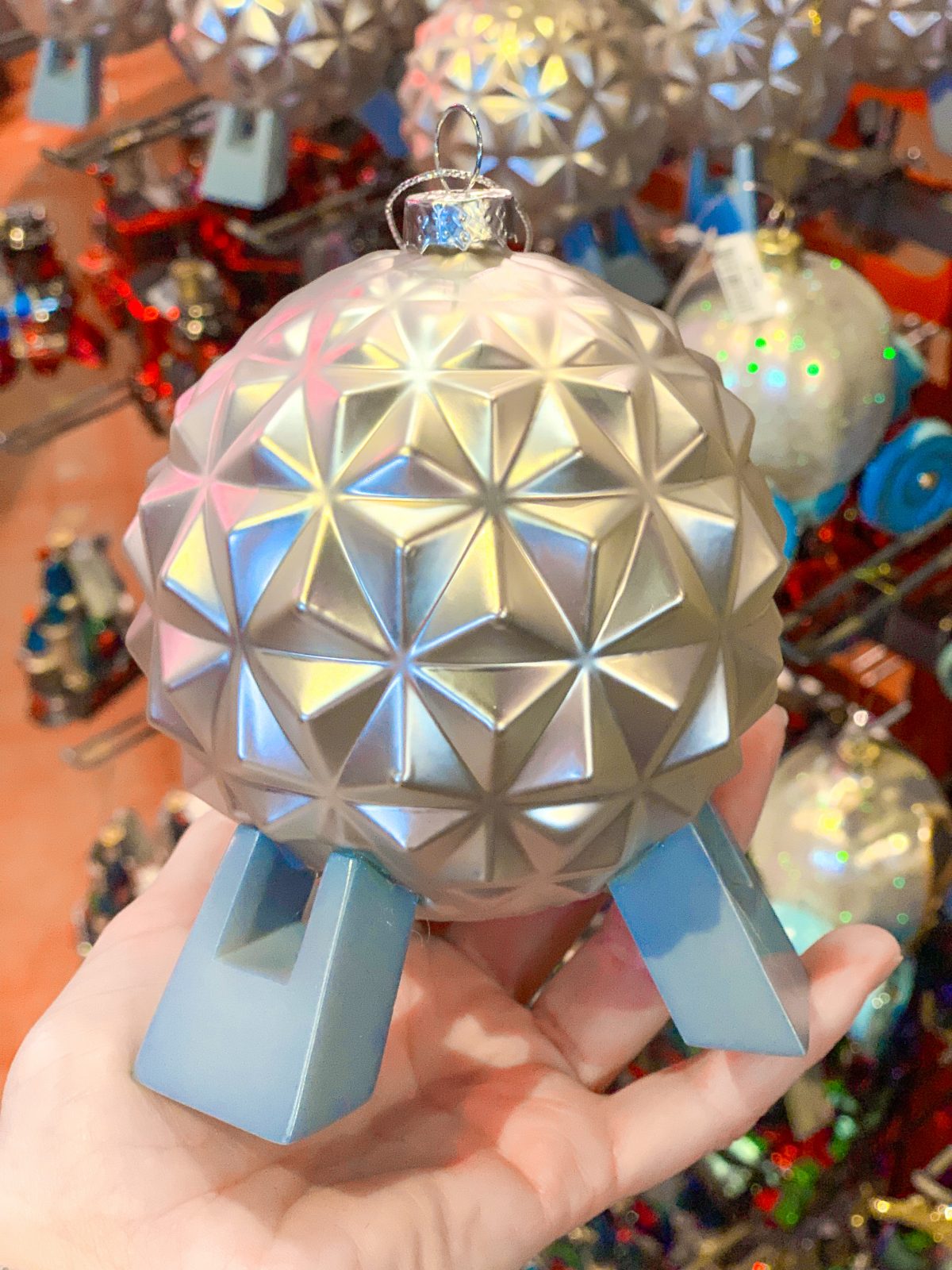 Disney Postcard
A list of the best Disney souvenirs that won't break the bank would not be complete without the Disney postcard! Totally collectible, super budget friendly, and crazy easy to transport home, Disney postcards are really perfect for any visitor. You can pick up Disney postcards all over Disney World and you can even mail them to yourself, or loved ones, from Disney!
For a great way to remember your Disney vacation, frame your Disney postcard and hang it in your home. This may be the cheapest Disney art you can find or make and the memories from your vacation and purchasing your Disney souvenir! Plus what a great gift from Disney for loved ones who couldn't join you on the trip!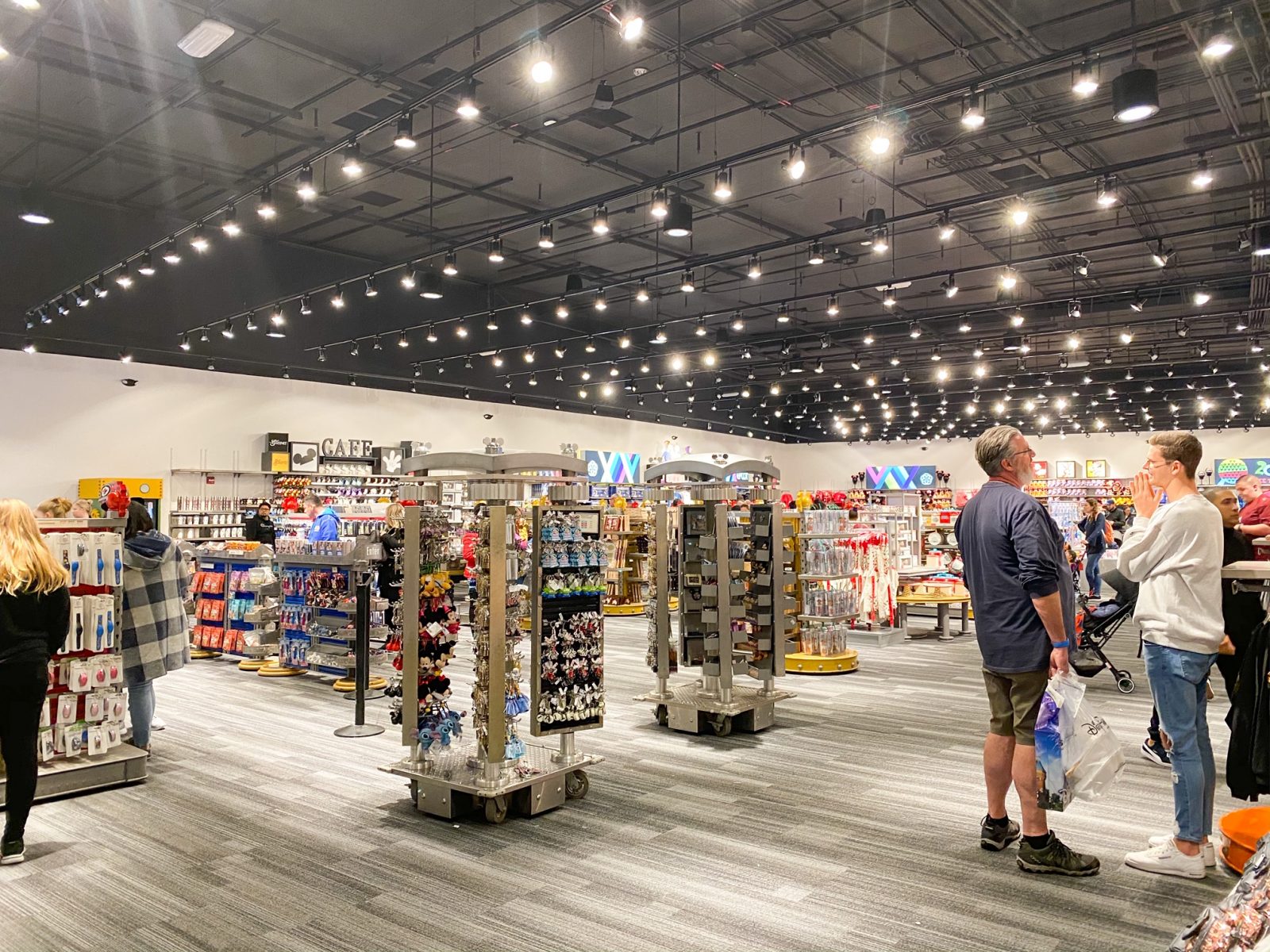 You are now ready to dive into shopping at Disney World! Happy Disney Shopping! Do you have any favorite Disney souvenirs that didn't make my list?! Let me know in the Comments!
Pin this post