You've planned everything that you need to pack for your vacation to Disney World, but don't forget about planning to pack your Disney park bag! Packing for Disney can get overwhelming. You have to think about all the clothes, snacks, magic bands, toiletries, etc. The last thing you want to do is plan out what to pack for another bag!
It is important to plan out what you are going to pack in your Disney park bag before you even go to Disney. There are certain items you might already have around your house or items you need to order off Amazon. We have compiled a list of all the Disney World essentials you might need on hand while in the parks. We hope this list will make the packing and the planning a little easier!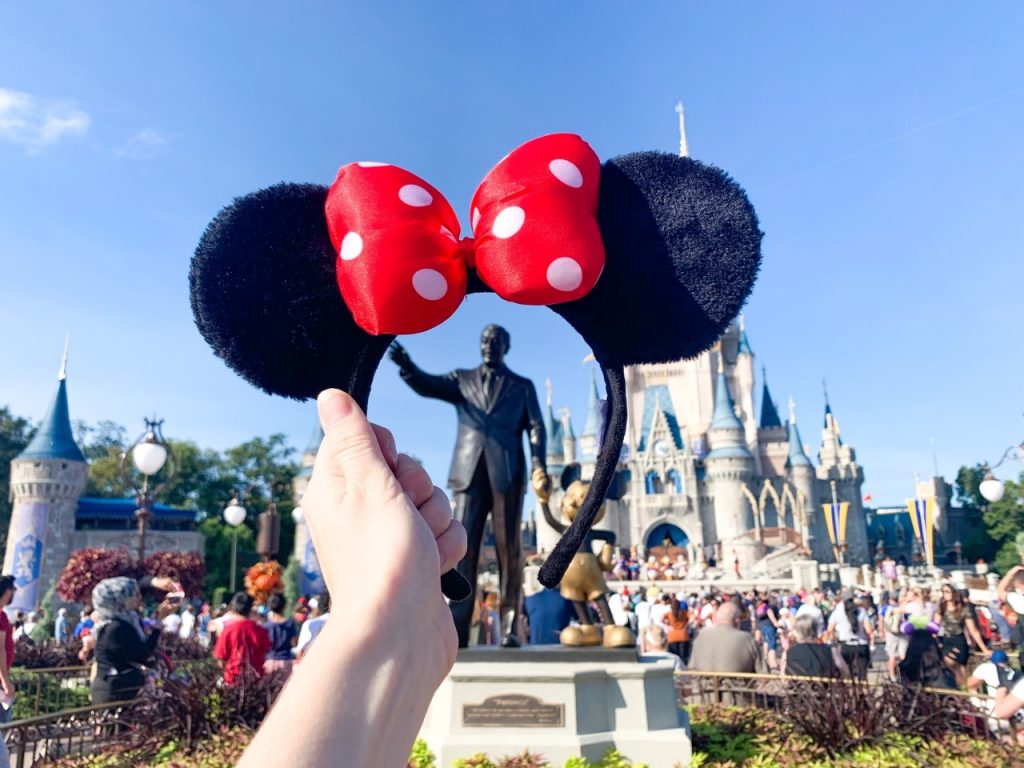 Does Disney Allow Food In Bags?
The short answer is YES! Disney does allow guests to bring food in their bags. There are a few restrictions such as no alcoholic beverages, but besides this your possibilities are endless!
Buying food at Disney can get really expensive very quickly. If you are traveling to Disney on a budget, we suggest bringing some of your own meals or snacks. You can easily bring sandwiches, baby food, snacks, etc. You can even bring a cooler if you need to keep certain items cold.
There is no limit on the amount of food you can bring into the Disney parks. However, it is best to pack smartly and efficiently so you aren't lugging around a bunch of food throughout the day. If you drive and park at the Disney parks, you could even leave the food in the car until you're ready to bring it in and eat it.
Bringing food into the parks is a great way to save money or accommodate any allergies. Sometimes it can be difficult to search for allergy friendly options around the park, so bringing your own can save some time.
Check out our more in depth article, Can You Bring Food Into Disney World? How To Do It!, to get all the ins and outs of bringing food into the parks!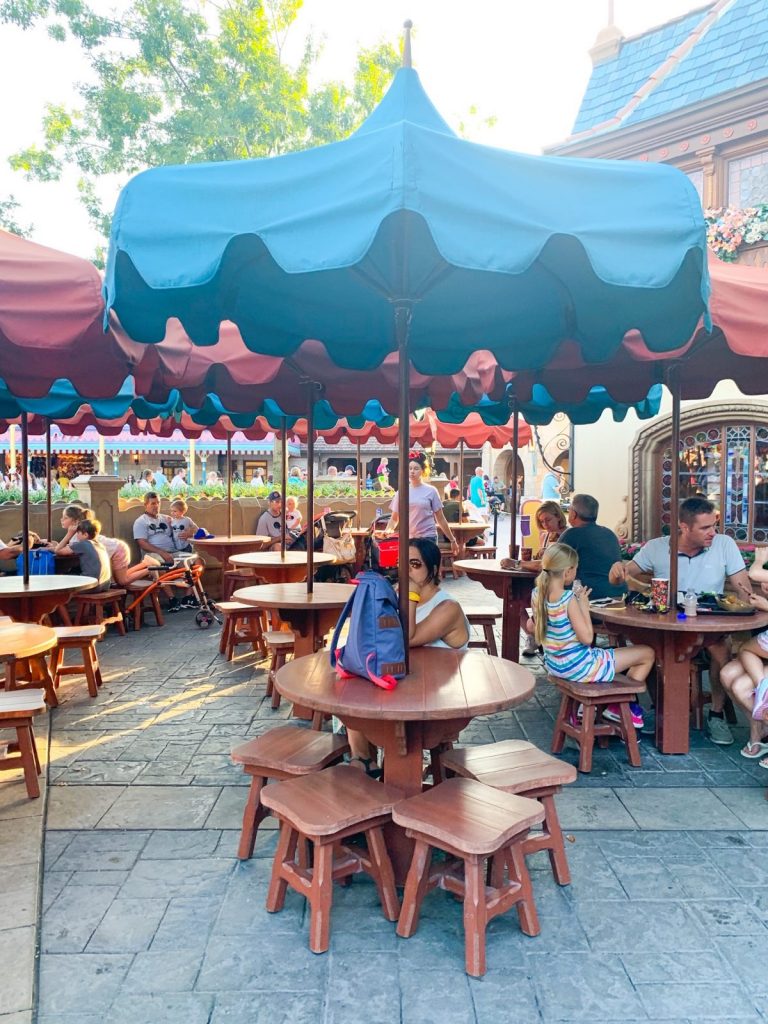 Can You Bring Bags On Rides At Disney?
Absolutely! Disney allows you to bring your bags on the rides at Disney. There are lockers for rent at the front of each park, but you don't have to use them if you don't want to!
On slow rides, you will have no worries about your bag moving around. On the rollercoasters and some thrill rides, they have small pouches in front of you if you want to store your items in them. However, sometimes your bag is too big to fit in the pouch! I like to loop my feet through the straps of my bag on the floor to ensure it doesn't go moving around.
If a ride doesn't have any place to store your bag on the floor or in your seat, don't worry! Disney has got you covered. At Soarin' there are mesh bins under your seat to place your bags. On Flight of Passage, they have bins directly behind you to place your items.
You don't have to worry about being forced to place your bags in a locker. Disney is very lenient on what you can bring on the rides. Your bag is safe with you!
For more information on bringing bags on Disney rides, check out our article Can You Bring Bags On Rides At Disney World.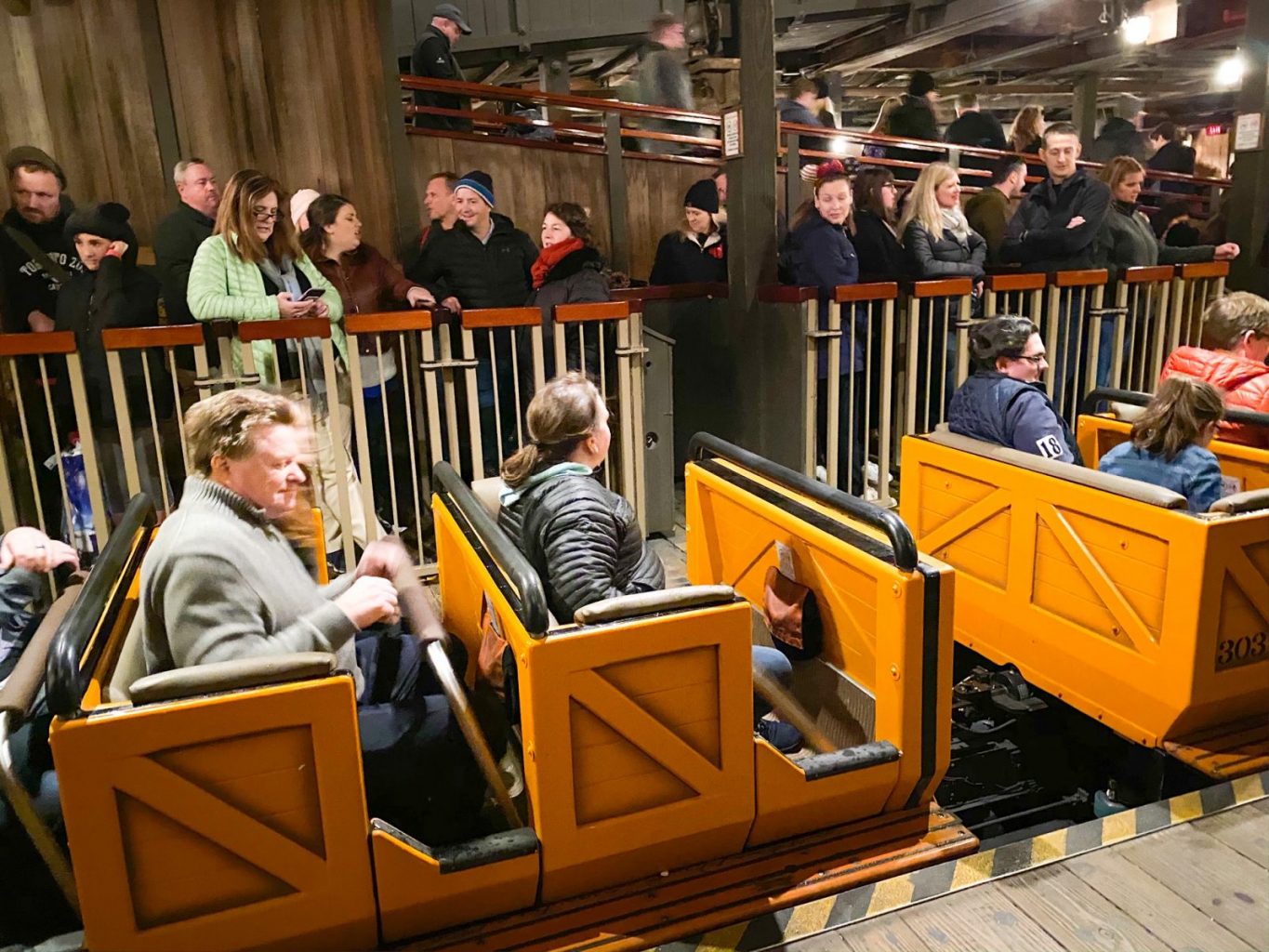 What Are The Best Backpacks For Disney World?
The best backpacks to bring to Disney World are those that are lightweight, functional, and can hold all of your items. Don't get anything too heavy that will make walking around the parks miserable. Don't get anything too small that won't be able to hold all of your things.
You want something right in the middle! We even have an entire blog post on the Best Backpacks For Disney World if you are looking for more detailed help!
The OutdoorMaster Sling Bag has all of these qualities! It is highly functional, compact, yet can carry an abundance of stuff. It has a crossbody strap to help ease the strain off of both of your shoulders. Even though it is lightweight, it is still sturdy. There is even a water bottle holder for easy access to your drink during those hot days.
Now let's say you have a larger family, and you need a bigger backpack to carry all of your supplies. The Under Armour Hustle 3.0 Backpack is a great option! This is a large backpack with loads of room for all of your stuff. This is great for families with kids because you can fit all of their snacks, a change of clothes, toys, and more in this bag! There are lots of different colors to choose from if you don't want a plain, black backpack!
Loungefly backpacks are the epitome of Disney bags. These are cute, functional, and the perfect size! The Loungefly Mickey Balloon Backpack is adorable, and it has the perfect amount of space to carry all of your essentials. Loungefly backpacks can get a little pricey, but they can be worth it if you are a sucker for cute Disney park bags! Loungefly has a ton of designs, and they are continuously coming out with new ones! They have bags for every sense of style!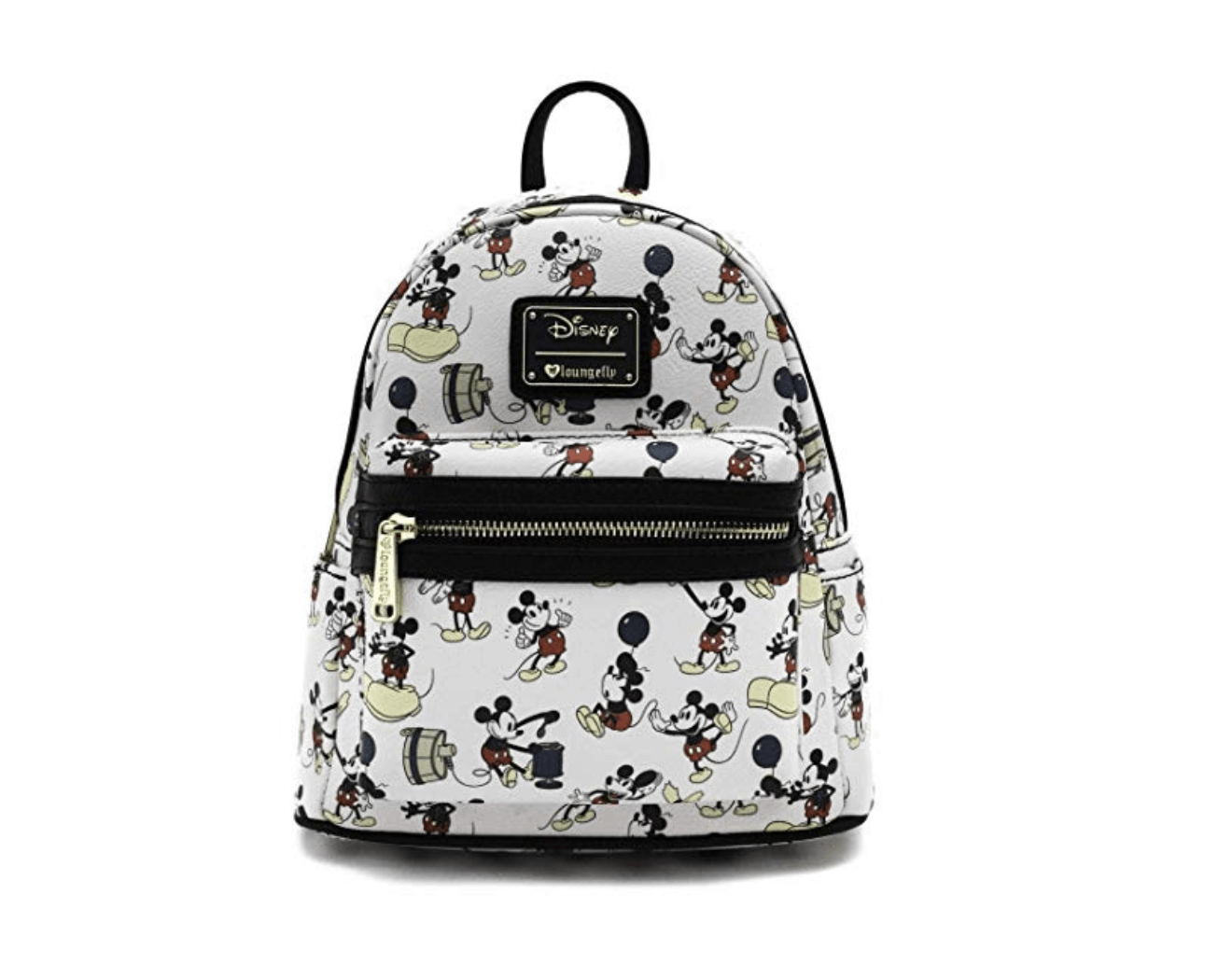 What To Pack In Your Disney Park Bag
We have a long list of things we recommend packing in your Disney park bag! Now of course you don't have to bring every single item on this list. Bring the items that you need for you and your family! We also have an article on The Only Disney Packing List You Will Ever Need for everything you could possibly need on your trip. So here is our list of things you should pack in your Disney park bag:
Guidebooks
You can either bring guidebooks or print off your own touring plans to keep your plans on track. There are lots of great guidebooks out there to make sure you get the most out of your Disney trip!
Park Maps
Pick up a park map on your way into the parks. Keep this in your bag to reference whenever you are trying to find that ride or restaurant you need to get to. You can always ask a Cast Member for directions, but sometimes it's quicker to just reference your park map.
Camera
Bring a small digital camera to capture those quality moments on your Disney vacation. Also, bring a small camera case to ensure your camera does not get damaged.
Cell Phone
Your cell phone is your best friend on a Disney vacation. You can go on the My Disney Experience app to change or book fastpasses, check your reservation time, Mobile Order, and much more!
External battery charger and cords
Using your cell phone this much can really drain your battery. Disney offers outlets to plug in your phone, but it also helps to bring your own external battery charger to charge your phone while waiting in long lines.
Lanyard for room key/tickets
For those of you not staying on Disney property and opting out of using Magic Bands, lanyards will keep your room key and tickets safe and on hand for whenever you need them.
Sunglasses with straps
The sun can be brutal during the middle of the day. Bringing sunglasses with straps will ensure they stay on your face during any outdoor rides while still protecting your eyes from the sun.
Water bottle with strap
Having a water bottle on hand is a great way to make sure you and your family never become dehydrated while on your vacation. You can also ask Cast Members at Quick-Service locations for a cup of ice water to refill your water bottles.
Collapsible Cooler
Bringing your own food into the park is a great way to save money. Using a collapsible cooler will make sure your food stays fresh. Then you can collapse it and put it away when you are done with your food.
Snacks
It's a good idea to bring your own snacks for those times you or your family get hungry while waiting in line. Pack snacks up in Ziploc bags and keep them in your Disney park bag to have them on hand whenever you need them.
Autograph book
You never know when the opportunity to meet a character may happen. Always having an autograph book on hand will guarantee you never miss a character's signature.
Towel
A small towel in your Disney park bag can be great for multiple uses. It can be used to sit on the curb during a parade, wipe off a dirty seat, dry off wet clothes after a water ride, block the sun, etc.
Mini First Aid Kit
Sometimes it can be difficult to reach the First Aid Center in the Disney parks depending on where you are in the park. Having a mini first aid kit with cleaning supplies and bandages can be a lifesaver for small cuts and scrapes.
Pain Medicine
A bad headache or pain can ruin a fun Disney day. Carrying pain medicine in your Disney park bag will help you avoid and relieve any painful situations you might encounter.
Bottles of water
Bottled water at Disney can be pretty pricey. Use a grocery delivery service to have a package of water bottles delivered to your hotel room. Then you can pack as many water bottles you need into your park bag.
Walkie Talkies
If your phone dies or you can't get any signal in the parks, it might help to have walkie-talkies on hand for when you get separated from your group.
Fat Pen for character autographs
Some characters can't use thin pens to sign autographs. Always have a fat pen or sharpie on hand so you don't miss out on any signatures!
Rain Ponchos or Umbrella
Rainstorms can happen in a blink of an eye at Disney. You never know when one might happen, so it's beneficial to have some sort of rain gear in your bag. Bringing your own ponchos or a mini umbrella will save you from getting drenched.
Handheld Fan
Sometimes you will be stuck waiting outside in a long line for a ride. Having a handheld fan can help keep you cool during these long waits in the sun.
Moleskin
All the walking around Disney parks can lead to some nasty blisters. Bring some moleskin in your bag for any shoes that might rub and cause blisters on your feet.
Sunscreen
It can be very easy to get burned while out in the sun at Disney. It is a good idea to apply sunscreen before heading to the parks, but also bring some extra sunscreen along to reapply.
Lip Balm with sunscreen
Not only can your skin get burnt, but your lips can too. Chapped and burnt lips on a Disney vacation is not fun. Lip balm with sunscreen can help avoid any unnecessary pain.
Insect Repellent
There aren't too many bugs around Disney, but it can always be helpful to have some bug spray on hand to deter any pesky mosquitos.
Kleenex
No one wants to have to use bathroom paper towels or toilet paper to wipe their nose. Bring a small pack of tissues in your bag for any runny noses.
Antibacterial hand gel/sanitizer and Wet Wipes
Germs can spread easily at a place like Disney. Having hand sanitizer and wet wipes in your Disney park bag will keep you and your family from getting sick at Disney.
Hats/Visors
Pack a hat to help shade your face and your scalp from the sun. Nothing is worse than a sunburn on your scalp. Ouch!
Large Ziploc for wet clothes
After a water ride or a bad rainstorm, your clothes might be soaked. You don't want to pack those wet clothes right into your bag and get everything else wet! Bring large Ziploc bags to contain your wet clothes, so you can store them in your bag.
Dry change of clothes for kids
Kids do not like to be wet for long periods of time. To make sure they stay comfortable, bring a dry change of clothes for them just in case they do end up getting wet. It's better to be safe than sorry!
Glow sticks and necklaces
Glow toys are a fun addition to your bag for kids who want to have fun during the night. You can pull these out during nighttime shows or fireworks and watch your kids have fun!
Pennies for pressing
There are penny-pressing machines all over the Disney parks. Pack several pennies in your bag to have on hand if a certain press design catches your eye.
Pins for trading
Cast members with pins are always happy to trade their pins with others! Bring extra pins that you don't care about to trade for pins you do want to keep!
Playing cards or handheld games
Some wait times can be long and brutal. Bring playing cards or games to pull out during long lines. Downloading games on your phone can also be a fun way to pass the time!
Kids ID Tags
It is always good to be prepared by having your kids wear ID tags while on a Disney vacation. Disney Cast Members and security are really great about reuniting kids with their "lost parents" (Disney calls the parents the lost ones instead of the kids to make the kids feel better). However, it will make the Cast Member's job easier if your kid is wearing an ID tag, so you can be reunited with your child much faster. Include information such as your name and phone number.
Small bottles of bubbles
Some kids aren't entertained by games or cards. Bring a small pack of bubbles to keep children entertained!
Face Masks
Currently, at Disney, guests are required to wear face masks to enter the parks. There are lots of cute and comfortable options out there for Disney face masks! It is always a good idea to bring extra face masks for you and your family members in case they get wet or dirty.
Light Jacket
During the cooler months, it can be beneficial to bring a light jacket for those cool early mornings and nights. You never know when you'll need to layer up!
Gum
Disney does not sell gum anywhere on Disney property. If you love to chew gum, make sure to buy and bring your own before you arrive to Disney. You are allowed to pack gum in your Disney park bag, you just won't be able to find it anywhere in the parks.
Extra Ziplocs
You never know when you might need to keep something dry or pack up an unfinished snack. Bring some extra Ziploc bags for any situation you might need them.
Magic Band
Your magic band is your room key, ticket, Fastpass, dining plan, and credit card. Don't forget to pack it!
Credit Card
If you don't want to use your Magic Band to pay for things, make sure to bring another form of payment such as a credit card or cash.
Disinfecting Wipes
Disney is usually very good at keeping things sanitized and clean. However, it can be a good idea to bring your own disinfectant wipes to wipe down any tables or ride handles before touching them.
Hair Ties
Having long hair in the heat can be miserable at times. Bring some extra hair ties and bobby pins for those times it is too hot to keep your hair down!
Mini Deodorant
Pack a travel-size deodorant for those extra hot days. This way you can reapply under your arms or even use it to help with any places where your skin rubs. (I will sometimes use mine between my thighs to avoid any uncomfortable rubbing).
Mickey Ears
Don't forget to pack your favorite pair of ears for cute pics in front of the castle!

Well, there you have it! Everything you could possibly need in your Disney park bag! You most likely won't be able to fit all of these things in your bag unless you have one like Mary Poppins! Just pick out the items that could be important and useful for you and your family. It's always good to be prepared!