If you are looking for a cute Disney face mask, you have come to the right place!!
If you are going to have to wear a face mask, why not make it a Disney one? There are so many cute options that range from classic to floral, princesses and more.
These are the perfect face masks, whether you are interested in wearing them at the parks or to your place or work or for whatever you need a mask for!
We pulled 10 super cute options that you will love. The best part? You will also be helping support independent creators on Etsy and you can look cute doing it!
Get a FREE printable 30/60/90 day Disney countdown by joining our private Disney Facebook Group and share your photos and ask for tips and tricks.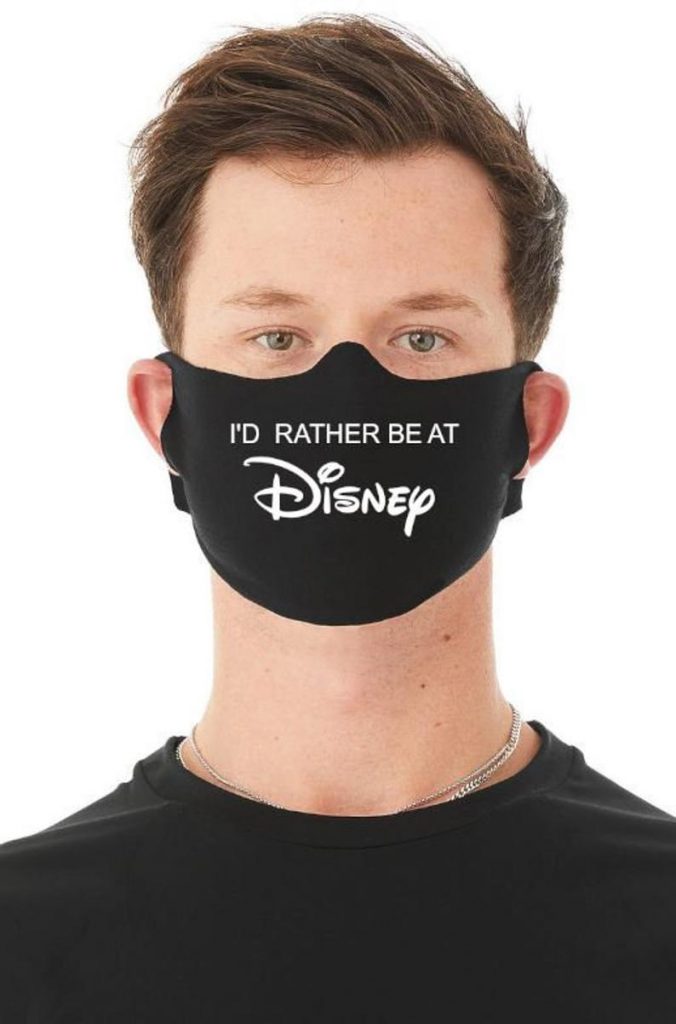 10 Cute Disney Face Masks To Help You Stay Safe
Mickey Mouse Disney Face Mask
If you're looking for a classic looking mask, look no further! This double layered Mickey Mouse face mask starts at only 6.99 and is a sleek black and white design. If you prefer to have the polypropylene filter, the mask is still super affordable at 12.50. Keep in mind the shipping time may be delayed on these masks because they ship from Korea. It is made from 100% cotton, which makes them super easy to wash.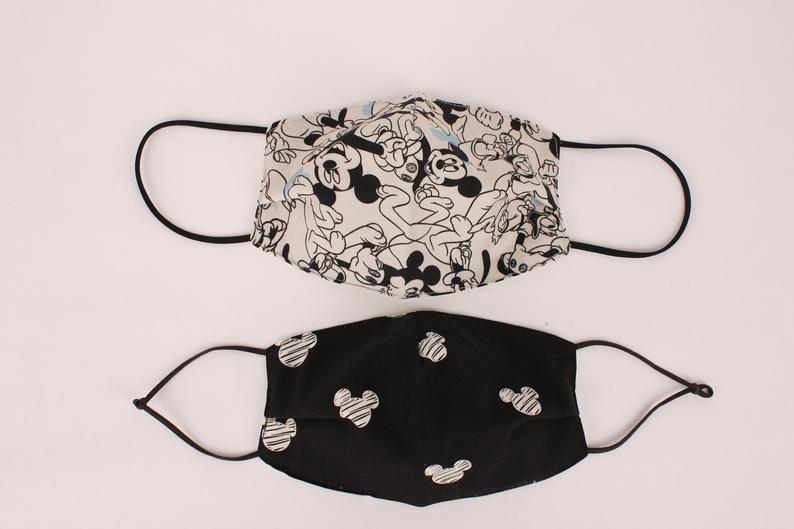 Princesses Face Mask
As a Disney princess lover, this Disney Face Mask is great because it incorporates several of the princesses on one mask. You will find all your favorites on here from Ariel, Cinderella, Aurora, Belle, and more. The neutral background makes this face mask the perfect fit for any outfit. Plus, you never have to choose your favorite Disney princess since they're all included!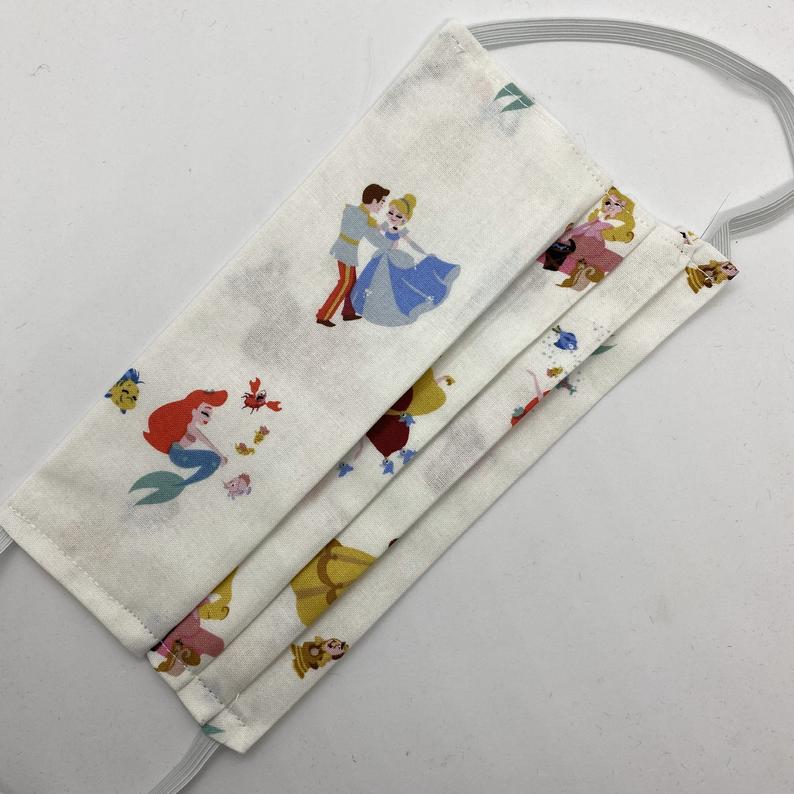 Aladdin Face Mask
If you're a fan of Aladdin, you need this Aladdin face mask. The royal purple background is attention-getting, while the design features all your favorite Aladdin characters. This face mask starts at only $10 and comes in four different sizes: Child (3-7), Child (7-12), Adult (S/M), and Adult (L/XL).
It doesn't include a filter, but has a pocket for you so you can add it yourself. Additionally, if Aladdin isn't your preferred theme, the seller (FlipStitchRepeatCo) offers many others including Moana, Beauty and the Beast, Disney Princess, Sleeping Beauty, and more.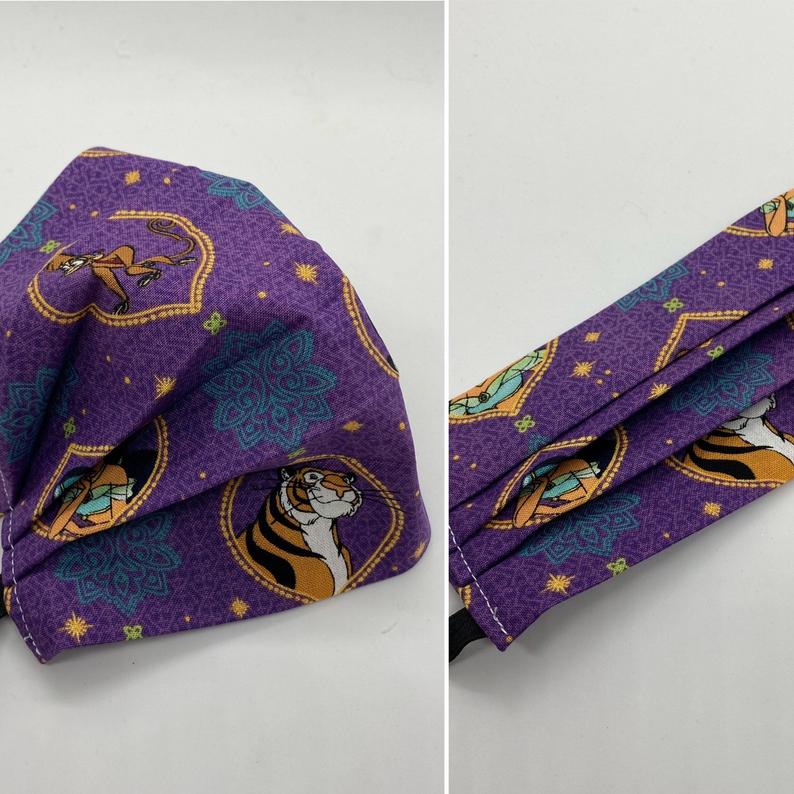 2 Layer Disney Face Mask
Do you know you want a Disney face mask but aren't sure which design you want? Honestly, I can't blame you! Disney has SO many fantastic characters, it can be hard to choose. These 2 layer face masks come in many different designs so you are sure to find one you love.
Since I'm obsessed with elephants, I am drawn to the Dumbo one. You can choose from many others including Mickey Mouse, Frozen, Alice in Wonderland, Lion King, Beauty and the Beast, and more! At $10, these masks are a steal, and since they come in both an adult and small size, you are sure to find one perfect for you.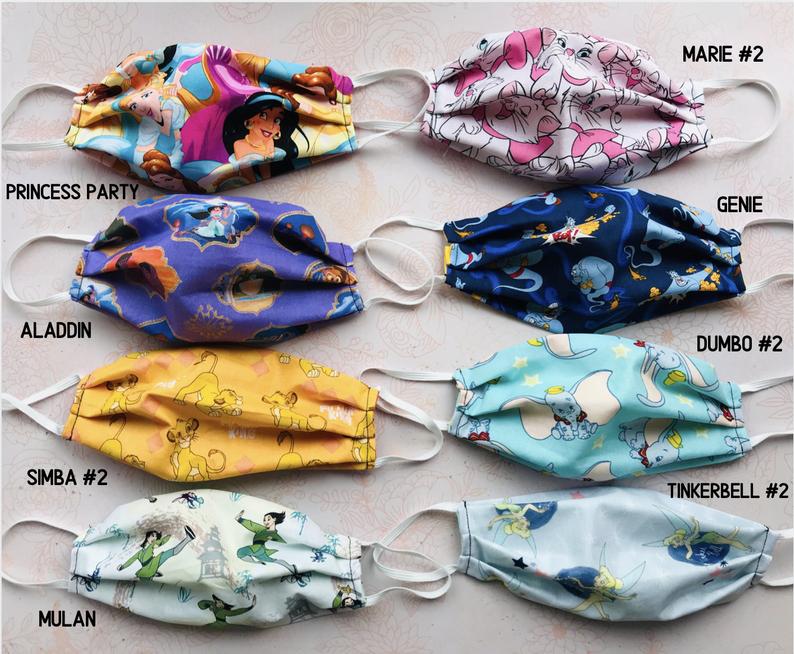 Realistic Disney Princess Face Mask
When I saw this super cool face mask for Disney, I knew I had to include it on this list. This realistic Disney princesses mask has all of your favorite princesses so you will never have to choose. It starts at only $8 and is available in any size you may need. You can get this Disney face mask in adult and child sizes and either with elastic or ties. They are made in Florida and ship quickly, so you're sure to have it as soon as possible. While it doesn't include a filter, it does include the pocket for one, if you wish to add one.
Winnie the Pooh Face Mask
Growing up, and, well, quite honestly, as an adult, Winnie the Pooh is my absolute favorite. That's why when I saw this Winnie the Pooh face mask, it had to be added to the list. This adorable mask is $13.95 and has free shipping. It is made of a cotton/poly blend in the United States (California).
You will have all of your favorite Winnie the Pooh characters on your face: Winnie the Pooh, Eeyore, Tigger, and Piglet. Plus, they are encouraging you, and everyone who sees it to stay safe. You can't go wrong with this adorable face mask for Disney.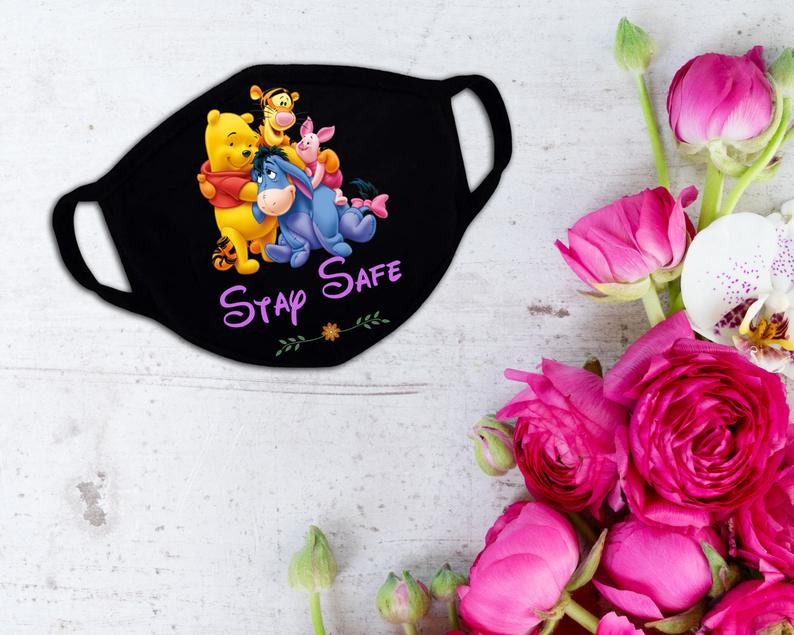 Flower Crown Minnie Mouse Face Mask
What is cuter than a Disney face mask with Minnie Mouse? A sparkly Minnie Mouse wearing a flower crown, of course. Not to mention, this super cute mask also has a silver, sparkly Cinderella castle along with beautiful flower details. You can purchase a single mask for $16.87, or buy in bulk and save. Buy one for all of your friends, sorority sisters, employees, or just have a different mask every day of the week for yourself! A set of 5 is $60 and a set of 10 is $105. This face mask for Disney is made from high-quality polyester and has elastic straps.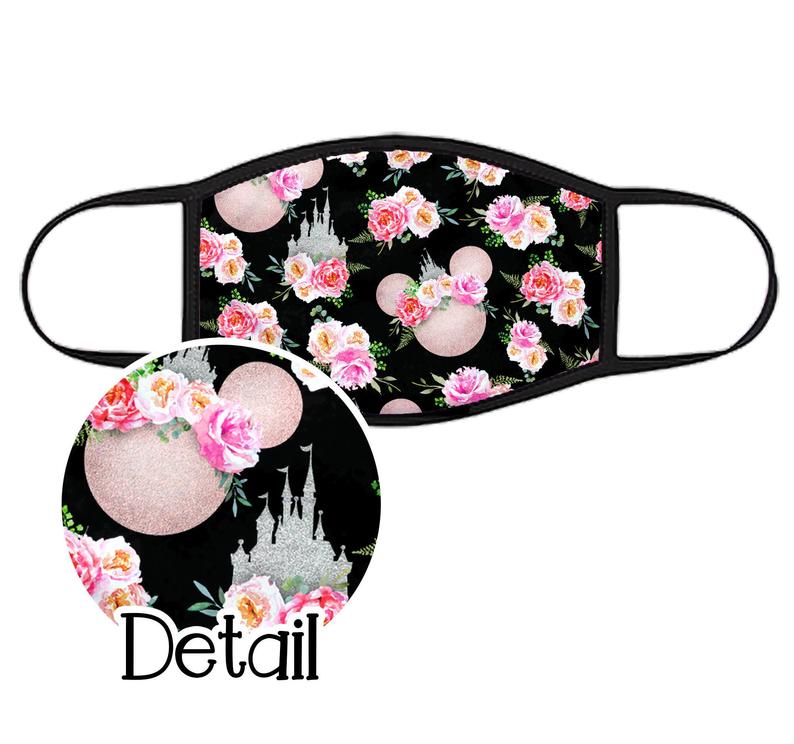 Beauty and the Beast Face Mask
If you're looking for a face mask for Disney that will grab the attention of all, this is the perfect mask for you! This absolutely beautiful mask has a stained glass theme, with visuals from Beauty and the Beast. It features Belle, the prince, the castle, and the rose. This beautiful mask is available in four different sizes: small kid, young kid, narrow teen/adult, and broad adult.
It is made in Ohio from cotton and elastic and is priced starting at $26.99 with free shipping. Something unique about this particular mask, that a lot of other masks do not have, is a nose wire. That means, if you wear glasses, the mask will fit well and comfortably. Also, there is a pocket where you can add a filter.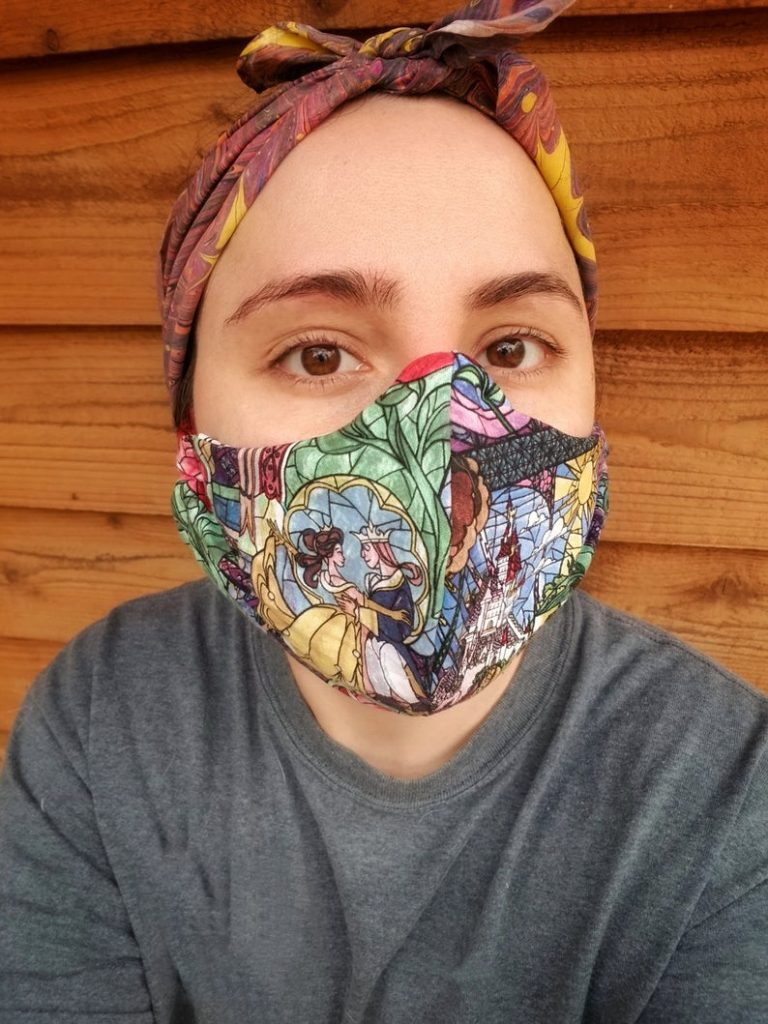 Snow White Face Mask
If you're a fan of Snow White and a vintage look, you need this Snow White Mask. At only $11 (with free shipping too!) you can get this super cute mask without breaking the bank.
It is handmade in the United States using 100% cotton. While there is only one size available, message the shop owner, JellipeaDesigns, and she can create an extra-large version as well. The design features Snow White along with several vintage-looking flowers.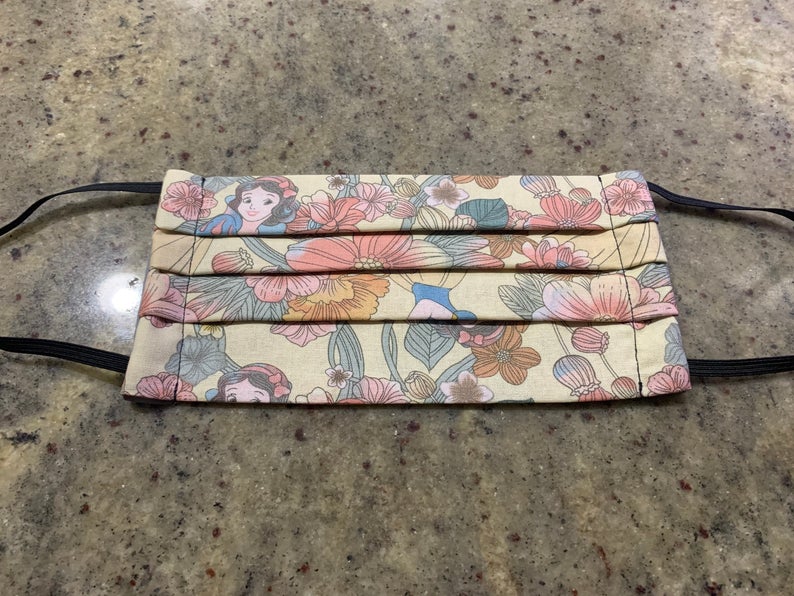 Dumbo Face Mask
If you're looking for a simple, but adorable face mask for Disney, this Dumbo face mask is the perfect mask for you. At only $5, you can afford to buy one for every Dumbo or elephant fan you know. It is available in three different sizes: small kid, young kid, and adult.
The masks ship quickly out of San Diego, California to ensure you get your mask as soon as possible. This Disney face mask is made using two layers of cotton with an elastic band.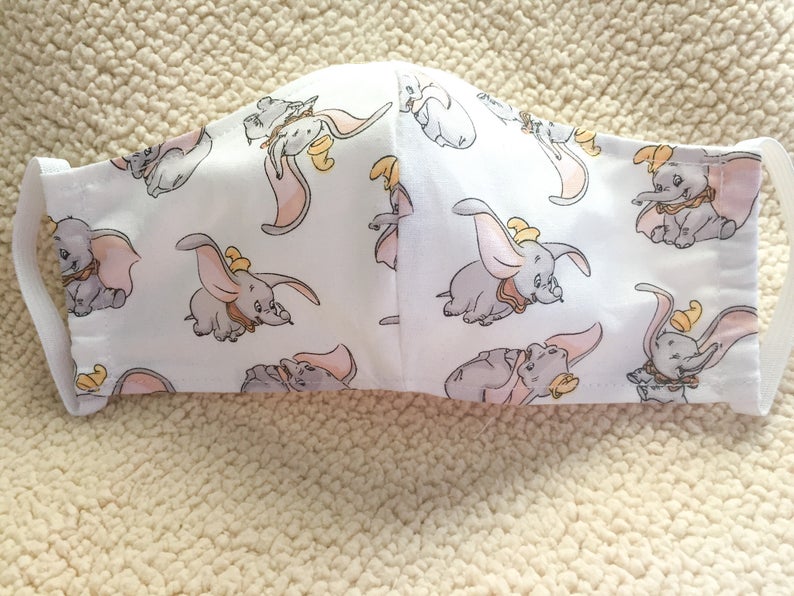 Just because you can't go to Disneyworld or Disneyland right now doesn't mean you can't still show off your Disney love! While you're stuck inside and not using one of these adorable Disney masks, you could use the time to plan your next Disney trip! Check out The Ultimate Epcot Itinerary and the Ultimate Magic Kingdom Itinerary to get you started!