If you're looking for some great tips for wearing masks at Disney on your trip, look no further! We have worn masks in the parks since they have reopened, and we have learned some valuable lessons. We know that not all masks are created equal, and we know this is a hot button topic for a lot of Disney fans.
We aren't here to argue about masks, or their effectiveness, but to tell you what the policies are at Disney and what they are enforcing. Just like many other places – and all other theme parks in Florida – masks are required at Disney World.
Disney World is following CDC guidelines and has made several changes upon reopening the parks in order to continue to slow the spread of COVID-19 and put those guidelines into practice. They have increased cleaning and sanitization, are enforcing social distancing, offering more places to wash your hands and sanitize, and the parks have decreased capacity all in order to combat the pandemic.
Wearing masks is just another way Disney is trying to keep both employees and guests safe, and we are here to tell you what you need to know if you plan on visiting right now.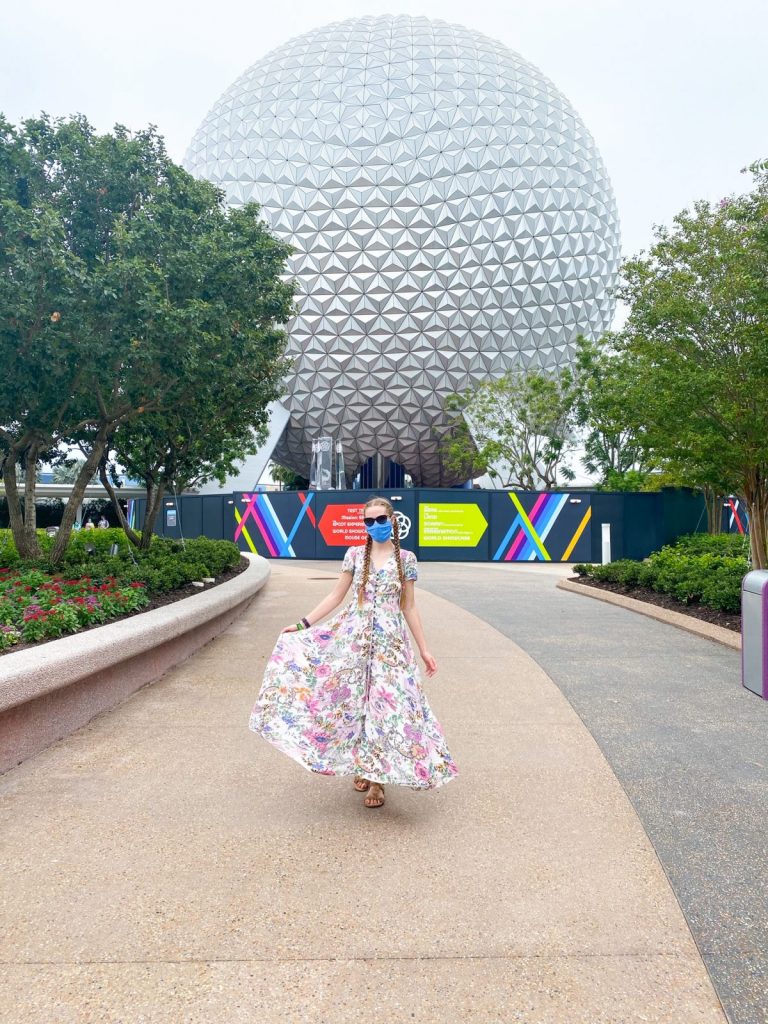 Are Masks Mandatory at Disney?
Yes! All Disney parks that are currently open around the world are requiring face coverings on property. All guests over the age of 2 are required to wear appropriate face coverings while on Disney property. This includes the parks, Disney Springs, the mini golf courses, as well as in the common areas of the the resort hotels.
Masks must be worn at all times, unless eating or drinking while stationary, dining, swimming, or at a relaxation station. This includes wearing a mask while riding rides or attending shows.
Disney states that masks must be: made of at least two layers of breathable material, snug-fitting, must fully cover the nose and mouth and go under the chin, as well as it must be secured with ear ties, or loops, and keep the hands free. These rules apply to both reusable and disposable masks.
Guests can now wear masks that have integrated clear panels in which the mouth can be viewed, but the mask must have a solid transparent plastic panel attached to a fabric mask with secure, tight stitching. The mask must also follow all the other mask guidelines.
We'll talk a little later about the kind of masks that aren't allowed at Disney, and what kinds we prefer too!
Just a note: the costume policy at Disney has not changed. Costume masks are still not allowed for anyone 14 or older. Costume masks cannot be used as a substitute for protective masks for either children or adults.
Who Has to Wear Face Masks at Disney?
All guests over the age of 2 have to wear masks at Disney. Disney is following CDC guidelines, so this follows the same guidelines that the CDC issued.
All Cast Members must also wear face masks while at work and in the parks, Disney Springs, and the resort hotels.
Disney recently updated their mask policy to state that even those who have received the COVID-19 vaccine must still wear a mask while on property. Bob Chapek, Disney CEO, also stated that he believes mask wearing will continue through 2021 at all Disney parks around the world.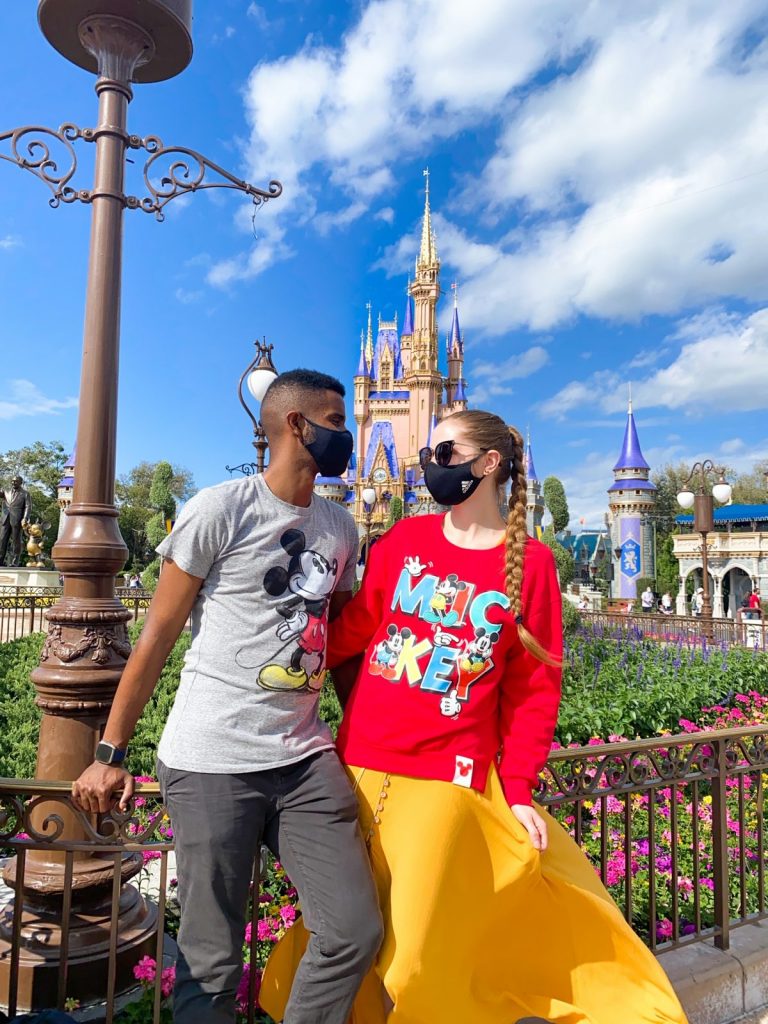 Do Children Have to Wear Face Masks?
Yes, all children over the age of 2 have to wear face masks in required areas at Disney. Since the CDC guidelines suggest masks for all children over the age of 2, Disney is following this. Children can spread germs and contract them just like adults can.
What if My Child Won't Wear One?
Even if you purchase a ticket for your child and book a reservation for a park, your child will not be allowed entry without wearing a face covering. Disney is enforcing their mask policy, and children aren't excluded from this.
You can practice with your child leading up to your trip, so that they feel more comfortable in their masks and will be able to wear them while at the parks.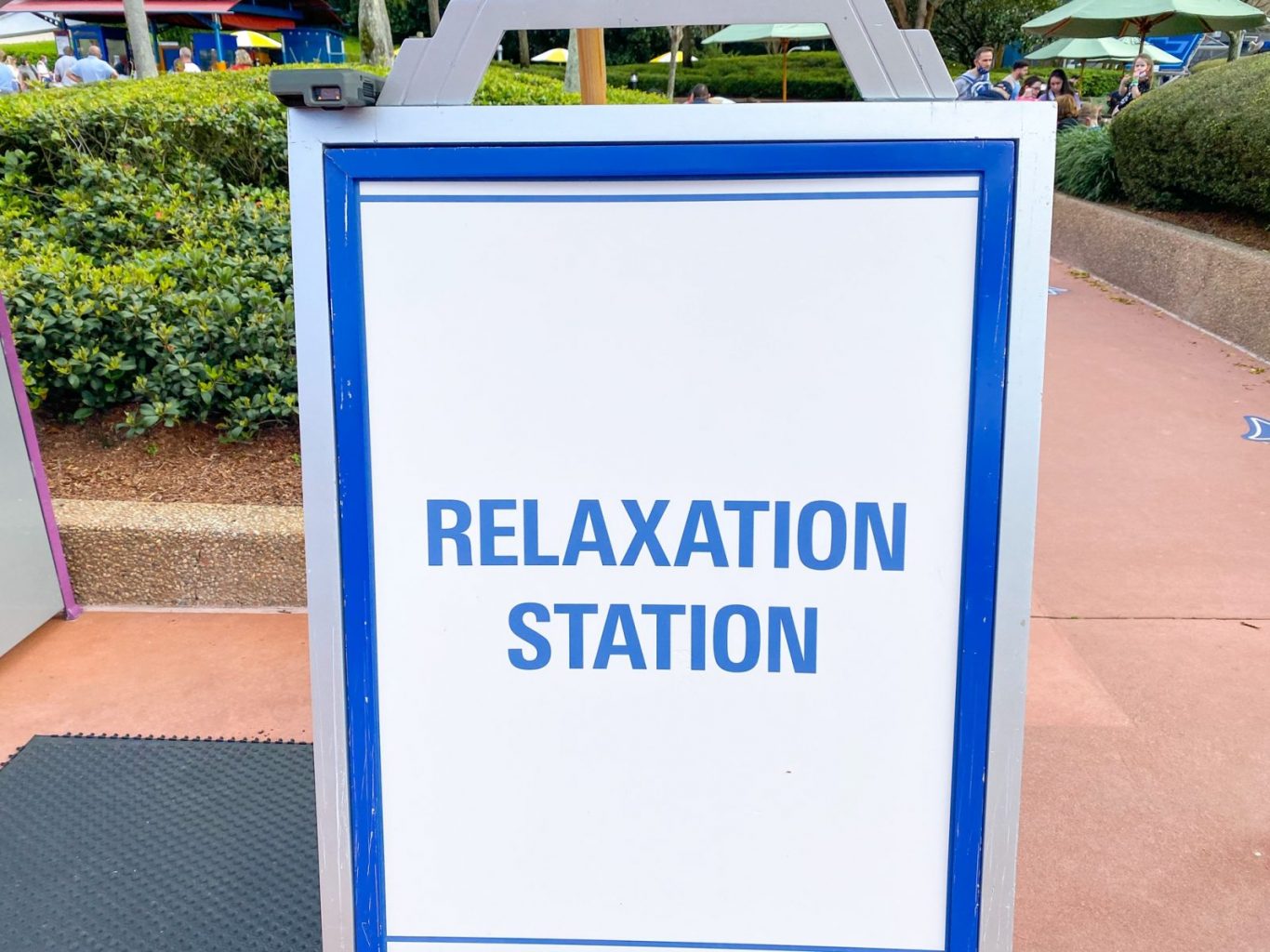 Where Can I Take Off My Mask at Disney?
Since wearing a mask can get uncomfortable after long stretches of time, as well as it can be quite hot and sweaty in the humid, Florida weather, Disney has put some measures in place to help give guests a break from their masks when they need it.
While in the parks, at Disney Springs, or in common areas of the hotels, a guest may remove their mask to eat or drink – but only while stationary. This means if you are walking around a park, like at an EPCOT food festival for example, you will have to stop and find somewhere to eat or drink. You cannot remove your mask and just keep it off/down because you have a drink in your hand.
Disney recently updated their mask policy to state that while dining at restaurants on property you must keep your mask on while "standing, waiting, or sitting." In other words, if you're not eating you must have your mask on, and if you are speaking with the wait staff then you should have your mask on to protect them.
Disney also doesn't require masks while in the swimming pools on property, BUT you must replace your mask if walking around the pool area or just hanging out around the pool and not actively swimming. We assume this will probably be the case once water parks open as well.
You can also take off your mask at any of the relaxation stations around the parks. Some of these are outdoor and some are indoor. If you're looking for the air conditioning we suggest the indoor ones, but note that some guests may not feel as safe in these since they are indoor and enclosed. Even taking off your mask in the outdoor one will be relaxing, and some may feel safer this way. The relaxation stations are:
Magic Kingdom:
Tomorrowland Terrace, lower level seating – outdoors
Golden Oak Outpost – outdoors
Pete's Silly Sideshow in Storybook Circus – indoors
EPCOT:
Yorkshire County Fish Shoppe seating area – outdoors, but shaded tables
Akershus in Norway – indoors
between Test Track and Mission:SPACE – outdoors
Hollywood Studios:
outside Rise of the Resistance in Galaxy's Edge – outdoors
Star Wars Launch Bay – indoors
Animal Kingdom:
Pizzafari – indoors
Upcountry Landing in Asia – outdoors
A quick note: You cannot take your mask off for photos while on property. While we know that it's not the look you may want in your vacation photos, or the way you want to remember your trip, Disney does require that masks be worn at all times unless while dining, swimming, eating or drinking while stationary, or in a relaxation station.PhotoPass Cast Members will ask you to pull your mask up and will not take your photo if you take it off while working with them, you cannot use a PhotoPass studio with your mask off.
You must also keep your mask on while on rides or at a show, and Cast Members may stop a ride or show at any time and ask you to put it back on.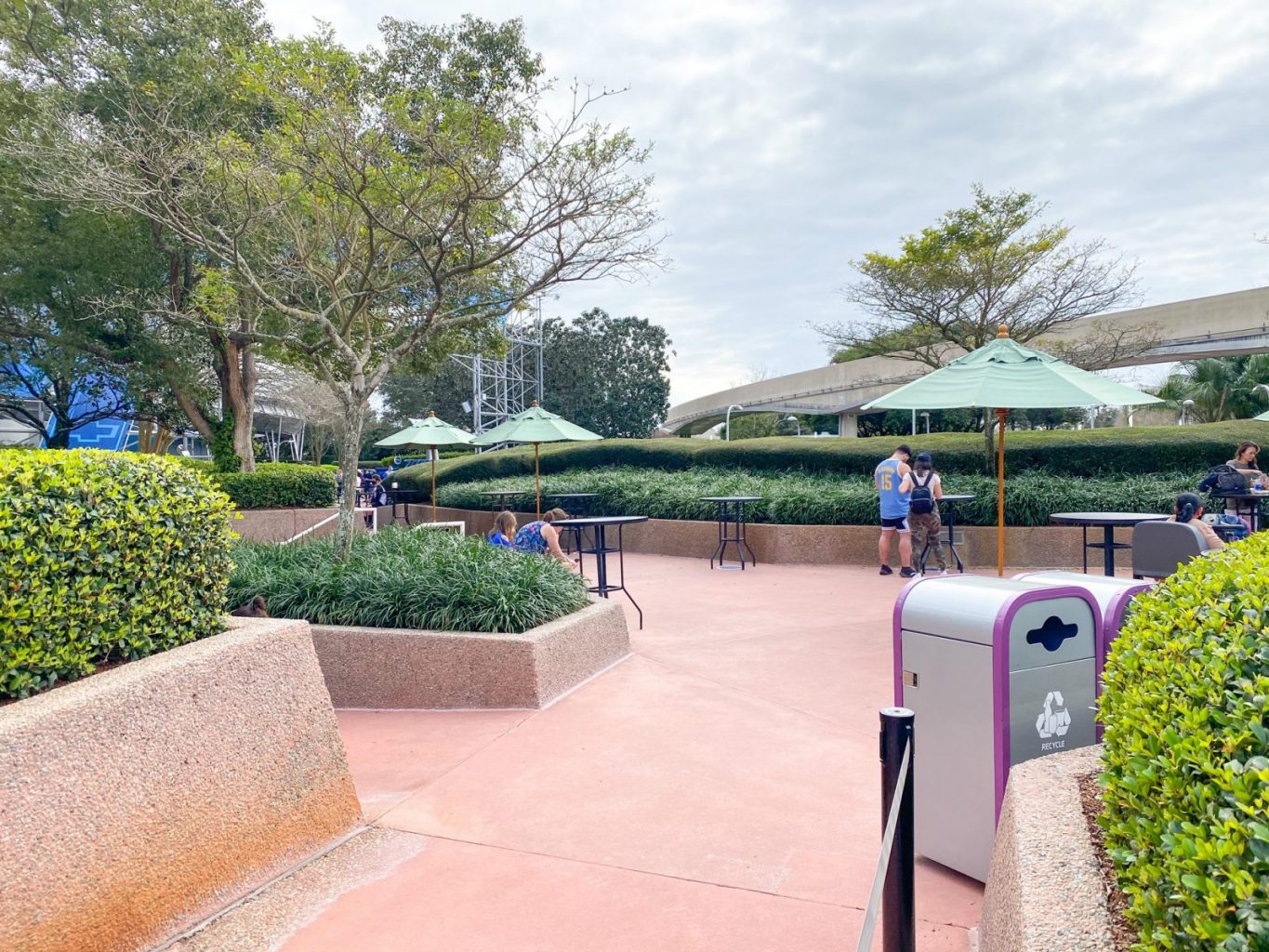 Are There Any Face Coverings I Can't Wear?
Yes. Disney has some pretty strict guidelines on what masks can and cannot be worn on property. They require guests to wear masks that are snug, at least 2 layers, breathable, and must fully cover the nose and mouth.
Disney doesn't allow guests to wear neck gaiters, triangle bandanas, any face covering that contains a valve, mesh, or holes of any kind. Guests can wear face shields, but they aren't allowed on their own – a guest must have an approved mask underneath it.
Are Free Masks Provided By Disney?
No. Disney requires that you bring your own masks to wear on Disney property, and they don't provide them for guests.
Disney does sell masks in several places around the parks, as well as online, that you can purchase if you find yourself in need of extras while on vacation. Many of the stores at Disney Springs sell their own masks as well, like UNIQLO and Vera Bradley, and you can pick up some there. Disney even offers mask vending machines in the parking garages of Disney Springs.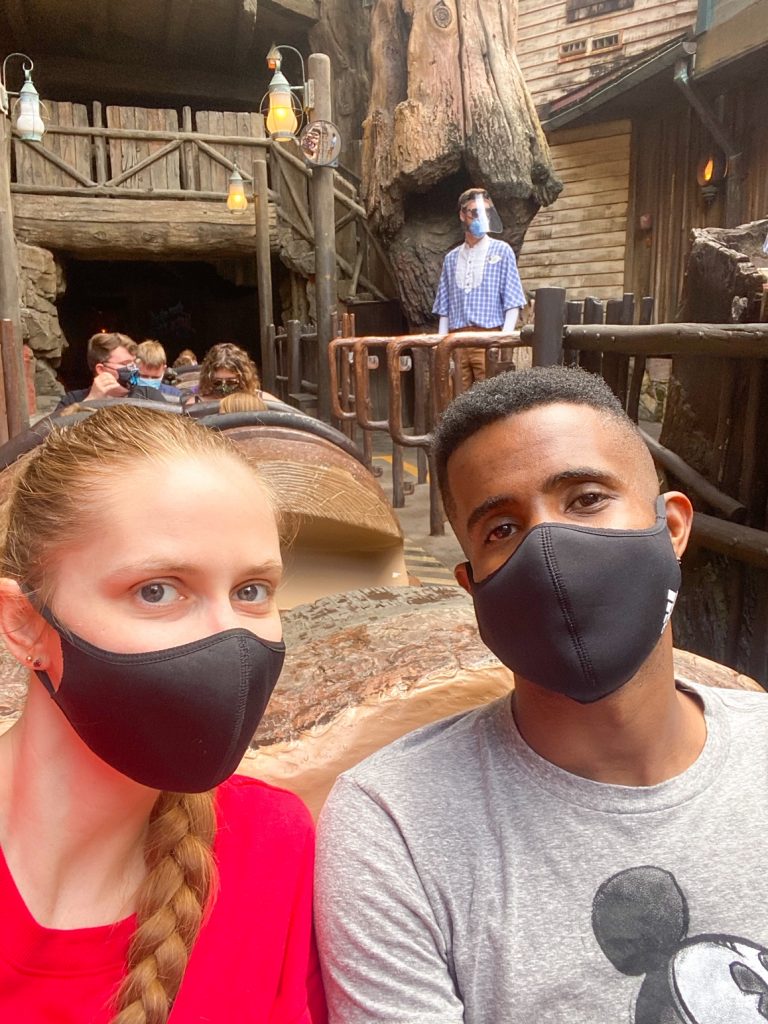 What Kind of Masks Will Work Best for Disney?
Mask choices are a very personal, and a mask that one finds comfortable another may not enjoy. We suggest trying on and wearing several different masks prior to your trip, so that way you know which are both comfortable but you still feel protected wearing.
There are a lot of great, lightweight but protective masks out there for purchase. Look for those made out of cotton or stretchier fabrics, and ones with straps that don't hurt or tug on your ears. You can also wear an "ear saver" to keep the straps off the backs of your ears completely.
Disposable masks are great to wear in the parks, like N95 masks and the paper surgical-style masks, but it can become costly to keep replacing these while on vacation.
Disney does sell their own masks in the parks and online, and the newer ones fit much better than the first round of masks they had created. The fabric is much more breathable, they fit the face better, and the sizing is more appropriate as well. The "Spirit Jersey" brand masks by Disney are the best ones that they carry.
If you're looking for our favorites, check out our article on the best masks to wear in the parks.
Do Face Masks Ruin the Magic?
Even though the face masks can be annoying, they don't ruin the magic for us at all. By wearing a mask, it allows you to participate in the magic at Disney, see your favorite characters and ride your favorite rides. They don't ruin the experience at all in our opinion, and if you want to visit a Disney park at this time, it's just something you have to do.
Masks will most likely be a requirement through the end of 2021 at Disney parks around the world, and this allows Disney to keep the parks open and continue to offer magical experiences to those who love Disney. They are able to bring back more Cast Members and employ more people, and open more experiences for guests. And while the Disney park experience isn't what it was pre-pandemic, there is still a lot of magic to enjoy and take part in – even while wearing a mask.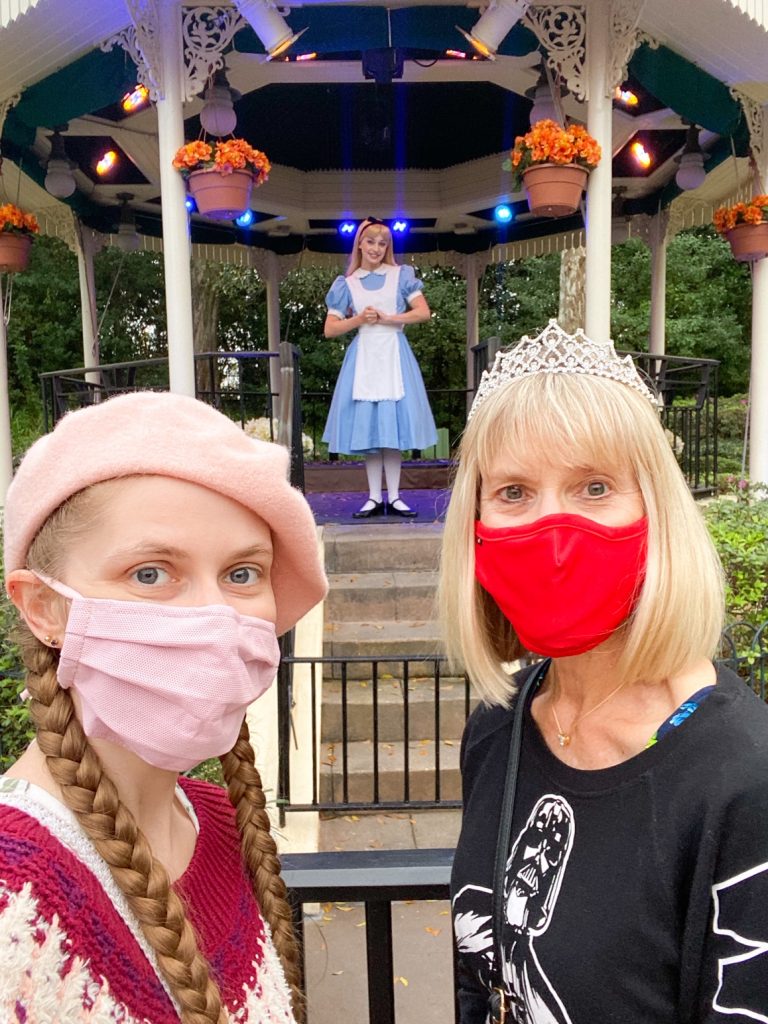 Does Disney Really Enforce the Rules?
Yes! Disney is taking the CDC guidelines seriously, and they are enforcing the rules to keep both their employees and guests safe.
Disney has updated their policies several times since reopening Disney World, and have changed their mask policy to state that those who don't comply will be asked to leave. They have ejected guests that have not complied with the mask policy. They will also deny entry to both the parks and Disney Springs if a guest tries to enter without a mask or an appropriate mask.
Upon reopening, Disney implemented using a new team called the Social Distancing Squad to enforce the policies around the parks. These Cast Members wear yellow shirts and roam the parks and Disney Springs, looking for those violating any of the COVID-19 policies. The Guest Relations team and regular Cast Members also enforce the rules.
Cast Members at Disney have never been shy about enforcing any rule, especially those that are for the safety of guests. The wearing of masks at Disney isn't any different, and Cast Members will correct those wearing their masks incorrectly or trying to take masks down when not eating or drinking.
One reason Disney will enforce the mask wearing rules is because many of the Cast Members are part of a union, and in order for these workers to return back to work on Disney property, they mutually agreed upon mandatory masks for both guests and employees. This rule protects the Cast Members, as well as it would violate these pandemic safeguards Disney agreed to if they didn't enforce this.
By going on Disney property and buying a ticket to their parks you are entering a contract with them and agreeing to their rules. Since they are a privately owned company they have the right to enforce the rules they set forth, and deny entry/remove guests who don't comply.
How is Mask Compliancy from Guests?
Mask compliancy from guests is typically pretty close to 99%. Since Disney Cast Members are really enforcing the rules, most guests are complying. Also, Disney has been having better compliance than several of the other theme parks around the area.
Of course, there are always outliers and people who test the waters to see if they can break the rules. Compliancy goes down a little when it's super busy, or very hot. Most likely they will be caught by a Cast Member and corrected though.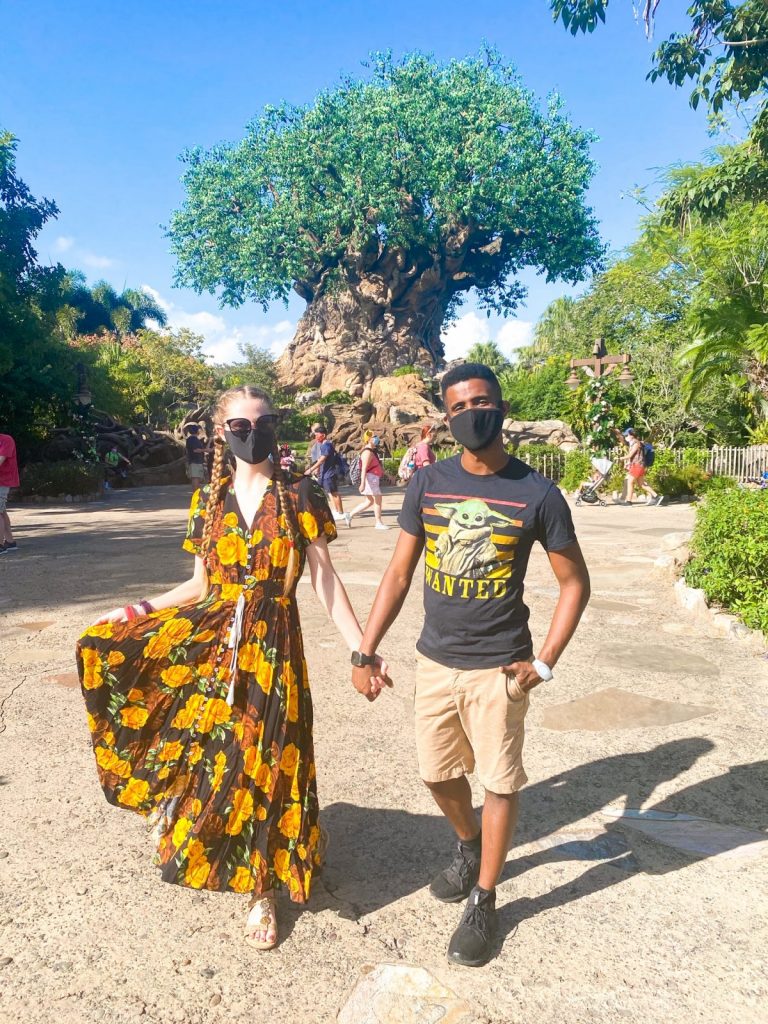 I Have a Disability, Do I Have to Wear a Mask?
Yes. Disney doesn't allow any exceptions to their mask policy. If they did it for one person, they would have to do it for everyone. And unfortunately, not everyone is honest.
Disney states that if you cannot wear a mask for any reason, or if they have a health issue that prevents them from wearing a mask, then they cannot come into the parks. Masks are required in the parks and on Disney property, and these individuals should stay home until the mask policy has been lifted.
Tips for Wearing Face Masks at Disney:
Bring a baggie for your masks
While visiting the parks, bring a baggie to keep your clean masks in and bring another to put your dirty masks in. This will help keep you organized and keep things clean in your bag/backpack.
Practice with your kids
Before you visit Disney World, have your kids wear masks around the house or out for longer periods of time. Have them wear them outside as well. This will help them get used to wearing them prior to your trip.
Try several types of masks
Prior to your vacation, try several styles and types of masks for both you and your kids. It's best to figure out now what masks work best for you so that you don't have any issues once you're in the parks.
Bring a mini fan or cooling towel
This is honestly great advice whether you're wearing a mask or not in Disney, since Florida has some extremely hot, sticky, humid weather. Wearing a mask can make you feel hotter, and having a mini fan or a cooling towel can help with this.
Wash your masks
Just like at home, it's important to wash reusable masks after usage. You can wash your masks in the sink at your hotel room, or in the laundry if your room/hotel/airbnb has one. We suggest bringing a tiny detergent with you since the soap that most hotels supply wouldn't be appropriate for washing these.
Bring extra masks
Bring more masks than you think you're going to need! We cannot stress this enough. Bringing one mask per person per day isn't going to be enough for your visit. Masks get sweaty, get dirty, might get rained on, or dropped on the ground. Anything can happen while out in the parks and it's a great idea to have several backups ready to go – especially for little ones and in hot weather.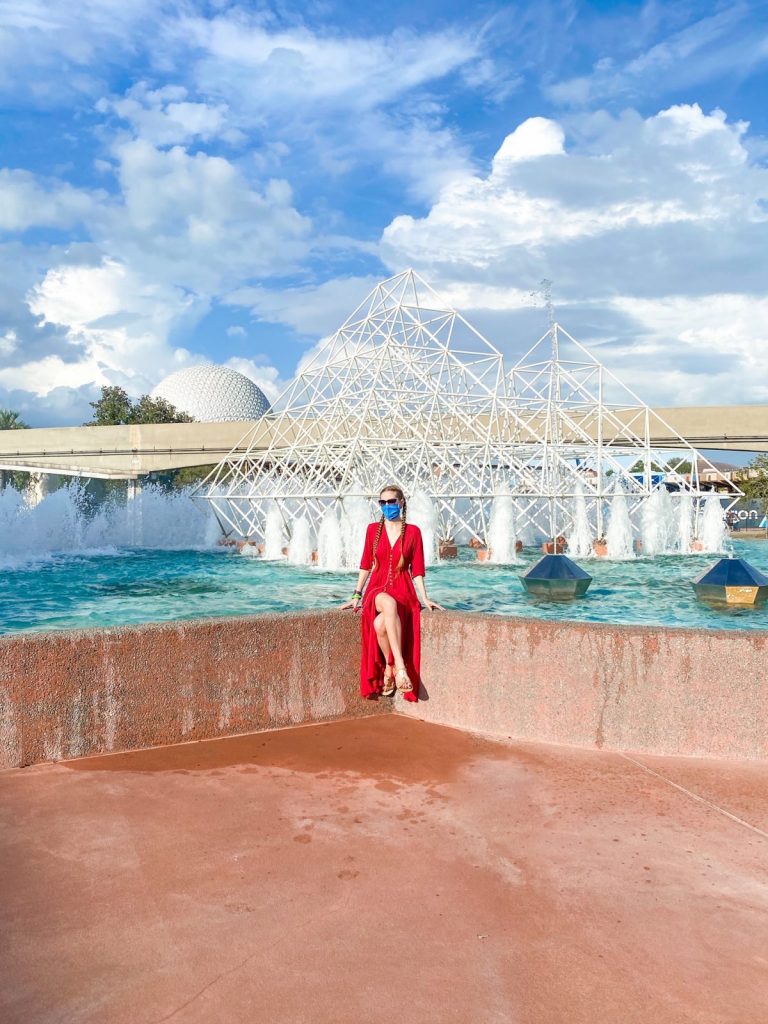 Practice wearing with glasses/sunglasses
Not all masks are created equal when it comes to wearing glasses or sunglasses with them. It takes some trial and error to figure out which masks won't fog up your glasses and feel comfortable while wearing them all day in the parks.
Drinks lots of water
This is another tip that should be applied at all times while at Disney, but even more so while wearing a mask. Drink lots of water and stay hydrated. This will help from becoming overheated and getting too hot in the parks and while wearing a mask at Disney.
Obey the rules and be kind to Cast Members
We know that the past year has been stressful for everyone, and has taken a toll on the world. For this reason, it's better to remain calm and be kind while at Disney, and that applies to your interactions with both Cast Members and other guests. It's worth it just to obey the rules and be kind, and you will have a wonderful trip.
The rules are there to protect you and others, and Cast Members are going to enforce them because it's their jobs to do so. Don't take it out on them if things don't go your way or if you don't agree with them.
Have fun with your masks
There are so many cute options when it comes to masks, and just like matching your Minnie ears to your outfit, you can match your mask as well! You can color coordinate your outfits or with the other people you're on vacation with.
This is a great tip for kids too, because they might be more willing to keep a mask on all day if it has their favorite character or superhero on the front of it!
Take a break
Just like when walking around a huge park on a regular, pre-pandemic park day, you need to take breaks. Stop when you feel the need to, give your feet and your face a break. Take advantage of the relaxation stations, or eat at a restaurant so you can relax and take your mask off. You don't have to wear the mask all day long in the heat, and you can stop and rest whenever you need it.
Wear long hair up
If you have long hair, try wearing your hair up while wearing a mask. It helps keep the hair from being behind your ears and getting in the way of the straps of your mask, and overall it feels more comfortable while having a face covering on.
Bring lip balm
This may seem like a silly suggestion, but bring lip balm! Your lips may get super dry underneath your mask, especially if it's one that rubs a little bit when you talk. This is another reason to stay hydrated, but wearing lip balm can help with keeping your lips from being dry or even from your mask rubbing your lips.
Wear a hat
Just like regular glasses, sunglasses sometimes aren't friends with masks. Wearing a hat might be an easier way to keep cool and keep the sun out of your eyes while wearing a mask.
Save those ears
We don't mean your Minnie or Mickey ears – we mean your ears! Masks can pull on ears, especially masks that fit snugly like they are supposed to. If you can't stand having something pressing on the back of your ears all day, pick up a few "ear savers" and those will help tremendously!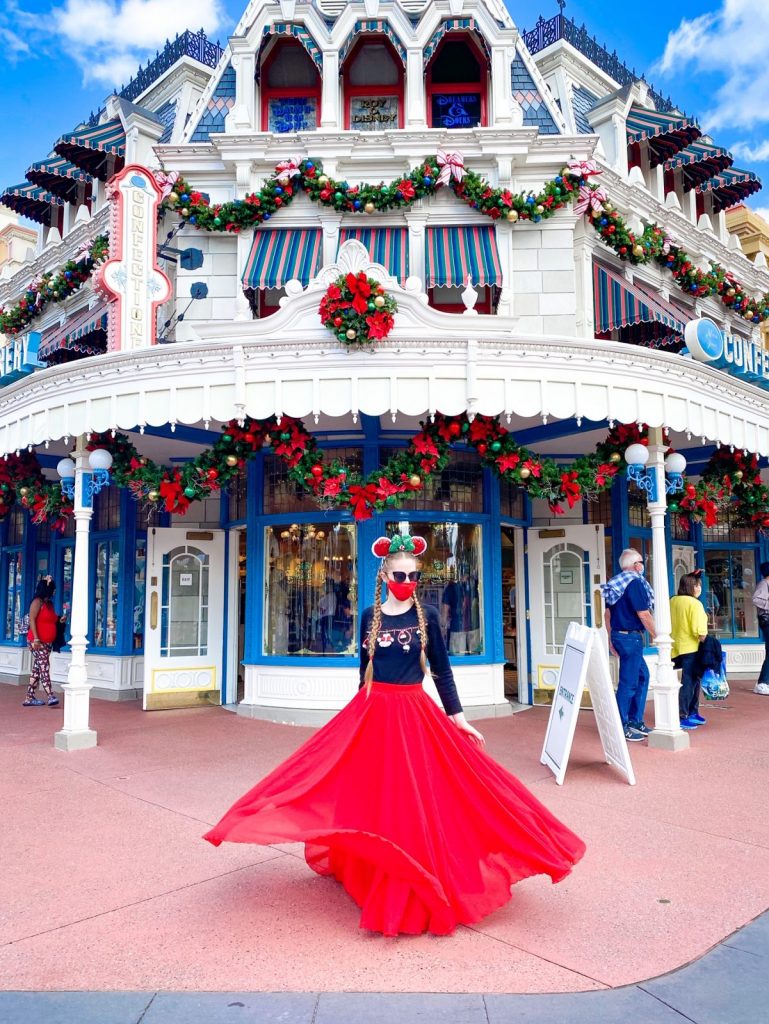 We hope that our list of tips will help you should you decide to visit the parks while the mask policy is in effect. Drink your water, wear a comfortable mask, and take care of yourself and others!
Have you visited the parks since reopening? And do you have a favorite mask to wear while there? Let us know in the comments!