Looking for the best Disney Couple Shirts for your next vacation photo op? You've come to the right place! One of the best parts of a Walt Disney World vacation is the outfit planning! (Or, is that just me?)
With so many sights to see at Walt Disney World, it's easy to blend into the crowd. If you're looking to get the most adorable couple photos, you have to start with the best his and hers Disney shirts. From posing in front of the castle to your favorite spot around the world at Epcot, we have just the matching shirts for Disney couples like you!
That being said, if you are fortunate enough to get to visit the parks with your significant other, matching Disney shirts for couples are a MUST! Whether you enjoy Star Wars, Cinderella, or Toy Story, we've got the fifteen BEST Disney shirts for couples to rock on your next vacation!
15 Unique and Hilarious Disney Couple Shirts
1. Broke and Spoiled
One of my favorites and probably one of the most popular Disney Couple Shirts you'll see around the parks is the typical broke and spoiled shirt. This particular one shows the "O" in broke as Mickey Mouse, and the "O" in spoiled as Minnie Mouse, making it one of your standard Mickey and Minnie couple shirts.
I've also seen this shirt worn as a family vacation shirt, so bonus points for flexibility! In the case of a family vacation shirt, both parents will wear the "broke" and the child or children will wear the "spoiled."
In the case of this particular set of shirts, the "broke" shirt is available in black, and the "spoiled" is available in white.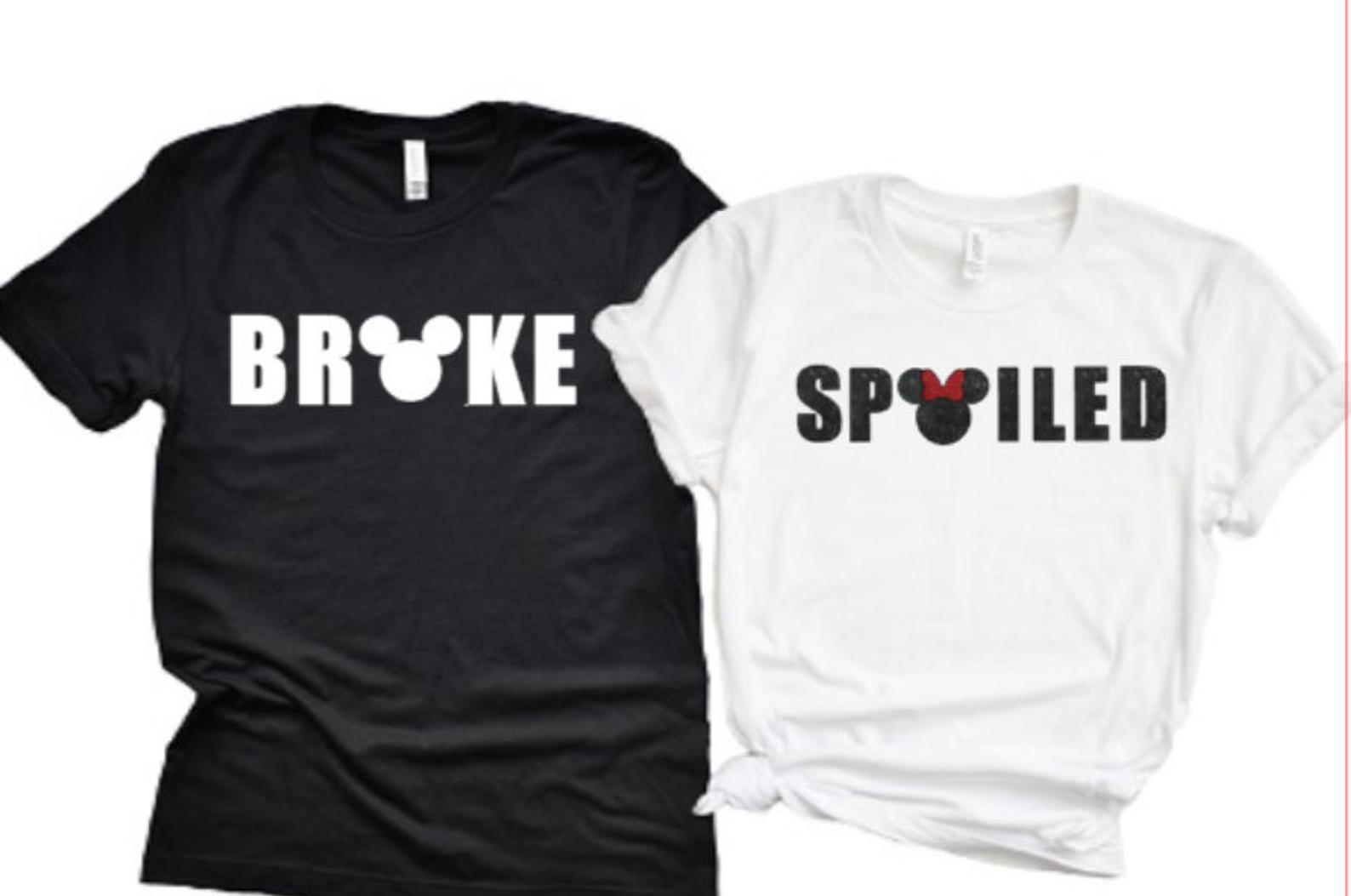 2. Anniversary Shirts
Imagine spending your anniversary in the happiest place on Earth! The only thing better than that is this set of Anniversary Disney Couple Shirts in which the artwork is to die for! Each shirt is individually customized, therefore you can get your name on the front or even your initials if you like monograms!
These shirts have a classic Mickey and Minnie design, just like the first one, which is only fitting since they're made for anniversaries! You can even add the number of years (or months) you're celebrating your anniversary for underneath Mickey and Minnie!
This shirt comes in a variety of colors as well, and has gotten great reviews, including a photo of couples and extended families who purchased it!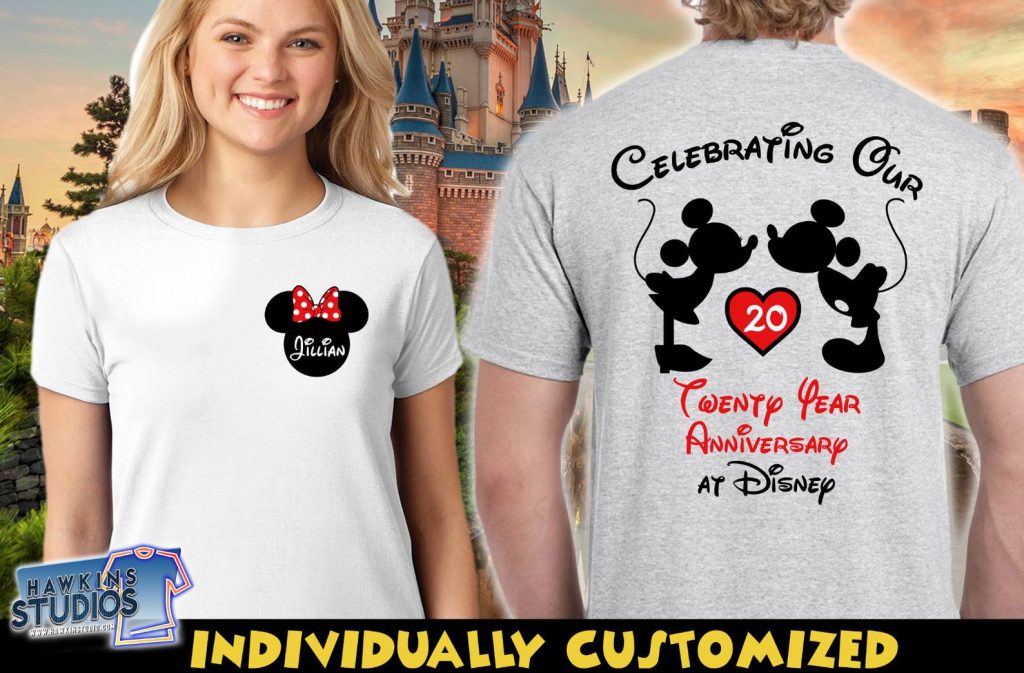 3. Ears vs. Beers
Another great Disney couples shirt with a bit of humor is this awesome ears/beers his and hers duo. This adorable light pink women's shirt with a pair of signature Minnie Mouse ears pairs so nicely with the white men's matching one. Of course, the women's shirt says, "I wear the ears," while the men's says, "I buy the beers," keeping the same Minnie and Mickey Mouse theme as the previous ones.
The great thing about this set of matching shirts for Disney couples is the amount of choices you have when it comes to color, style, and size. These Disney couple shirts come in adult, kid, and even baby shirt and onesie sizes! The different sizes make these shirts a winner because, yet again, they can be fun shirts for family and friends as well as couples!

4. Minnie and Mickey
Another classic take on the 15 ultimate Disney Couple shirts, of course, is centered around Minnie and Mickey, but has an adorable twist. In the center of this Minnie and Mickey/Magic Kingdom themed shirt, you get a cut out of Cinderella's castle! Additionally, the hearts remind me of Happily Ever After fireworks, so these shirts really win in my book.
To top off this Disney his and her shirt combo, Minnie is marked with her signature red bow, while Mickey is left plain, with the words "His Minnie," and "Her Mickey," right below the adorable design. What more could you want, right?!

5. Stain Glass Soulmates
If you're looking for a set of shirts that encapsulates everything you love about Disney World, then this is the Disney stain glass resembling couple shirt set for you! With the classic Mickey and Minnie cartoon printed at the center, you see an almost stain-glass looking montage of nearly every Disney character you can think of!
Clips from Lady and the Tramp, Frozen, The Little Mermaid, Finding Nemo, etc, can all be spotted on this set of shirts. Of course, one shirt says "soul," and the other says "mate," just to tie the pair together! This is truly one of the most unique Disney couple shirt designs of all!
This set of his and hers Disney shirts looks almost like a stain glass window, or better yet, the image projected on the castle at the very end of Happily Ever After.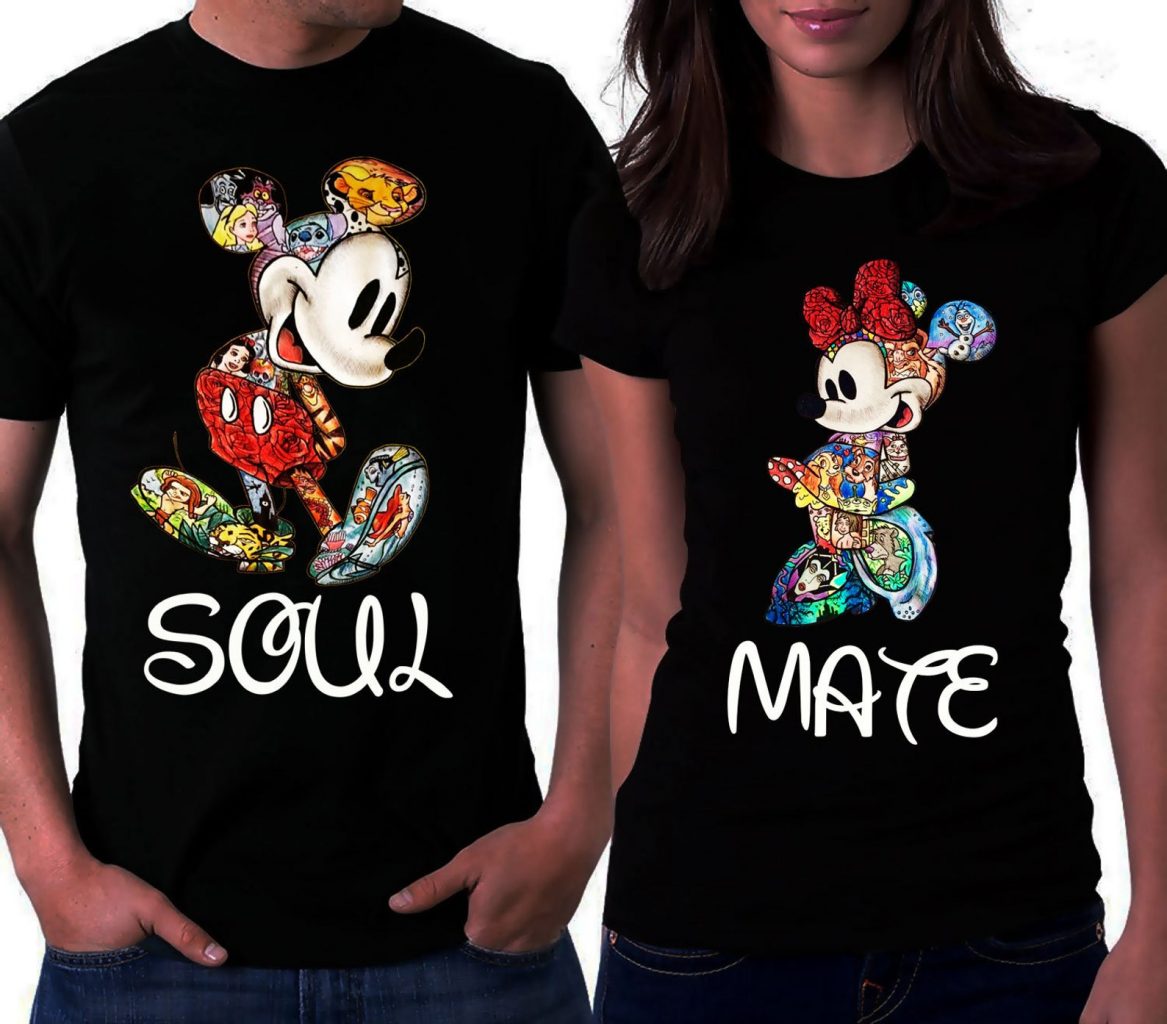 6. Love Is a Matching Shirt Set
Did someone say Frozen? From the classic younger sister we all know and love, who tends to let her dreamy side get the best of her, this Disney couple shirt set is funny and relevant at the same time! Love is a matching shirt after all, right?
With over a dozen color choices, and such a simple yet creative vinyl design on this shirt, it's perfect for even the most laid-back Disney fans to show that they too want to show their love in Disney World!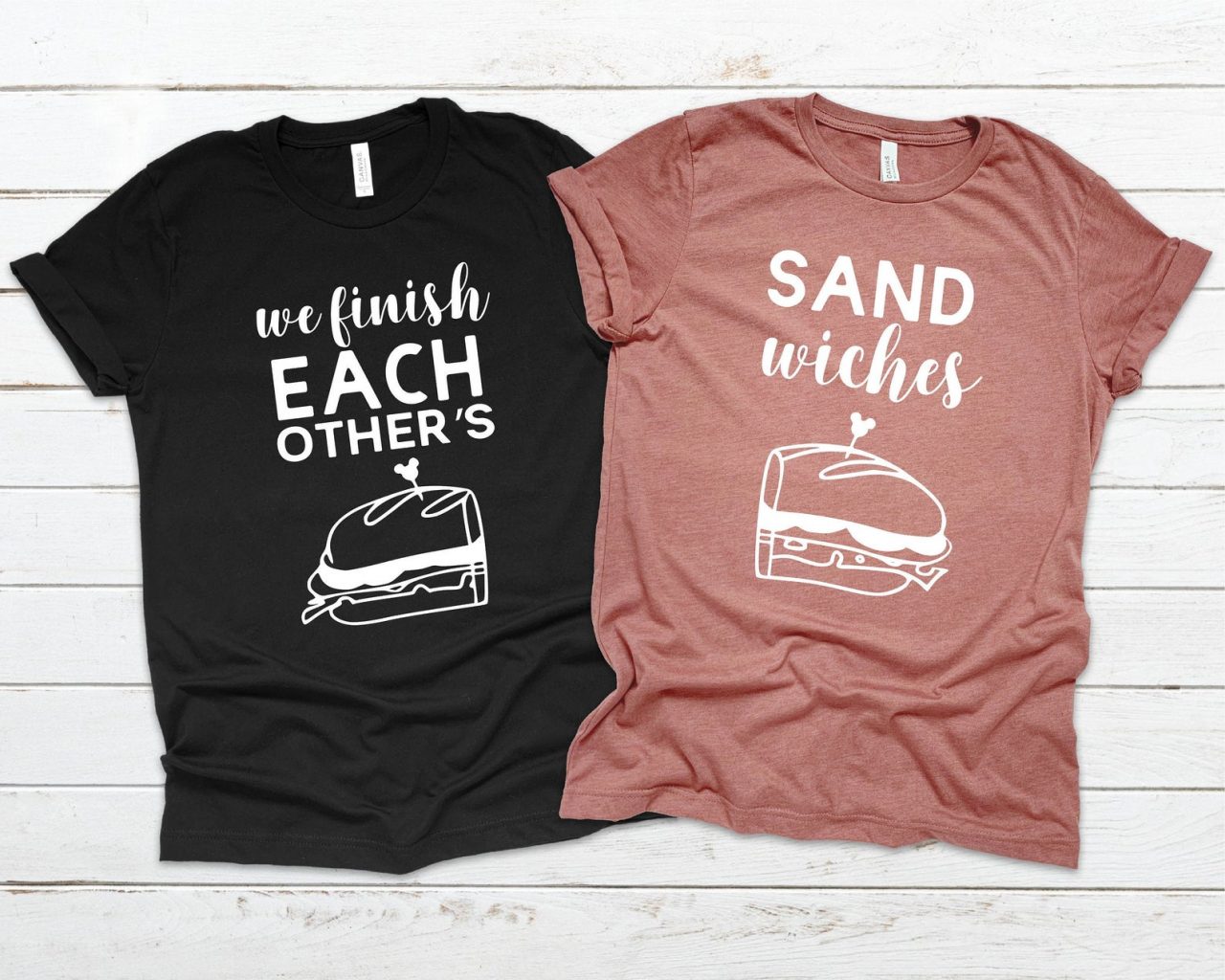 7. The Strongest Shirt Set
You saw where that was going, right? From the classic Hercules, we get this adorable, yet strong Disney couple shirt set that truly captures the story behind Hercules and Megara in the film. Besides, you can't tell me this one didn't make you laugh!
Much depicted in the film, Hercules truly would do anything for Megara, fitting to the caption, "her spirit is worth the world." In turn, Meg's saying truly speaks for itself.
This his and hers Disney shirt set is out of this world, and has many good reviews as well!!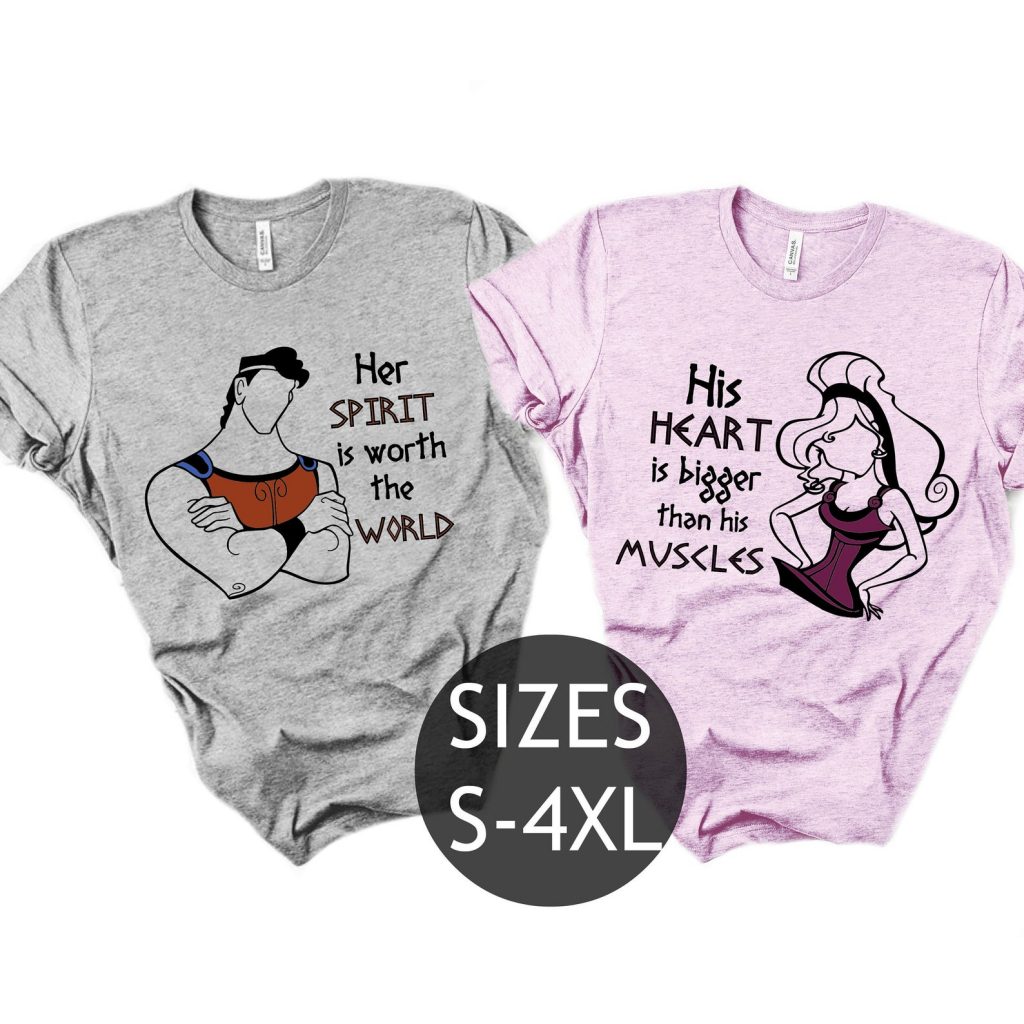 8. Just Married
For those who choose to honeymoon in Disney World, this set of Disney couple shirts is classy, yet cute at the same time! With customizable shirt and text colors, you can even follow your wedding theme with this his and hers "Just Married," matching shirt set!
The cool thing about this shirt set is the outline of Minnie and Mickey's heads resemble wedding rings, truly bringing a new meaning to Disney themed wedding! This shirt is also available in multiple styles, depending on what time of year you visit Disney World!
9. Favorite Place/People
There's nothing better than going on vacation with your significant other, family, friends, etc. and this Disney couples shirt set applies to all of the above! Whether you visit Walt Disney World with your husband and kids or your friends from college, these shirts are the perfect addition to your trip, especially when it comes to cute photo ops!
From the aesthetically pleasing handwriting resembling font to the Mickey Mouse balloons surrounding the castle, this shirt is picture perfect!
This shirt also comes in maroon, along with the white and black ones shown below!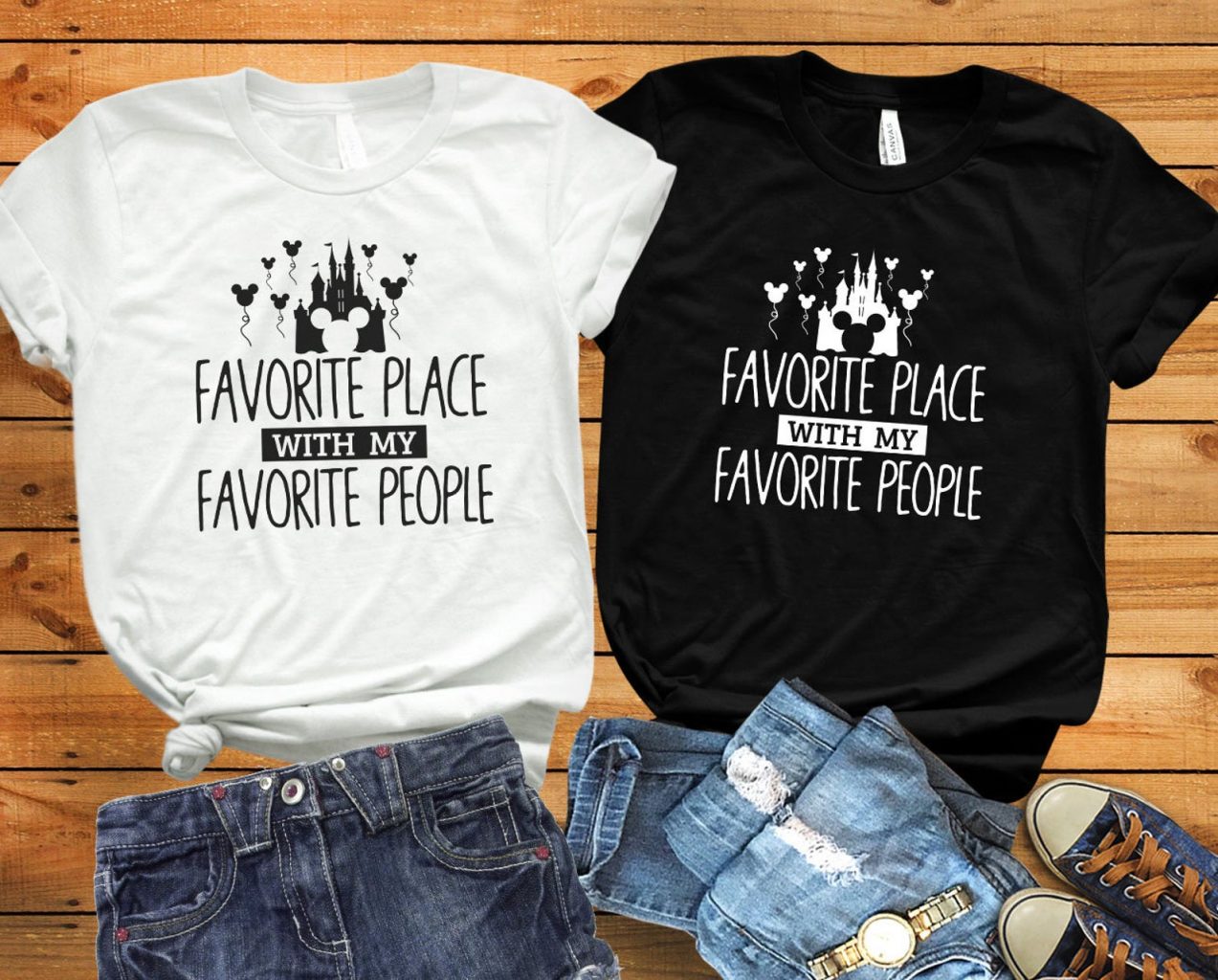 10. Happily Ever After
In true Disney fashion, this magical shirt emphasizes the true fairy tale ending, "and they all lived happily ever after." In addition, the beautiful outline of Aurora and Prince Charming only emphasizes the iconic text even more!
This makes the perfect shirt for anyone seeking out his and hers Disney couple shirts. These shirts come in a multitude of different colors, styles, and sizes, as well!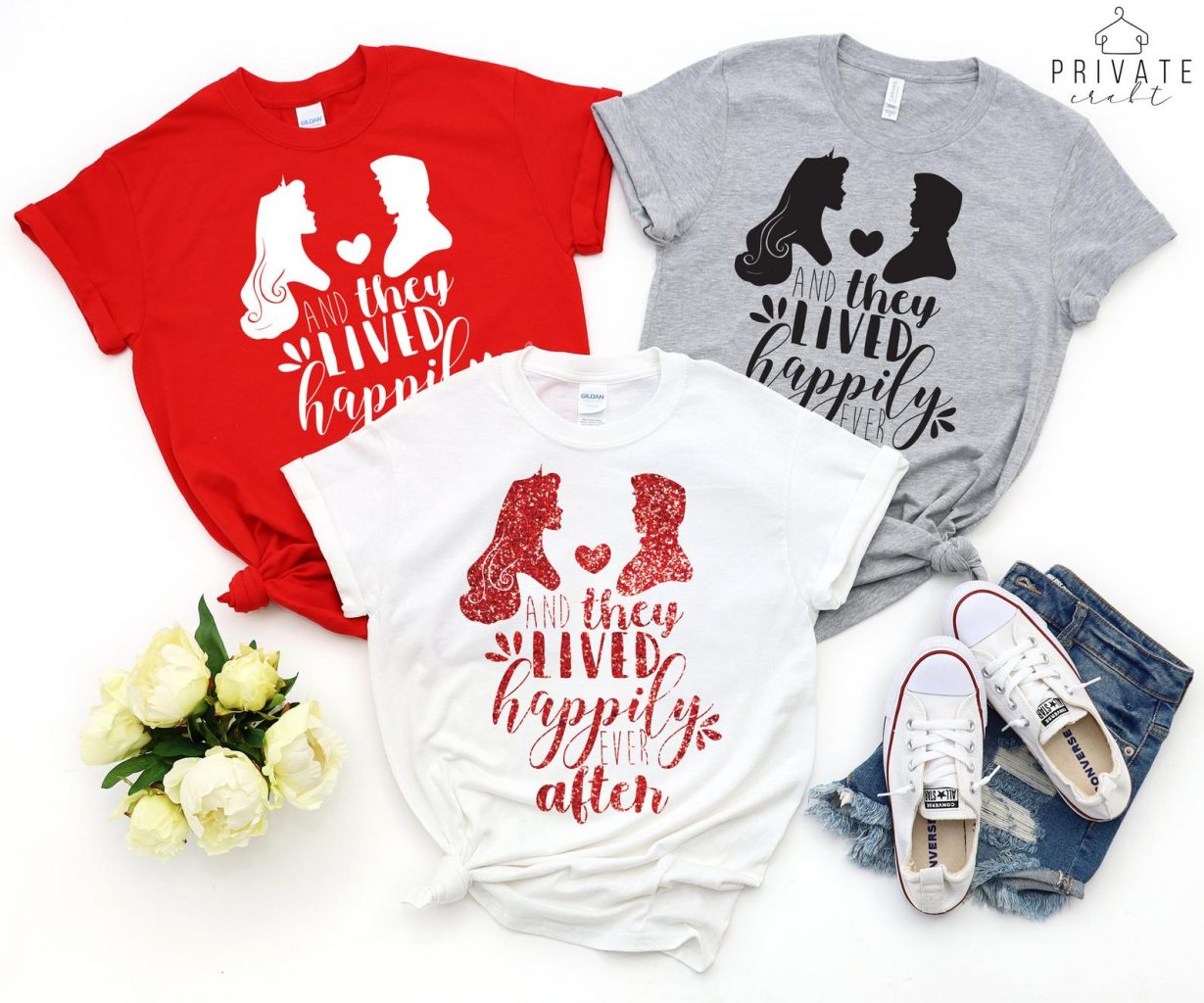 11. Stich Mischief
We all know and love Stitch, and what better Disney couples shirt pair to have him on than the all familiar disobedient, "I Don't Do Matching Shirts," one? Featuring Stitch and his SO Angel, these his and hers Disney shirts are idea for even the most stubborn couples.
Who can turn down a Stitch themed shirt, after all? In that case, this set also comes in sweatshirts!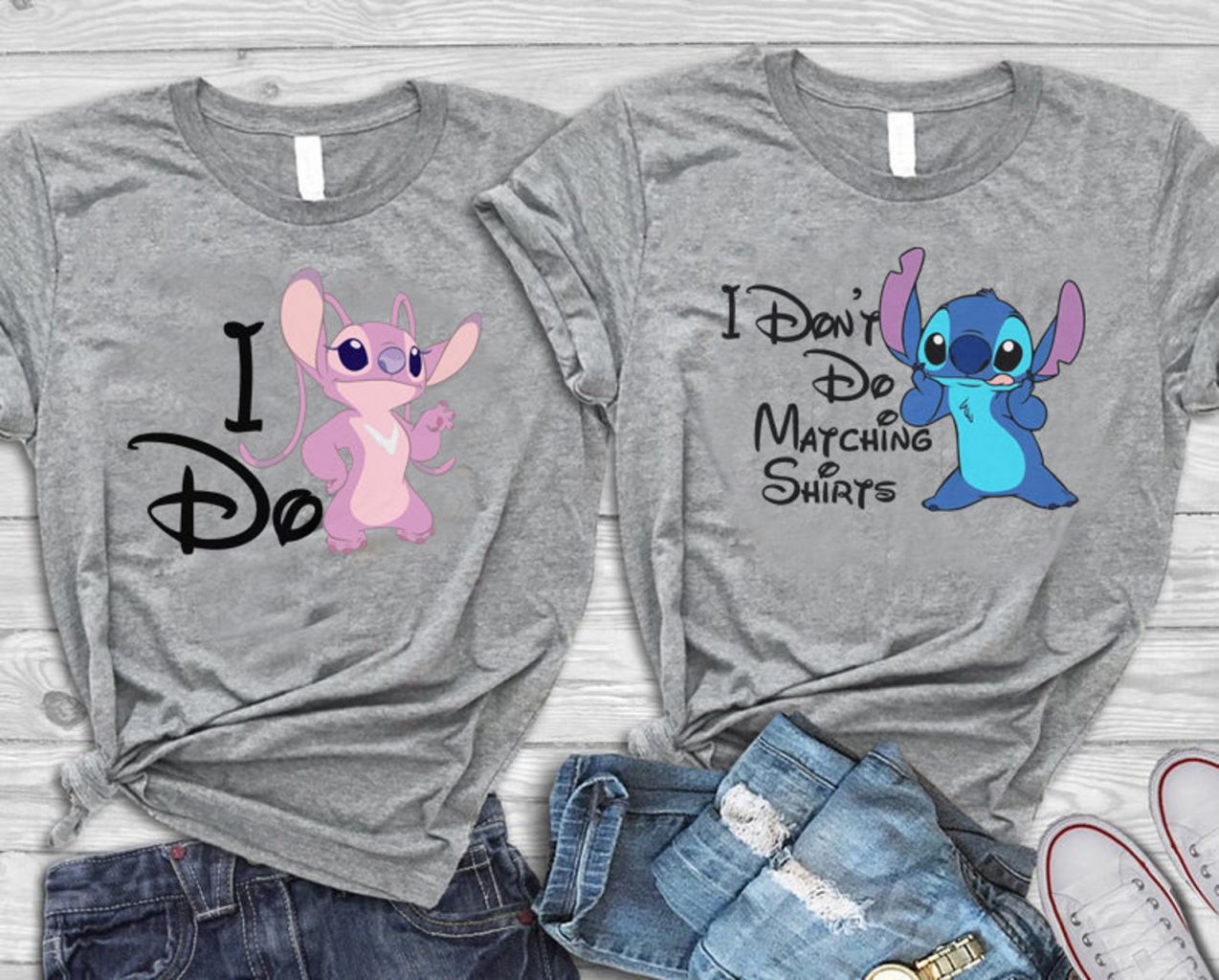 12. Sweet and Salty
How one can choose between a Mickey pretzel and one of the many delicious cupcakes you can get throughout the Disney parks is beyond me, even when it comes to t-shirts! It's a good thing they specify sweet and salty on this adorable Disney snack themed his and hers Disney shirts!
The great thing about these shirts is you can even request the Minnie bow to be removed so it is just two Mickey Mouse heads on the shirts, making them unisex! In addition, the color charts for these Disney couples shirts are the best I've ever seen! There's pastels, vibrant hues, and traditional black and white shirts, as shown below!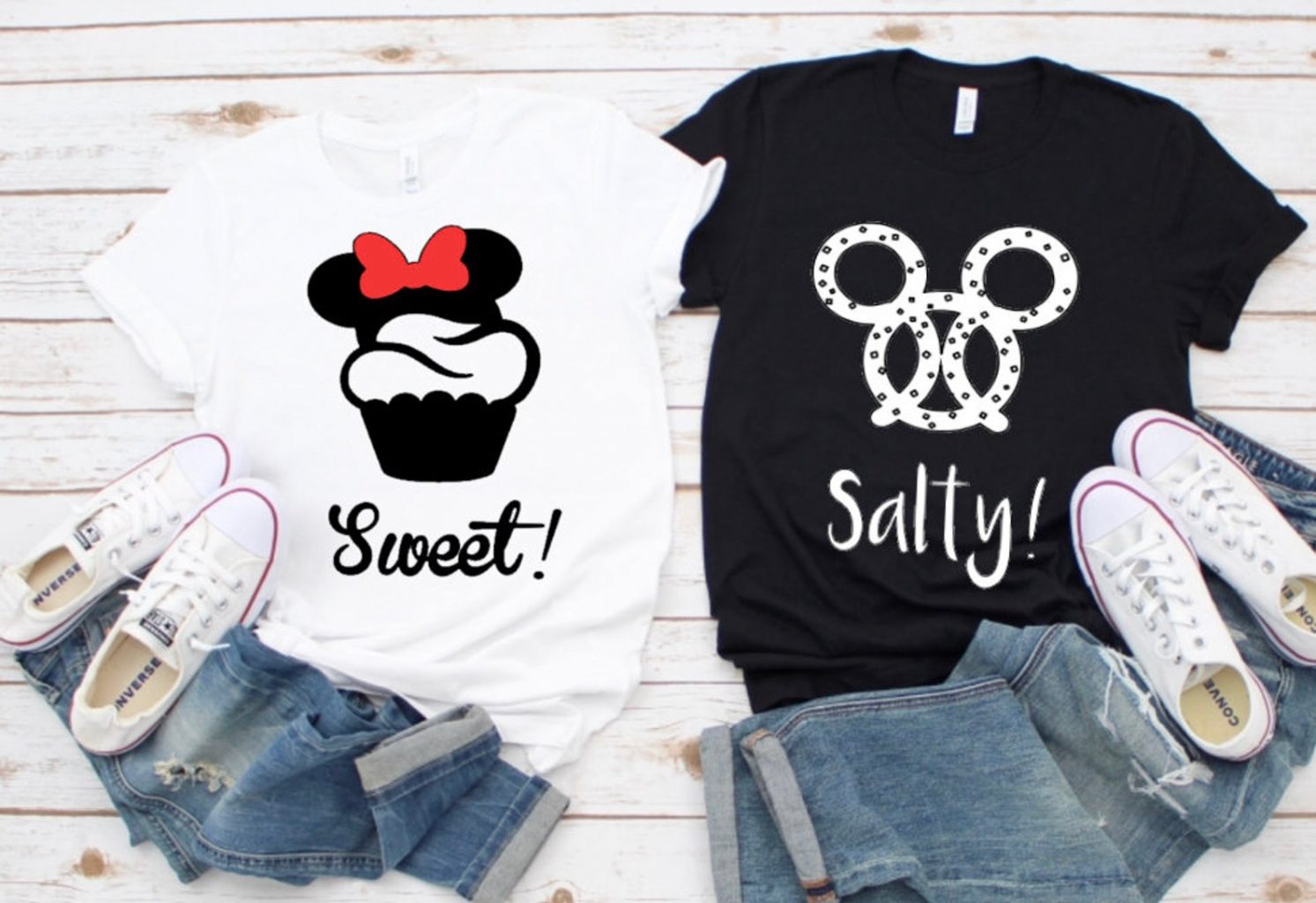 13. Dreamy Tangled Themed
If you, too, are thrilled to leave your tower and visit Walt Disney World, then this dreamy set of matching shirts for Disney couples is ideal for you! A take on the super catchy, "I Have a Dream," song from Tangled, this pair of Disney couple shirts are almost as magical as Rapunzel and Eugene themselves!
Though these shirts are available in a variety of colors as well, the purple shown below is so spot on from the movie, I wouldn't even change them!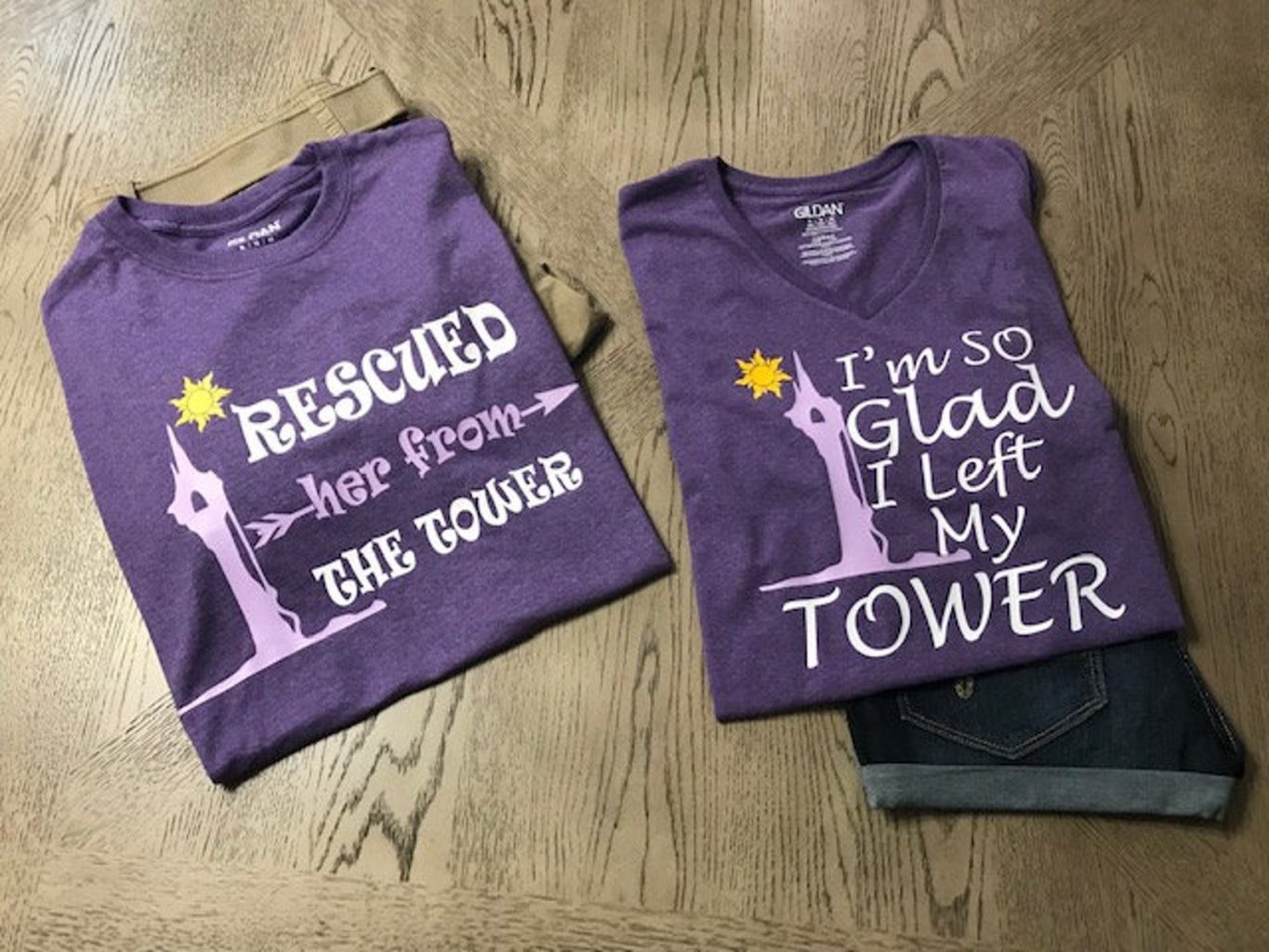 14. Favorite Prince/Princess
Though this Disney couple shirt duo is very popular in the Disney parks, it is still one of the cutest ones you can find! I especially love the use of the Disney font in this one, as well as the pop of color in each shirt! I also love this shirt idea when it comes to character meet and greets!
It seems as though Disney characters in the parks notice our outfits, especially when the character is from the movie you're referencing! With these Disney shirts for couples, you're sure to get a good reaction from the princesses, princes, and other characters you meet in your travels!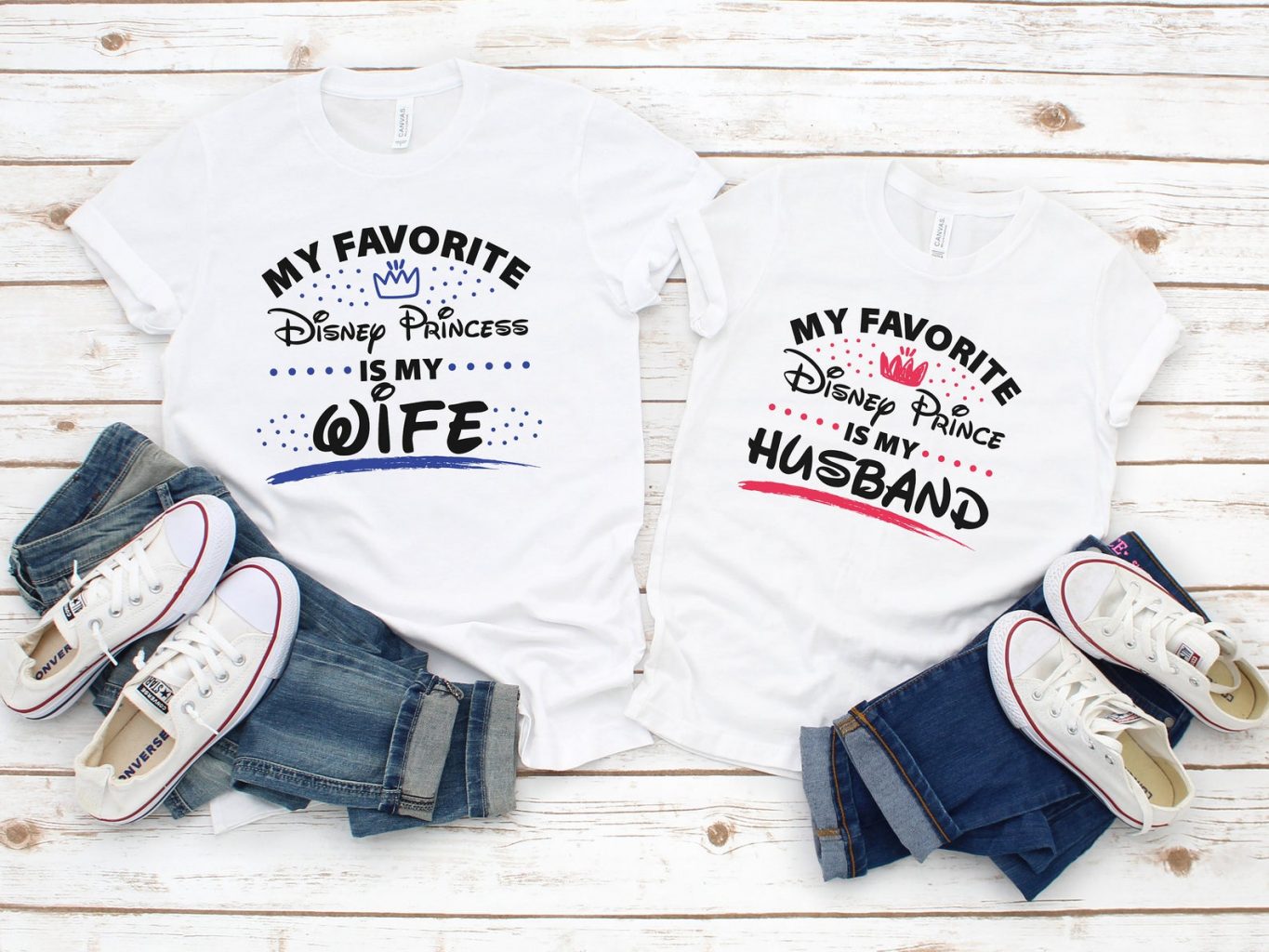 15. Beauty and the Beast
From the perfect color choice to the coordinating roses and books, these beautiful Disney couple shirts are a must for your next couples trip to Walt Disney World! The song Belle from Beauty and the Beast is such a classic and catchy tune, these his and hers Disney shirts are sure to be a hit!
There are so many spots these shirts would fit right in at Disney's Magic Kingdom, like Gaston's Tavern, Be Our Guest, and even at the iconic Gaston and Lefou fountain (in front of Gaston's Tavern)! You can even wear these Disney shirts for couples as you meet Gaston, and see what he thinks of them!
The great thing about Disney couple shirts is there are so many! Also, they are super easy to find! From Pinterest to Etsy, you're sure to find the perfect his and hers Disney shirts to make your trip even more magical!!