When planning your next trip to Disney World, the shoes you choose should be an important part of that! Picking the right shoes for Disney can make or break your trip. You will be walking anywhere from 15,000 steps up to 30,000 steps every day – and that can be devastating in the wrong shoes.
We've tried a lot of shoes out there, and here we've compiled our list of the best shoes for Disney World. Here you'll find shoes for everyone in your family, including the littles! We've included everything from sneakers to sandals, and even some shoes you don't want to pack!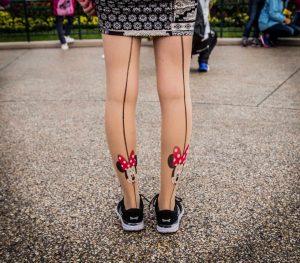 Best Shoes for Disney for Women
We all know that there are tons of walking involved at Disney World, but sometimes we want to look cute and stylish as well as not killing our feet. How do you find the perfect shoe that is comfortable for walking all day and still goes with most of the outfits you've packed? Check out the shoes on this list, and hopefully, you'll find your next favorite park shoe!
Best Women's Sandals for Disney
Birkenstock Arizona Sandal A shoe that has been around forever and has been long-loved by travelers is this sandal. So many travelers choose these sandals for their durability and comfort, especially since Birkenstock designed them to be an all-day walking shoe. These are great shoes for Disney since they are breathable, great for all-day comfort, and come in tons of sizes and colors.
If you're planning on taking sandals to Disney World, these can definitely be a great choice because you can choose a neutral color to go with most of your clothing, and they will be a comfy choice walking around a large park. But, maybe don't wear these on a wet day or on water rides if you choose the leather or suede ones!
Vionic Women's Amber These shoes are a must-have for comfort and all-day support. Since Vionics have footbeds designed by podiatrists and have been recommended by doctors, they are great for those with foot pain and issues. They are high in quality, and provide all-day comfort for walking around the parks.
While these may not be the cutest shoes Vionic offers, they are still quite stylish and loved by many. These sandals offer tons of support, hugging the foot and offering a secure ankle strap. They are also fast-drying and easy to clean, which can come in handy when it comes to unpredictable Florida weather!
Vionic Farra Sandal Like the other Vionic sandals, the Farra sandal is supportive yet stylish. These are very feminine and come in LOTS of different colors, as well as they are pretty affordable. These offer all-day comfort and are a great choice for standing and walking around large theme parks.
These are high-quality sandals, and definitely make it easier to look cute while still protecting your feet in Disney World. Either of the Vionic sandals are great choices of shoes for Disney, and we know you won't be disappointed if you get these for your next trip!
Crocs Women's Patricia Sandal Thankfully Crocs have come a long way since their inception and these cute sandals are proof! The Patricia sandal is a great choice for someone who prefers a slip-on sandal, and these still offer arch support and tons of comfort. The footbed of the shoes even has massage pods, which keep your feet cozy throughout the day.
These sandals can come in handy for water rides and unpredictable wet days in Florida too. Crocs are so easy to keep clean and won't absorb water when they get wet. Besides being great for wet days, they are lightweight and come in lots of different colors!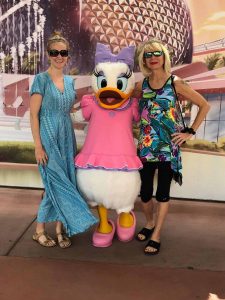 Vionic Farra Sandals (left)
Best Women's Flip Flops for Disney
Columbia Women's Kea II Sandal These Columbia flip-flops are a wonderful choice for wearing in the parks since not only are they affordable, but they are lightweight, comfortable, and provide all-day comfort. They hold the big toe for extra comfort and support, keeping them from slipping off like normal flip flops will. The Kea II sandal offers great traction and stability, so they can be a good choice for walking around the parks and maybe helpful on the different types of cement and walkways you may encounter.
Even though these aren't as stylish as some of our other choices, these sandals are a better choice for the sportier ladies and those who care about comfort. You can also get these in lots of colors, making them a good choice when it comes to packing shoes for Disney World.
Vionic Women's Tide Sequins Toe Post Sandals These are the flip flops to get for your next Disney trip! They are supportive, comfortable, and hug your foot, making them some of the best flip flops you can buy. They have a flexible mid-sole, offering great arch support where you need it.
Thanks to the sequins on the strap, these look a little dressier and snazzier than the other sandals on our list. These lightweight flip flops are super cute, and will get you through a long day in the parks in style!
Vionic Bella II Sandals These flip flops are another choice for walking around the parks that can't be beaten! The cute little Bella II flip flops come in lots of colors and patterns, and the little bow detail between the toes makes these so cute and feminine. Another great thing about these sandals is that they look a lot less "orthopedic" than some of the other comfy flip flops.
The flip flops are easy to clean, and very durable, making them a great choice for shoes for Disney. It definitely helps that they are super lightweight, great for those with high arches, and help reduce stress on knees and ankles when walking all-day.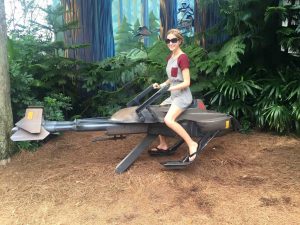 Vionic Tide Sequin Sandals
Best Women's Sneakers for Disney
Brooks Women's Launch 4 Sneaker If you are more of a sneaker girl when it comes to park-wear, not only do we understand, but we have great recommendations like these sneakers from Brooks. They are super lightweight, and the mesh on the sides make them great for hot days in Florida. They are a more flexible and durable sneaker and support your foot without feeling hard or restrictive.
These are more of an athletic style sneaker and are great for hard surfaces like cement. They also come in lots of colors, giving you several options for outfits. These are also fairly affordable and won't set you back the way other sneaker brands will.
Adidas Women's Lite Racer Shoe Adidas makes a lot of comfortable shoes, and the Lite Racer sneaker is a great one for walking around the Disney parks all day. These are quality, durable shoes from a well-known brand, and they are fairly affordable for a good sneaker. These also have a great athletic look, without looking too much like a running shoe.
If you're looking for a breathable, minimalist sneaker, then these are for you. They come in several colors and multiple styles, so the options are pretty much limitless. The insides of these are made from Cloudfoam and offer a pillowy-soft cushion for your feet, helping you be comfortable from rope drop til park close.
Skechers Breathe Easy Faithful Sneaker Skechers are known for their comfort shoes, and these are a favorite for walking around the Disney parks! These slip-on sneakers are lightweight, and offer a memory foam insole and mesh uppers, making them a cooler option to wear on a hot day. The fit of these is much more relaxed than some other sneakers, allowing for feet to move and breathe during a long day.
While these aren't the most stylish of sneakers, the slip-on aspect makes them easy to wear and you can't beat the flexibility of them. They're a great, affordable choice if you're looking for a slip-on, reliable sneaker for Disney.
Skechers Breathe Easy Opportunity Sneaker These Skechers are just as comfortable as the other ones, but offer a little more breathability. They are a soft fabric shoe, and have air-cooled memory foam inside. They're a super flexible, comfortable shoe perfect for walking all day long.
The slip-on casual nature of these makes them a great choice for shoes for Disney, and the flexibility and shock-absorbing middle will keep your feet happy. Another reason these are great for trips to Disney is that they are machine washable – you can toss them in at the end of your trip and you won't have to worry about messing them up while you're in Disney.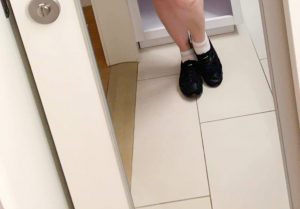 Best Shoes for Disney for Men
Just like women, men that go to Disney parks want comfortable, stylish shoes that can get them through long days. Some men prefer slip-ons and slides, while others like traditional sneakers and athletic shoes. We've reviewed a little of both and have picked out the best for your next trip!
Best Men's Sandals for Disney
Columbia Techsun Slide Athletic Sandal Every man loves a good slide sandal, but not all of them offer the best support – but these from Columbia do! These are super comfortable, offer great arch support, and are an easy choice to throw on while visiting the parks or water parks. These are also contoured inside to your foot and helps them from sliding around in it all day.
These are a great choice for wet days in the parks, water rides, and water parks. They won't get ruined by water or rain, and Columbia considers them to be an "amphibious" shoe. We think you can't beat the durability and comfort of these shoes – especially in unpredictable weather!
Merrell Men's Terrant Convertible Sandal If you're looking less for a slide and want a more supportive sandal, this is it! Merrells are known for being a comfortable, durable, and a high quality brand, and these sandals are no different. They are super breathable and offer great ankle support as well.
These offer very durable traction, making them great for the different terrains at the parks. You can quickly adjust the straps, and these won't get ruined by the wet weather either. Definitely take a look at these if you want a great sandal to wear in the parks.
Vionic Men's Tide Sandal Just like the Vionic sandal for women, the men's option is probably the most comfortable flip flop you'll ever try. These are designed by podiatrists, and relieve pain in the back, feet, and ankles – making these a great choice for those with foot issues or frequent pain.
These sandals hug your arches, support the natural shape of the foot, and feel like the exact opposite of the cheap flip flops we are all used to. Made of lightweight rubber, these flip flops are great for the ever-changing weather, and are easy for packing!
Best Men's Sneakers for Disney
Merrell Men's Tetrex Crest Wave Sport Shoe Designed for hiking, these sports shoes are a great choice for long days walking around huge theme parks. They are breathable and comfortable, with mesh sides that will keep your feet cool all day long. They are also super durable and offer great traction while walking.
Just like many of the other shoes for Disney we've recommended, these won't let you down in wet weather. They are designed to dry quickly, thanks to the open mesh sides. These should definitely be a consideration for days where you may get caught in a pop-up storm!
Nike Men's Tanjun Sneakers Most Nike shoes, especially the lightweight ones, are great for wearing in the parks – just like these Tanjun sneakers. They are made of lightweight mesh, making them super breathable for hot days. They are also quick-drying in wet weather.
These offer a cushioned footbed and midsole, making them hug the foot just enough for that all-day comfort. They are a simple, modern sneaker that doesn't look too much like an athletic shoe and will go with just about any outfit. We think these are a great, affordable sneaker from a well-known brand, and these can be a good go-to shoe for your next trip to Disney!
Skecher's Men's Equalizer Sneaker 2.0/3.0/4.0 Regardless of which generation you get of this shoe, all of them offer great lightweight comfort. They feature Skecher's air-cooled memory foam insoles, which keep feet cool and cozy all day long. These look a little more athletic than some other Skecher's but are still a modern, minimalistic shoe.
Thanks to the memory foam inside, wearers say these feel like walking on air, and these shoes conform to your foot. But, be warned, these are not the best sneakers to get wet and are much better suited for drier park days.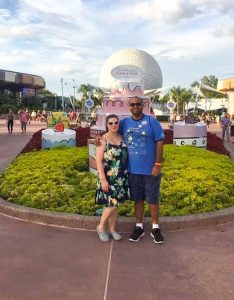 mens and women's Skechers
Best Kid's Shoes for Disney
We know that wearing uncomfortable shoes all day long is one of the worst feelings and can make a person quite cranky – and kids in Disney are no different. They deserve comfortable, durable shoes that they will want to wear all day long and keep them from having aching feet.
Sometimes the cute character shoes they want to wear aren't always the best choice, but we have found some fun, playful shoes that will keep your littles from getting blisters and keep them on the move!
Best Kid's Sandals for Disney
KEEN Seacamp II CNX Sandal Lots of parents swear by these sandals for their kids not just for the parks, but for every day. They are super durable and comfortable, providing lots of arch support. These are great for walking all day long and have a lot of traction so little ones won't slip or fall in these.
Another reason kids and parents love these is because they won't slip off! They will be on all day long, rain or shine. Also, they are great in rain and wet weather and are fairly quick drying.
Birkenstock Rio Sandal Just like the adult version, these Birkenstocks are designed for walking and are often chosen by travelers. The shoe conforms to the foot and has an ultra-supportive footbed that's made of skin-loving materials. These are a great choice for walking around all day long, and keeping their little feet happy!
The sandals also come in lots of patterns, colors, and materials so every kid will find their favorite. The ankle strap offers extra support and will keep the shoe from slipping off during the day, but it's still an easy shoe for a tired little one to get off at the end of a long day.
Best Kid's Sneakers and Closed-Toe Shoes for Disney
Nike Revolution 5 These sneakers are picked by parents as the best for their kids over and over and have almost 5 stars on Amazon. That's because they are super lightweight, have a soft foam interior, and are extremely comfortable to wear. The shoes are stretchy and breathable, making them great for walking around a theme park on a hot day.
Another great thing about these shoes is that they come in tons of colors, as well as lots of sizes for kids of all ages (and the adult ones are great too!). The traditional laces make these easy to tighten and ensure they are secure on kids' feet. Nike shoes are typically comfortable and great quality and these are a great choice for kids' shoes for Disney.
While Crocs may not be the prettiest shoes, they are super practical for long park days. They are lightweight, comfortable, and breathable. The back strap will help little kids to keep them on all day, and it won't matter if they get wet on a water ride or during a pop-up rainstorm.
Kids will also love the vast amount of colors these come in, as well as the character options for them. You can't wrong with these little rubber shoes for long days, and your kids will appreciate how comfy they are!
Worst Shoes for Disney
Since you know you're going to be walking several miles every day during your trip to Disney World, you need to make sure that you're only wearing shoes that will be kind to your feet!
Heels, wedges, pumps, or any kind of women's dress shoes are a no-no for Disney. These could be the worst things you could possibly wear in Disney World, and will definitely be a pain by the end of the day. Heels will cause your feet to be in a weird position all day, as well as they will catch on the different terrains and curbs around the park.
Cheap flip flops or other shoes without support are also a bad idea for wearing in the parks. You need shoes that are going to support your heels and arches, and cheapy flip flops aren't going to cut it. Not to mention, the straps could break, you could slip on puddles or wet rides, and they could be a total disaster!
This should go without saying, but don't wear shoes that you haven't worn before. A trip to Disney World isn't the right time to break in new shoes. You want to make sure you're wearing shoes you've already broken in, and ones that you've worn before so that you know if there are any spots that rub on our feet or if they hurt after walking in them for a long time.
Walking around Disney World can get a little messy too – there's dirty cement, pop-up storms, food that gets spilled – so don't wear overly expensive shoes, shoes that you absolutely love, or all white new shoes! Wear shoes that are either easily washed or that you don't care if they get dirty. Messes are inevitable in Disney, and you don't want to get too upset if you ruin a nice pair of shoes.
The last don't for shoes in Disney has to do with kids' shoes. Please don't let them wear cheap, plastic play shoes or dress shoes around the parks all day. We know they are adorable and may go with their Disney outfit, but these will kill their feet and both you and the little ones will be unhappy by the end of the day! There are plenty of cute shoes out there that they will enjoy wearing and will be kind to their little feet!
How to Avoid Blisters When Walking Around Disney
When walking several miles a day you may think that blisters are inevitable, but we know a few ways to make sure you don't have achy, blistered feet by the end of your vacation!
Like we said earlier, may sure you break in your shoes prior to your trip, or wear shoes you've worn before. Wearing new, unbroken in shoes is a surefire way to get some blisters.
Also, do some walking leading up to your trip. Wear the shoes you plan on bringing so that way you know how they feel walking long distances, as well as you'll be used to walking a lot during the day.
If you're a person who loves socks, make sure you wear lightweight socks that don't make your shoes too tight or make your feet too hot. It's hot enough in Florida, and anything thicker than a thin cotton sock or those little shoe liners can be too much.
Bring moleskin or band-aids for places on your feet that you know rub in certain shoes. If you know that you have issues with rubbing even with your best and most comfortable shoes, make sure you bring some reinforcements to keep those areas comfortable.
Use an anti-chafing balm for irritated spots. These little sticks look like deodorant, and they are great for the backs of heels or tops of feet, as well as between thighs, when you are walking all day long. Body Glide and MegaBabe are the most popular and some of the best to bring with you on your trip!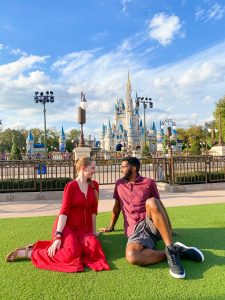 We know that there's a lot of walking to be done at the Disney parks, and wearing uncomfortable shoes could ruin your trip. We hope that you'll find some new favorite park shoes among those on our list, and hopefully will make your feet happy! These tips and tricks should make walking around the parks a lot more comfortable, and a lot easier.