Disneyland is an absolutely magical place to visit and everyone wants to make the most out of their time in the happiest place in the world, and that includes knowing which Disneyland restaurants to eat at. You want every detail to be amazing, and what's more important than having a happy belly to make the rest of the trip great? But how do you know which Disneyland restaurants are the best and worth a visit while you're at the park?
The Disneyland restaurants are numerous and it can be a bit overwhelming to try and decide where you want to eat, especially if you only have a short time in the park. That is why we have come up with this list to show you the best places to eat at Disneyland. Our list does include both the Disneyland and California Adventure parks as well as Downtown Disney and the dining options at the hotels – so even if you don't have a park ticket you can still enjoy some magical Disney cuisine. We have also highlighted a few of the worst restaurants to eat at so you can avoid having a disappointing dining experience while you are at Disneyland. Disneyland restaurants, as well as Disneyland in general, can get very busy so take a look at our Disneyland crowd calendar here so you know what to expect when you visit.
Get a FREE printable 30/60/90 day Disney countdown by joining our private Disney Facebook Group and share your photos and ask for tips and tricks!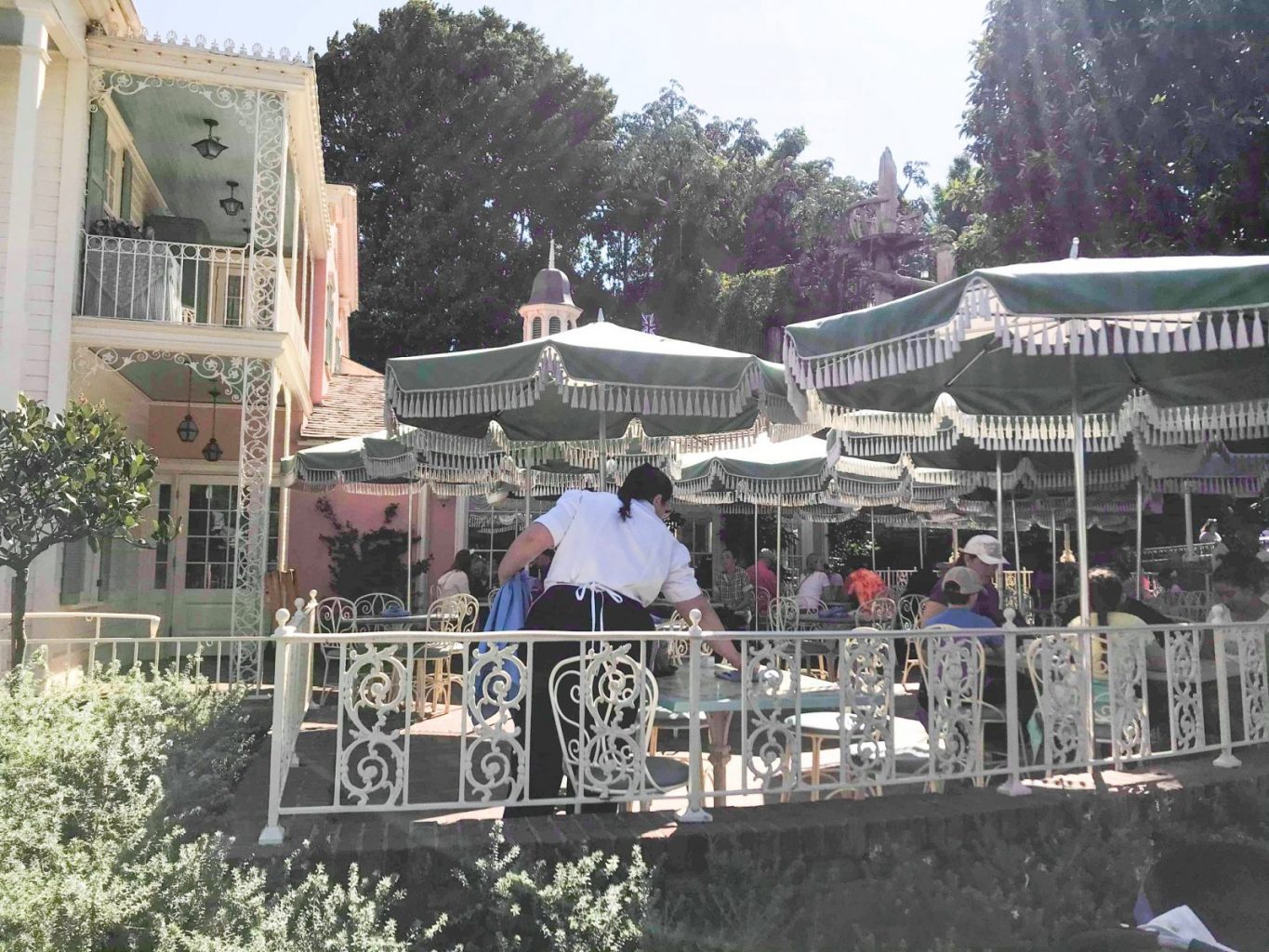 21 Best (And Worst!) Disneyland Restaurants You Won't Want To Miss
Best Disneyland Restaurants
Red Rose Taverne
Inspired by the tale of Beauty and the Beast, the Red Rose Taverne is among the very best places to eat at Disneyland. Located in a quiet corner of Fantasyland, not only is the interior absolutely stunning but the food is utterly beautiful! Designed to transport you to the little provincial town that Belle so wishes to leave, this quaint Disneyland restaurant really makes you feel like you are tucked away inside a wonderful story book. The low lighting and dark wooden furnishings really create a magnificent atmosphere in which to enjoy some fantastic cuisine, inspired by the French.
Open for breakfast as well as lunch and dinner, the menu holds host to a wonderful selection of dining options, all with a slight French twist. Choices include the Beast's Breakfast Burger or the Chicken Sandwich a la Lumiere, to more classic French meals such as the Slow-cooked Beef Poutine, a firm favourite which is definitely worth a try. The menu also has some more classic meals such as a cheeseburger or salad so you can find something for everyone in the group to enjoy here. The Red Rose Taverne also serves a delicious Grey Stuff Gateau, straight out of 'Be Our Guest' and it's true what they say – it is delicious!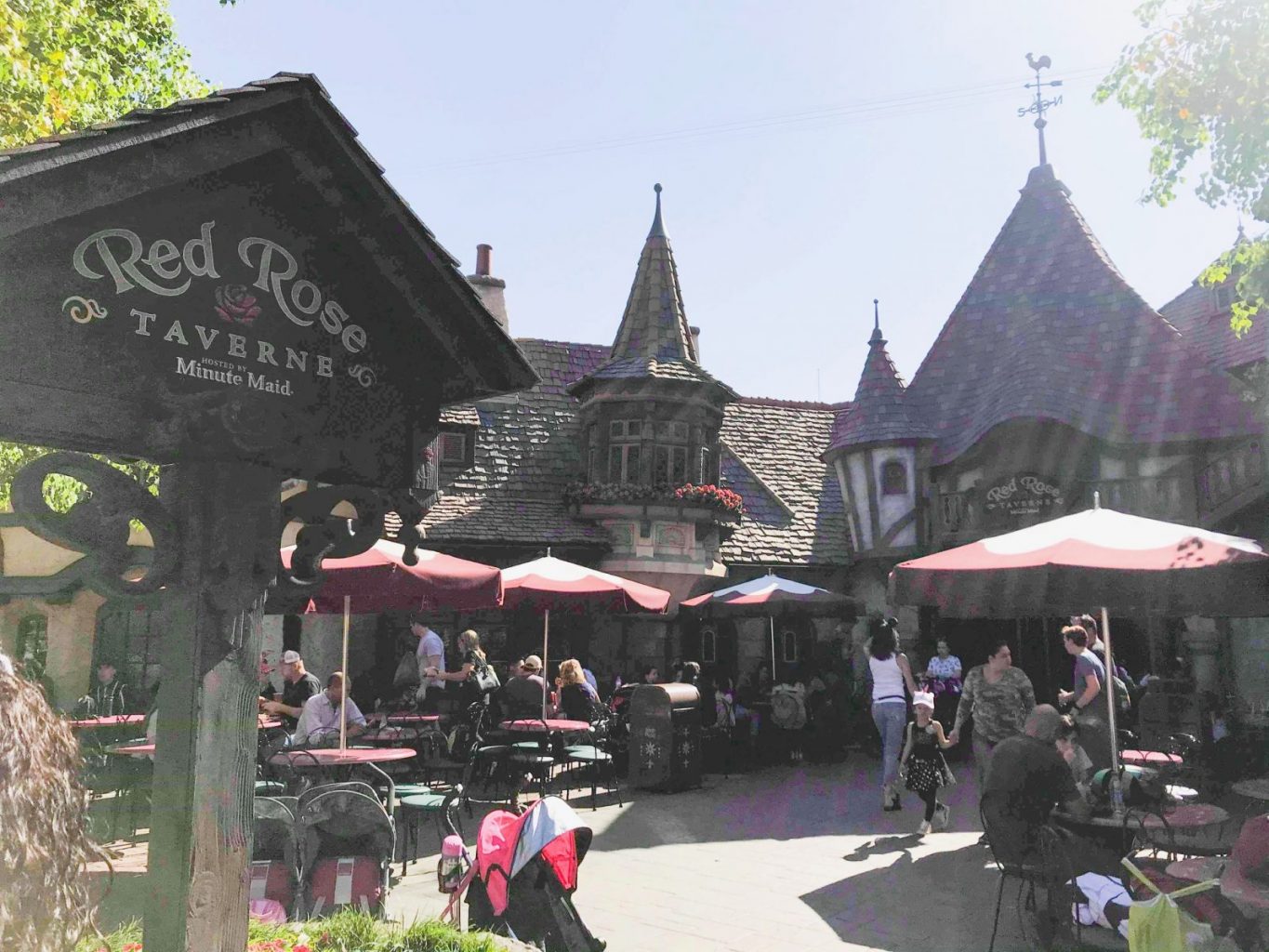 Alien Pizza Planet
Pizza Planet is well-known to all Disney fans, some variation of its truck or logo appears in every single Disney-Pixar movie! So what could be better than experiencing the real thing when you're having dinner at Disneyland? Alien Pizza Planet is in Tomorrowland and is based around the aliens in Toy Story as Toy Story is where the Pizza Planet first appears in Disney movies. It's super spacious inside and the food is amazing to boot, making it a top Disneyland restaurant in our eyes!
You can help yourself to a serving of pasta or slice of pizza and head to the counter to pay. This makes it a quick place to grab something good to eat and be off again pretty shortly. You also have the option of ordering a full pizza that will be made to order for you to collect. This could be better value for money if there are a few of you all wanting the same thing as the prices are pretty steep for an individual slice of pizza. There are also salads available if you're looking for a less carb-loaded meal, and they have some cool desserts like the alien macaroon. But whatever Disneyland food you get, it's sure to be out of this world!
River Belle Terrace
River Belle Terrace can be found in Frontierland, right on the banks of the Rivers of America. It's a charming Disneyland restaurant offering proper southern hospitality with great views out across the park. As a table service restaurant, it's best to make a reservation before you head to River Belle Terrace. It also offers Fantasmic! dining packages which allow you to watch Fantasmic! from a special designated seating area after enjoying a three-course dinner in the restaurant.
The inside is befitting any southern belle with its pastel shades and white furniture and chandeliers. It's a very calming space and really lights up with the sun streaming through the many windows. River Belle Terrace also serves magnificent American cuisine making it one of the best places to eat in Disneyland. The Burnt Ends Grilled Cheese is absolutely phenomenal as well as the mac & cheese that they offer. It's a real American treat with great food and great views. Absolutely do not miss this one.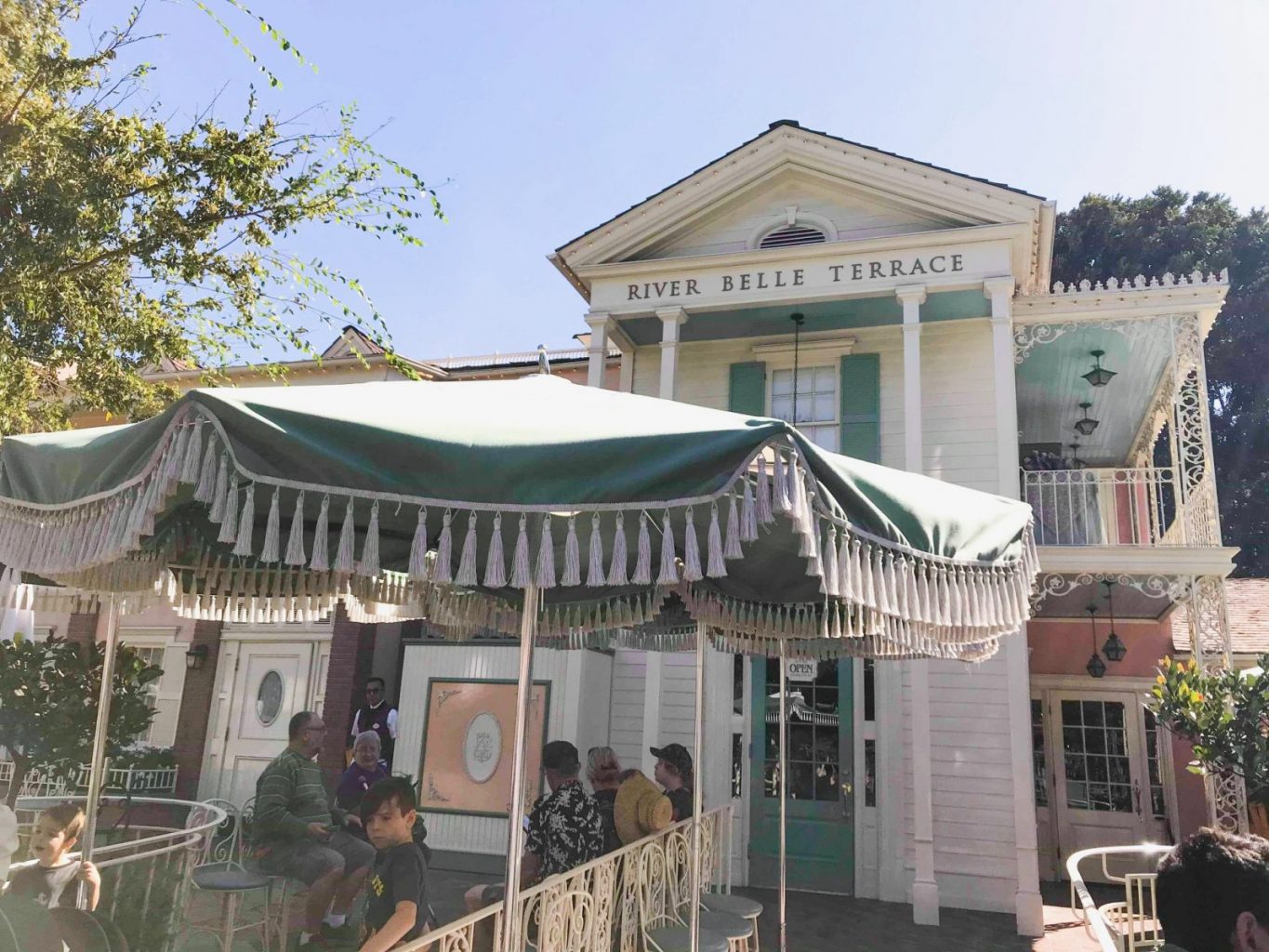 Docking Bay 7 Food and Cargo
Docking Bay 7 is a must visit for all Star Wars fans! Galaxy's Edge is a completely immersive environment even those who aren't huge fans of the franchise will be absolutely blown away. Docking Bay 7 is no different. You will genuinely feel like you are eating on another planet – and that planet makes delicious food! Following on from the incredible design of everything in Galaxy's Edge, Docking Bay 7 is designed to look and feel like a working cargo bay – even offering seating inside open cargo containers.
The breakfast menu is severely limited but the Pot Roast available for lunch and dinner is a real winner! Let the food take you away in this incredible Disneyland restaurant – you will not be disappointed. Even the names on the menu fit with the theme of the restaurant, you'll truly feel like you're in a galaxy far far away.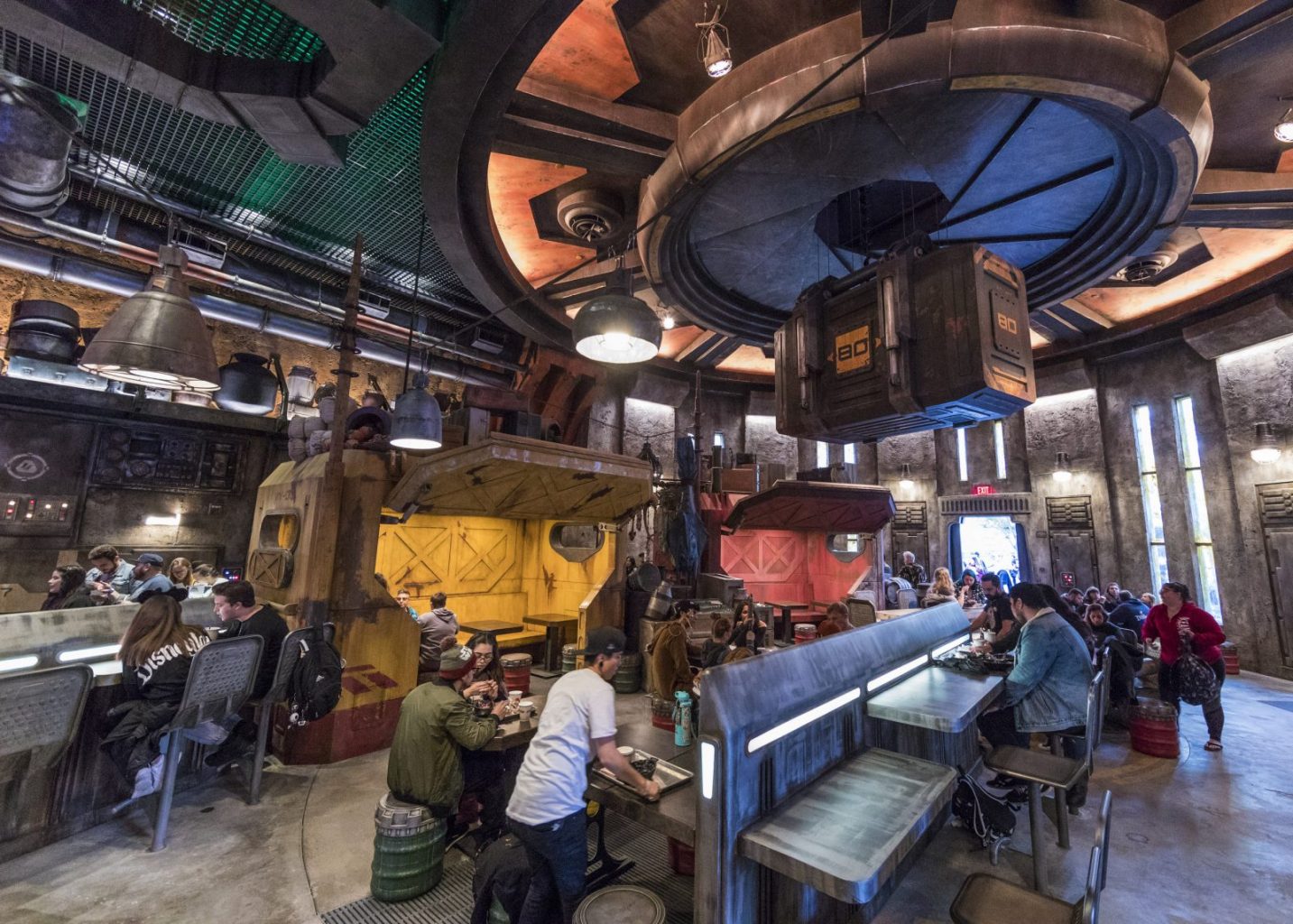 Hungry Bear Restaurant
Located in the heart of Critter Country, Hungry Bear offers hearty meals for the wild animal in you. Set on a slightly elevated platform, Hungry Bear affords some beautiful views across the Rivers of America. Watch the boats sail past while you enjoy cook-out style burgers in a supremely tranquil location. There is also a seating area downstairs so you can stay in the shade on those hot Californian days. It also means there is plenty of seating, so you are sure to be able to grab a table.
Hungry Bear is a great place to have a relaxing sit down while you eat some great Disneyland food. They cook up some absolutely fantastic burgers and the fries are perfect. You can place a mobile order here so you can have a take a break and sit and watch the river pass by as you wait for your food to be cooked. The burgers are cooked to perfection with a proper wilderness feel and the Honey-Spiced Chicken Sandwich has a real kick to it.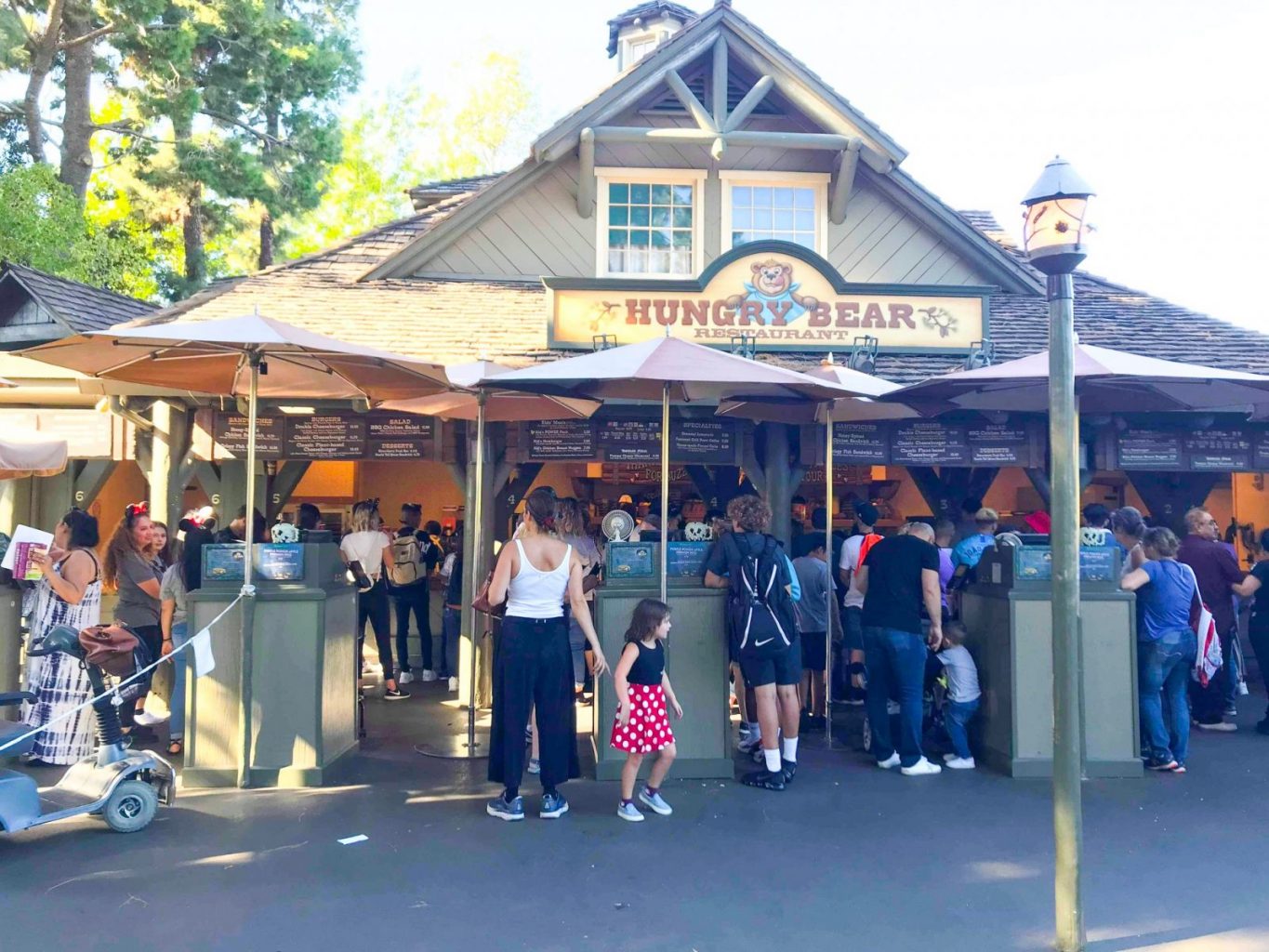 Cafe Orleans
Eating at Café Orleans is like stepping back in time, in more ways than one. Not only is the food classic New Orleanian evoking the 1920s, but the inside is decorated with vintage Disney artefacts from when Walt created the park. It's a real treat to be surrounded by so many fascinating relics from the beginning of Disneyland whilst eating in one of the best restaurants in Disneyland. There is also a fantastic outdoor eating area with adorable parasols to keep you cool in the sun. It does get very busy at Café Orleans though, so reservations are recommended.
If you do visit Café Orleans then we urge you to try the Monte Cristo sandwich, a staple favourite at Café Orleans and with us too. It is a deep-fried, cheesy masterpiece and one of the reasons this is one of the best places to eat in Disneyland. The beignets are also incredible but messy to eat so be prepared!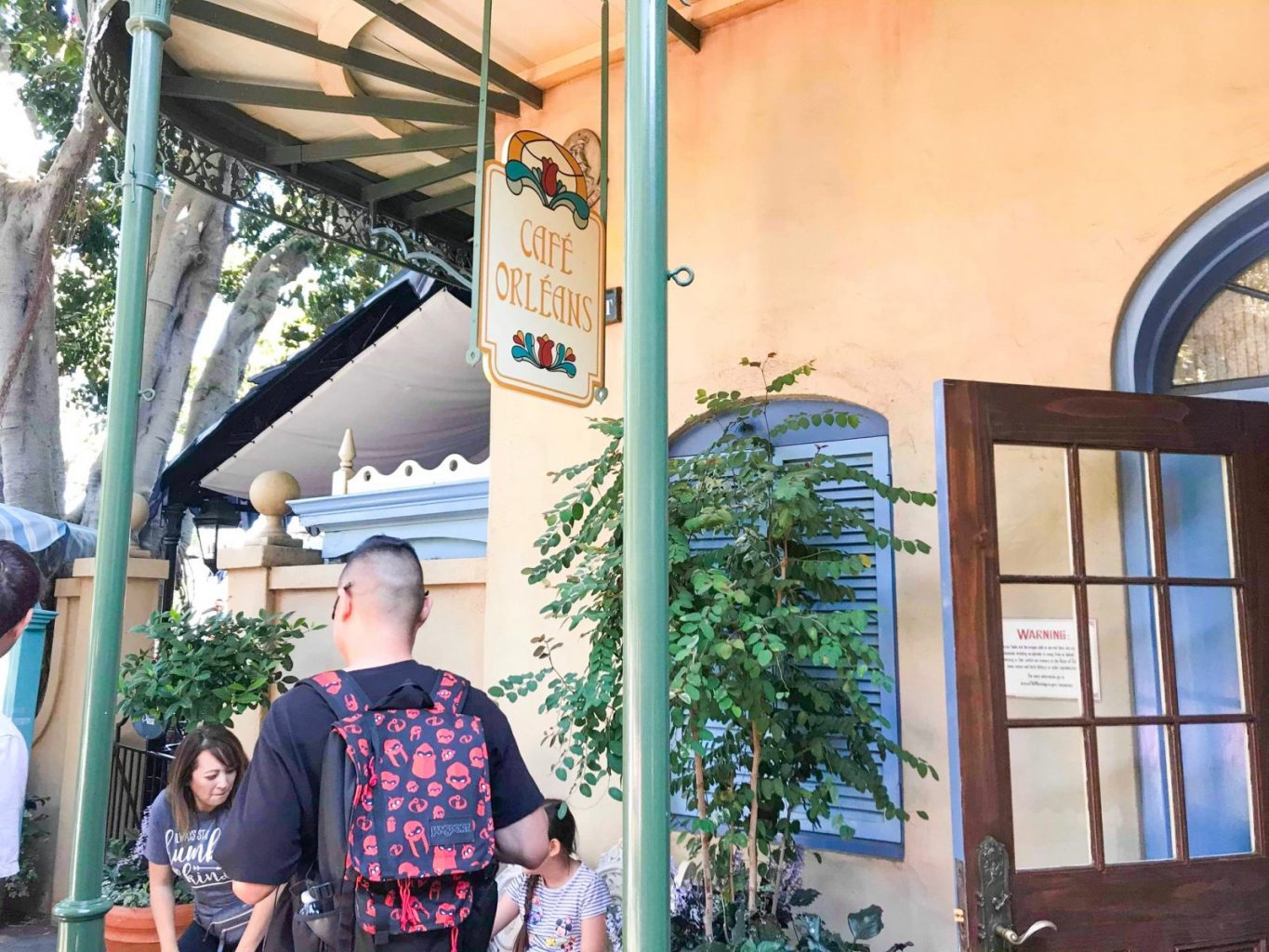 Bengal Barbecue
Opposite the entrances to the Indiana Jones and Jungle Cruise rides, Bengal Barbecue is a great place to enjoy an adventurous quick meal. Surrounded by jungle and tiki inspired decorations, Bengal Barbecue boasts great food in a great location. Become immersed in jungle culture as you sample what Bengal Barbecue has to offer the hungry adventurer.
On the menu are a selection of jungle skewers of differing spiciness and meats so there are lots of great options to try and taste, and a few vegetarian options as well. It's also very reasonably priced for Disneyland dining so you can sample a few different options on the jungle menu without breaking the bank. The pomegranate piranha lemonade is also a great option on the menu and really quenches even the thirstiest of adventurers.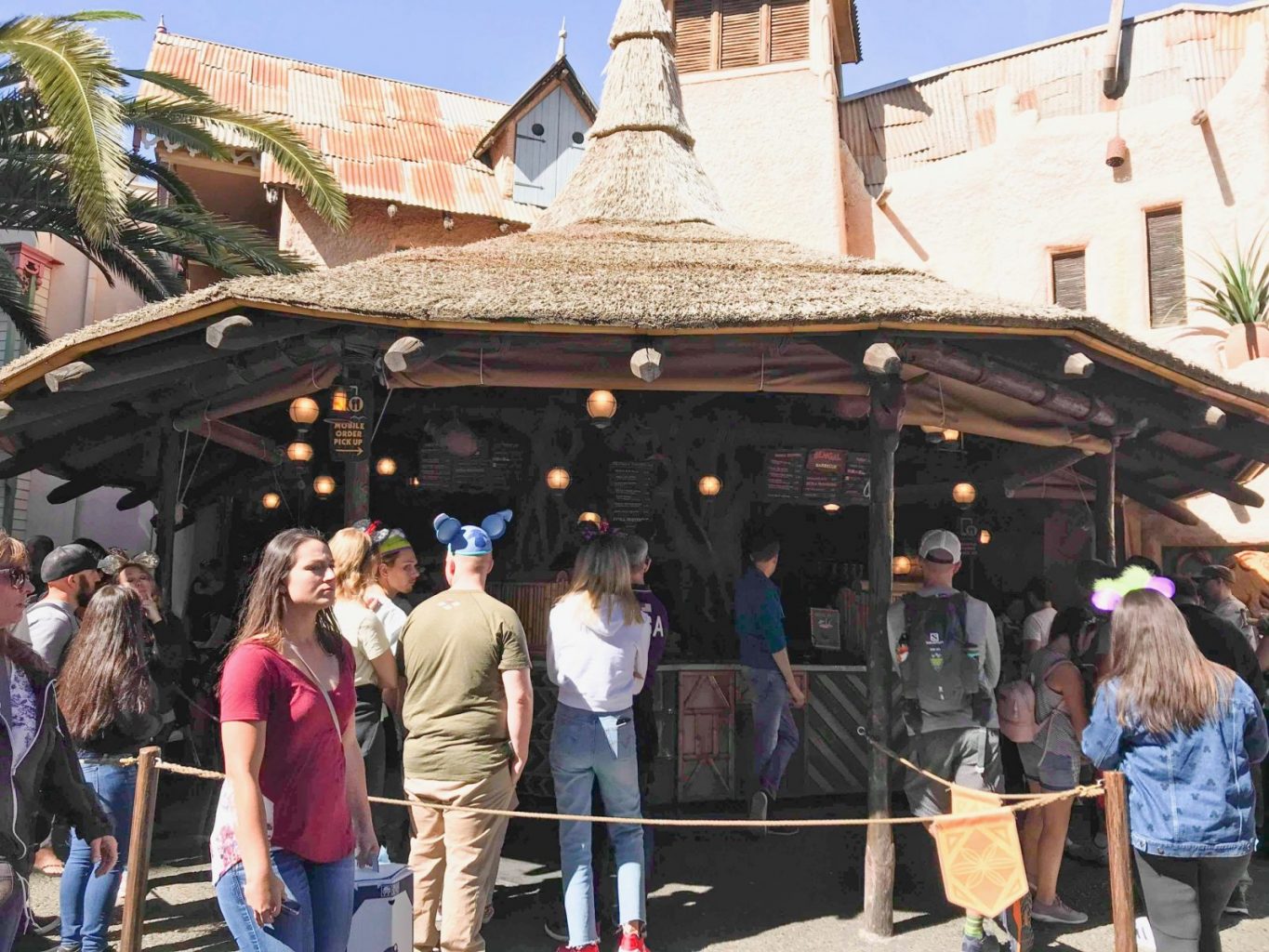 Worst Disneyland Restaurants
Galactic Grill
Galactic Grill can be found in Tomorrowland and is best to be avoided when you are looking for the best places to eat in Disneyland. Whilst there is ample seating and is generally a quick option that does offer mobile ordering, the food here is subpar at best. The food is served cold and incredibly greasy and not up to the same standard as many of the other Disneyland restaurants. This is especially true as there are now much better Star Wars themed restaurants available inside Galaxy's Edge.
Best Disney California Adventure Restaurants
Flo's V8 Café
Flo's V8 Café is by far our favourite Disney California Adventure restaurant. It is a Route 66 inspired diner selling incredible food in a stunning space. We recommend going to Flo's around dusk when all the neon lights of Cars Land all turn on, illuminating the place and creating an amazing atmosphere. Dining at Flo's you get to feel part of Cars as you eat your food on the gas station forecourt.
Despite advertising coolant and oil, Flo's actually sells great quality American comfort food to its human visitors. Flo's Famous Fried Chicken is a good way for anyone to refuel and is among the many great choices on the menu for your dinner at Disneyland. The classic shakes are also incredible, the added "Road Gravel" makes it all the better!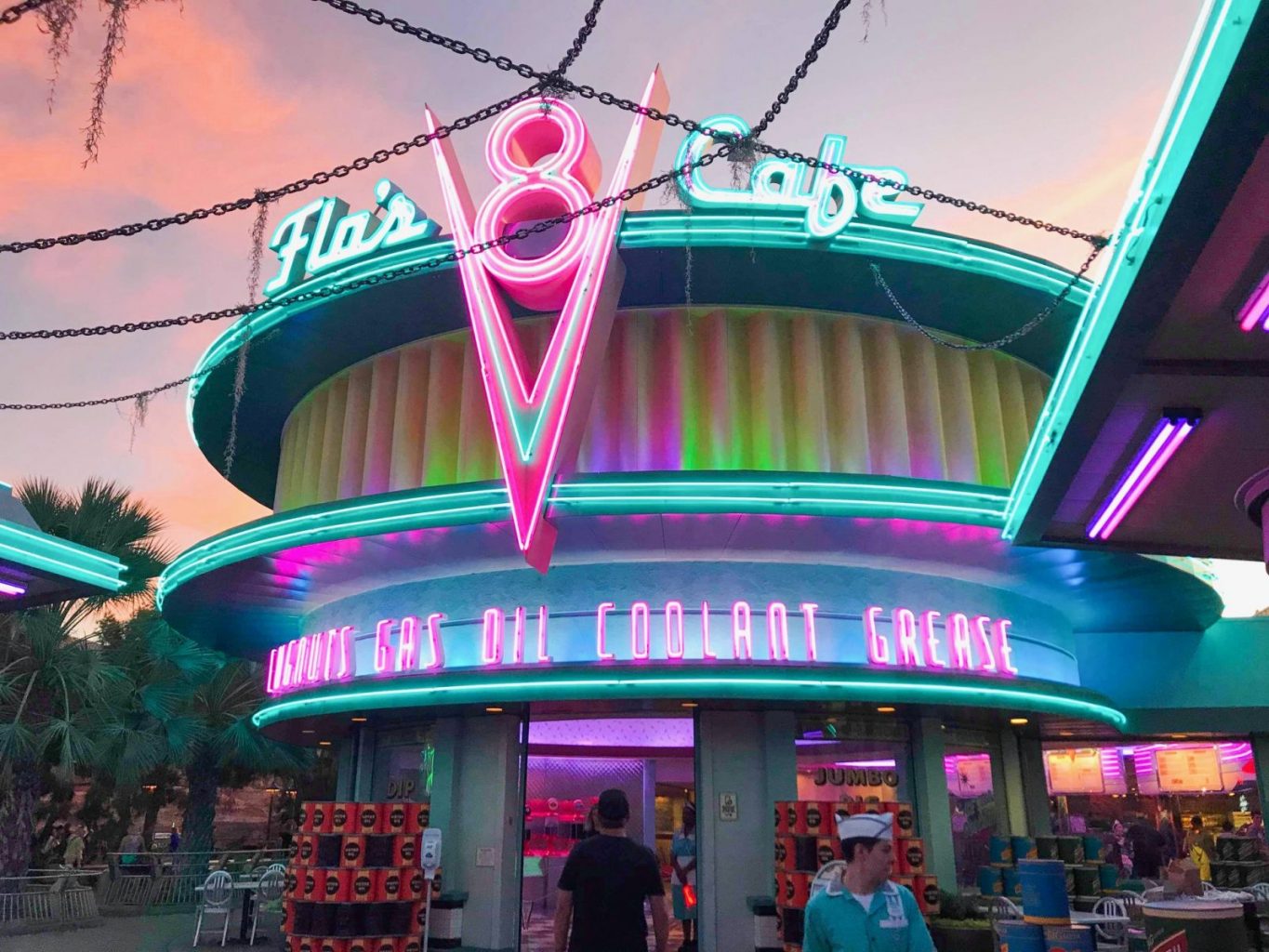 Cozy Cone Motel
Also located within Cars Land, Cozy Cone Motel is a series of enormous traffic cones that provide a variety of tasty food for guests. Unlikely to be driven into by any haphazard driver, the different cones each provide a different food – ranging from ice cream cones to mac and cheese cones. Cozy Cone Motel is a real novelty and it's a great place to take amazing pictures. The queues for the different cones can get quite long though so plan accordingly when heading over to this Disneyland restaurant.
There are five different cones that make up Cozy Cone Motel. Cone 1 sells churros, Cone 2 is where you can find ice cream, Cone 3 serves chilli or mac and cheese in bread cones which are very tasty! Cone 4 has pretzel bites and bagel twists on offer and Cone 5 is home to popcorn. Even though it is mostly snack foods, it's definitely worth a visit when you're looking for the best dining in Disneyland California Adventure.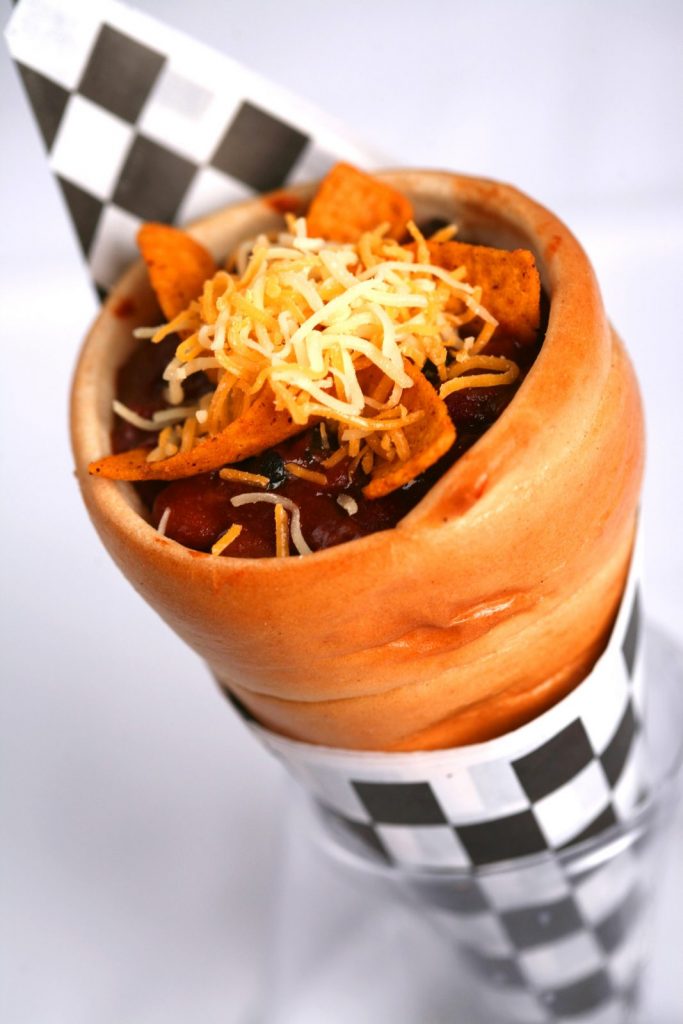 Award Wieners
This Disneyland California Adventure restaurant wins a place on this list largely for its name. It's one of the most cleverly named Disneyland restaurants and serves up some great hotdogs to boot. Located in Hollywood Land of California Adventure, Award Wieners serves up a wide variety of hotdogs in a "supporting roll". It's located on the main street of Hollywood Land so there isn't a great deal of room for the queue so beware of that when you're in line as it can become quite crowded on the sidewalk there. Award Wieners does accept mobile ordering though, so you can avoid the queue altogether if you do that.
There are a range of different hotdogs available, known as the Stars of the Show on the menu, so you can find ones to suit all tastes. There is even a plant-based Philly Dog so vegetarians are catered for. The fry toppers are also a great way to add a little something extra to that supporting cast – the BBQ crunch topper is particularly good!
Carthay Circle Restaurant
Carthay Circle Restaurant is one of the fancier restaurants in Disneyland and as such is on the more expensive side. That being said it is also one of the best Disneyland restaurants. Enter the Golden Age of Hollywood in a restaurant that is an exquisitely detailed large-scale reproduction of the Carthay Circle Theatre – one of the most famous movie houses in Hollywood. For movie buffs, it's a great way to experience the now demolished theatre and enjoy fantastic contemporary dining at the same time.
The menu has a great range of meals to tempt you, all impeccably cooked and sustainably sourced. The signature fried biscuits are a wonderful starter to any main course and thoroughly recommended. The lunch and dinner menus do differ and both offer superb selections so check the menu before you go to avoid disappoint – however no matter what meal you have there it is definitely one of the best Disneyland restaurants.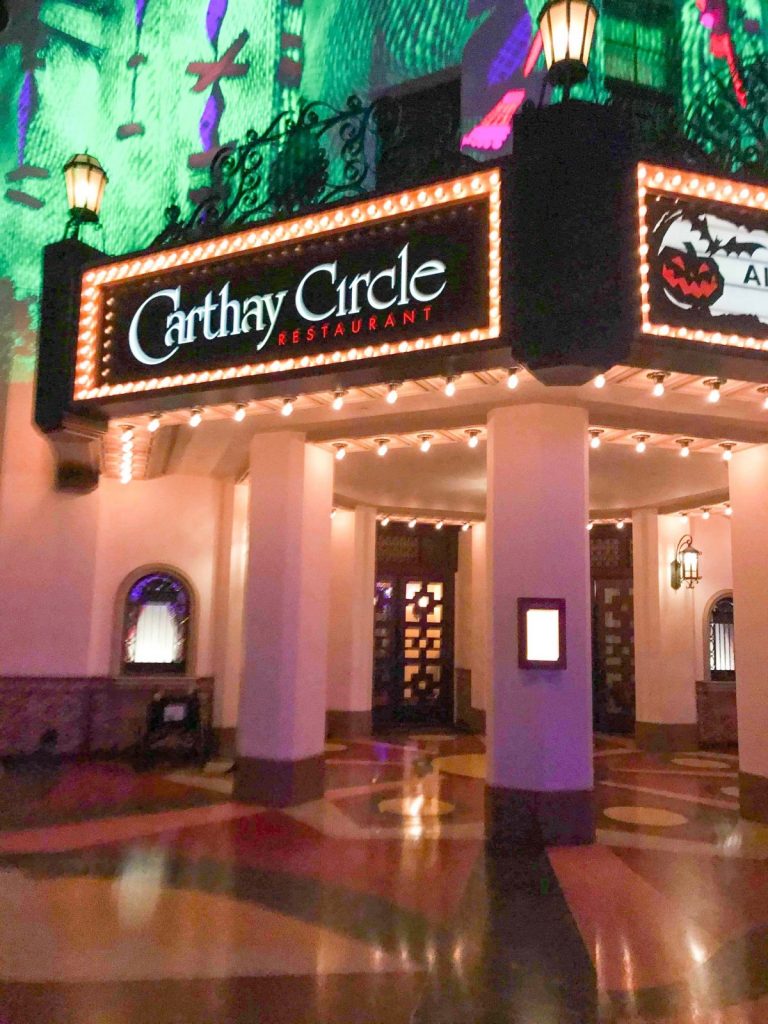 Clarabelle's
There is a Clarabelle's in both Disneyland and California Adventure, and both are worth a visit. The California Adventure shop features on this list as it is a true ice-cream parlour rather than the kiosk that is available in Mickey's Toontown in Disneyland. Clarabelle's in California Adventure is a proper old-fashioned ice-cream shop complete with art-deco tiles and stained-glass windows. Tucked away on the side of Buena Vista Street it can be easily missed but it's actually one of the best places to eat at Disneyland.
Clarabelle's offers you the chance to customise your very own ice cream bar right from start to finish, including the option to have every single topping on offer with "The Whole Herd" option. They also offer a huge range of different sundaes and cones, so you'll have no trouble finding something for everyone to enjoy. There is also the option to have your ice cream served in a souvenir kitchen sink!
Worst Disney California Adventure Restaurants
Boardwalk Pizza and Pasta
Located in Paradise Gardens Park, Boardwalk Pizza and Pasta is a hard pass from us. Its location is one of the only bonuses regarding this Disneyland restaurant because Paradise Gardens Park is home to the mariachi bands and the musical celebration of Coco. These make for a pleasant dining experience however the food at Boardwalk Pizza and Pasta is not the best.
There is a choice between pasta, pizza or salad at this restaurant but the choices within these are very limited and not of the best quality. The restaurant strives to be Italian with a Californian twist but mostly fails to be either cuisine. There are much better options elsewhere in the park and you can still use the seating area in order to enjoy the music.
Best Downtown Disney Restaurants
Tortilla Jo's and Taqueria
Lifting its sombrero to you from the heart of Downtown Disney, Tortilla Jo's offers phenomenal Mexican cuisine in a bright and spacious cantina. Spread over two floors with balcony seating, there is plenty of space to enjoy beautiful Mexican food accompanied by live music throughout the evening. You can have your guacamole made tableside exactly how you like it and enjoy it with a range of south-of-the-border foods. It can get very busy so reservations of recommended, especially further into the evening.
If you're looking for something a little speedier where reservations are not necessary, then the Tortilla Jo's Taqueria is for you. The Taqueria attached to Tortilla Jo's offers made to order burritos and tacos with amazing toppings and fillings to choose from. It's quick and easy to make your order and then it's ready to eat. Mexican food at its finest in these two Disneyland restaurants.
Click here to see the menu for Tortilla Jo's. Click here to see the menu for Taqueria.
Black Tap Craft Burgers and Shakes
One word. CrazyShake. Whilst you are visiting Disneyland, it is an absolute must to try a CrazyShake from Black Tap. These can be ordered from the CrazyShake Window so you don't need to have a sit down meal in order to get one. However, the burgers are also incredible so if you're looking for some good Disneyland dining, Black Tap has a lot to offer.
There is a huge selection of burgers available on the Black Tap menu and many more add-ons and extras which means you can have your burger exactly the way you want it. And they are all delicious! The different house sauces also add on even more to the already great food and make it a brilliant dining experience in Disneyland.
Best Disneyland Resort Hotel Restaurants
Disneyland Hotel
Steakhouse 55
Steakhouse 55 is one of the most upscale restaurant in Disneyland, serving prime steak and afternoon teas in a fine-dining setting within the Disneyland Hotel. Your surroundings are opulent as you tuck into perfectly cooked steak and beautiful wine accompaniments in what can only be described as a club atmosphere. This does come with a hefty price tag but if you're a lover of good steak it might just be worth it.
There is a wide selection on both the breakfast and dinner menus and all of it is exquisite. Steakhouse 55 prides itself on being the best Disneyland dining experiences and its head chef Marcel St. Pierre has decades of experience catering to Disneyland guests, including at the illustrious Club 33.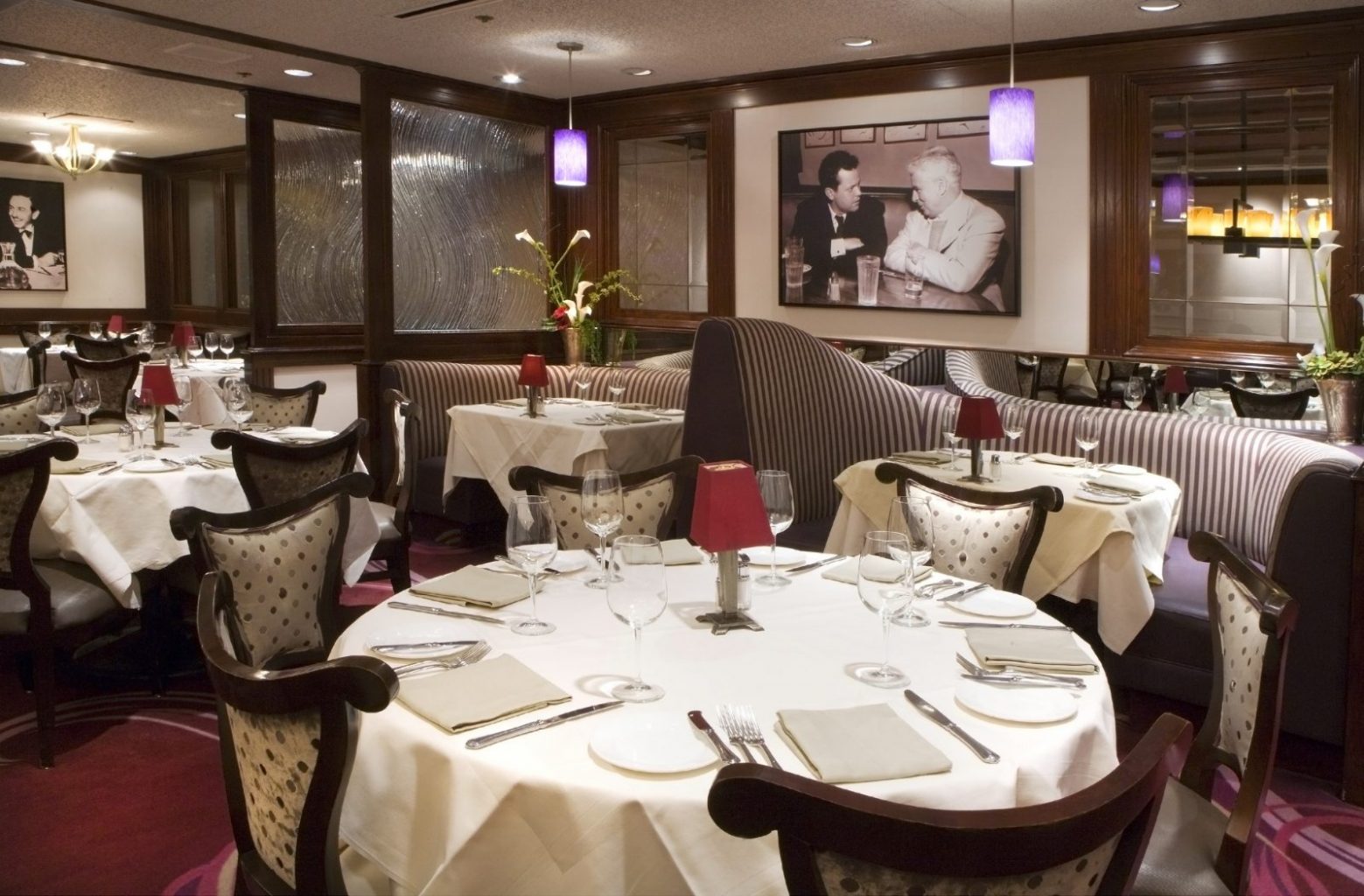 Goofy's Kitchen
Not quite on the same grand scale as Steakhouse 55, Goofy's kitchen offers family dining and buffet style food with the chance to meet Goofy and some of his pals. Unlike some of the other character dining experiences, Goofy and his friends are around for both breakfast and dinner so you can have a choice of meal when thinking to visit Goofy's Kitchen.
Both breakfast and dinner are served as buffets with five different stations offering different varieties of food. This allows every member of your party to select exactly what they want so everyone leaves happy, especially as you get visited at your table by some of your favourite Disney characters. Goofy's Kitchen is a great experience for everyone and certainly one of the best restaurants at Disneyland.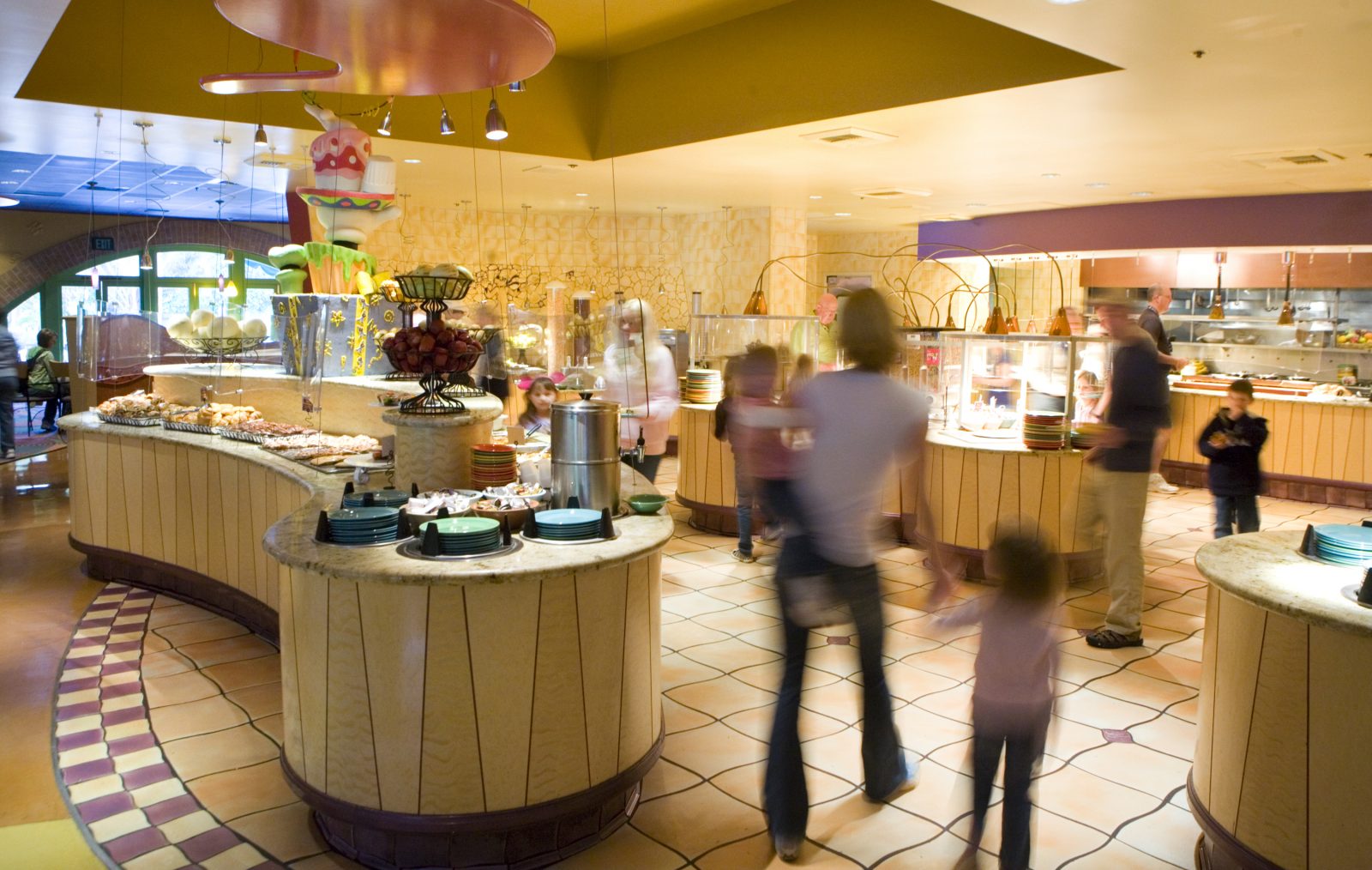 Disney's Paradise Pier Hotel
The Sand Bar
The Sand Bar is featured as one of the best Disneyland restaurants due to the spectacular views it gives to guests. Located on the rooftop terrace of the Paradise Pier Hotel, The Sand Bar offers good beach-style cuisine with a panoramic view over the park as far as the eye can see. This means you can have an incredible view of the fireworks at the same time as having a delicious meal.
The menu is a little limited but what is served is very good quality, especially the taco trio and the spaghetti burger. You can also order artisan pizzas and some very nice desserts and you can eat all of these whilst lounging poolside, which is never a bad thing!
Disney's Grand Californian Hotel & Spa
Napa Rose
Heralded as the most luxurious restaurant at Disneyland, Napa Rose inside the Grand Californian Hotel lives up to the hype. With an award-winning chef at its disposal, Napa Rose tells the culinary tale of the Napa Valley, offering phenomenal Californian cuisine and an extensive wine list. It is, however, phenomenally pricey so it's worth considering your budget before making a reservation here.
Napa Rose also offers Breakfast Adventures with the Disney princesses which is an incredible way for any young prince or princess to begin their day. This includes a three-course breakfast as well as activities and the chance to meet a number of Princesses. Both the breakfast and dinner menus offer fine-dining opportunities such as the pomegranate-glazed veal and the sautéed frog legs. The food is fantastic, if a little fancy!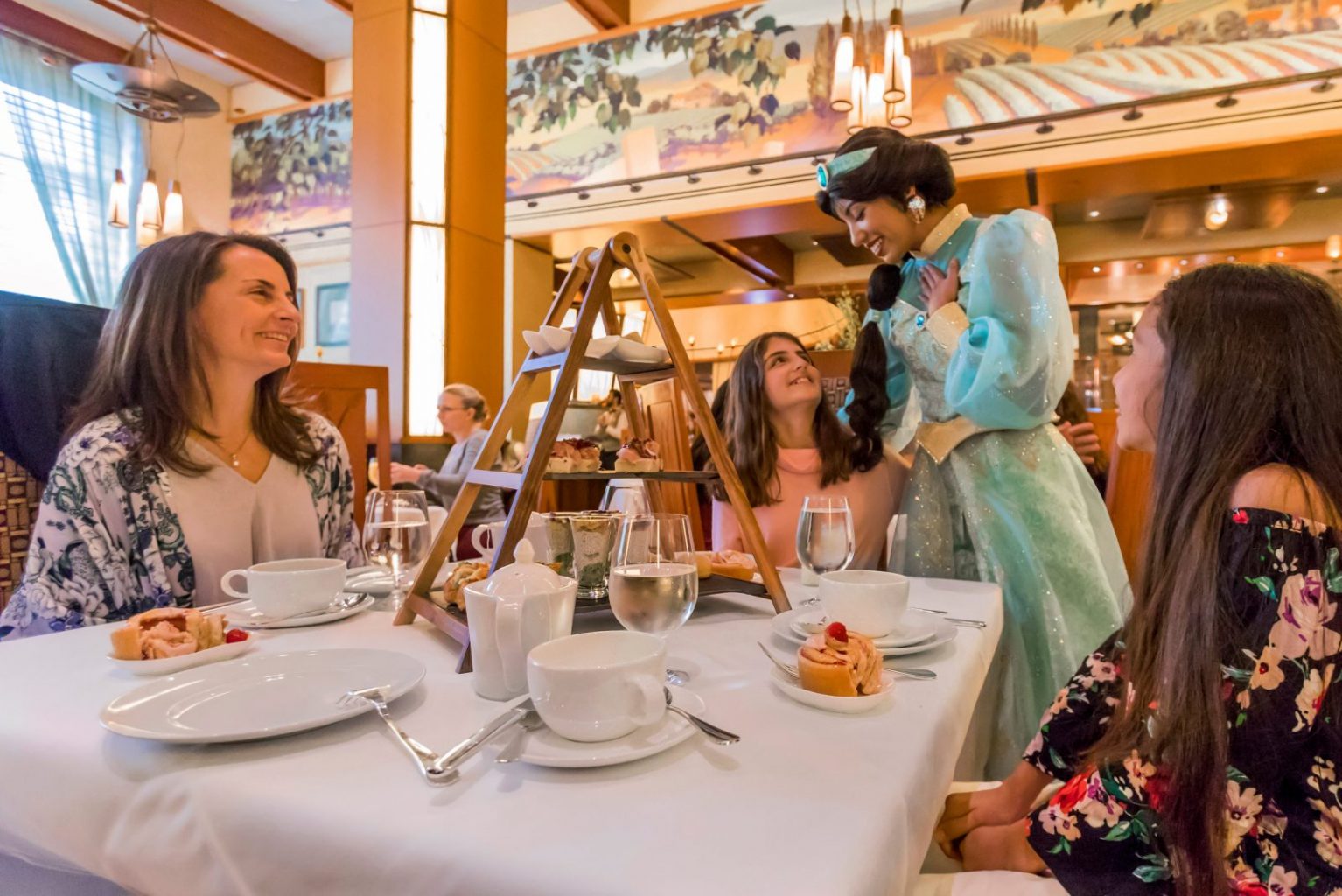 Storytellers Café
Calling all adventurers! The Storytellers Café is alive with the stories of California and her people as well as the stories of adventurer Mickey and his friends (during breakfast and brunch only). Designed to reflect the grandeur of the Californian wilderness, the interior of Storytellers Café is beautiful and warm and incredibly spacious! The buffet is laid out with plenty of space and offers a wide selection of foods for breakfast, brunch and dinner.
You can enjoy character dining during breakfast and brunch hours, including the chance to meet some of the rarer characters such as Brother Bear's Kenai and Koda. At dinner, whilst you don't get to meet any characters, there is still a great range of delicious buffet food so it's still worth a visit during dinner time for a great Disneyland dining experience.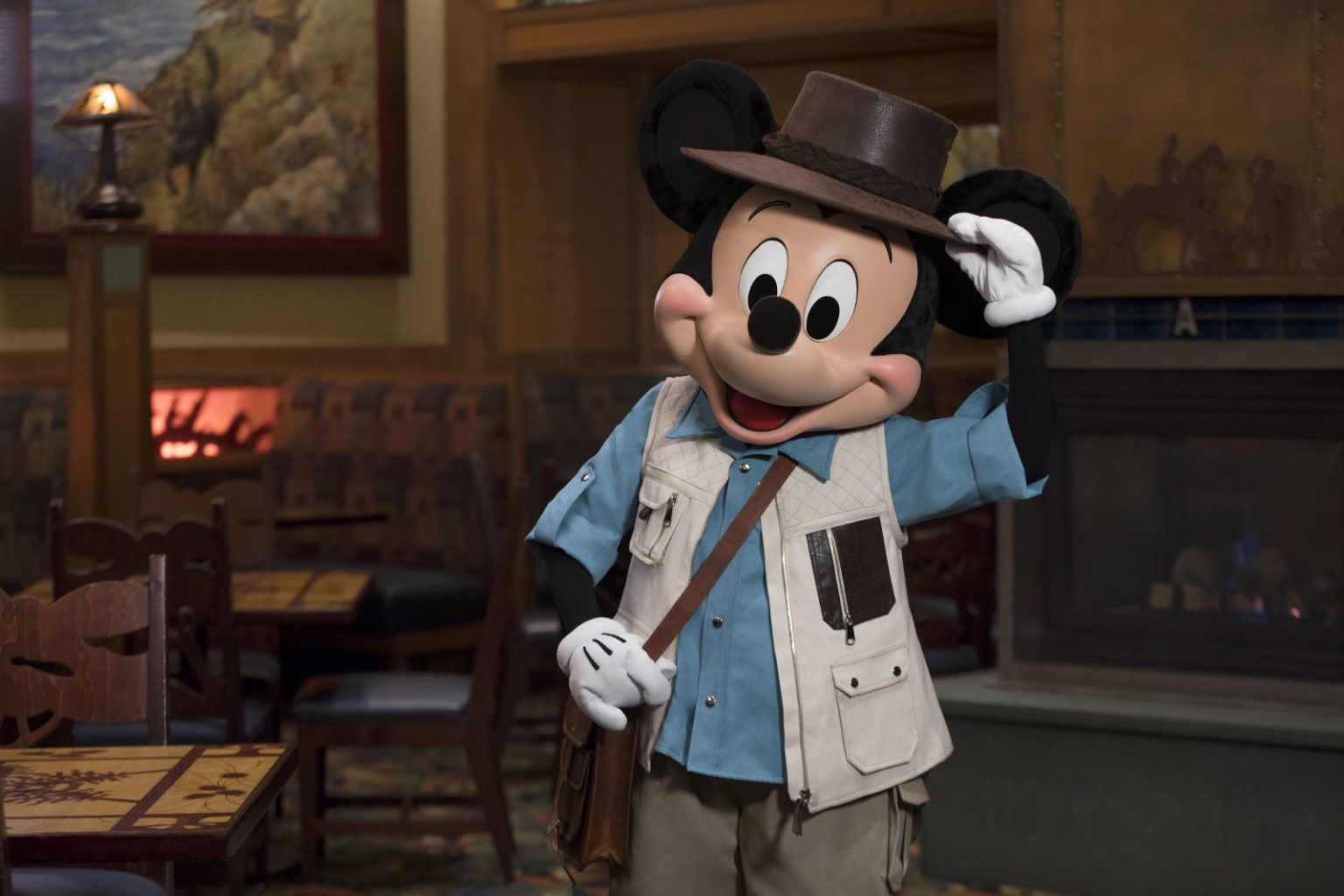 We hope you can find some great food while you're in Disneyland, maybe you'll find a favorite that's different to ours. Let us know where you enjoy, or don't enjoy, eating when you're at Disneyland.
Pin this post: