Considering staying in a Disneyland Paris Airbnb, but not sure where to start? Look no further! Airbnbs near Disneyland Paris can be a great choice when you're looking for somewhere to stay.
There are loads available for different budgets and group sizes and in a variety of locations, so you'll be able to find something amazing no matter what. We've rounded up some of the best Airbnbs near Disneyland Paris so you can check out some of the places on offer. If you'd prefer to stay in a hotel, you can take a look at the Best Hotels Near Disneyland Paris.
Get a FREE printable 30/60/90 day Disney countdown by joining our private Disney Facebook Group and share your photos and ask for tips and tricks!
Why Stay In An Airbnb Near Disneyland Paris?
Staying in an Airbnb near Disneyland Paris can be a great way to save money. Airbnbs are often a lot cheaper than hotel rooms and due to the layout of the area surrounding Disneyland Paris, a lot of Airbnbs are actually closer than the hotels. Airbnbs also charge by the place rather than the amount of people so you can spread the cost out more.
Most Disneyland Paris Airbnbs also come with free parking so you can save money by not having to pay for Disney parking, and simply parking at your Airbnb and walking or getting public transport to the parks.
As most of these Airbnbs are apartments, most come with a full kitchen so you can prepare some meals and snacks to take to the parks with you to save some money on dining. But there are plenty of great restaurants in Disneyland Paris, we've rounded up the Best Disneyland Paris Restaurants here, so don't worry if you don't want to cook!
Save money on your trip to Disneyland! Get a FREE $55 Airbnb coupon by using our code when you book!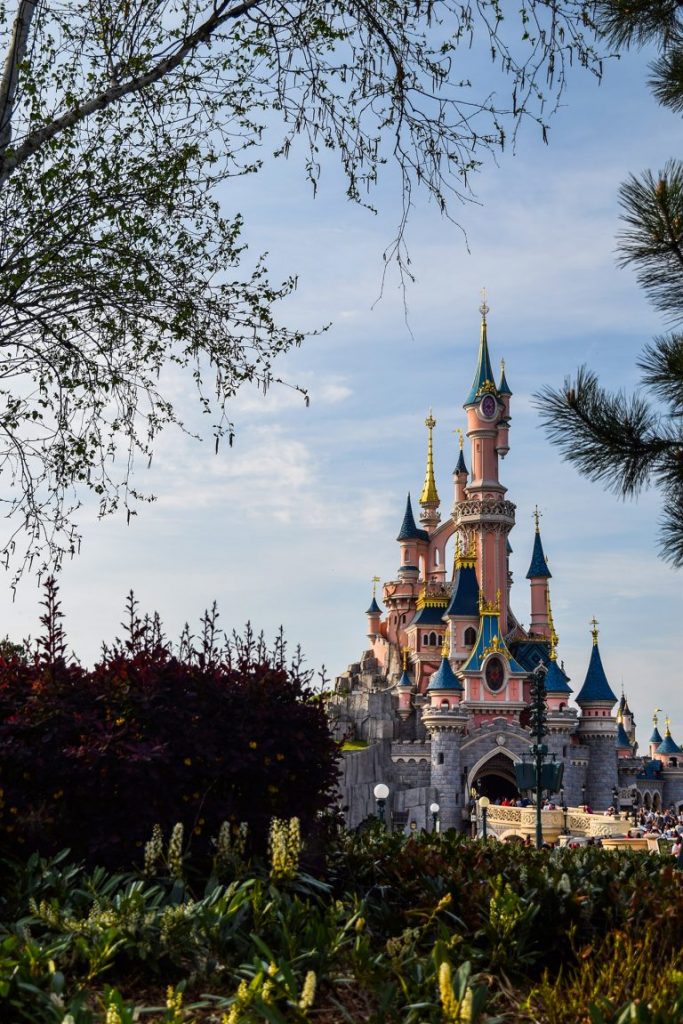 10 Best Airbnbs Near Disneyland Paris For All Budgets
A spacious apartment located just minutes away from the Vallee Shopping Outlet, this is a great choice for a Disneyland Paris Airbnb. The apartment accommodates up to 6 guests and offers a rollaway cot for an infant as well. It's tastefully decorated with some Disney themed decorations thrown in too. And it has a great kitchen for cooking yourself some Disney snacks to take to the park.
It's located around a 10-minute public bus ride away from the park entrance or it is a short walk to the RER station where it is 5 minutes to the parks. You can take a look at the Best Ways to Travel to Disneyland here. There's free parking on the premises as well so you won't have to pay to park in the Disney car parks if you're driving in Paris.
Click Here To Check Rates On Airbnb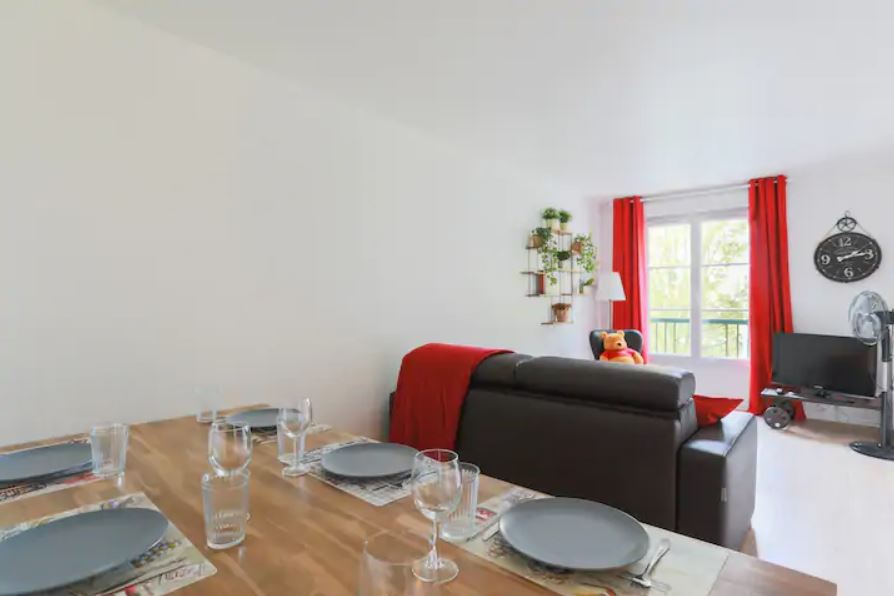 Stylishly decorated, this apartment is a must-stay if you want a swanky Parisian Disneyland Paris Airbnb. It's a 2-bedroom apartment but can house up to 8 guests so it's a good choice for a big group or family. It's also been classified as a 3-star stay so you know you will be getting the same standard of care as at a hotel.
The apartment itself is great but what makes it even better is its convenience for Disneyland Paris. It's within an easy walking distance to the park entrance and Disney Village, with its many shops and restaurants. The apartment also comes with one covered parking space for your car as well.
Click Here To Check Rates On Airbnb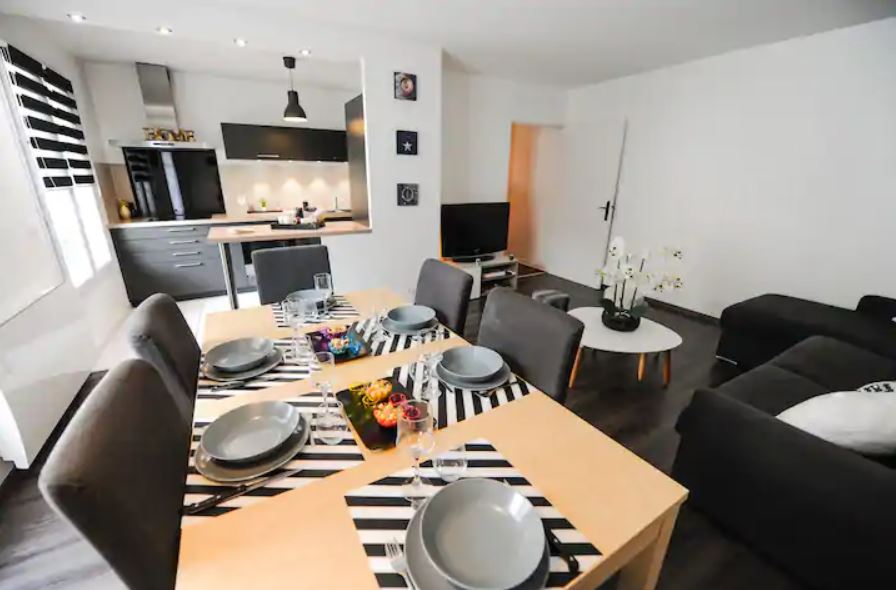 If you're looking to totally immerse yourself in Disney then this Disneyland Paris Airbnb is perfect for you. Every room is decorated with a little Disney magic – even the bathroom! – so you get a real Disney experience with this Airbnb near Disneyland Paris. It even includes a free shuttle bus to the parks, which is quite rare for an Airbnb.
It's a one-bedroom apartment but has a sofa bed so it can comfortably sleep up to four people. It's in a quiet residential block and has a secured parking space you can access for free to making it a great getaway choice for a Disneyland Paris trip.
Click Here To Check Rates On Airbnb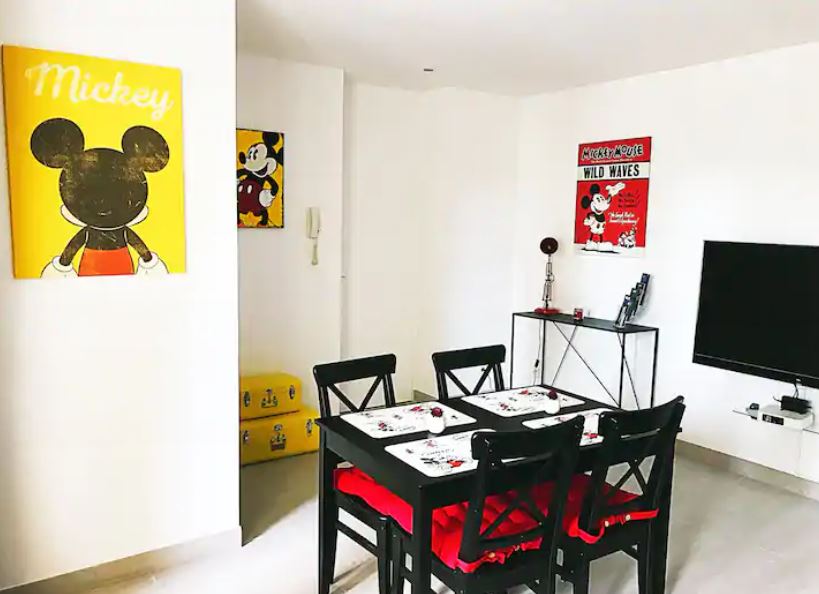 Bright and airy, this is an absolutely stunning Airbnb near Disneyland for up to 5 guests. It's located just a short bus ride away from the Disneyland parks in a quiet residential area. The apartment itself is inside a gated community meaning it's extra secure, and the nearby area is also one of the safest in Paris.
The car parking is a secure underground space which is great for security but can be a little difficult if you are travelling with a roof box or in a larger car, so make sure you check the height before you arrive. It is also close to other amenities such as shopping centres and bakeries so it's a nice area to spend a bit of time.
Click Here To Check Rates On Airbnb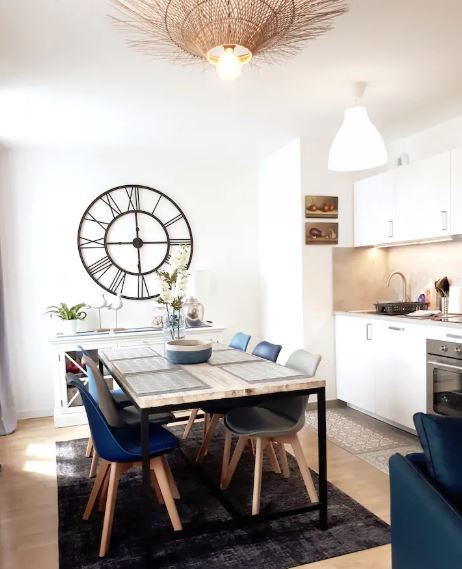 10 minutes by bus away from Disneyland Paris you will find this lovely house to stay in. It is one of the only Disneyland Paris Airbnbs that is a whole house rather than an apartment, so this is a great choice if you're looking for a bit more space. However, one of the beds available in this house is a small daybed so it's really more suited to 4 or less instead of the advertised 5.
The bus stop is located right outside the house so it's really convenient to hop on and you'll be at the parks within 10 minutes. There's a parking space outside the house, and the house itself is inside a gated community as well so you will be very safe in this area.
Click Here To Check Rates On Airbnb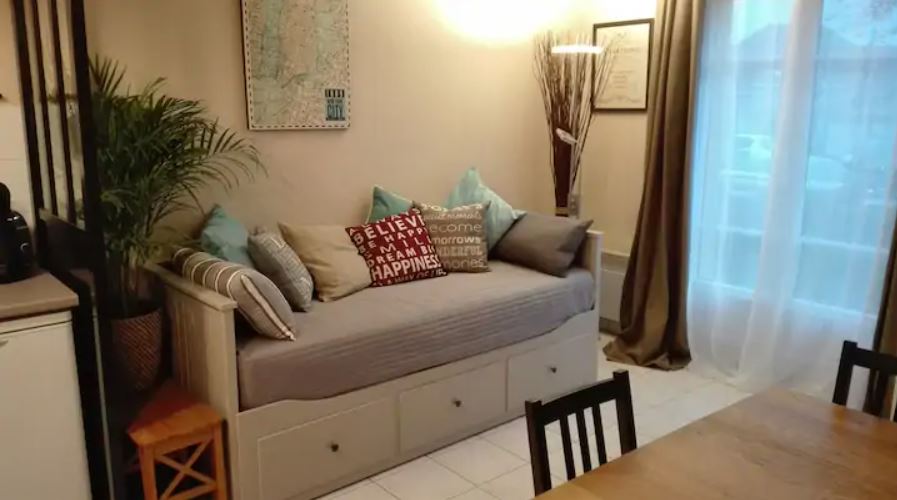 This is an absolutely stunning apartment best suited for a couple. It's furnished and decorated to such a high standard that you won't ever want to leave. There are enough little Parisian touches that you'll feel as though you've stepped into a French romance novel. To add to the romance of it, it's only a 15-minute walk from the parks.
There is a charming little balcony off the dining area which makes for a very pleasant view with your morning cup of coffee. It's also located very close to the Val d'Europe shopping centre so you can fit in a little retail therapy whilst staying in this Disneyland Paris Airbnb.
Click Here To Check Rates On Airbnb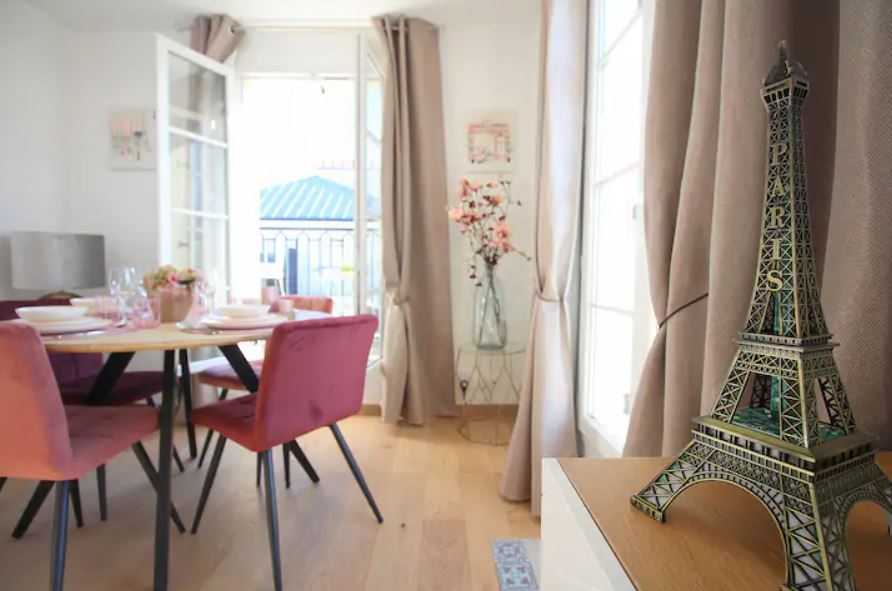 One of the smallest Disneyland Paris Airbnbs, this studio apartment is also one of the cheapest stays near the parks. It is a studio, meaning everything in one room, except the bathroom, so it's really only good for a couple. The studio is quite spacious, the bed is king-size, and it's furnished to a very high standard, particularly the full kitchen.
It's located about a 15-minute walk from the Disneyland entrance or it's close to the bus stop where you can get a bus to Disneyland Paris in 10 minutes. There's free parking near the apartment so you can park there whilst you're enjoying the parks.
Click Here To Check Rates On Airbnb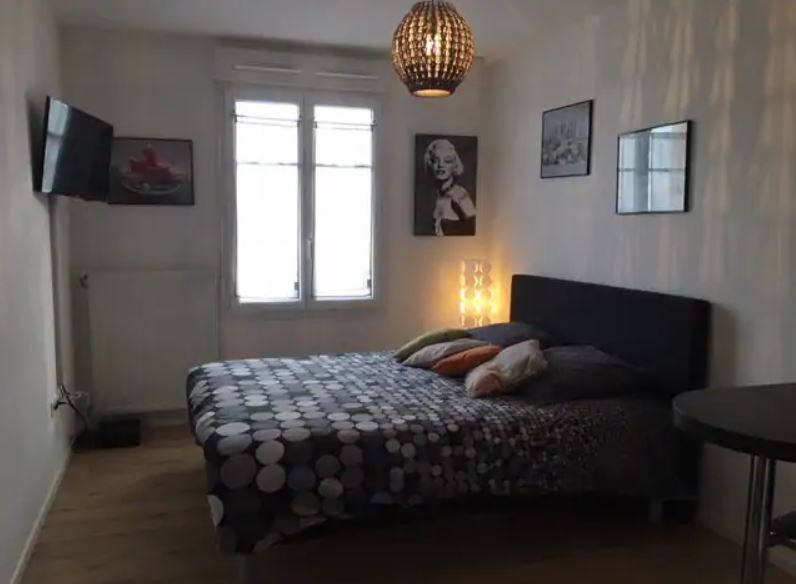 Located just a 10-minute walk from the Disneyland parks, this is one of the most beautifully decorated Disneyland Paris Airbnbs available. The decoration and design is first class throughout and it also has one of the largest kitchens out of all the Airbnbs near Disneyland. It sleeps up to 4 but that includes 2 sleeping on a sofa bed, so it would be best for a couple or a small family, or group of friends.
Being so close to Disneyland Paris means it's an easily walkable distance, so you can go to and from the park at whatever times are convenient for you. However, if you'd prefer not to walk, the apartment is serviced by a free shuttle bus that stops a minute walk from the house and takes you directly to the parks.
Click Here To Check Rates On Airbnb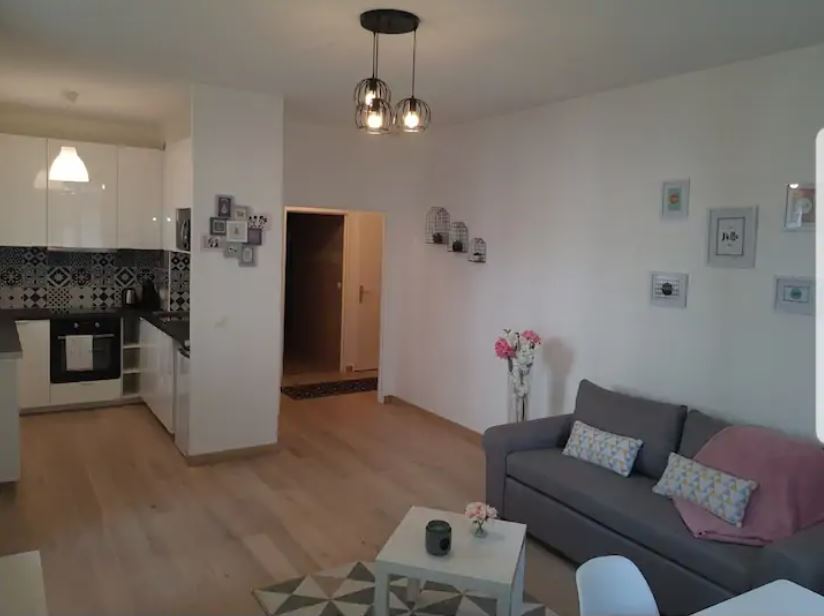 A great apartment for up to 6 guests, this is a great choice if you're looking to see more than just Disneyland Paris during your trip. Located right next door to the RER A-line, it's a short hop to Disneyland Paris or into Paris itself. If you can find out about travelling on the RER and getting from Paris to Disneyland Paris here.
The apartment caters best to families, as one of the bedrooms has two single beds great for the kids. The rest of the apartment has a very modern feel with lots of grey and chrome, it's certainly a real swanky find. There is also parking for two cars so it gives you a little more flexibility with transport.
Click Here To Check Rates On Airbnb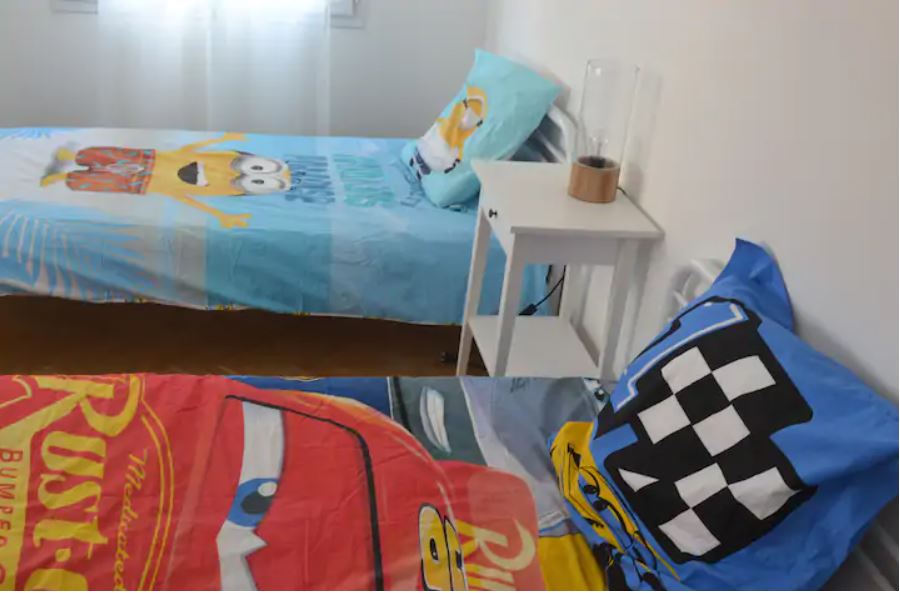 This is one of the more expensive options for Disneyland Paris Airbnbs but it is also one of the biggest, sleeping up to 8 people. The bedrooms aren't overly large but the common spaces are spacious and would give you plenty of space to spread out and relax. You can also let yourself in with keypad entry so you don't need to worry about misplacing the key!
Free shuttle buses run past the apartment so you can hop on one and be at Disneyland Paris in roughly 5 minutes. It's also not too far to walk and you can easily make the journey in less than 15 minutes. There is secured onsite parking that guests can use free of charge which means parking and leaving your car is not a worry.
Click Here To Check Rates On Airbnb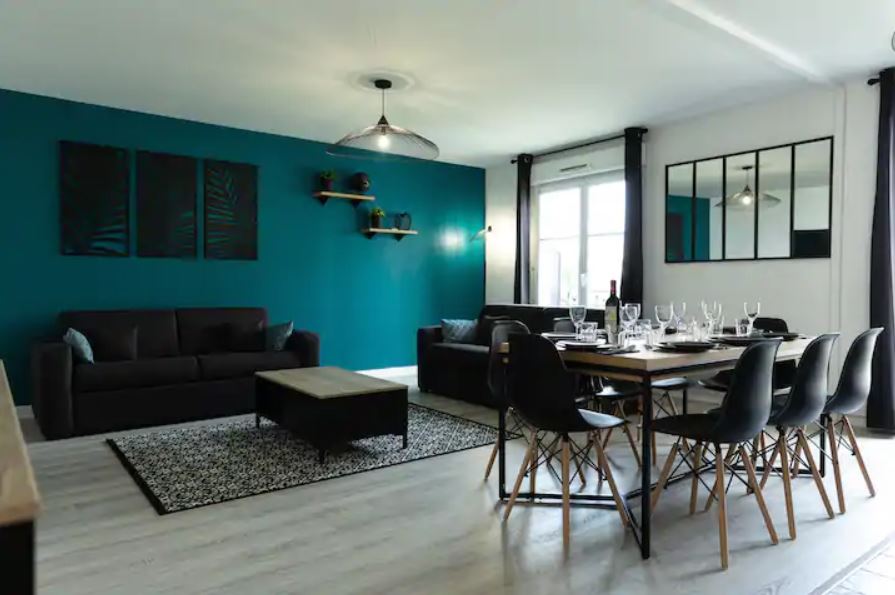 Choosing where to stay when you're visiting Disneyland Paris can be a daunting task but hopefully, this will give you a better idea about what you could get if you chose to stay in a Disneyland Paris Airbnb. There are lots of great options for all budgets so you'll be sure to find something magical for your stay.