If you plan on celebrating Christmas in Orlando, there is so much more to do than visit theme parks and ride roller coasters! There are many ways to spend Christmas in Orlando – at the theme parks and at some awesome local spots as well.
We've rounded up 20 festive ways for you to celebrate Christmas in Orlando on your next trip, guaranteeing that you will see some of the best lights, get the best snacks, and enjoy the holidays as much as you can. We've even included a bunch of FREE things to do to celebrate Christmas – and who doesn't like free?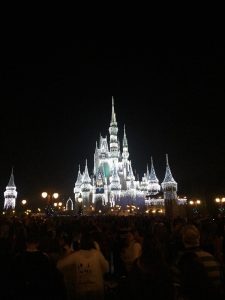 Mickey's Very Merry Christmas Party
It's only right to start this article with the Christmas party that takes place in the Magic Kingdom at Walt Disney World. Mickey and his friends invite you to an epic Christmas party, complete with parades, fireworks, free cookies, and even Elsa lighting Cinderella's Castle with icy twinkling lights.
This event is a hard-ticket event – which means it isn't included in your theme park admission – and can be rather pricey. If this is on your bucket list for celebrating Christmas in Orlando, make sure you buy your tickets early since they do sell out fast.
There's a lot to do at this event, and it can be a lot to take in. If you're interested in attending Mickey's Christmas Party, you can check out our article here for all the details about Very Merry.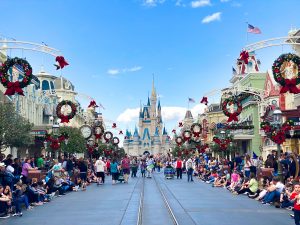 The Town of Celebration
Called the "Town that Disney Built," the town of Celebration is the ideal place to visit for Christmas in Orlando. You can see "snow" fall several times a night, hear Dickens' Carolers sing your favorite holiday songs, and even go ice skating. And, of course, no visit to Celebration is complete without meeting Santa.
Coming to Celebration is free, of course, and so is seeing the snow during the Christmas season. Parking is also free here, so this is a great place to escape the theme parks and enjoy Christmas in Orlando the way the locals do.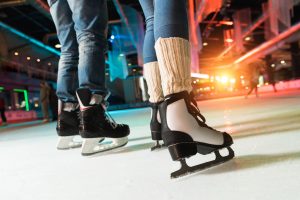 Lake Eola Tree Lighting
Every year, the City of Orlando has their official tree lighting at Lake Eola Park. They light a 6-story tree with almost 100,00 lights, have live music, and food trucks. Every night after the tree is lit, they have a Christmas Tree Show which includes synchronized lights and music.
This is another great local event to attend, and it too is free! If you can't make the tree lighting, you could attend the Christmas Tree Show and still enjoy the lights during your visit to celebrate Christmas in Orlando.
EPCOT Candlelight Processional
Heading back to Disney World, the Candlelight Processional at EPCOT may be one of the most iconic ways to celebrate Christmas in Orlando. This show has been around for decades, with its roots at Disneyland during the 50's.
This show features a celebrity narrator that tells the story of Christmas while accompanied by a choir and orchestra. And while this event is included in your part ticket to EPCOT, it's an extremely popular event and some narrators are more popular than others (we mean Neil Patrick Harris). In order to guarantee a spot, book one of the dining packages to make sure you don't have to stand in an hours-long line.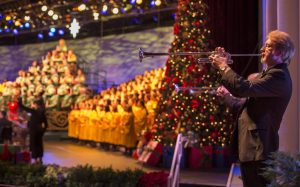 photo credit: Disney
EPCOT International Festival of the Holidays
EPCOT is notorious for their food festivals, and the Festival of the Holidays is no different. Included in your theme park admission, this event features Holiday Kitchens, live music, and traditional storytellers from the featured countries of the World Showcase.
This is a fun event for celebrating Christmas in Orlando, especially if you're planning on visiting EPCOT anyways. There's tons of good food from the food booths, and the holiday storytellers are some of the best entertainment Disney World offers during the holidays.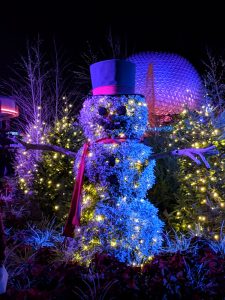 SeaWorld Christmas Celebration
Not to be outdone by the larger theme parks, SeaWorld offers it's own unique holiday celebration. This event features over 3 millions lights, a sea of lit trees that dance to music, and fun Christmas shows. You can meet Rudolph the red-nosed reindeer, Yukon Cornelius, and, of course, Santa! Newly added is the Sesame Street Christmas Parade, which kids and adults will find adorable.
This event is included with your park admission to SeaWorld, and can be a nice way to see some adorable wildlife while on the hunt for Christmas decorations.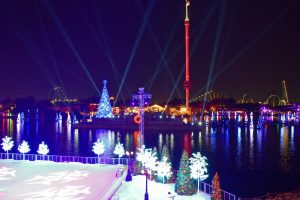 Disney Springs Christmas Tree Trail
Every year, one of the best things to do to celebrate Christmas in Orlando is to visit the Christmas Tree Trail at Disney Springs. There are plenty of ornate and over-the-top trees themed to and inspired by favorite Disney rides and films. Along the trail, you'll also find holiday themed snacks and drinks, as well as listen to holiday music.
Not only are the trees on this trail amazingly beautiful and a don't miss in our book, but this is another freebie! Visiting Disney Springs is always completely free, and that includes this trail at holiday time.
For some more information about Disney Springs as well as a map of the districts and some great tips, check out our article all about Disney's shopping area!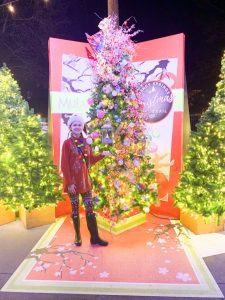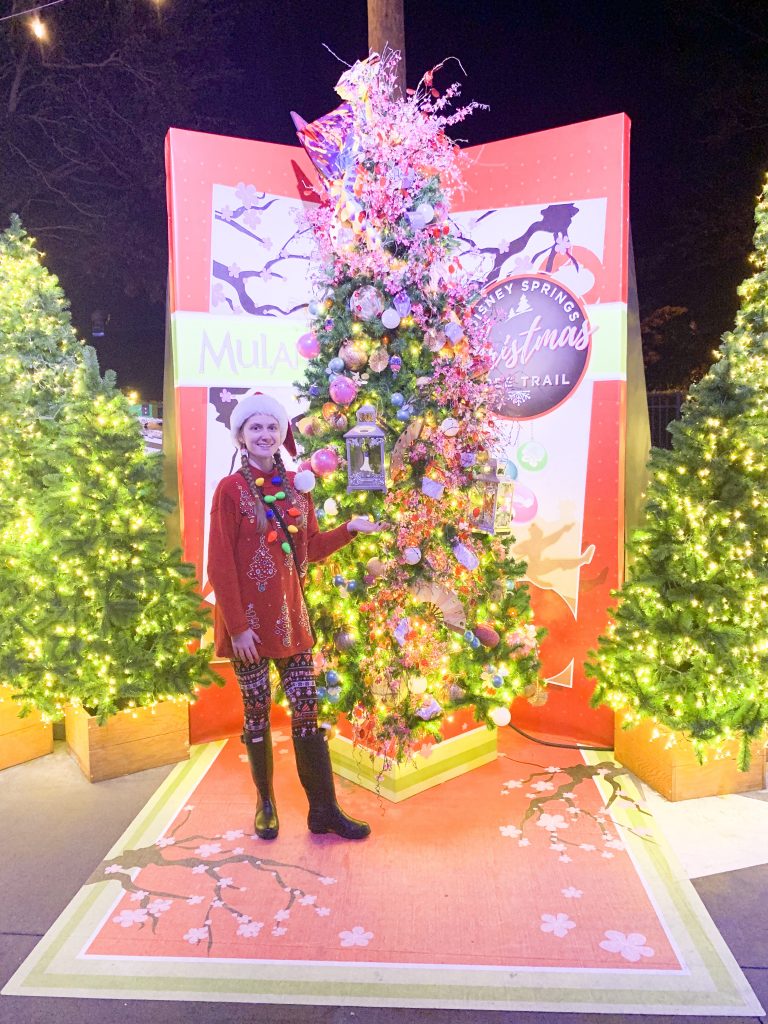 Hotel Hop at Disney World
While on the subject of free decorations to view at Disney World, we can't leave out the decorations at the Deluxe Resorts. Many of the Deluxe Resorts at Disney World put up giant decorated trees during the holiday season, as well as decorate their lobbies.
While visiting these hotels, keep any eye out for the massive gingerbread houses and displays as well! The Grand Floridian, the Contemporary, Wilderness Lodge, Beach Club, BoardWalk Inn, and Saratoga Springs often have gingerbread houses and displays up – and the one at the Grand Floridian is typically the biggest. This is a great reason to resort hop on your holiday trip to Disney.
If you're looking for more information on the best hotels at Disney World, check out our article here, as well as check out our list of other free things to do at Disney World!
See Christmas Lights at Disney
If you're looking for even more Disney Christmas decorations, make your way over to Fort Wilderness! Every year, many Disney World regulars set up holiday decorations at their campsites, and some of these are so over-the-top and fun! Tons of inflatable characters, lots of lights, and another free thing to do at Disney to celebrate Christmas in Orlando.
Getting here can be rather tricky, so if you have a car we suggest driving to the resort. If you're staying on Disney property, take a bus to Magic Kingdom and then hop on the boat to Fort Wilderness. Once at Fort Wilderness, rent a golf cart for a fun and easy way to get around!
Also, they do this for Halloween as well, so check it out if you're able! You can find out some more information about visiting Disney World at Christmas here!
ICE! at Gaylord Palms
Every year, the Gaylord hotels celebrate the holidays with giant ice sculptures and holiday fun, and the Gaylord Palms Resort and Convention Center in Orlando is no different. Last year's event was themed to Polar Express, and they've had a Charlie Brown theme before.
This event features sculptures made out of over 2 million pounds of ice, an ice slide, and a full-size nativity scene made of ice as well. There is a cost for this event, and tickets can be purchased from the Gaylord Palms website.
ICE! takes place every year at all the Gaylord hotels, so even if you can't make it to the one in Orlando, check to see if there is a Gaylord Resort near your hometown and see what ICE! offerings they have for the holiday season!

Winter Park Christmas Parade
Winter Park is 15 minutes north of downtown Orlando, and the quick drive there is worth it to enjoy the Christmas parade they put on every year. This free event features local marching groups, community leaders and heroes, and Santa, of course.
If you happen to be in Orlando the Saturday they have the parade, it's a great way to celebrate Christmas in Orlando and not have to spend any money!
The Lights on Jeater Bend
In Celebration, Florida, there is a street called Jeater Bend that goes all out for Christmas every year. Eleven homes decorate with lights and inflatables, syncing them to music and projections. These houses were featured on the tv show "The Great Christmas Light Fight," and many tourists and locals visit this street to see the amazing displays.
Not only is this another free way to see some decorations, but it's a don't miss on our list. The decorations are amazing, and this is a great way to celebrate like a local if you're just visiting.
The eleven houses also decorate for Halloween, so keep that in mind if you're visiting during October as well!
LEGOLAND Christmas Bricktacular
Not to be outdone by the bigger theme parks, LEGOLAND throws a big holiday spectacular that they call the Christmas Bricktacular. Included in your park admission, you can view holiday lights, see some holiday-themed shows, and even meet LEGO Santa. There are special treats for purchase too.
The don't miss aspect of this event is the 30-foot LEGO Christmas tree, and we know the littles will love to see the combination of the holidays with some of their favorite toys!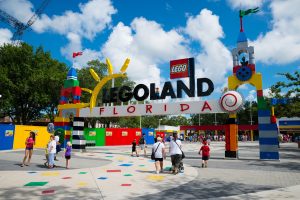 Animal Kingdom at Disney World
New last year for the holidays, Animal Kingdom at Walt Disney World added a holiday celebration that includes life-size arctic animal puppets and holiday projections on the Tree of Life. This event is included in your park admission to Animal Kingdom, and the animal puppets are one of the cutest things we've ever seen at a Disney park! Their "handlers" make each interaction unique and fun for both kids and adults.
While in Animal Kingdom, check out Christmas in Pandora – there are special decorations, as well as treats and drinks at Pongu Pongu.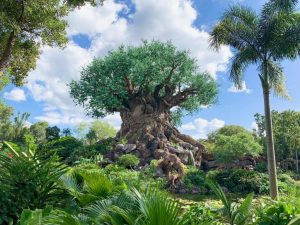 Jingle Bell, Jingle BAM
Hollywood Studios hosts this holiday show that takes place on and above the Chinese theater. Scenes from your favorite holiday movies are projected onto the theater, and Christmas music plays all around. This show also includes a holiday fireworks display.
This event is included with your admission to Hollywood Studios, and becomes the nighttime show during the holiday season.
Even though this event isn't the Osborne Family Christmas Lights that we all miss, Jingle Bell Jingle BAM is still fun for the whole family and a beautiful way to celebrate Christmas in Orlando.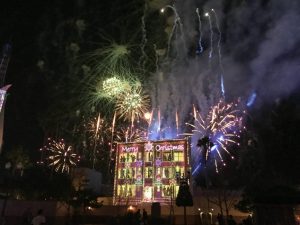 Holiday Harbor Nights
Loew's Portofino Bay Hotel at Universal Orlando Resort offers a fancier way to celebrate Christmas in Orlando. If you're looking for a swanky dinner and some adult beverages, this event is for you. It's a little pricey but you'll have wine to drink, gourmet Mediterranean food to eat, and live music to dance to all night long.
The night ends with the lighting of the tree at the hotel, and this event takes place several nights throughout the holiday season. Make sure to get your tickets early, and bring your appetite!
Universal Studios Orlando
Universal Studios celebrates Christmas in Orlando with decorations, special treats, and even a parade! Universal's Holiday Parade featuring Macy's takes part just about every day during the holiday season, and features your favorite Universal characters.
Islands of Adventure is taken over by the Grinch and the Whos, and you can't miss meeting the Grinch! There's even a show to watch – it's a shortened version of "How the Grinch Stole Christmas," called the Grinchmas Who-liday Spectacular.
All of this is included in your park admission to Universal Studios/Islands of Adventure.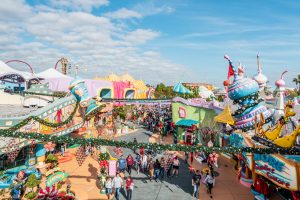 Christmas in the Wizarding World
If you're going to celebrate the holidays at Universal Studios, you cannot miss Christmas in the Wizarding World of Harry Potter. Festive decorations and holiday lights can be found in both Diagon Alley and Hogsmeade. There are special holiday drinks and snacks, as well as holiday music.
At night, there is a projection show not to be missed – The Magic of Christmas at Hogwarts Castle. Seeing Hogwarts Castle lit up for the holidays transports you to the movies and it feels like you're celebrating right alongside of your favorite Harry Potter characters.
Bok Tower Gardens
Visiting Bok Tower Gardens and Pinewood Estate is beautiful any time of year, but visiting for the holidays is extra special. They turn everything into a winter wonderland, and offer Christmas walking tours. You can enjoy holiday lights, a garden tour, and even a holiday home tour inside of a 1930's mansion. There are Christmas concerts that occur almost every day during the event as well.
There is a cost for this event, but isn't outrageously priced. Also, Bok Tower Gardens is closer to LEGOLAND and is about an hour drive from Orlando. If you don't mind the drive, this is a great way to escape the hustle and bustle of the theme parks and enjoy some nature.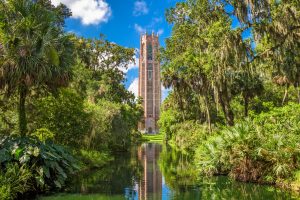 Colorful Christmas
Not to be left out, the Crayola Experience at The Florida Mall celebrates Colorful Christmas. This event was new last year, and is included with your admission to the Crayola Experience.
Kids will love meeting a snowman and a reindeer, helping Santa save Christmas, and climbing inside of a life-sized snow globe. They can even make their own holiday gifts by crafting and using Crayola products! This isn't something to go out of your way to do, but if your kids are artsy and love Crayola, this might be worth the trip to the mall – there are 9 holiday events for kids to take part in, as well as the normal activities offered by the Crayola Experience. It could be a nice way to spend a rainy day!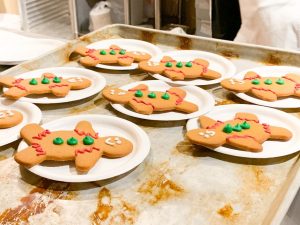 Visiting Orlando for Christmas sounds like it would be all theme parks and very expensive, but we hoped you found out there are tons of things to do for free AND outside of the theme parks. If you're visiting Disney World or Universal Studios, don't miss out on their Christmas celebrations.
We hope that you'll take a little time out on your trip to visit the Christmas Tree Trail at Disney Springs, see the giant tree at Lake Eola, and you can't miss the snow at Celebration! Enjoy your next trip to Orlando at Christmas, and make the most of all the holiday lights and offerings. We know you're going to love it!