If you are looking for some of the best Disney snacks to try on your next trip, you have come to the right place! From sweet and delightful to savory and delicious, there are really so many fantastic snacks at Disney World that it is hard just to name a few.
Some snacks are on the smaller side and not worth the money, while some snacks are huge and worth every penny. Of course, we won't be recommending any snacks at Disney that isn't tried, true, and delightful.
Whether you are an annual passholder or coming for a magical visit, you can't go wrong with any of these Disney World Snacks. We compiled a list of Every Map At Disney World [resorts, parks, waterparks, and more] for your convenience in planning and understanding where things are located around the Disney World Resort.
Get a FREE printable 30/60/90 day Disney countdown by joining our private Disney Facebook Group and sharing your photos, and ask for tips and tricks when navigating Disney!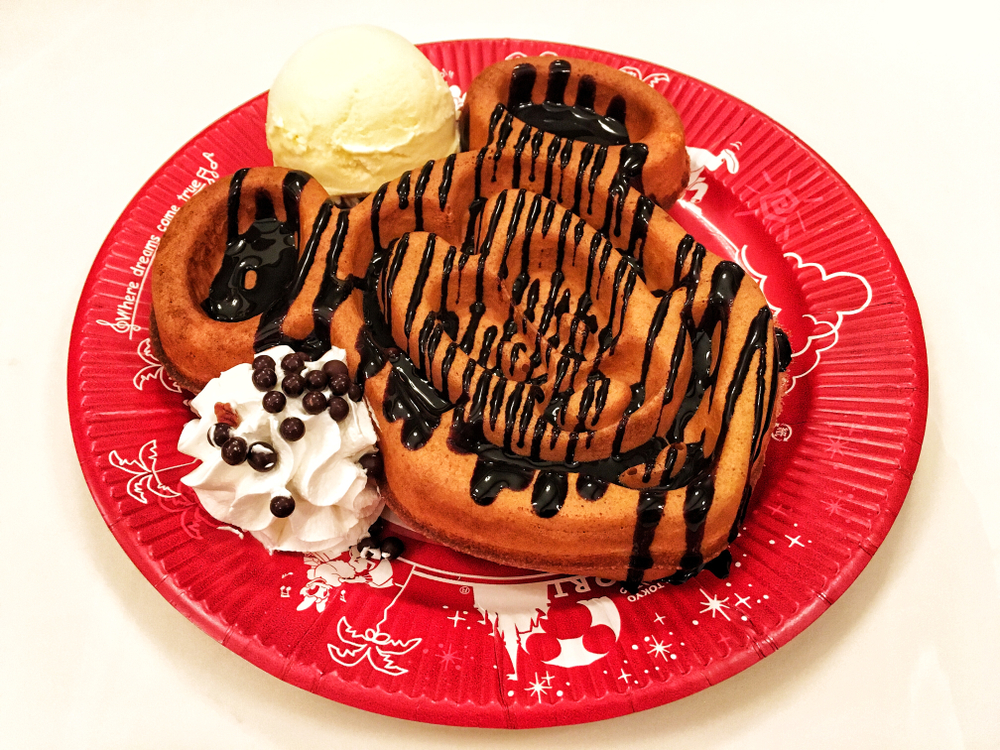 Best Disney Snacks At Magic Kingdom
Cheshire Cat Tails
If you haven't been to the Chesire Cat Cafe in the Magic Kingdom, you are in for a real treat! It is such a cute place and the Chesire Cat Tails are even better.
Think of them as a chocolate-filled croissants just in a different shape. The pastry is soft and flaky just like a croissant and it is filled with a chocolate chip and cream filling which puts it on an entirely different level as far as snacks at Disney go.
The colorful icing on top adds even more sweetness making it one of the best Disney snacks that you should 100% try on your next visit to Magic Kingdom.
Looking for a great place to have breakfast? Then check out the best places for breakfast in Disney!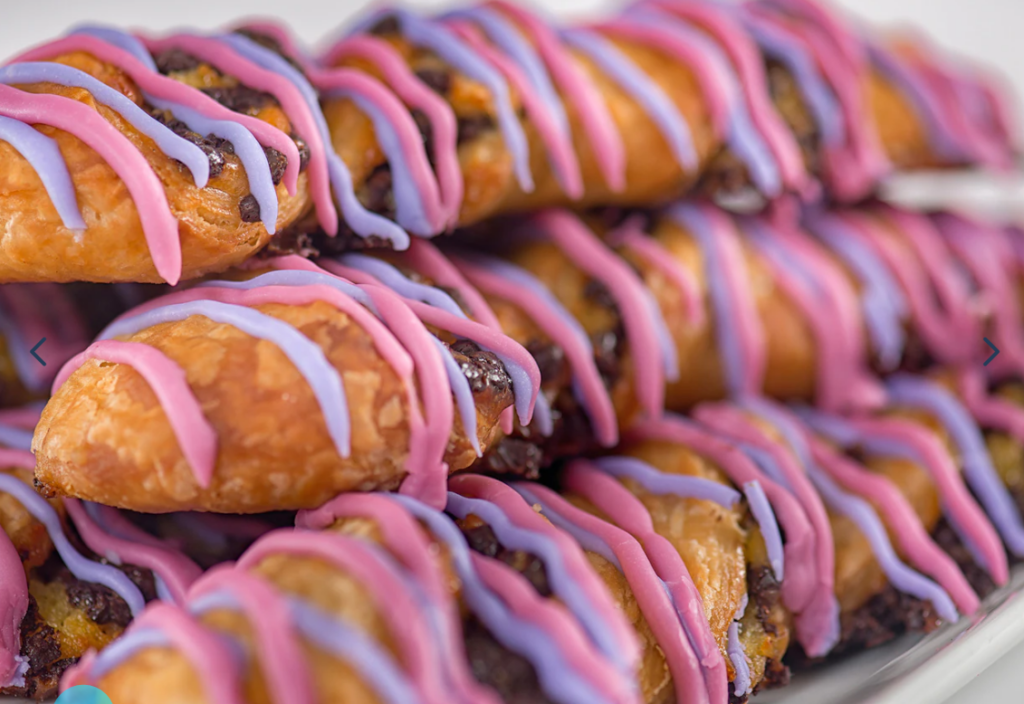 Dole Whip Pineapple Upside-Down Cake
The Dole Whip Pineapple Upside-Down Cake is a favorite Disney snack that is hard to pass up!
Having been off the menu at Aloha Isle since the 2020 closure, it was a mystery if this beloved Disney snack would return.
However, this delicious Disney treat is back and better than ever!
This snack is made of a moist yellow cake infused with pineapple juice, fruit baked into the mix, and topped with the world-famous Dole Whip soft serve. It is sweet, tart, and light.
This Dole Whip Pineapple Upside-Down Cake is the perfect refreshing Disney snack that you have to try on your next visit to the parks!
Needing a more 'adult' style beverage to wash down your Disney snack with? Then check out where to find beer and alcohol in Magic Kingdom!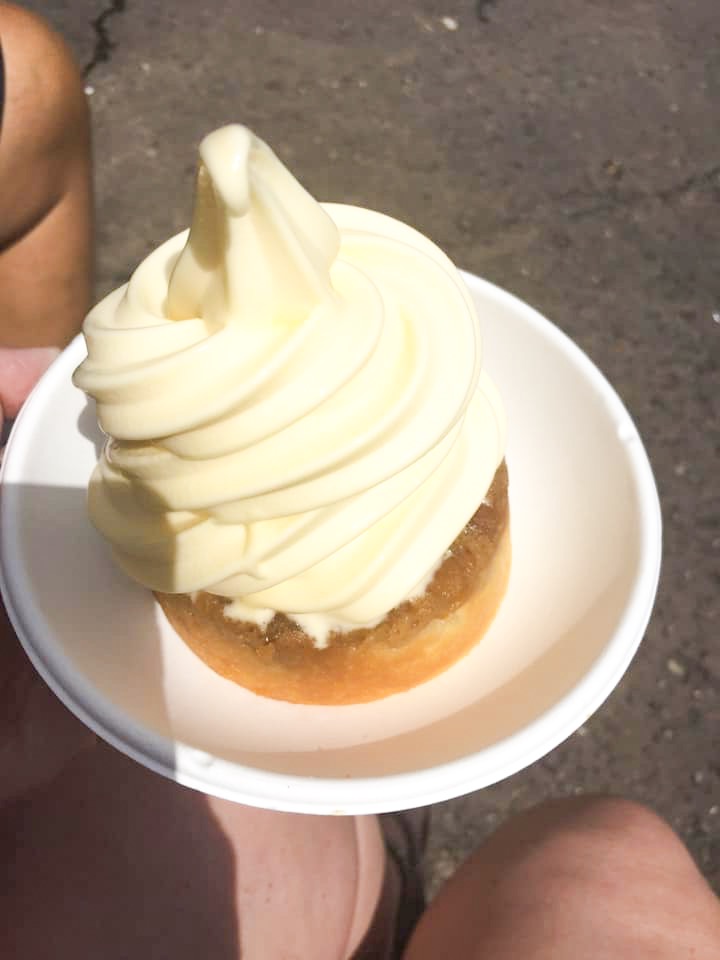 Pizza Spring Rolls
Located just outside of Adventureland, the Spring Roll cart is home to one of the best Disney snacks in all of Disney World.
The Spring Rolls at this cart are the perfect savory snack to take on the go while you are waiting in line for the next ride.
The Pizza flavor is a classic, and with two rolls per order, this snack is easily sharable with others in your party.
The crispy outside with the warm pizza filling will remind you of a smaller, crunchier calzone that sits lighter on your stomach.
These Spring Rolls are one of the best savory Disney snacks that you need to add to your list.
Speaking of adding to your list, check out the best (and worst) places to eat in Magic Kingdom!
Fresh Fruit Waffle Sandwich
Want a Disney snack that has it all? Then this ultimate snack is one of the best treats you'll find.
The Fresh Fruit Waffle sandwich is located at Sleepy Hollow in the Magic Kingdom. This quick-service restaurant at Magic Kingdom is often overlooked but you can find other delightful creations here as well.
Made on a toasted waffle, this sandwich has a layer of chocolate-hazelnut spread and is topped with fresh fruit and whipped cream. This snack is often a hit with the kids and a great way for parents to sneak in a serving of fruit during a busy day.
If you are looking for one of the best snacks in Magic Kingdom, then you (and your kids) won't want to miss this one.
Needing a hearty breakfast? Then check out the best places to have breakfast in Magic Kingdom!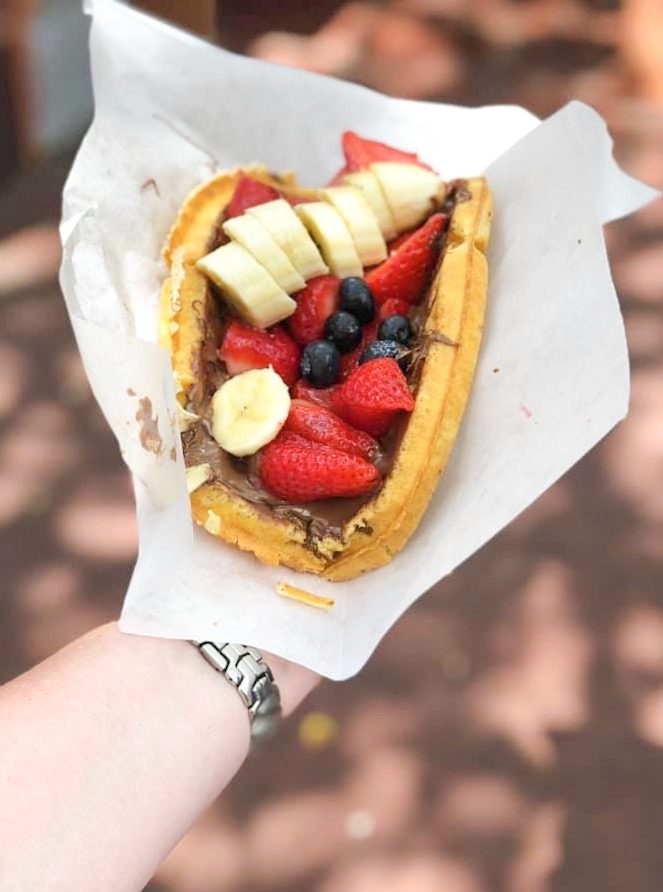 Corn Dog Nuggets
If you are searching for a great Disney World snack for kids, then these corndog nuggets are a perfect fit.
This delightful Disney snack is located at Casey's Corner, a quick-service restaurant located on the corner of Main Street. Themed to baseball, this restaurant is a favorite with kids of all ages.
Corn dog nuggets are a great fit for the kids that are looking for a familiar taste or any of the picky eaters in your group that just want something a little more simple.
If there is someone in your group that has a food allergy, you may want to consider a different item on the menu. If you want tips and tricks for managing food allergies at Disney, then check out our article that will help you navigate your way through the parks and resorts.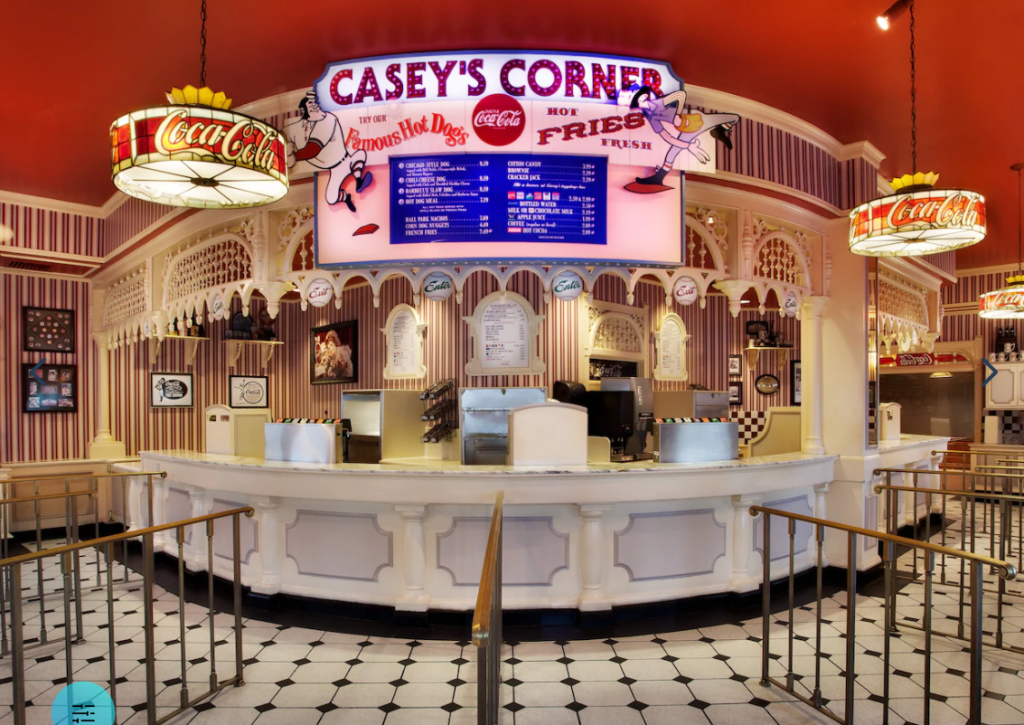 Giant Cinnamon Roll
Nicknames Gaston's Cinnamon Roll by fans, this Disney snack is huge and messy!
Quickly becoming one of the most in-demand snacks in Magic Kingdom, this warm cinnamon roll will have you drooling when you walk into Gaston's Tavern.
This giant cinnamon roll is not like other cinnamon rolls you may find on Disney property.
Fluffy, looped with thick layers of gooey cinnamon, and drizzled with icing, this roll is absolutely a Disney World snack for kids, and is sharable with more than one member of your party.
If we are being completely honest, sometimes the rolls can be dry, but if you ask one of the cast members for extra icing, this giant cinnamon roll at Gaston's Taven can't be beaten!
Want to know a secret about this park? Then check out the hidden Magic Kingdom secrets you aren't supposed to know.
Best Snacks at EPCOT
Spicy Tuna Sushi
If you are a sushi lover, you can get your fix for this Disney snack with the Spicy Tuna Sushi.
The Kabuki Cafe is secluded in the Japan Pavilion in the Epcot World Showcase and is the place to stop to treat yourself to this savory snack.
While sushi may be considered to be one of the healthier Disney snacks on this list, it is a simple and straightforward sushi roll. Depending on your spicy tolerance, you may find them to have a little bit of a kick.
However, these rolls are filled with high-quality ingredients and they are made fresh every single day. This healthy Disney snack will sit lighter on your stomach (and possibly your wallet) as you explore the park.
Speaking of exploring the park, check out some of these fun things you can do at every country in EPCOT!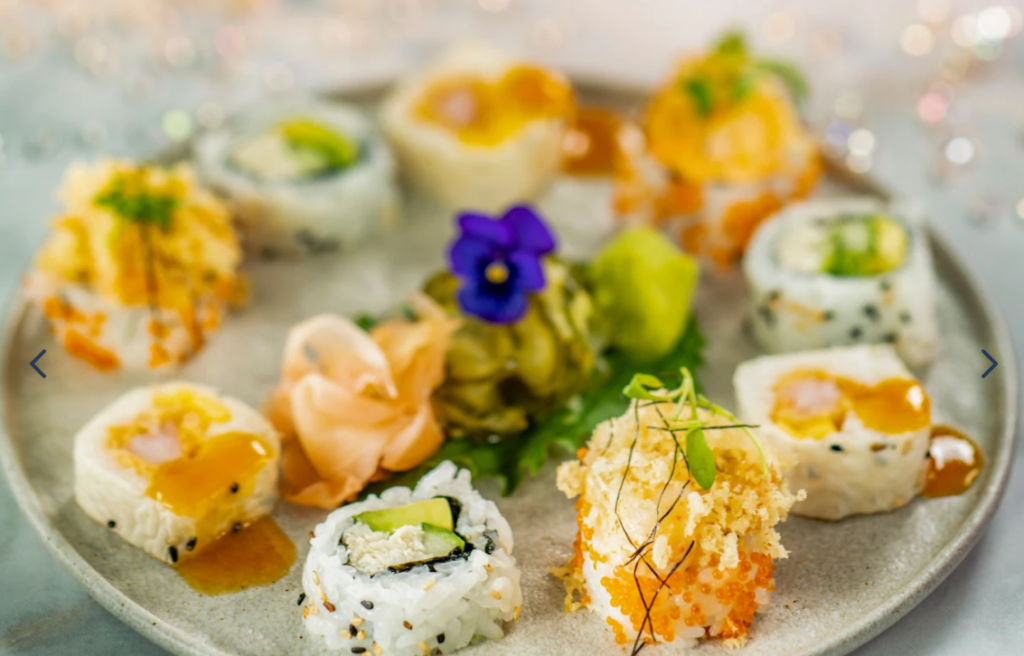 School Bread
Located in Kringla Bakeri at the Norway Pavilion, this sweet Disney snack is a fan favorite for good reason!
School Bread is a classic Norwegian treat. It is made from a donut-like pastry and is filled with vanilla custard; think of a Boston cream donut but not as sweet and add shredded coconut.
There is often a white chocolate piece on top that changes with the seasons, but you can always put that aside if you are worried about it being too sweet.
As one of the best snacks in EPCOT, this treat can be found year-round and you won't regret giving it a try!
Curious about the rides in EPCOT? Check out the best rides for you to use Genie+ for, and which ones you shouldn't.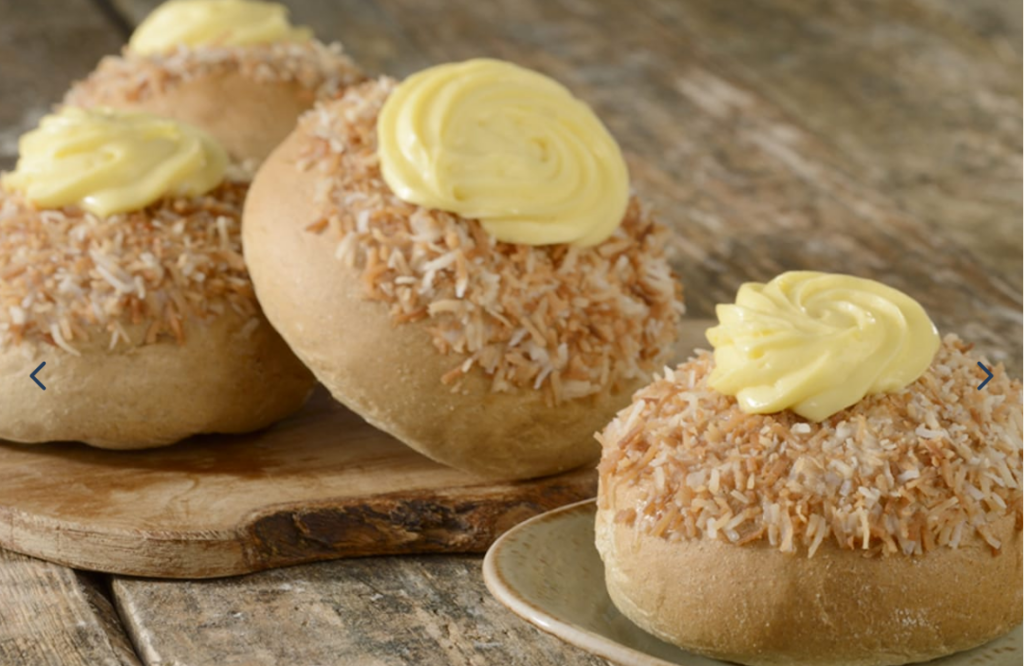 Fraise
If you are looking for a sweet treat that is traditional with a bit of a refreshing twist, then this Disney snack needs to be on your list!
Fraise is a French-style tart, topped with fresh whipped cream and ripe strawberries. The crisp crust, the tart fruit in combination with the smooth filling is a perfect bite-sized snack.
Looking for other things to try at EPCOT? Then check out our list of best EPCOT restaurants to enhance your next visit to the park!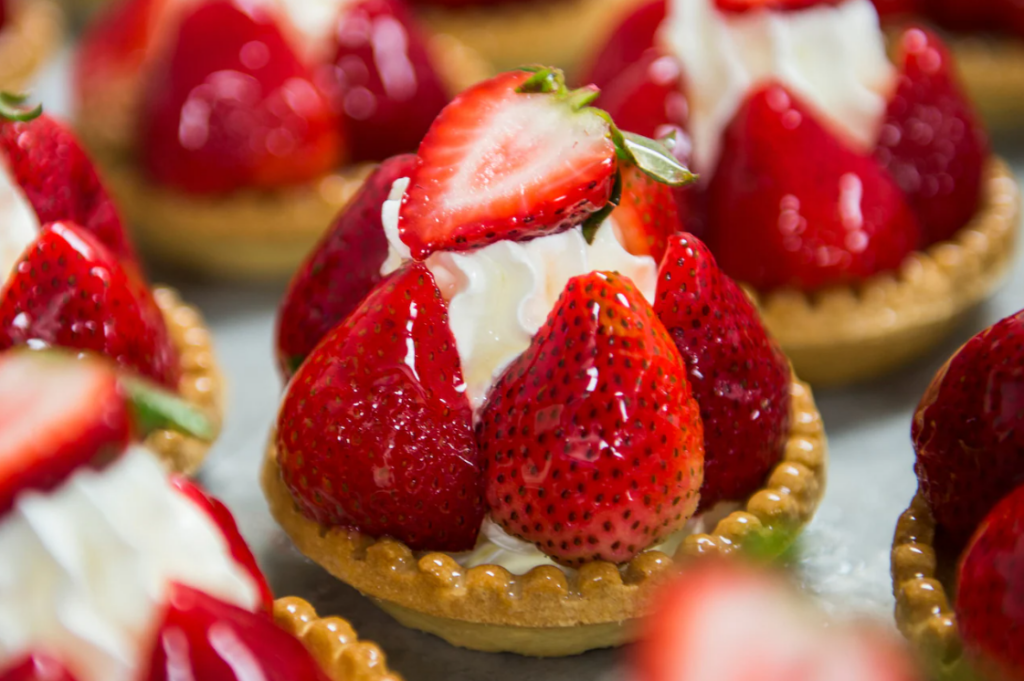 Caramel Box
If you are a fan of Caramel, then you will love this Disney snack!
Found in the Germany section of the park, the Caramel box is found in Karamell-Kuche shop.
This Caramel box has four different flavors of caramel combinations that you can choose from in the case.
These caramels are made fresh every day, and they are created by professional chefs who have studied the art of caramel making.
This caramel box is one of the sweetest Disney snacks on our list and is easily one of the most sharable snacks on our list.
A note of warning: they are messy and melt quickly, but they are addicting and you will want to get both box before leaving the park.
Looking for a more 'adult' way to enjoy World Showcase? Then check out our tips for drinking around the world at EPCOT!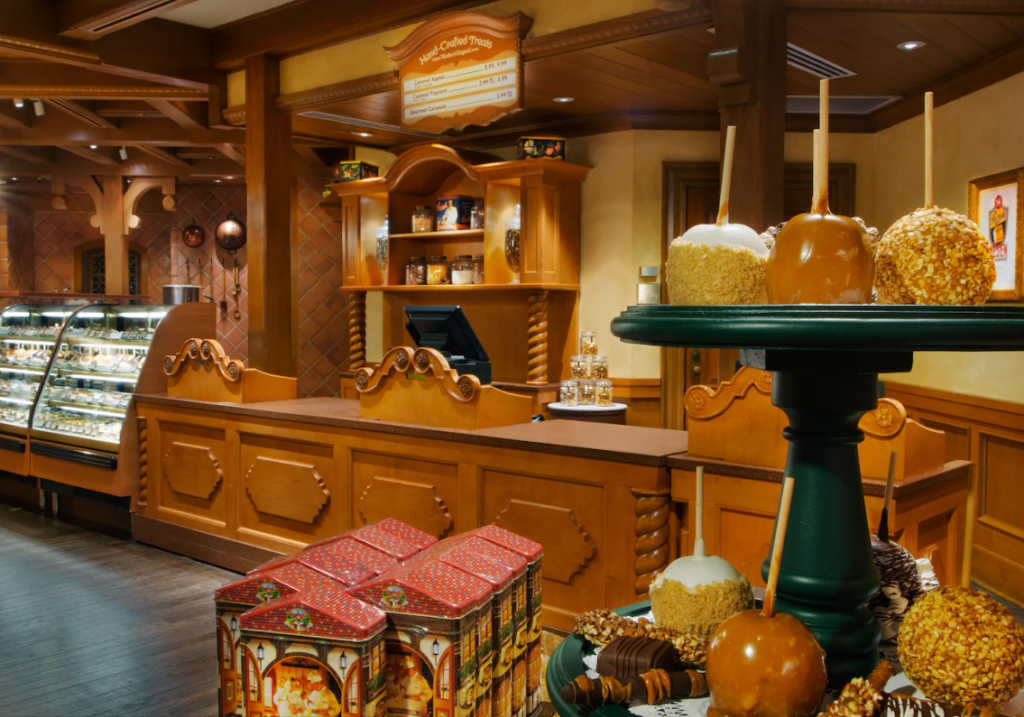 Best Hollywood Studios Snacks at Disney
Outpost Popcorn Mix
Looking for a more unique Disney snack, then we have you covered!
Outpost Popcorn Mix is located at Kat Saka's Kettle in Galaxy's Edge. This unique popcorn mix is unlike any other popcorn you've had.
Often described as fruity pebbles meets movie theater popcorn, this colorful mix is on our list because it is so different than other popcorns that you may find on Disney property.
Need a heartier start to your day after rope-drop? Then check out the best places for breakfast in Hollywood Studios!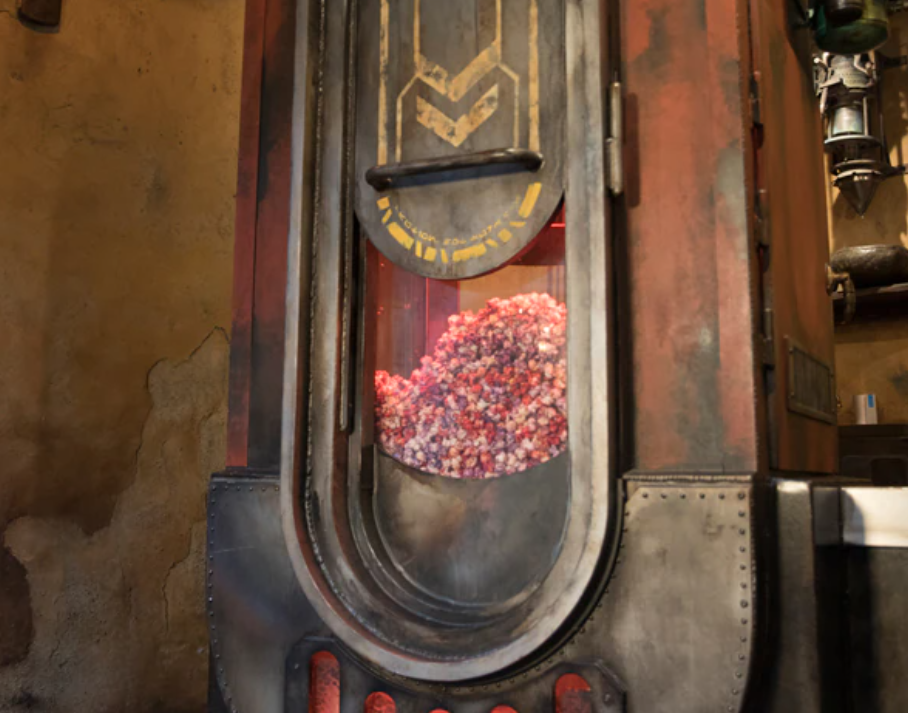 Carrot Cake Cookie
This massive Disney snack is located at The Trolley Car Cafe, a.k.a. the Starbucks in Hollywood Studios.
Not only is the coffee on point at this location, but so is the Carrot Cake Cookie.
This snack is two very tender cookies filled with a thick layer of cream cheese frosting. This Disney snack will remind you of a whoopie pie mixed with your grandmother's carrot cake, raisins and all.
The snack is not overly sweet but the cookie portion is very tender, and is very sharable with other members of your party.
Check out the other Disney Starbucks locations in the park, so you know where to find your favorite coffee on your next visit.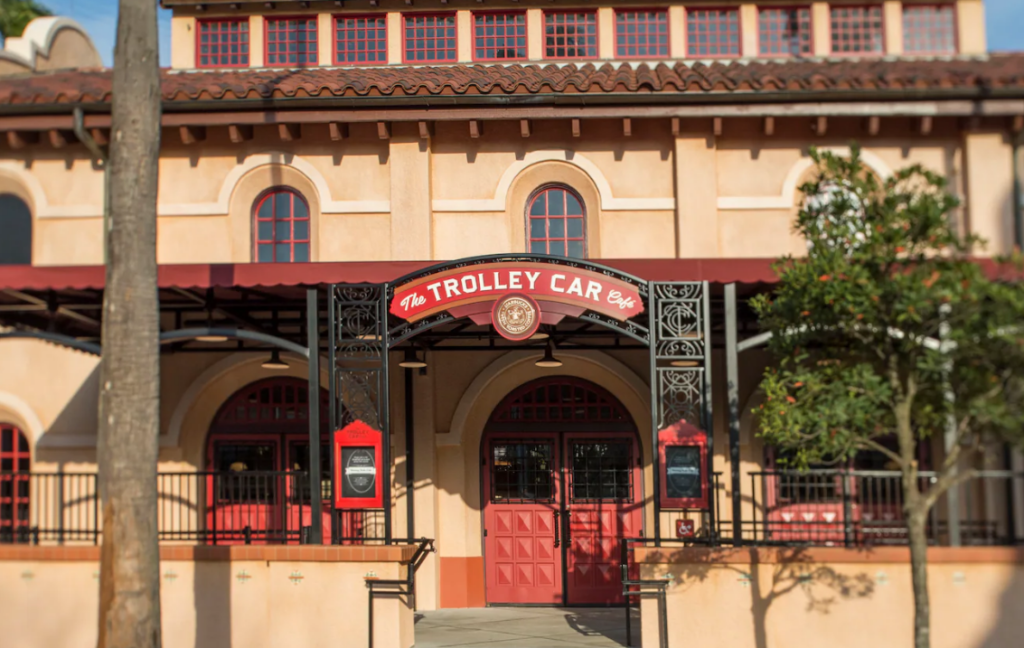 Wookie Cookie
The Wookie Cookie, located at the Backlot Express in Hollywood Studios, is a total trip down memory lane for many guests.
If you grew up eating Little Debbie Oatmeal Creme Pies, then this Disney snack will have you doing a double-take.
The Wookie Cookie is two oatmeal cookies with a thin filling of creme in the middle. There is a chocolate belt that goes across the top that looks just like the one Chewbacca wears in the Star Wars films. The cookies are tender but crunchy on the edges, and the creme is not very sweet.
This snack is one of the best Disney snacks for kids, and will have the adults in your party remembering the good days of their youth.
Looking for a ride to get on once you are done eating? Then check out our rankings of Hollywood Studio rides!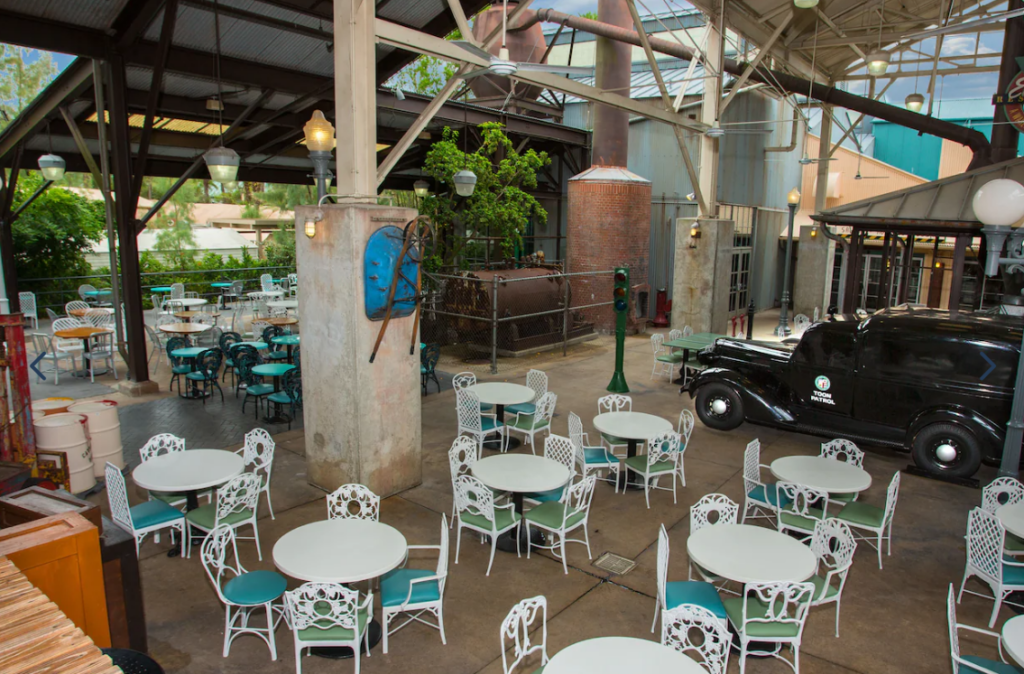 Lunchbox Tarts
Lunchbox Tarts can be found in the Toy Story area of Hollywood Studios at Woody's Lunchbox. These lunchbox tarts are a fan favorite that takes many guests back to their childhood.
This fun Disney snack will remind many guests of pop tarts. These pastries are made with a filling and topped with a thin streak of frosting and often decorated with sprinkles.
While there are specialty Lunchbox Tarts that are changed out for the seasons, some of the main staples that you will find year-round include Rasberry and Chocolate-Hazelnut.
These are great to grab-and-go when you are rushing to get on the next ride.
Speaking of rides, check out our recommendations for the best Hollywood Studios Genie+ and Lightning Lane rides!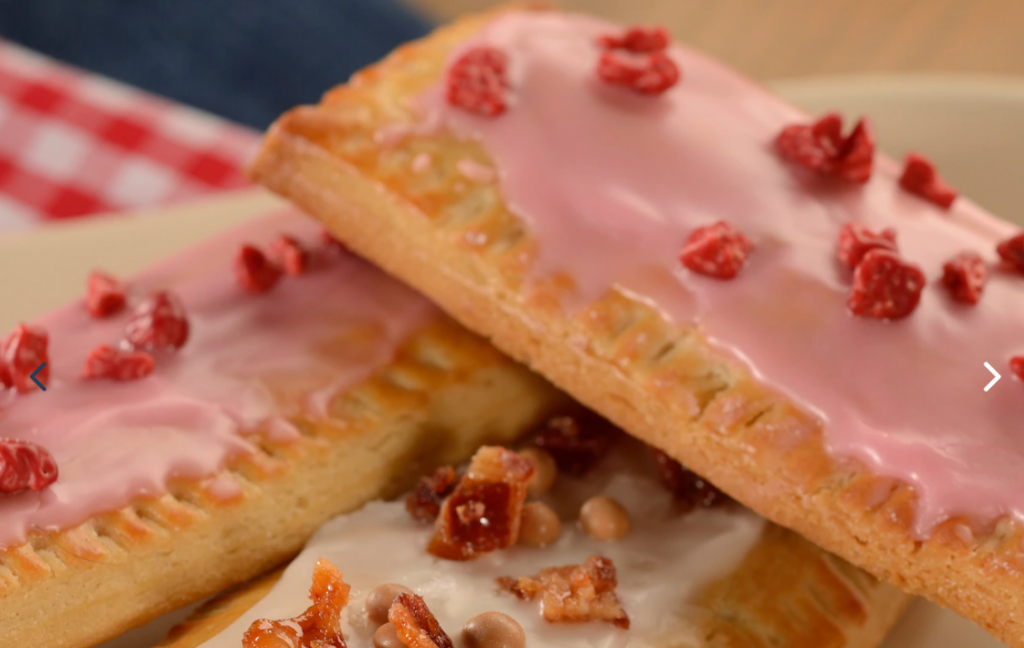 Best Snacks at Animal Kingdom
Mini Mango Pie
The Mini Mango Pie is one of the more refreshing yet filling snacks at Disney World.
The crust is the star of this Disney snack and the butter in the ingredients holds the graham crackers together in such a delightful way that doesn't make them feel heavy!
The filling is the perfect combination of sweet and tart and is one of the most refreshing snacks at Disney to try on a hot day.
Head to Yak and Yet Local Foods Cafe in Animal Kingdom to try this amazing Disney snack!
Thinking that you might be more hungry than you realize? Then check out the best Animal Kingdom restaurants!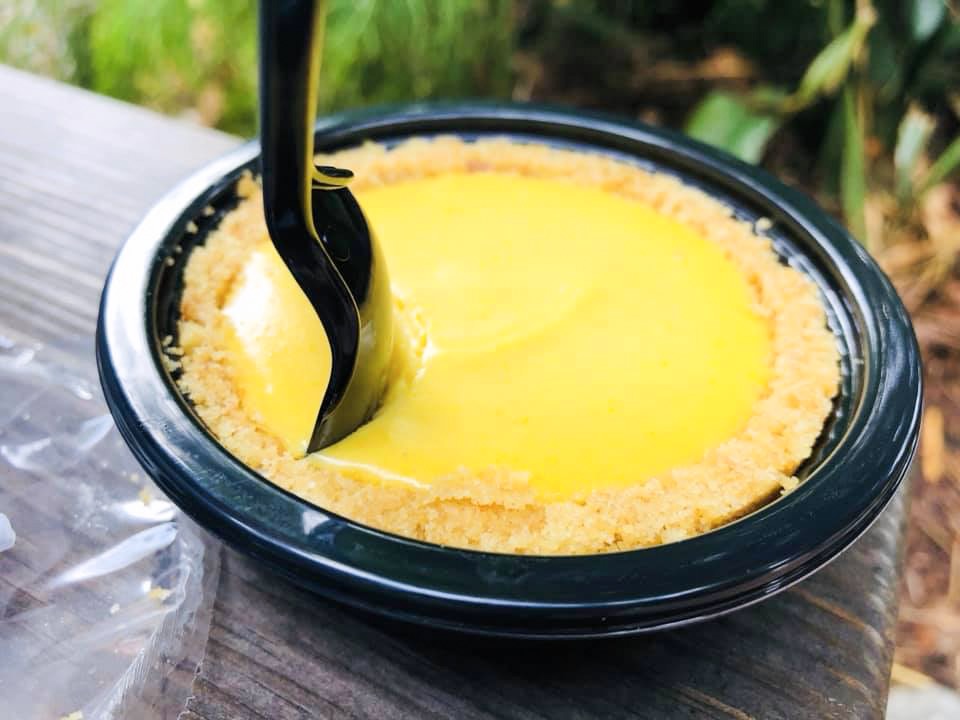 Mr. Kamal's Seasoned Fries
While you might be surprised to see that fries are on our list of best Disney snacks, these fries are not your regular kind of fries.
Found at Mr. Kamal's stand in Animal Kingdom, these seasoned fries are better than any other fries you've had; yes, even the curly ones.
These fries come seasoned with several spices, and you can choose one of four dipping sauces to try along with them.
This is great to share with your party and is fairly easy on the wallet.
So if you are looking for something salty and shareable while in Animal Kingdom, this Disney snack will hit the spot!
Looking to have a fantastic day in Animal Kingdom? Then check out our ultimate Animal Kingdom itinerary for when you are planning your next visit!
Pongo Lumpia
As one of the more unique snacks in Disney's Animal Kingdom, Pongu Lumpia is a mildly sweet Disney treat that may surprise you with its intensity.
This dish is made from a thin pastry that reminds you of a cross between a puff pastry and an egg roll. It is filled with pineapple and cheese.
It is a great Disney snack for any time of day and is one of the easier-to-eat dishes while in the parks.
This is great to hand off to your kids and not have to worry about them having chocolate smeared everywhere from it melting too fast. The pineapple is cool, refreshing, and really light.
We highly recommend you give this Disney snack a try!
Looking for a more hearty breakfast while in the park? Then check out the best places for breakfast in Animal Kingdom!
Best Snacks at Disney Springs
Chocolate Chip Cookies
Gideon's Bakehouse is legendary for its dark atmosphere, and half pound cookies, which are one of the best Disney snacks to get in Disney Springs!
As one of their top sellers, this chocolate cookie is thick! It has a cookie-dough texture in the center but a crisp outer edge that lets you know that the cookie has been baked to perfection.
We recommend getting to this location first as the line for this amazing Disney snack builds quickly, and often has to resort to a virtual queue.
Looking for something to do while you wait? Check out our list of fun things to do at Disney Springs!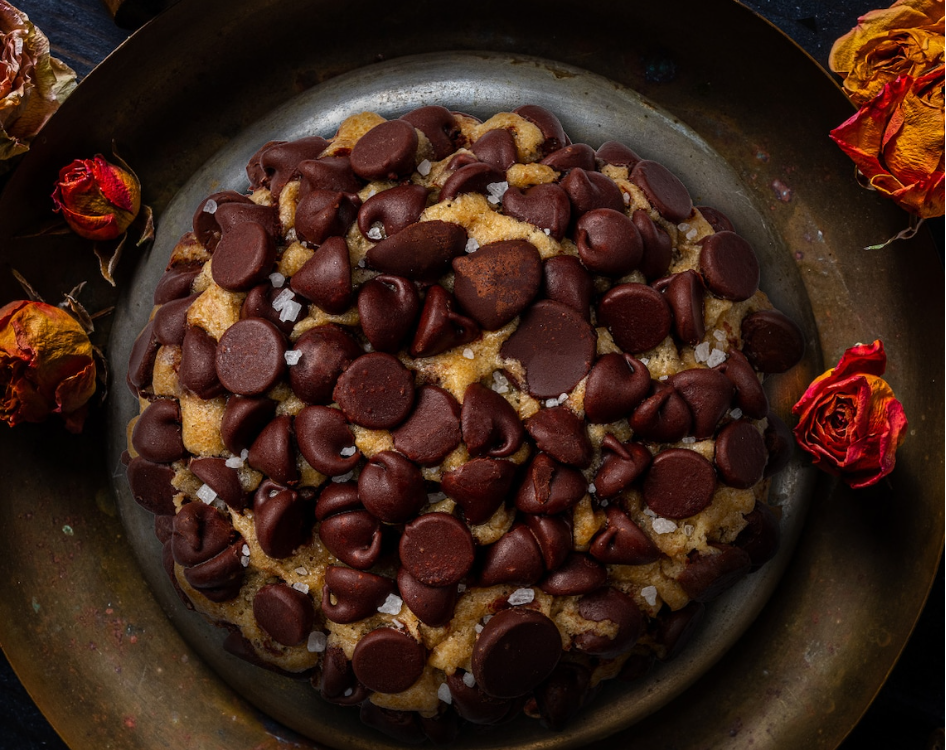 Churros
If you are missing Disneyland, or you want a taste of Disneyland California, then this great Disney World snack has you covered!
Located at Sunshine Churros, these churros come in various flavors, although our favorite flavor is the classic cinnamon.
While this is not the only place to find churros on Disney property, it is one of the stands that has the best quality of churros.
If you are looking for something more substantial than a Disney snack, then check our list of best places for lunch at Disney Springs!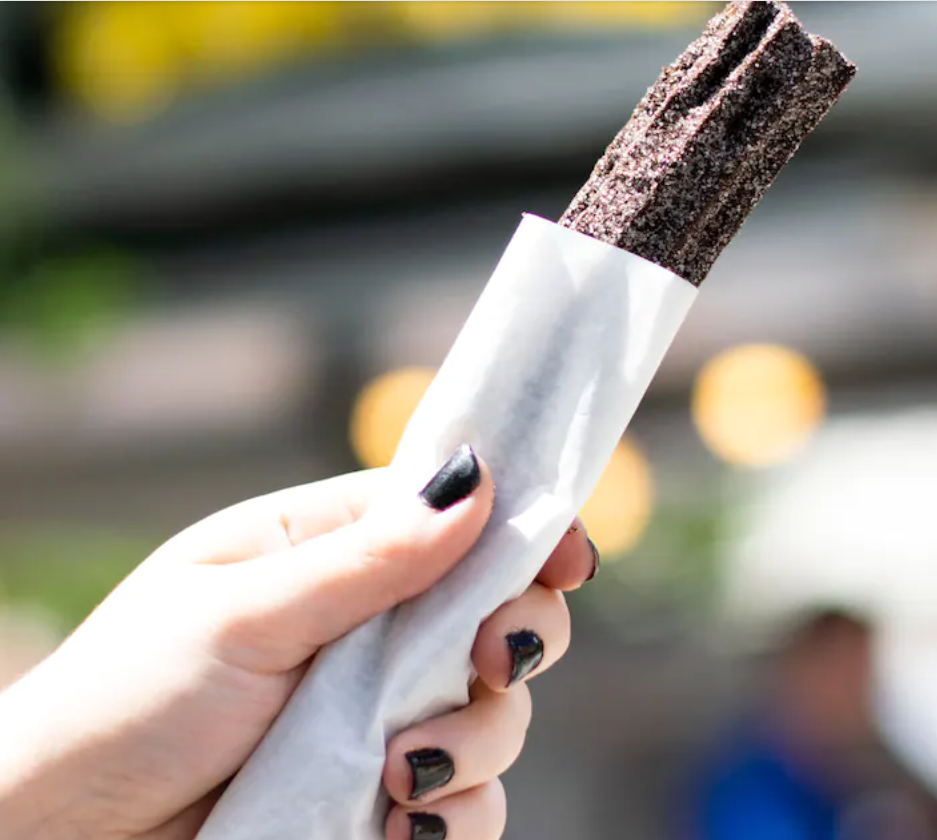 Poutine
If you are looking for salty, comforting Disney snack, then The Daily Poutine is the place you want to go!
Poutine is dish made with french fries, gravy, and cheese curds. The flavor of the gravy as well as the type of cheese curd is customizable.
The most popular way to get this dish is Canadian style: french fries loaded with beef-based gravy and cheddar cheese curds.
This dish is easily sharable, and is rather easy on the wallet. If you are in need of a warm Disney snack, then this is the one for you!
Looking for something to wet the appetite for your snack? Then check out the best Disney Springs Bars that will have you feeling the buzz!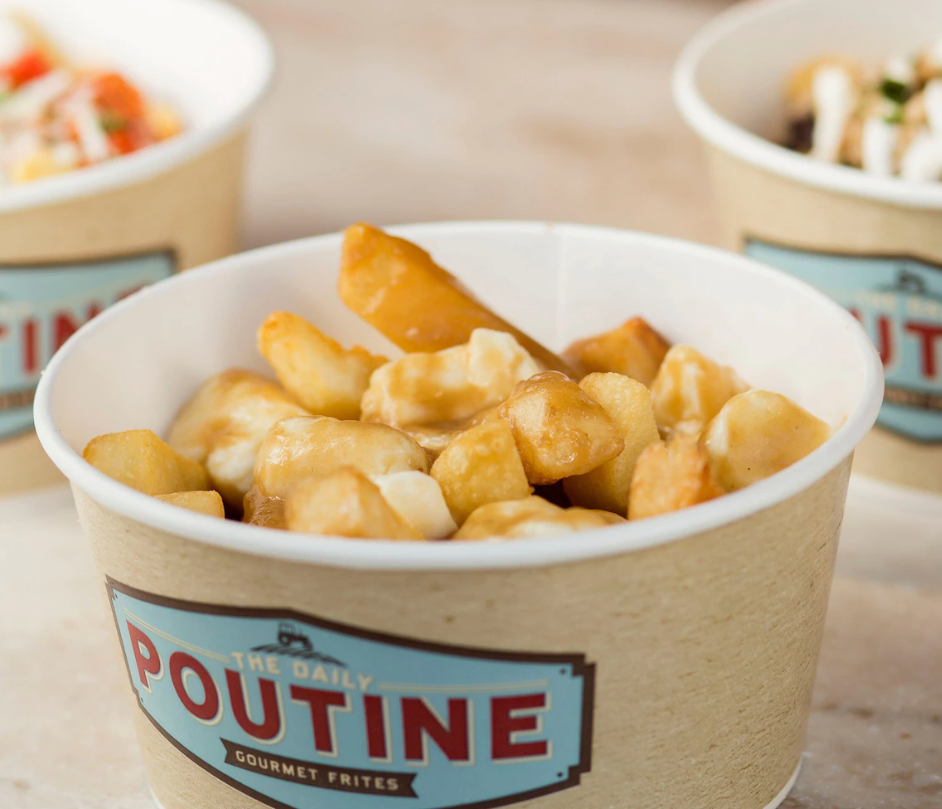 Best Snacks at Disney Resorts
Beignets
The Beignets at Scat Cat's Cafe at Port Orleans-French Quarter result are the closest you will ever get to have an authentic New Orleans Beignet outside the state of Louisiana.
Shaped like a Mickey, this fluffy doughnut-like pastry is covered with powdered sugar. There is an offering of a few dipping sauces like chocolate and strawberry.
You can also get this snack with pipets of alcohol to infuse into the beignet so that every bite has a kick to it.
There is a reason this Disney snack has a cult following and why it is worth going out of your way to try!
If you are wondering about your next Disney resort stay, check out our recommendation for the best Disney Resorts for large families and groups! You may be surprised by which ones we've recommended!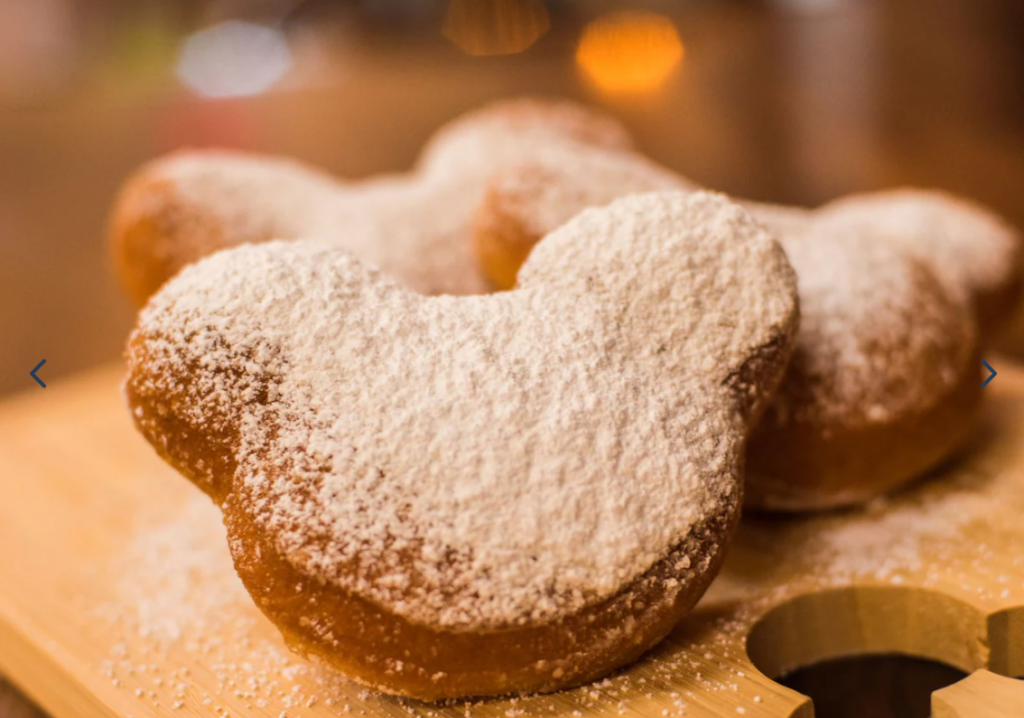 Zebra Domes
These fan-favorite Disney snacks can only be found in Disney's Animal Kingdom Lodge.
The Zebra Domes are made of a thin layer of cake on the bottom, with a delightfully flavored mouse on the top, dipped in white chocolate and drizzled with milk chocolate.
Think cake pop meets chocolate truffles.
These usually come in a package of four and can be found in the open coolers inside of Mara, the grab-and-go service in the Animal Kingdom Lodge.
If you are looking for a silky and sweet treat, this Disney snack is for you!
Not sure if a value or moderate resort is right for your stay? Then check out our review of the value vs moderate resorts at Disney!
The Spaniard for Two
If you are looking for a savory snack at Disney World, then consider heading on over to Disney's Coronado Springs Resort.
Head to grab tapas from Toledo and try The Spaniard For Two.
While this Disney snack is on the pricier side, it is worth it because it is quite filling and a great way to end the day with a glass of wine.
The Spaniard For Two comes with the Chefs' signature selection of artisanal charcuterie and cheeses.
If you want a savory snack at Disney that is on the more "adult" level, this is the snack for you to try!
Speaking of the 'adult' way to experience the resorts, check out our list for the ultimate Disney resort bar crawl!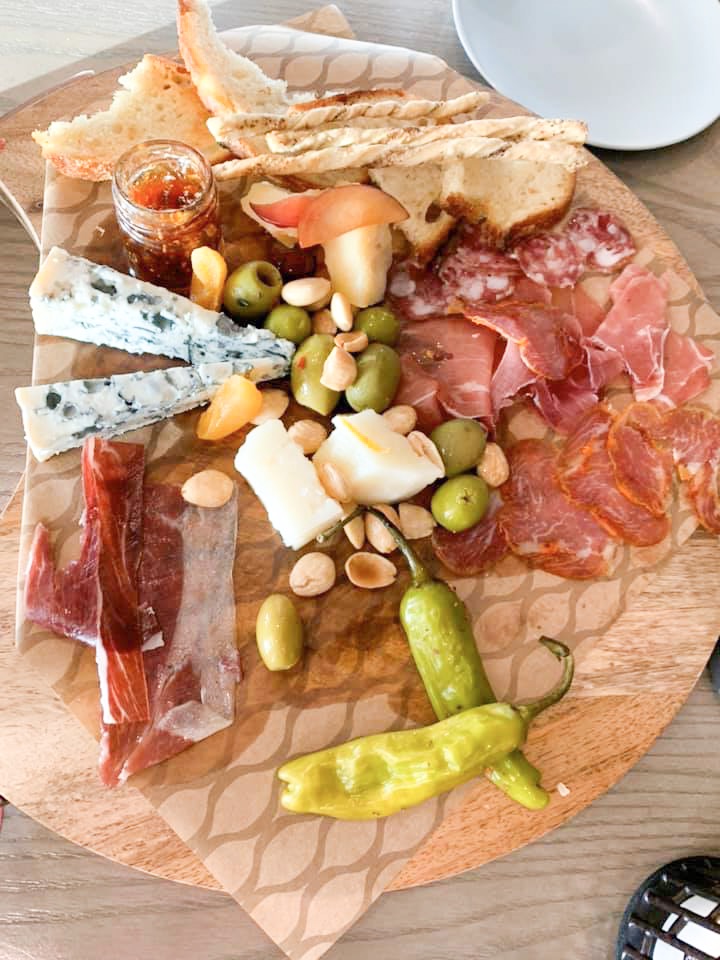 Giant Donut
This Giant Donut is THE ULTIMATE sweet snack at Disney!
You can find the Giant Donut at pretty much all Jofferys locations all around the Disney Resorts.
You can also find them both inside and outside of the Disney Parks at Disney Springs.
They are great for a quick pick-me-up and go great with a delightful cup of coffee, which you can also get at Joffery's.
If you haven't tried the Giant Donuts, then you should make these your number one snack to try at Disney!
Need a place to eat at the last minute? Then check out the best places to eat at Disney without a dining reservation!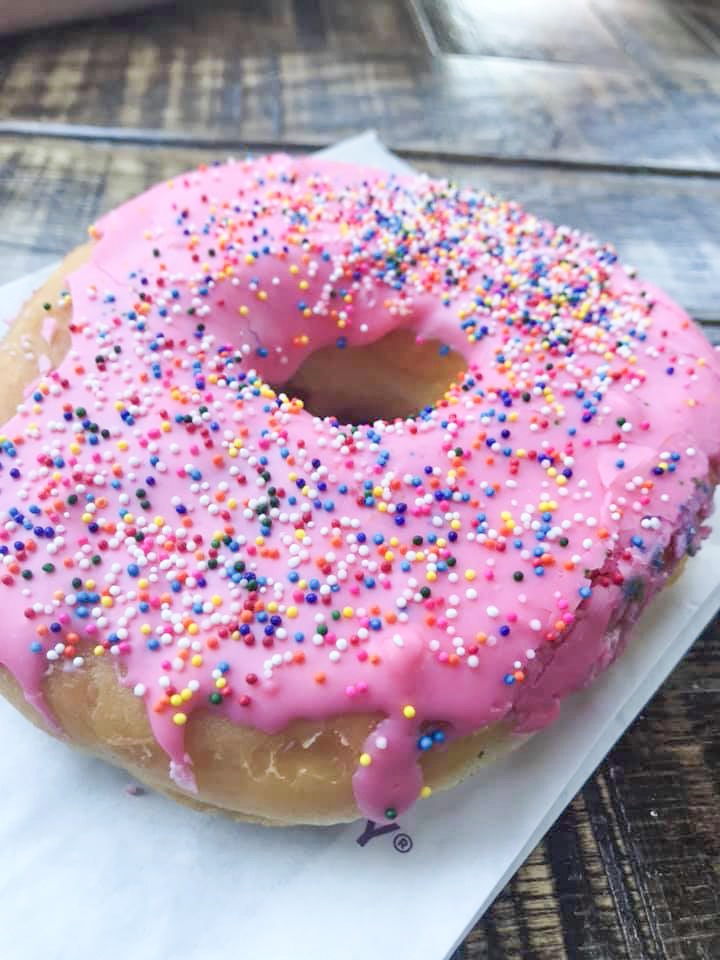 Mickey Soft Pretzel
The Mickey Mouse pretzel is the ICONIC Disney World snack!
You can find these fun Disney snacks all over the parks in snack carts and all around the resorts.
Just ask a Cast Member at the park that you are in and they will point you in the right direction! Trust us, you won't regret it.
Mickey pretzels are quite large and very flavorful. You can buy them plain or you can buy cheese to dip them in.
There are other pretzels on Disney property that you can get like cheddar jalapenos or cream cheese-filled ones. However, nothing beats the original classic Mickey pretzels as one of the best snacks at Disney World.
Speaking of resorts, did you know that as a resort guest you can get extra perks? Check out the best Disney Deluxe resorts that you may want to consider when planning your next trip!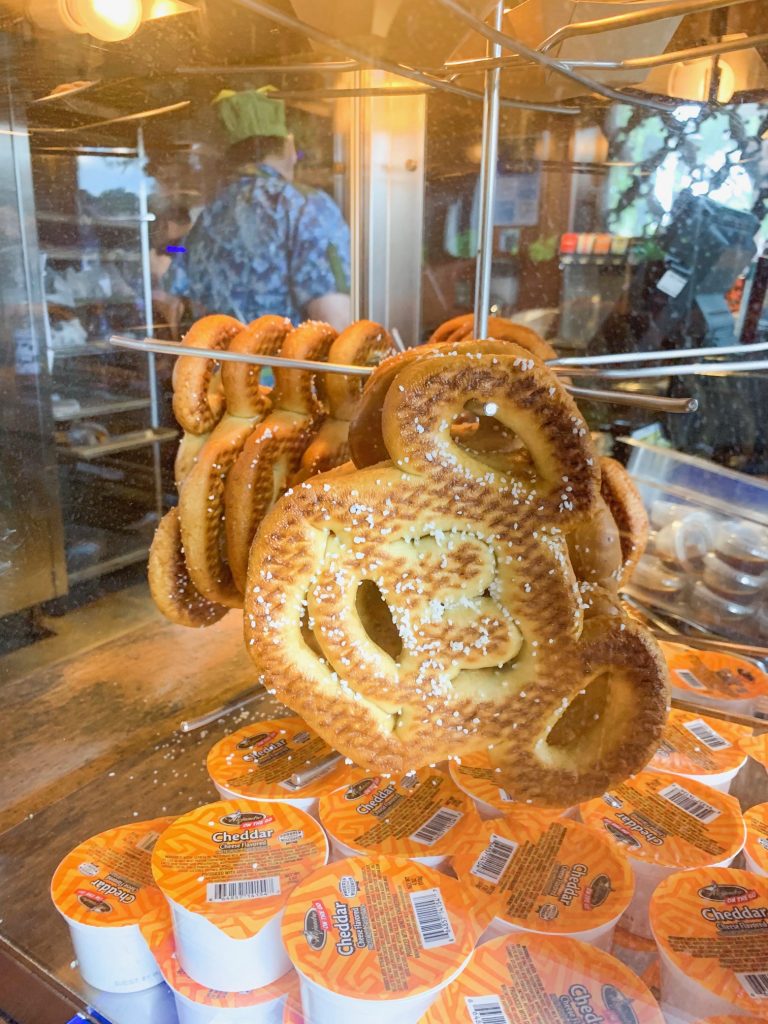 If you are looking for some of the best snacks in Disney World, then look no further!
Whether you are looking for something sweet or salty, something to share or keep to yourself, our list covers it all!
Next time you visit the parks, give one of these best Disney snacks a try; you'll find yourself going back for more! Don't forget to check out our detailed breakdown of the Best Time To Visit Disney World for help with planning!