If you're looking for the best tips for celebrating your birthday at Disney World, you've come to the right place! Disney World is a great place to celebrate any special occasion, and having a birthday here can feel more magical than any other day.
But how do your make sure your day is extra special? And how do you celebrate someone else at Disney, whether they are a child, a teen, or an adult? Well, we have all the answers for you here! We've celebrated birthdays at Disney World before, and have tips and tricks to make sure your day is special no matter how you choose to celebrate it!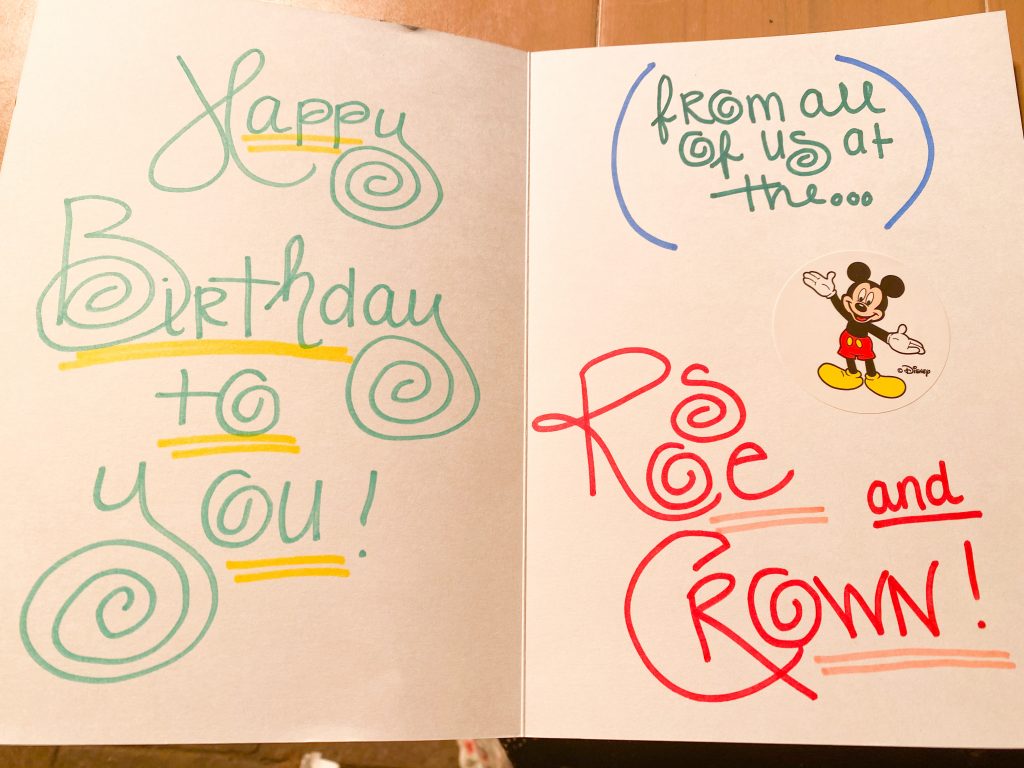 Does Disney do anything special for birthdays?
If you plan on celebrating a birthday at Disney World, you may get a surprise or two from Cast Members! Table service restaurants will sometimes give you a little dessert for free, and you might even get a signed birthday card. Other Cast Members may make some magic for you, like free cheese with your Mickey pretzel, or surprising you with letting you have your Mickey Premium Bar for free.
Just note, none of these things should be expected or demanded. But, Cast Members do tend to go out of their way to sprinkle a little pixie dust on those celebrating, and you never know what may happen!
Birthday Buttons at Disney World
If you are going to have a celebration at Disney World, make sure you pick up a button to wear! These are the best way to celebrate a birthday at Disney – or any other special occasion for that matter. And the best part? These are one of the best freebies at Disney World!
You can pick up a birthday button at Guest Relations at any of the Disney parks, or at the front desk of your Disney Resort. These are customizable, so you can put your age, or name on your button. And don't forget to grab "I'm Celebrating" buttons for everyone else in your party so they, too, can celebrate your special day.
These celebration buttons are the easiest way to let characters and Cast Members know you are there for your birthday, and you never know what kind of magic may happen.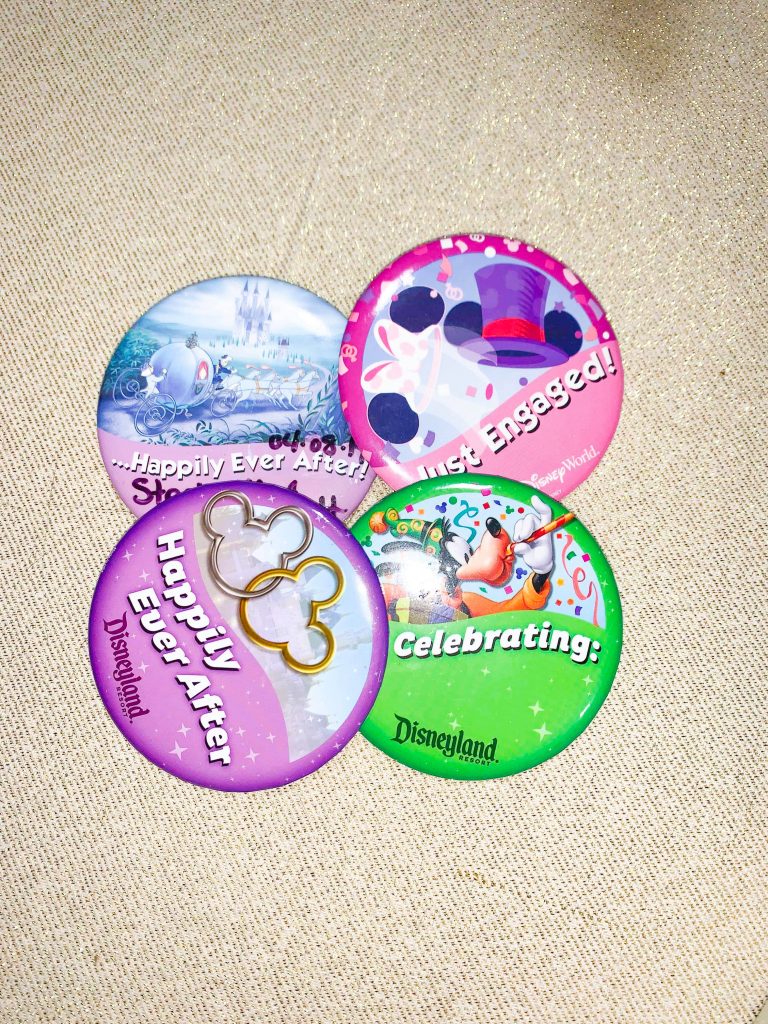 Tips for celebrating a birthday at Disney for any age
You don't have to be a kid to have fun celebrating your birthday at Disney World, and regardless of age, there are a few tips that will help your celebration be more successful and stress free.
Make Reservations Early
Planning for a special occasion at Disney World will take a little planning on your part. Make sure you book any resort, dining, or experience reservations well in advance. This will insure that you, or the birthday guest, will get to stay at their favorite resort or eat at their favorite restaurant for their special day.
Reservations can fill up quickly, especially for the more popular places like Cinderella's Royal Table, Be Our Guest, as well as some of the Signature Dining restaurants. Be sure to book these when your window opens up.
Go All Out in Birthday Gear
If you are going to be celebrating your birthday at Disney, make sure you are all decked out in the best gear you can find! Disney sells birthday hats and birthday mouse ears, as well as you can order birthday hats from party stores and Amazon.
You can even wear birthday shirts, birthday sashes, and heck, who's to stop you from wearing a birthday tiara? Not us! Wear all the fun and cute birthday clothes and accessories you can find, and Disney is the one place where you can do this no matter how old you are turning.
Wear Your Birthday Button from Disney
Since you've already picked up your birthday button from your hotel or Guest Relations, you should absolutely be wearing it! Pin in onto your clothes when you head out to the parks or Disney Springs. Enjoy your special day, and make sure everyone knows what you are celebrating.
Celebrate with a Birthday Cake from Disney
There are several ways to get birthday cakes while you are in Disney World, and you can either have them delivered to Table Service restaurants, sent to your Disney resort, or you can even pick them up yourself.
The first way to get a birthday cake from Disney World is to order a custom cake from the Disney Cake Ordering Hotline – 407-827-2253. These are custom cakes you must order at least 72 hours before you need them, and you can discuss size, design, and flavoring with the Cast Members on the hotline. These can be delivered to your Disney Resort, and can either be sent to your room via the in-room private dining or picked up in the dining area if private dining isn't offered. These can also be sent to your Table Service restaurant.
If you don't care to order a custom cake, or don't have the time or money to get one of those custom cakes, there are Mickey Mouse Celebration Cakes available for order at most of the Table Service restaurants. These only come in chocolate or white chocolate, feed 4-6 guests, and costs $39. These don't require a pre-order, and you just need to let the podium at the restaurant know upon check-in or when you book your restaurant reservation. Please note though, these cakes cannot be altered due to allergy concerns so keep that in mind if there are allergy concerns/needs in your party.
The last way to get a celebration cake for a birthday at Disney World is to order from Amorette's Patisserie in Disney Springs. You can pick up any of their delicious ready-made desserts and cakes, or even call ahead and order a mini celebration cake from them. There are a lot of options here for different price points and flavor palettes as well.
Disney In-Room Celebrations and Floral Gifts
Disney Floral & Gifts is a service that delivers a plethora of gifts to Disney Resorts and rooms. They deliver to all Disney World Resorts and Good Neighbor hotels, and you can order these in advance to be picked up at the front desk of your resort. They offer floral arrangements, balloon bouquets, themed gift baskets, and even themed celebration baskets. There are lots of different price ranges and character choices for these baskets, and can be a nice surprise for your birthday guest!
Before the current global situation, Disney Floral & Gifts were offering In-Room Celebrations. They would decorate your room/bed prior to arrival to help you or your family celebrate. Hopefully these fun and special celebrations will return in the near future.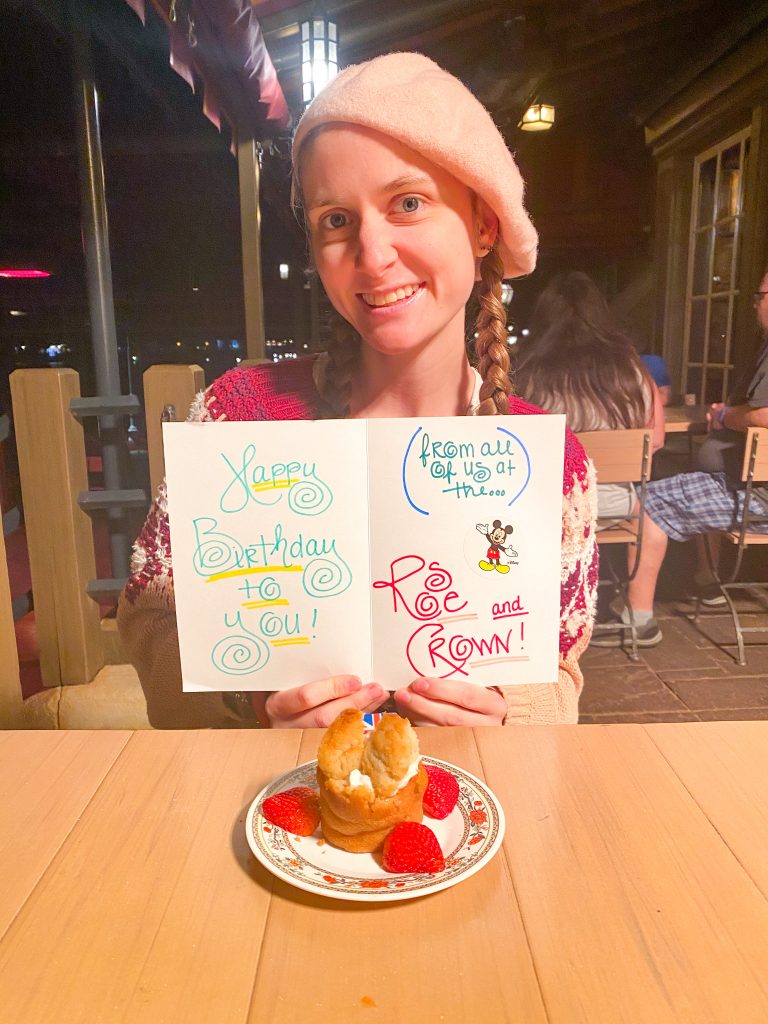 Birthday at Disney ideas for kids
If you're bringing your little one to Disney World to celebrate their birthday, there are so many fun ways to celebrate their special day! Our biggest tip is to plan all the fun around their favorite characters, movies, or rides. Who wouldn't want to have a themed birthday at the Most Magical Place on Earth?
Dress Up and Have a Themed Birthday
If you have a tiny swashbuckler at home, plan on celebrating their big day in a fun pirate way at the Magic Kingdom. Dress the birthday kid up like a pirate, go ride Pirates of Caribbean. After riding, grab a fun pirate souvenir from the gift shop and try to get a photo with Jack Sparrow when he's out and about!
What if you have a little one who loves Mickey? Then head to the Magic Kingdom, see Mickey in a cavalcade, buy a fun new pair of Mickey ears, and go watch Mickey's Philharmagic. Before or after a fun Mickey Mouse filled day, head over to the Contemporary Resort for a meal at Chef Mickey's! Breakfast here is a great way to start your day, or dinner here would be a good way to wrap up things.
Star Wars Day
Celebrating in Galaxy's Edge is a great idea for kids that are more Padawan than Prince or Princess. Sign your little one up for Jedi Training in Hollywood Studios, and once they are a true Padawan, head back into Galaxy's Edge and grab a blue or green milk. Don't miss riding Rise of the Resistance (make sure you get your Boarding Group for this early!). Build a Droid, have a meal at Docking Bay 7, and don't miss letting your little one talk to Rey, Chewbacca, and the Stormtroopers!
Wildnerness Explorers Birthday
If your little one is a fan of the movie Up! or loves to explore, spend their special day becoming a Wilderness Explorer at Animal Kingdom. Pick up your guide upon entering the park, and have fun doing 25 self-guided activities all around Animal Kingdom. Once your little one has completed it, they will be a Wilderness Explorer just like Russell, and reward them with a fun and adventurous dinner at Yak and Yeti! And don't miss running into Dug, Russell, and Kevin in the park!
Get a Special Gift
There's not much better than getting meaningful gifts on your birthday, and getting a souvenir from Disney World can't be beat! Let your little one pick out a stuffed animal of their favorite character, or a fun new pair of ears. Having a special souvenir just for their big day will make them happy, and you can bet they will show it to everyone they meet!
Pin Trading Day
Little ones will love spending a day pin trading at the resorts, the parks, and Disney Springs. You can visit the pin trading store at Disney Springs to get them a starter kit and a lanyard, and then head to some resorts to go trade!
Most of the resorts have pin trading boards out to safely trade right now, and your little one will have so much fun looking for pins with their favorite characters on them. They might want to collect just one character, or some from their favorite movies, or even their favorites rides and parks. They'll also enjoy meeting Cast Members and finding out what their favorite pins are too!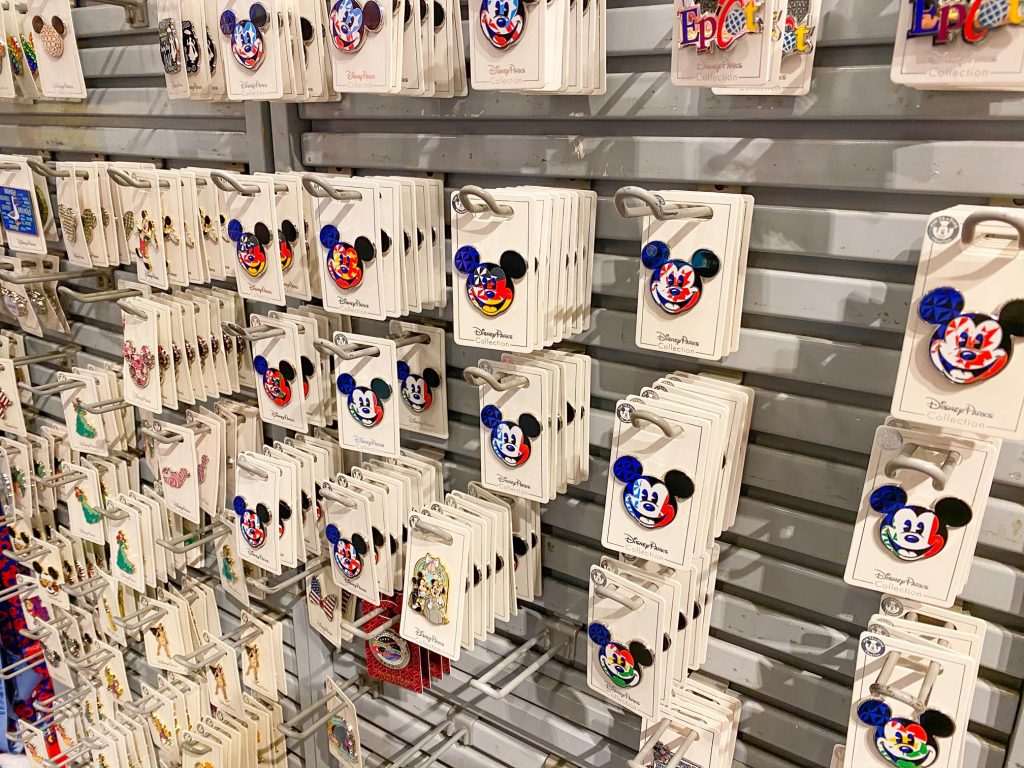 A Day Fit for a Prince or Princess
Since kids can dress in costume in the parks regardless of season, letting your little one dress like a prince or princess on their big day is sure to make it special for them. They'll look especially cute, and will have a blast taking photos and chatting with characters and Cast Members.
Since they are dressed like a prince or princess, eating dinner after a day of riding rides and seeing characters should be themed as well. Dinner at Cinderella's Royal Table or Be Our Guest is sure to please your tiny royal, and they'll feel like they fit in, eating dinner in a castle!
Birthday at Disney ideas for teens
Teens may not always be the easiest to surprise or make happy for their birthdays, but celebrating a birthday at Disney World will change that! Here are some fun ideas for your teen or pre-teen if you decide to celebrate their special day while on vacation.
Eat Around the World
A fun way to spend a teen's birthday at Disney World is eating around the World Showcase at EPCOT. Let them pick a dessert or snack from each country, which will let them be a little adventurous and enjoy some food they may not normally be interested in. This is a great way to expand their palettes, and teens will love spending a day snacking instead of having to have planned sit down meals.
This will be extra special and exciting if EPCOT is hosting one of their food festivals! A teen will love going booth to booth, trying new foods, and being in control of their special day.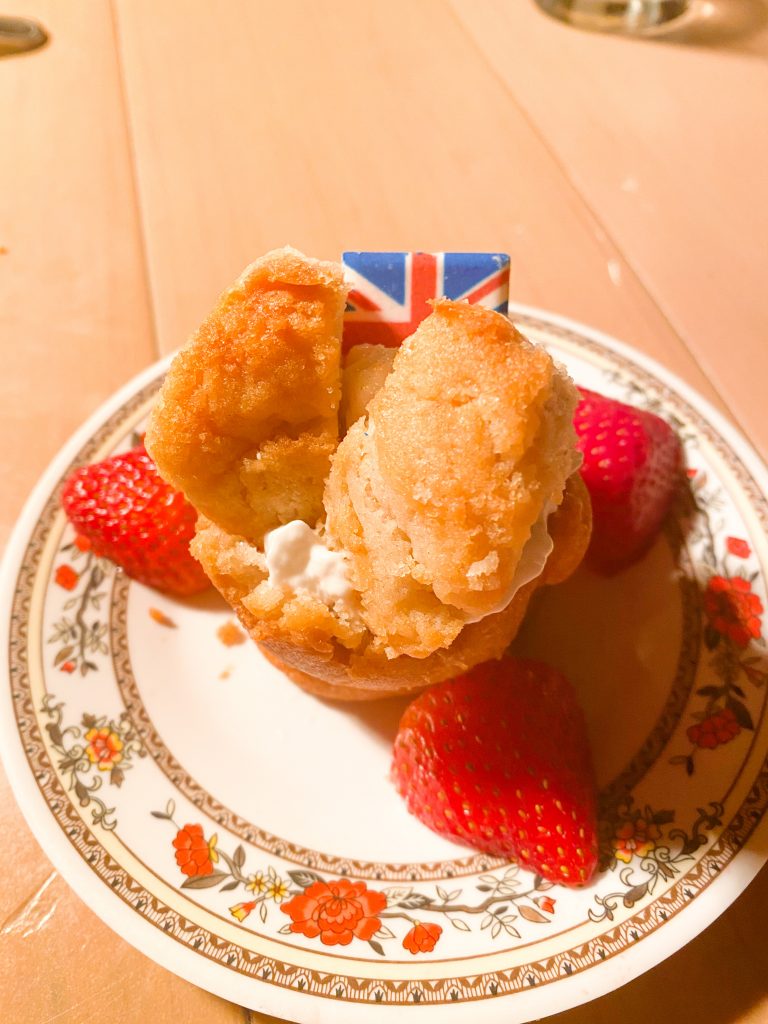 Thrill Ride Day
If your teen is into thrill rides – or looking to try them – having a thrill ride day for their birthday is the perfect choice! You could try to conquer all the mountains at Magic Kingdom, or head to Hollywood Studios and get some big thrills on Tower of Terror and Rock 'n' Rollercoaster. We have a list of the most thrilling rides your young thrill seekers won't want to miss.
Letting them choose which rides they want to conquer will help a lot with fears and nerves, and they will be able to have a fun, exciting day on their own terms. After a day of exciting expeditions, grab dinner at a fun Table Service restaurant, like Skipper Canteen, Sci-Fi Dine-in, or 50's Prime Time.
Skyliner/Monorail Crawl
If your teen really wants to feel more grown-up on their big day, celebrate with a crawl on the Skyliner. You can grab a dessert, snack, meal, or even non-alcoholic drinks at each stop. This will feel so grown-up to a teen, and they will look forward to trying something different at so many resorts and the Boardwalk. We suggest starting at either the Boardwalk or the surrounding resorts, then heading to the Riviera, Caribbean Beach, and finally ending at either Pop Century or Art of Animation. Bonus points if either of those resorts are showing a movie under the stars that night!
Or, if you're looking for a smaller loop to enjoy snacks and desserts on, try a Monorail Crawl. This smaller loop will take you to three resorts, the Magic Kingdom, and there's no shortage of yummy treats on this loop. You can start with an appetizer at one resort, a meal at the next, and finish with dessert at another. Finish the night riding rides at Magic Kingdom or watching fireworks from one of the resorts.
Batuu Birthday
Star Wars doesn't have an age limit on it, and most teens will probably know more about the films, the shows, and be more familiar with the characters than some little kids will. They will love riding Rise of the Resistance, Smuggler's Run, and seeing some of their favorite characters walking around Galaxy's Edge.
Start the day off with a breakfast Ronto Wrap, ride some rides, grab a blue milk, and make sure you have a meal at Docking Bay 7. After they've had their fill of Batuu, head back out into Hollywood Studios and don't miss Star Tours – it's a great way to end a Star Wars birthday!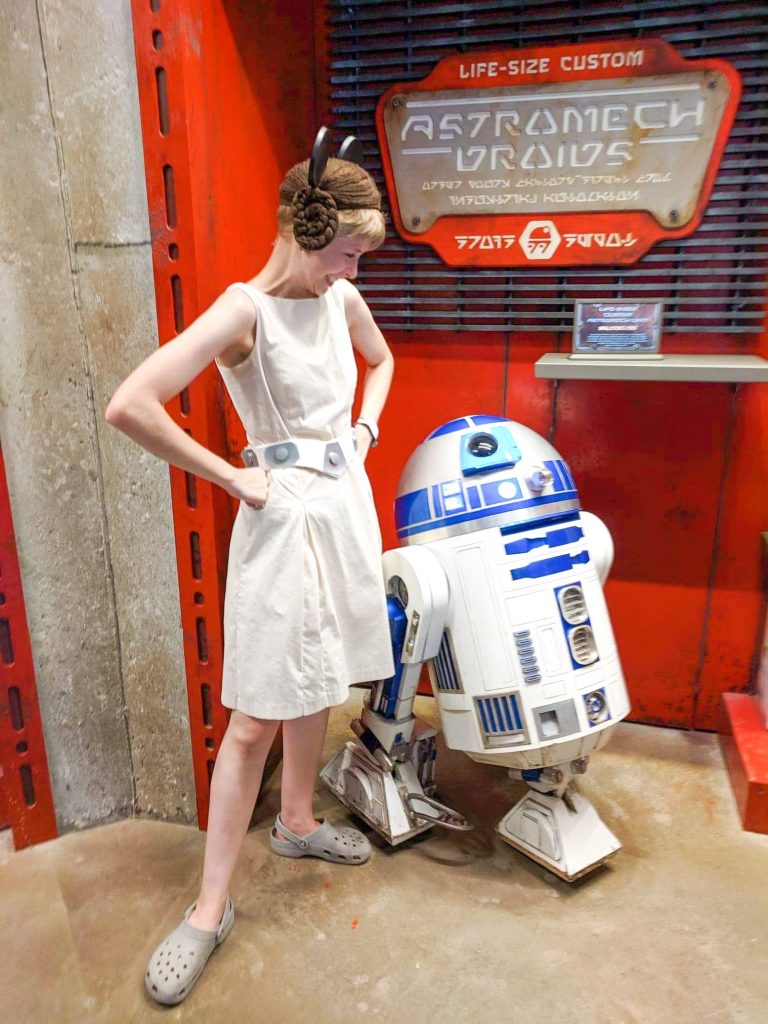 Disney Springs Spree
If your teen is a little older and wanting to feel more grown-up on their day, bypass the park and head to Disney Springs. Take them on a fun shopping spree in some of the nicer stores, and let them pick out a nicer gift – no ears, stuffed animal, or character tee here. Disney Springs has some great stores that aren't all Disney-themed, and your teen is sure to find something they'll love.
Have dinner at The Boathouse, Wine Bar George, or any of our favorite restaurants at Disney Springs. Eating at a nicer restaurant will be special and they won't feel like they're having a little kid Disney birthday. There's still so much magic at Disney Springs that isn't all about characters and rides.
Princess Day
Growing up and becoming a teen can be difficult, and sometimes having a day to be a little kid again might be fun. Let your prince or princess dress up nicely, wear a crown or tiara, and let them choose how they want to celebrate their big day.
They might love a manicure at one of the spas, or even a massage, and sometimes just dressing fancy will make you feel good. The perfect place for dinner has to be Be Our Guest – the lack of characters makes it feel a little more adult than Cinderella's Royal Table, but your prince or princess will still enjoy eating in the grand ballroom of the Beast's castle. Don't miss firework and a nice photo in front of the castle either!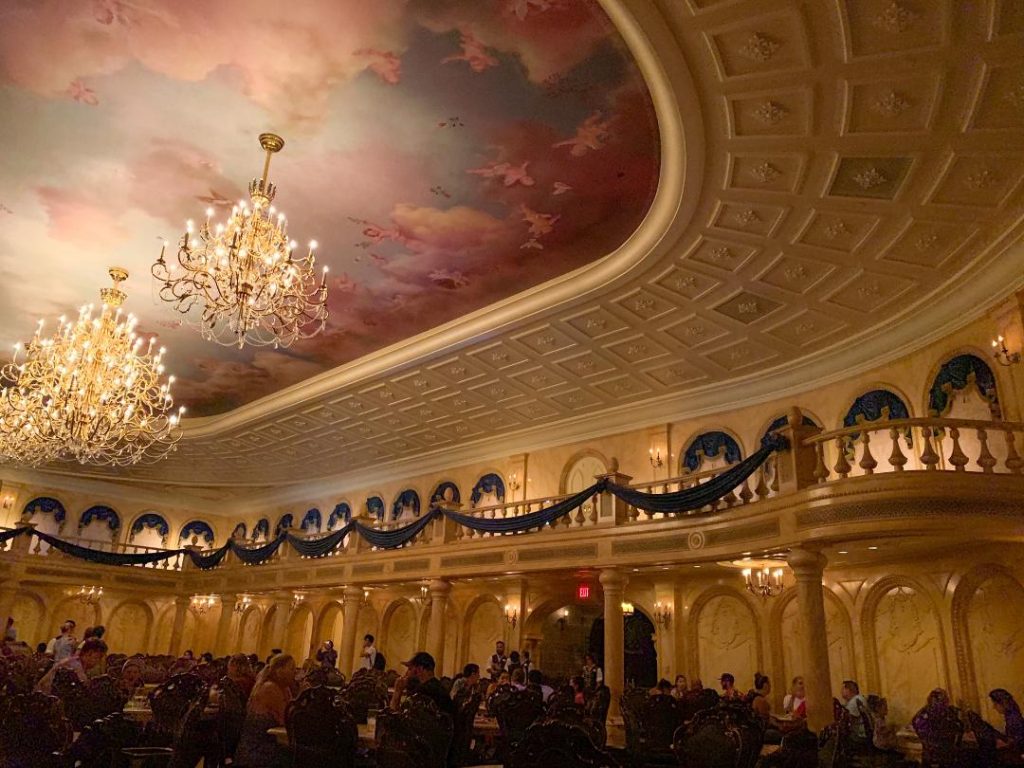 Birthday at Disney ideas for adults
Celebrating a birthday at Disney World isn't limited to kids and teens! Having your birthday at Disney as an adult can be just as fun – or even more fun! Adults can act like kids, but enjoy a fun dinner and adult beverages as well. Make sure you wear your birthday button too!
Drink Around the World
Being an adult in Disney on your birthday gives you a great excuse to drink around the world! EPCOT has so many great drink options – both alcoholic and non-alcoholic – to enjoy on your birthday. There are 11 countries to try something from, and you won't be disappointed. But make sure you grab some snacks and meals in between those drinks!
If you are looking for some of our favorite choices when drinking around the world, check out our list on best drinks at EPCOT and the best way to drink around the world.
Boathouse and Amphicar
If you want a fancier birthday celebration, grab reservations at The Boathouse in Disney Springs. The drinks and food here are amazing, and you can sit out on the dock, enjoying a cool breeze and some great views of the water. The Duck Duck Razz drink is iconic here, and you don't want to miss out on the filet sliders or the desserts here either.
After a delicious dinner, take a ride on the Amphicars that are docked by The Boathouse. These are Italian water taxi cars that can be driven on land and in the water! If you show your receipt from dinner, you can get a $25 discount on the Amphicar – which is nice, because it is a little pricey at $125.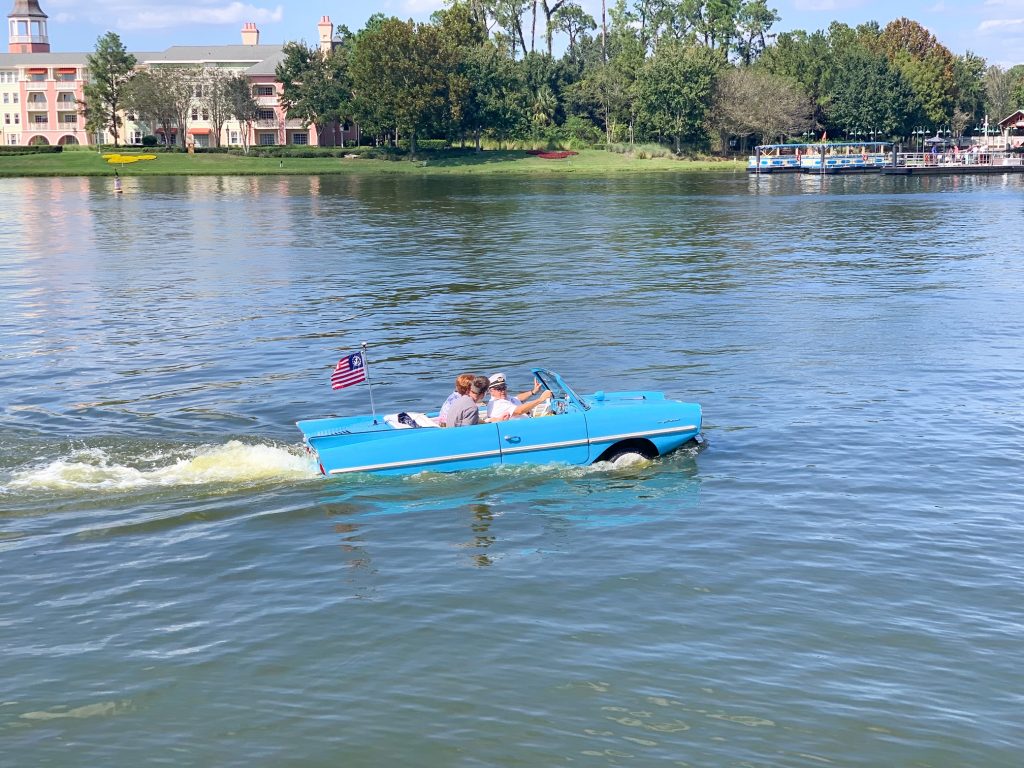 Monorail/Skyliner Bar Crawl
We know we suggested the Skyliner and Monorail crawls earlier for snacks, meals, and desserts, but since this is the adult version we are absolutely going to suggest hitting up the great bars along both the Skyliner and the Monorail. You should definitely still grab a meal, a snack, or a dessert or two along the way to go with those drinks! These resorts have great food and you don't want to miss out.
We have already created the Ultimate Resort Bar Crawl for you to check out, and these would be great starting places to plan a birthday crawl! Our list has both the Skyliner and Monorail crawls, and we think you can't go wrong with either of these bar crawls, and you can spend a day trying drinks and food at some beautiful Disney resorts.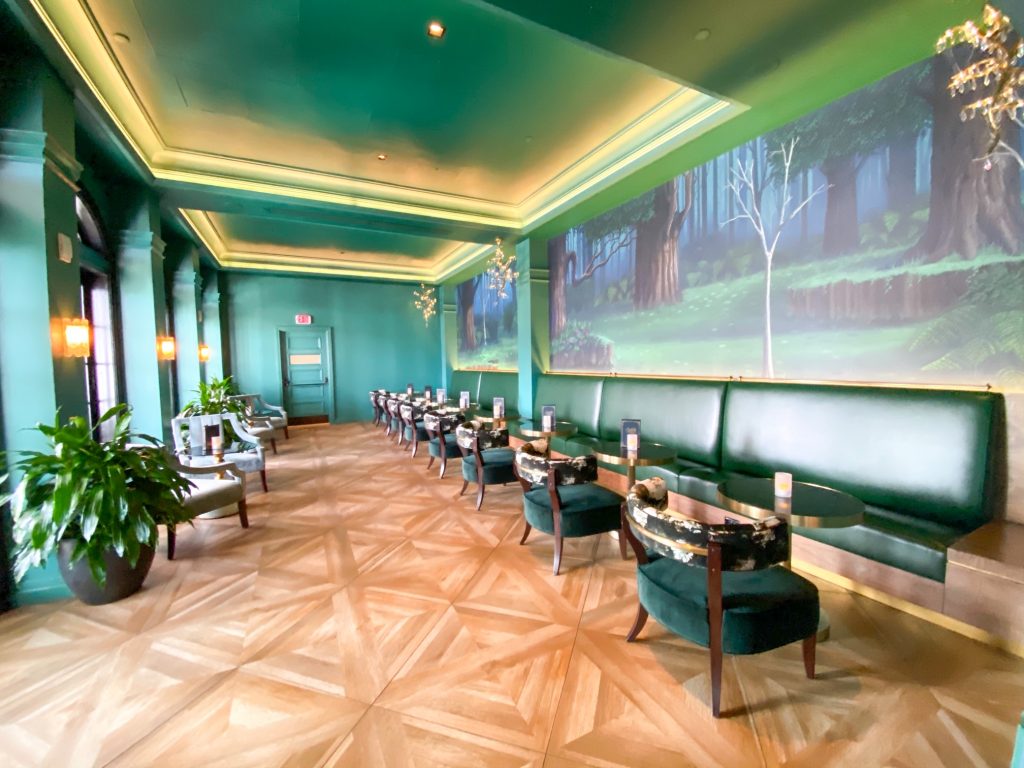 Spa Day
Disney has thought of just about everything when it comes to making your vacation enjoyable, and spending the day at the spa is something else you can add onto your list. There are two Senses Spas on Disney property, one at the Grand Floridian and one at Saratoga Springs. There's also the Mandara Spa at the Dolphin Hotel. Any of these would make for a relaxing birthday, and we recommend getting a massage, facial, or whatever makes you feel pampered.
After a relaxing day at the spa, head over to California Grill for a fancy birthday dinner. Make sure you either get a table with fireworks views, or eat a dinner early enough that you can out onto the fireworks deck afterwards. A delicious dinner and beautiful fireworks are the perfect end to a relaxing day.
Feel like a Kid
If you plan on celebrating your birthday at Disney World, you might as well celebrate as if you are a kid! Spend the day eating junk food, park food, and ice cream. Ride your favorite rides, especially those that you loved as a kid.
Dress up in a Disney-bound like your favorite character, or wear a Princess crown. Being at Disney is about enjoying yourself no matter your age. There aren't any rules about how to enjoy! An extra Mickey Premium Bar and another round on the tea cups will make any birthday at Disney worthwhile.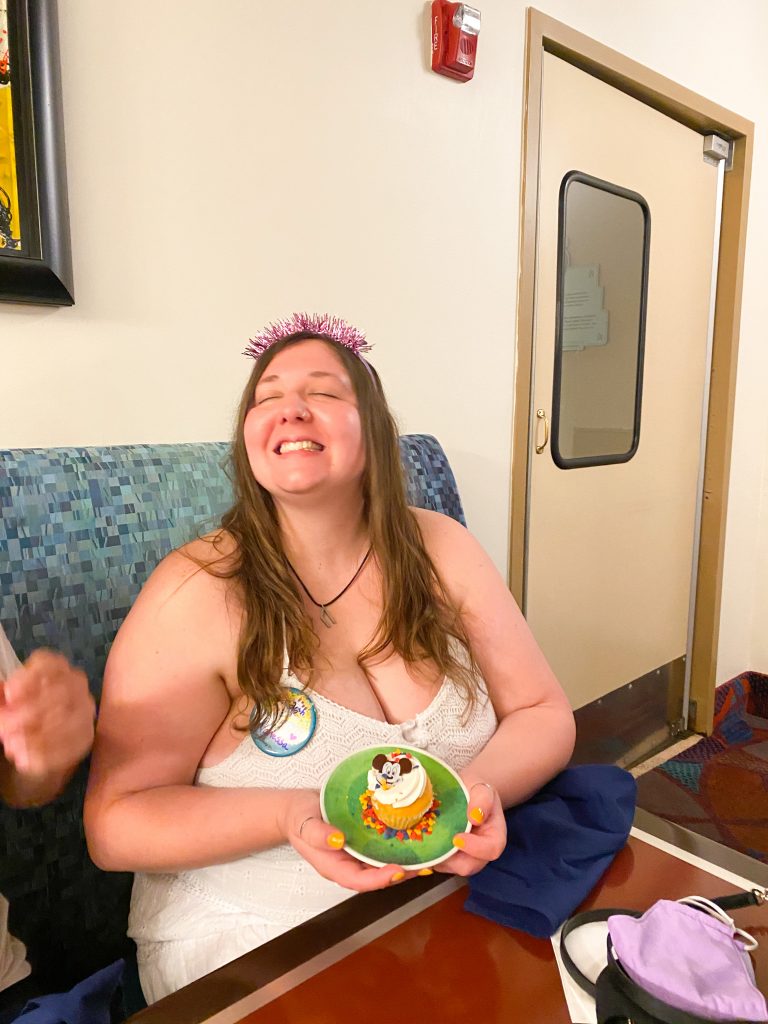 If you plan on visiting Disney for your birthday or to celebrate someone else's, we hope you put these tips to the test! Enjoy dressing up, spending the day however you want, and eating the best snacks and desserts you can find. We are sure you will experience some Disney magic during your visit.
Hopefully our tips and ideas will insure you have a magical birthday, and a great trip celebrating. We know that it's always fun to celebrate at Disney, and celebrating a birthday at Disney World can be extra special.
Have you ever spent your birthday at Disney? Or another special occasion? Let us know about it in the comments, and tell us if you had a little pixie dust added to your day!