Good Disney movies are generally pretty cute, but there's nothing cuter than Disney dog movies! From animated classics to live action comedies, Disney dogs are among some of the cutest in the world. There are Disney dog movies to make you laugh, to make you cry, and to make you re-evaluate your whole life choices!
There are a lot of Disney dog movies to choose from as dogs have firmly been in the hearts and souls of many people for hundreds of years. This list features some older classics you may never have seen, such as The Shaggy Dog, to more recent animated dog movies like Bolt. There are also some films that may shock you when you realise how old they are, as the stories are still so relevant today and many Disney dog movies have become so ingrained in our culture when we think of adorable doggies! We have tried to think outside of the box to give you the best selection, meaning there are definitely a few Disney dog movies on this list that you might not have thought of! But hopefully you will enjoy all of them!
Get a FREE printable 30/60/90 day Disney countdown by joining our private Disney Facebook Group and share your photos and ask for tips and tricks!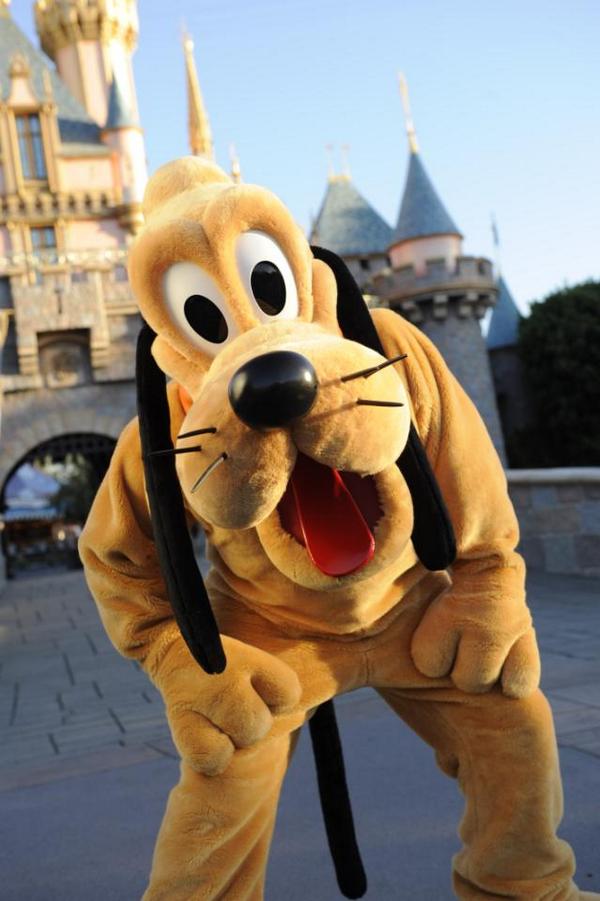 15 Cute Disney Dog Movies You Must Watch
Oliver and Company
Oliver and Company is an oft forgot 1988 Disney dog movie from Disney's bronze age of animated films. It's a retelling of Charles Dickens' Oliver Twist with an adorable animal ensemble. Oliver is a cute ginger kitten who falls in with a group of street dogs as he tries to find himself a home in New York City. Oliver and Company features one of the best Disney dogs that is Dodger, voiced by Billy Joel, along with an incredible voice cast including Bette Midler and Huey Lewis. It's an under-appreciated Disney dog movie but definitely one of the best and you can catch it on Disney+ now if you want a Disney dog fix.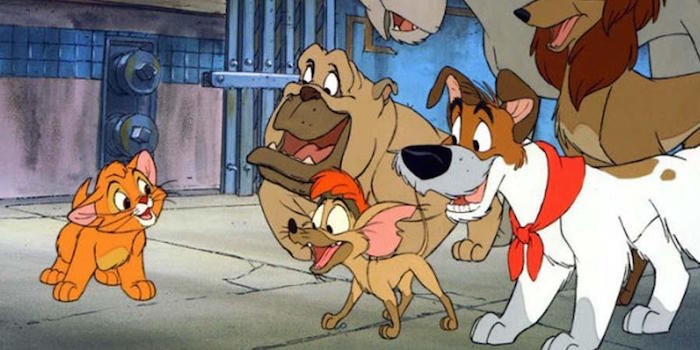 Air Bud
Air Bud is an incredible Disney dog movie that is actually based on a true story! It follows the story of Buddy who is found as a stray by a young boy who has recently lost his father. The two bond, especially over their love of sport, and it turns out that Buddy can even play basketball! It's a charming tale of the unbreakable bond between dog and owner and overcoming any obstacle together. It was so successful that it sparked 4 sequels, where Buddy learns he can also play football, soccer, baseball, and volleyball! As well as 9 spin-off movies, all of which are super adorable Disney dog movies that you should watch!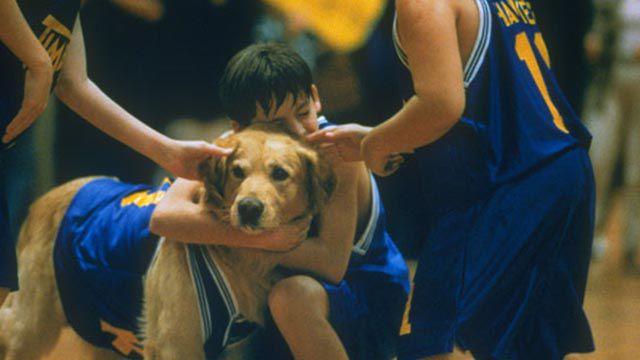 The Fox and the Hound
Released in 1981, The Fox and the Hound is such a cute Disney dog movie that everyone needs to see at least once. Whilst it is a bit of an oldie, it never really reached the classic status that other Disney dog movies did around that time. But once you watch it, you'll wonder why! It is the tale of an unlikely friendship between fox Tod and hunting dog Copper who vow to overcome their differences to stay best friends forever. Such a sweet movie that you can watch on Disney+, it will have you in tears by the end!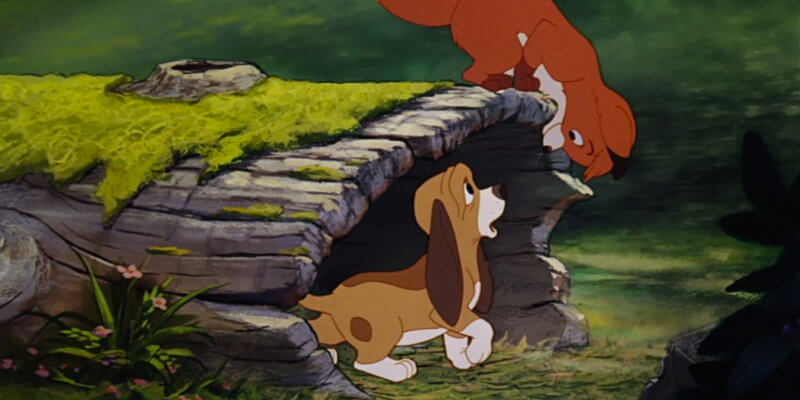 Snow Dogs
Snow Dogs is a light-hearted family comedy about a Miami dentist, played by Cuba Gooding Jr., who travels to Alaska to receive his inheritance – which turns out to be 7 Siberian huskies and a border collie! Watch as he turns from a bumbling fool from the sunshine state to a true Alaskan mountain man as he fights to learn to mush in order to keep the dogs in the family. Full of adorable and hilarious dogs, Snow Dogs is a great Disney dog movie for the whole family that is available on Disney+.
The Shaggy Dog
Disney's first ever live action comedy, The Shaggy Dog is a 1959 black and white film that follows the hilarious hijinks of Wilby Daniels who is transformed into a sheepdog with a magic ring. This is one of the absolutely classic Disney dog movies which is available on Disney+ so it's definitely worth a watch. The sequel, The Shaggy D.A., is also available to watch on Disney+, however the 2006 remake starring Tim Allen is not – but it's still a great dog movie to watch.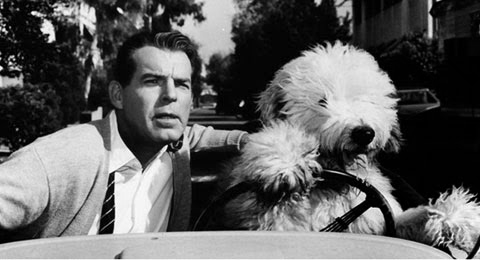 Beverly Hills Chihuahua
Released in 2008, Beverly Hills Chihuahua is one of the funniest Disney dog movies to date. With some incredible acting and voice acting, including the likes of Jamie Lee Curtis and Drew Barrymore, as well as some amazing writing with witty one liners and phrases you'll be adopting as your own, Beverly Hills Chihuahua is a must watch for all dog fans. Follow Chloe, a pampered chihuahua as she gets dognapped in Mexico and sent to the dog fights. And Papi, a street smart chihuahau who is head over tails for Chloe, as he attempts to rescue her. Brilliant and hilarious, you can watch it now on Disney+ – and you definitely should!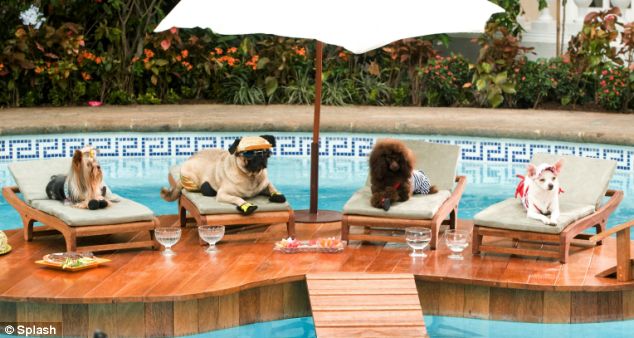 Homeward Bound
Join Chance, a mischievous American bulldog, Shadow, a loyal golden retriever, and Sassy the Himalayan cat, as the trek through the Sierra Nevada desert hoping to be reunited with their owners, in this wonderful family film. Homeward Bound explores the ideas of loyalty, family and friendship, as well as never giving up on what you think is right. One of the greatest Disney dog movies of all time, Homeward Bound is available on Disney+ and will have you laughing and crying as you watch this adorable trio.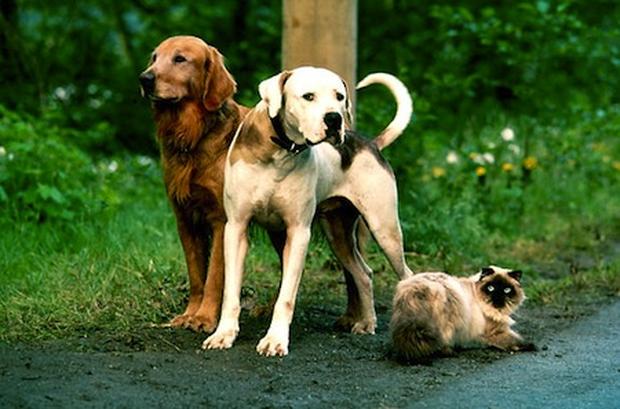 A Goofy Movie
When you think of Mickey and the gang, you think of Pluto being the dog of the group. It's easy to forget that Goofy is also a dog, due to their different animation styles and anthropomorphising. But it is true that our goofy friend is a kind of stylised dog, along with his son Max. Goofy and Max take centre stage in A Goofy Movie which explores the tense relationship between father and son. It's a wonderful family comedy with some really heart-warming moments that made Max one of the most popular Disney characters. It might not be your first thought for Disney dog movies but it's a great film that you can watch on Disney+ now.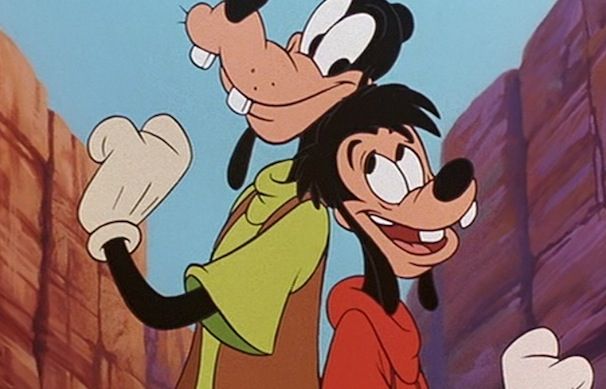 Old Yeller
If you're looking for a Disney dog movie that will make you weep then Old Yeller is the one for you. Released in 1957, Old Yeller is a classic Disney movie that takes a look at the Coates family living in rural America in the 1860s. Son, Travis, finds Old Yeller, a yellow Labrador, in a cornfield and originally tries to shoo him away but his younger brother Arliss befriends the dog and protects him from his brother. Old Yeller quickly shows himself to be a valuable member of the family as he protects the farm and the family. This is such a good movie that explores how much a dog is part of the family and will have you crying into your hanky! If this sounds like the Disney dog movie for you, you can watch it on Disney+.

Underdog
Fans of superhero movies will love this Disney dog movie that focuses on Underdog, an ordinary beagle given extraordinary powers after an accident in a mysterious lab – including the ability to talk! When he meets a lonely boy, the two bond and work together to stop crime across the city. They each discover their abilities through each other and the bond they share and overcome their self-doubt to save the city and everyone in it from evildoers. A really heart-warming film that will be a hit with superhero and dog fans alike, Underdog is a super cute Disney dog film available on Disney+ now.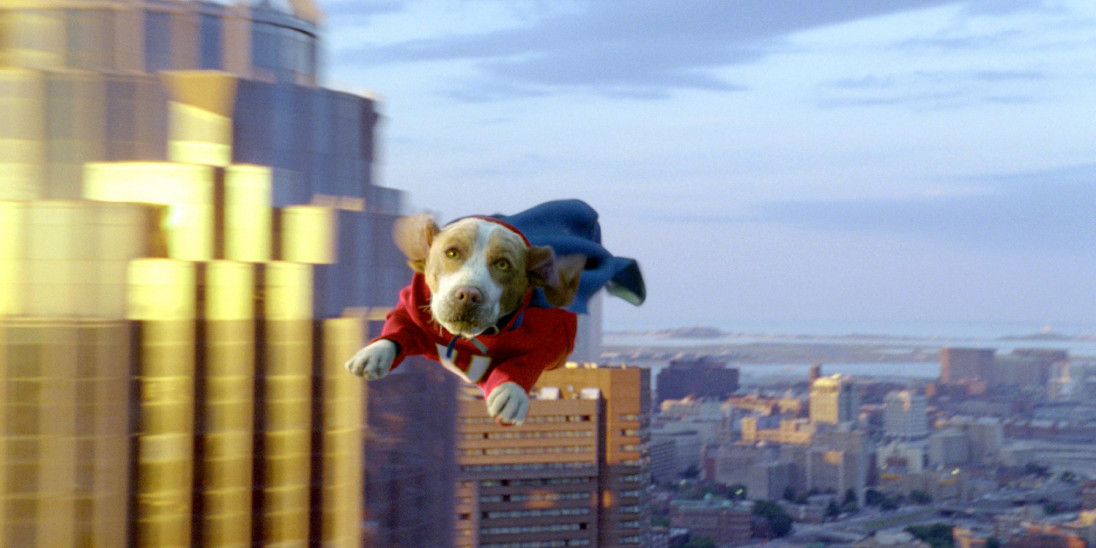 Bolt
Featuring the voices of John Travolta and Miley Cyrus, Bolt is a 2008 animated Disney dog movie that has become renowned for sparking the Disney Revival of animated movies, leading Disney in a new creative direction which resulted in movies such as Tangled and Frozen. The story of Bolt focuses around Bolt, a White Shepherd dog, who believes he is the superpowered canine he plays in a television show. When he believes his owner, Penny, has actually been kidnapped he sets off from Hollywood on a mission to rescue her. He makes some great friends on the way and proves you don't need powers to be a hero. A really sweet film with adorable animal action, Bolt is on Disney+ for you to give it a watch.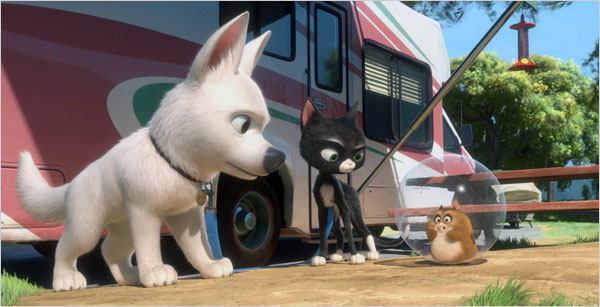 Up
Surprised to see Up on the best Disney dog movies list? Whilst it does primarily focus on humans Carl and Russell, Up features a whole host of animal friends including the beloved Dug, the charmingly dumb talking dog. When Carl and Russell land in Paradise Falls, they meet Muntz, an explorer who has spent years there, who has designed special collars to allow his dogs to converse with him. This includes the lovable Dug, and the scarier Alpha, Beta and Gamma who act as Muntz's security dogs. You can't think of Up without thinking of Dug and – squirrel! – the rest of the talking dogs which is why it has earned a place on the cutest Disney dog movies list. Up also features on our Best Romantic Disney Movies list so if your date also loves dogs then this could be a great film for you, that is available on Disney+.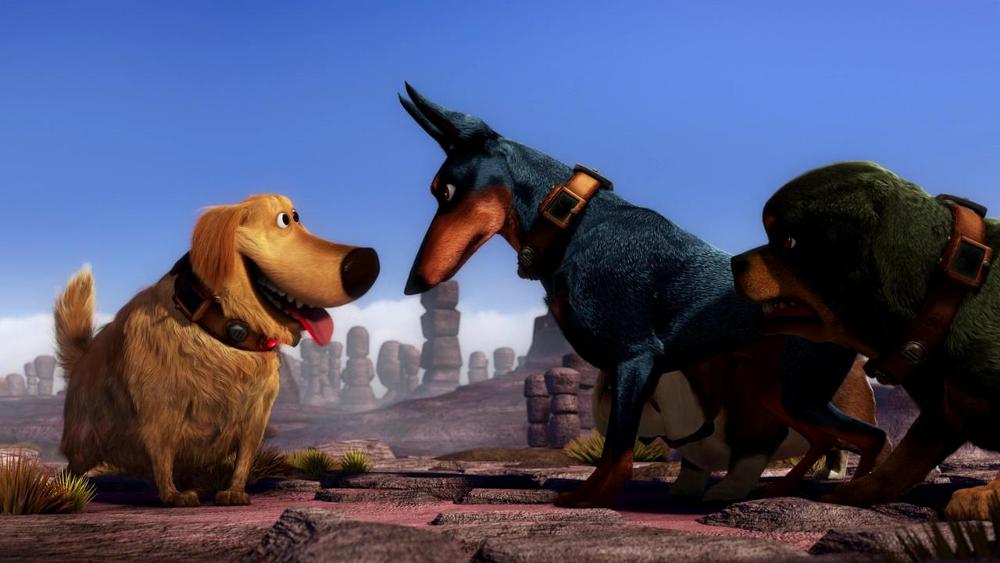 Air Buddies
If you thought the Air Bud movies were cute, then the Air Buddies are even cuter! Join Rosebud, Budderball, Buddha, Mudbud and B-Dawg, the adorable puppies of the famous sports playing Buddy as they get up to some hilarious hijinks in this family comedy. The Buddies are kidnapped in an attempt to capture Buddy but through team work and creative thinking they all manage to escape and even find themselves happy homes in the process. There is 5 times the adorableness in this Disney dog movie and there are 6 more adventures with the Buddies, 4 of which (Space Buddies, Santa Buddies, Treasure Buddies and Super Buddies) are available on Disney+ to stream now.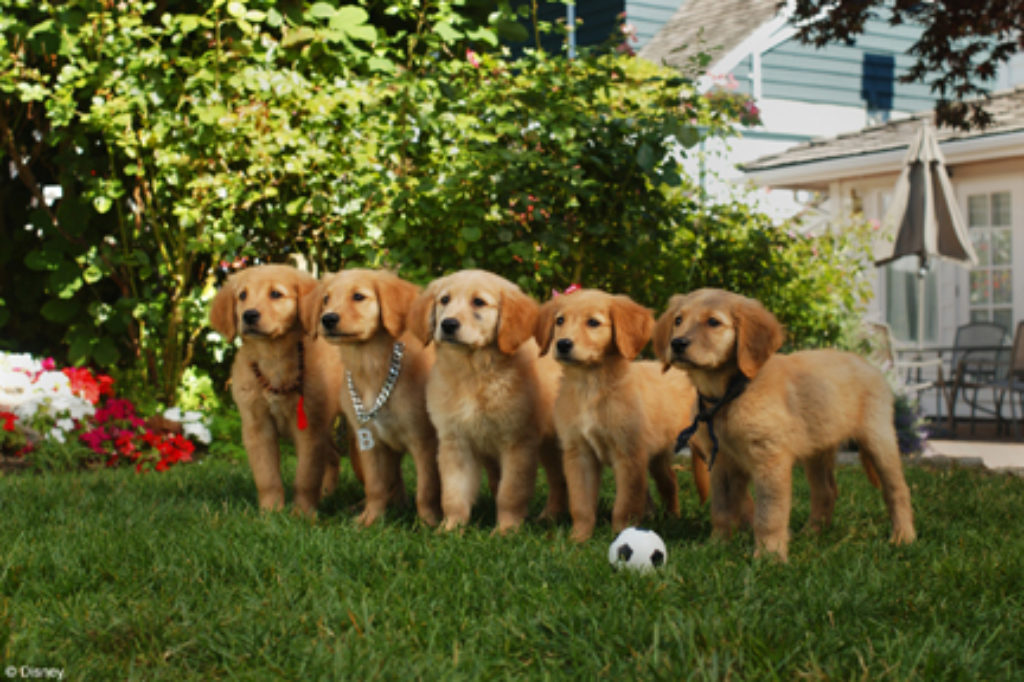 Eight Below
Another Disney dog movie to make you cry! Eight Below tells the story of an ill-fated Antarctic expedition that results in a pack of sled dogs being left alone in the harsh weather. Their owner Jerry, played by the late Paul Walker, will stop at nothing to rescue the dogs before it is too late. It's a survival drama film that shows how loyal dogs and their owners are too each other. It'll have you crying by the end. The snowy landscape and heart-warming message also make it a great film to watch at Christmas so you can also find Eight Below on our Best Disney Christmas Movies list too. Eight Below is available to watch on Disney+.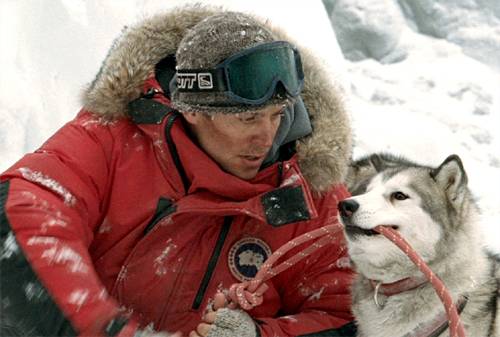 101 Dalmatians
No Disney dog movies list is complete without the film with all the dogs! That's right – 101 Dalmatians! If you're looking for a Disney film with lots of dogs then 101 Dalmatians has, well, 101 of them! The story follows Pongo and Perdita, two loving dalmatians, and their litter of puppies who get kidnapped by Cruella De Vil who wants to make a coat out of dalmatian fur. They quickly realise they are not the only ones who have been dognapped and soon there are hundreds of dogs attempting to escape from the clutches of evil. 101 Dalmatians is an absolute classic, released in 1961, with a live-action remake released in 1996. Both are available to stream on Disney+, as well as their respective sequels.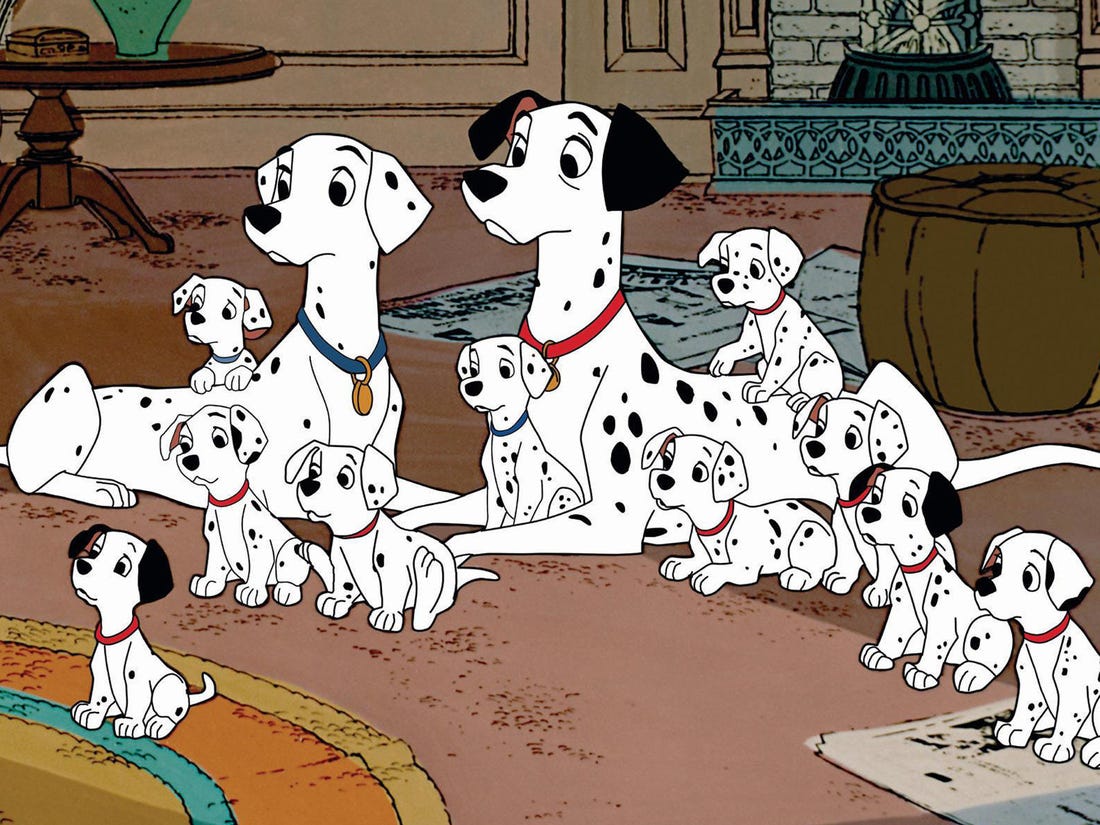 This list of cute Disney dog movies does not include all the dog movies that are available so if you've got to the end of the list and are still looking for more adorable Disney dogness then fear not, there are still plenty left! And if your favourite Disney dog movie didn't make our list, let us know which cute dogs you love the best!